The American Airlines AAdvantage search engine have recently added the ability to search for award seats on Qatar Airways, meaning that you can easily see availability across a whole month.
Do note, however, that this may (and probably will) lead to a reduction in (already tight) availability on Qatar Airways services, as it will make it much easier for everyone to book these flights (especially US-based travellers).
---
The American Airlines AAdvantage website is very easy-to-use and you do not need an account to perform award searches.
It can be used for travel on most oneworld airlines, including American Airlines, Malaysia Airlines, Qantas, Qatar Airways and SriLankan Airlines. Notable exceptions are Cathay Pacific, Japan Airlines and LATAM, as well as Etihad Airways—you will have to search elsewhere and then phone AA to book one of these airlines.
The main advantage of the AA website is that you can perform monthly searches, which can save a lot of time (compared to the Qantas and British Airways websites).
As you can see from this search for a Qatar Airways First Class seat from Perth to Doha, there is availability on about half of the selected dates: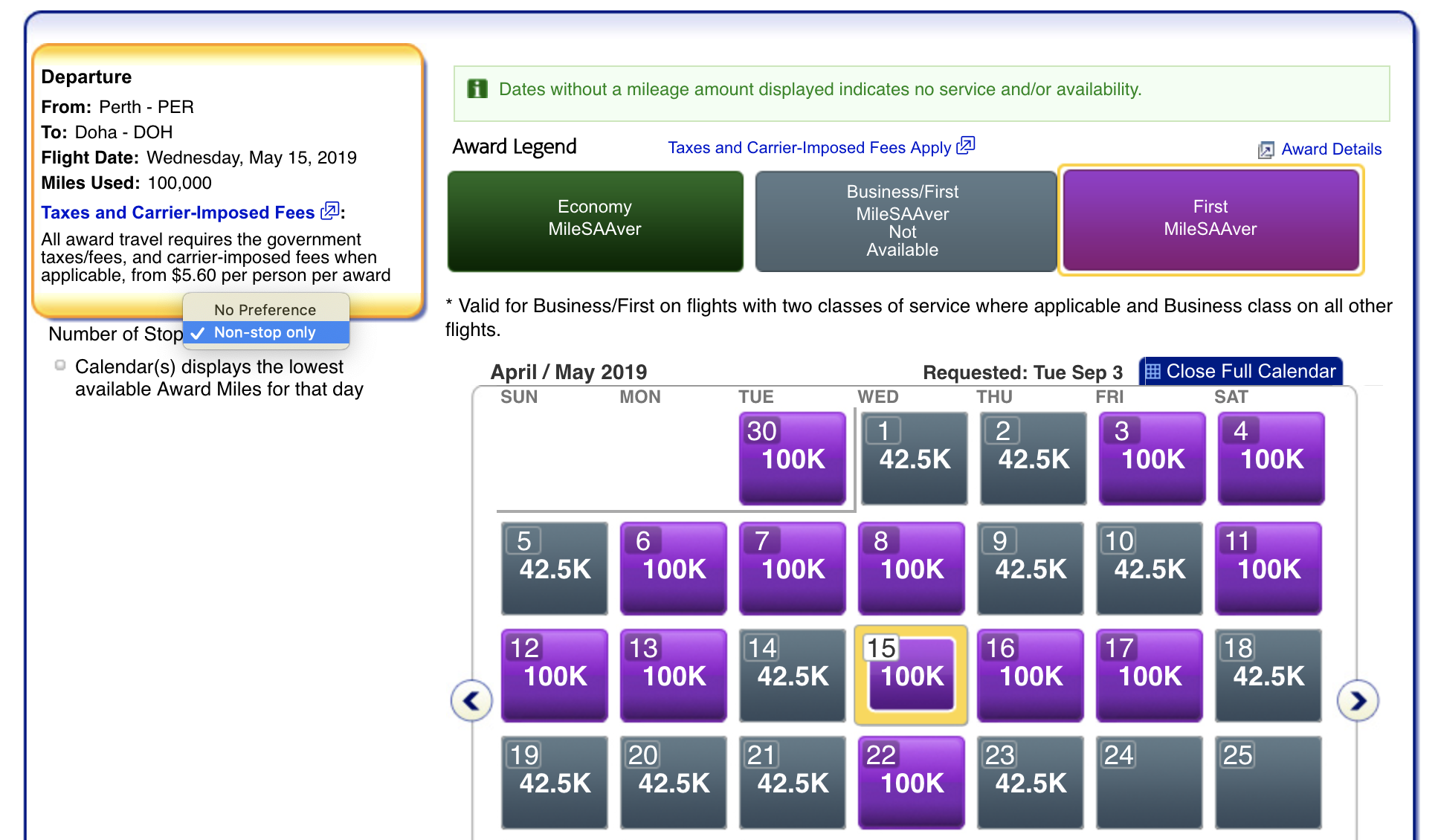 Note that selecting 'Non-stop only' on the left-hand side will help to refine your searches.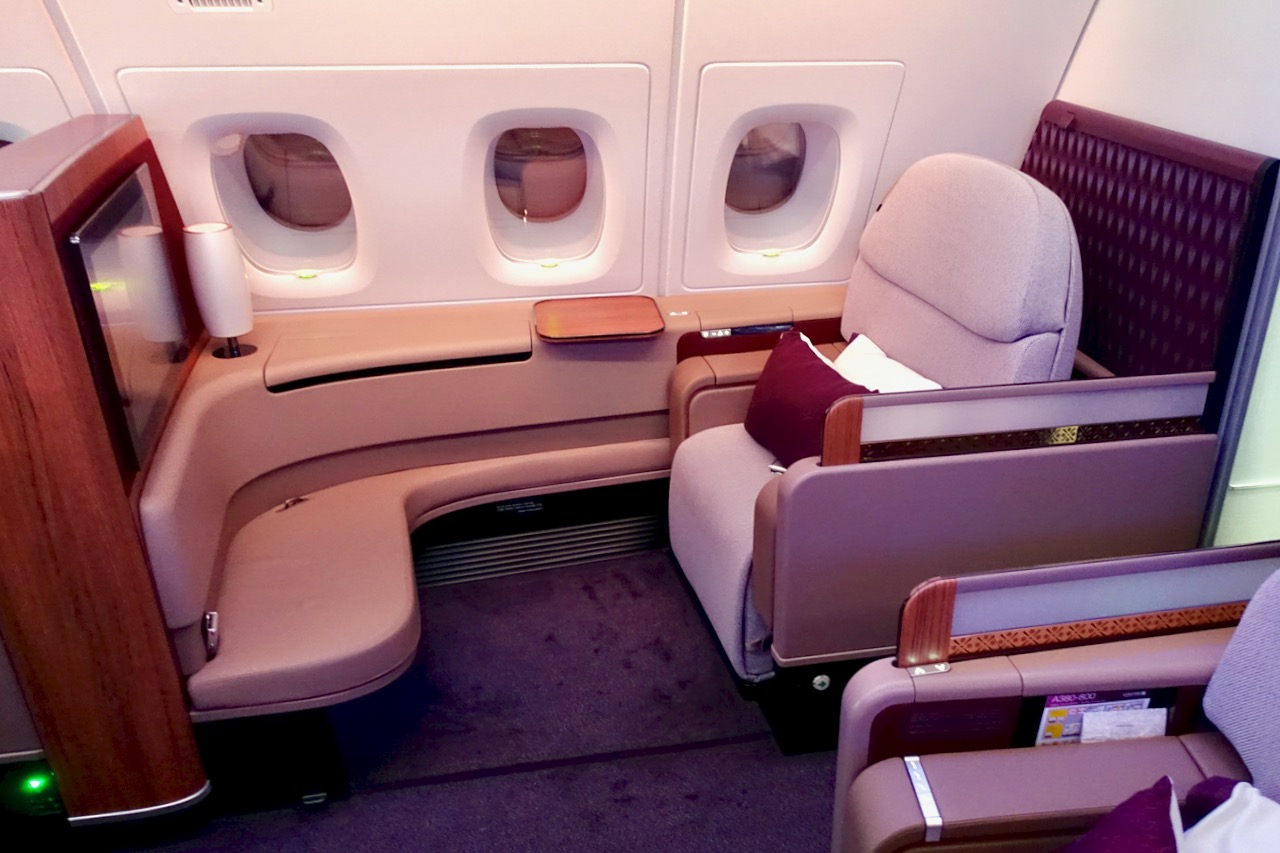 Of course, if you find availability on the AA website and then want to use your Qantas Points for a redemption, you will have to confirm availability on the Qantas website and then book through there instead of AA.
---
A guide to where to search for award space most efficiently
Hopefully, you have an idea of the most relevant frequent flyer programs and their partners, and some idea of where you want to travel but how do you turn this into a real booking?
First by knowing where to look for points seats (also known as award seats) that may be available. If you don't know how, or where, to look, you'll quickly get stuck thinking you have no options on how to use your hard-earned points.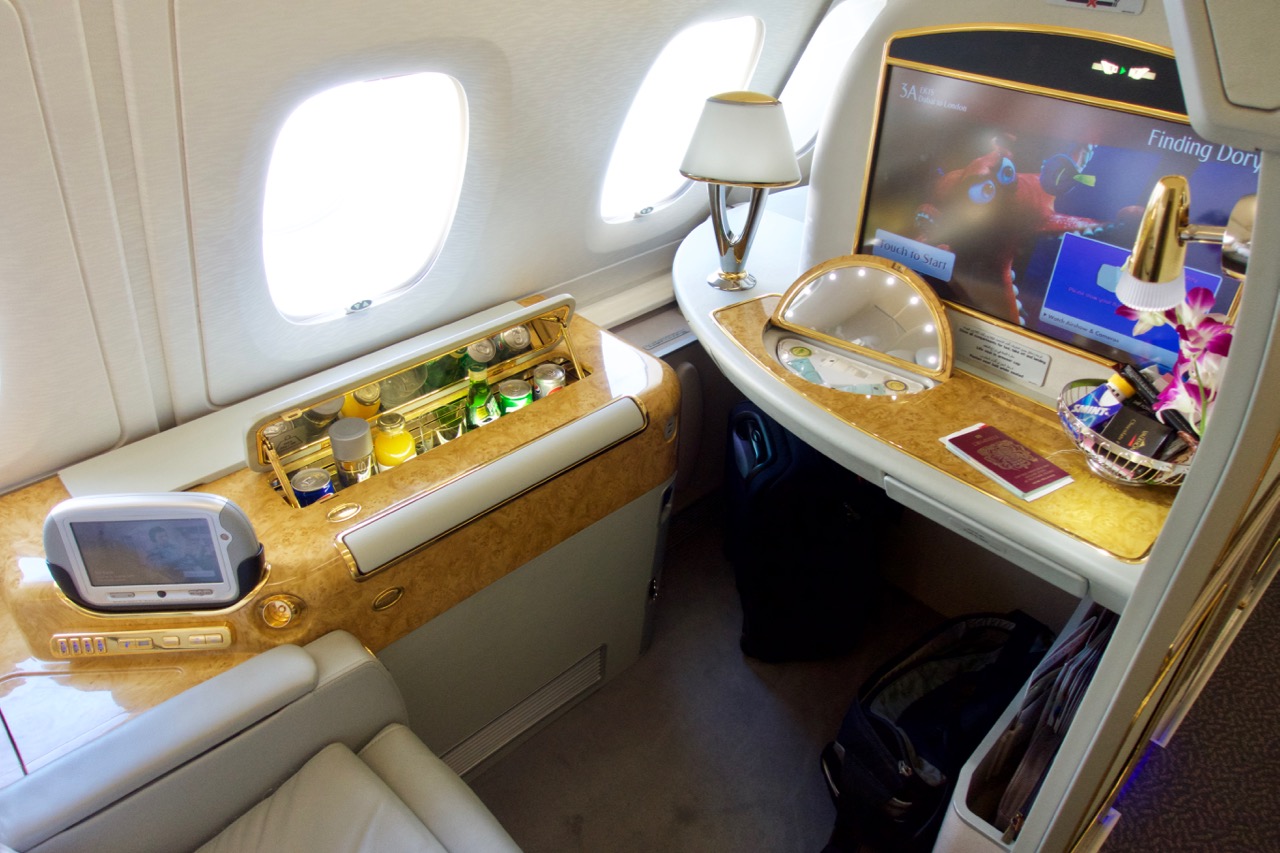 Sure, you can use as little as 54,000 Qantas Points to fly Emirates First Class but how do I know to search on the Qantas website instead of Emirates?
Why is this guide important?
There are many ways to research which seats may be available, and all have their own unique advantages and quirks, so if you do not find what you are looking for immediately, it is worth trying a second option.
The general rule of thumb is that, if in doubt, search for availability on the website of the program you are looking to redeem points in. So, for availability on Virgin Australia, search with them; the same goes for Qantas.
However, that is not always going to help when you are trying to put together an itinerary on their partners or a mix of airlines and cities, which is when knowing where else to look becomes important.
1. Air New Zealand & Star Alliance airlines
Most will know that 1 Airpoints Dollar = 1 NZD on flights booked directly with Air New Zealand. It is a revenue based redemption system, which while expensive in most cases, is transparent and provides unbeatable availability to award seats.
However, did you know that Air New Zealand still release limited 'standard' award seats to their Star Alliance partners? While not common, these seats can often be much better value if you don't have the required number of Airpoints Dollar to make a redemption (remember you can top-up with an Air New Zealand Airpoints Mastercard, however).
This is when the United search engine comes in handy to find award availability on all Star Alliance partners. It is free and you do not need to register as a member to use it.
When searching for a multi-segment flight, i.e. not nonstop, it is best to search one flight at a time. For example, Auckland to Singapore, Singapore to Tokyo.
Note that Lufthansa First Class is not available until it is within 14 days of the date you are travelling, which means that if you looking to travel more in advance than that, you will not be able to book an award seat.
Aside from Lufthansa, other Star Alliance partners release their First Class awards in advance.
Here's a step-by-step screenshot guide to searching on United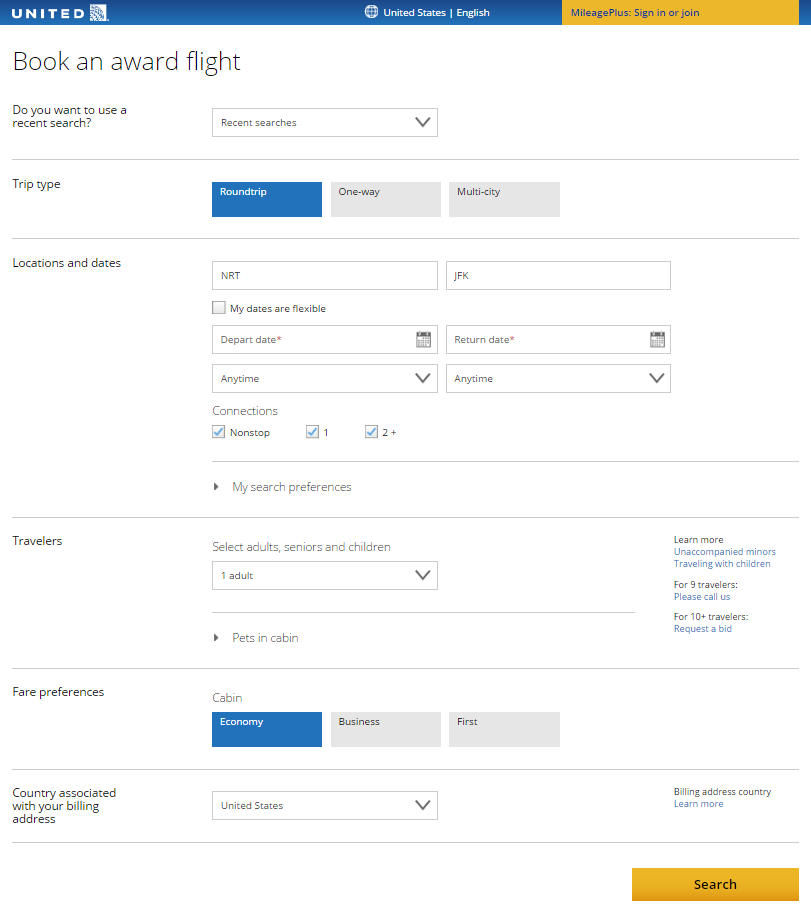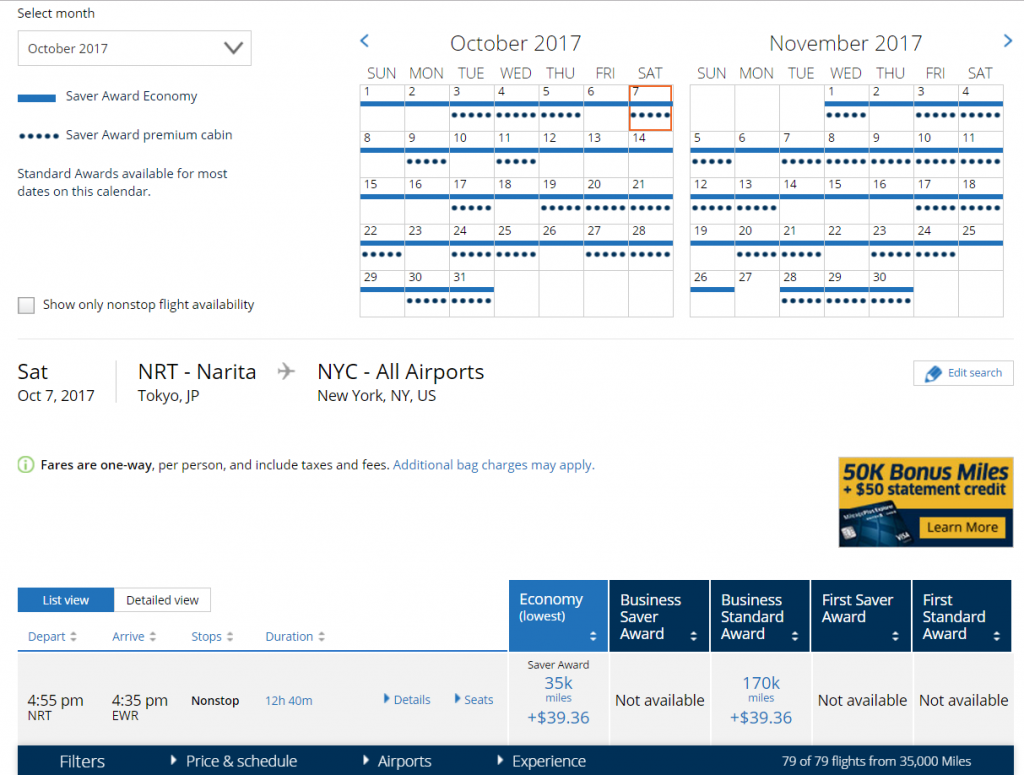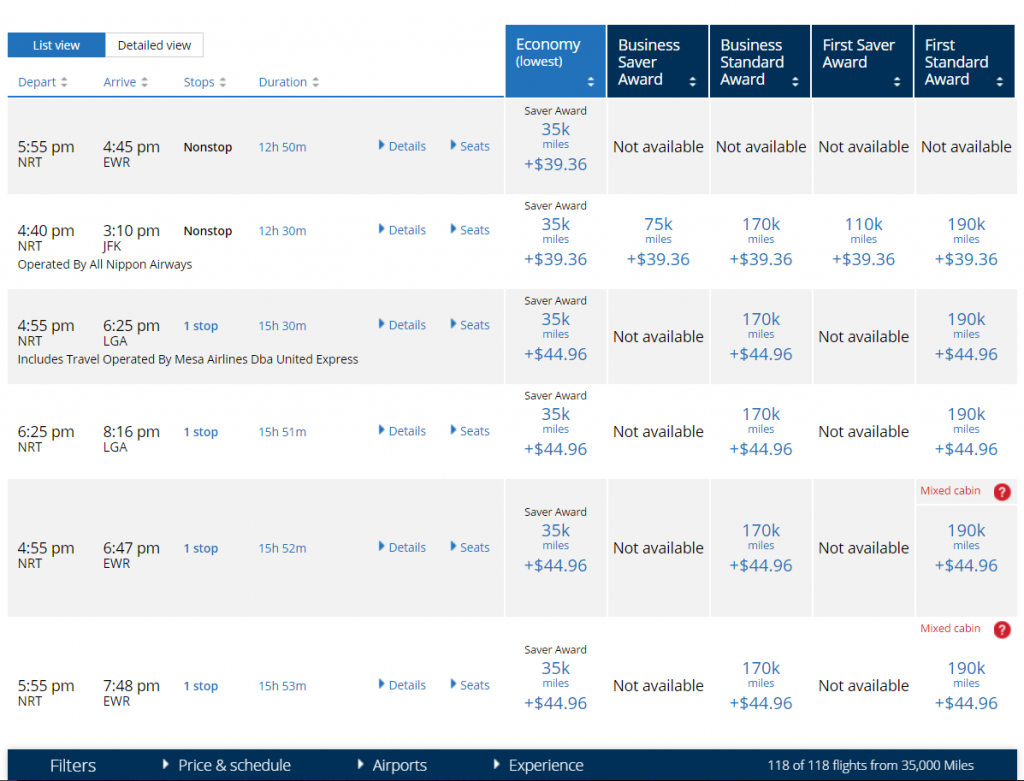 2. Qantas, Emirates & oneworld airlines
For travel on Qantas, its own search tool unsurprisingly is king. Log in using your frequent flyer number and you will be able to search for 'Classic Awards'.
Qantas.com also has a usable search for most of its partners including American Airlines, British Airways, Cathay Pacific, Emirates, Fiji Airways, Japan Airlines, Malaysia Airlines, Qatar Airways and a few more, all of which make it a great first port of call if you are trying to use Qantas Points.
Qantas does a good job at displaying mixed cabin results, e.g. Business for the first leg and Premium Economy for the second.
However, there are a few downsides to the Qantas tool. As you use it to search across multiple dates, you may quickly get frustrated with the way it displays mixed cabin results, where you will think a long-haul multi-city flight is available in Business Class but, actually, it is just the short connecting flight in Business and the long-haul segment in Economy.

In terms of specific airlines, the Qantas website prioritises its preferred Gulf partner Emirates over Qatar Airways, meaning that the American Airlines or British Airways site should be used for these searches.
It sometimes has trouble seeing LATAM seats (use British Airways instead) and Aer Lingus Business Class seats (use Expert Flyer with Aer Lingus as the airline or the United website) and then phone Qantas to book.
Note that you may have trouble finding and securing Business and First Class seats on these routes.
If you are looking to Qantas or other oneworld airline programs such as Asia Miles, another useful site is British Airways.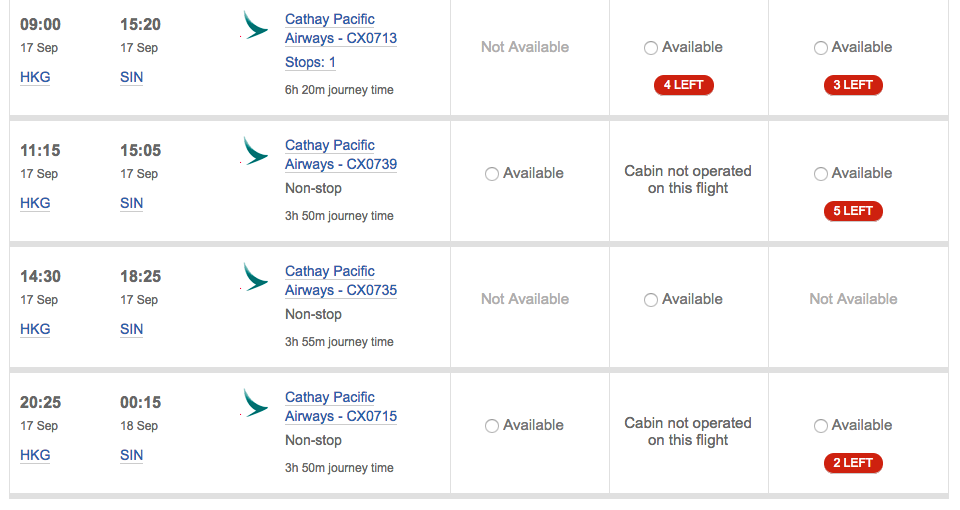 The British Airways site is useful again for almost all oneworld airlines. Obviously, the prices it shows in points will not match the Qantas Points requirement but it will give you some useful indicators of availability that the Qantas site may not surface, and I especially like the counter of available reward seats.
This tool is super easy-to-use and the fastest way to access British Airways award space. It shows award space only on British Airways-operated flights across the whole calendar (almost a year from now).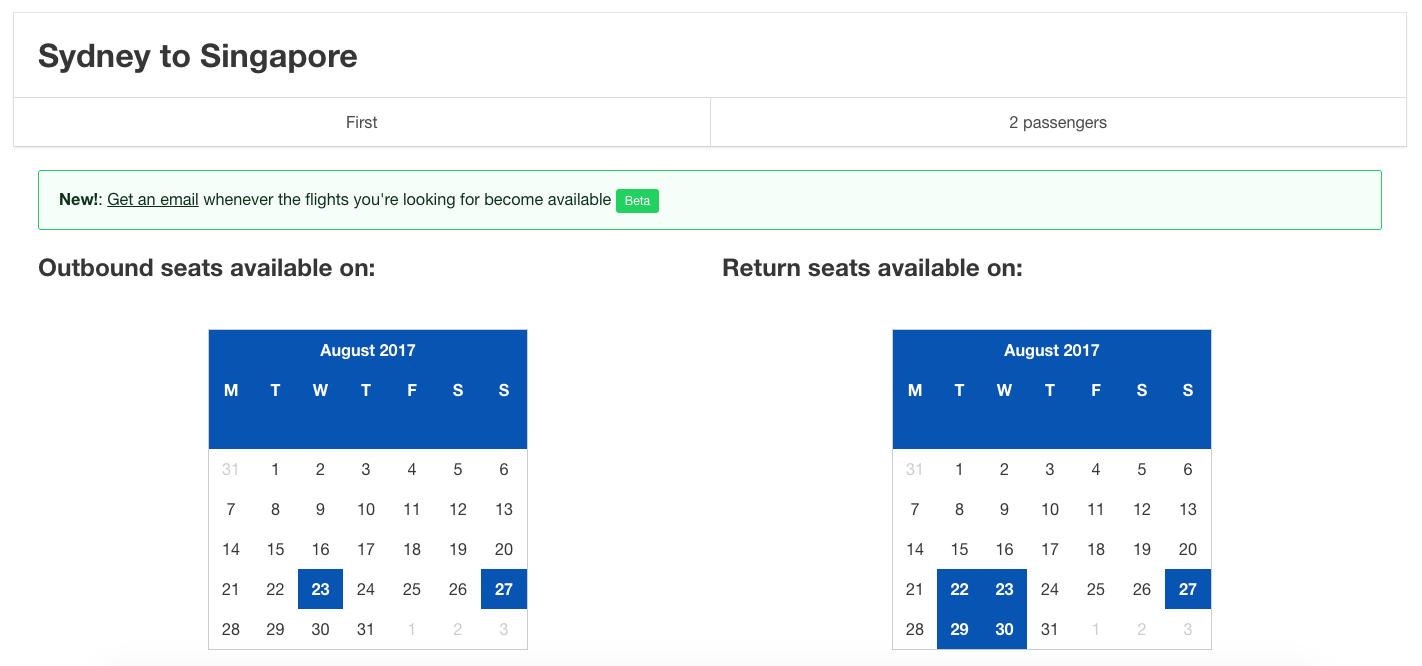 You can also set up daily availability alerts (or by the hour if you get an elite membership for £3/month).
Asia Miles online redemptions are only available for Cathay Pacific, Cathay Dragon, Alaska Airlines, British Airways, Finnair, Iberia Airlines, Qantas Airways and Qatar Airways—all other partners need to be booked with Asia Miles over the phone.
If you are booking these flights using Asia Miles, then the availability their own website is your best indicator, as Cathay Pacific do sometimes make specific availability open for Asia Miles members.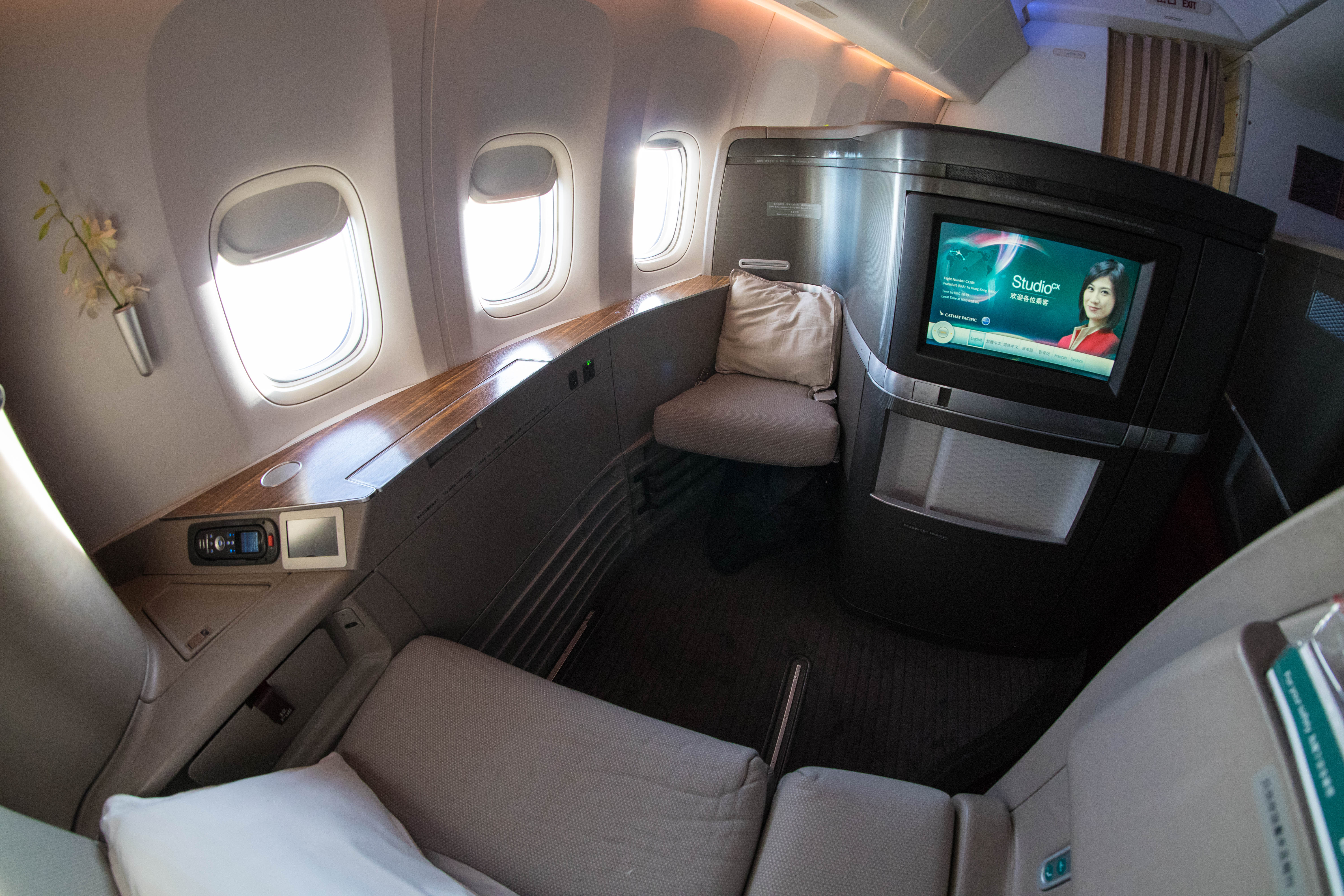 If you are using Asia Miles to book Cathay Pacific First Class, you may see more availability on the Asia Miles website compared to Qantas or British Airways
If looking for award availability on Cathay Pacific using your Qantas Points or otherwise, the availability through either Qantas or British Airways websites is the best place to start, however, there have been ongoing problems with both sites showing 'phantom' availability (where the seats show as available but can't be booked).
I do not know of a viable workaround for that issue yet. Many times have I tried to book a Cathay Pacific award seat using a partner airline points only to be told it is not available but it is showing on both sites. It is frustrating but nothing much can be done about it.
Japan Airlines has a clunky website and you need to sign up for an account to search for award availability but it does display availability across a whole week, which is better than what the BA site does.

3. Velocity and Virgin Australia partners award search tools
The Virgin Australia website is the best place to research Virgin Australia award availability using your Velocity points. Thankfully, it's search tools are pretty good.
There's a full guide to finding award seats with Virgin Australia here.
The only thing I would wish for is a more robust, wider calendar view of availability.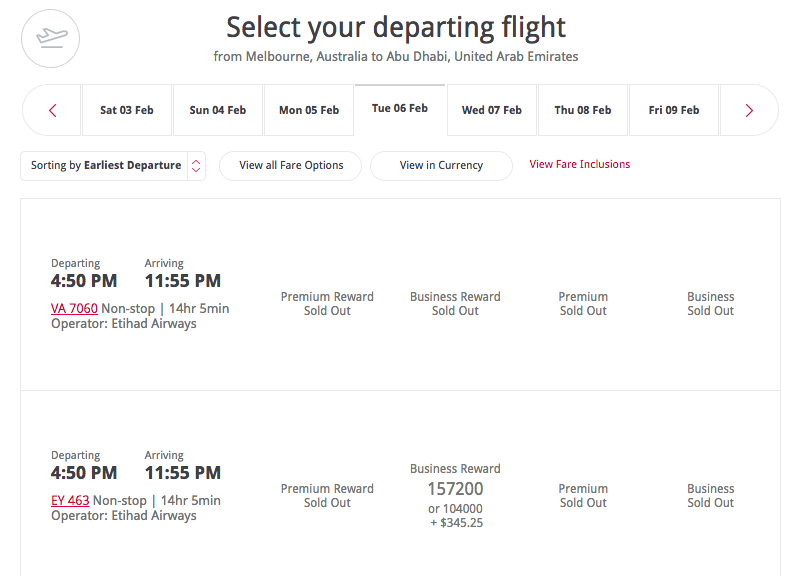 Read our full guide to finding award seats with Virgin Australia.
Velocity also allows you to search for availability with Etihad, Singapore Airlines (all cabins except First Class), SilkAir and Delta through their website but other partners are not there (use the American Airlines website for Hawaiian Airlines searches).
However, they do offer a very good, supportive and easily accessible phone service. Their partner award booking team is knowledgeable and will happily look into whatever options you want.
In all cases except Singapore Airlines, Velocity should have access to the same award seat inventory that the members of the airlines' frequent flyer programs do, so signing up for their frequent flyer programs and searching on their own websites is a good a starting point as any.
If you want to book a Singapore Airlines First or Suites Class award seat, then search on the KrisFlyer website and call Velocity to determine if they can see (and book) the same award space.
For award seats on Singapore Airlines, there are two tiers available: those available to KrisFlyer members (generally good) and those available to partners (not so great).
We are actually fairly well-set-up in New Zealand to earn KrisFlyer miles, with Virgin Australia as a transfer partner.
As a result, we get to use KrisFlyer miles for travel on Singapore Airlines and make the most of the additional award seat availability that they do not offer their partners.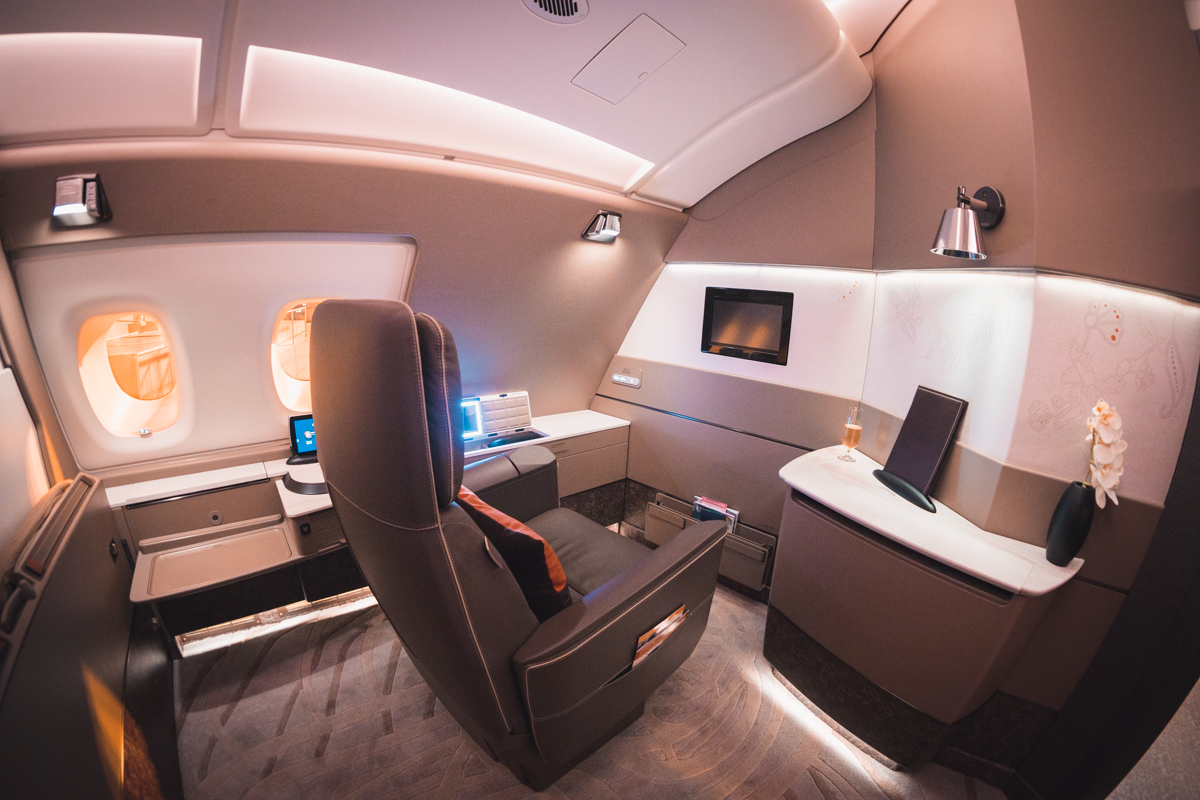 Always search for Singapore Airlines First and Suites Class space through KrisFlyer as it will not show up on any other website
Once you are logged into your account, you will need the 'Redeem flights' checkbox checked in the search, and the available results are displayed for the day you searched for. You will need to look for Saver level availability in the first column to get the best deal.
KrisFlyer's award search tool may look sleek but is frustrating when you want to search across multiple dates—that is where award.flights comes in (explored later on).
You can search for and book Star Alliance partners such as ANA, THAI and Lufthansa as well as other partner award flights on the KrisFlyer website but I find the United search engine mentioned earlier is easier to use.
Remember – Air New Zealand now offer online Star Alliance redemptions at a fixed cost. Their search tool is not great, but the system is functional and easy to use when you already know that there is availability on a certain date.
5. Searching for award seats through independent tools and aggregators
On top of the airline websites themselves, there are then a few aggregation and notification tools that site on top of the available award seat data and display them in more user-friendly ways.
Award Nexus is one of the most complete. For most airlines, it works by automating searches on the airline's website itself or using other data it can get access to. It is a paid product starting at US$59, but well worth it for the time savings you'll receive. If you are a member of FlyerTalk, you are eligible for a free community membership of Award Nexus.
It supports searching across both oneworld (through the British Airways, Qantas, Japan Airlines and Cathay Pacific sites) and Star Alliance (through Air Canada, ANA, United and KrisFlyer in beta mode).
SkyTeam is supported through Air France and Delta, with Virgin Australia available through the Delta search option. Alaska and Virgin Atlantic searches are also available.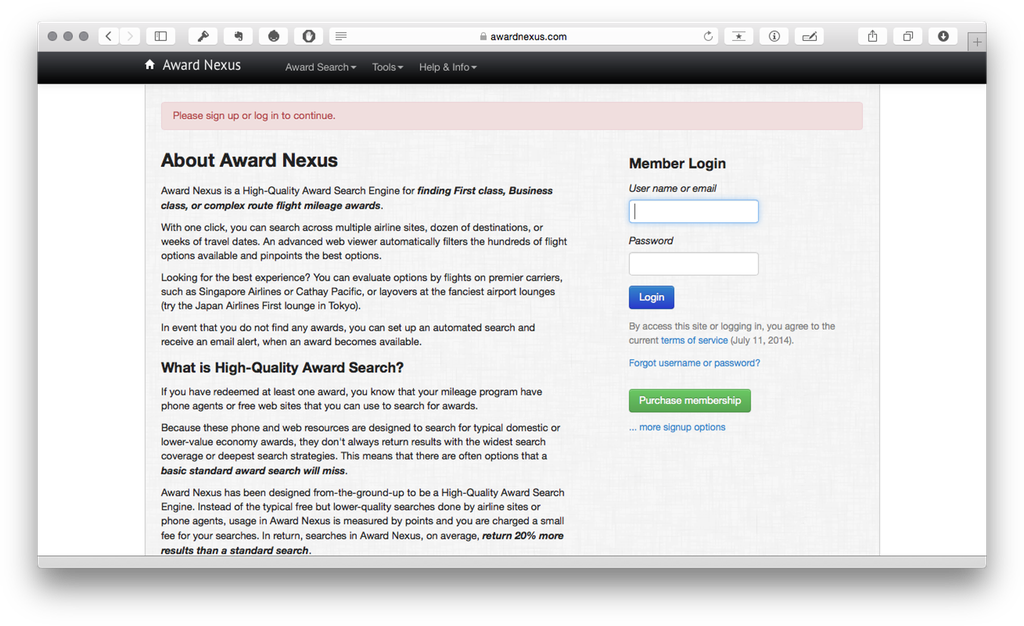 For more on which searches to use when, check out the very informative tips page.
The best thing about Award Nexus is that you can search across multiple dates, multiple classes of travel, multiple routes, and multiple alliances/ airlines in a single search. It is very powerful, and I couldn't have booked some of my trips without it.
Given Award Nexus taps directly into Qantas' website for results, you'll also get results on partners including Jetstar, Emirates and Fiji Airways.
Read more in our full guide to using Award Nexus.
ExpertFlyer is another subscription-based application for either US$5 or $10/month depending on how much you use it, and it fulfills a range of functions, including searches across seat maps, awards, upgrades and notifications.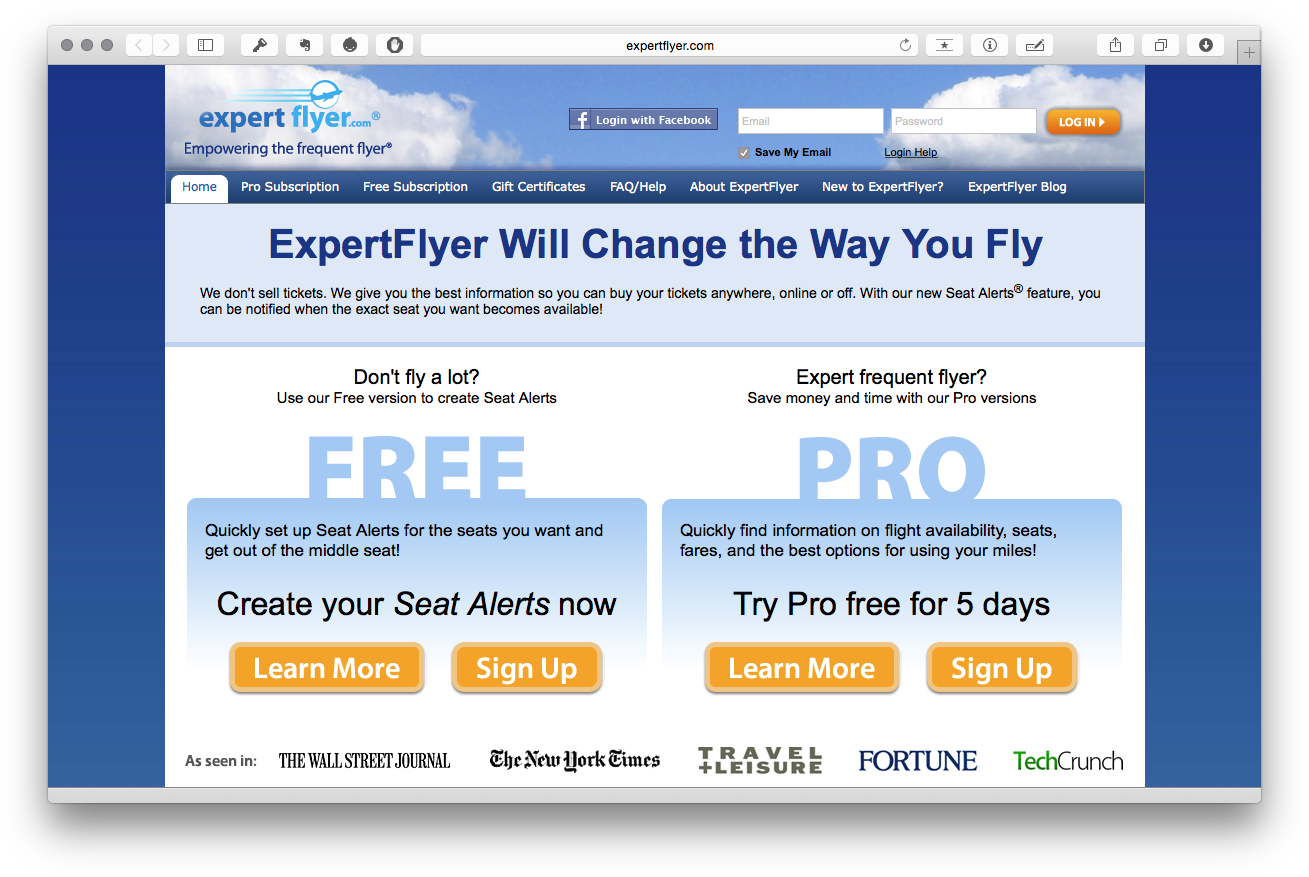 It is less useful for award search than Award Nexus as there are limited airlines included, but it is useful as part of a wider toolkit to monitor seat availability and other information.
We have a comprehensive guide to using ExpertFlyer alerts for award and upgrade availability changes.
This is a handy tool to go alongside the others I use to find award availability.
It is a Chrome web application run locally on your computer, is totally free, and allows you to run a breadth of searches across multiple airlines, cabins, dates and airports in the background whilst you do other things.

It currently supports searches through the following frequent flyer programs:
Star Alliance: Air Canada Aeroplan, ANA Mileage Club and Singapore KrisFlyer
oneworld: British Airways Executive Club, Japan Airlines Mileage Bank and Qantas Frequent Flyer
SkyTeam: Air France-KLM Flying Blue
Other: Etihad Guest
For all programs except Etihad Guest, you have to input your frequent flyer username and password. The application says that your personal information is stored locally on your computer and not transmitted but there is still a security risk in this. As such, you may choose to avoid using this tool or only linking programs with whom you have no/minimal points balances.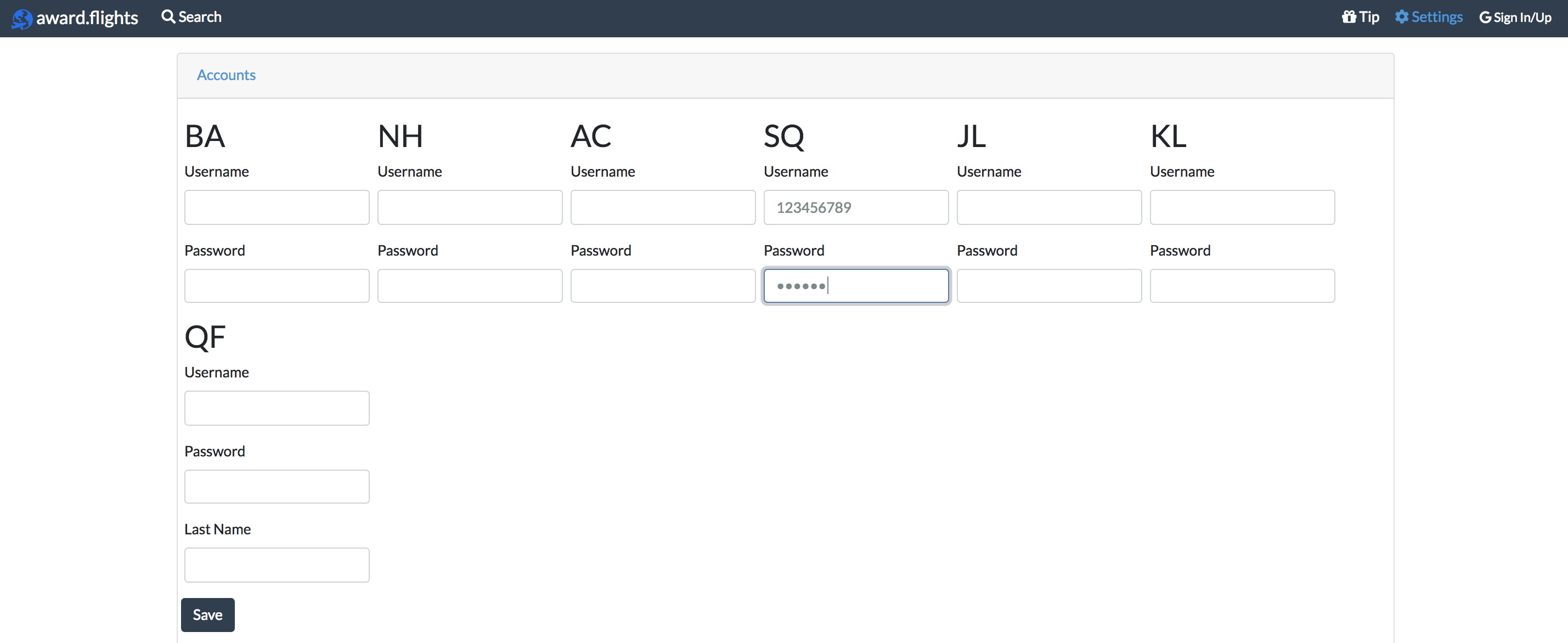 Not all search results may be 100% accurate but they are a good indication of what is available.
This tool also deserves a mention. It is an inventory search (Windows) application, rather than a website. Check it out if you want to get really advanced. Mac users can find a workaround on the website.
Searching across multiple dates
Finding upgrade availability
Upgrade availability is a whole other beast to outright points seat availability. Each airline manages its upgrade inventory in different ways and it is hard to explain concisely how to monitor it.
About the only place to do so is using tools like Expertflyer or KVS Tool, and you will need to understand the specific fare codes and policies that each airline use and apply to their inventory for upgrades.
Summing up
Searching for award seats is not easy. It takes patience, knowledge, and a fair bit of creativity to get what you are looking for on many occasions.
But do not let this put you off—you can still score one of the best uses of your points by looking hard.
---
Earning Points: First Principles
Using Points: First Principles
This is the new fastest way to search for Qatar Airways award seats
was last modified:
June 4th, 2019
by
This is the new fastest way to search for Qatar Airways award seats
was last modified:
June 4th, 2019
by