Holding Velocity Frequent Flyer status is the key to unlocking a raft of premium perks with Virgin Australia, especially within Australia on its domestic network. You will also get extra benefits when flying with their partner airlines like Singapore Airlines, Etihad and Delta.
This guide outlines the four tiers of Velocity status, the benefits available to each level, and how to keep your status going year after year.
You may also be interested in our beginner's guide to Air New Zealand Airpoints status and benefits.
How do you earn Velocity Frequent Flyer status?
The answer is simple: earn Status Credits. With enough Status Credits, you will be able to gradually ascend the membership tiers, from base-level Red to top-tier Platinum.
Status Credits can be earned through flyinh on Virgin Australia and partner airlines.
You can view the Status Credits earned on Virgin Australia and partner airlines here—it is a useful link to have bookmarked if you plan on reaching a high-status tier.
Simply use the provided mileage calculator to work out the distance you will be travelling and then find out what fare class your ticket is (denoted by a single letter) to see how many Status Credits you will get for each leg.
For example, Christchurch – Singapore – Tokyo return on Singapore Airlines will earn a total of 140 Status Credits across all flights.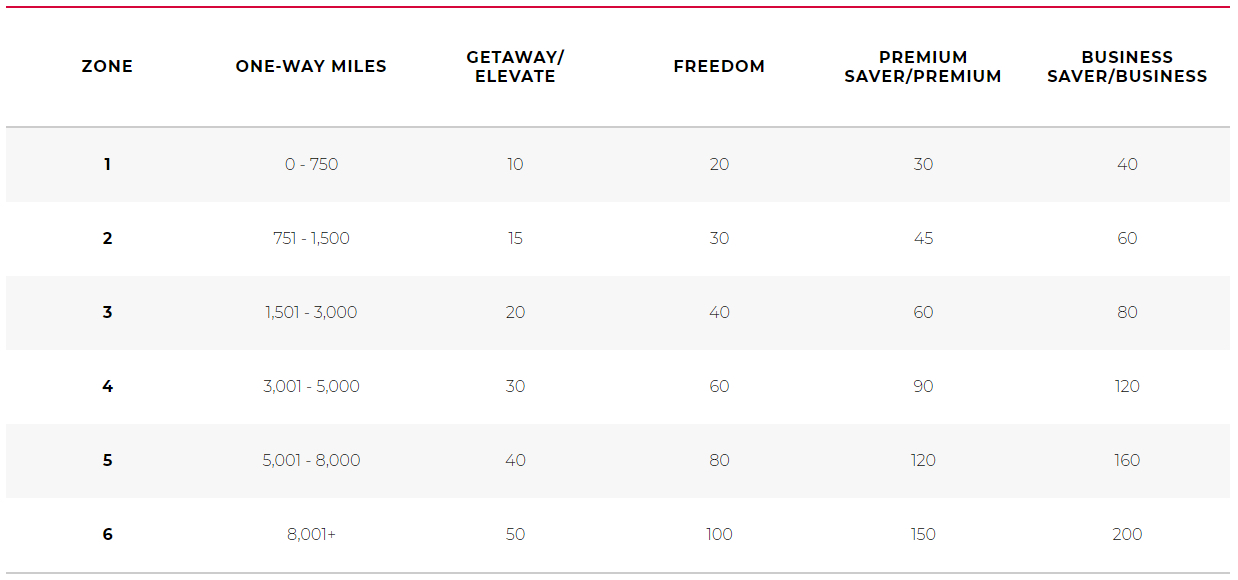 Status Credits earned on Virgin Australia long-haul flights and partner airlines
Status Credits are earned on a rolling 12-month cycle, unlike Air New Zealand and Qantas which utilise a fixed anniversary date. A rolling cycle means you just need to earn enough Status Credits in any 12-month period to move up, rather than doing it within a fixed timeframe.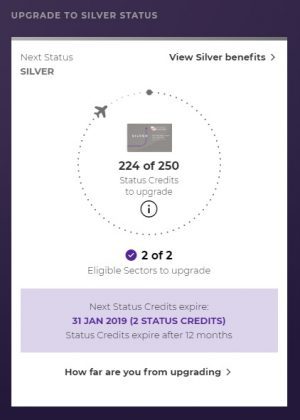 In the above example, two Status Credits will expire on 31 January 2019. If this member wants to upgrade to Silver status, they should earn 26 more Status Credits before that date, otherwise, the gap increases as Status Credits earned in 2018 start to expire.
Once you have achieved status, you then have 12 months from that day to maintain your status or move up to the next level. Every time you reach a new tier, the 12-month counter resets.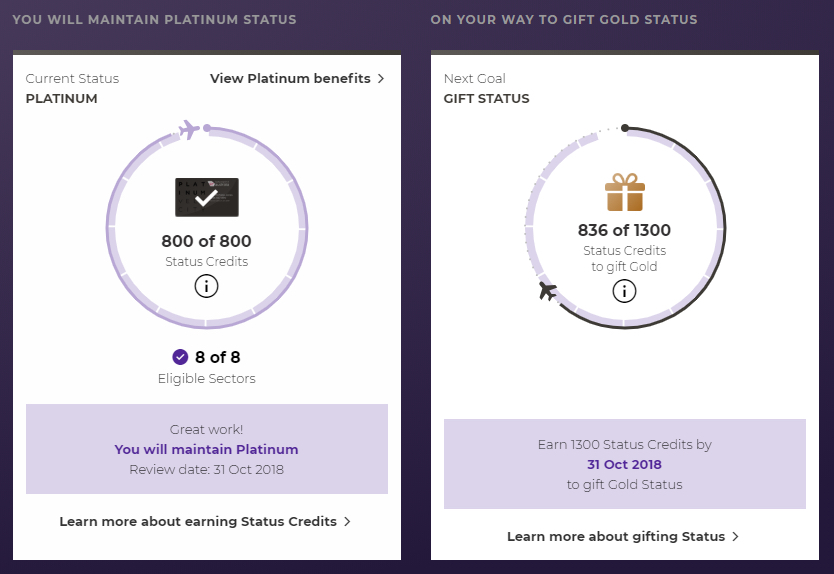 This member reached Platinum on 31 October 2017 and needs to earn 800 Status Credits before 31 October 2018 to maintain it
In addition to Status Credits, you also need to meet the 'eligible sector' requirement every membership year; that is, two for Silver, four for Gold and eight for Platinum.
Eligible sectors are simply paid (not award) flights that carry a Virgin Australia (VA) flight number. Every new flight counts as an eligible sector, so Auckland – Melbourne – Hobart return on one ticket will net you four eligible sectors, assuming they are all booked under a VA flight number.
Membership tiers
There are four membership tiers in Velocity Frequent Flyer: the entry level for everyone is Red, and you can progress up through Silver, Gold and Platinum.

The higher your status, the better the perks you get. This includes higher points upgrade priority, more bonus points from flying, faster phone service, and even complimentary upgrades for Platinum members.
A key reason to aim for Gold or above
In most frequent flyer programmes, Gold is usually the mid-tier status that is seen as the 'sweet spot' for many travellers, and Velocity is no exception.
This level is when a whole suite of premium perks kick in, including priority check-in, baggage, boarding and screening, as well as unlocking access to Virgin Australia and partner lounges worldwide, even when travelling in Economy Class.
Access to the Strata Lounge in Auckland for you and a guest when travelling with Virgin Australia comes standard with Gold membership
Within Velocity, Gold status is twice as easy to obtain as Platinum status while offering the same core benefit overall.
Velocity Red
To achieve: 0 SCs
To maintain: 0 SCs
This is the entry level for all Velocity members, and a necessity if you want to earn Velocity Points and redeem them for flights or upgrades.
Velocity Silver
To achieve: 250 SCs
To maintain: 200 SCs
Eligible VA flights needed every 12 months: 2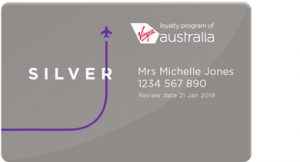 Two complimentary passes to an Australian Domestic Virgin Australia lounge
Use of Business Class check-in counters for international Virgin Australia flights
One extra bag on Virgin Australia flights (23kg for Economy, 32kg for Business)
50% points bonus on Virgin Australia flights (except Domestic Getaway fares) and a 25% bonus on Etihad
Priority telephone line
Priority upgrade waitlisting above Red members
Some reciprocal benefits with partner airlines, including Delta and Etihad
Discounted lounge membership ($300/year, saving $330)
View the full list of benefits here.
Velocity Gold
To achieve: 500 SCs
To maintain: 400 SCs
Eligible VA flights needed every 12 months: 4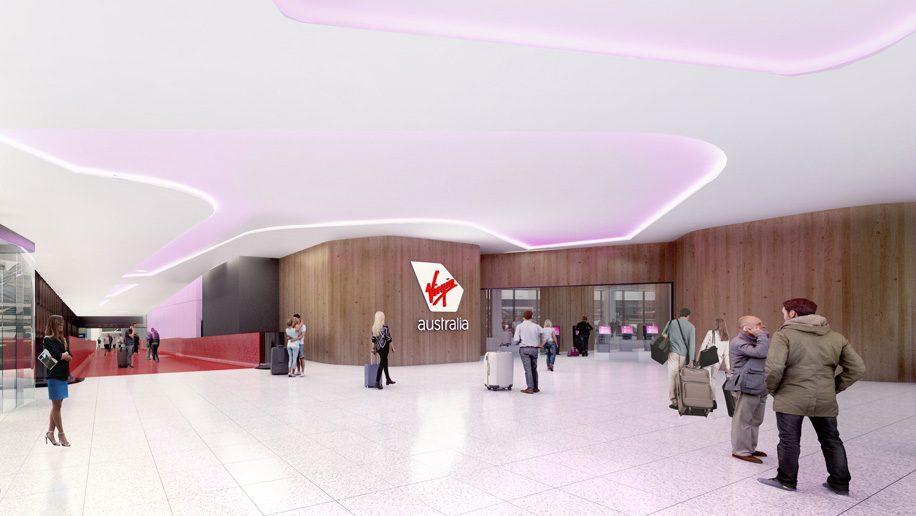 Access Premium Entry as a Velocity Gold member
In addition to most of the Silver perks above, you also get:
Unlimited Virgin Australia and partner lounge access + one guest, including Sydney and Brisbane Premium Entry (and Melbourne from 2019)
On-arrival domestic lounge access, subject to space
Priority check-in, baggage, security and boarding where available
Same reciprocal benefits on all partner airlines
Fly Ahead on an earlier flight free of charge (except Getaway fares)
Up to four guaranteed economy reward seats to any Virgin Australia domestic destination, if booked at least six months beforehand (includes peak periods)
Complimentary once-off Privilege/Five Star status with Europcar or Hertz
75% bonus points on Virgin Australia flights (except Getaway fares) and a 50% bonus on Etihad
Ability to upgrade flights to Hong Kong and Los Angeles with a Freedom fare or higher
View the full list of benefits here.
Velocity Platinum
To achieve: 1000 SCs
To maintain: 800 SCs
Eligible VA flights needed every 12 months: 8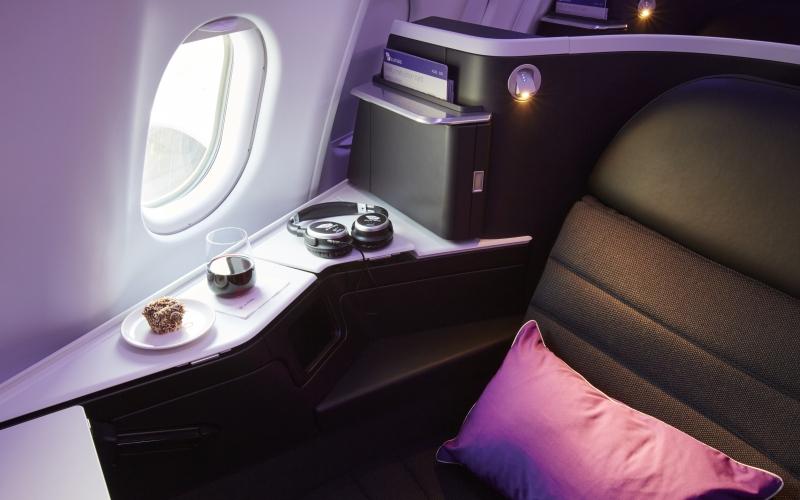 Platinum Complimentary Fare Upgrades can be used for 'The Business'
In addition to most of the Gold perks above, you also get:
Four complimentary upgrades a year from Freedom fare to Business Class on domestic and short-haul international flights
Complimentary Economy X seating on domestic and short-haul international flights, including for other guests on the same booking as you
Ability to bring up to three guests at all Virgin Australia lounges
Access to better international partner lounges, e.g. Etihad First Class Lounge Abu Dhabi
Guaranteed on-arrival access to domestic lounges
Points upgrades clear from five days before departure
Up to four guaranteed Economy reward seats to any Virgin Australia or codeshare international destination, if booked at least six months beforehand (includes peak periods)
Complimentary once-off Privilege Elite/President's Circle with Europcar or Hertz
Gift companion Gold/Platinum status when you maintain Platinum and earn another 500/1000 SCs
100% bonus points on Virgin Australia flights (except Getaway fares) and a 75% bonus on Etihad
Remember: you do not earn Status Credits on reward flights
One thing that many new frequent flyer point readers do not realise is that only cash fares will earn points and Status Credits—award/reward bookings with points will net you nothing. This is not exclusive to Velocity but rather a policy adopted by almost every frequent flyer program worldwide.
To earn or maintain Velocity status, you will have to spend money on fares.
'Parental Pause' for new parents
This is a handy feature for parents who have or are expecting a child and would like to put their membership on hold. You will get a six-month break where you do not need to earn any Status Credits, and then your current status will be renewed for another 12 months.
We have all the details here.
Family Pooling of points and Status Credits
Family Pooling is an excellent and unique program feature where eligible members in a household can pool all their points and Status Credits into one account to get that person up the status ladder quicker.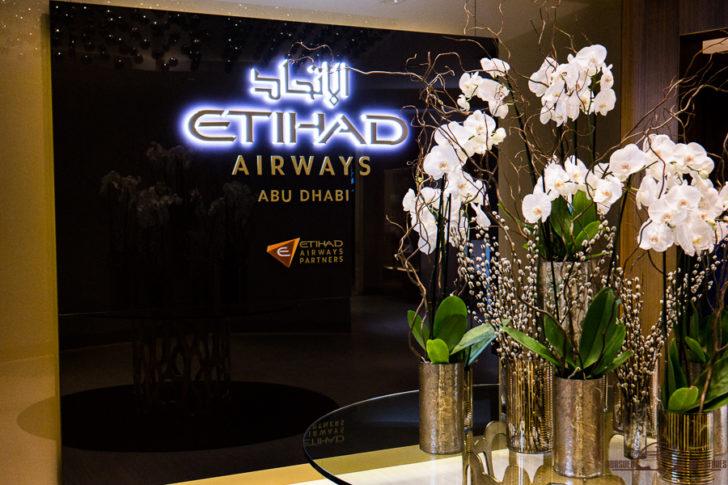 Access the Etihad First Class Lounge Abu Dhabi sooner when Family Pooling to one person
Each family pool can have two adults (including the beneficiary) and four children, so a family of six could potentially all pool to one person and hit Gold or Platinum in little time.
All the details on Family Pooling are here.
App and digital membership card
Smartphone users can track their upcoming flights, and see their status details through the Velocity app.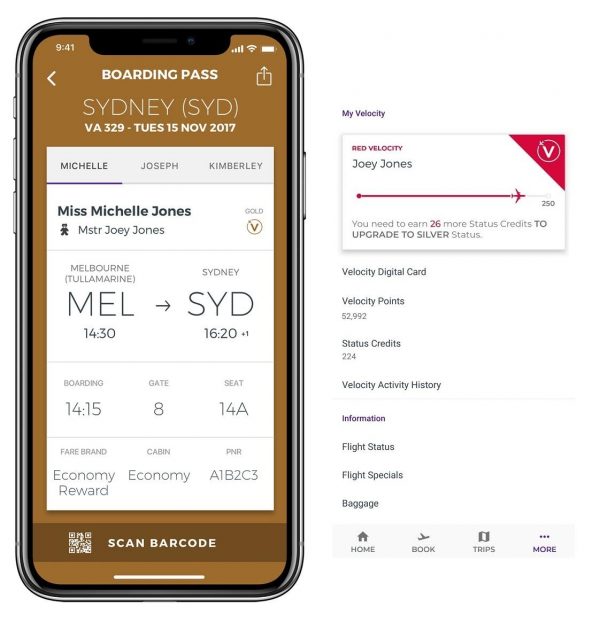 Boarding passes are framed in the colour of your status for easy identification. You can call up a digital card barcode if something needs to be scanned, and a handy graphic shows you how far away you are from the next status level.
Summing up
Velocity Frequent Flyer status is a very solid offering to those who travel a lot on Virgin Australia and partner airlines.
It is also relatively easy to earn Velocity status, even for us in New Zealand. This is because the earn thresholds are lower, fares generally cheaper, and Family Pooling can reduce the amount of flying needed by half or even more.
Regardless, I would not recommend spending extra time and money just to obtain status—this is best suited to those who are travelling constantly for work or leisure anyway, and could maybe tweak a few things to maximise their Status Credits return.
Remember, once you have status with one airline, you have your foot in the door and can status match to other airlines and alliances.
Do you hold status with Velocity? What do you see as its major perks and downsides? Let us know in the comments below.
Supplementary images courtesy Velocity Frequent Flyer.
The beginner's guide to Velocity Frequent Flyer status and benefits
was last modified:
November 26th, 2019
by