I thought it's worth revisiting Velocity's excellent and very useful 'Family Pooling' feature given how much benefit it can offer to couples and families trying to build their points and status balances. Family Pooling is unique to Virgin Australia and is designed to get your whole family loyal to the airline, by allowing frequent flyers in the same household to link accounts to collect and combine points and status credits between family members.
The head of household manages the points and earns the full status credits of the family group, allowing them to earn Velocity status much faster. There are also 'Family Transfers', which allow on-demand transfers of Velocity points only between Velocity accounts.
It's not complex to set up in either case, and this guide runs through how to do both and some of the example uses and benefits.
Guide to Velocity Family Pooling
Family pooling is set up with a beneficiary (the person who will receiving points and status) and contributors (those who will be adding their points and status), with the beneficiary most often being the one who does the most travelling.
Using Family Pooling to combine points balances
Using Family Pooling means that every time family members earn points and status credits, they will automatically pooled into the indicated account. All points earned into all household member's Velocity accounts are pooled automatically on an ongoing basis.
This is especially powerful for anyone paying for flights for a full family on Virgin Australia or one of their partners where you would otherwise earn status credits into individual accounts. For example, this screenshot shows the result of a Family Pool for a paid business class fare from Sydney to London with Etihad: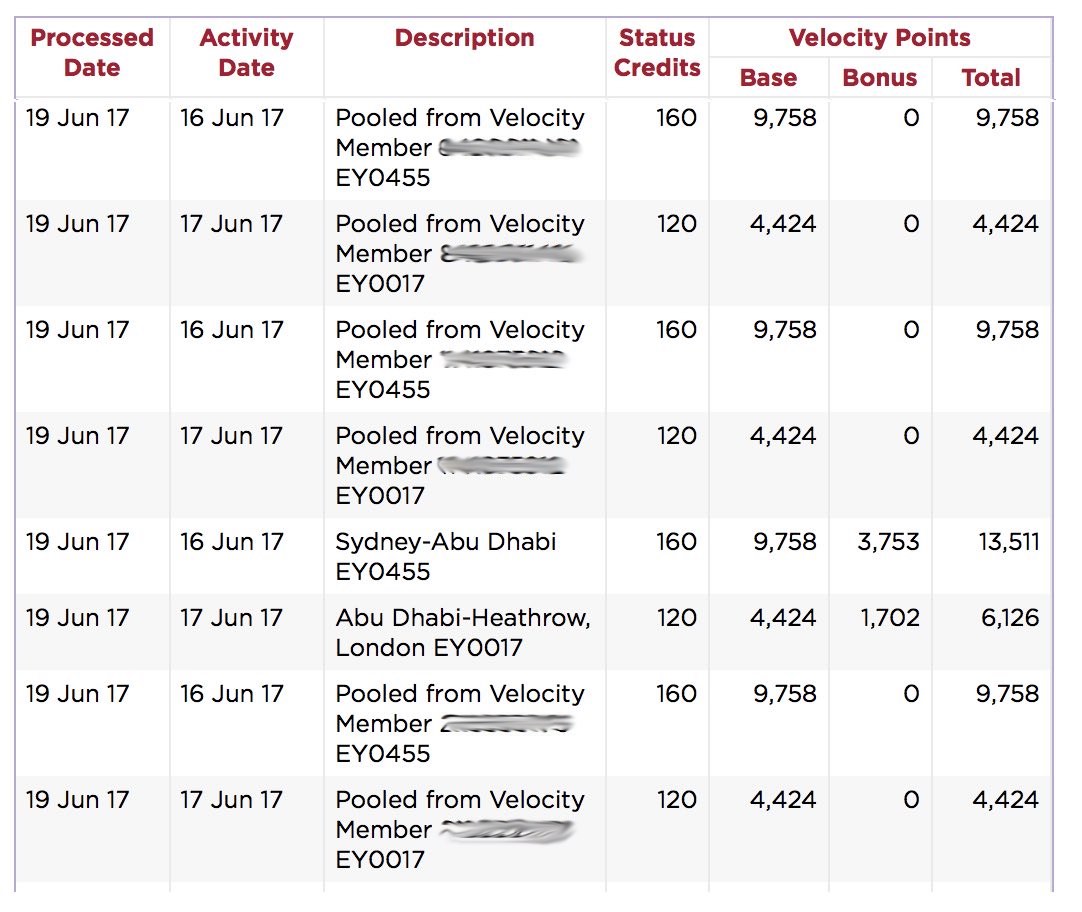 This member earned 1,120 status credits, more than enough to reach Velocity Platinum. Admittedly it's an extreme example as not everyone travels in paid Business Class with their family, but the benefits are multiplied significantly by using Family Pooling.
To get Family Pooling set up first you must indicate who will be the beneficiary of the pool, and appoint the contributor accounts of each family member, by selecting 'Set up Family Pooling' from the left hand navigation of the Velocity website once logged in.
Virgin Australia states that a family pool may consist of:
2 adults over 18 years of age and
4 children under 18 years of age.
When a child turns 18 they will be automatically removed and you may add / swap for another member. Once the pool has been set up and a beneficiary receives points from contributors, points pooling cannot then be reversed.
Essentially, Velocity are rewarding households for shifting their full loyalty to Virgin Australia and Velocity, including points earned from all sources.
Using Family Pooling to share status earn
The upside to Family Pooling is that status credits from everyone's travel across the pool are combined to the beneficiary's account, meaning they earn status much faster – and can potentially then guest other family pool members into lounges and share other status benefits if travelling together.
Updates to the pool setup can be made at any time, so you can reorganize who the beneficiary or the contributors are if looking to improve another member's status once you've hit your own status target.
This is an easy way to fast track a family member to that next level, so that they can enjoy some of the perks that come along with achieving Silver, Gold or Platinum.
Remember that if your family member is close to a status upgrade you may want to wait to set up pooling, as their points/credits will automatically be given to you and they would not be able to achieve the next level.
---
Guide to Velocity Family Transfers
Velocity family transfers are a little different, and don't require you to link your Velocity accounts on an ongoing basis to merge your balances.
You can make up to four transfers per year which are free when done online. There's a minimum transfer of 5,000 points, and a maximum of 100,000 points.
The transfer is initiated from the left hand navigation of the Velocity website once you are logged in, from the account of the member who is transferring the points out.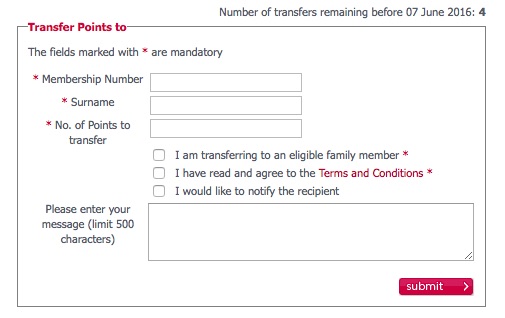 You are required to input the recipient's details and confirm they are an eligible family member, before making the transfer.
---
Should you use Family Transfers or Family Pooling?
The definition of family in both cases is the same across either system. An eligible family member may be any of the following:
Domestic partner (husband/wife etc.)
Parents, children, brothers and sisters
Grandparents and grandchildren
Uncles, aunts, nephews and nieces
First cousins
Your in-laws
Any foster, step or adoptee
All members must reside at the same home address and proof of this may be requested if Velocity suspects any wrong-doing.
Family pooling is much simpler to deal with ongoing, requiring no admin to keep on top of, and is ideal for families where there is a primary travelling family member with the other family members not having a chance of hitting Velocity status – and where everyone is living at the same address.
The downside is the more fixed nature of the status and points balances, which cannot be redistributed once pooled. If that's not a concern, go for family pooling.
The upside of family transfers is the additional flexibility for points balance management, but with minimum and maximum transfer amounts (and frequency of 4x per year) to be able to combine points.
Family transfers though will allow you to combine a wider range of family member's balances, including those not at the same address.
Summing up
In either system, the terms around eligible family members need to be acknowledged – while there are no hard checks on family members other than the address requirement for pooling, you'll need to decide how comfortable you are skirting these rules if you decide to combine balances from further afield. I'd recommend against it.
Remembering that family pooling and transfers exist is a key part of managing and growing your Velocity points balance to a usable amount.
Using Velocity Family Pooling and Transfers to combine Velocity points and status between accounts
was last modified:
October 12th, 2017
by