The number of travellers from New Zealand visiting South America is on the up—and with good reason. It's a continent rich in culture, landscapes and travel experiences.
In this guide, I go through your nonstop options to get from New Zealand to South America using points. I also look at alternatives when award availability is tight, as well as advise what is a good price to pay for Economy Class tickets.
---
Point Hacks South America Series
Part I: The Why: A (very comprehensive) destination guide to South America
Part II: The How: How to use your frequent flyer points to get to South America
---
The quickest way
There are two nonstop services from New Zealand to South America:
Auckland to Santiago on LATAM
Auckland to Buenos Aires on Air New Zealand
Air New Zealand from Auckland
New Zealand's flag carrier currently serves Buenos Aires, Argentina nonstop 3-5 times per week depending on the season (more flights in summer).
The service operates using a Boeing 787 Dreamliner. This aircraft features lie-flat Business Premier seating, in a 1-1-1 configuration.
Premium Economy on the 787 is set up in a 2-3-2 configuration, with recliner seats and improved service compared to Economy Class.
Here is what it will cost you for a one-way redemption flying Air New Zealand between Auckland and Buenos Aires:
Frequent flyer programme
Business
Premium Economy
Economy
Air New Zealand Airpoints
Variable

From 192,517 (3,263 APD) as of 13/01/2020
Variable

From 80,476 (1,364 APD) as of 13/01/2020
Variable

From 36,185 (614 APD) as of 13/01/2020
Singapore Airlines KrisFlyer
122,500
N/A**
67,500
United Airlines MileagePlus
90,000
N/A**
60,000
Avianca LifeMiles
81,000
N/A**
45,000
*These programmes do not currently allow Premium Economy redemptions on partner airlines.
Note that it is almost impossible to find Business Class availability on this route, and that Airpoints members may be stuck needing to pay 'full price' for an any seat reward.
The converted figures above are calculated based on our own conversion method detailed in this guide. The 'from' figures are based on Air New Zealand's lowest prices on the route as of time of writing.
LATAM from Auckland
LATAM is a Chilean-Brazilian airline and is part of the oneworld alliance. However, it was announced in late September 2019, that they will leave the alliance on 1 October 2020.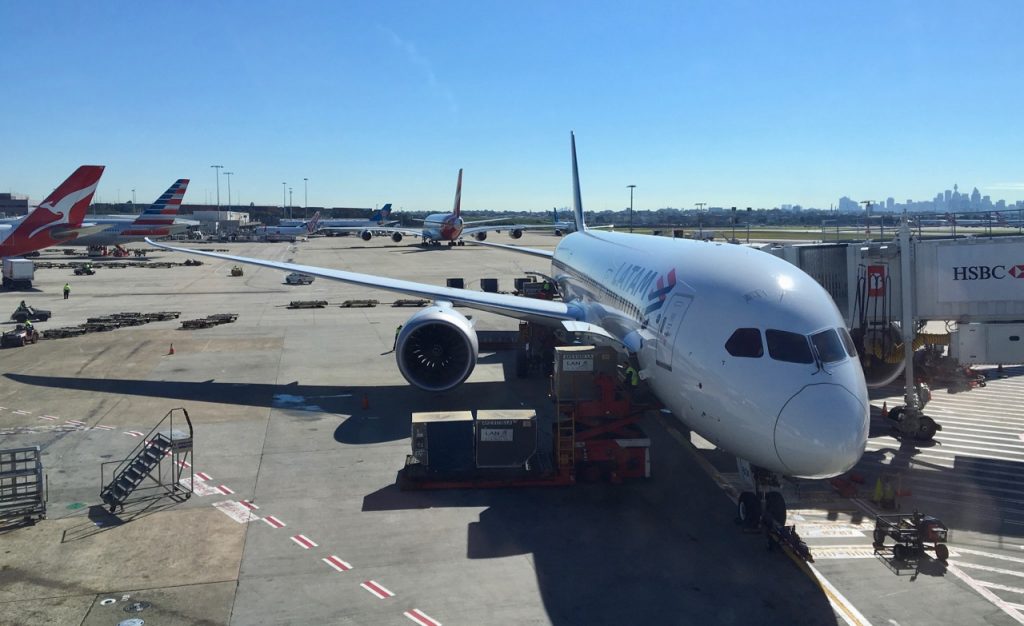 LATAM currently flies daily from Auckland to Santiago 4 times per week.
All these flights are operated by a Boeing 787 Dreamliner, with, again, lie-flat Business Class seats in a 2-2-2 configuration. If you had the choice between Air New Zealand and LATAM, I would recommend Air New Zealand for superior customer service and dining options.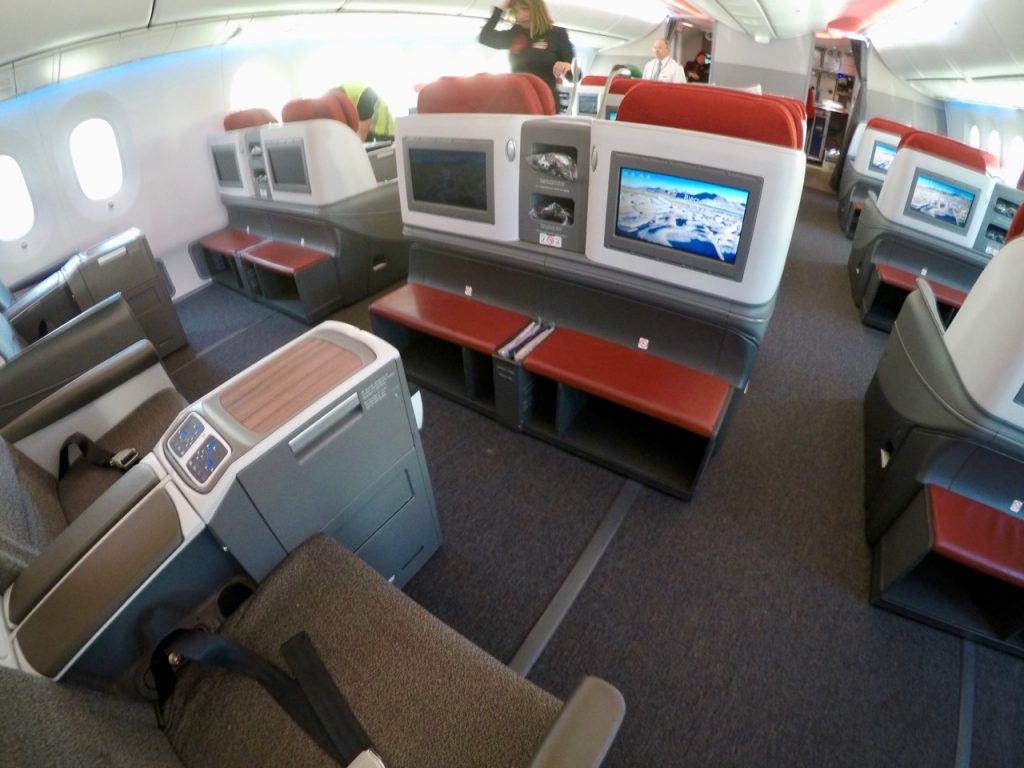 LATAM does not operate a Premium Economy cabin on this aircraft.
Here is what it will cost you for a one-way redemption flying LATAM between Auckland and Santiago:
When should I book an award ticket?
As far in advance as possible. Due to the low number of flights between New Zealand and South America and high competition for seats, it's best to book 11-12 months before departure.
How do I search for an award ticket?
You can use the Qantas website to search for award tickets on LATAM flights.
Using the British Airways website is another way to look for LATAM flights.
Once you find award space, you can book online with most programmes for Air New Zealand and LATAM flights. The only exceptions are that to book LATAM flights, you'll need to phone Asia Miles and AAdvantage.
What is a reasonable cash price for Economy Class tickets?
Flying from New Zealand to Santiago or Buenos Aires for under $1,000 return is a steal. If you see a ticket at this price, my advice is to jump on it.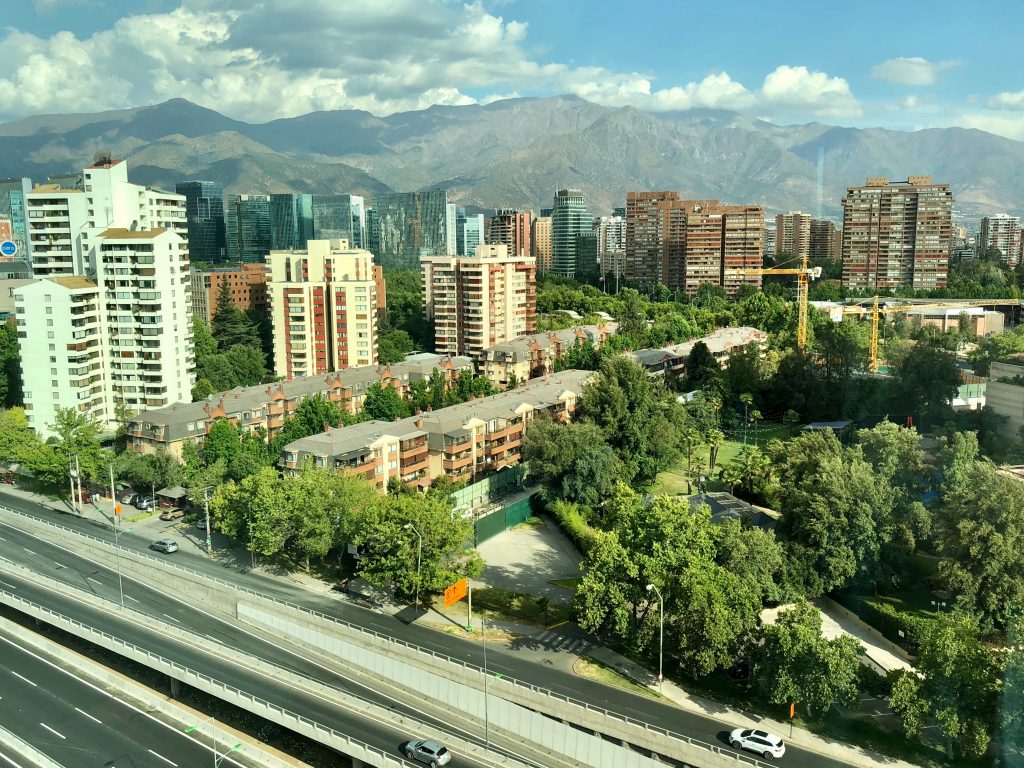 Once the price pushes over $1,500, then I would start to look at using points for an Economy Class ticket. During December-January, prices are usually over $1,800 and are unlikely to drop.
If you are going to pay for a Business Class flight with cash, then under $3,500-4,000 is a good price to pay.
Alternative options to get to South America using points
Fly Qantas from Sydney to Santiago (can be difficult to find Business Class availability on this route). From 24 June 2020, this service will move to daily on a Boeing 787 Dreamliner.
Fly to the US first and then down to South America (Los Angeles, Dallas/Fort Worth, Houston, Atlanta, Miami and New York offer connections to South America)
Once I'm in Santiago or Buenos Aires, how should I get around South America?
Both cities are a good hub to start and end your South American trip. However, South America is a big continent and, together with Africa, is one of the more expensive ones to get around.
Using Airpoints Dollars and Star Alliance points currencies
Your main option would be to use your Airpoints, KrisFlyer, United MileagePlus miles or LifeMiles to fly Star Alliance partner Avianca. It's the second-largest airline in South America and operates mainly in the top half of the continent, in Colombia, Ecuador and Peru, as well as some Central American countries.

There are also some interesting fifth-freedom Star Alliance routes in South American that you can use these points currencies on, including:
Air Canada between Buenos Aires and Santiago (a great value route using Airpoints Dollars)
Ethiopian Airlines and Turkish Airlines between Buenos Aires and Sao Paulo
These flights would be some of the best uses of Airpoints Dollars, at only APD150 in Economy and APD300 in Business, plus taxes.
This is the equivelent of 8,850 points in Economy, and 17,700 points in Business, using our equalisation method that puts Airpoints on part with others frequent flyer programmes.
Using Qantas Points and oneworld points currencies
You can reduce the cost of flights by using Qantas Points, Asia Miles, AAdvantage miles or British Airways Avios (my favourite) for Economy or Business Class flights with LATAM. It's the largest airline in South America and has subsidiaries in Argentina, Brazil, Chile, Colombia, Ecuador, Paraguay and Peru, which means it covers most places you'll want to visit. Whilst it doesn't have a subsidiary in Bolivia, it does fly to and from there from other countries.
As an example, I used 4,500 Avios (now 6,000) + ~NZ$31 to offset a ~NZ$625 cash ticket for a one-hour LATAM flight from Santiago to Temuco in Chile's Lakes District. This gave me a redemption value of almost 14 cents per point, which is about six times the value I put on those points.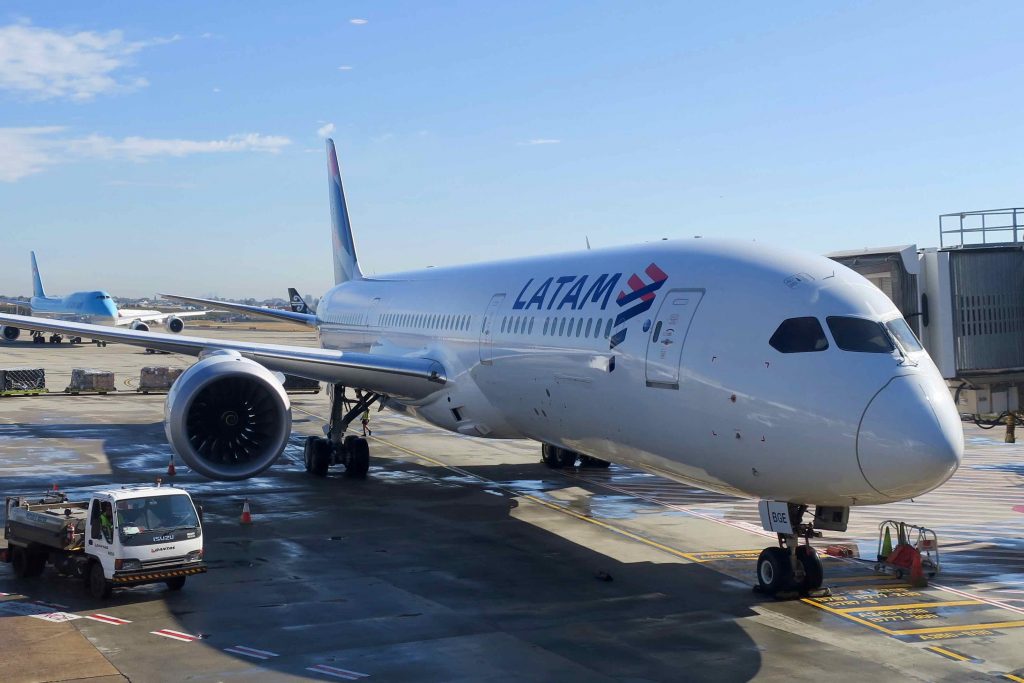 Flying low-cost
Finally, the past few years have seen the low-cost-carrier boom spread to South America. Look out for cheap flights with (but not limited to):
Argentina: Norwegian Air Argentina
Brazil: Azul and GOL
Chile: Sky Airline
Colombia: VivaColombia and Wingo
Peru: Star Perú and Viva Air
Can I stop in South America as part of a round-the-world trip?
Yes, you can!
Using 318,000 Qantas Points or only 240,000 Asia Miles, you can fly LATAM into Santiago and then leave the continent with another oneworld airline (or vice versa).
Using 240,000 KrisFlyer miles or 372,000 Velocity Points, you can also piece together a round-the-world trip flying Star Alliance airlines, including Air New Zealand (if you can find standard reward seats).
Summing up
The key to securing an award seat to South America in Business or Premium Economy Class is planning well in advance (one year ahead).
Those with access to oneworld points currencies like Qantas Points and Asia Miles are best-placed to travel on LATAM.
While Air New Zealand are the better quality airline to fly, they release little award availability to their partners, particularly on their flights to Buenos Aires. Using Airpoints Dollars is likely prohibitive given the cash price of Business Premier flights to South America.
Within South America, you can use your points to reduce the cost of expensive domestic and international flights.
Enjoy your trip! South America is a fantastic place to visit!
Have you had any success booking award seats to South America? How did you go about it?
How to use your frequent flyer points to fly from New Zealand to South America
was last modified:
January 14th, 2020
by