One of the biggest annoyances for most people when using Qantas Points are the taxes and fees they slug you with when redeeming points. For Economy flights, these can often be a deal breaker for using points when fares are cheap.
If you're willing to look away from Qantas for your flights to the US (which you really should), you can save points and cash by redeeming with American Airlines.
American Airlines offer three seasonal routes from New Zealand, which make them an excellent option for flying direct during peak summer months.
Why American Airlines redemptions with Qantas are cheaper than booking with Qantas directly
Qantas pass on taxes and fees with most of their frequent flyer partners, with few exceptions. American Airlines (AA) is one for which only airport and other booking fees are imposed by Qantas. Crucially, no fuel surcharges are applied, making the co-payment when using points much lower.
This is the case for all AA-operated flights, not just those across the Pacific. You can pick up a US – Europe flight in Business Class for under $15 in taxes (plus points, of course).
The other win is that the Qantas-AA joint venture means that American flights can be redeemed at the same cost in points as Qantas flights (unlike other oneworld partners like Cathay Pacific).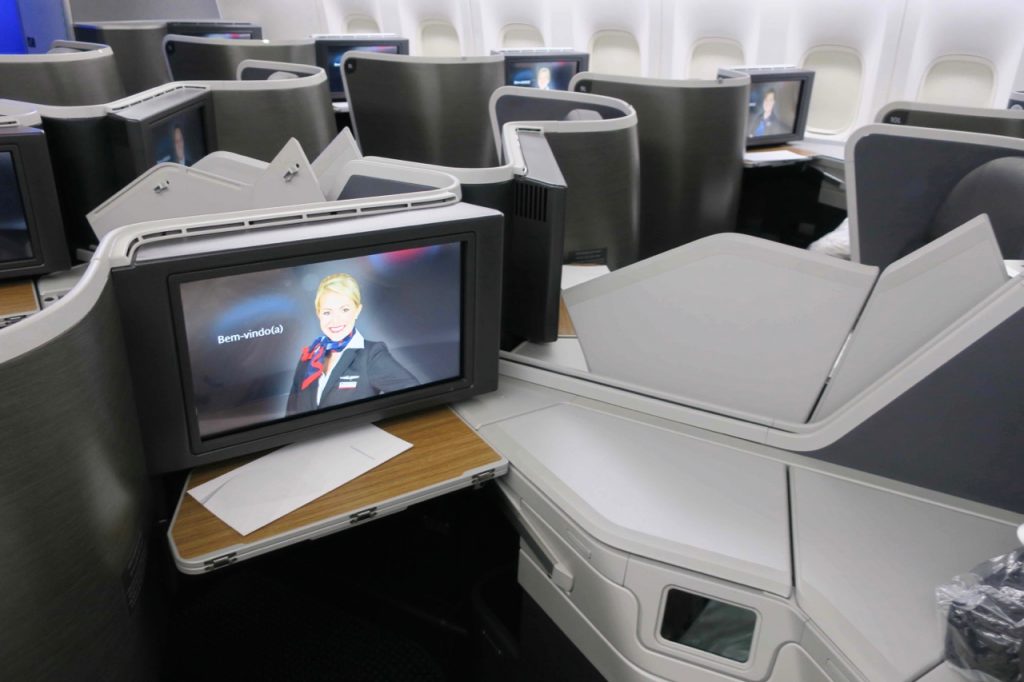 Examples of the points differences between booking with Qantas and American Airlines
Qantas Point pricing changed on 18 September 2019. In the table below, the figures have been updated accordingly.
| Route | Qantas (via AU) | American Airlines |
| --- | --- | --- |
| Auckland/Christchurch - Los Angeles Economy one way | 51,200 points | 37,600 points |
| Auckland/Christchurch - Los Angeles Business Class one way | 126,500 points | 94,900 points |
| Auckland - Dallas Economy Class one way | 55,200 points | 41,900 points |
| Auckland - Dallas Business Class one way | 144,600 points | 108,400 points |
General comments on award availability
Award availability with both American and Qantas in Economy across the Pacific is pretty good outside of the usual peak periods, and can be found in peak travel times for Economy and Premium Economy flights by planning ahead.
In Business and First Class, both airlines make slim pickings available for points redemptions.
Qantas tend to consistently release Business and First Class seats at the edge of their calendar. That means that 353 days prior to flying, a couple of seats usually come up in both classes.
However, if you don't have at least Qantas Gold status, you won't get access to these seats until 308 days, by which time they're usually gone. If these seats are booked and not cancelled, extra ones often don't come up.
AA, on the other hand, tends to manage its inventory in blocks. There's no redemption availability for a while, and then a block of seats will open up for redemptions. I often find that there are more Business Class award seats available ex-US than ex-NZ, which seems odd given you would think most of the seats would be snapped up the other way around.
Comparing Qantas and AA's product across The Pacific
The hard product
Business Class
From Sydney, Qantas operates an Airbus A380, with its decade-old Skybed Mark II product. It's not a competitive product.
Out of the five airlines operating this route, Qantas is one of the two that does not give all passengers direct aisle access, which is important on a 13- to 15-hour flight (United is the other).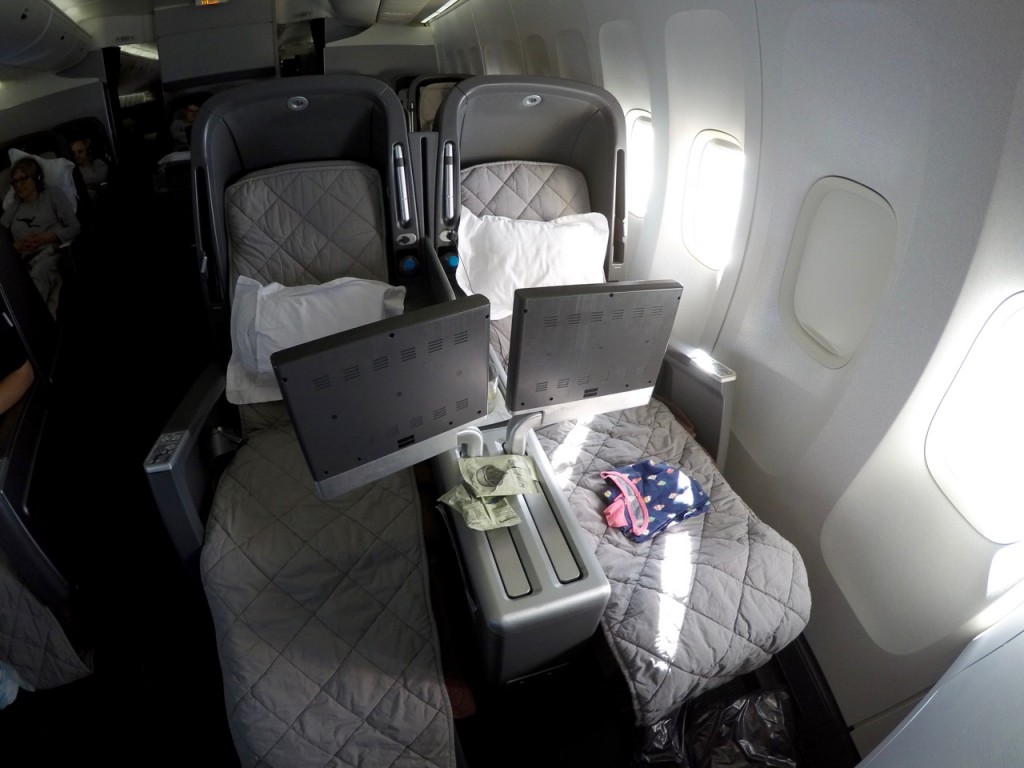 However, this product should be updated to the Business Studios found on Qantas' 787 and A330 aircraft sometime in 2019-20. Until then, AA has a superior hard product (meaning the seat is better).
AA uses a Boeing 787-9 on flights ex-New Zealand, with lie-flat, reverse herringbone seats, much like you find on Virgin Australia. I tried this product out flying from Miami to Santiago in 2018 and was impressed with the privacy and comfort.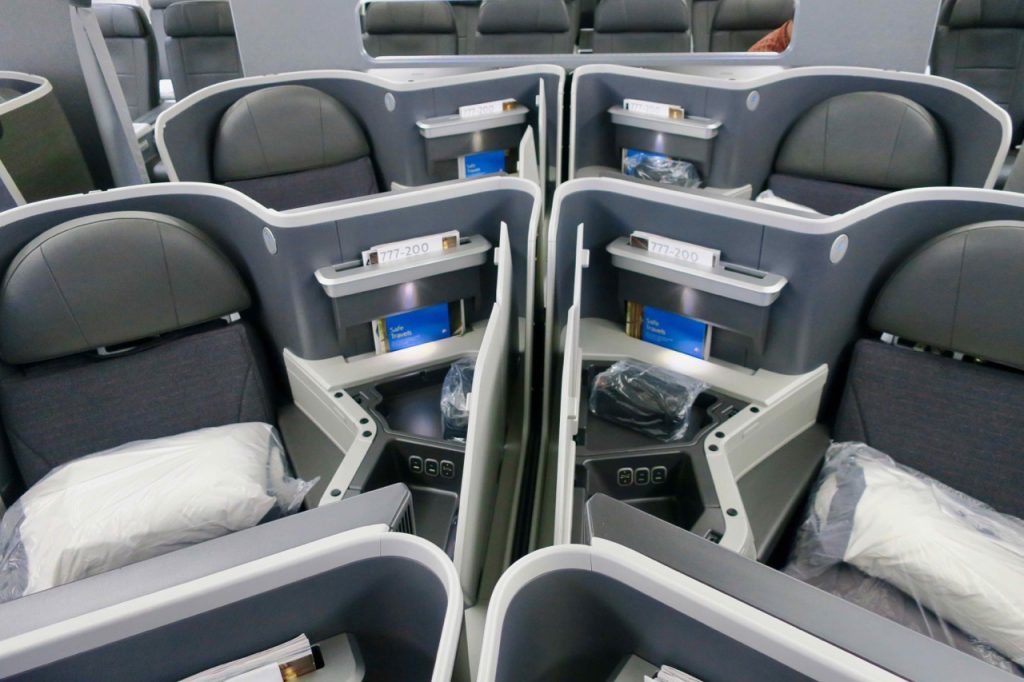 Economy Class
At the back of the plane, it's a toss-up. Qantas' larger A380 has seats set up in a 3-4-3 configuration and each seat has a width of 17.5 inches.
Conversely, AA's smaller 787 plane has a 3-3-3 layout, with a tighter seat at 16.2-17.2 inches (depending on where you're sitting).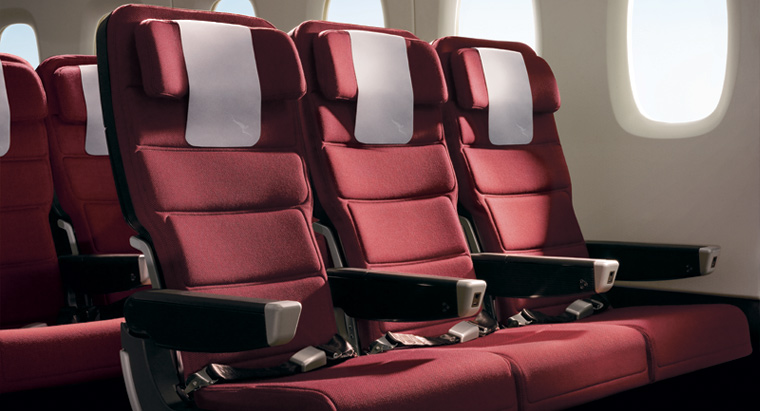 Both airlines have the same amount of seat pitch (legroom) at 31 inches.
The soft product
AA is definitely not The Spirit of Australia, as Qantas proclaims itself to be. Their inflight product is quite different to Qantas'.
From my (many) experiences flying AA, the most marked difference is in the quality of service. US airlines generally are known for service that is focused on safety, with food and other courtesies a second priority.
The best cabin crew juggle both safety and customer service, and it's rare to experience a flight with a US airline that manages to find this balance. The one that comes closest is Delta.
Though for the cash and points saved, and the avoidance of a flight back to Aussie, I am certain most travellers would prefer to redeem with American instead. AA simply service New Zealand better than Qantas during peak season.
How to book American Airlines flights with Qantas Points
Thankfully using Qantas Points for American Airlines flights is really easy.
Navigate to the Qantas website
In the search box, click on Use points
Enter your travel date/s and route, e.g. Auckland – Los Angeles on 16 October
Log in to your Qantas Frequent Flyer account
Select your flights if you can find award availability
You'll then want to look for the AA operated flights that look like this:
Shortcut: Qantas' website has a clunky calendar search function, but AA has a better one, where you can get a simple monthly overview of availability. Just make sure you use the Advanced / Multi-city search function on the AA website.
Summing up
One very common gripe for Qantas Frequent Flyer members is that the taxes and fees attached to award redemptions are too high.
Therefore, when planning a trip to the US, consider enjoying significant savings in the cash component by flying American Airlines (or Fiji Airways) instead of Qantas.
I must reiterate that award availability in premium cabins on Transpacific flights can be really hard to come by, so do plan well in advance (about a year before departure).
Have you had a particularly good or bad experience flying with Qantas or AA across to the US? Which would you choose?
Looking to save fees on Qantas Point redemptions to the US? Try American Airlines instead of Qantas
was last modified:
December 16th, 2019
by