With trips to Japan by travellers in New Zealand growing at a rapid pace, let's have a look at the options of getting there direct using your frequent flyer points (hint—there aren't many).
---
---
Point Hacks Japan Series
Part I: The Why: My personal tips to make the most of your trip to Japan
Part II: The How: How to use your frequent flyer points to get to Japan
---
Nonstop services
There are three direct flights between New Zealand and Japan—all are from Auckland, and all are with Air New Zealand:
Auckland to Tokyo (Narita)
Auckland to Tokyo (Haneda) Resumes 17 July 2019
Auckland to Osaka (Kansai) Seasonal, 3x weekly between late October and early April
If you live elsewhere in New Zealand, you'll need to connect through Auckland, or via another country like Australia, Singapore, Hong Kong, or Fiji.
If you have Airpoints Dollars, KrisFlyer miles, or any other Star Alliance points currency…
…then you'll likely be flying with Air New Zealand!
Air New Zealand
Air New Zealand offer their excellent 787 Dreamliner Business Premium product on flights to Japan.
With an intimate 1-1-1 layout, it's not the best for those who like to travel in pairs. However if you're flying solo, this arrangement provides for a reasonable amount of privacy. The bedding aboard Air New Zealand is also truly superb, and service very friendly and efficient.
A seat one-way on one of these flights will cost you:
Award availability offered by Air New Zealand to their Star Alliance partners on Japan routes is fairly reasonable. For example, in July and August this year, there are many days where at least one seat is available on flights to Tokyo:
Note that the seats shown on United do not appear to be showing through KrisFlyer online however should theoretically be available to book via phone.
If a seat is showing on United, it should also be bookable via Air New Zealand as a Discounted Business Award Fare.
If you have Qantas Points, Asia Miles, or any other oneworld points currency…
…you won't be able to fly nonstop to Japan, and will have to skip, jump and hop through another country.
Have a read of our guide on the one-stop connecting flights that are on offer for flights to Japan from New Zealand.
Planning to visit Europe or the US on the same trip?
Unfortunately, Air New Zealand does not offer a First Class nonstop between New Zealand and Japan—and on no routes, in fact.
However, you can enjoy this extra level of luxury between Japan and Europe as well as the US. So if you are thinking of doing a multi-country trip, then read our reviews of Japan Airlines and ANA First Class to see if you can incorporate these products into your plan.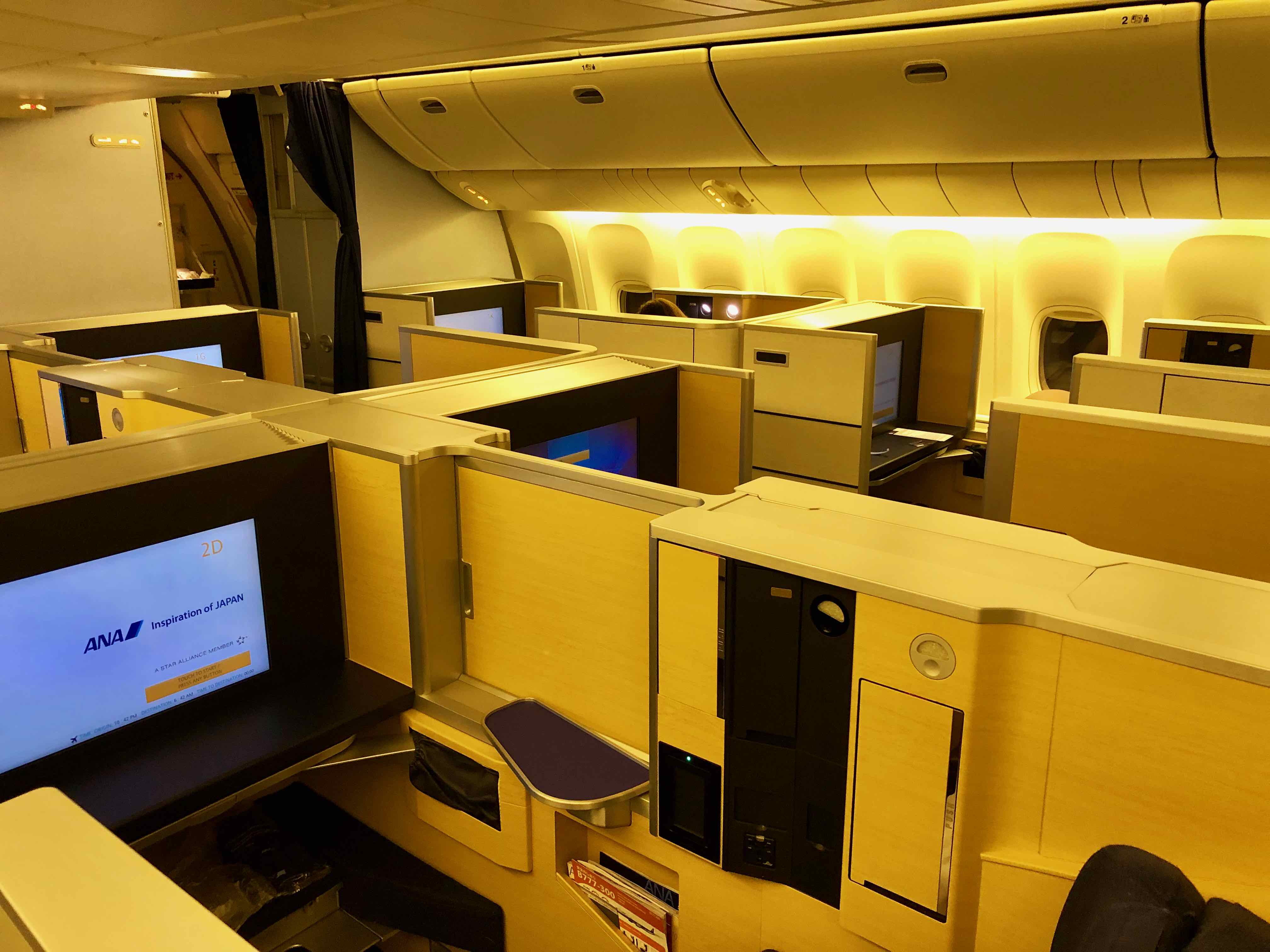 If you have American Express points, then ANA First Class is a great redemption to aim for
If you are going to fly Economy…
…then aim to buy a ticket with cash. With the taxes and surcharges on most award redemptions, it might be better for you to save your points for another trip. Plus, cash tickets to Japan have never been cheaper.
Having said that, if you are travelling last-minute or during a busy travel period, then using your points for an Economy Class ticket may make sense. Just make sure you do the maths to make sure you're getting the most value.
Want more inspiration?
We've written about Japan quite a bit before.
Here is how each member of the Point Hacks team travelled to Tokyo for our meetup in August 2018.
You can also read about how Andrew used his Qantas and Velocity Points to fly Business Class to Japan from Australia.
Similarly, Ricardo booked his trip-of-a-lifetime to Tokyo for less than US$1000, with a focus on luxury hotels.
Learn how to fly most routes within Japan for less than $135 including checked baggage.
Got a credit card that lets you top up your Airpoints Dollars? Well you are in luck, because some domestic flights with ANA in Japan can be had even cheaper from only $125.
Summing up
Japan is a very popular destination for travellers from New Zealand—and with good reason.
Given the high demand for premium cabin products between the two countries, and the limited competition—Air New Zealand dominates—my main tip would be to plan well in advance (11-12 months out if possible).
Those with Airpoints Dollars or KrisFlyer miles will have the most chance of securing a seat on a direct flight. Conversely, those with Qantas Points, Asia Miles or another oneworld points currencies are probably best aiming to fly via Australia, or another country.
If you are going to make the trek of 7-10 hours in Economy Class, then I would suggest buying your ticket with cash and saving your points for another trip.
Happy travels to the Land of the Rising Sun!
How have you used your frequent flyer points to travel to Japan? Do you have any insider tips to share in the comments below?
Supplementary images courtesy respective airlines.
How to use your frequent flyer points to get to Japan
was last modified:
July 24th, 2019
by