Hawaii is a popular destination for travellers in New Zealand and, as such, we often get questions like this one in the Questions & Answers section of our Australian website:
What is the likelihood of obtaining three seats on X Business Class to Hawaii? Any tips?
This is a really great question, so we've decided to revamp our guide on how to use your frequent flyer points to fly in comfort to the Hawaiian Islands.
The test
We have two airline options for direct flights to Hawaii: Air New Zealand, and Hawaiian Airlines. Both of these fly from Auckland. If you live in another city in New Zealand, you can tag a connecting flight on Jetstar or Air New Zealand.
Flying with Fiji Airways via Nadi is also an option, with at least 2 Business Class seats available on most flights. Though like all good things involving points, there is often a downside – in this case, the downside is the limited flight schedule from NZ to Fiji, and the solo direct flight between Nadi and Honolulu per week, departing Sunday afternoon, and returning early Monday morning.
Fiji Airways do offer connections to Honolulu via other islands on other days, though we'll assume for the purpose of this guide that your goal is to get to Hawaii, and not do an island hop with extended layovers – if you're interested in learning about these options, let us know in the comments below, and we can put these in another guide.
The crux of this post is to compare the Business Class offerings, as they generally offer the most per-point value. Economy flights are usually best bought with cash, however, there are exceptions to that rule.
Most flights departing New Zealand are overnight flights, and most return flights leave in the first half of the day. That means that if you only have enough points to fly Business on one of the legs, you may choose to do that on the way there rather than the way back so you can get a good sleep.
All redemption pricing in this guide is for one-way travel.
An important note about award availability
Finding award space in premium cabins on direct flights between New Zealand and the US (including Hawaii) is one of the hardest things to do in the frequent flyer world.
As such, you will find the most award availability to/from Hawaii when the award calendar opens up, 11-12 months before departure (depending on the frequent flyer program). This possibly excludes Air New Zealand, who seems to not make awards available irrespective of the time of year.
Also note that it is extra hard to find more than two award seats on each flight and that school holidays are almost impossible to find availability for. If you are a family, then it is probably worth saving your points for a trip somewhere else.
If you cannot find award space and you have more transit time up your sleeve, this is where Fiji Airways via Nadi may come in handy.
So here are your options…
Air New Zealand 777-200 Business Premier from Auckland
Business Premier on the 777-200 is arranged in a 1-2-1 configuration, with fully lie flat seats, similar to what you'd find on Air New Zealand's 787 Dreamliner.
You'll get complimentary meals and beverages, inflight entertainment, amenity kit, and three pieces of checked luggage (up to 23kg each). You'll also get access to the Air New Zealand International Lounge at Auckland Airport.
The biggest hassle with Air New Zealand is finding traditional award seat availability. Based on using United's website to search for award availability, I could not find one Business Class award seat on their Honolulu service for all of 2018.
While you could of course use Airpoints Dollars to pay for any available seat on these flights, this could quickly become prohibitive for most – you'd need over 2,000 Airpoints Dollars at a minimum for one seat, one-way.
If you are lucky enough to ever find traditional award seat availability on Air New Zealand, the cheapest one-way redemption can be found with Virgin Atlantic at only 45,000 miles one-way.
ANA is cheaper if you're looking for a return redemption, at 42,500 miles each way.
Both airlines are SPG transfer partners, so these miles can effectively be 'earned' through everyday spend on an American Express Membership Rewards credit card.
Hawaiian Airlines A330 Business Class from Auckland
Hawaii's flag carrier accounts for over half of the traffic at Honolulu International Airport and has been progressively upgrading its Business Class on long-haul routes, including those to New Zealand.
You'll get a lie-flat seat in a 2-2-2 configuration, a perfect design for couples travelling together on this popular holiday route. Strata Club will be your lounge destination at Auckland Airport.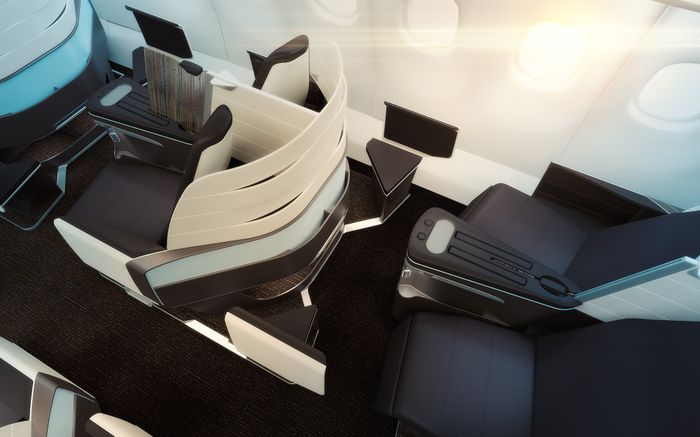 You can redeem for a Business Class award redemption for only 65,000 points with Virgin Velocity. These can be earned from everyday spend on an American Express Membership Rewards credit card.
In the past, Velocity has had trouble accessing award space on Hawaiian Airlines but, at the time of writing, this issue seems to have been rectified. To search for award space on Hawaiian, use aa.com and then call Velocity to confirm they can see it too, especially before you transfer any points over.
We've got more information in our guide on how to redeem Velocity points for Business & First Class flights to the US.
You may also choose to use your Velocity points on 'First' or Economy Class inter-island travel between the Hawaiian Islands, especially if cash prices are high on these short hops.
Relying on purchased miles? AAdvantage also offer redemptions on this route for 65,000 miles one-way. At time of writing, under their most recent buy miles promotion, you could purchase these miles for as little as $1,623 NZD.
The average retail price of a Business Class seat on a one-way flight from Honolulu to Auckland is $4,505 NZD, so this isn't bad value, particularly if you only have enough points for the flight over to Hawaii. They can also easily be booked online at aa.com, avoiding any need for phone calls.
Fiji Airways 737-800 Business Class from Auckland and Christchurch
If you're already off to the islands, you may as well add in one more!
Fiji Airways have excellent Business Class award availability year round, with at least 2 seats available on most flights. However sadly, as they only have one direct flight to Honolulu from Nadi per week, your redemption options are limited if you wish to minimise your layover or further island transits.
Here are the flight combinations you should look out for, and the best points options for a redemption:
Auckland
Auckland, as usual, has the better flight redemption options, with same-day connections available to/from Auckland.
Auckland to Nadi: FJ410 (1.00 pm – 3.55 pm Sunday) or FJ414 (2.10 am – 5.15 am Sunday)
Nadi to Honolulu: FJ820 (5.10 pm – 1.40 am Sunday)
Honolulu to Nadi: FJ821 (2.50 am Sunday – 7.35 am Monday)
Nadi to Auckland: FJ842 (8.45 am – 12.50 pm Monday)
Best points options (one-way): 45,000 Alaska MileagePlan, 60,000 Qantas Points
Christchurch
If you're travelling from Christchurch, you'll require an overnight stay in Nadi on the way to Hawaii, and on the route home. If this isn't for you, opt to fly via Auckland instead.
Christchurch to Nadi: FJ450 (2.30 pm – 6.25 pm Saturday)
Nadi to Honolulu: FJ820 (5.10 pm – 1.40 am Sunday)
Honolulu to Nadi: FJ821 (2.50 am Sunday – 7.35 am Monday)
Nadi to Christchurch: FJ451 (9.30 am – 1.30 pm Tuesday)
Best points options (one-way): 45,000 Alaska MileagePlan, 72,000 (to Hawaii) to 86,000 (from Hawaii, due to >24 hour transit) Qantas Points
Wellington
While Fiji Airways have one flight per week between Wellington and Nadi, which departs on a Sunday afternoon, the onwards connection to Honolulu departs 15 minutes after your arrival in Nadi, making a connection impossible.
The return from Honolulu to Wellington is also unable to be booked under the one redemption, as the connection between flights in Nadi is less than 1 hour.
We'll update this guide should the timing of this connection ever improve.
Product
Fiji Airways unfortunately don't offer their long-haul Airbus A330-200 on this route, with the Boeing 737-800 being scheduled to fly between NZ, Nadi, and Honolulu. This is probably the least attractive product on the route, out of the available options.
You'll get access to the Qantas Business Lounge in Auckland, and the Manaia Lounge in Christchurch.
Points Availability
While Alaska MileagePlan are meant to offer excellent redemption rates with Fiji Airways at only 45,000 miles one-way, I am unable to find any Business Class availability for all of 2018 on the above routes. There is however abundant availability through Qantas Frequent Flyer.
For this reason, Qantas Points will more than likely be your tool of choice for securing award seats on these flights.
Summing up
If I were looking to head to Hawaii, I would firstly plan a year in advance.
Secondly, I'd aim to use Virgin Velocity points or AAdvantage miles to snag an excellent seat on Hawaiian Airline's A330 from Auckland.
Using Qantas Points on Fiji Airways would be my backup if I couldn't otherwise find availability, or I was keen on some extended layovers en-route.
If I had access to a very large number of Airpoints Dollars, then I opt to use these with Air New Zealand.
If I didn't care so much about flying Business, then I would just use cash to purchase an Economy ticket.
Finally, if I were travelling with a larger group and/or during school holidays, then I would probably cut my losses and not spend too much time searching for award availability given the very slim chances of finding any, preferring to direct my efforts to one of these best uses of points.
Have you had success booking award travel to Hawaii? We would love to hear about it in the comments!
---
Do you have a points-related question?
Search the Point Hacks website using the Looking For Something? box (located to the right-hand side of any post) to see if we have already answered your question in a previous post.
You can submit your question in the comments section below, and someone from the Point Hacks Community, whether another reader or one of our team members, will hopefully be able to help you out.
Supplementary images courtesy Fiji Airways and Hawaiian Airlines.
How to use your points to fly to Hawaii
was last modified:
January 6th, 2018
by