A popular feature of the legacy Starwood programme was the ability to transfer hotel points to frequent flyer programmes with a generous bonus. I am happy to say that this feature is continuing with Marriott Bonvoy.

It is especially useful for those who travel infrequently and might have small balances in Bonvoy that are not enough for a hotel night award but could be transferred to top-up their preferred frequent flyer account.
All of your favourite frequent flyer programmes are included, such as:
The basics of transferring points
For most programmes, 3 Marriott Bonvoy points are equal to 1 frequent flyer mile or point (we will use 'miles' in this article where possible to better differentiate them from Marriott points).
The minimum transfer is 3,000 Marriott points to 1,000 frequent flyer miles, and the daily maximum is 240,000 Marriott points to 80,000 frequent flyer miles (plus a 20,000-mile bonus as explained below).
So what is this bonus all about? Simply, for every 60,000 Marriott points you transfer across to 20,000 airline miles, they will also throw in an extra 5,000 airline miles, representing a 25% bonus.
Here is an example of transfer rates:
30,000 Marriott points = 10,000 frequent flyer miles
60,000 Marriott points = 25,000 frequent flyer miles (20,000 + 5,000 bonus)
90,000 Marriott points = 35,000 frequent flyer miles (30,000 + 5,000 bonus)
120,000 Marriott points = 50,000 frequent flyer miles (40,000 + 10,000 bonus)
150,000 Marriott points = 60,000 frequent flyer miles (50,000 + 10,000 bonus)
180,000 Marriott points = 75,000 frequent flyer miles (60,000 + 15,000 bonus)
210,000 Marriott points = 85,000 frequent flyer miles (70,000 + 15,000 bonus)
240,000 Marriott points = 100,000 frequent flyer miles (80,000 + 20,000 bonus)
The best value redemptions (bolded) are those in multiples of 60,000 Marriott points, working out to be 0.42 airline miles per 1 Marriott point including the bonus.
The non-bold transfers only yield around 0.33 to 0.39 airline miles per 1 Marriott point.
Participating airlines with Marriott Bonvoy
There are more than 40 airlines that can be transferred to from Marriott Bonvoy.
The ones most relevant to point hacking Kiwis are listed in this table (click the links for the guides to each programme):
I have left Airpoints off this table, because of the higher 200:1 standard transfer rate.
Here are the rest of the participating programmes, which are all 3:1 unless otherwise noted:
Aegean Airlines
Aeroflot Bonus
AeroMexico Club Premier
Air Canada Aeroplan
Air China Phoenix Miles
Air France/KLM Flying Blue
Air New Zealand Airpoints (200:1)
Alitalia MilleMiglia
ANA Mileage Club
Asiana Airlines
China Eastern Airlines
China Southern Airlines
Copa Airlines
Delta SkyMiles
Emirates Skywards
Etihad Guest
Frontier Airlines
Hainan Airlines
Hawaiian Airlines
Iberia Plus
Japan Airlines
Jet Airways
JetBlue (6:1)
Korean Air
LATAM
Multiplus
Qatar Privilege Club
Saudia Airlines
South African Airways
Southwest Airlines
TAP Air Portugal
THAI Airways
Turkish Airlines
Virgin Atlantic Flying Club
To make a transfer, click this link and log in to your Marriott account.
Hit the big 'Transfer Now' button, choose your airline frequent flyer programme and the number of points you would like to transfer.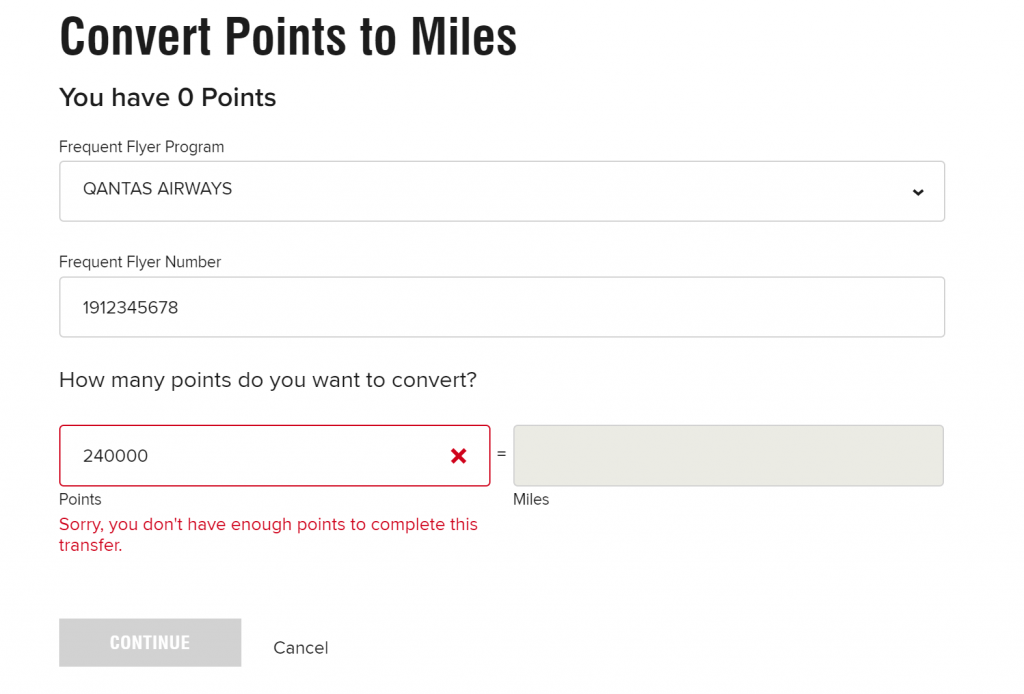 Does anyone want to donate 240,000 points to me?
Beware: earning airline miles directly instead of Marriott Points
It is actually possible to earn airlines miles directly from an eligible stay, rather than Marriott Points. However, in most cases, it is advantageous to earn Marriott Points and later convert them to airline miles.

For example, you can earn 2 Qantas Points per USD spent on qualifying stays, or 10 Marriott Points for the same amount.
For a stay of 1,200 USD, you will get either 2,400 Qantas Points directly or 12,000 Marriott Bonvoy points which are equivalent to 4,000 Qantas Points when transferred.
Taking into account the Marriott Elite status bonuses and the 5,000 airline mile bonus for large transfers, you will quickly see why it makes sense to stick with earning Marriott points.
Summing up
This is a great feature of the Marriott Bonvoy programme as it gives flexibility for how you want to use your points and also gives a method to transfer miles into airline partners that are usually harder to redeem with, such as Virgin Atlantic.
In the table of major airline frequent flyer programmes earlier in this article, click each link to see the benefits of each frequent flyer programme and their various sweet spots to see if any could suit your future travel plans.
Try to save up your Marriott points and transfer them in 60,000 point blocks to make full use of the transfer bonuses. It will get you to your dream redemption a lot quicker!
How to transfer Marriott Bonvoy points to frequent flyer partners
was last modified:
May 3rd, 2019
by
How to transfer Marriott Bonvoy points to frequent flyer partners
was last modified:
May 3rd, 2019
by