Point Hacks reader Jim posted this on the Questions & Answers section of our Australian website:
Has anybody ever got an award ticket to the US in Business or First Class?
I have been looking a long way in advance and there seems to be no availability for direct flights from the East Coast of Australia on any airline in Business or First—only in Economy. The only glimmer of hope seems to be taking a detour via Asia or Europe.
You may be reading this and have the same sentiments—know that you are not alone. Finding award availability in premium cabins on direct flights between New Zealand or Australia and the US is difficult, but not impossible, so here are some tips to improve your chances of snagging a comfortable seat.
Note that this article has an emphasis on the use of Qantas Points – they're probably the second most accessible points currency in the country, but a little less understood in terms of what to look for by way of partners and routes to the US. Airpoints are also easy to redeem (if you have enough of them), and don't really need a guide – use them for any seat, on any Air New Zealand flight.
Plan well in advance
Although sometimes hard to plan so far in advance, due to the intense competition for award seats and airlines opening their award calendars 11-12 months in advance, it pays to think ahead.
Check school holiday dates for the coming year/s and try to secure your seat a year out. At the 3-6 month mark, chances are quite low.
Fly off-peak
Increase your chances of securing a seat by flying in both directions on a Tuesday or Wednesday. Mondays, Fridays and Saturdays, as well as school holidays, are more popular.
Consider flying via Fiji, Asia, Canada or the Middle East
Your options will open up exponentially if you have time to make a stop on the way to the US, either as a layover (less than 24 hours) or a stopover (more than 24 hours, giving you time to see the place).
Fiji Airways is a great option for using your Qantas Points. As a 'preferred partner', it costs the same to fly with Fiji or Qantas but Fiji offers more award availability. While not the most cutting-edge Business Class seat, you will at least have more comfort than in Economy. You will find more availability on its flights from Nadi to San Francisco than Los Angeles.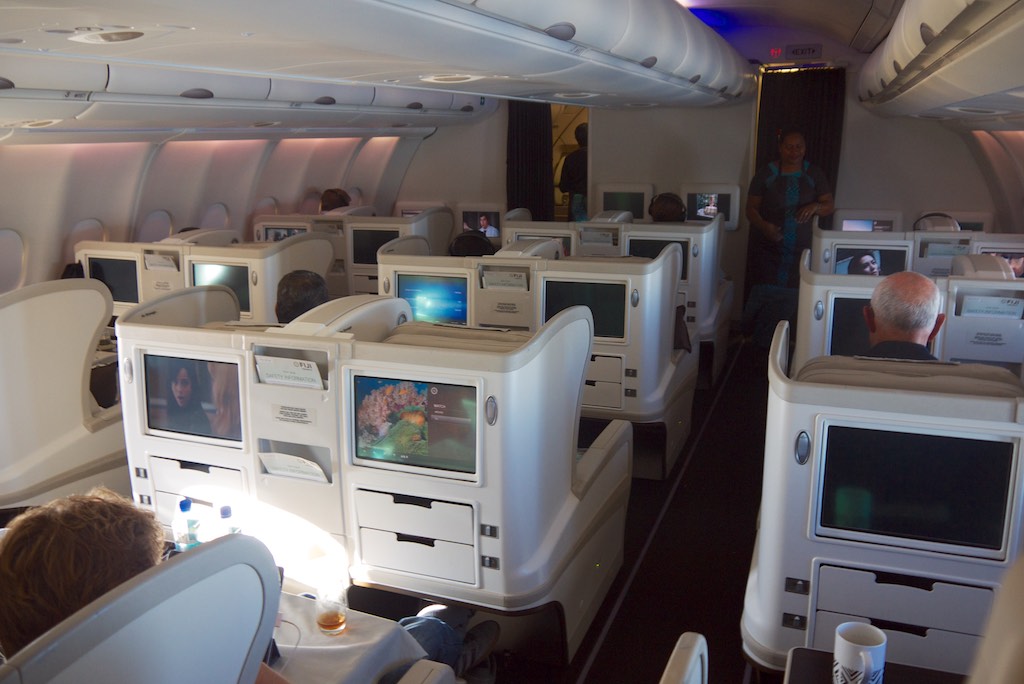 You can now even use Qantas Points to fly on Air Tahiti Nui to Los Angeles via Papeete. As these redemptions have a QF code, they are also treated as a 'preferred partner', costing the same number of points as Fiji Airways. You'll also have their new Dreamliner to look forward to come November 2018.
For a slightly higher price but wider award availability, you may consider using your points to fly from Auckland or Christchurch to Hong Kong with Cathay Pacific and then on the US.
If you have KrisFlyer miles—which you can transfer your Velocity points to—then flying Singapore Airlines to Singapore will take you the long way round but you will enjoy good premium cabin availability, no fuel surcharges and a free or cheap stopover.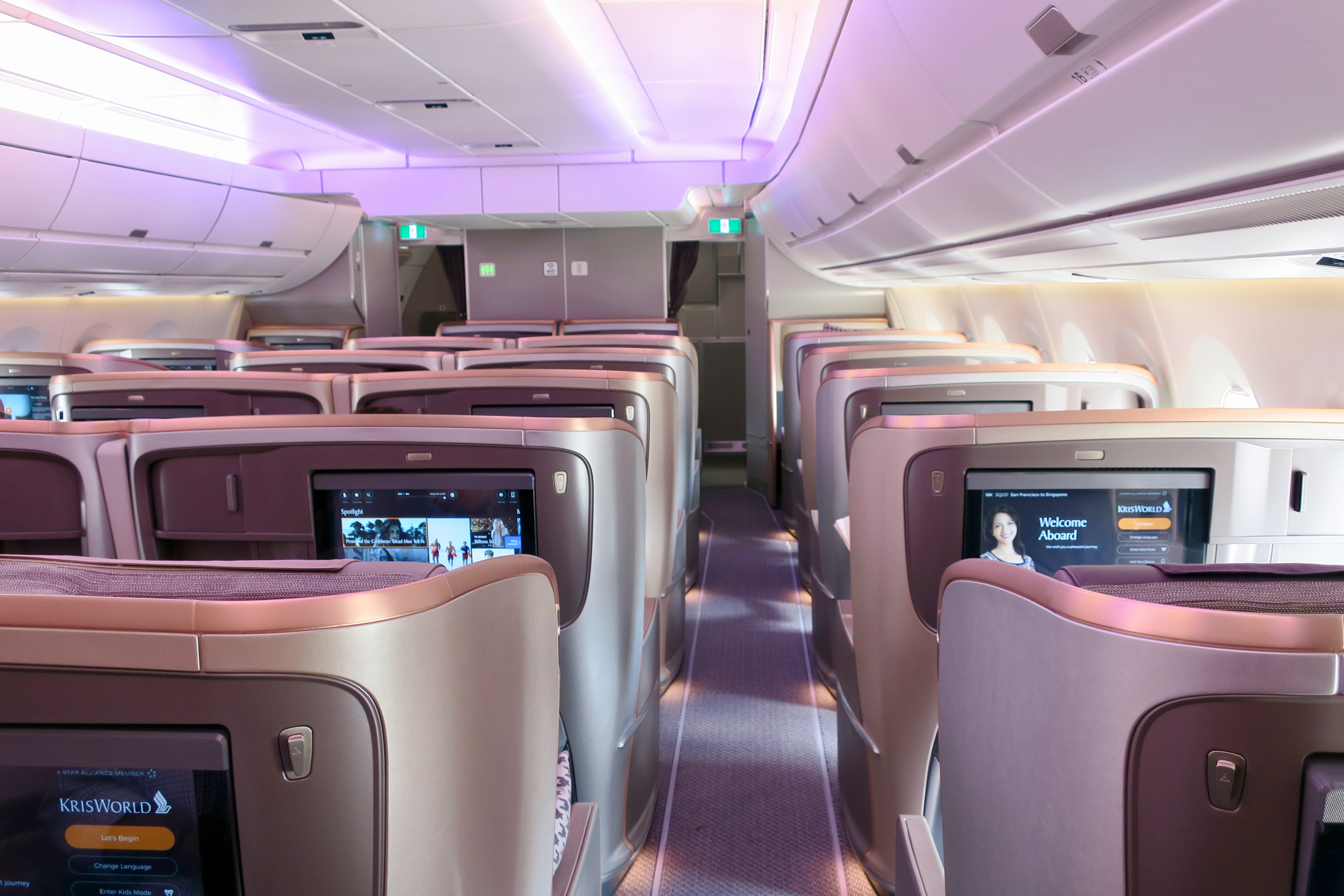 If going to the East Coast of the US, flying via Asia or the Middle East may not actually add much to your travel time compared to transiting via the US West Coast. That opens up the opportunity to use your Qantas Points on Emirates or Qatar Airways.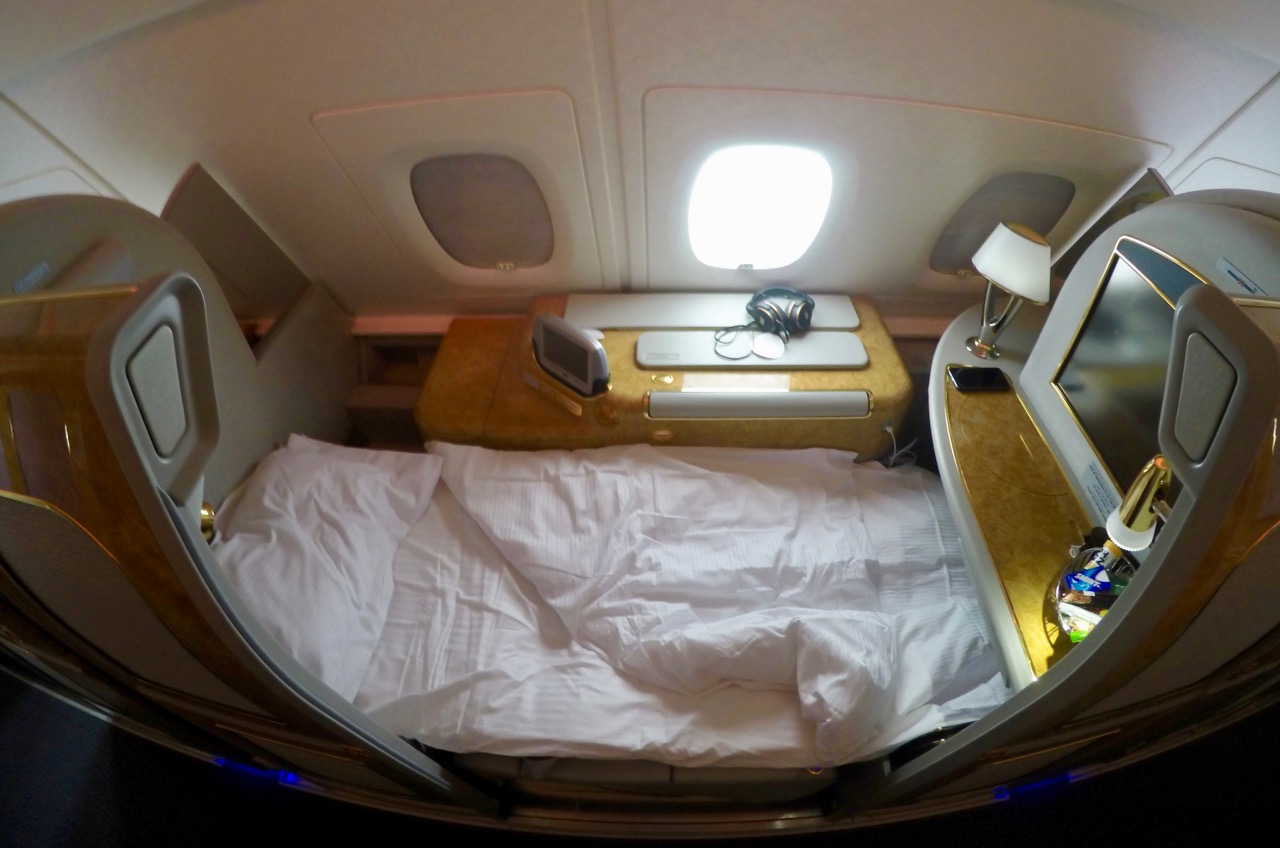 If you are going to take the scenic route, you might as well do it in Emirates First Class!
If you do not have enough miles for the whole journey, you could book a cash ticket to a place like Fiji, Papeete, Hong Kong or Tokyo and fly in Business or First from there to the US.
Do not bother searching with Air New Zealand—their partnership with Virgin Australia is winding up, they do not release many award seats to their partners, and Airpoints redemptions are ridiculously expensive when you contemplate the effort spent earning them.
The sweetest sweet spot: Alaska Mileage Plan miles
Alaska is an underdog in the frequent flyer world, especially here in New Zealand but how do you get your hands on their points currency? Through buy miles promotions and/or transferring American Express Membership Rewards points to Starwood Preferred Guest and then to Alaska.
If you find an open Qantas seat, you will get it for 55,000/70,000 Alaska miles one-way for Business/First Class—that is a steal! Just note that Alaska members have more restricted access to Qantas award inventory than Qantas Frequent Flyer members and some other partner programs like Asia Miles.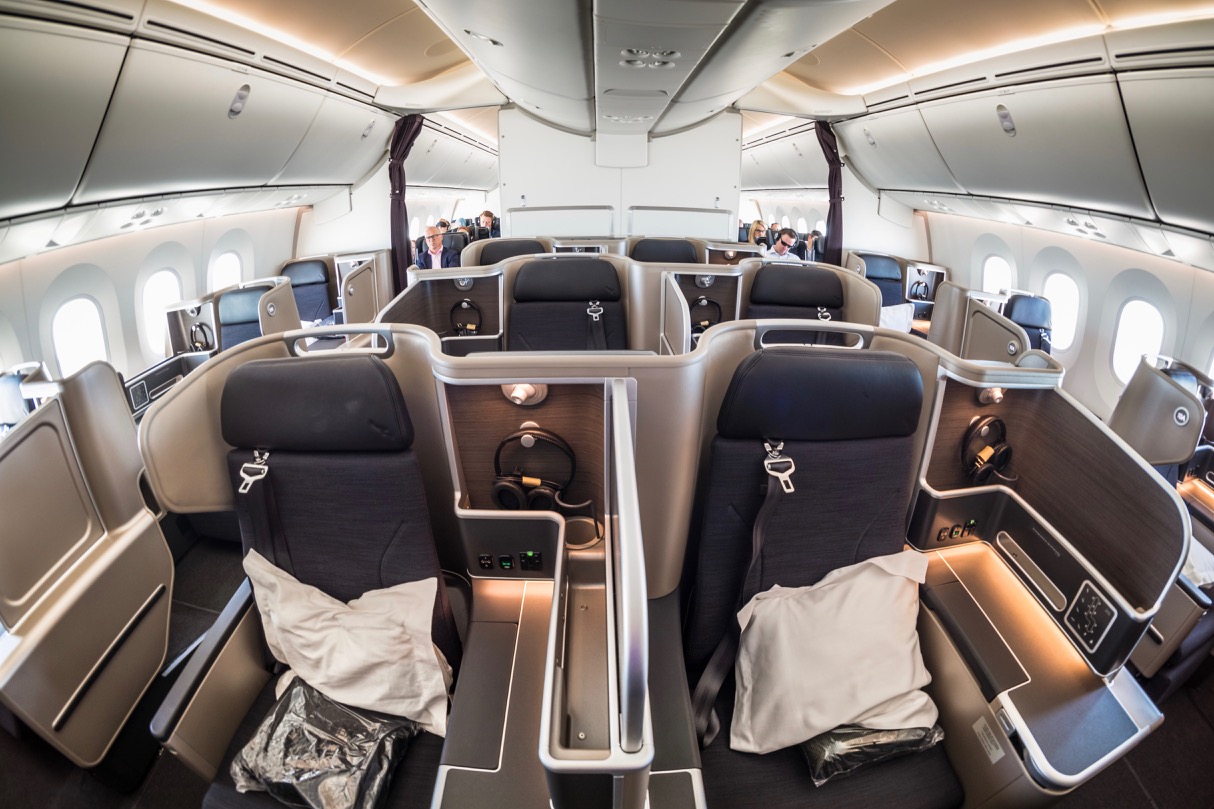 Over coming years, we will be seeing a lot more of Qantas' 787 Dreamliners flying to the US
Instead of backtracking to Australia, you could fly via Fiji with Fiji Airways for the same amount; or you can go via Hong Kong—with a free stopover!—with Cathay Pacific for 5,000 miles more. Finally, you could fly with Korean Air via Seoul with excellent award availability for 125,000 miles roundtrip—it is the same price as a one-way flight, so do not shortchange yourself!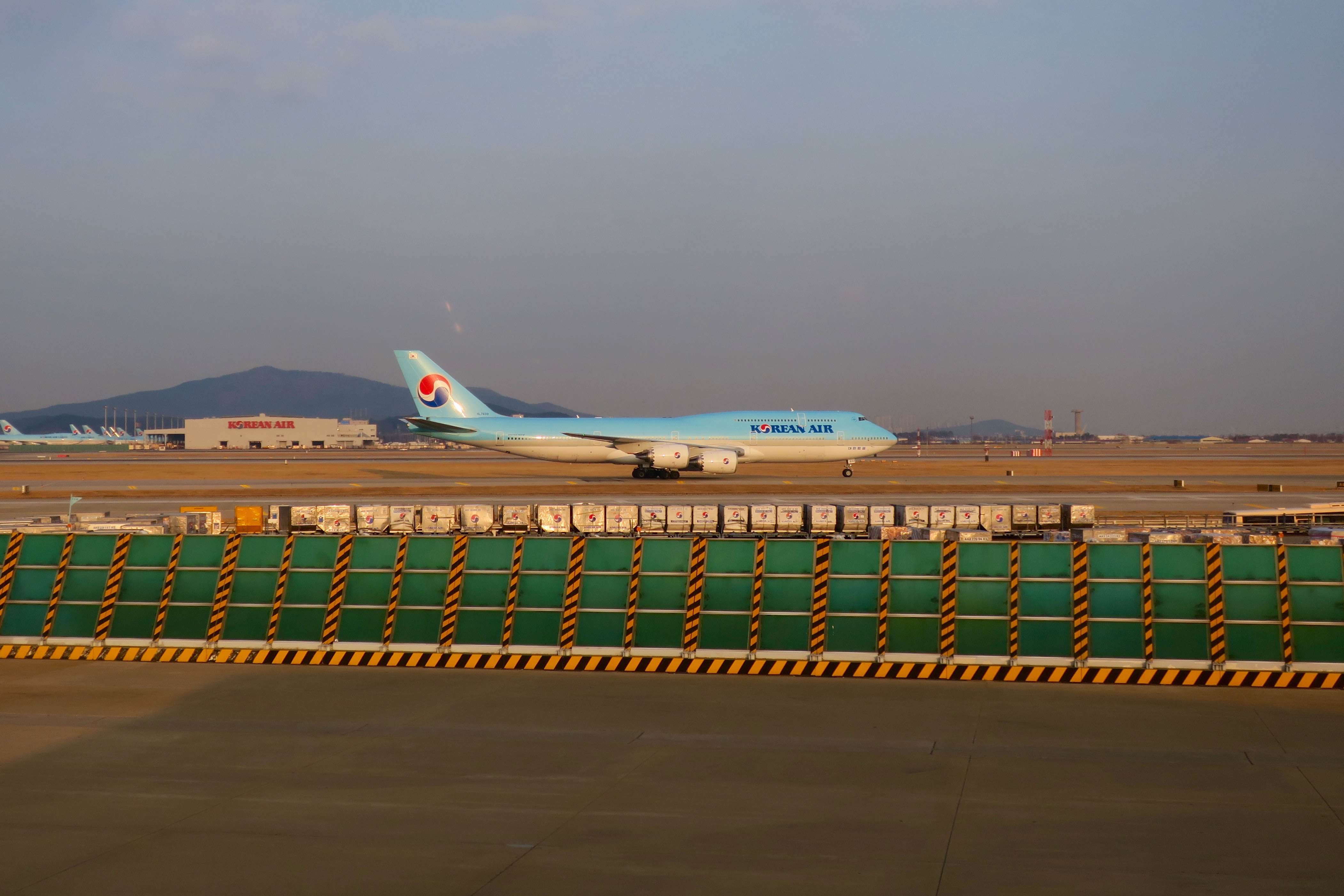 Best of all, if you use Alaska miles, you will not pay hefty fuel surcharges in the hundreds of dollars like you have to with Qantas Points.
Consider Premium Economy
Premium Economy is a growing space for airlines and it is worth considering it as a compromise between Business (more comfort but less award availability) and Economy (less comfort and more award availability)—this cabin sits in between, literally and also in terms of value.
Two of the three airlines flying direct between New Zealand and the US—Air New Zealand and American Airlines—offer this product, with United expected to follow suit in coming years.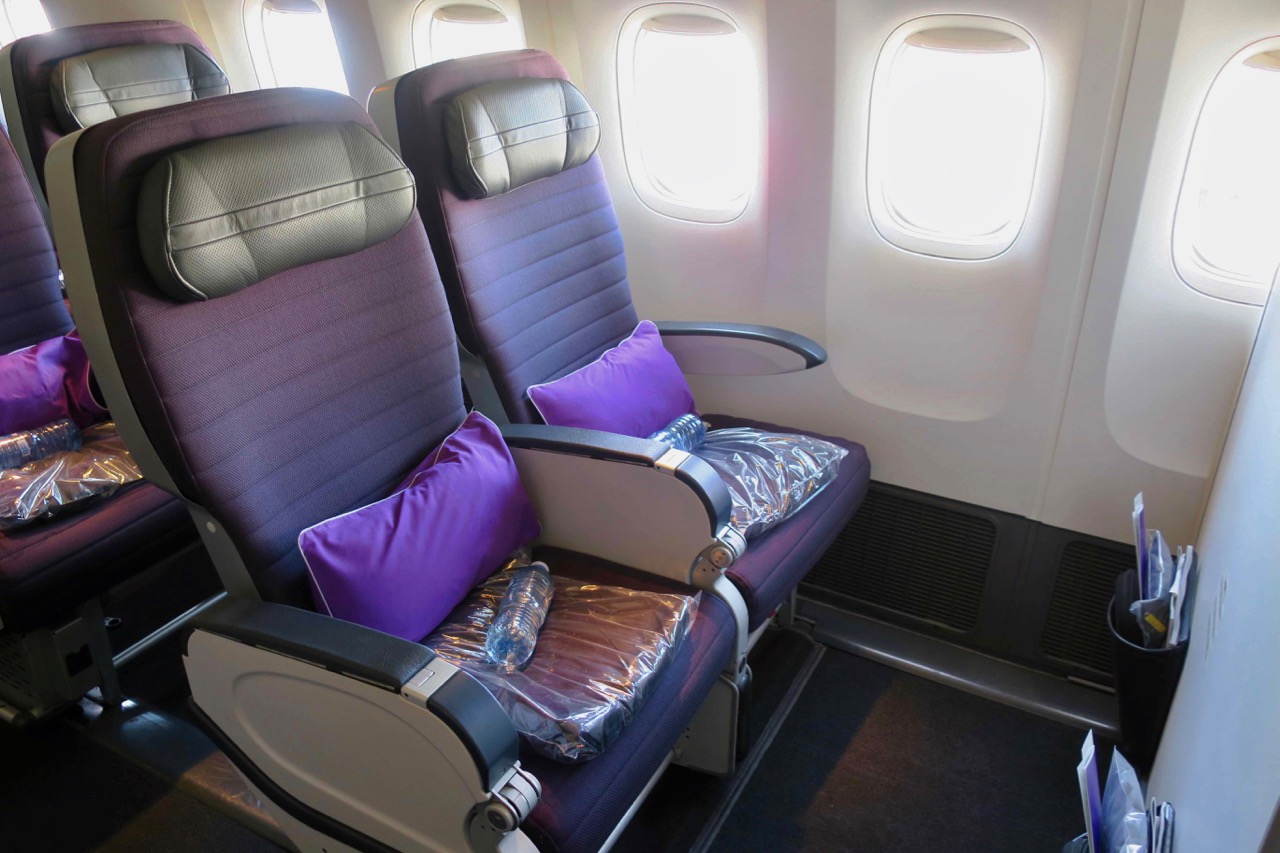 Virgin Australia 777 Premium Economy
Lock in long-haul flights first
The most important flight is the trek from New Zealand to the US, not your connecting flight from Invercargill to Auckland via Wellington (seriously, why are there no direct flights from top to bottom). So, if you find award availability on the long-haul segment, lock that in and then work out the domestic segments for connections within New Zealand and the US to get you where you need to go later on.
Hawaii
If you have Velocity points or American Airlines AAdvantage miles, then Hawaiian Airlines is an option worth checking out.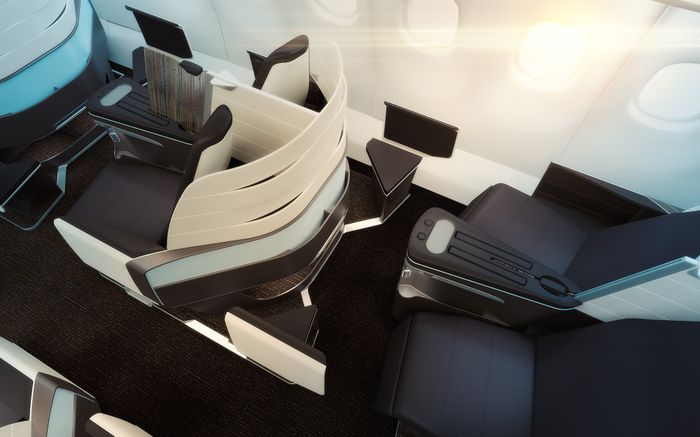 Hawaiian also offer onward connections to the US, if you're planning to do a more extensive trip.
Get Qantas elite status
Whilst Qantas usually releases seats 353 days in advance, on popular long-haul flights like those to the US, it will give its elite members a headstart on snapping up Business and First Class seats, with the leftovers given to Bronze and Silver members at the 308-day mark, by which point most seats are already taken. Here is our guide to Qantas elite status.

Does someone in your family have status? If they do, transfer your points over to them and get them to book the seat for you.
Use cash for Economy tickets
Do not use your Qantas Points for Economy tickets on Qantas! A return ticket from Auckland to Los Angeles via Sydney will set you back 110,000 Qantas Points + [email protected]#%&* in taxes! Flying American Airlines is much more reasonable, costing the same amount of points and ~$150 in taxes. They even fly direct to Auckland during the summer months, so will cost you less points as well – only 80,000 return.
Given that a cash ticket usually start at ~$1,000 (climbing to around $2,200 during peak periods), you are usually better off saving up for one of the best uses of Qantas Points and just buying your Economy flight with cash.
Can I transfer my Qantas points to another program?
You cannot transfer your Qantas Points to any other program but you can use them with Qantas' many partners, like the ones mentioned above.
Get a credit card that gives you lounge access
If you do end up flying in Economy, then you may as well be in a space that is relaxing and grab some food and a drink before boarding your flight.
If you have an eligible American Express card, you can access Priority Pass lounges in Auckland, Christchurch and Queenstown.
Important related guides
Summing up
Question: Has anybody ever got an award ticket to the US in Business or First Class?
Answer: Yes, they have! It just requires advance planning, flexibility with dates and routes, and realistic expectations.
Do you have any tips that have helped you secure an award seat to the US? Share in the comments below!
---
Do you have a travel-related question?
Search the NZ Point Hacks website using the Looking For Something? box (located to the right-hand side of any post) to see if we have already answered your question in a post.
You can post your question in the Questions & Answers section of our Australian website and someone from the Point Hacks community, whether another reader or one of our team members, will hopefully be able to help you out.
Supplementary images courtesy respective airlines.
Top tips to help you secure an award seat to the US
was last modified:
June 7th, 2019
by