This guide takes a look at the SkyTeam alliance, focusing on its carriers that fly into New Zealand and their respective frequent flyer programmes.
What is SkyTeam?
The SkyTeam alliance is one of three major global airline alliances, alongside Star Alliance, which counts Air New Zealand and one its members, and oneworld, which counts Australia's largest airline Qantas as one of its members.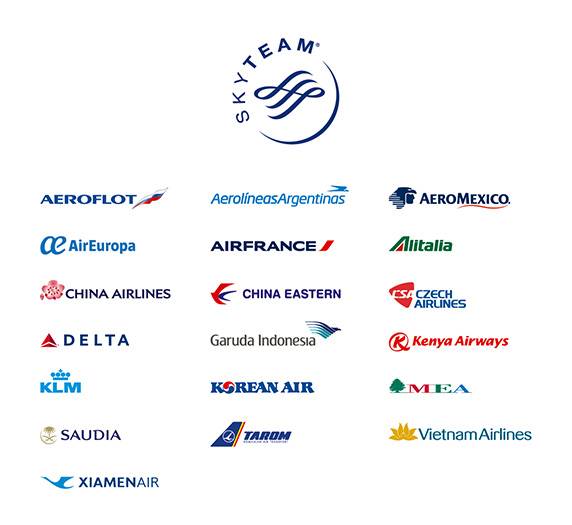 SkyTeam airlines
The alliance currently includes 19 member airlines, 3 of which fly into New Zealand and are highlighted in bold:
Aeroflot
Aerolineas Argentinas
Aeroméxico
Air Europa
Air France
Alitalia
China Airlines
China Eastern Airlines
Czech Airlines
Delta Air Lines
Garuda Indonesia
Kenya Airways
KLM
Korean Air
MEA
Saudia
TAROM
Vietnam Airlines
Xiamen Air
Note that on 1 January 2019, China Southern Airlines left the SkyTeam alliance.
SkyTeam Frequent flyers are able to earn miles and status credits when flying with different SkyTeam airlines in the same reservation. The alliance spans across 1,074 destinations in 177 countries (*Note, this includes China Southern airlines, with SkyTeam having not yet updated these figures), so there is plenty of opportunity to earn and redeem miles as well as earning status credits with a SkyTeam alliance programme.
Elite members of each SkyTeam alliance frequent flyer programme enjoy premium benefits, offered under the 'SkyTeam Priority' moniker. There are 2 tiers within the SkyTeam Priority, and they correspond to a particular status level with each SkyTeam airline.
The 2 tiers are:
SkyTeam Elite
SkyTeam Elite Plus
For example, with Delta Air Lines, SkyTeam Elite corresponds to the Silver Medallion status level, while SkyTeam Elite Plus corresponds to Gold Medallion, Platinum Medallion and Diamond Medallion status levels. These vary by airline, and the SkyTeam tier corresponding to other SkyTeam airlines can be found here.
With SkyTeam Priority, eligible frequent flyers are able to access the following benefits when traveling with any SkyTeam alliance airline in any travel class. These include:
SkyTeam Elite and SkyTeam Elite Plus members
Extra baggage allowance
Priority check-in
Priority seating
Priority boarding
Priority stand-by
SkyTeam Elite Plus members
Access to International Business Class lounges
Guaranteed reservations on sold-out flights
SkyPriority recognition
Priority at Transfer Desks
Priority at immigration and security lines
Priority baggage handling
To enjoy the benefits of a SkyTeam Alliance frequent flyer programme, you will need to join a member airline's individual programme. While there is no universal SkyTeam Alliance frequent flyer programme, the Alliance does provide universally dedicated SkyTeam lounges in addition to individual member airline lounges. There currently are 7 SkyTeam lounges, including a lounge at Sydney International Airport. Other locations are Beijing, Dubai, Hong Kong, Istanbul, London and Vancouver.
Key Lounge in New Zealand
Strata Lounge, Auckland
If you find yourself flying on a SkyTeam flight in a premium class, such as on Korean Air in First between Auckland and San Francisco via Seoul, you will find yourself welcomed into the Strata Lounge in Auckland, which is predominantly the main SkyTeam lounge available for New Zealand based frequent flyers.
A full review of the lounge can be found here
How to earn miles?
Miles can be earned directly with any SkyTeam airlines through flying or their respective air and ground partners. None of the 3 SkyTeam member airlines that fly to New Zealand offer a direct-earn credit card in the New Zealand market, which does limit the ability of New Zealand based members to earn substantial miles from everyday spend.
However all is not lost, as there are a number of ways to indirectly earn airline miles with your SkyTeam carrier. The easiest way to do this is to earn Marriott Bonvoy points and transfer them to your frequent flyer programme. Marriott Bonvoy points can be earned through staying at any Marriott branded hotels, or by converting American Express Rewards points into Marriott points.
Marriott partners with many airlines, including a majority of SkyTeam airlines, however there are exceptions, so please refer to the following Marriott Bonvoy airline partner list for confirmation.
Which are the best SkyTeam frequent flyer programmes for New Zealand based travellers?
While the number of SkyTeam airlines flying into New Zealand is far less prevalent than those of oneworld and Star Alliance, you may still find them to be of value to you, especially if you travel overseas frequently from New Zealand to destinations covered by the SkyTeam network.
The table below compares the number of points required to redeem return Business Class award tickets with two programmes:
Korean Air SKYPASS
Emirates Skywards (for travel on Korean Air)
I have listed the rates under these programmes, as they are accessible to Kiwi travellers via American Express and Marriott Rewards. I have excluded China Eastern and Flying Blue as their redemption prices are too high.
Korean Air allow redemptions with all SkyTeam partners, and Emirates with just Korean Air.
All listed rates are return, ex-Auckland – while some redemptions are available one-way, some are not, so they are listed as return for consistency.
The points enclosed in brackets are the number of Membership Rewards Points required to obtain the listed number of miles.
Air New Zealand partner redemptions are also shown, as many Kiwis are members of the Airpoints programme and may want to compare the attractiveness of any SkyTeam programme to it. For these, I have picked the shortest route ex-Auckland by kms and the least number of segments.
Note that I am aware that some Airpoints redemptions are currently unlikely or not possible – e.g. with Singapore Airlines. However I have listed these anyway as they have been known to be available from time to time. These redemptions will be marked with an asterisk.
SKYWARDS
SKYTEAM
STAR ALLIANCE
Emirates -
flights with Korean Air only
Korean Air - flights with Korean Air only, off-peak
Korean Air - partner flights
Air New Zealand - partner flights
Transfer partner >
Amex MR, Marriott
Marriott
Amex MR, Marriott
Destination
New Zealand to Australia
N/A
N/A
60,000 (150,000)
1,000 (175,000)*
New Zealand to Seoul
105,000 (210,000)
125,000 (300,000)
140,000 (375,000)
3,100 (542,500)
New Zealand to Bangkok
125,000 (250,000)
150,000 (360,000)
155,000 (375,000)
2,600 (455,000)
New Zealand to Singapore
125,000 (250,000)
150,000 (360,000)
155,000 (375,000)
2,600 (455,000)*
New Zealand to UK
256,000 (512,000)
195,000 (480,000)
185,000 (450,000)
5,800 (1,015,000)
New Zealand to Europe
256,000 (512,000)
195,000 (480,000)
185,000 (450,000)
5,800 (1,015,000)
New Zealand to San Francisco
165,000 (330,000)
195,000 (480,000)
185,000 (450,000)
3,200 (560,000)
New Zealand to New York
165,000 (330,000)
195,000 (480,000)
185,000 (450,000)
4,800 (840,000)
New Zealand to Honolulu
165,000 (330,000)
195,000 (480,000)
185,000 (450,000)
4,800 (840,000)
New Zealand to South Africa
N/A
N/A
200,000 (480,000)
4,600 (805,000)
New Zealand to South America
N/A
N/A
210,000 (510,000)
3,800 (665,000)
Round the World
N/A
N/A
220,000 (440,000)
Variable, depending on distance and number of legs
The best redemption for each destination above is highlighted in red.
Depending on where your travels generally take you, Emirates Skywards or Korean SkyPass may well be your pick, given the ability to earn mileage through American Express credit card spend.
How to search for SkyTeam availability
You can search any of the alliance's airlines websites to find award availability. Public commentary suggests that the Flying Blue website is the best site to use for SkyTeam award availability, however you need to become a member of the programme in order to access this functionality.
Personally, I find Korean Air SKYPASS really easy to use, which is good because they are one of the key programmes accessible from New Zealand.
I have provided an example below of using its award search functionality to find a return award flight between Auckland and Brisbane in 'Prestige Class' (Business Class).
And bam, it looks like two award seats are available ex-Auckland, and four seats on the return:
The taxes for this example look a bit high compared to the miles required, and the cost of a revenue fare—usually a little over $1,000—so other routes may offer better value.
You can also use third party tools to search for award availability.
Summing Up
Whether joining a SkyTeam frequent flyer programme will be of benefit to you is determined primarily by your personal travel patterns. Joining one of these programmes is best suited to those who travel internationally often from/to primary and secondary hubs of SkyTeam Alliance carriers. This is due to the limited opportunities to earn miles in these programmes outside of actually flying, and initiating manual transfers through Marriott Bonvoy.
If you do fall within this category, there are a couple of SkyTeam carriers that fly into New Zealand, however these fly solely to Auckland, which will require domestic connections for those living outside out biggest city.
Should your flying be mostly of a domestic nature, or to destinations outside of SkyTeam hubs, then Air New Zealand, Qantas, Velocity or rival Alliance programmes may be a better choice.
Supplementary images courtesy SkyTeam.
A guide to the SkyTeam Alliance in New Zealand
was last modified:
June 12th, 2019
by