Singapore Airlines' First Class Suites, available exclusively on Airbus A380 flights, is one of the most aspirational premium products in the world and best uses of KrisFlyer miles.
Their regular First Class product on Boeing 777 aircraft is also quite luxurious but a step down from the A380 offering.
With Singapore Airlines upgrading its daily Auckland – Singapore flights from a 777 to a larger A380 during the peak summer travel months, this is a great opportunity to jump in quick and secure an award redemption on a great product.
The aircraft and cabin
The A380 flight departing Auckland leaves at 1.30pm and arrives into Singapore just after 7pm, which is a great day flight in which to enjoy food and perhaps an afternoon nap.
On the way back, the flight leaves Singapore at 8:50pm and arrives into Auckland at 11:45am, giving you more time to enjoy the bed.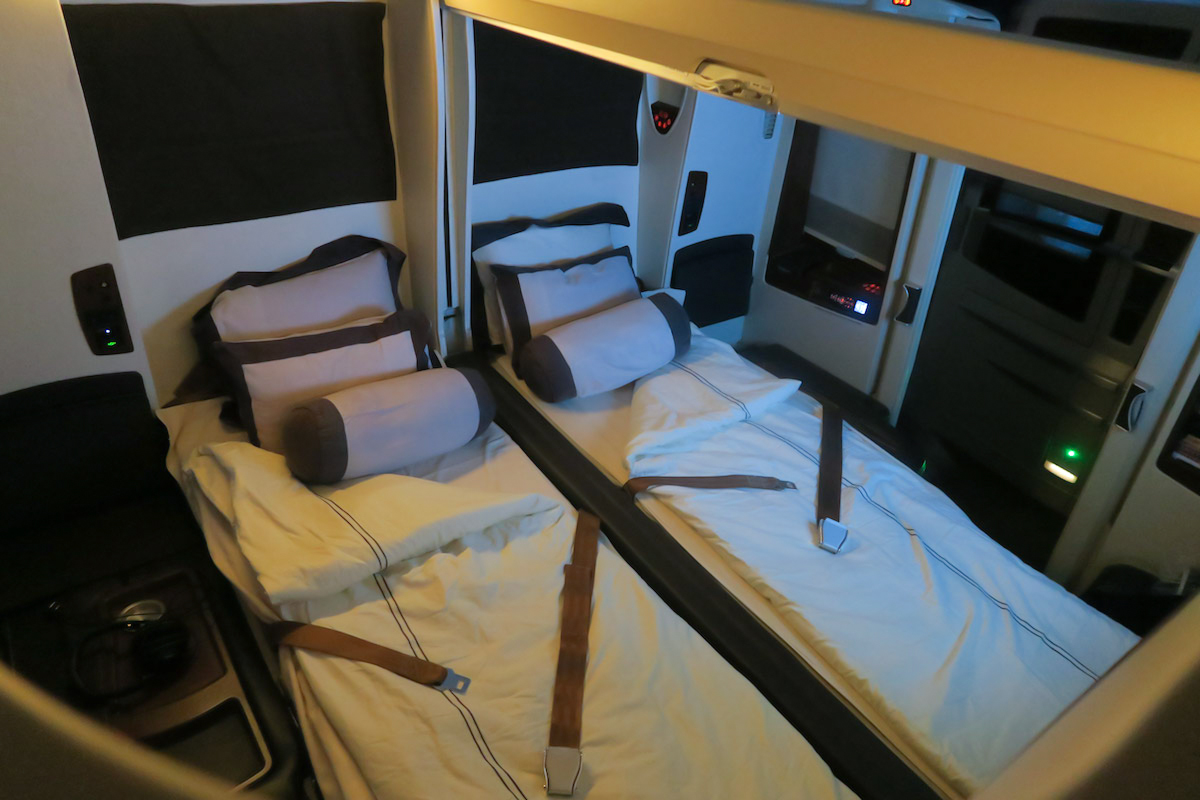 Departing Auckland, you'll get access to the Air New Zealand Koru Lounge.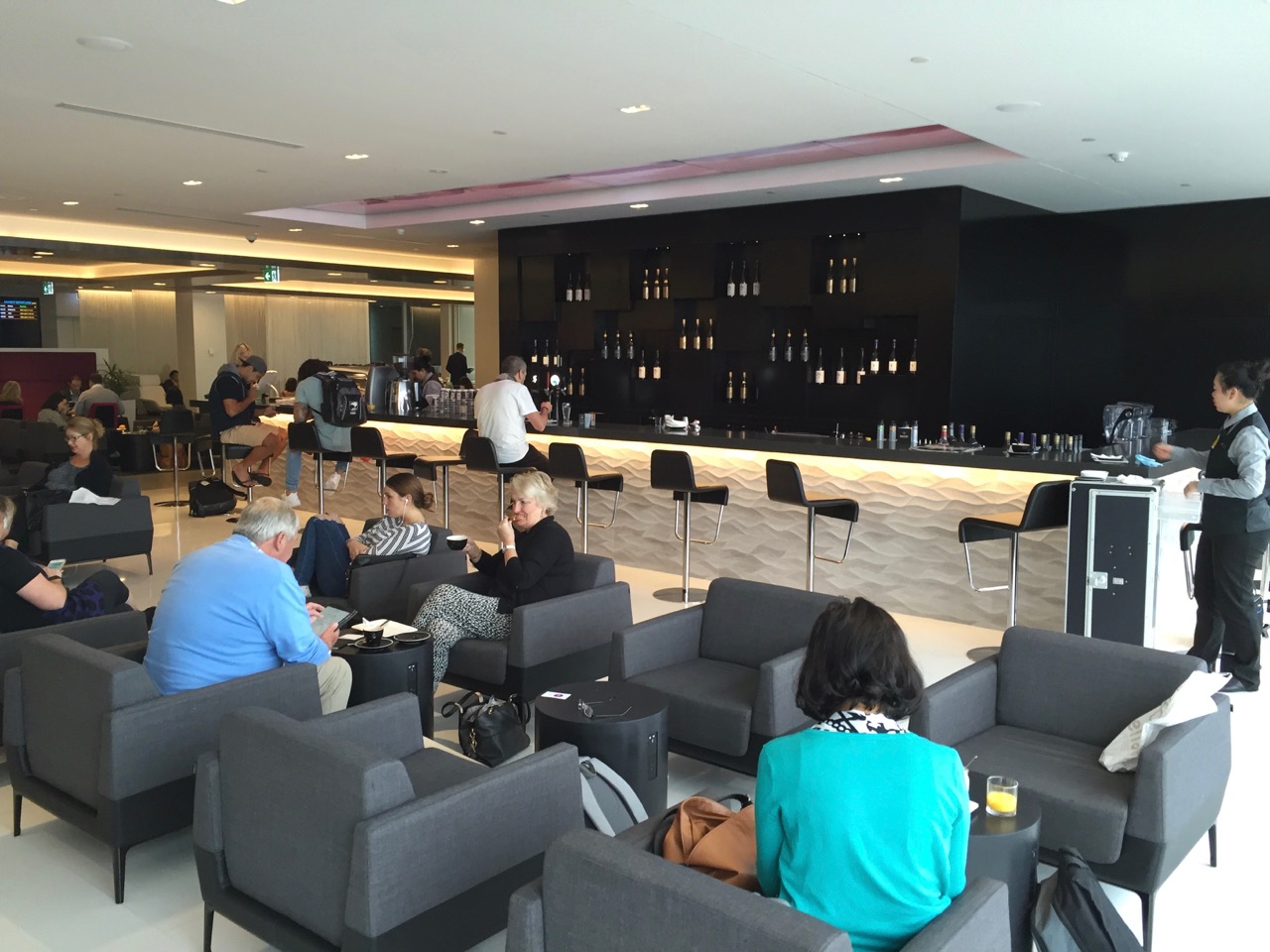 Departing Singapore, you can use The Private Room before your flight back to New Zealand.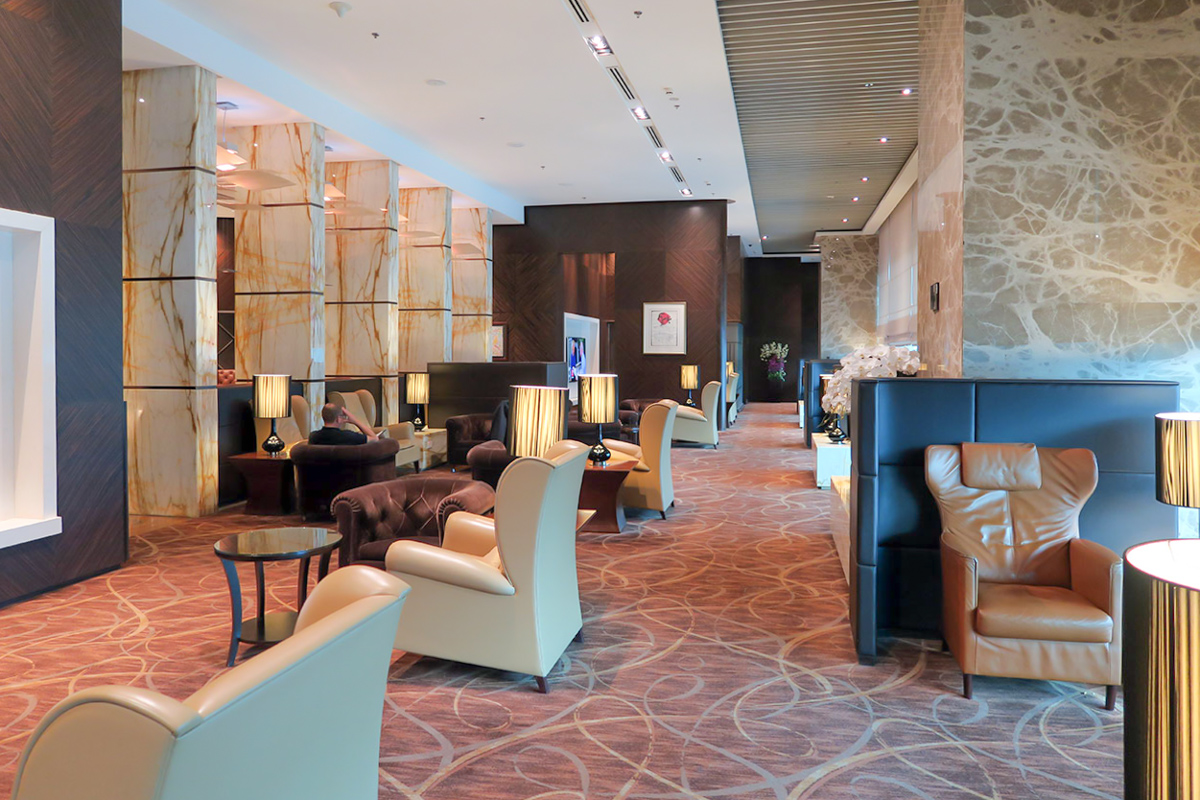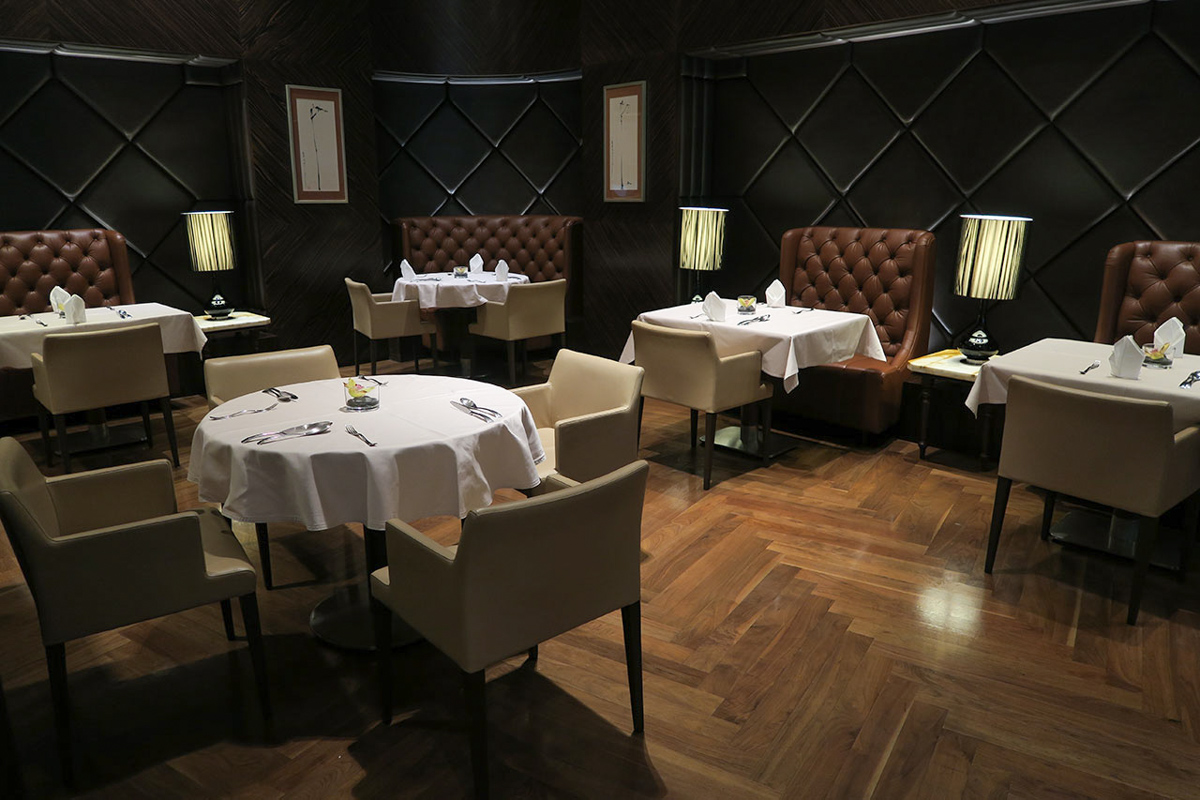 Award availability
As of 6pm NZST time on 26 August, I have found at least two First Class 'Saver' seats open on most dates between late November and late December. There may be many more seats available on dates on either side of this timeframe. There were also plenty under the 'Standard' redemption category, but these require a higher number of miles to redeem.
There is no doubt the award space will dry up a bit as what we can see now gets booked by those in the know, so my suggestion is to book now (or you may be able to put an award on hold by calling KrisFlyer).
Also note that Singapore Airlines could choose to switch its aircraft between the A380 and 777 on this route, depending on load factors, so there is no 100% guarantee that there will not be changes leading up to departure.
How can I book an award seat in First Class or Suites Class?
There are two main options for using points for Singapore Airlines First Class award seats:
book through KrisFlyer
book through Velocity
Previously, Singapore Airlines did not release any First Class award space to its partners, meaning that you had to redeem through their own KrisFlyer program. However, under partner changes announced by Velocity in July 2017, you can now use Velocity points to book these seats too.
It's not clear whether similar availability has also opened up to those booking with Airpoints Dollars – you'll need 2,200 Airpoints Dollars on each leg, if you can find them.
A one-way First Class ticket from Auckland to Singapore will set you back 80,000 KrisFlyer miles or 108,000 Velocity points, plus taxes. The number of Velocity points quoted here is based on a transfer to KrisFlyer, rather than a straight up redemption through the Velocity program.
I've updated my comparison of pricing between Velocity and KrisFlyer to show that it is a 50-50 split in being cheaper to redeem directly through Velocity or transferring your Velocity points to KrisFlyer for First/Suites Class redemptions depending on the route.
What does remain to be seen is if Velocity has access to the same First/Suites Class award inventory as KrisFlyer's own members, or if it is more restricted – I'd lean towards the latter. Nevertheless, if you're earning points from everyday spend in New Zealand, you're more likely to have about equal access to KrisFlyer points as Velocity (i.e. through the American Express Membership Rewards program), so you may as well opt for the cheaper option.
How to book First/Suites Class awards on Singapore Airlines
Changes to Suites Class
Due to competition mainly from the ME3 (Middle East Three) airlines – Emirates, Etihad and Qatar Airways – Suites Class is being switched up quite significantly in 2017.
Currently, Singapore Airlines has 12 First Class Suites in a 1-2-1 configuration. You can expect to enjoy excellent customer service, delicious food and a wide beverage selection, including Dom Perignon and Krug. The lie-flat bed turn-down service is with Givenchy linens.
With the leak of a test seatmap of the new product on the Singapore Airlines website, it seems that they will be halving the amount of Suites to six but moving to a 1-1 configuration. This will have a negative effect on award availability as there will be less seats to go around.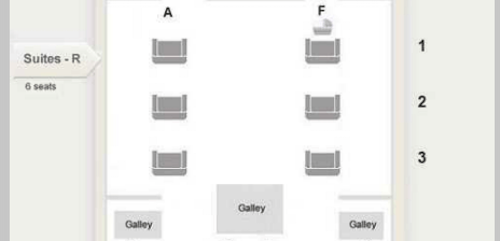 The most comparable product is Etihad's First Apartments (also on the A380) but it may be that Singapore Airlines will make each Suite even bigger by hosting only six Suites instead of Etihad's nine Apartments (plus the three-room The Residence).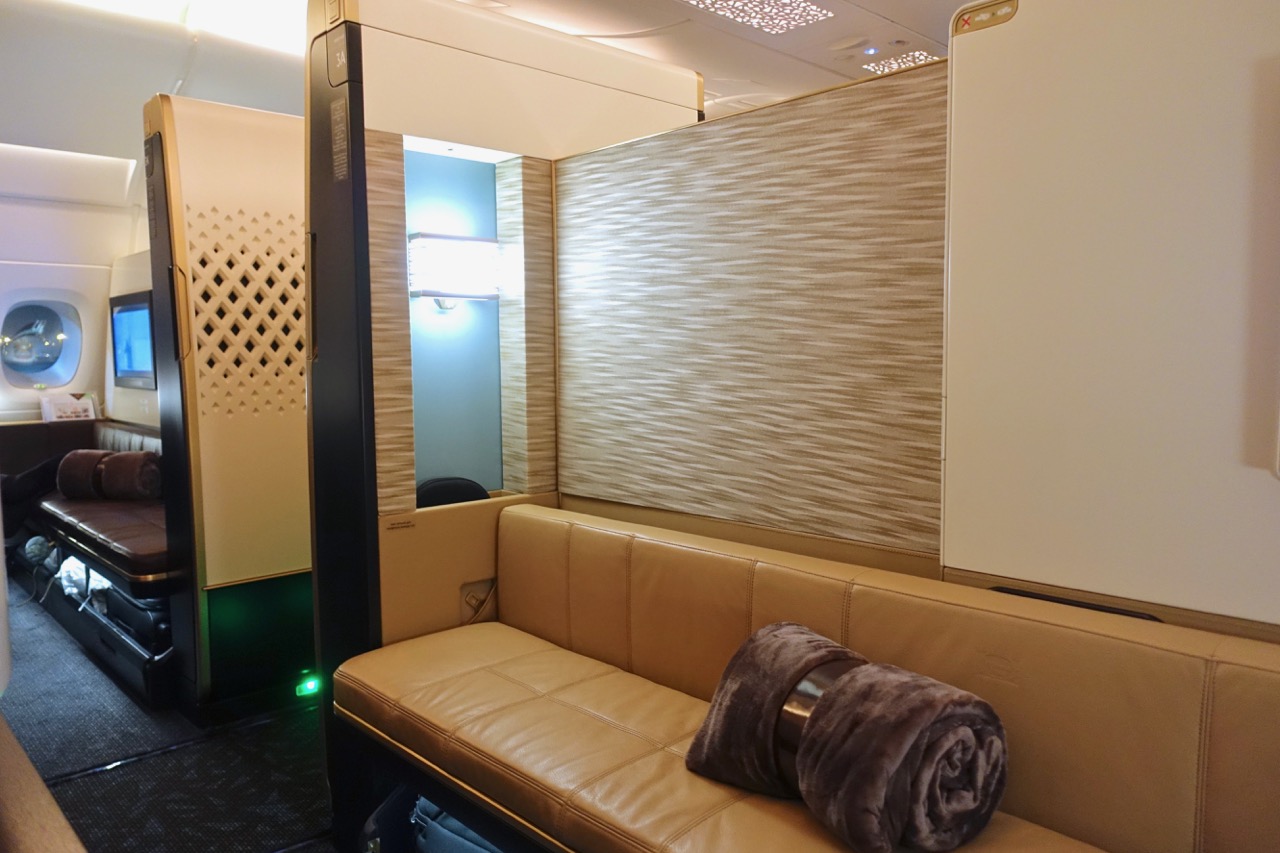 Etihad's First Apartment
First Class will move from the lower to the upper deck.
What isn't changing?
It seems there will be no showers nor an onboard bar or lounge, although that could change.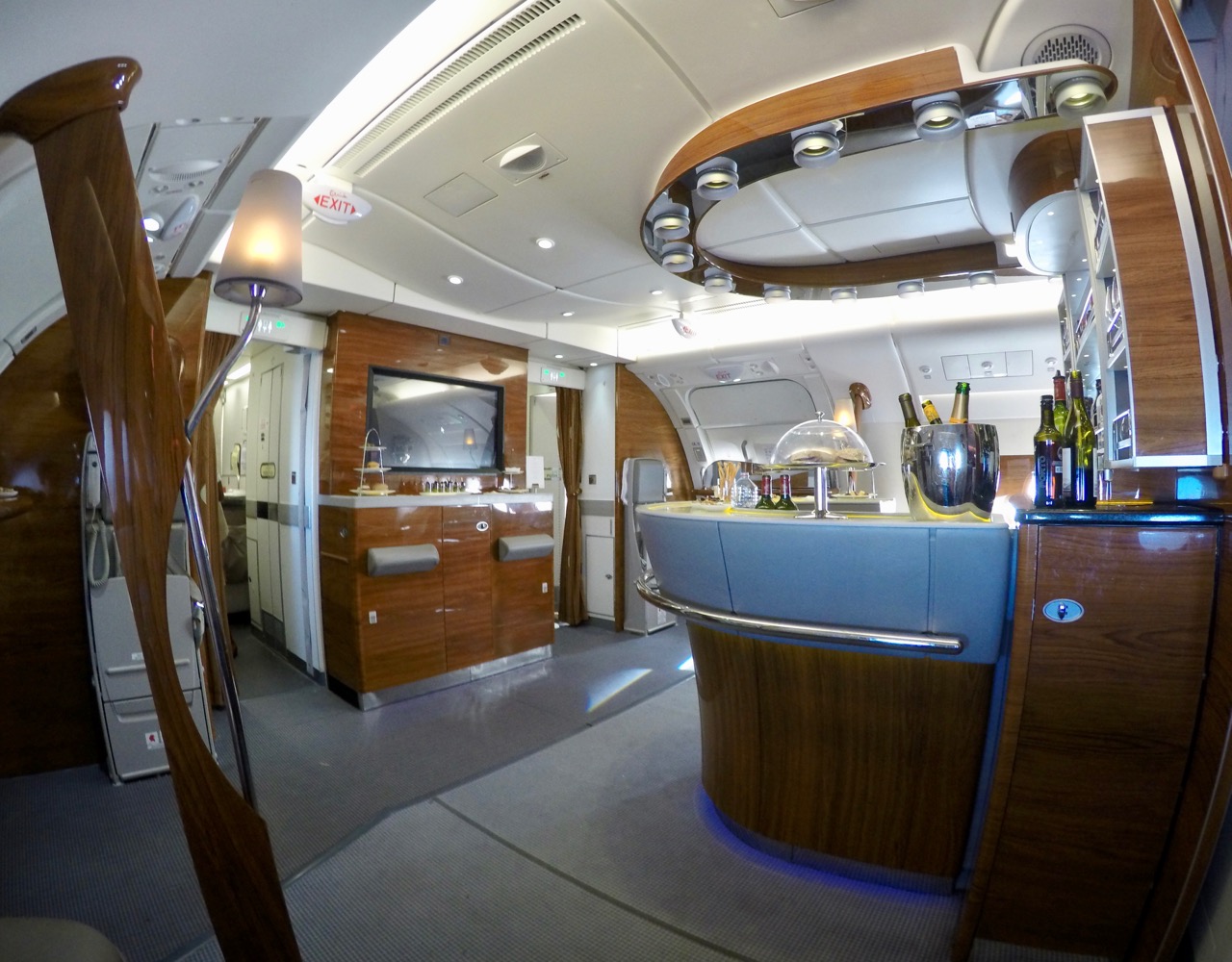 The onboard bar on the Emirates A380
The current Suites class allows centre seats to form into a double bed but with the 1-1 configuration, the only way that could happen is if the Suite was combined with the one behind or in front of you, which doesn't seem very practical.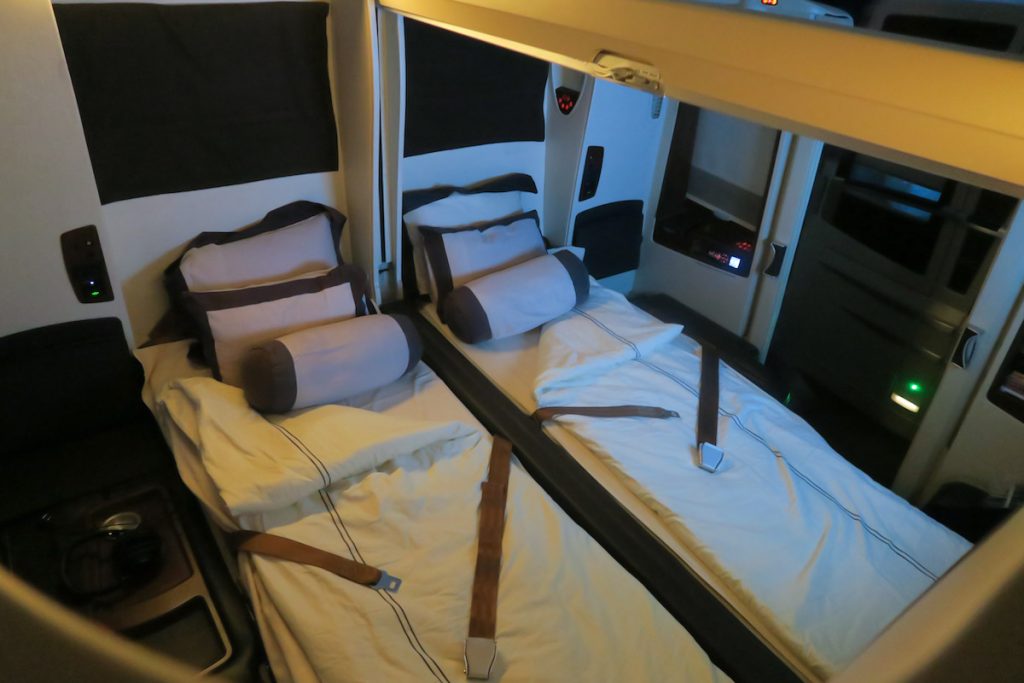 The double bed option in the current A380 layout
Business Class will essentially stay the same.
When will the change happen?
Sydney was the launch destination of Singapore's A380 flights on 25 October 2007 and word is that they would like to debut the new A380 on the same route ten years later, i.e. October 2017.
London Heathrow is tipped to be the next destination, followed by the other current A380 routes, which are:
Auckland
Melbourne
Hong Kong
Beijing
Shanghai
Mumbai
Delhi
Paris
Zurich
Frankfurt and onto New York JFK
Singapore Airlines A380 routes as of August 2017
Summing up
Singapore Airlines has a solid reputation for attentive customer service and excellent premium cabin products.
The new Suites Class is an exciting development but due to the increased space of each unit and thus decrease in the overall number of Suites, one could expect award space to start tightening up.
That means that if you want to enjoy the Suites experience, it may be better to do it sooner rather than later.
H/T: One Mile At A Time
Supplementary images courtesy Singapore Airlines.
How to use your points to book Singapore Airlines First Class/Suites Class
was last modified:
November 13th, 2018
by