New Zealanders have something in common with the Americans – we all typically endure checked baggage fees for even the first bag on most domestic flights, and often even to neighbouring countries, like Australia and Fiji, and Canada and Mexico respectively.
Here are six ways that you can avoid paying this fee when you head east across the Pacific.
1. Check-in for your domestic US flight when departing New Zealand
Often travellers from New Zealand will book a return flight to Houston, Los Angeles, San Francisco or Chicago. Then they'll fill in the rest of their trip with domestic flights later on.
While the scenario here is based on a flight I took from Australia, the same applies from here in New Zealand.
I booked a one-way flight from Sydney to LA on Virgin Australia. Then I purchased a separate Economy ticket on Delta from LA to Austin.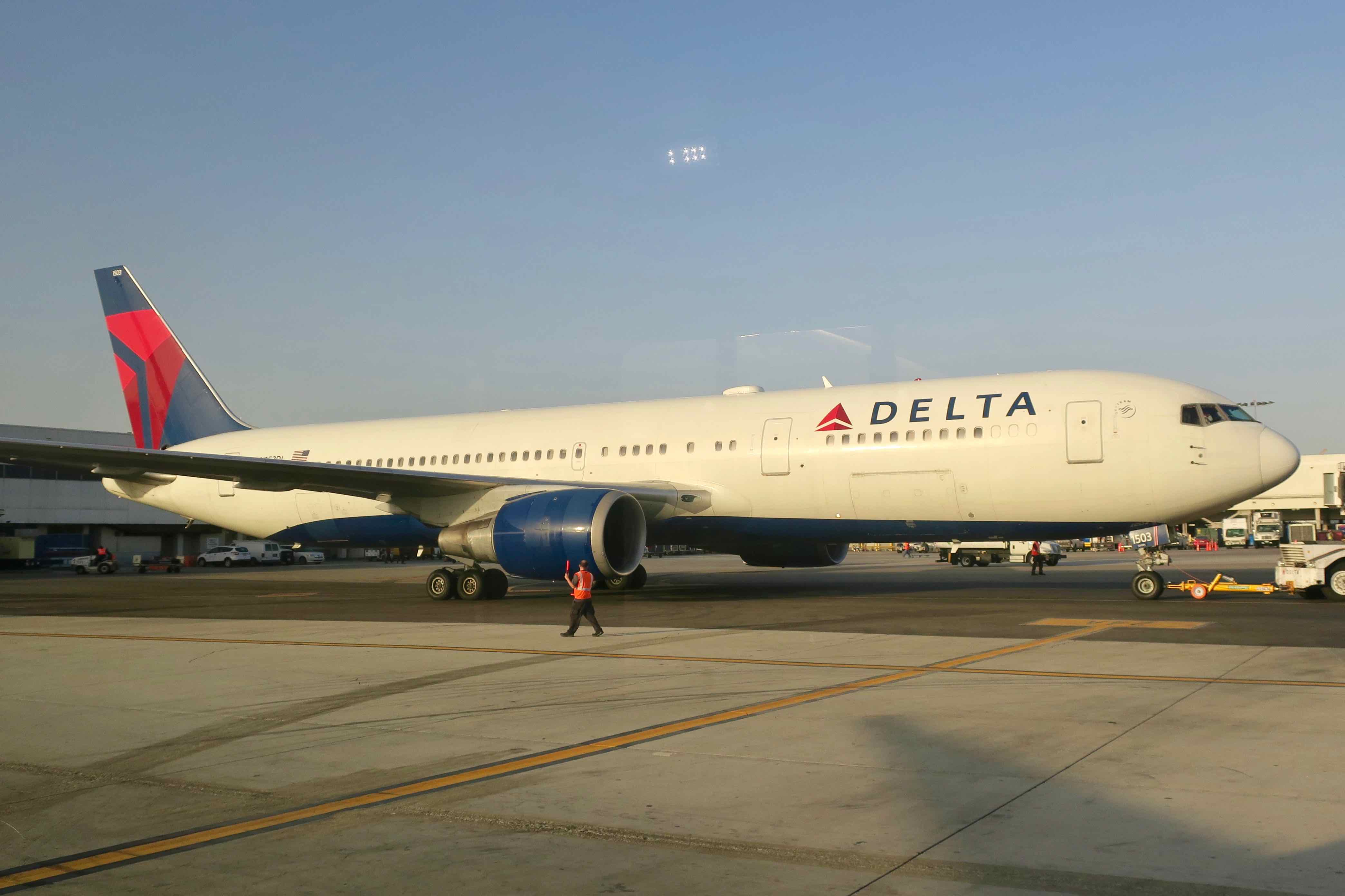 When checking in at Sydney Airport with Virgin Australia, I gave the check-in agent my six-digit confirmation number for my Delta flight. They were able to attach a baggage tag to Austin via LA and didn't charge me the $30 fee for taking that bag on the second flight.
It all depends on whether the first airline has an interline agreement with the second one, meaning they can issue a boarding pass and check luggage on the second flight.
You can find a list of interline agreements for Qantas and Virgin Australia. If you have access to ExpertFlyer, they have a more comprehensive search function. Air New Zealand can interline but unfortunately will typically refuse to do so where not booked on the same ticket, so don't count on an interline with them, even with partners like United.
2. Fly Southwest
This Texas-based carrier is one of my favourites when flying Economy in the US. (JetBlue and Delta are also great)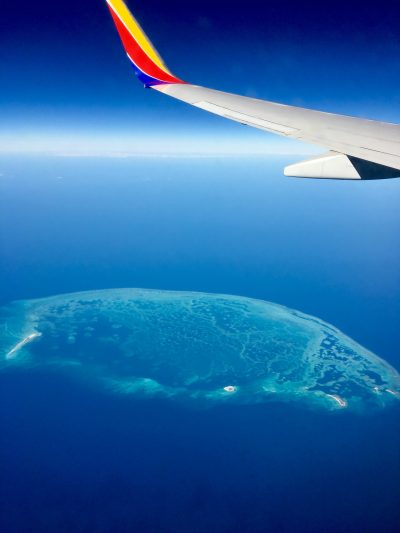 Flying southwest to Cancun
They are the only US airline that includes not just one but two checked bags in every fare.
Their customer service is generally superior to American Airlines and United. They also have a great range of destinations in the US, Mexico, Central America and The Caribbean.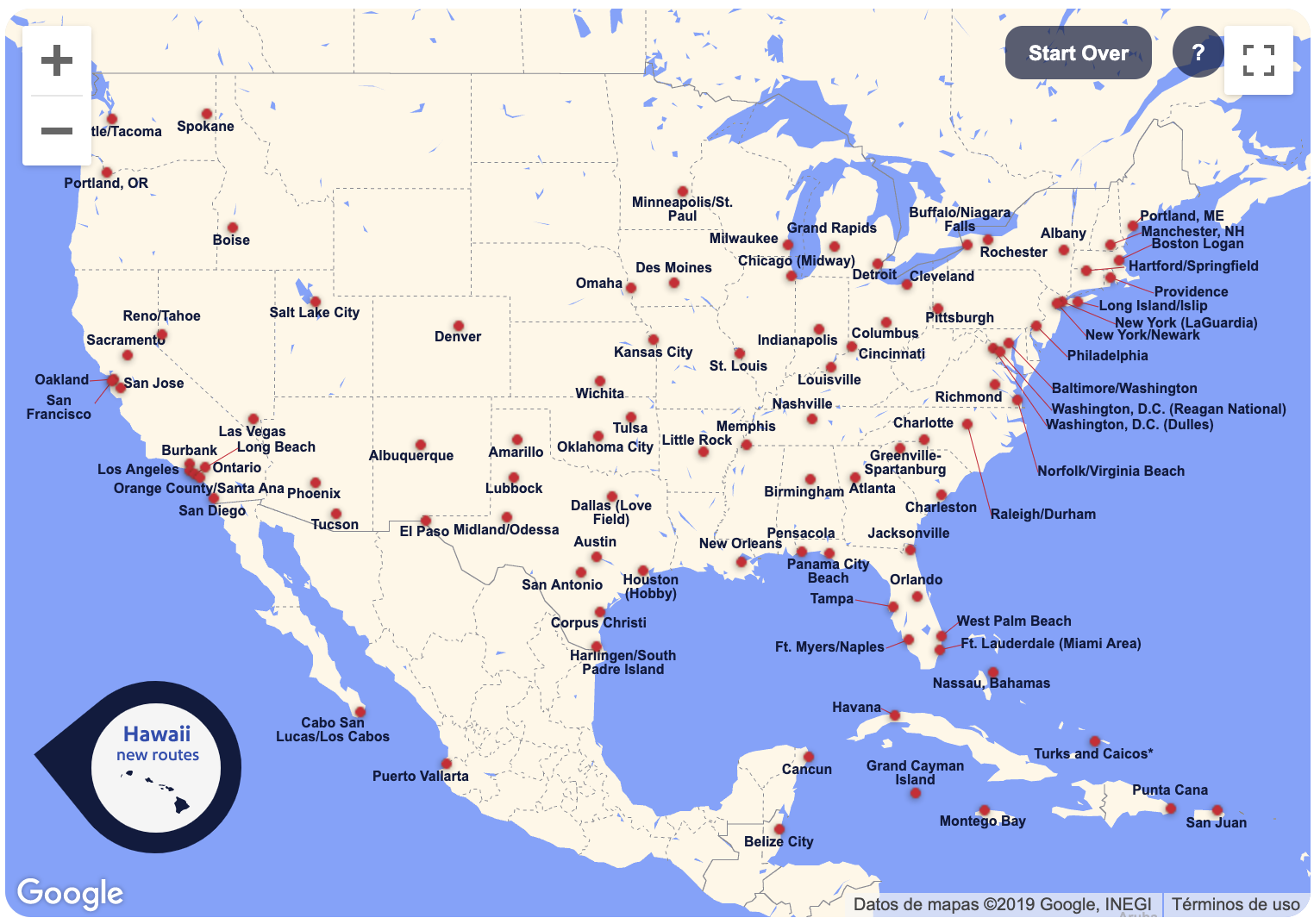 You can also change your flight for free (plus any fare difference) or cancel your flight and receive a travel credit.
3. Hold elite status
If you hold status with Air New Zealand, Qantas, Velocity or another frequent flyer programme, then you can access a complimentary checked baggage allowance on that airline and its partners.
That covers United for Air New Zealand, American Airlines and Alaska Airlines for Qantas, and Delta and Hawaiian Airlines for Virgin Australia.
4. Fly Business Class
Called 'First Class' by most US airlines on their domestic flights, you'll get a complimentary checked baggage allowance.
Generally, though, I don't find using cash or points for domestic US flights is of good value, as you usually don't even get lounge access.
The exception to that is for transcontinental flights. On these routes, it is much more attractive to have a lie-flat seat on and you're more likely to get lounge access.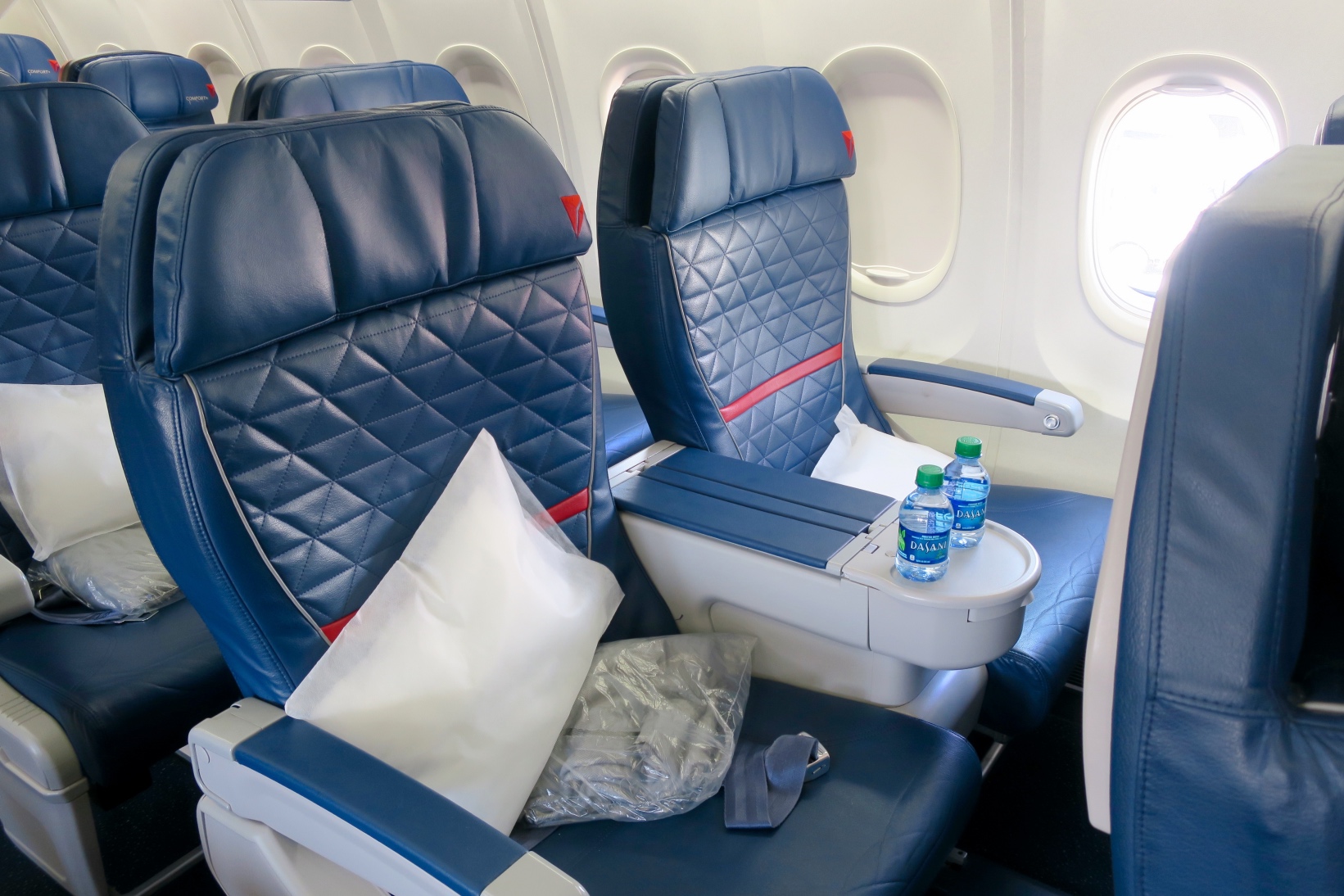 Delta 757 Domestic First Class
5. Gate-check your bag
If and when an aircraft runs out of overhead bin space, the gate agent will ask for volunteers to check their carry-on luggage. They will not charge you for this.
The risk is that if there is still bin space and you are bringing along a heavy bag, then you may be charged for the carry-on by weight.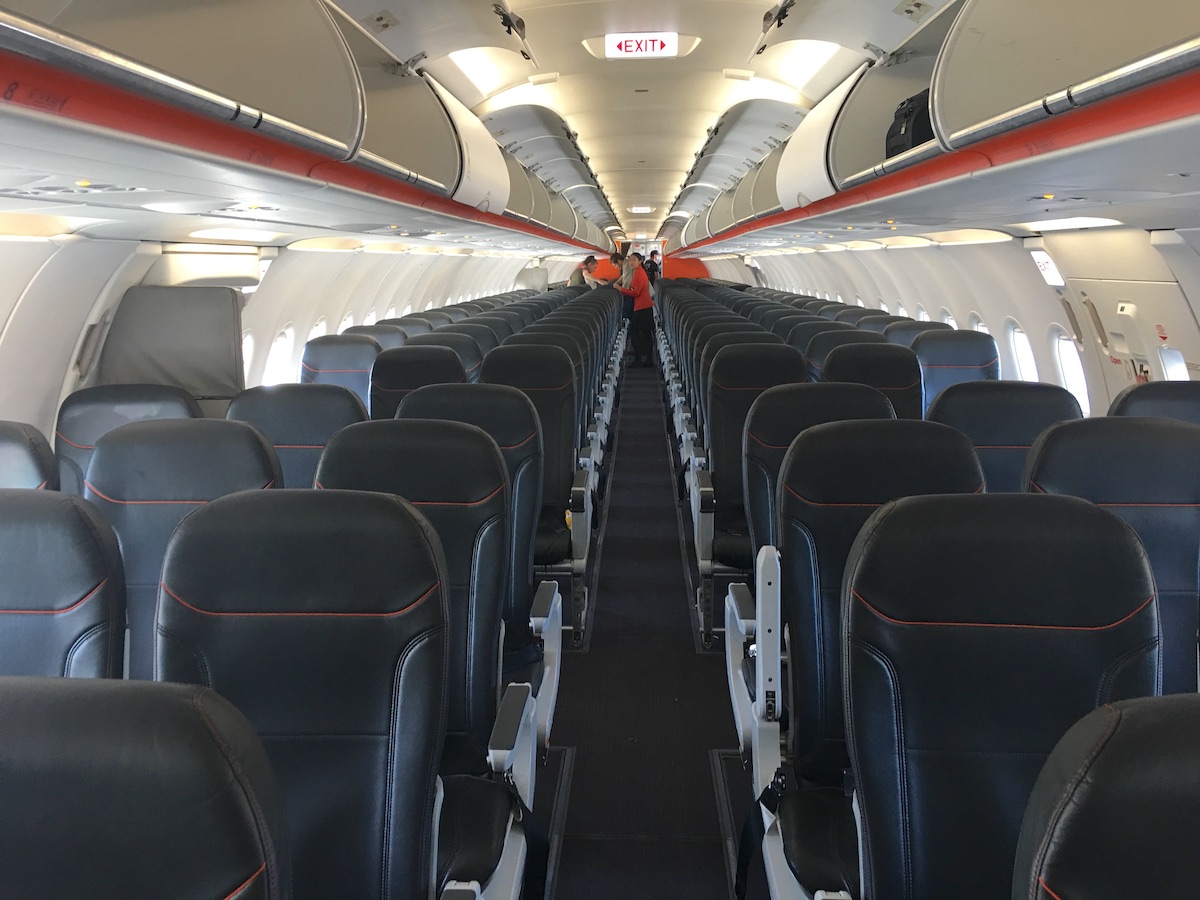 6. Travel with only carry-on
Pretty self-explanatory but impractical for many. Respect to those expert minimalists out there.
One more thing: be careful of Basic Economy fares
All three US legacy airlines (Delta, American and United) now behave like low-cost carriers. On the cheapest fares, they'll charge you for bringing anything larger than a 'personal item' (think: small backpack or purse) onboard.
However, they make it really clear on their websites that you are purchasing a Basic Economy ticket (opposed to a more expensive Economy fare).
If you are using a third party booking engine like Expedia or Webjet, then this information can be really well-hidden.
A good way to get around this is to install the Legroom for Chrome extension if you are a Google Chrome web browser user. It shows you the carry-on baggage allowance and also the legroom for your seat (as the name suggests).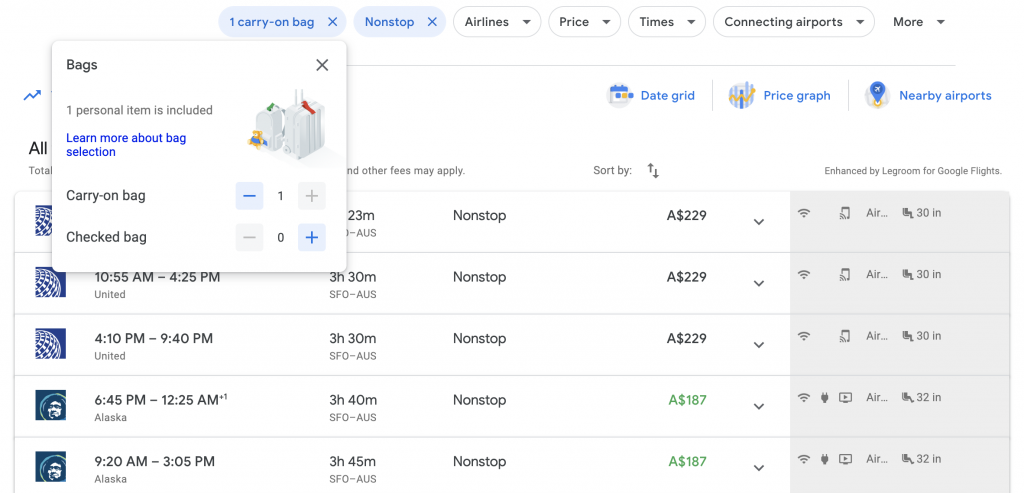 Summing up
US airlines are not particularly generous when it comes to checked baggage allowances (and lounge access…and fit-for-human legroom…and friendly customer service…and not getting dragged off a plane…and having solid Business Class products—I could go on and on).
If you are connecting from your flight from New Zealand onto a domestic US flight, try to get the checked baggage fee waived by checking in for the second flight when departing, if at all possible (dependent on whom you are flying with).
Within the US, Southwest offers the most generous (and only) complimentary checked baggage allowance.
If you hold status with Air New Zealand, Qantas or Velocity, then try to preference travel on partner airlines to get both an increased baggage allowance and potentially lounge access.
Finally, do watch out for Basic Economy fares on many airlines, which restrict even carry-on baggage.
Which US airlines are the best overall? Here's my ranking.
Have you had any success with any of these methods? Do you have any other suggestions to avoid checked baggage fees in the US or elsewhere?
How to save $30 when checking a bag on domestic US flights
was last modified:
June 16th, 2019
by