This take on Virgin Australia's new Business Class is from Point Hacks contributor Immanuel Debeer (Manny). My take on the same cabin is coming soon, after having done a short Sydney to Melbourne hop a few weeks back.
Manny's opinion of a longer flight between Melbourne and Perth is useful as it gives you a better taste of the service, seat and food on a longer flight than I've yet taken. Take it away Manny…

---
Being in my late 20's means that ALL of our friends decided to get married (one after the other). Since most of the weddings seem to take place in New Zealand, it's the perfect excuse to try out some new business class cabins!
For this particular occasion my destination was Christchurch, and traveling from Perth meant I had a few options.
I've been watching Qantas and Virgin Australia's new business seats coming into service for some time now and like most other point hackers I can't believe how good we have it here in Australia when it comes to business class.
Research and Planning
Planning this trip was a pretty easy choice. Ideally I would fly both Qantas' and Virgin's new seats each way. And as usual for me my trip was planned with no room for errors and went something like:
Friday night 8.30PM, fly out on QF111 from Perth to Auckland. Sleep.
Arrive in Auckland around 8AM, connecting onto a domestic Air New Zealand service to Christchurch
Arrive in time with 2 hours to get ready for the ceremony. Perfect.
And it almost went off like that – but my outbound Qantas flight had some issues, which I've outlined after my Virgin review.
For the return leg of my quick visit I had booked myself (and 2 other friends – because business class is better when shared!) on Virgin's new "The Business". My routing was Christchurch – Melbourne – Perth.
The flight – Christchurch to Perth via Melbourne with Virgin Australia
The flight from Christchurch to Melbourne would be on an un-inspiring 737 in Business Class, which is really nothing to write home about. However it's totally acceptable for a short daytime hop when all you want is some personal space, a good recline and better food.
The service on these flights is very nice and personal since only 8 seats on the plane are business (6 were taken).
On these flights Virgin hands out Samsung tablets to watch movies on. I don't mind this because you can put/hold it anywhere you want depending on your seating position. The flight was nice and quick and gave me some time to recover from a self-inflicted wedding hangover.
Once in Melbourne we got handed express clearance passes to skip the queue (although there was none) and make a quick transfer to the domestic terminal where I was faced with a 3 or so hour wait.
The Melbourne domestic lounge is large and at times busy but has some really nice views over the tarmac. I tracked our plane coming in from Perth and luckily there was no last minute changes getting between me and "The Business".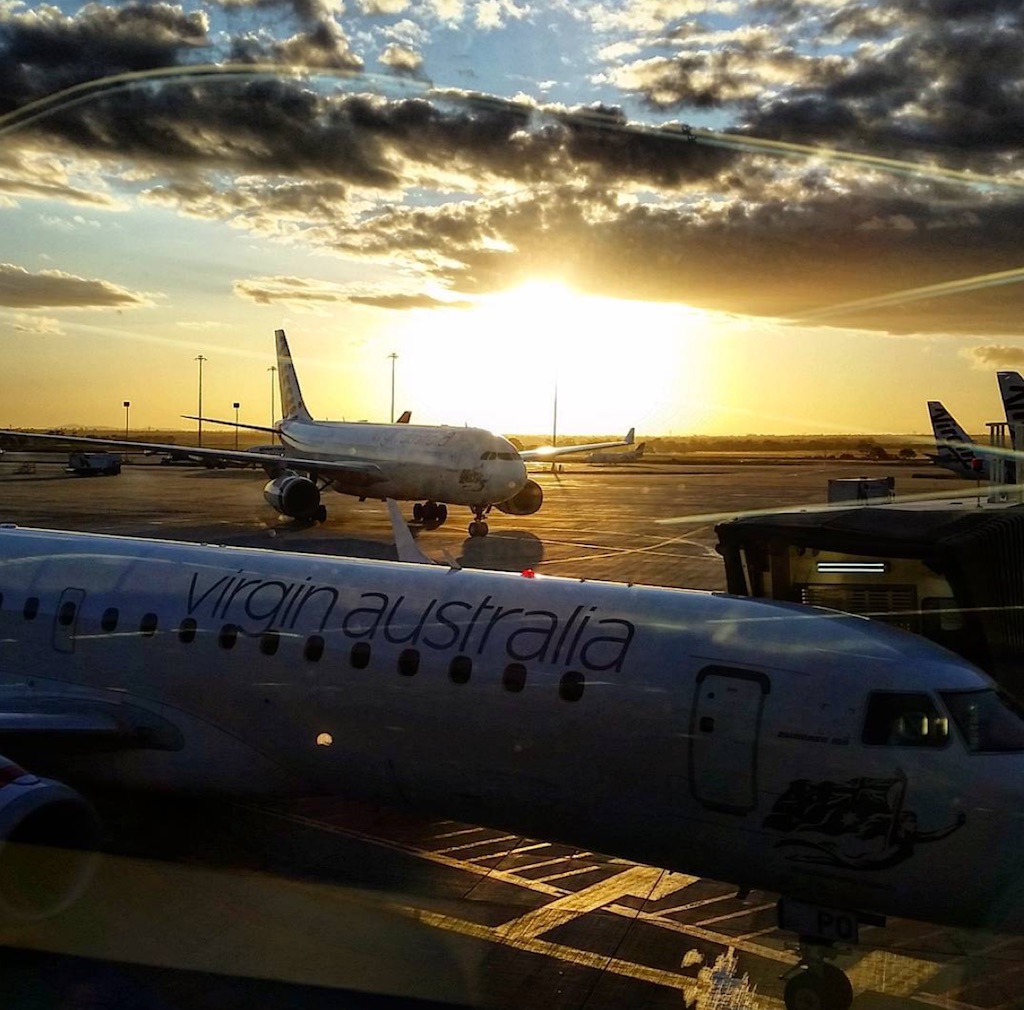 Since the Melbourne Virgin Australia lounge is before the security clearance there is premium security gate to the gates which helps you bypass the regular screening point.
Once boarded all I could think was WOW, this looks amazing! The Virgin colour palette is extremely sleek, mixing blue, pink and purple hues with the stark carbon grey seats makes it all that more special.
In a mood lit cabin the in seat spot lights are aimed on each seat illuminating the purple pillow and creates a great contrast with the charcoal fabric seats.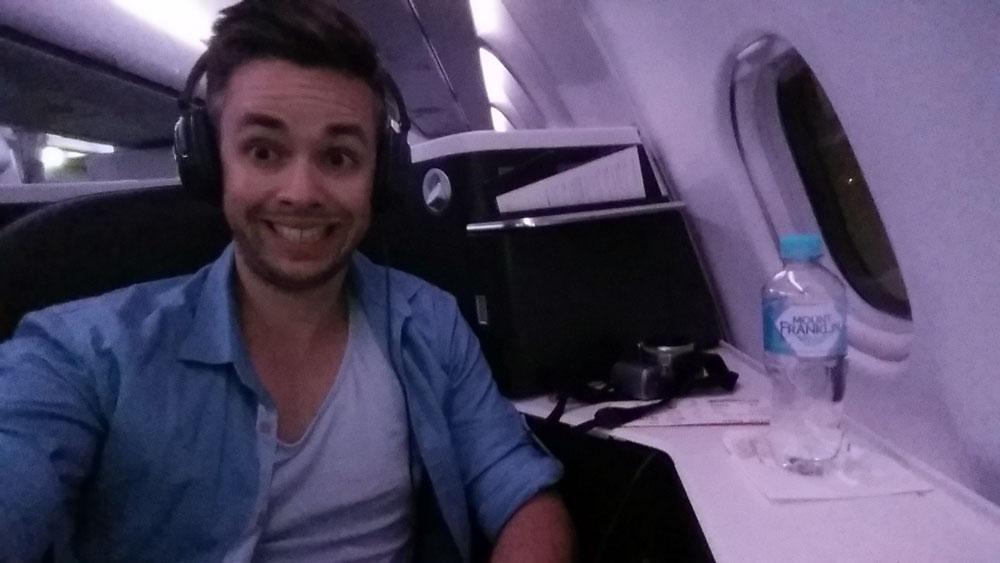 The attention to detail on this product is insanely good! The shells of each seat are made from exposed carbon fibre and finished with a silver trim. It all looks a bit like the interior of a sports car and it really works.
Small details such as the coat hanger, reading light with tiny little blue LEDs to indicate the 3 light settings are just a great touch. The seat itself is controlled from a little touch pad which also takes care of the lighting.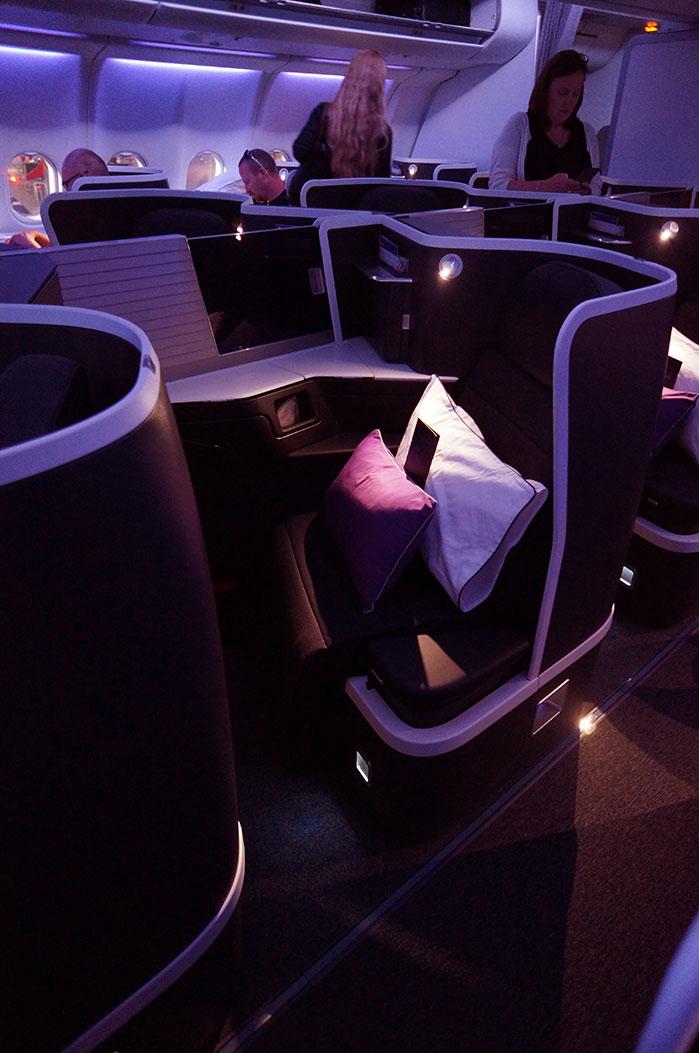 I had a window seat which is angled towards 2 windows with a little shelf to keep your belonging and a 3 storage compartments, one for the remote, one for the power supply (you can keep your phone in it) and one for a tablet (kind of useless).
The middle seats are angled towards each other with a divider in the middle for privacy. The layout is 1-2-1 and forms a W shape.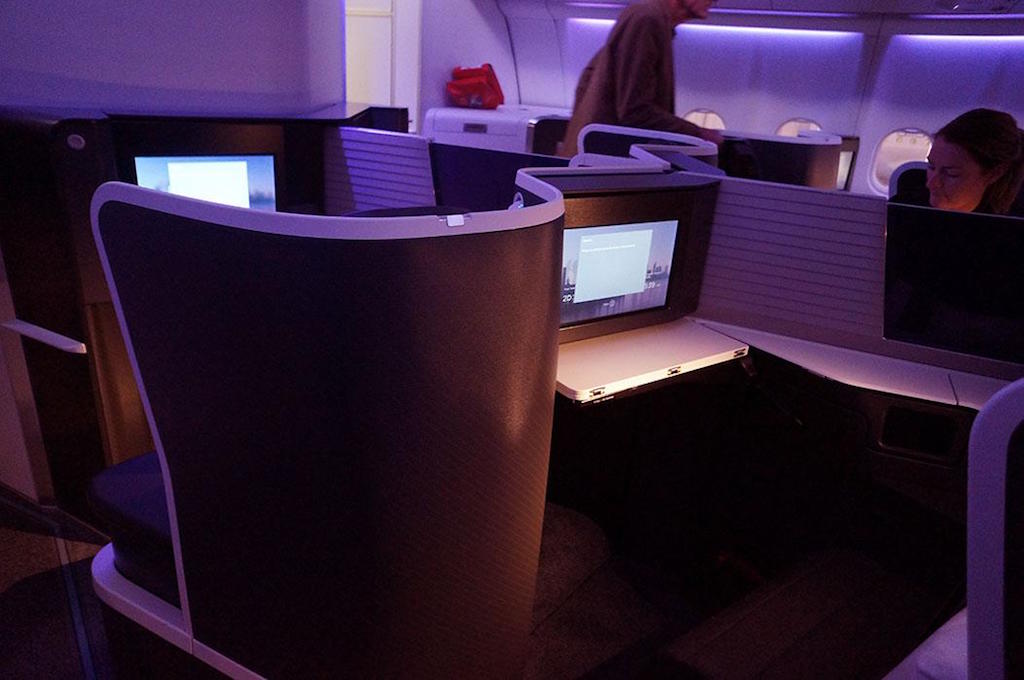 Each seat has the feeling of a suite thanks to the large carbon shell and is incredibly comfortable. Space is ample and my friend who's pretty tall didn't complain (pretty sure he was too busy enjoying the prompt Fat Yak top ups from the attentive staff).
When the seat is reclined into lounge position it's hard to get out of, and this is the same when in bed mode which made me go to fully seated position whenever I had to use the bathroom.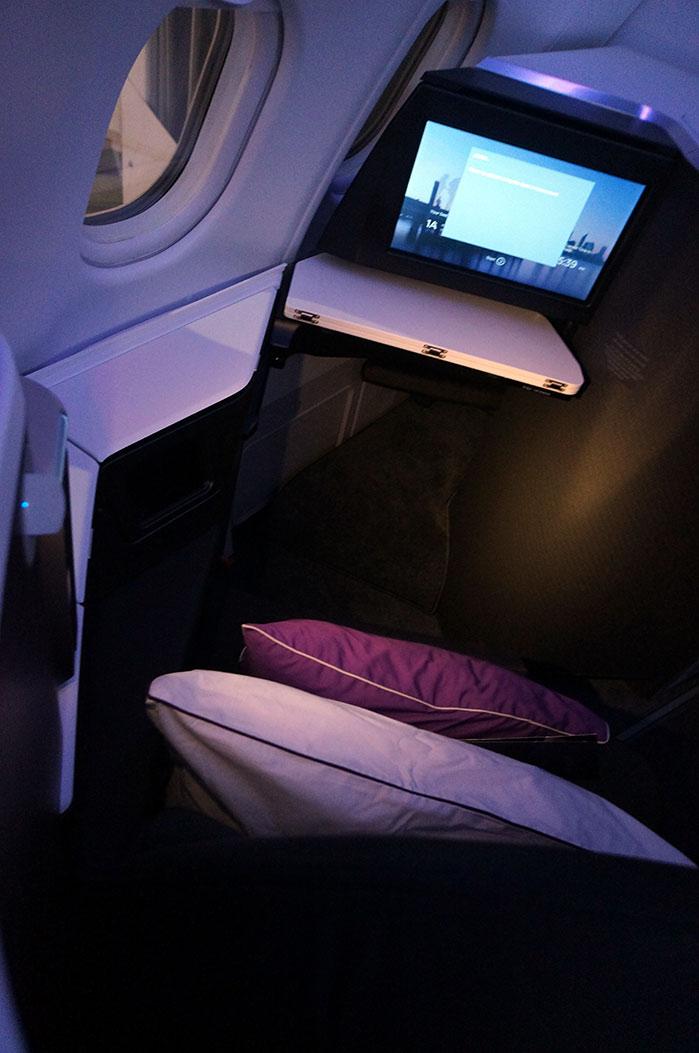 The service on board was top notch, the cabin manager introduced himself offering champagne or non alcoholic refreshments while we waited for everyone to board.
He also explained the new seat (and it's buttons) which comes with its own manual – just in case. He also returned the ornamental purple pillow to my friends seat, explaining that one of the economy passengers had try to pinch it. "I didn't know I had 2 pillows?" – "Of course you have 2 pillows sir, it's 'The Business'".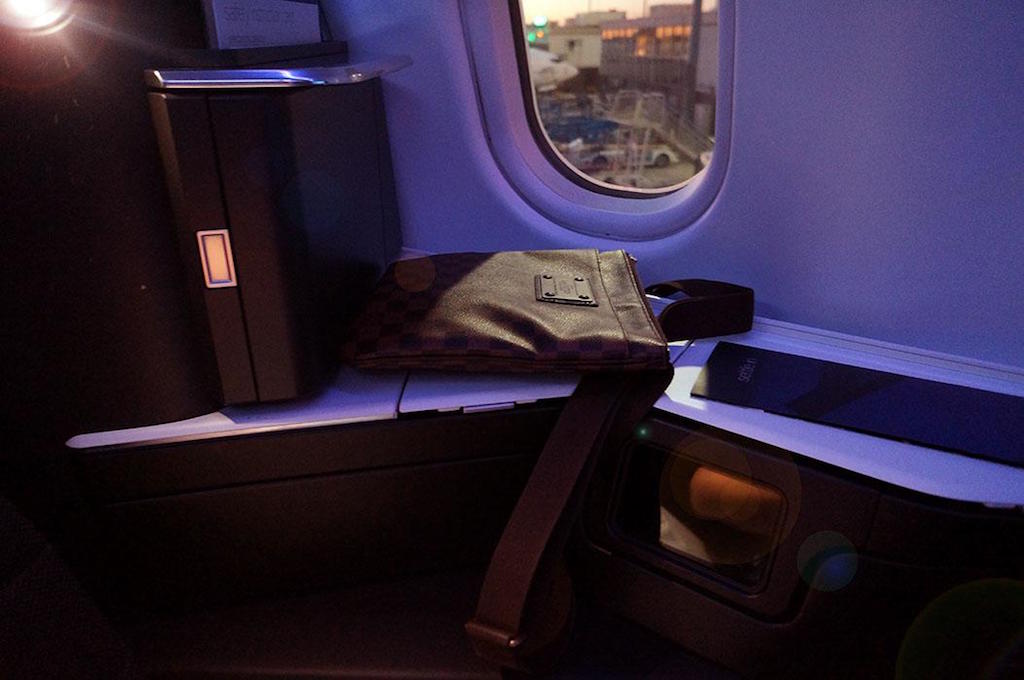 The attention to detail from the staff really couldn't be faulted on this flight and dinner service was spot on. The menu consisted of an appetiser, main and desert with some almonds and olives to start of with.
For each course the cabin crew reset fresh cutlery making sure everything including the salt and pepper shakers were in the "right" position. Unlike other airlines that just give you a serviette rolled up with a bunch of cutlery inside, Virgin really takes it up a notch and focuses more on the attention to detail.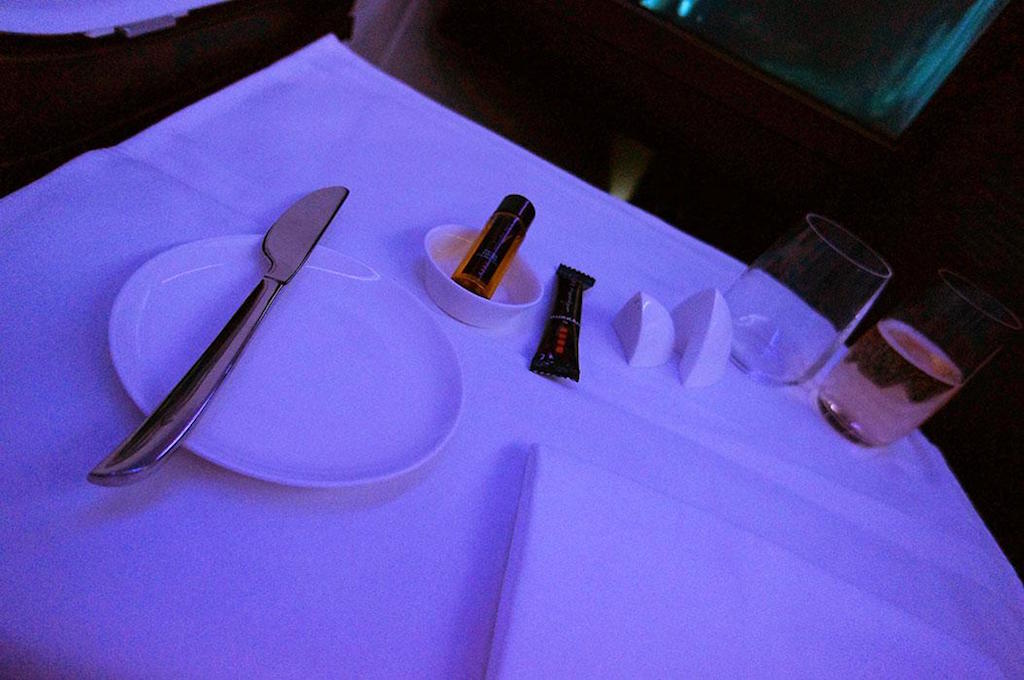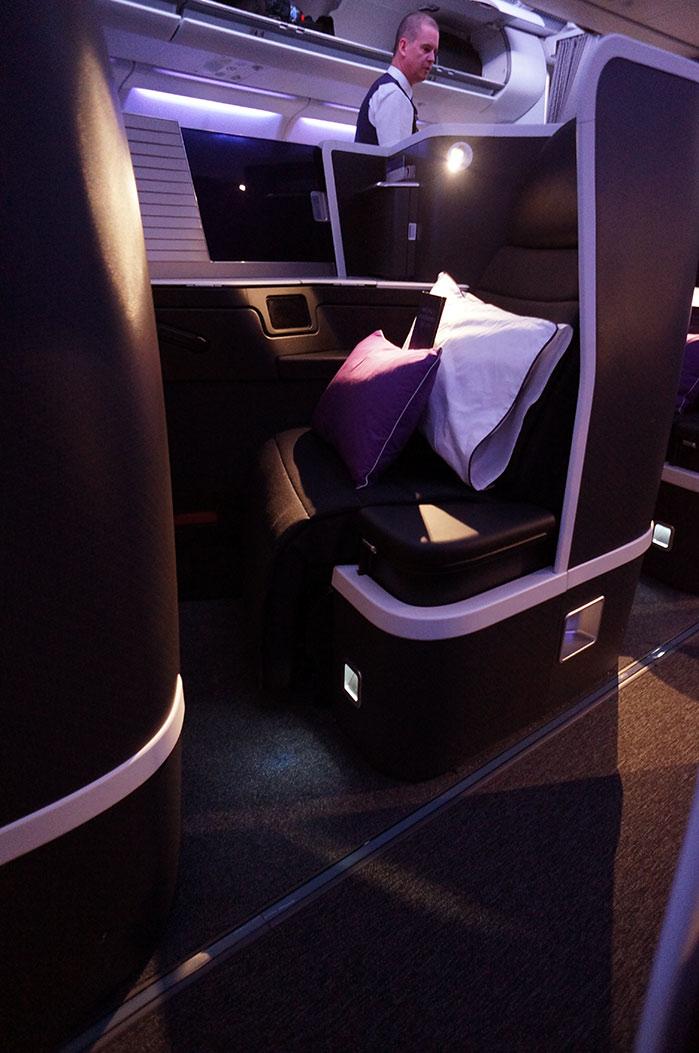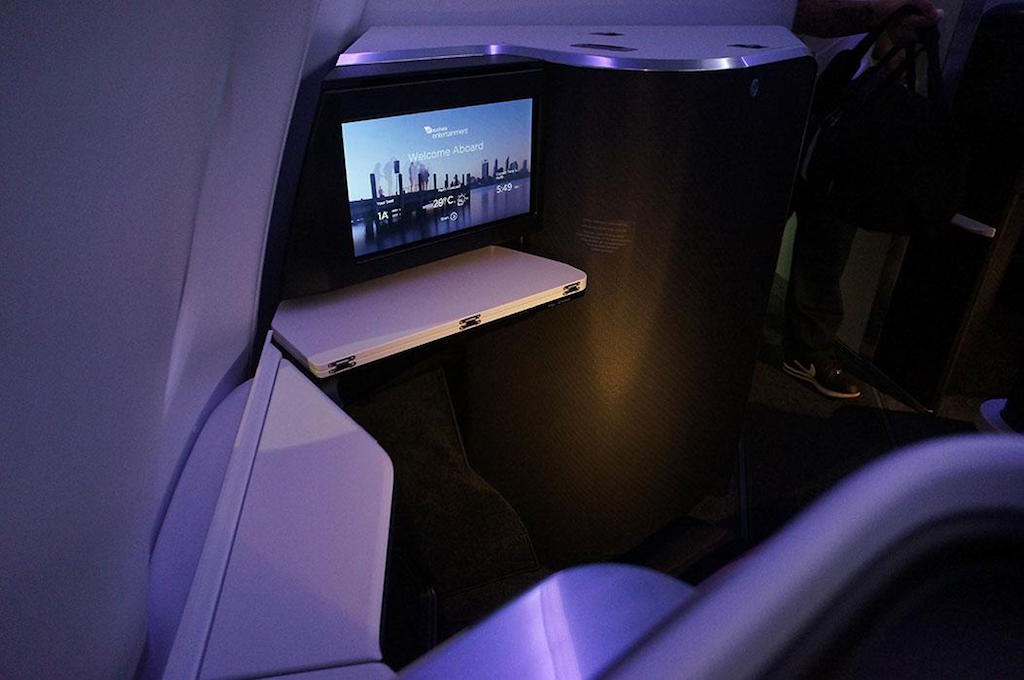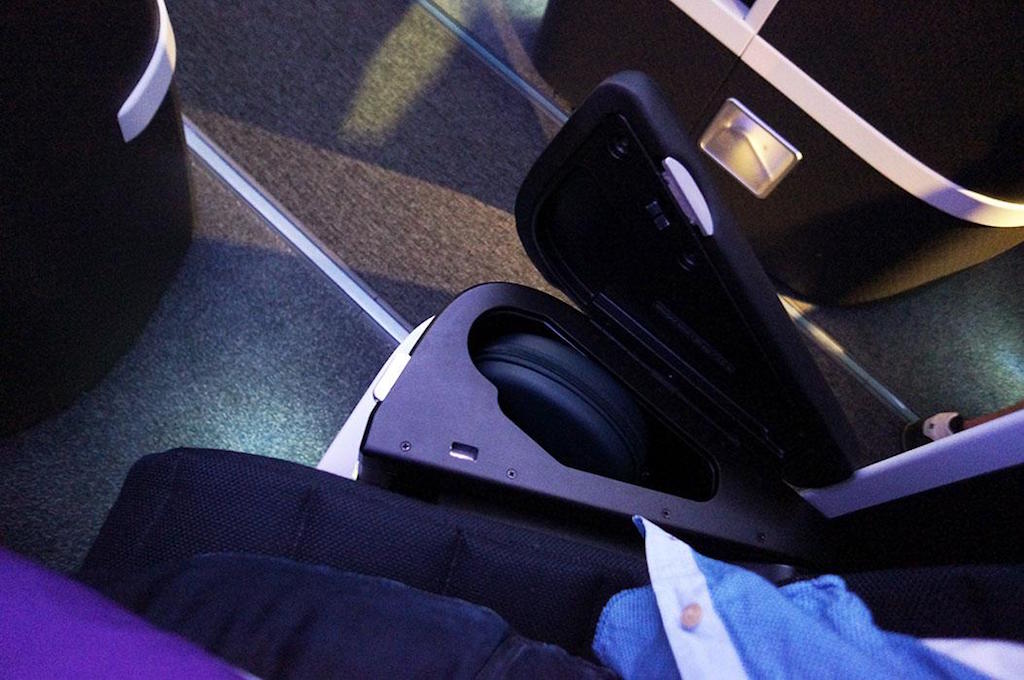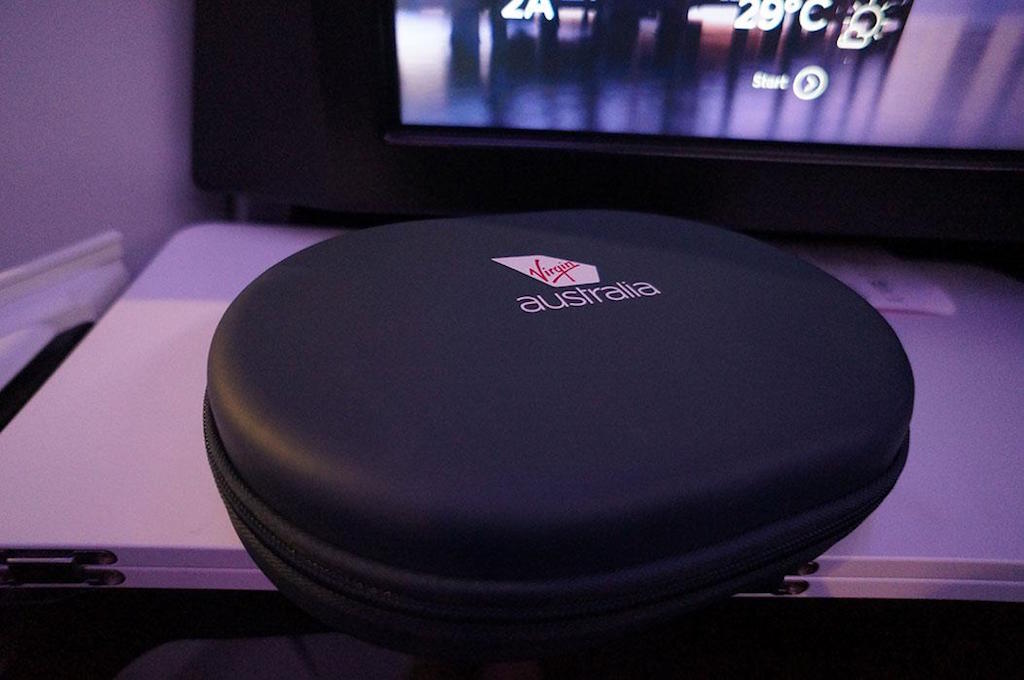 The cabin crew made sure my glass of champagne was never empty. As a starter I opted for the prawns in corn salsa from the Luke Mangan inspired menu which where really massive and tasty.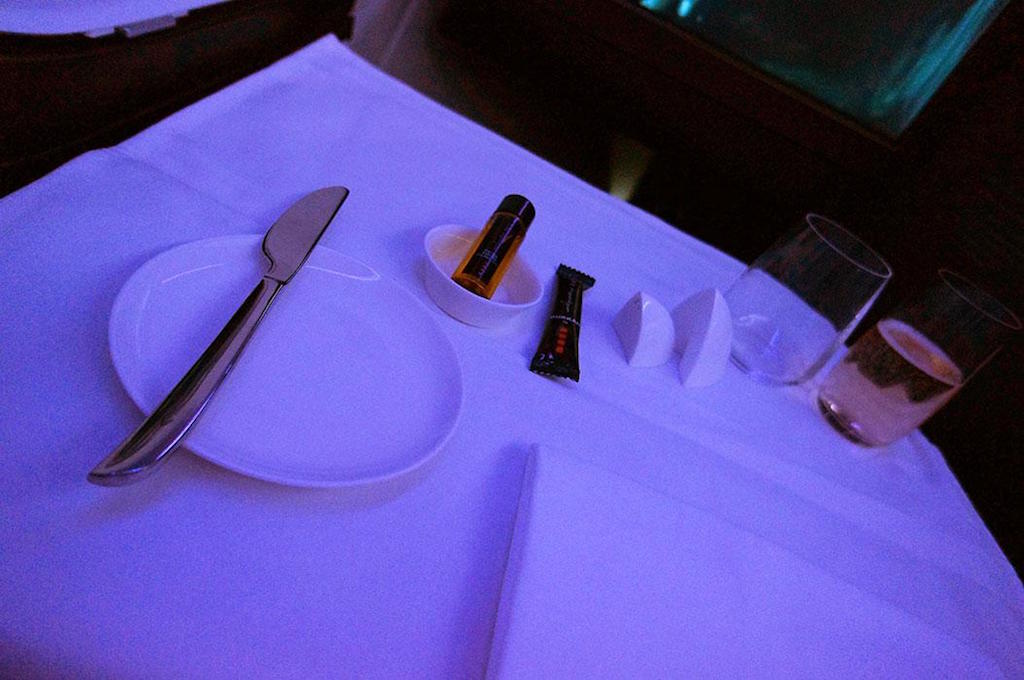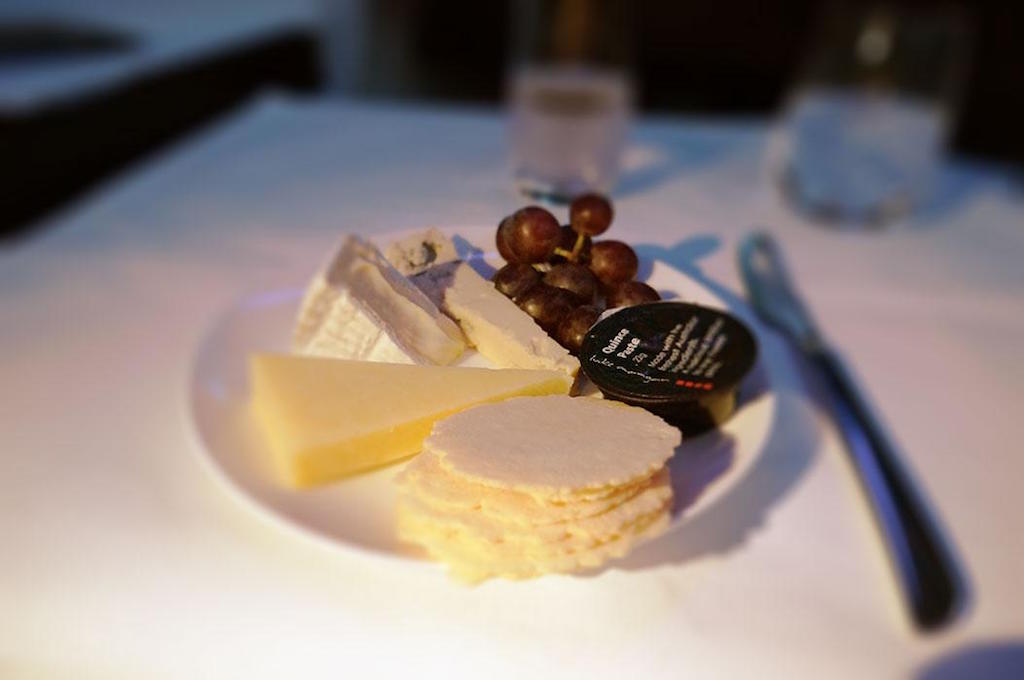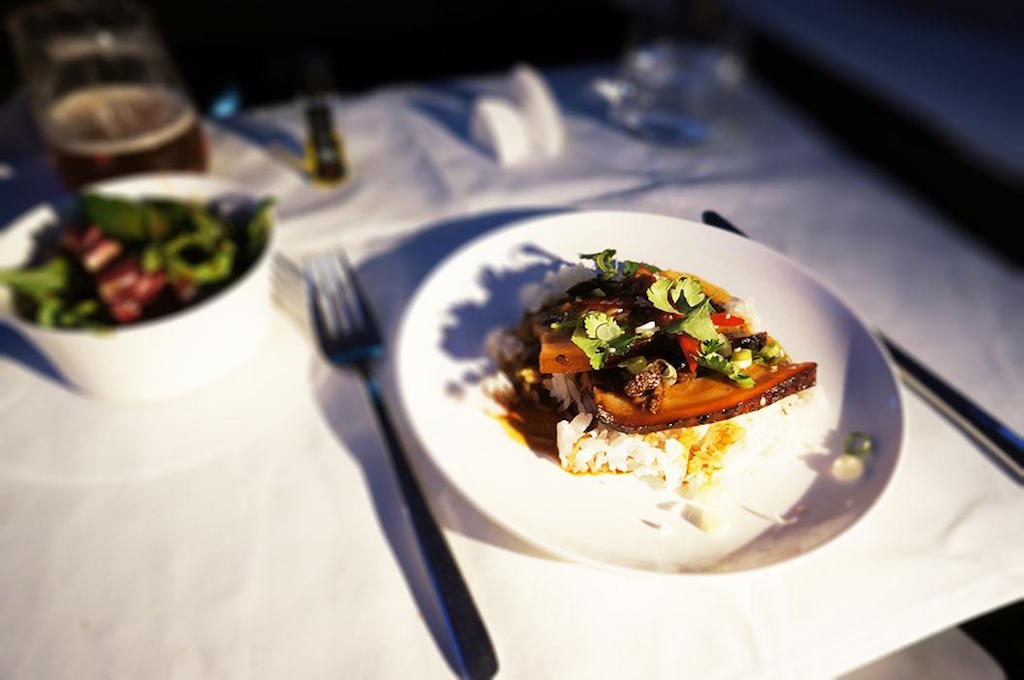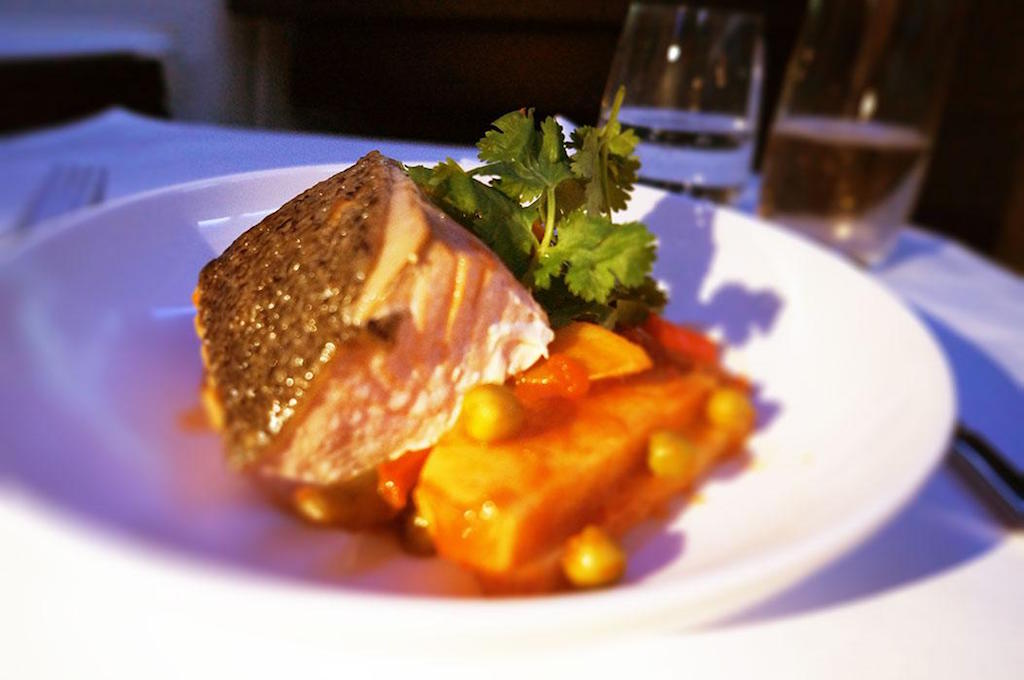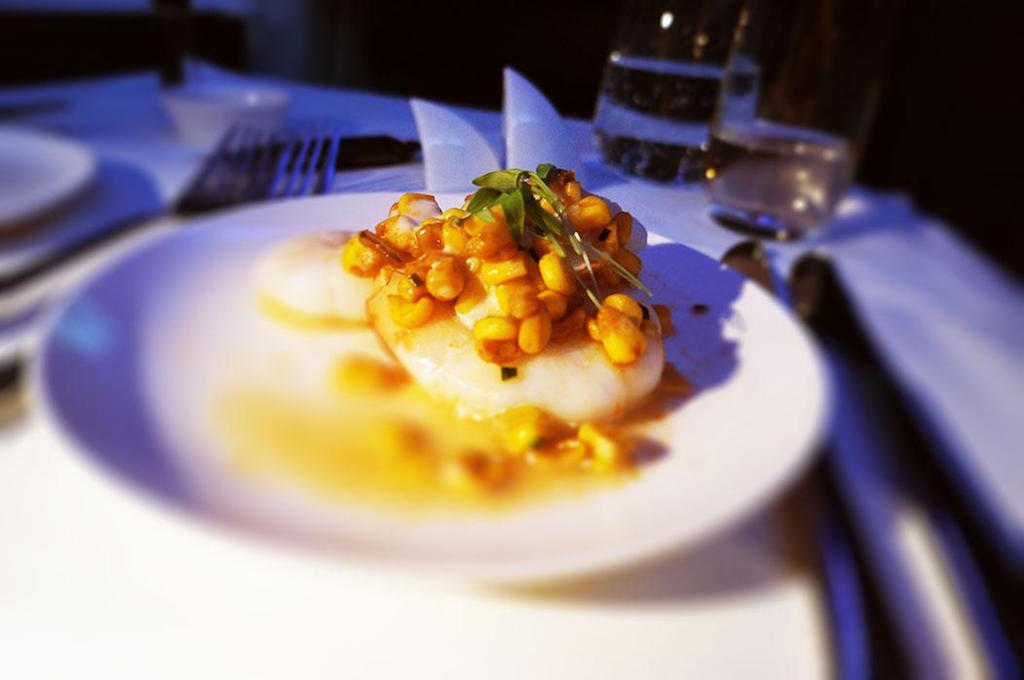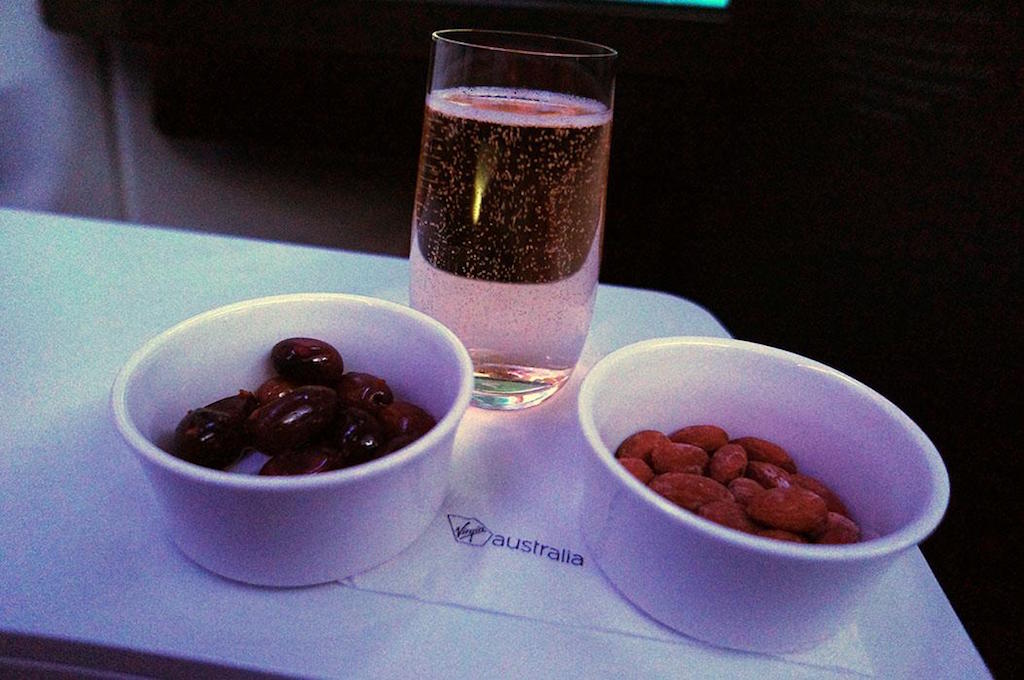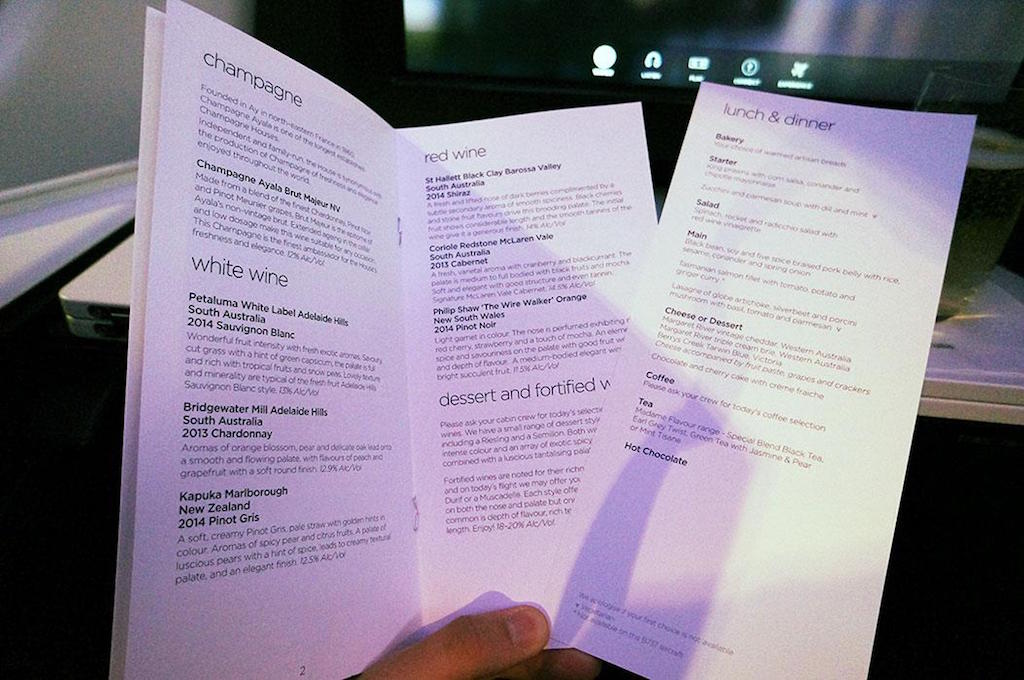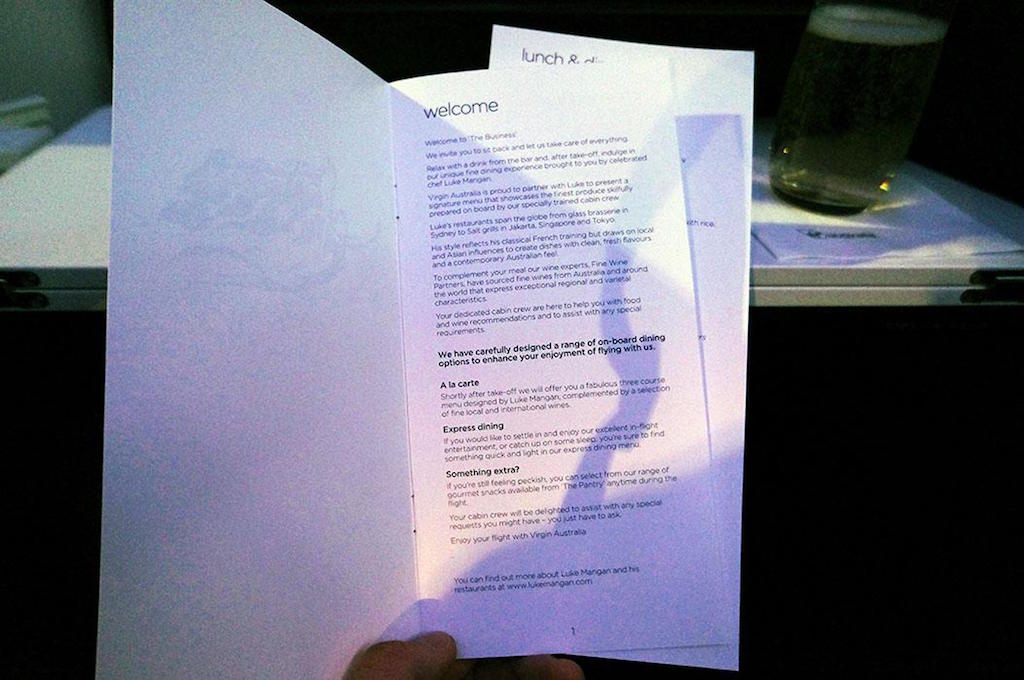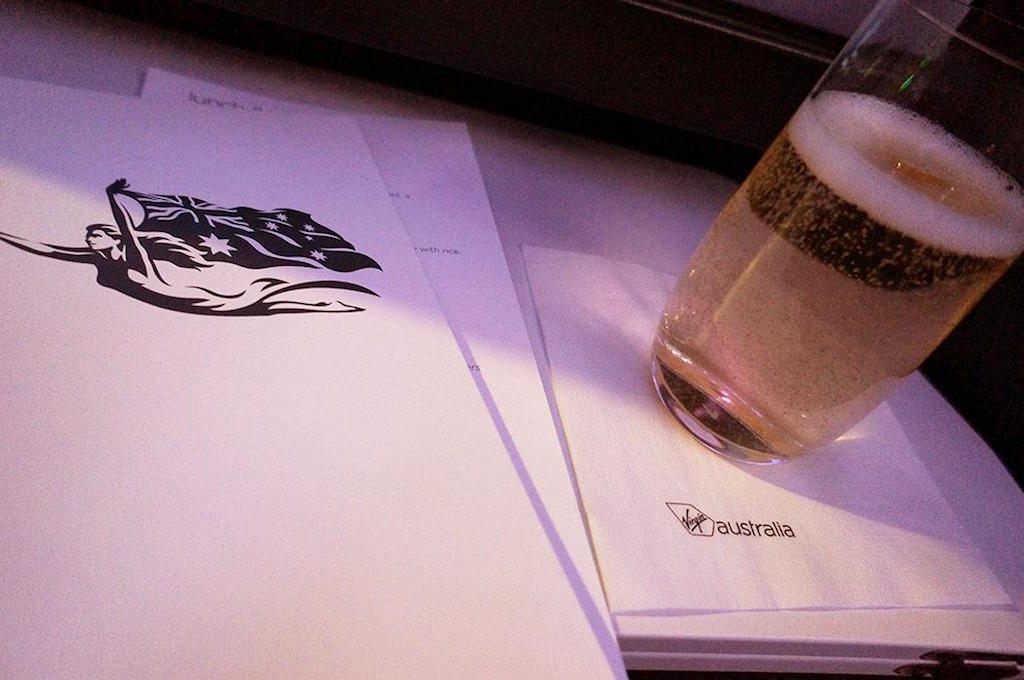 For my main I had the salmon which was actually very nicely cooked for plane food. I finished off with a nice desert wine and a selection of cheese.
By this stage there was only about 1.5 hours of flying to go, so I decided to go full recline and have a quick nap on the flat bed. This is where the seat became really comfortable and before I knew it I was out counting sheep.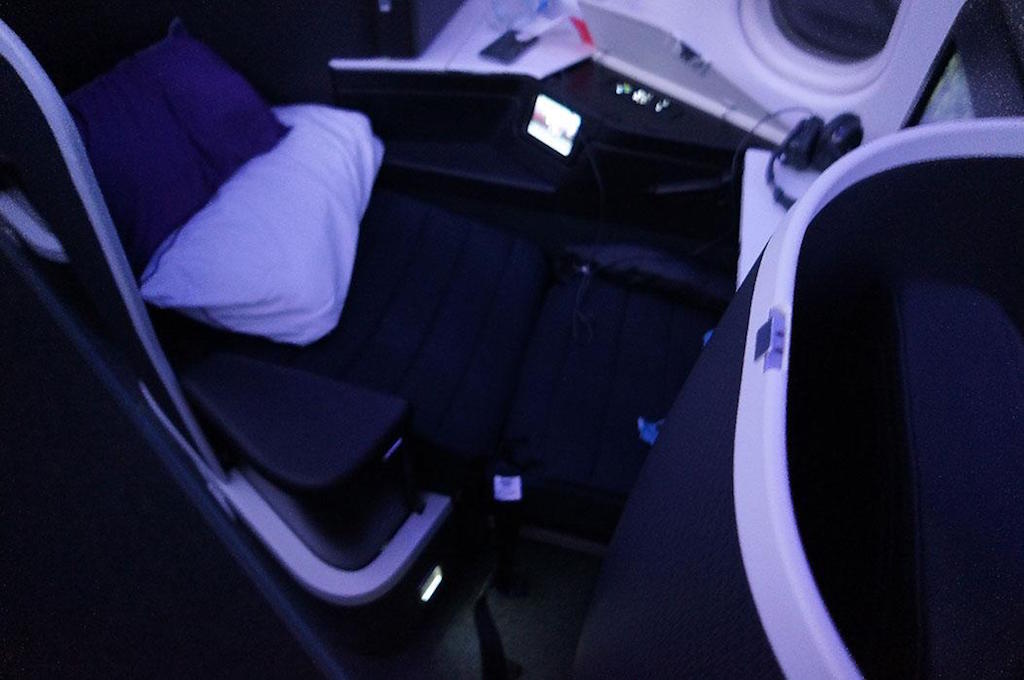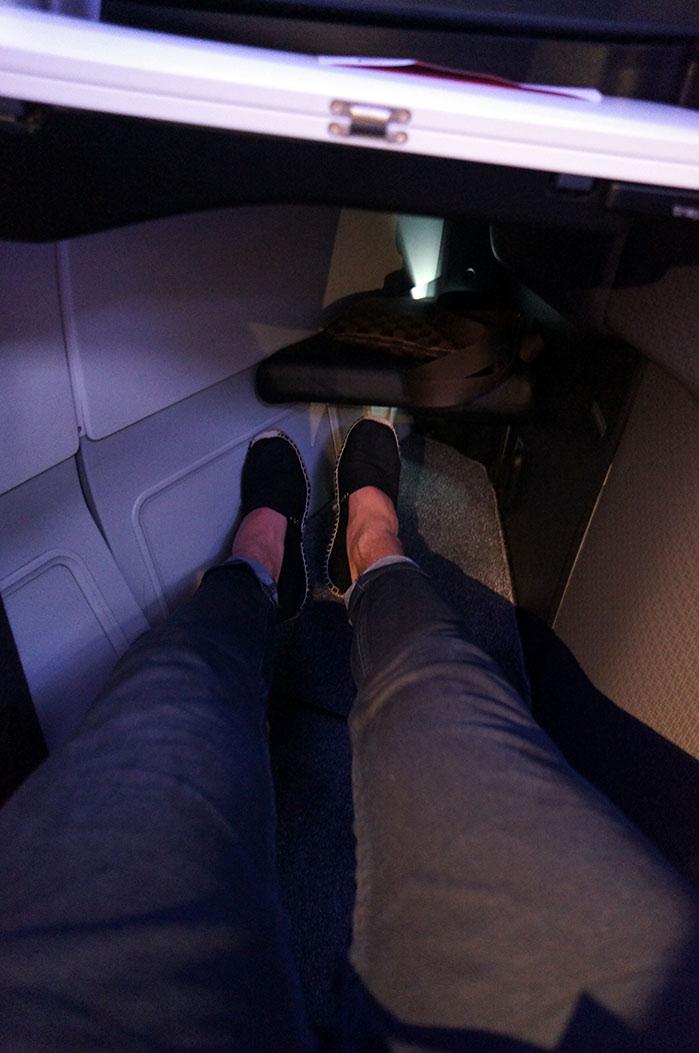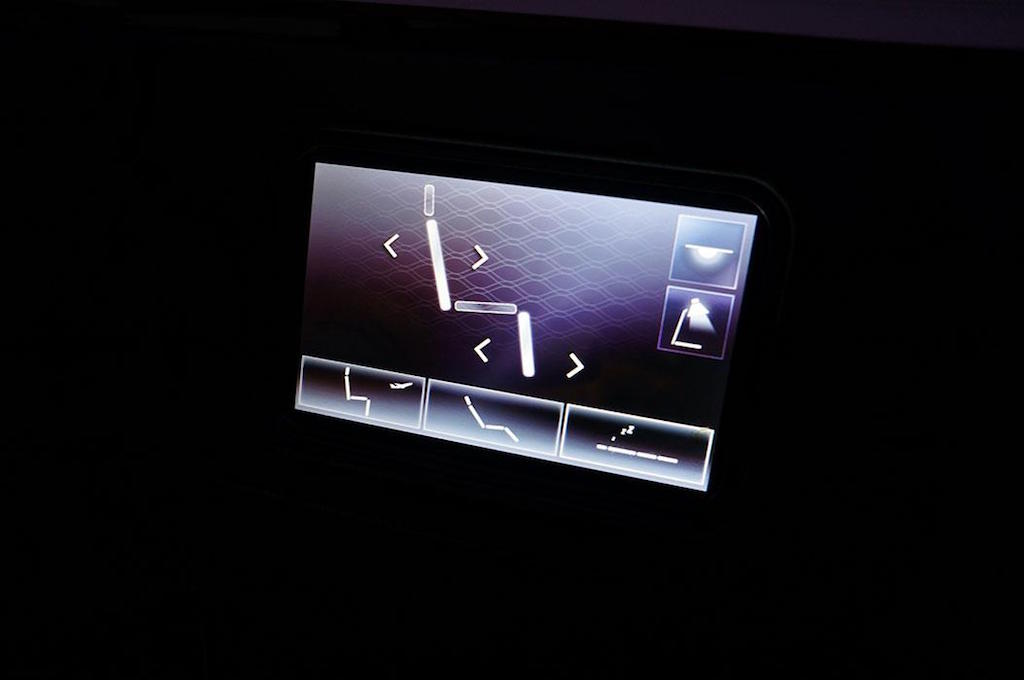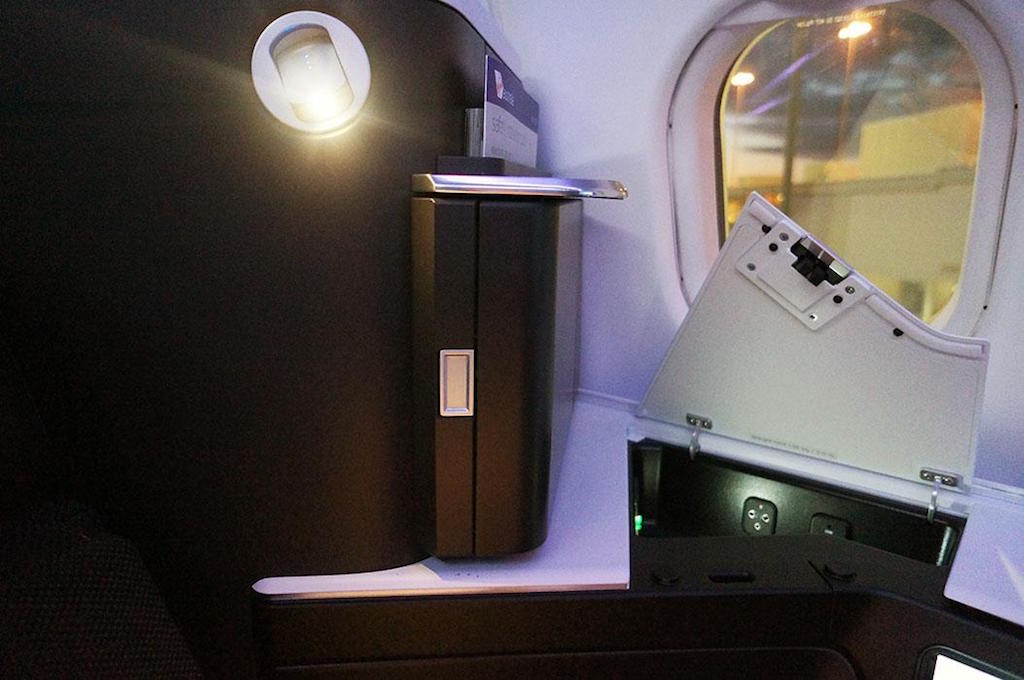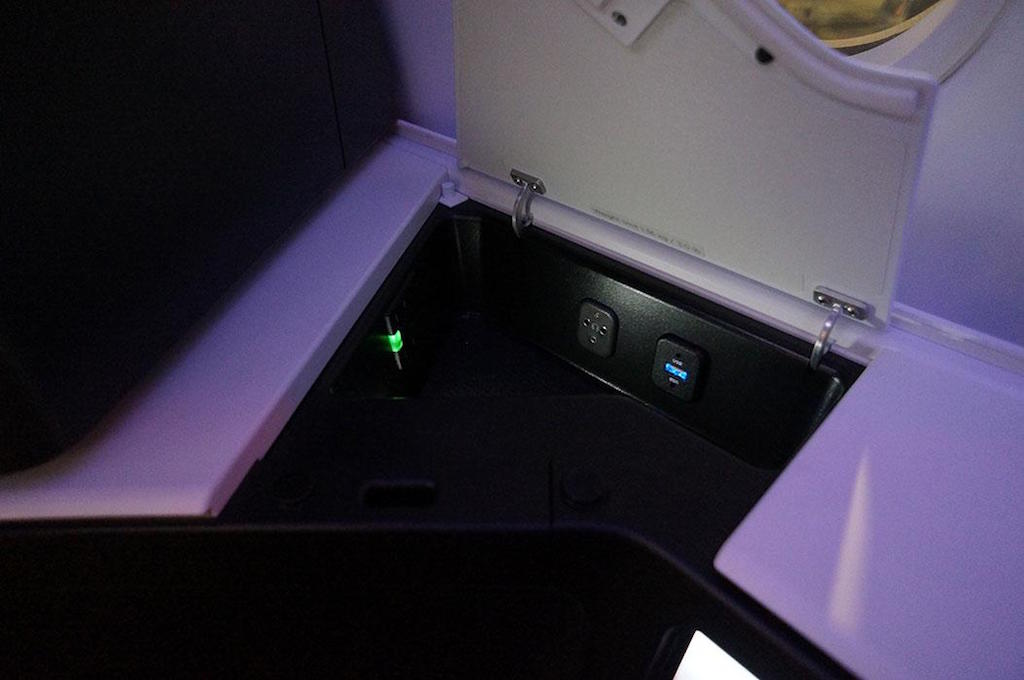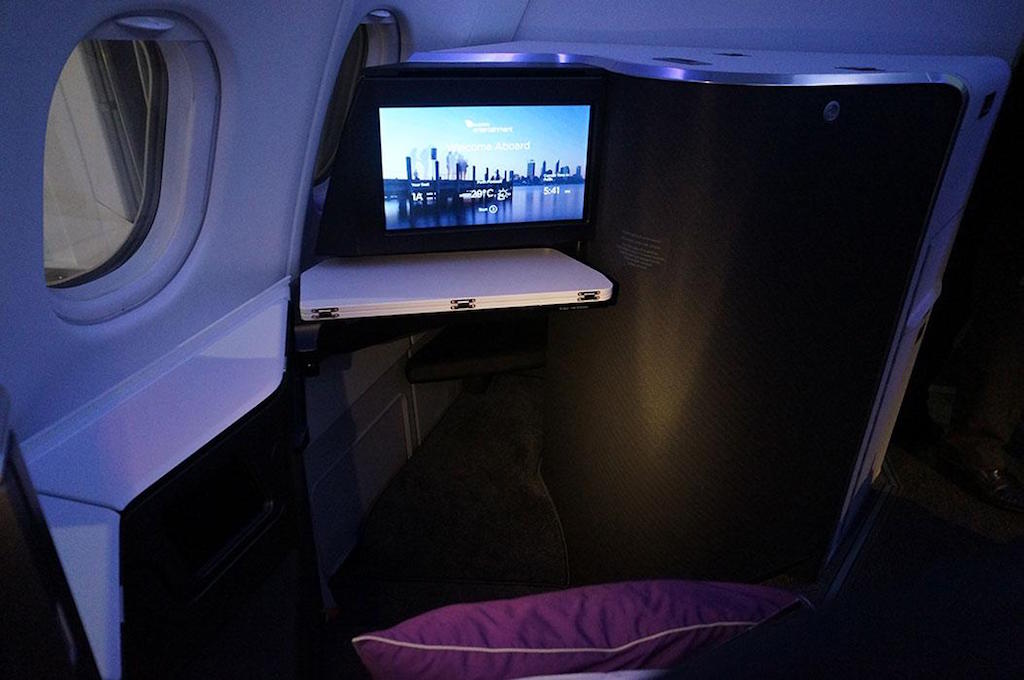 The only thing which I thought was missing was a blanket of some sort and an amenity kit. Even though it's a short flight it's always nice to get comfortable and a blanket definitely helps.
What I look for in an amenity kit is a good eye mask, some socks and a mini toothbrush to freshen up after a nap. Considering the retail price of "The Business" is around $1800 on a one way ticket it's a bit stingy not to include one. I know Virgin has a full mattress and feather down pillow on it's red-eye flights but I think they should offer this to all passengers who prefer to sleep.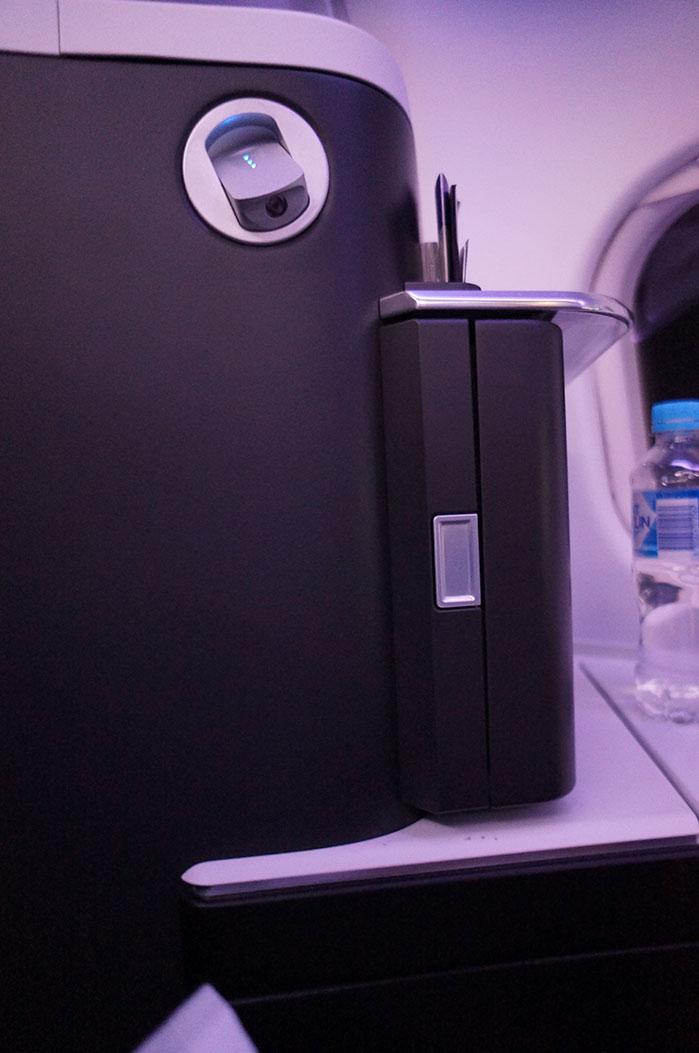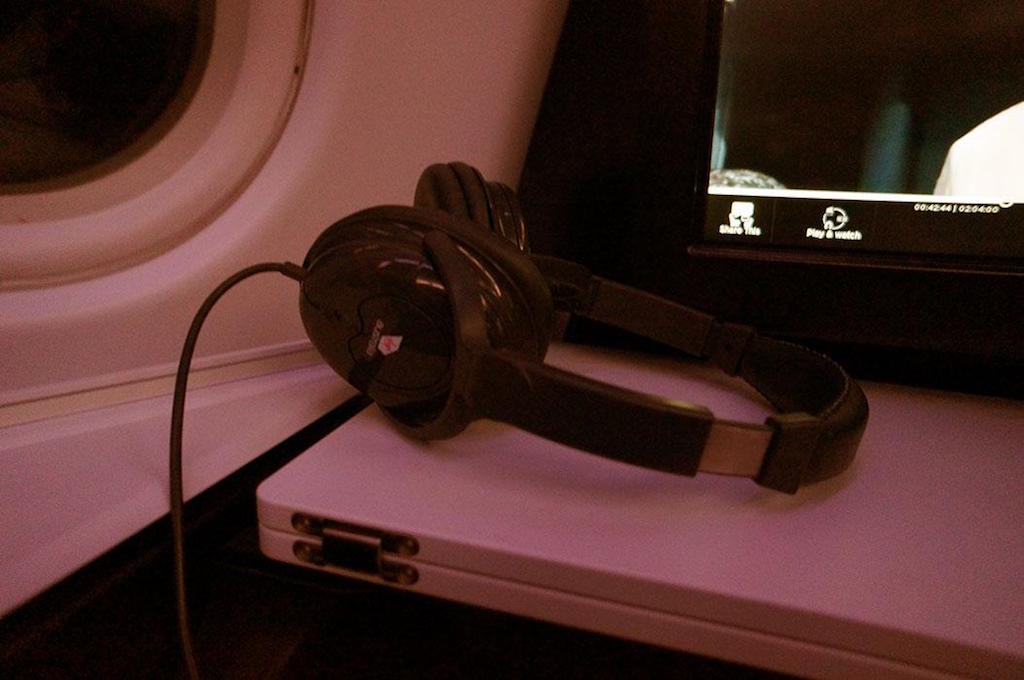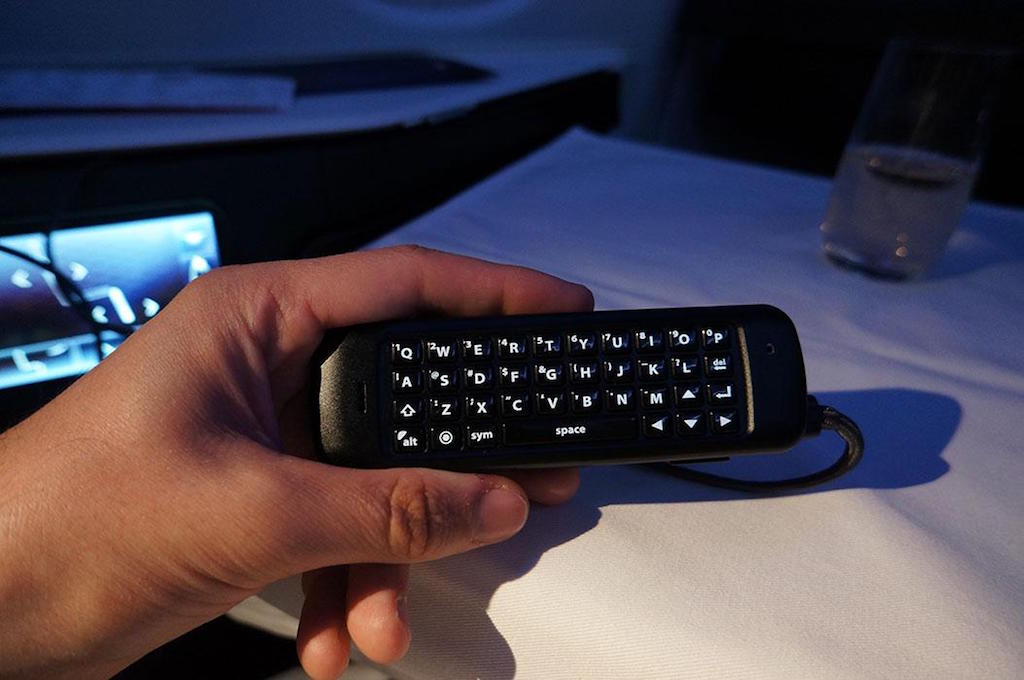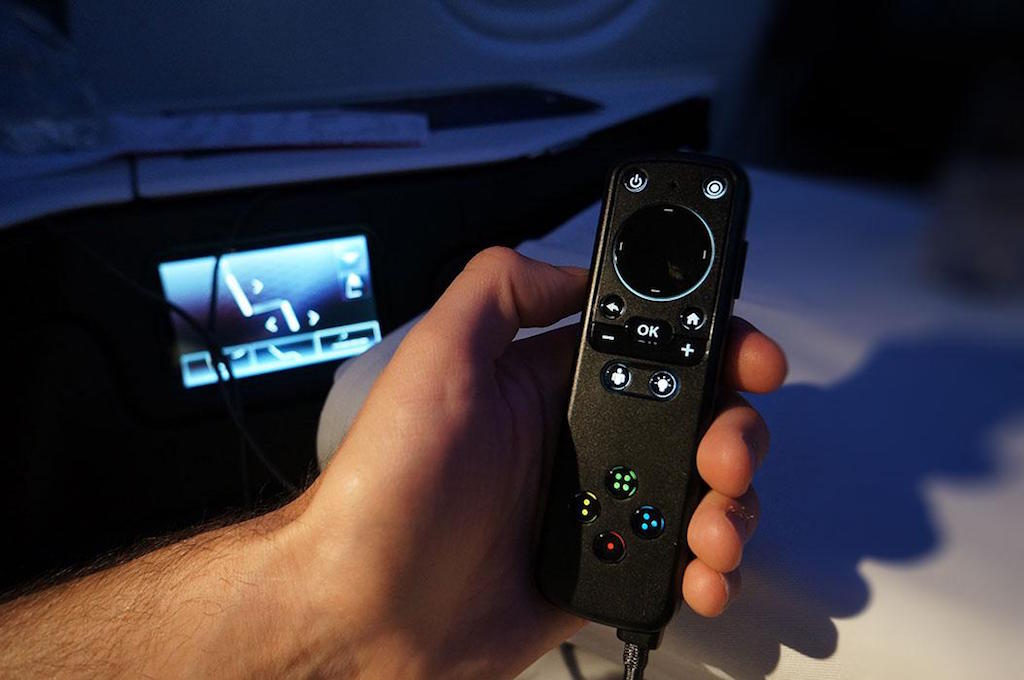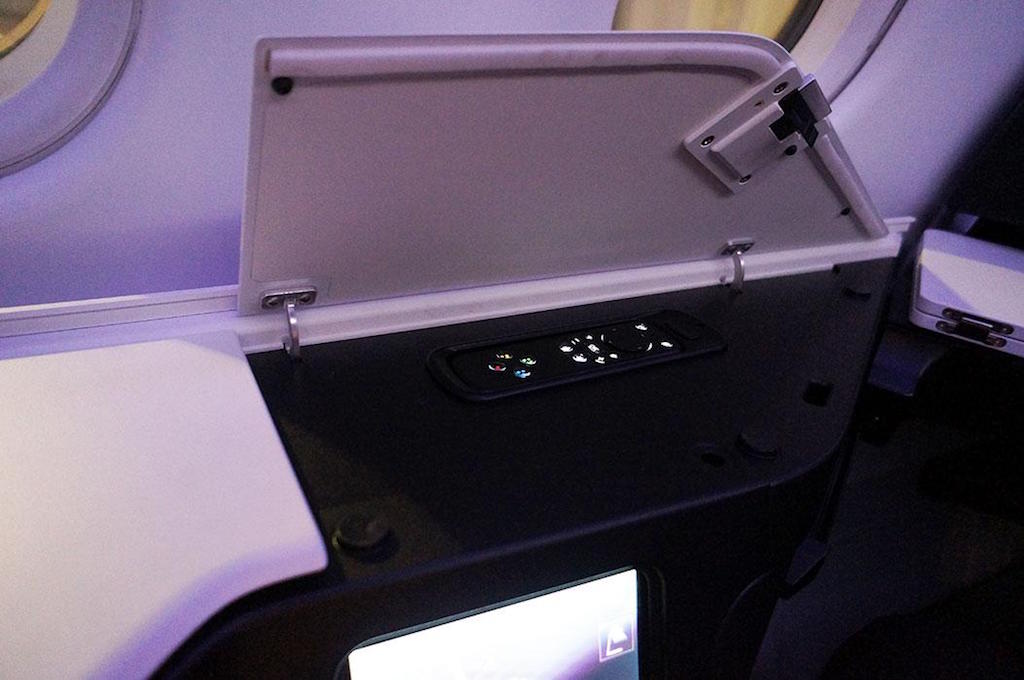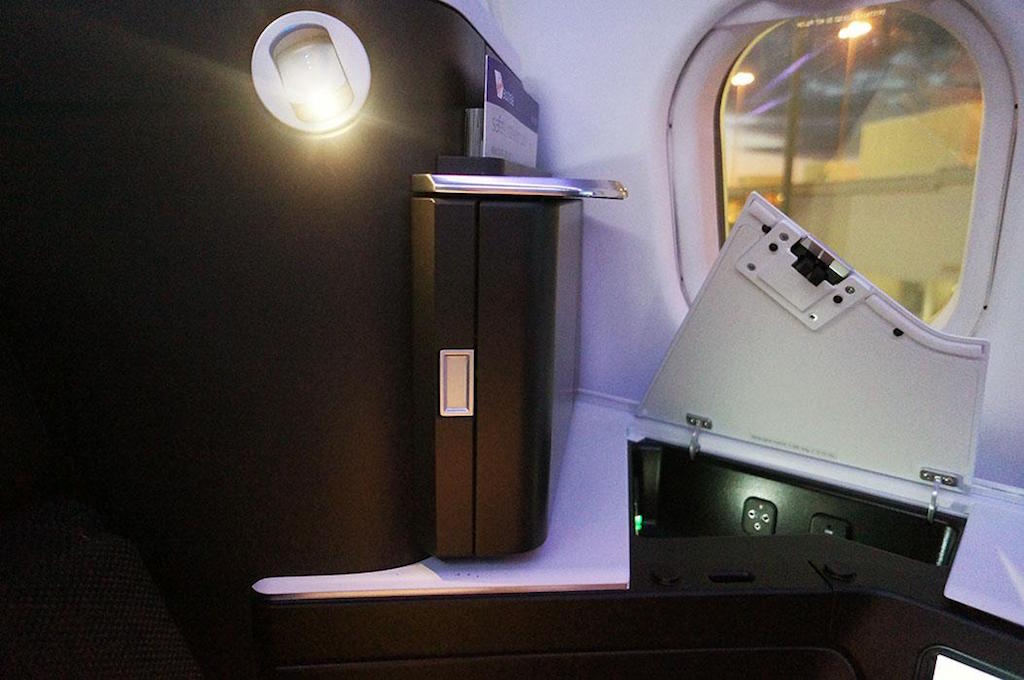 For entertainment, the 16 inch touch screen mounted in the seat in front of you is really nice and the sound from the headphones is loud and clear.
Virgin's movie selection is not the most extensive I've seen but it's perfectly suited to the flight duration. The only problem I found with the screen is the viewing angle, which creates really bad black hues when you recline too far down in your seat. Imagine an old computer monitor and trying to view it from the side – just not quite as bad.
The remote is small and "smart" looking with a full keyboard on the reverse which was usable, and fun, since you can watch a movie and chat with your friends at the same time. If you're watching full screen and one of your friends sends a message, a notification appears on the top of the screen so you can jump back in to split screen mode.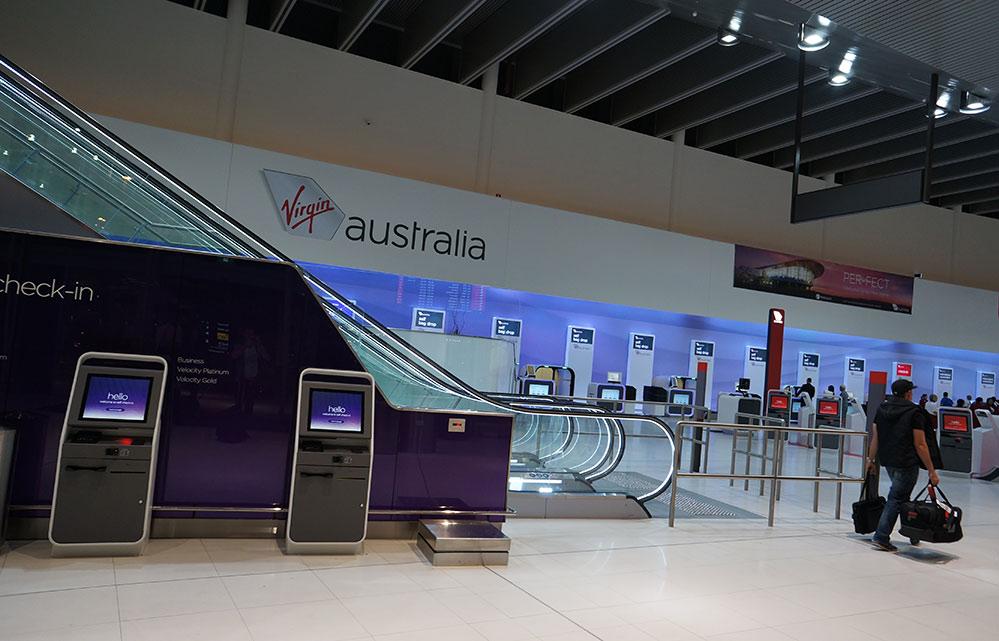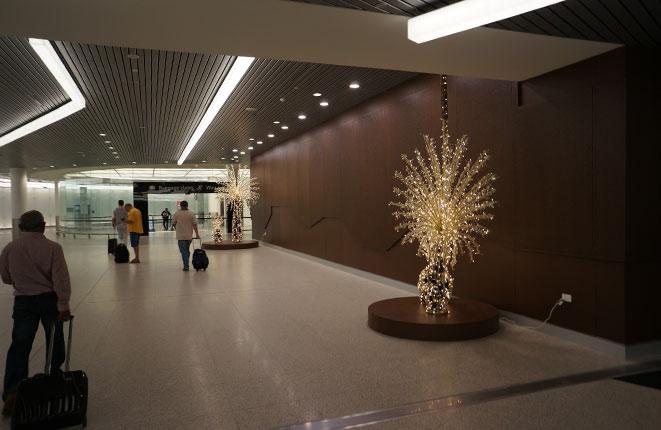 After the 4 hour flight we touched down at the new Virgin terminal in Perth, which is a great improvement to the old domestic set-up. The terminal is now located to the left on the international departures featuring new self checking options, Virgin Lounge, fast track security, shops and cafes.
Overall it's a pretty nice experience and one of the nicest domestic terminals around.
The contrast to my Qantas A330 Business Class experience on my outbound flight
Firstly I was really looking forward to checking out the new Emirates lounge in Perth.
As per their partnership with Qantas, Business Class passengers and status holders (Gold and above) can gain access to the much nicer/newer lounge in Perth International Airport. Emirates, of course serves Veuve in their lounges so how could I resist?
Wrong.
As soon as I showed my boarding pass to the desk agent she said: "I'm sorry but Air New Zealand passengers can't use this lounge". Great! She doesn't even know the difference between Air New Zealand and Qantas; I thought. After clarifying to her that in fact I was flying Qantas in Business and that Emirates and Qantas have lounge agreements, I was still told "No".
No problem I thought, at least I will enjoy my on-board experience with Qantas.
When I booked my award flight months earlier I was rather happy that initially my seat map showed the revamped A332, however this soon changed to the Mark 1 Skybed (aka slide bed) which is pretty dated – but still OK. You can sleep on it – which is all I wanted.
Wrong again – once boarded there was an unwelcome surprise – the dreaded Qantas recliner.
It's the stuff my nightmares are made of. And that's where Qantas' marketing and customer-messaging fails. Somehow they manage to promote their fantastic new seat except on the one place where it would be really useful to know what you're getting before paying the big bucks (or points) – at checkout.
Virgin have little signs on their checkout page which tells you what to expect. Qantas however likes to surprise their guest last minute.
Anyway, long story short: I had an awful flight. Didn't sleep and all I got was some lousy PJ's.
Summing up
My experience of Qantas' Business Class vs my trip with Virgin was completely incomparable – Virgin managed to nail it, while Qantas left me hanging in terms of lounge access and inflight cabin quality. Hopefully Qantas can lift their game once their A330 refurbishment is complete.
Virgin Australia's new Business Class was a massive improvement on their old cabin, while everything else about the journey went off without a hitch. This was a great use of my Velocity Points.
Virgin Australia A330 'The Business' Review – VA697 Melbourne to Perth
was last modified:
December 5th, 2017
by