The Airbus A350 is Singapore Airlines' newest plane type and I think that it's one of the most comfortable passenger jets out there.
With all flights from Brisbane to Singapore now being operated by the A350s (some with regional Business Class and others with long-haul Business Class), I jumped on a chance to use 62,000 KrisFlyer miles to travel from Brisbane to Hanoi via Singapore.
This overview covers the Airbus A350 Business Class flight from Brisbane to Singapore, while a later overview will take a look at the older Airbus A330 Business Class from Singapore to Hanoi.
Fleet & routes
Singapore Airlines has 45 Airbus A350-900s in its fleet as of January 2020. There are three different variants though:
7x are 'ultra long range' (ULR), which only has Business Class and Premium Economy, and is used for USA flights, particularly Newark (near New York).
26x are 'long haul' and have a mix of Business Class, Premium Economy and Economy [this overview].
12x are 'medium-haul' and has the newer regional Business Class seat and Economy.
The Business Class seats in this overview are identical on the 'ULR' and 'long haul' versions.
You can find Singapore Airlines A350s across most of their popular destinations. The 'medium-haul' ones fly to Perth, Adelaide and Brisbane as well as throughout Asia. The 'long haul' ones fly to Christchurch and Wellington as well as to Europe. The ULR ones fly exclusively to the US, including Los Angeles, San Francisco and Newark.
The cabin & seats
The first impressions of the A350 cabin are great. It's very bright with a yellow and purple tint which looks very modern as mood lighting goes.
The Business Class cabin is split into two parts. The main front cabin has seven rows, while the rear cabin has four rows.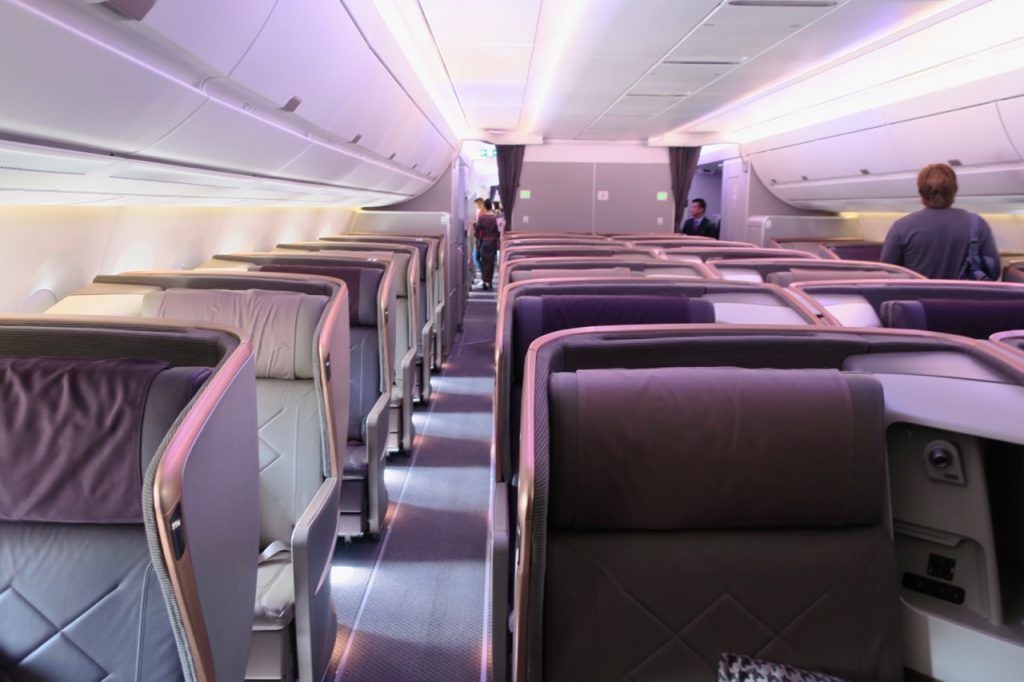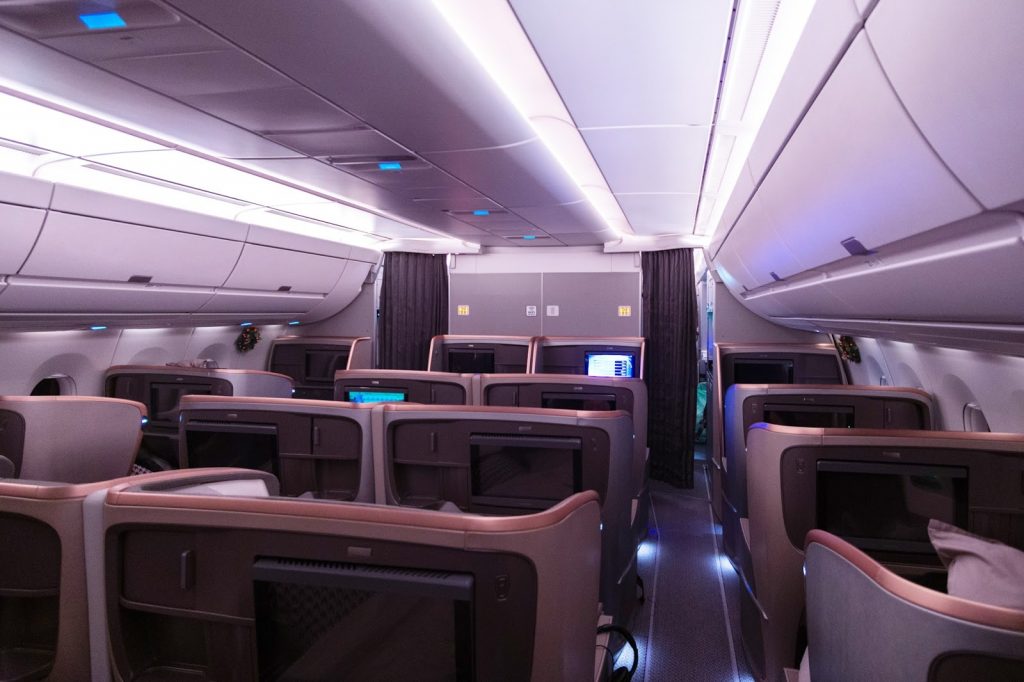 You can already tell from these photos that without the centre overhead lockers, the cabin becomes extremely spacious!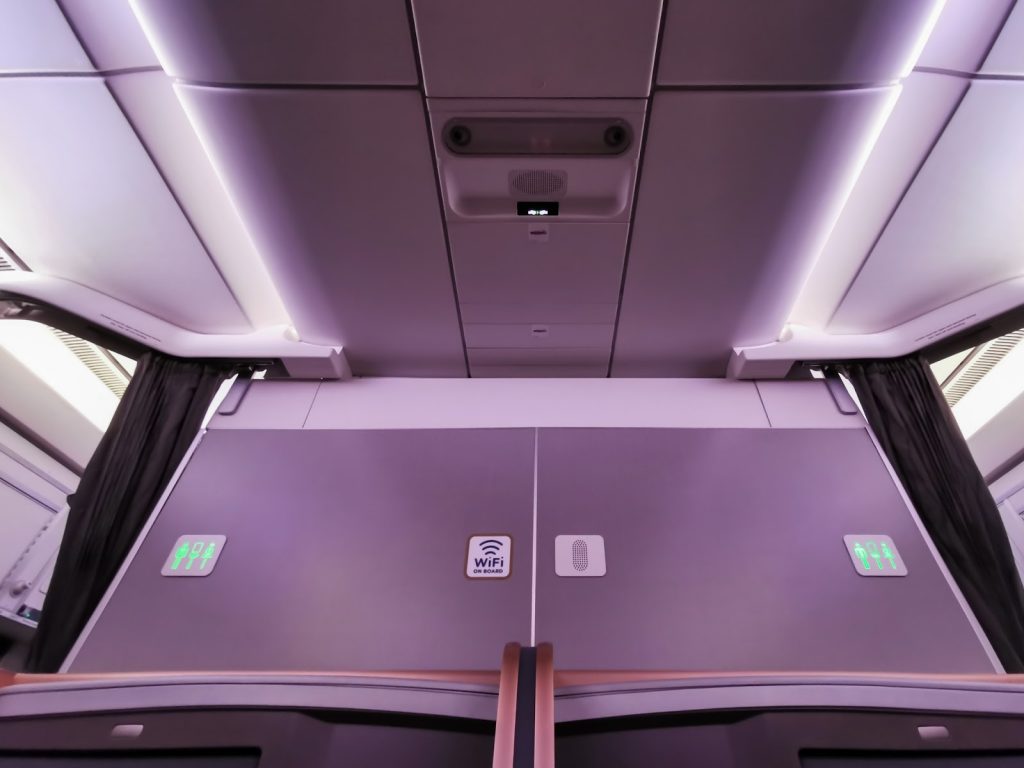 Each seat is very wide and well-padded. I chose seats in the bulkhead because they don't really have a footwell as such. Instead, you get a full-length bench. There is lots of space under the bench to store cabin bags.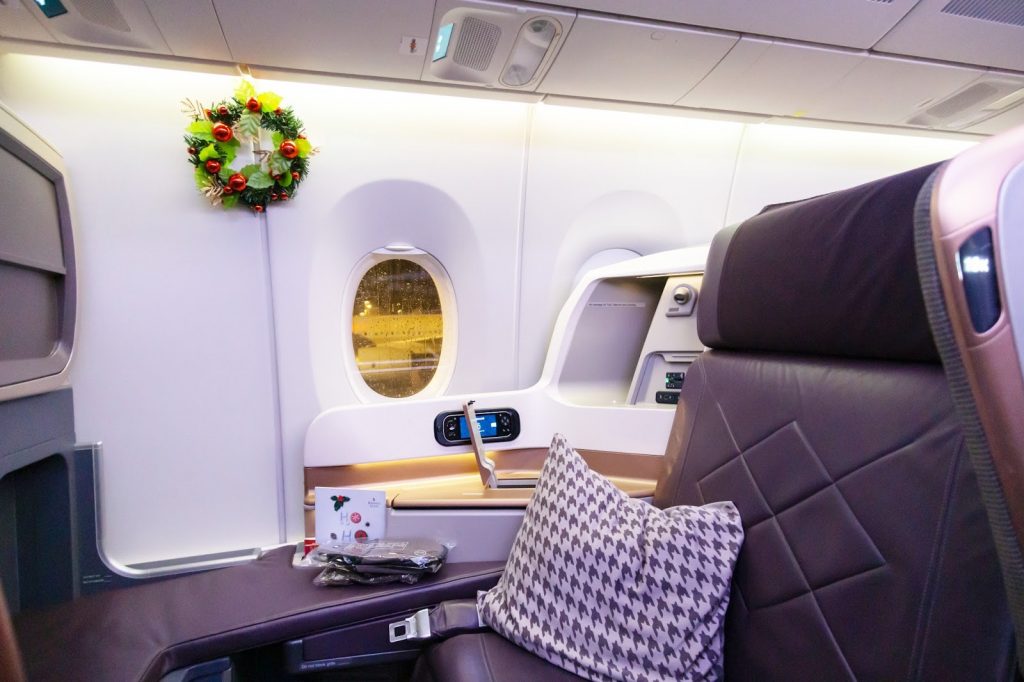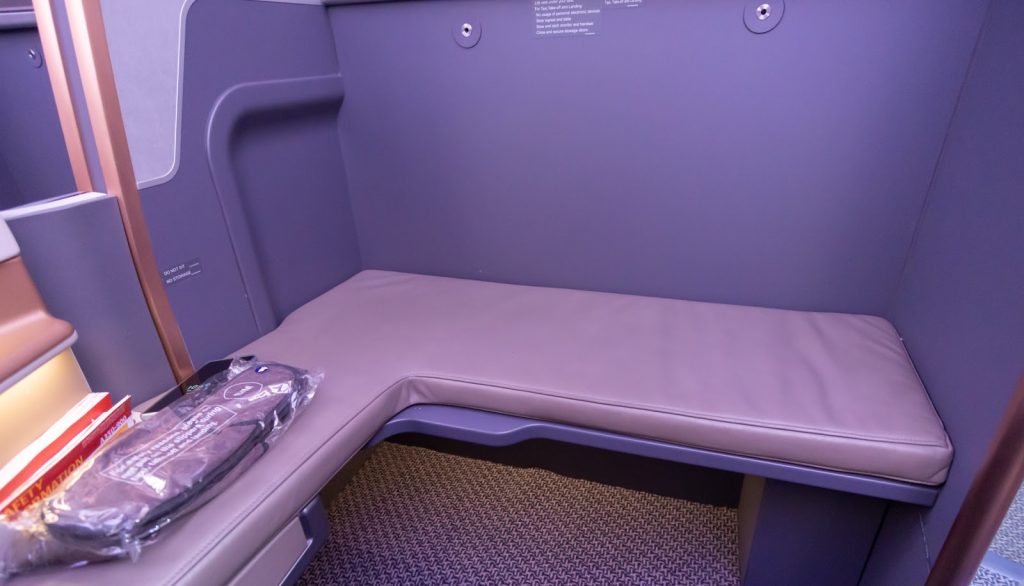 While bulkhead seats don't have a storage cupboard and drinks shelf next to the screen, all other normal Business Class seats do have them (see below). All seats have a built-in vanity mirror and coat hook.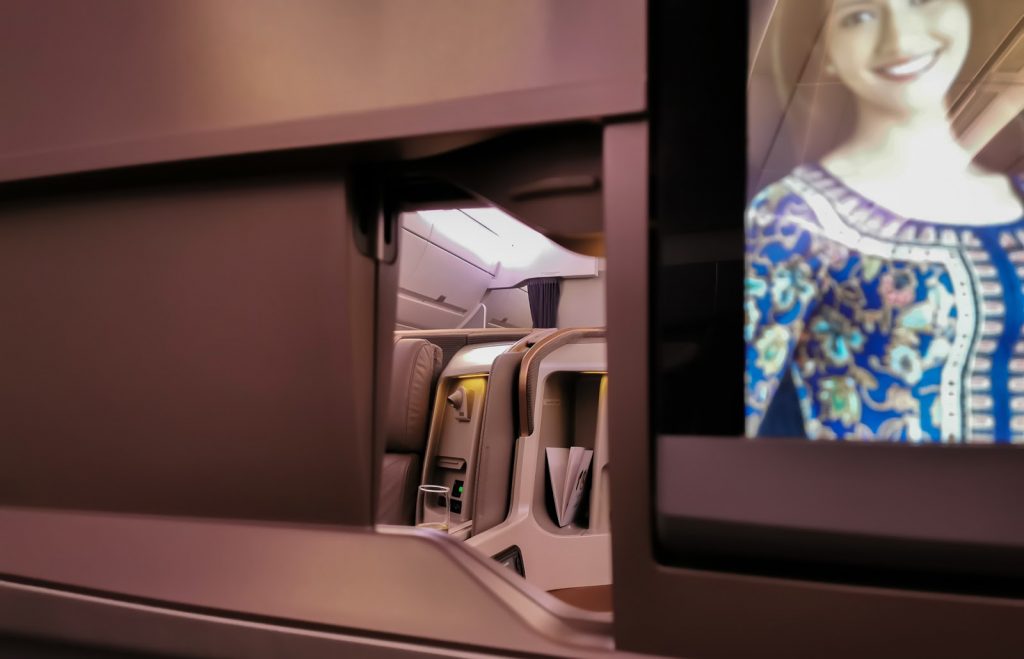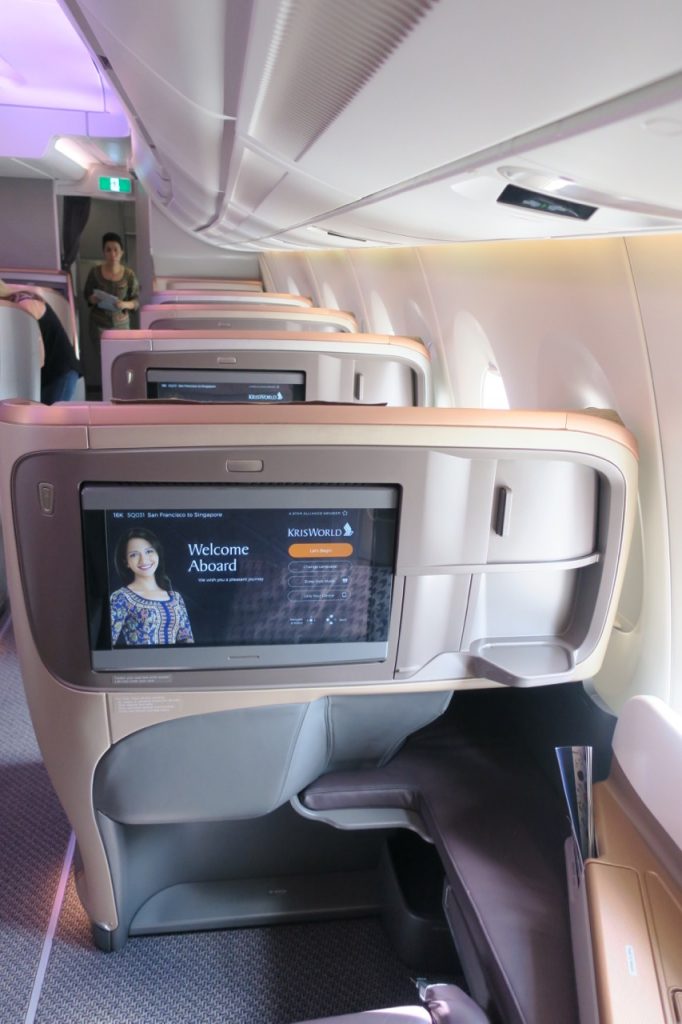 The main console has a reading light, the headphones plug, a universal powerpoint and other ports including USB and even HDMI (unfortunately, an HDMI cable is not part of my standard travel kit, so I couldn't see how well it works with computers and phones).
Tablets, phones and other small devices can be stored in a thin slot next to the power outlet (that's where I stashed the Christmas-themed menu for easy access). A privacy divider can be extended or retracted between the two middle seats.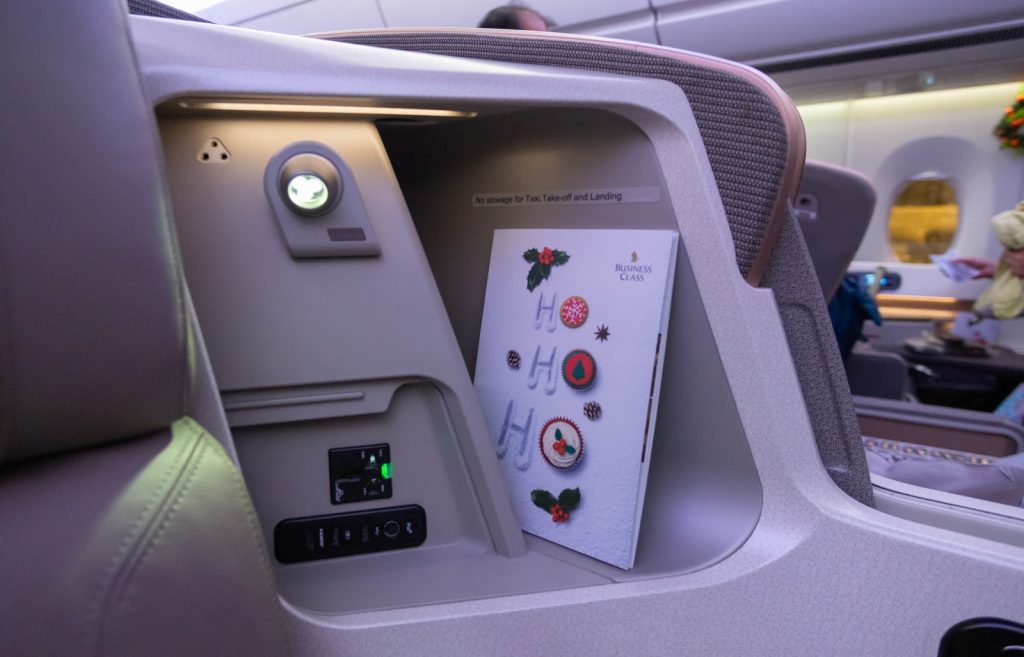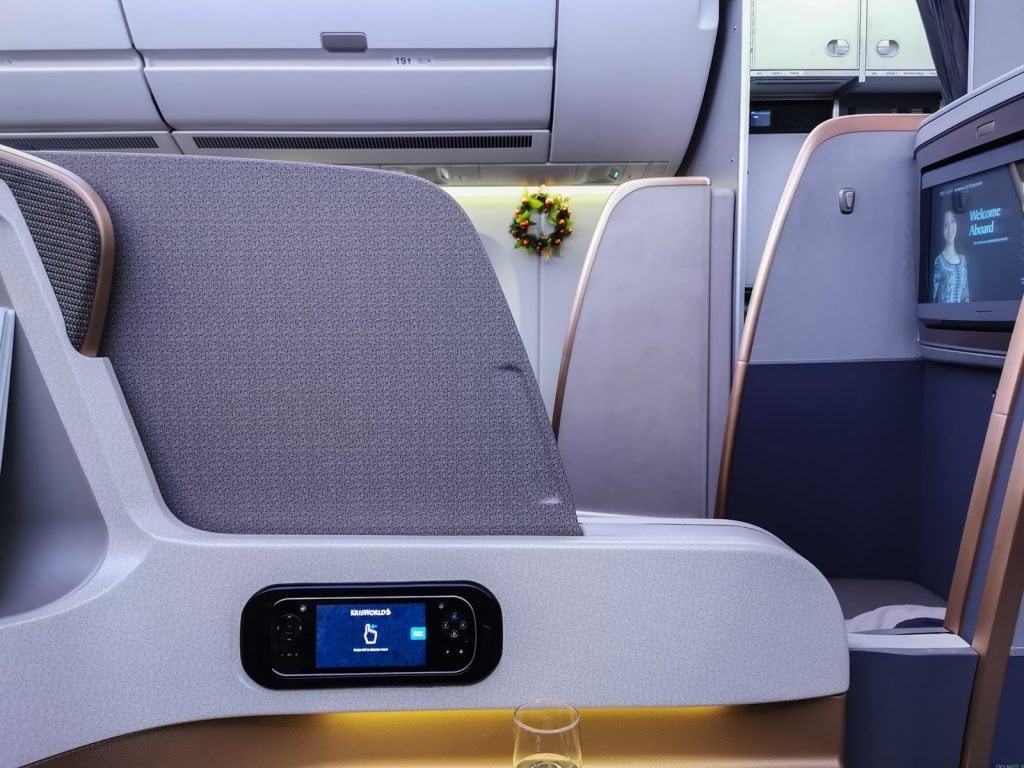 Underneath all that is a small slot that fits the included pair of noise-cancelling headphones and a bottle of water. On the wall is a touchscreen remote for the inflight entertainment and on the edge of the console is where the tray table comes out from.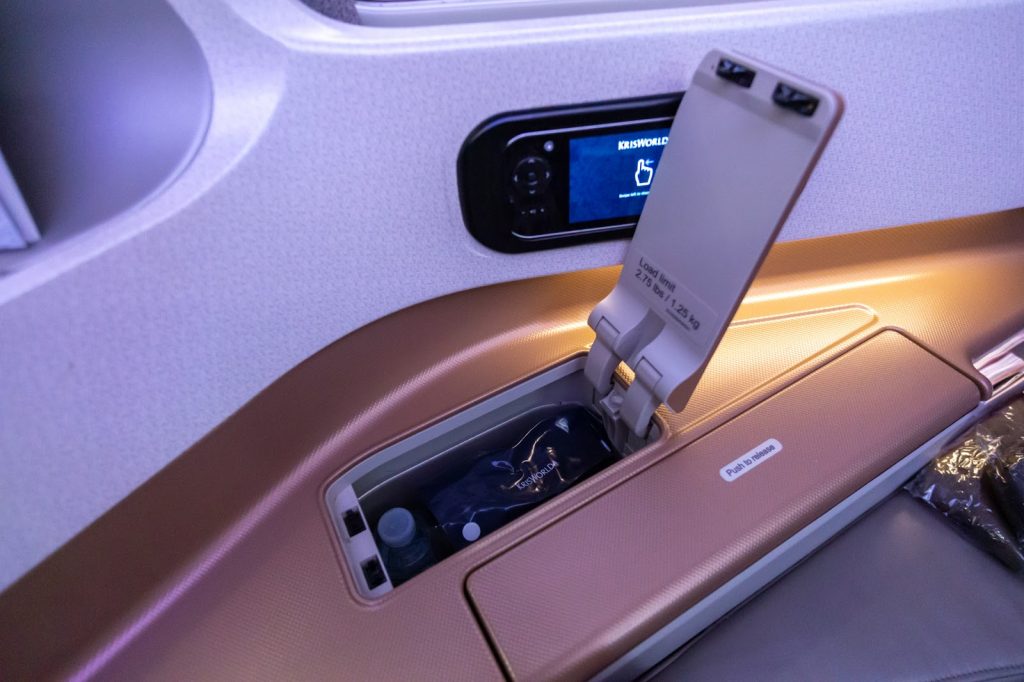 Speaking of which, the table comes out easily and is quite sturdy. It is height-adjustable and can slide forwards and backwards, making it easy to find a comfortable position.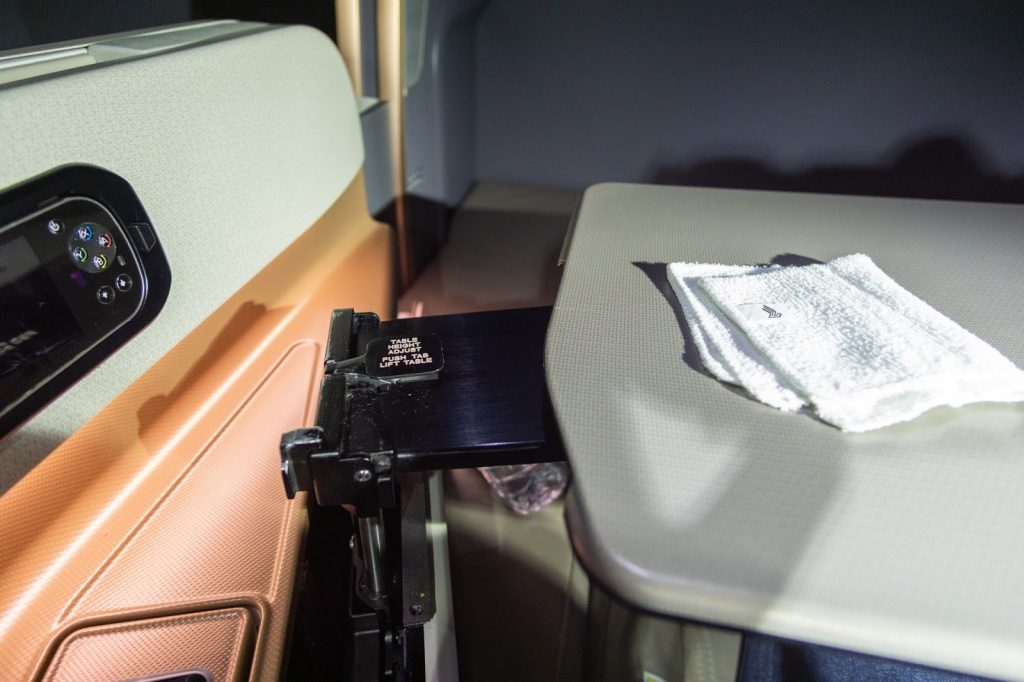 On the other side of the seat, you'll find the seat controls and buttons for the screen, reading lights, 'do not disturb' and the call button. There is also another headphone port here. Curing around the shell of the seat are a set of extra reading lights.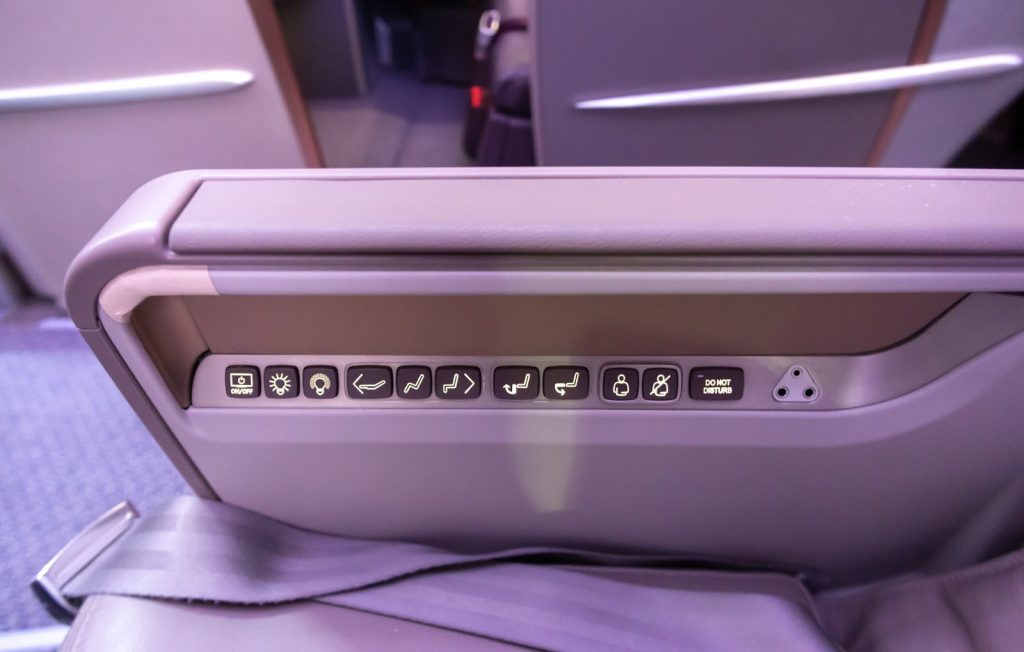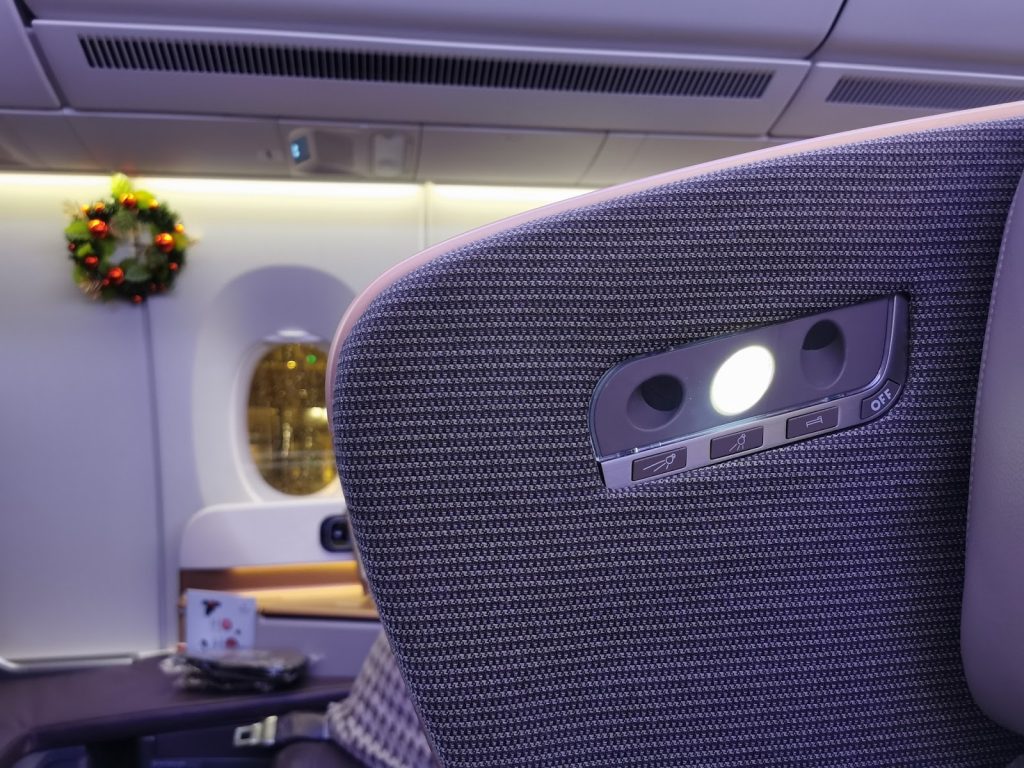 Note that none of the buttons above show a 'fully flat' sign for the seat. That's because the seat can't recline into a fully flat bed on its own – it needs to be manually folded down. The best you can get with the buttons is the legrest up and a slight recline to make a comfortable lounging position.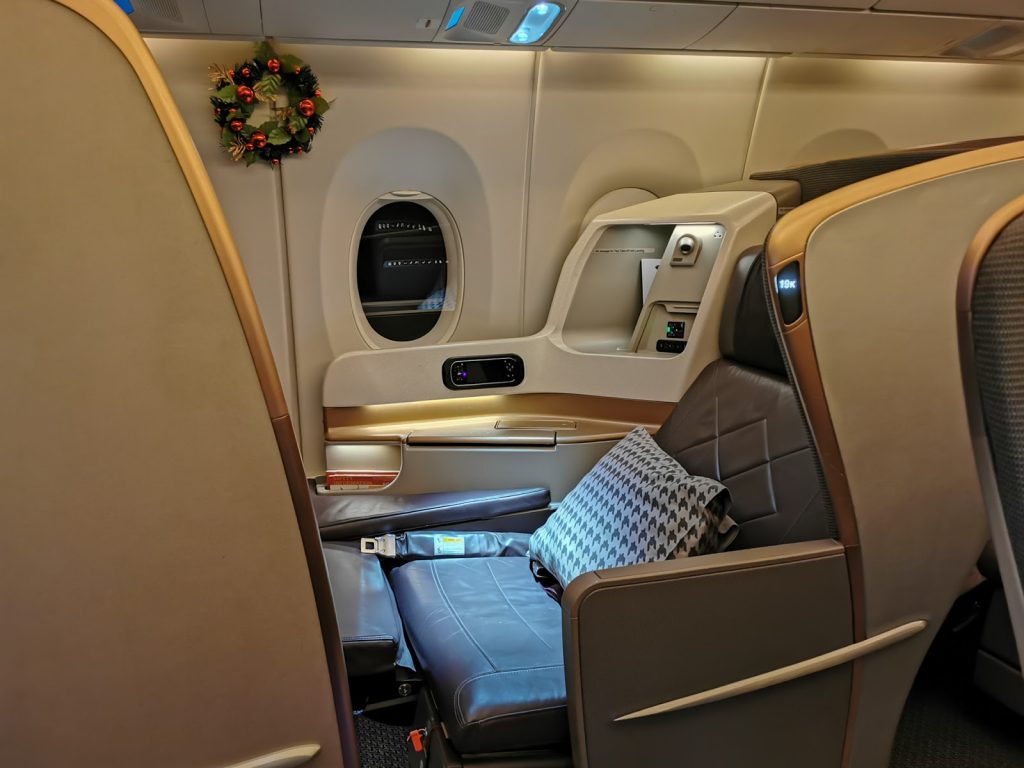 If you wanted to fold down the seat into a bed, look for the plastic latch on the back of the seat. As the seat folds down, the back will become the surface you sleep on, complete with thin padding already pre-installed.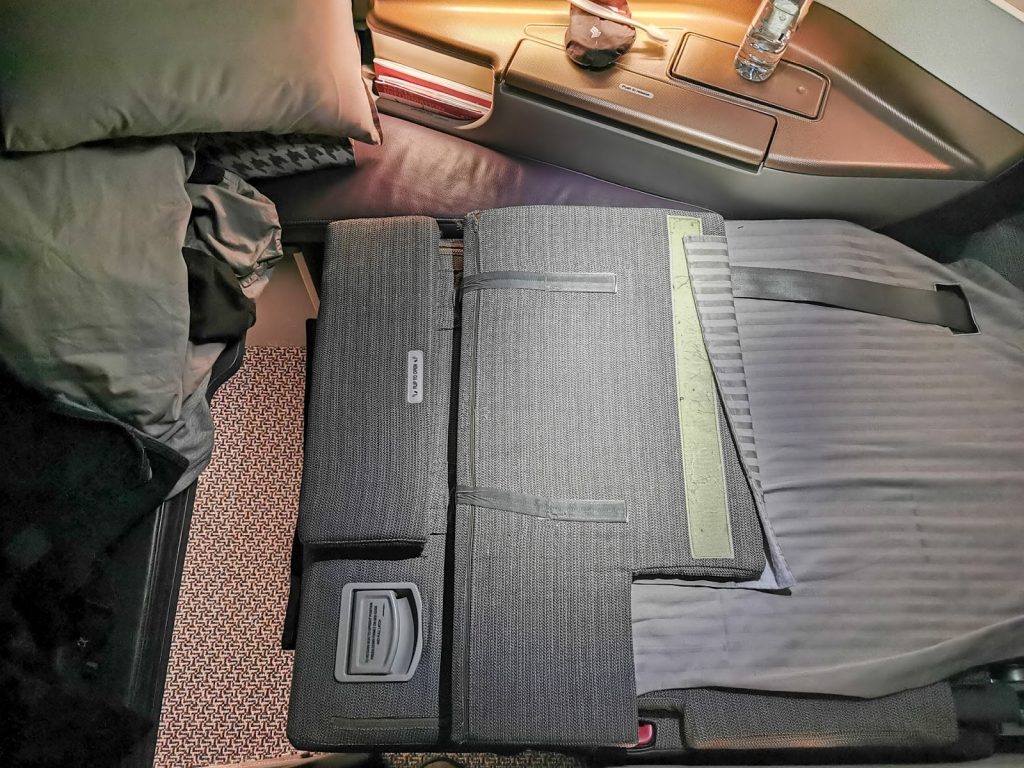 Here is how it looks when fully done up into a bed with the supplied pillows and blanket (yes, the window seat next to me remained empty so I used it for my bed). As you can see in the second picture, the bulkhead seats have so much space around the legs, I could have been in First Class!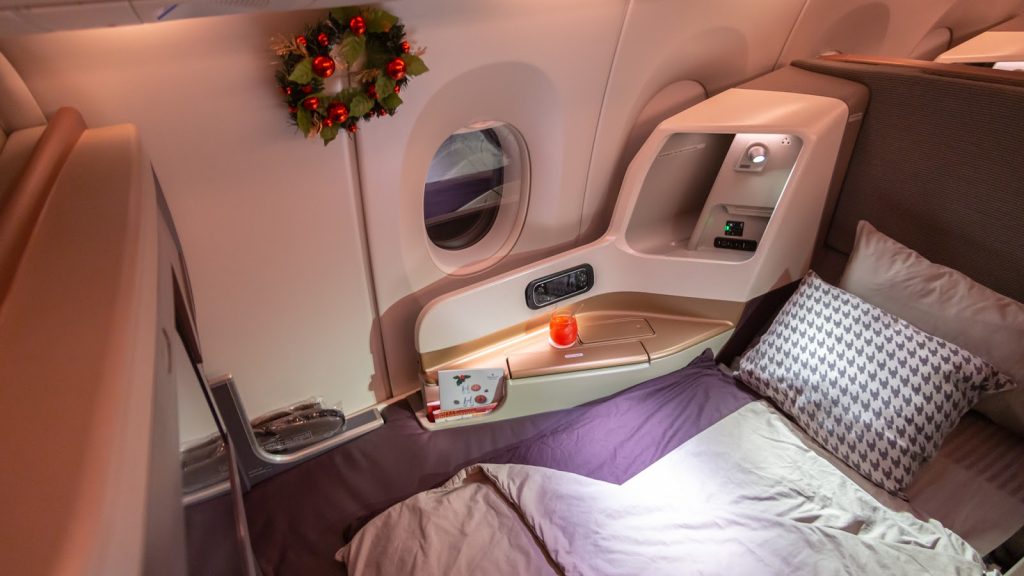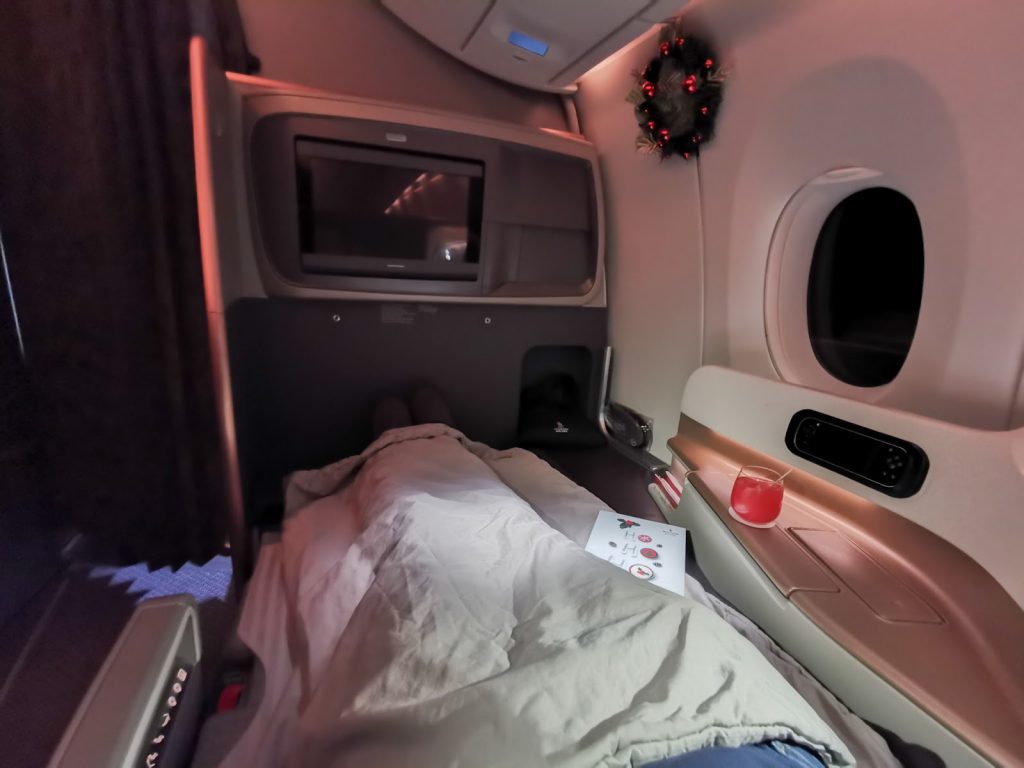 Seat choice
There are 42 seats in 1-2-1 configuration across 11 rows, with seven in the front cabin (Row 18 has only two middle seats and no window seats) and four in the rear mini-cabin. There are four bassinets located in Row 19 in the mini-cabin. You may want to avoid this area if you're sensitive to crying babies.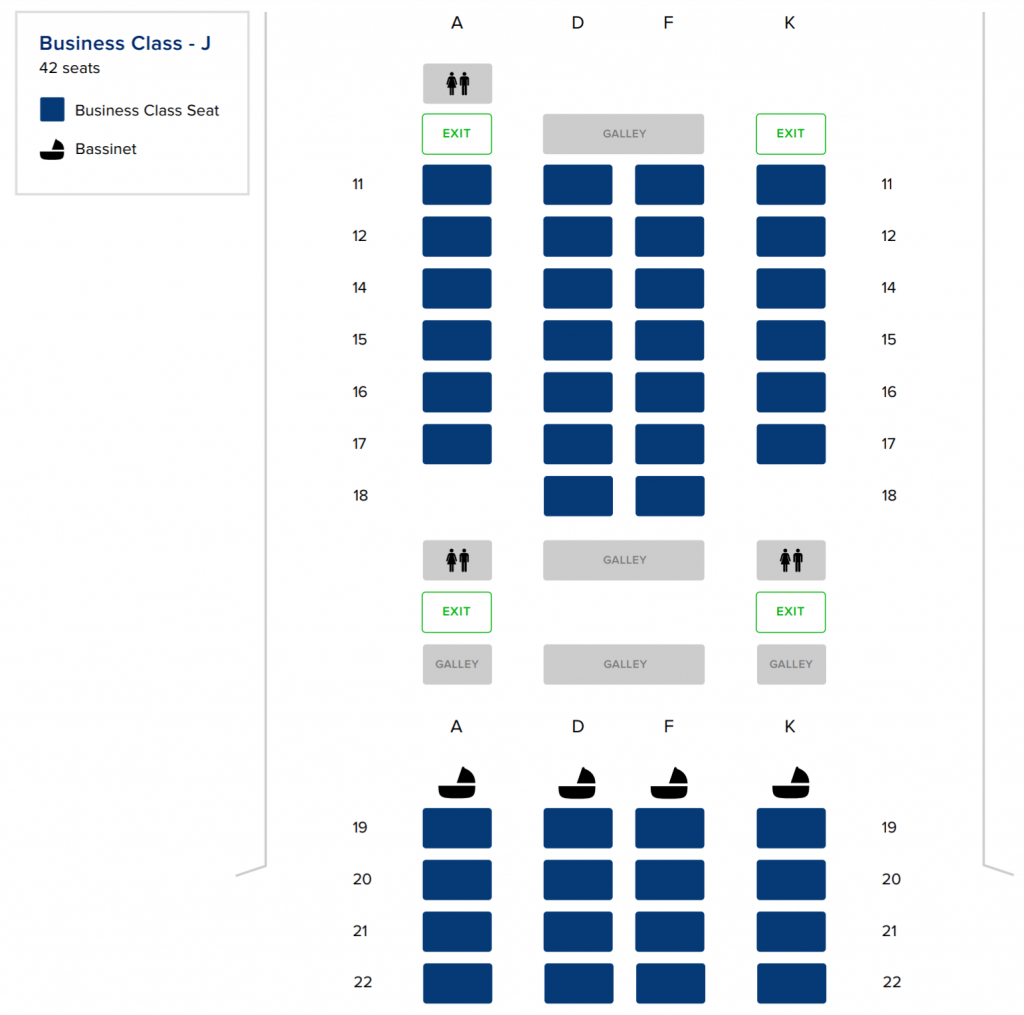 The main galley and two of the three lavatories are in between the Business Class cabins, so sitting towards the front of the main cabin (Rows 12-16 roughly) are probably the quietest places to be.
As usual with these configurations, window seats are best for single travellers while the middle pairs are good for people travelling together.
If you are in a regular (non-bulkhead seat) and prefer to sleep on your left side, then seat A or F is right for you as you will face away from the aisle; if you sleep on your right side, then choose D or K. This is due to the angle of the footwell in bed-mode with non-bulkhead seats.
Food & drink
Champagne, juice and water are served before departure. Singapore Airlines' standard Business Class Champagne is the Laurent-Perrier La Cuvee Brut, a $60 mid-range drop.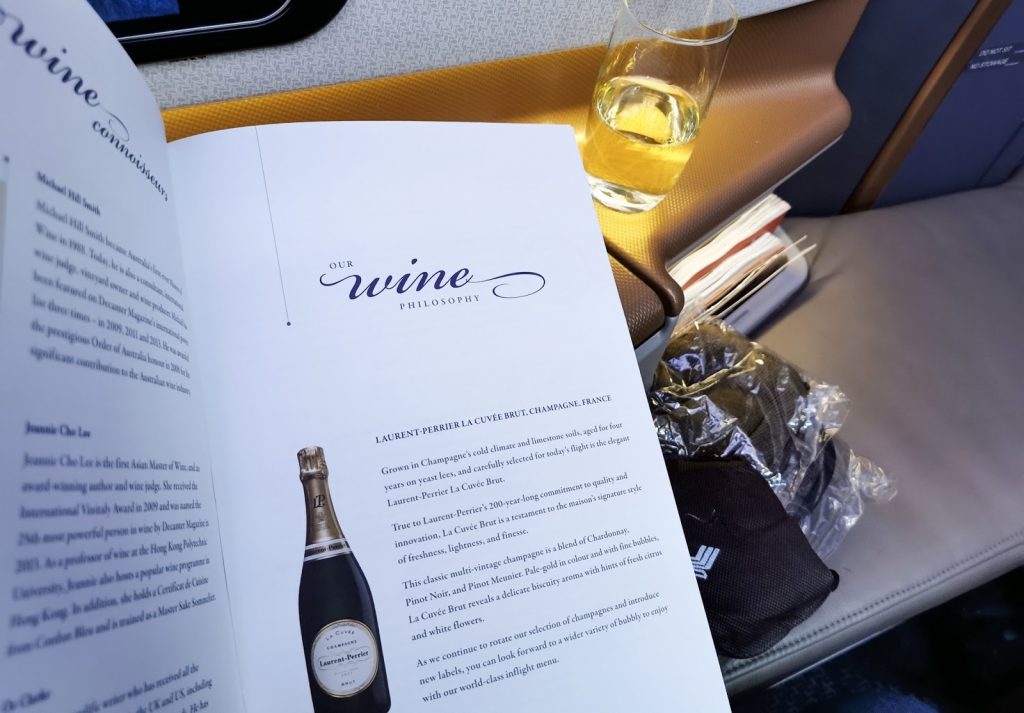 SQ246 is the very embodiment of a red-eye flight. It takes off from Brisbane just before midnight and lands in Singapore just after 5am. Business Class is given a Sleeper Service menu, which means very minimal dining options compared to daytime flights (no appetisers, starters or desserts).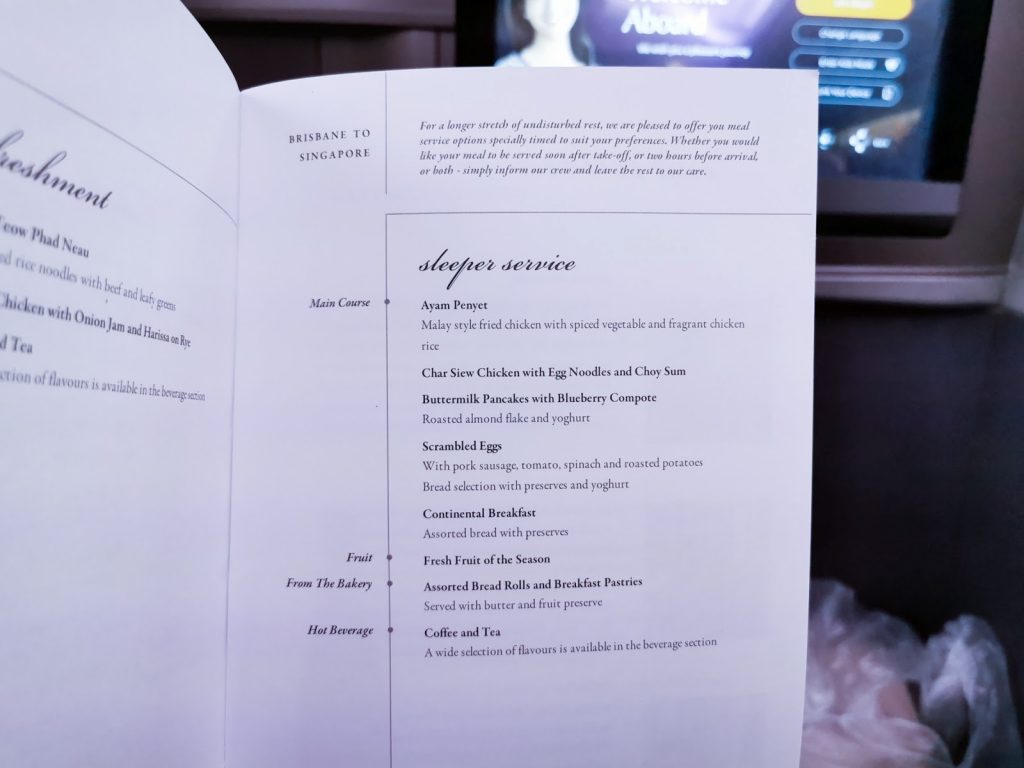 'Book the Cook' from Brisbane is still available for Sleeper Service flights, so you can pre-order a dinner-style meal and eat it for breakfast if you desire, which is what I did.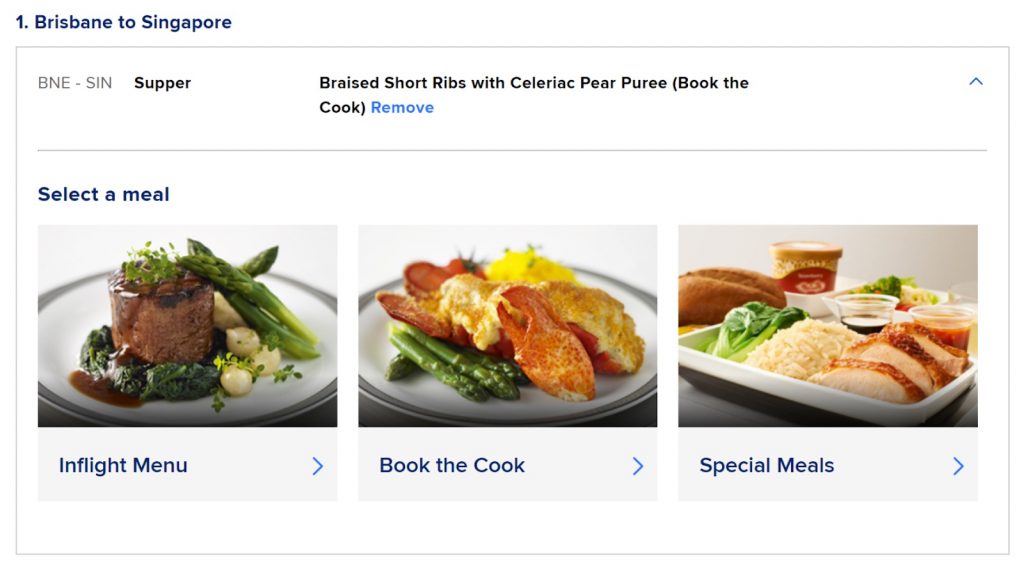 On overnight flights, you get to pick whether to eat after take-off, two hours before landing, or even both. Since it makes sense to sleep first, I did so and had my meal about five hours into the flight.
Rather than have the main meal first followed by fruits and bakery, as printed on the menu, the crew sensibly reversed the flow for our early breakfast. The meal starts with an 'entree' of fruits and pastries.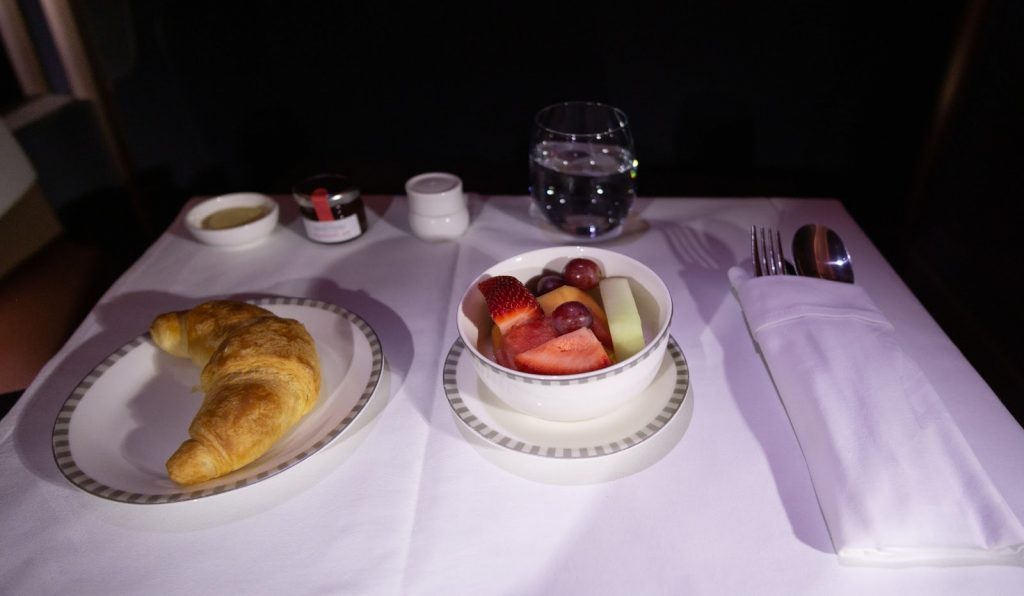 The final course was the mains of braised beef short rib with celeriac pear puree from the 'Book the Cook' menu. Dishes with lots of sauce like this really heats up well on planes, so I highly recommend them.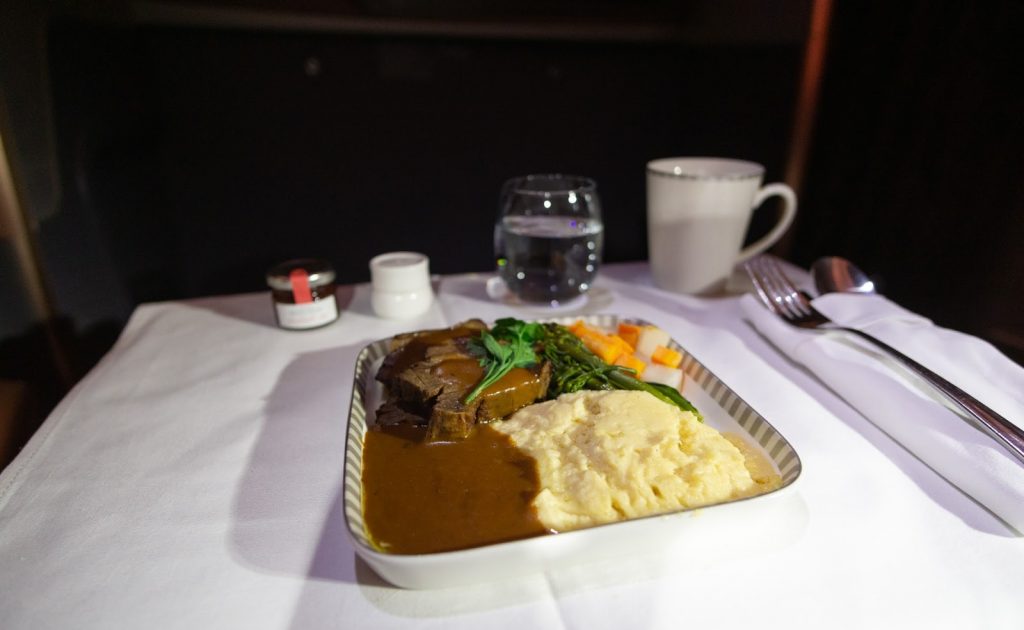 Here is another dish off Brisbane's 'Book the Cook' menu. My travel buddy ordered the Cantonese-style roast duck and was disappointed, as this was nothing like proper roast duck at a Chinese restaurant.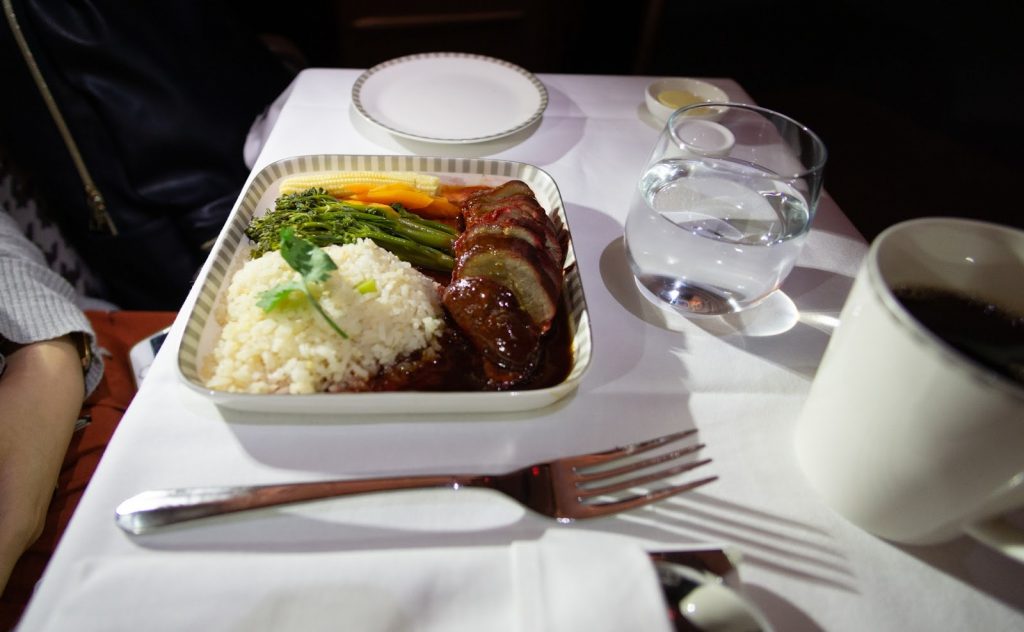 While there is nothing else offered food-wise, Singapore Airlines continues to offer a very extensive drinks list including the Singapore Sling cocktail, espresso coffees and premium TWG teas. Here's the full menu on this flight, for your interest.
Customer service
There weren't any problems with customer service at all, from the ground team at Brisbane to the cabin crew onboard. Every interaction was pleasant and polite without much chit-chat.

Since this was an overnight flight, my interactions with the crew were fairly limited. Even so, I observed them efficiently making the beds for passengers who didn't know how, and offered drinks to anyone who got up during the night.
Inflight entertainment
The 18-inch HD screen is crystal clear and displays things great, but it's not touchscreen-enabled which does make it a bit harder to navigate.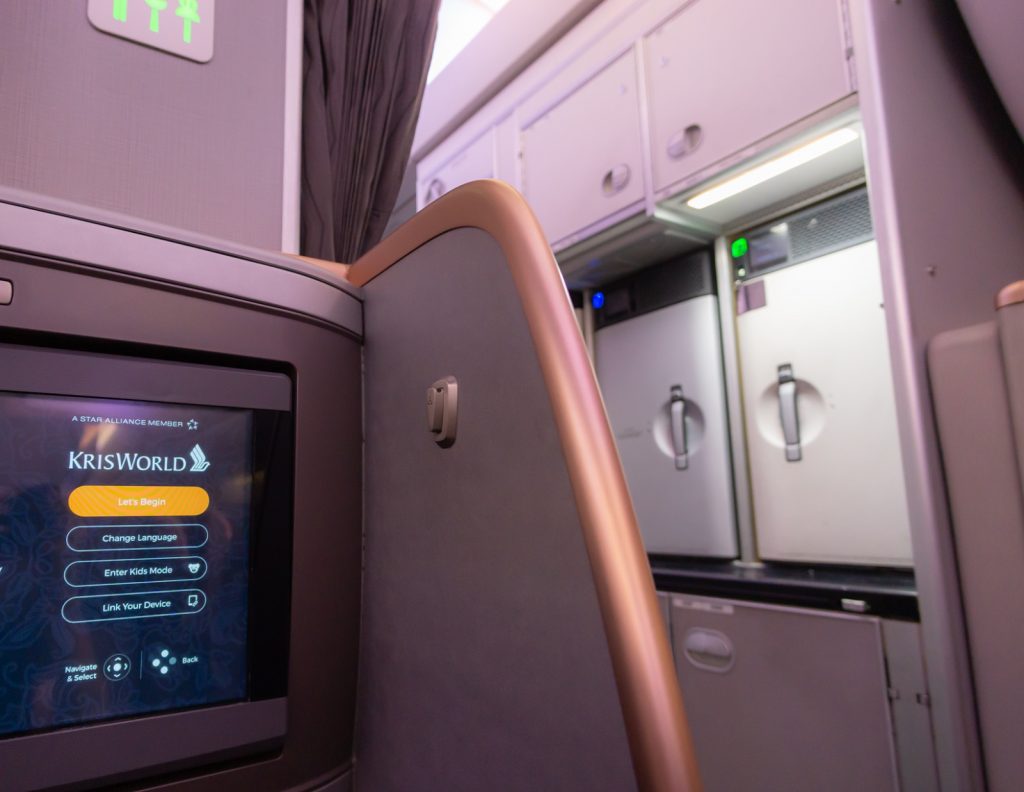 The updated KrisWorld system has a clean and modern interface. You can link your device via WiFi to control the screen, and sync up any movies you picked out to watch before the flight, through the app.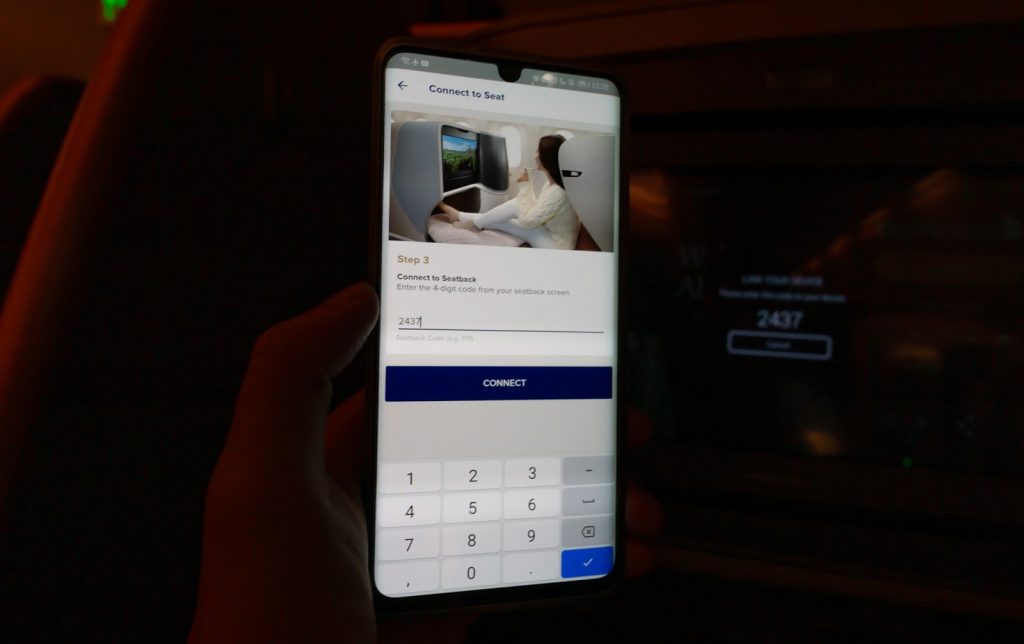 As all of Point Hack's previous Singapore Airlines reviews will attest to, there are a lot of new movies and TV shows to watch, that should keep kids and adults alike busy.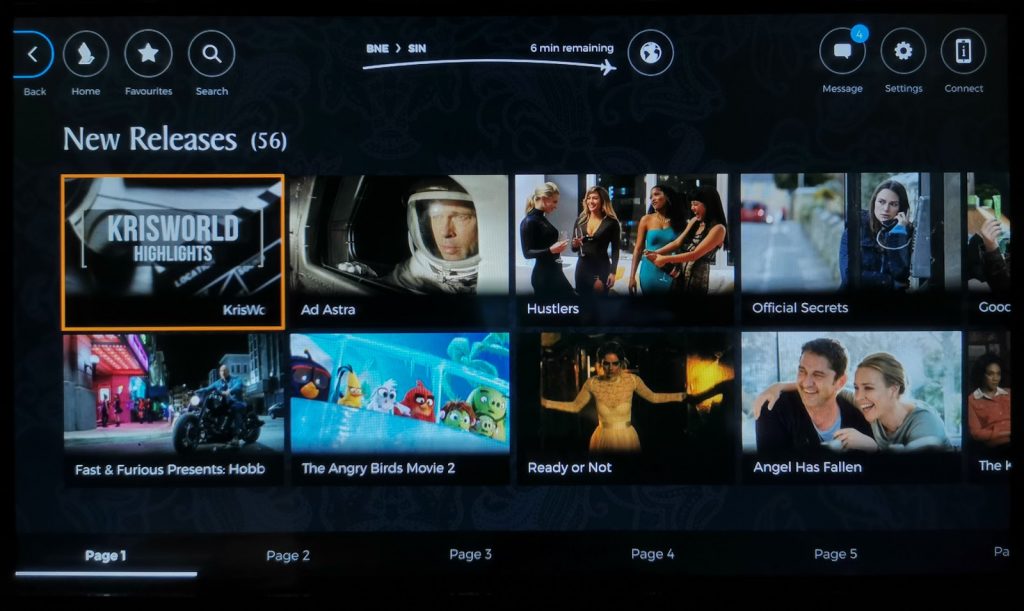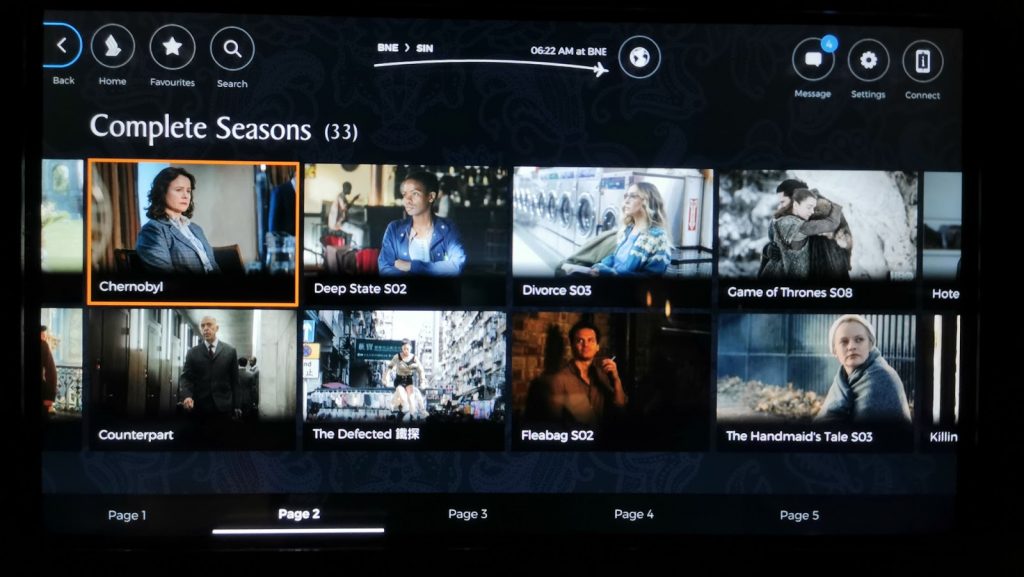 The lack of touchscreen control was annoying initially, but it should be easy enough to get used to. Incidentally, the remote itself is touchscreen and can show a flight summary for easy reference.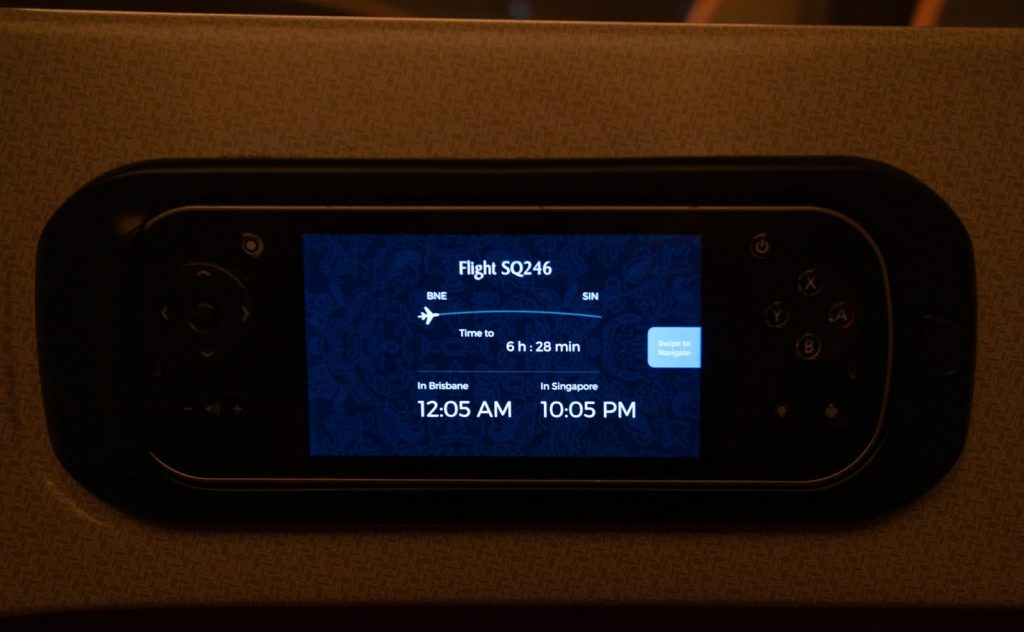 Inflight WiFi is available throughout the whole flight, and Business Class passengers get 100MB for free. I found speeds to be usable in real life, although it was hard to do a speed test. When I finally got through (by switching from Speedtest.net to Netflix's Fast.com), the results weren't great.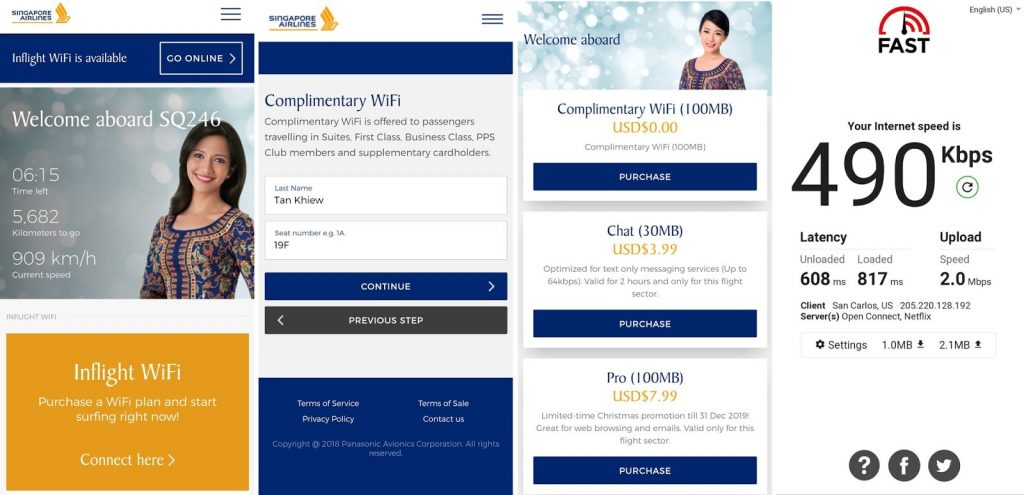 Amenities
Upon boarding, everyone in this cabin was given a pair of slippers, inflight socks and an eye mask. Singapore Airlines don't do pyjamas or amenity kits in Business Class. Also at the seat was a pair of basic noise-cancelling headphones and a bottle of water.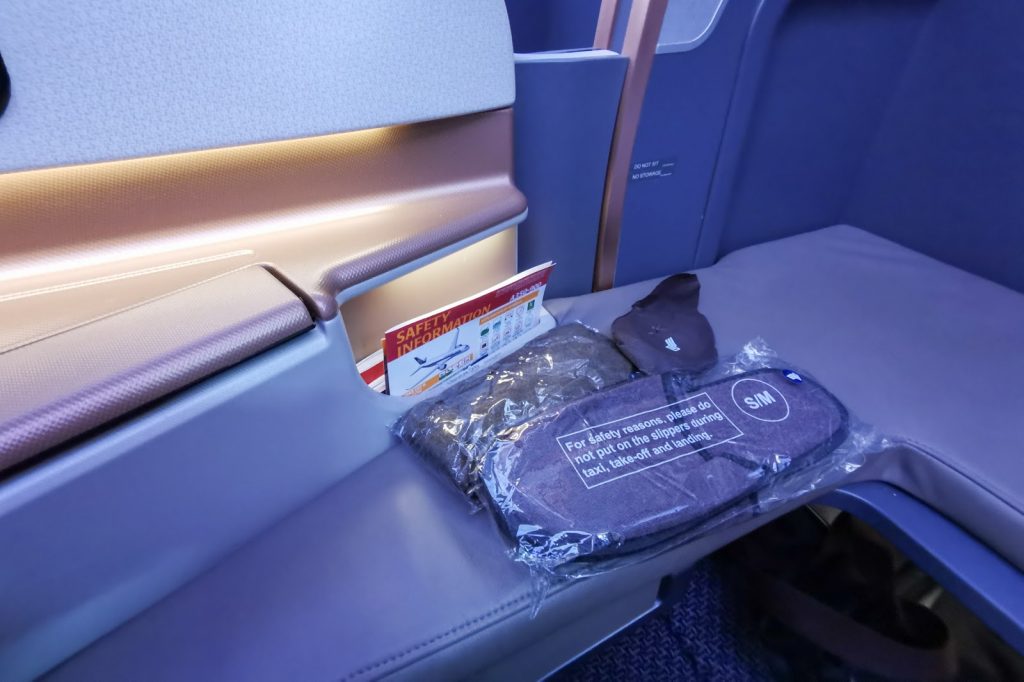 The lavatories were kept clean and contain all sorts of things you'd normally find in an amenity kit, including dental sets, razors, shaving foam and hand creams.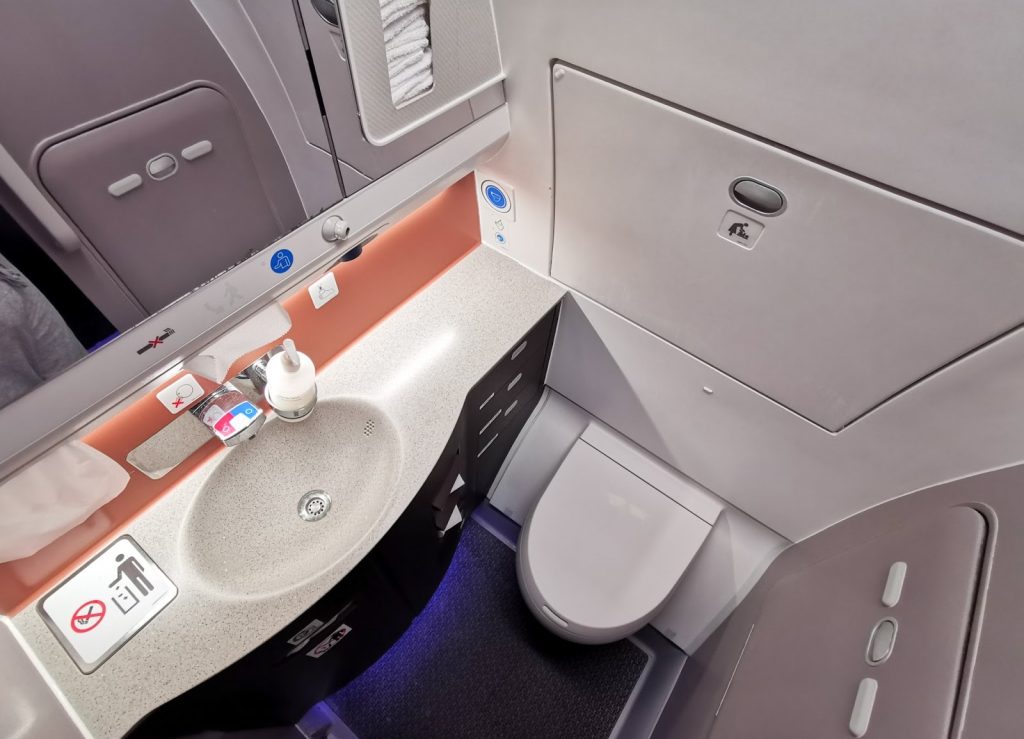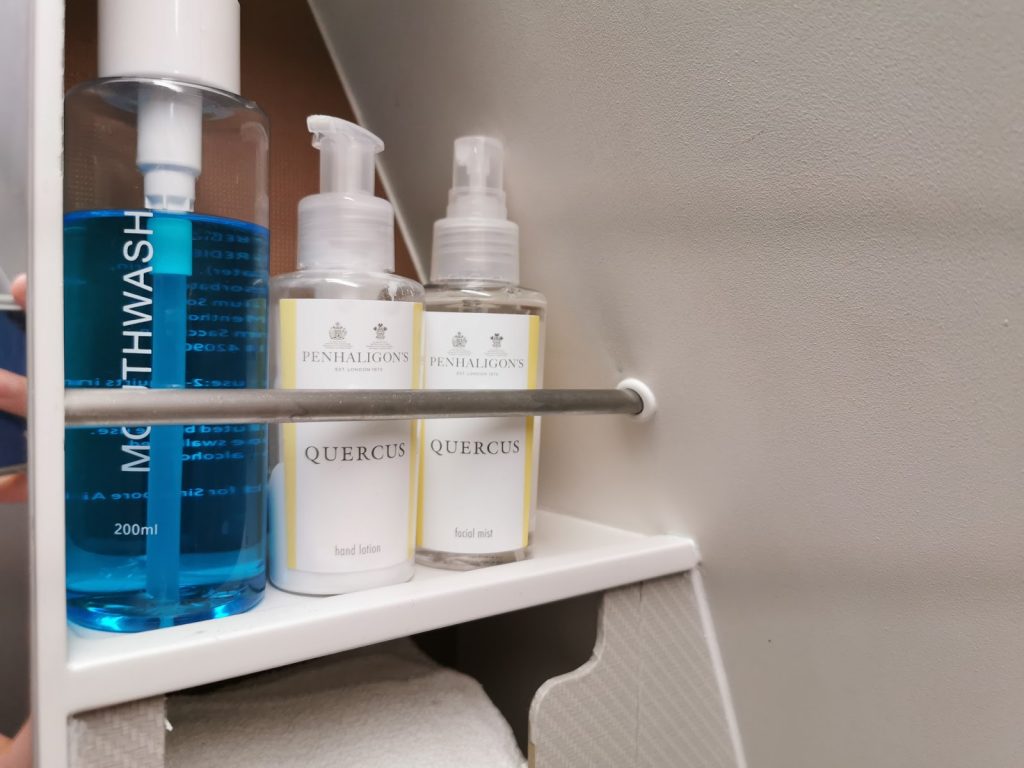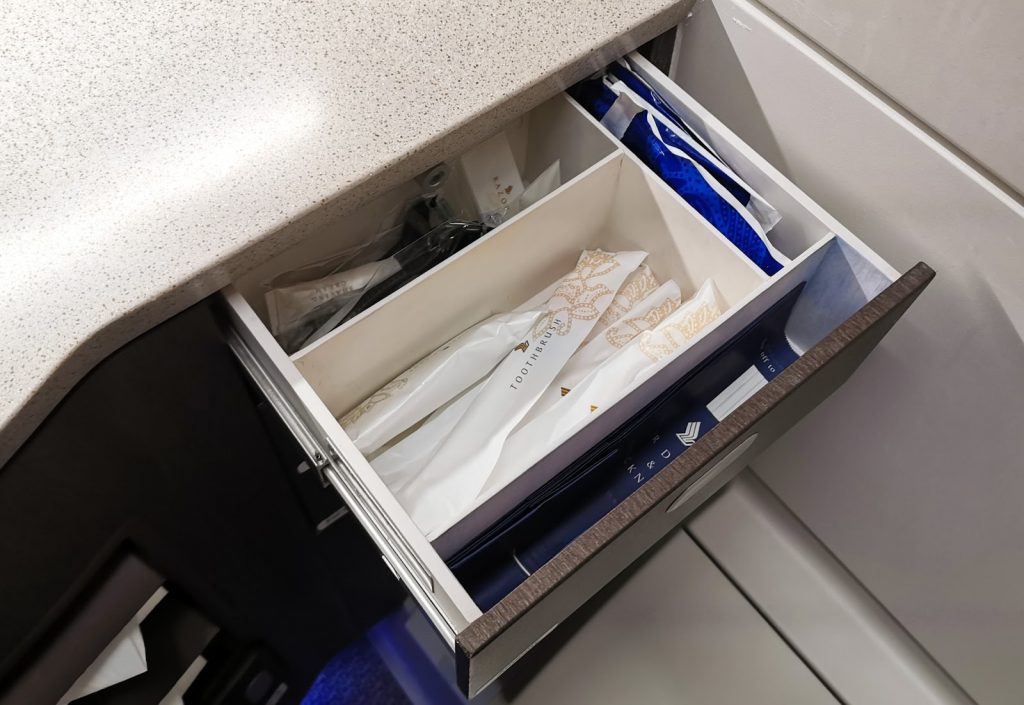 How to redeem points for this flight
If you wanted to redeem points to fly from New Zealand (Wellington/Christchurch) to Singapore in Business Class, here is what you would need per person one-way:
| Cabin | KrisFlyer Miles |
| --- | --- |
| Economy | 28,000 |
| Premium Economy | 47,000 |
| Business Class | 62,000 |
Keep in mind that the KrisFlyer's region-based award charts also cover an extra flight from Singapore to various places within Southeast Asia, if you're just transiting in Singapore.
I used this 'perk' to fly from Brisbane to Singapore to Hanoi in Business Class, still for 62,000 KrisFlyer miles and just a bit more to pay in taxes. The same doesn't apply for Velocity, which uses distance-based award pricing (if you fly more, you need more points for it).
Lounge access
Departing from Brisbane, you will have access to the small SilverKris Business Class lounge. A nicer option is the Plaza Premium Lounge next door, which you can access with a Priority Pass membership.
From Singapore, you will have access to the SilverKris Business Class lounge in Terminal 3 for most flights including going back to Australia, or the same lounge in Terminal 2 for intra-Asia flights.
Summing up: why choose this flight?
Singapore Airlines Business Class is a consistently good experience, and generally good value when redeeming with Velocity Points or KrisFlyer Miles.
I particularly like the range of meals available especially with 'Book the Cook'. The large drinks list is great as well, whether you are after a signature Singapore Sling or a simple mocktail.
Singapore's A350 Business Class really is a solid product. You'll get a very comfortable bed with direct aisle access and a private seat, excellent customer service, a great inflight entertainment system, a quiet aircraft and good wifi coverage and speeds.
The main letdowns are the narrow foot cubby for anyone not in bulkhead seats, and lack of pyjamas and amenity kits in Business Class compared to competitor Qantas on the same routes.
What is great
Comfortable seat, generally good bed for most travellers
Book the Cook offers a lot of choices for inflight dining
Flexibility in dining at the start or end of the flight
Modern inflight entertainment system and free WiFi
Good service from the cabin crew
What is not great
Narrow foot cubby for most seats
Less amenity offerings compared to other airlines
Related reviews
Review: Singapore Airlines A350 Business Class (Brisbane – Singapore)
was last modified:
March 2nd, 2020
by