As many of you would know, Qantas has slowly been refurbishing it's large feet of Airbus A330 aircraft with their new Business Class seating – and it was about time I checked it out.
Qantas and Virgin both fly between Sydney and Melbourne with their new Business Class on a sporadic basis, and on a recent trip to Melbourne I picked up Virgin on the way there, and Qantas on the way back to Sydney. I felt like taking a look at Qantas' newest cabin first.
We are ridiculously lucky with the quality of Business Class cabins in the market here in Australia, with both Virgin Australia and Qantas on another level to many other carriers globally. Here's what we're getting as the cream of the domestic Business Class crop.
This isn't a full review, so to speak, of the service between Melbourne and Sydney given that this is a relative one off.
Instead, it's more of an overview of my first impressions of the refurbished A330s which are becoming increasingly common, and are of course worth targeting for your points redemptions.
Research & Booking
Finding the refurbished A330 services is a fiddly affair, although is becoming easier as more of the refurbished aircraft enter service.
I booked QF420 after checking on Qantas.com for A330 operated services. From there, I used ExpertFlyer to check the exact seat map of each service to see if it was going to be operated the new A330 configuration, which has a 1-2-1 layout, rather than the old 2-2-2 or, heaven forbid, 2-3-2.
ExpertFlyer is a paid service, but you can check seat maps for free using their seat alert service.
With that confirmed, I then used some of my stash of Avios acquired from a few different promotions to redeem for this flight – at 9,000 Avios and £6.40, it was a particularly nice deal.
You could equally redeem 16,000 Qantas Points for the same flight, with around $30 AUD in taxes and fees.
The new Qantas A330 Domestic Business Class Seat
The new seats / suites all have aisle access, and have a range of configurations of side tables and other storage areas for your personal belongings. This A330 had seats kitted out in black leather, while I understand that Qantas' International A330 service seats are very similar, but with a slightly different trim.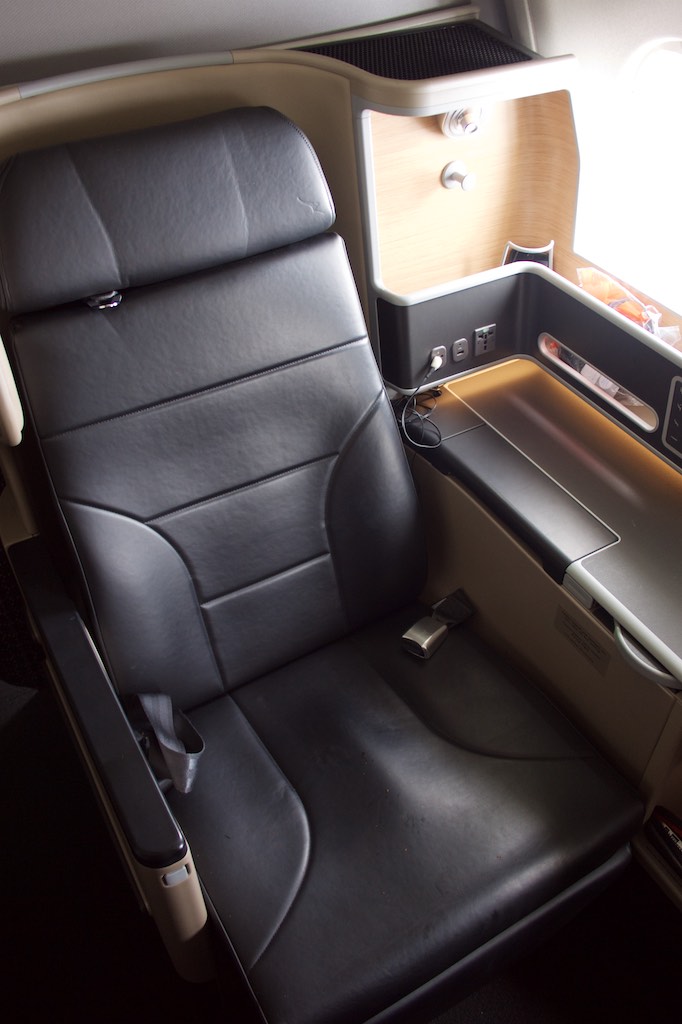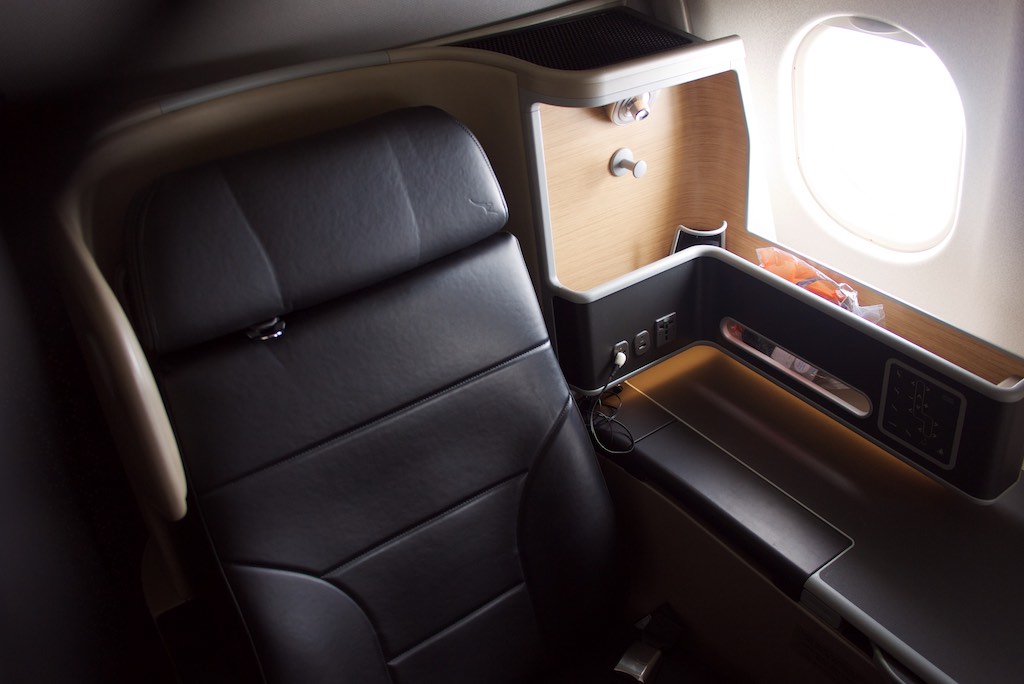 I had chosen a window seat in the rear mini cabin of just 6 passengers, which meant it was fairly easy for me to clamber around and take photos.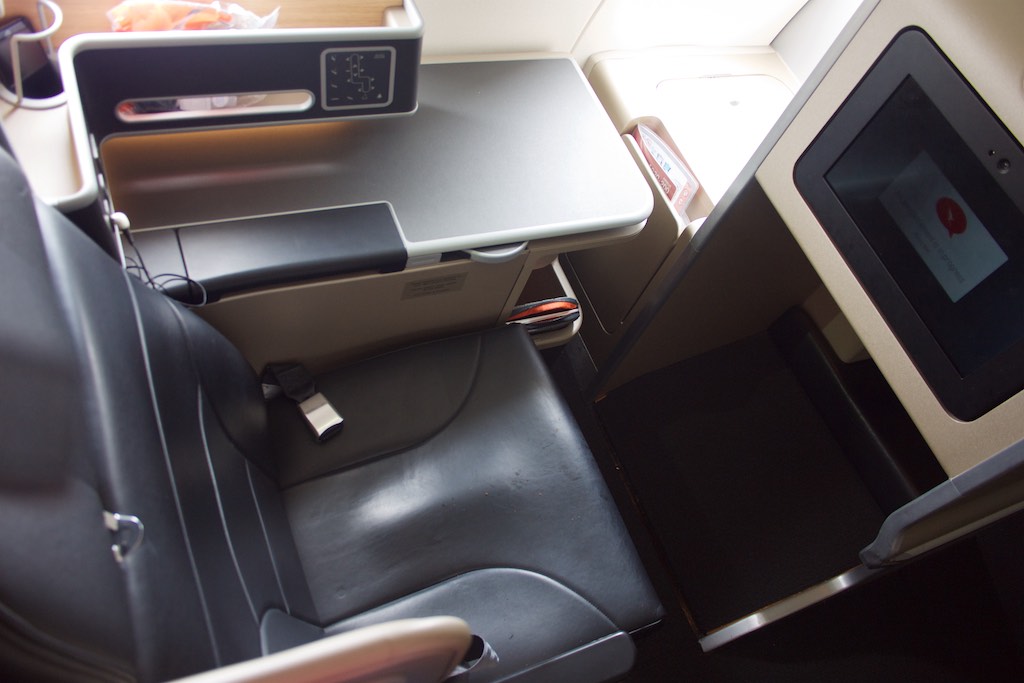 To my left on the window side was the shelf for personal belongings – my laptop, phone and iPad all had a home – hook for headphone stowage, and personal air vent.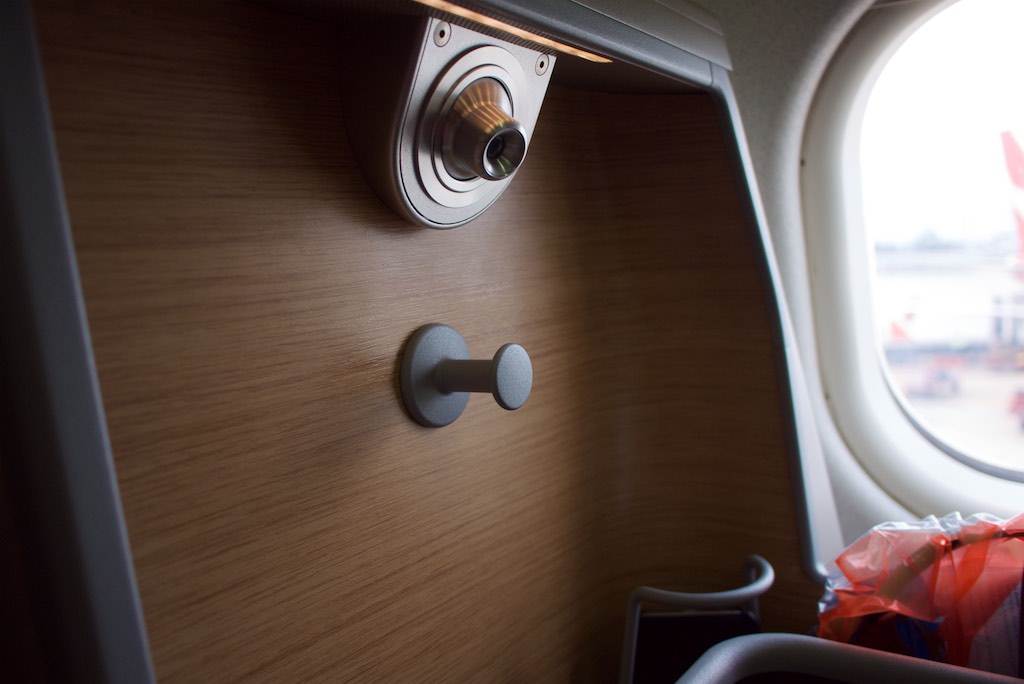 This unit also takes headphone output, USB connectivity and laptop charging duties.
Still on my left at floor height now, there was a large open cubby which was large enough for water, or a pair of shoes or other similarly sized items.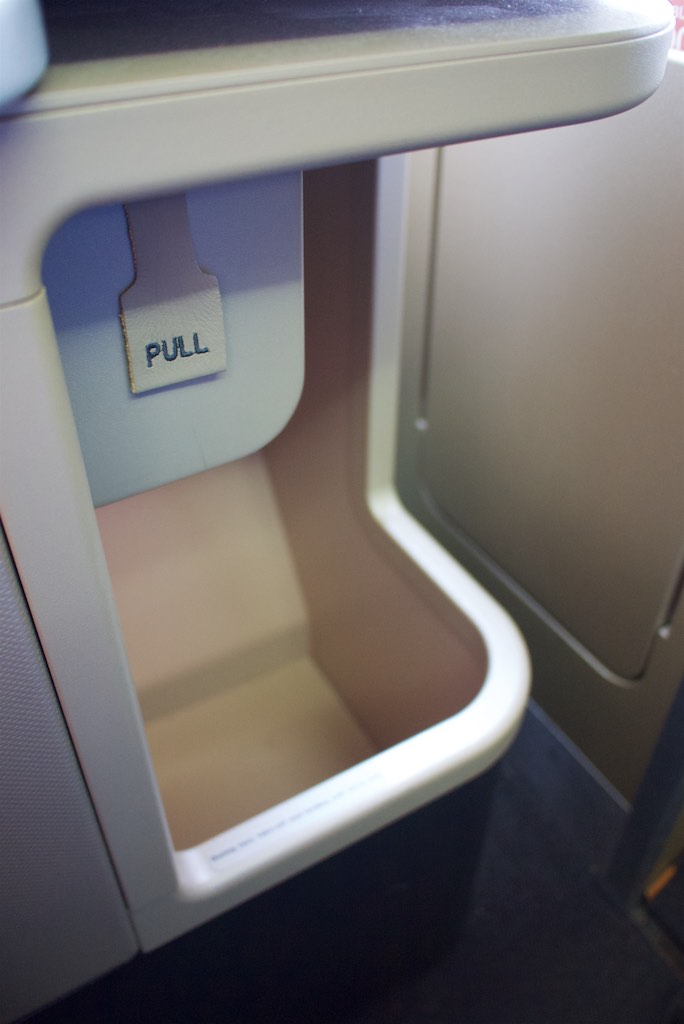 Up higher and at the bulkhead I had access to a large shelf and covered bin which would have been big enough for a small carry on, handbag or similar.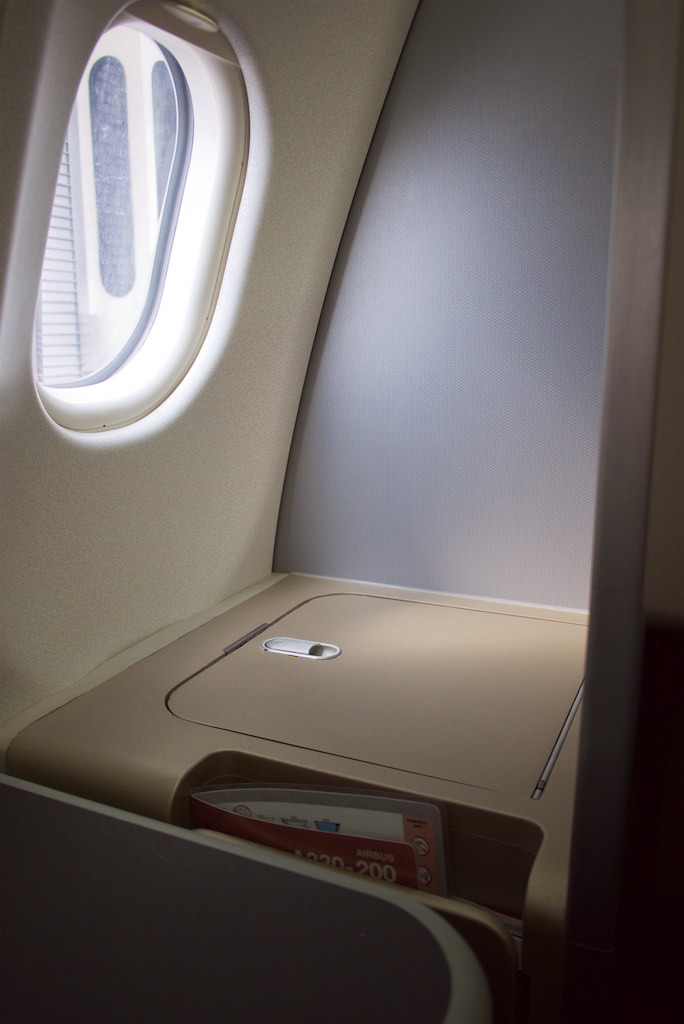 The seat controls allow you to lie down, as long as you are seat-belted, during take off and landing. The seat also has a sash function, meaning it feels more like a car seat belt, I assume to enable this.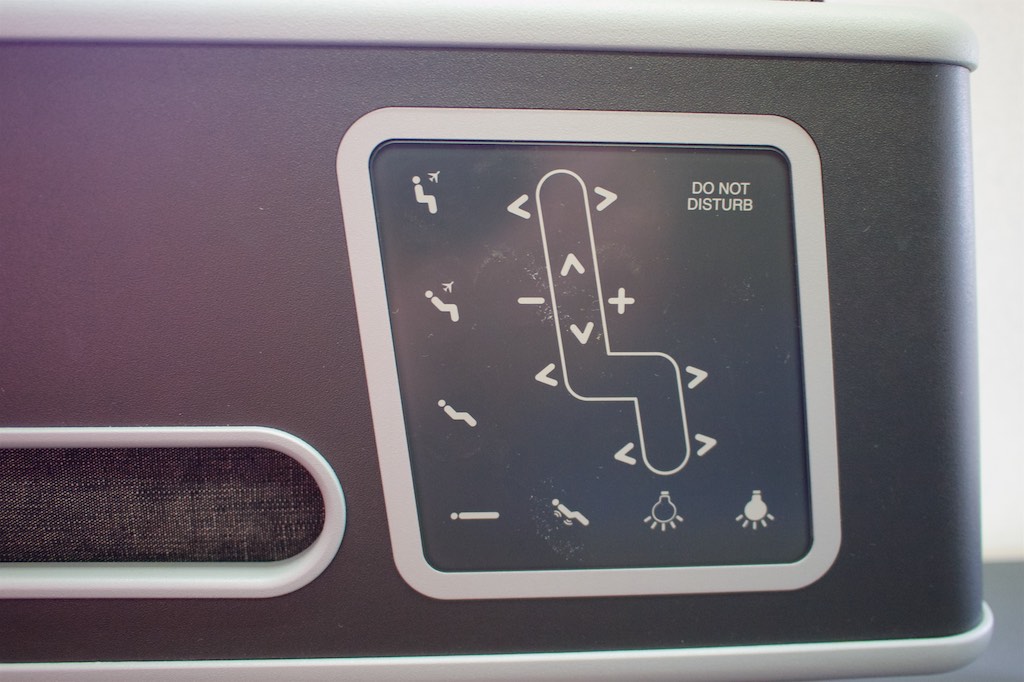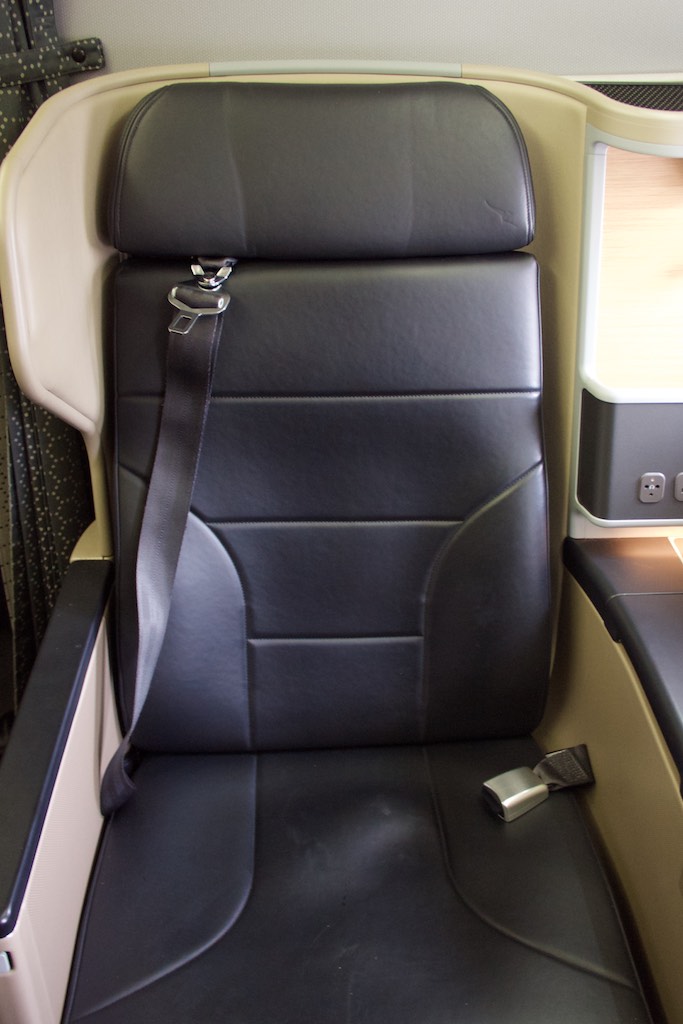 At my feet was another vast area which would take the extended-flat seat, but also again enough space for a carry on when not lying flat.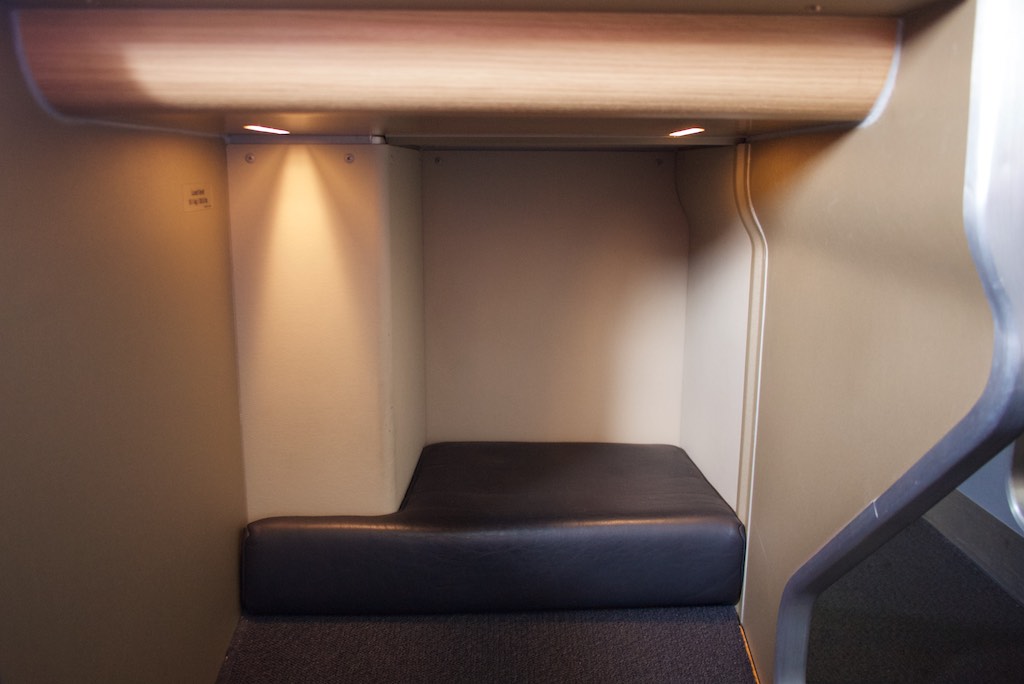 This was the view my suite of the mini-cabin.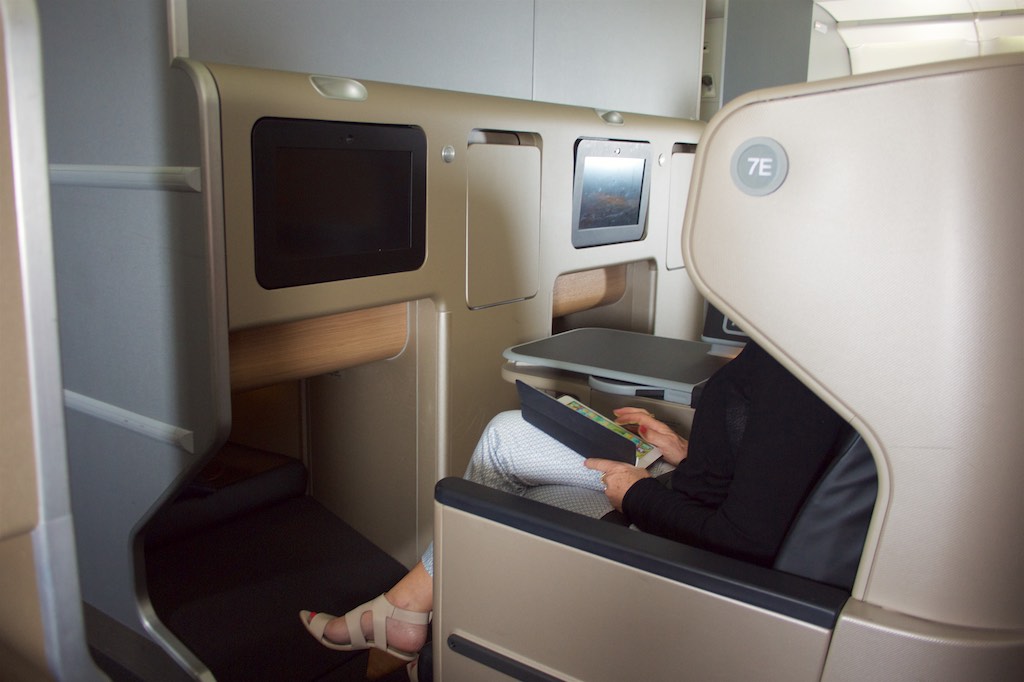 Moving further forward, I snapped a few shots of the main cabin, which was surprisingly full on this relatively short flight.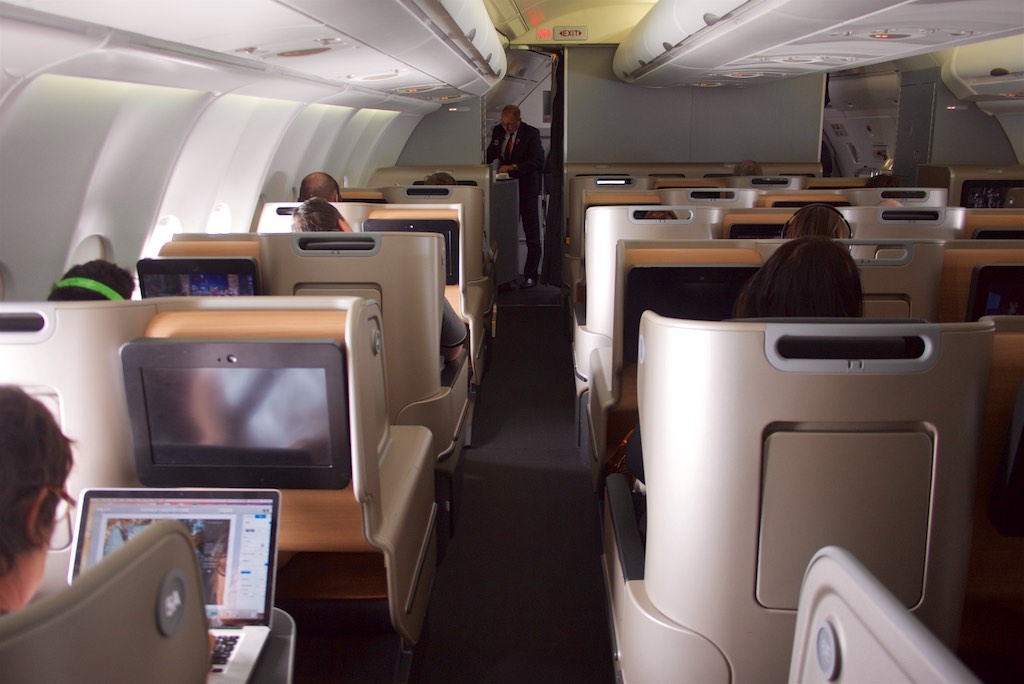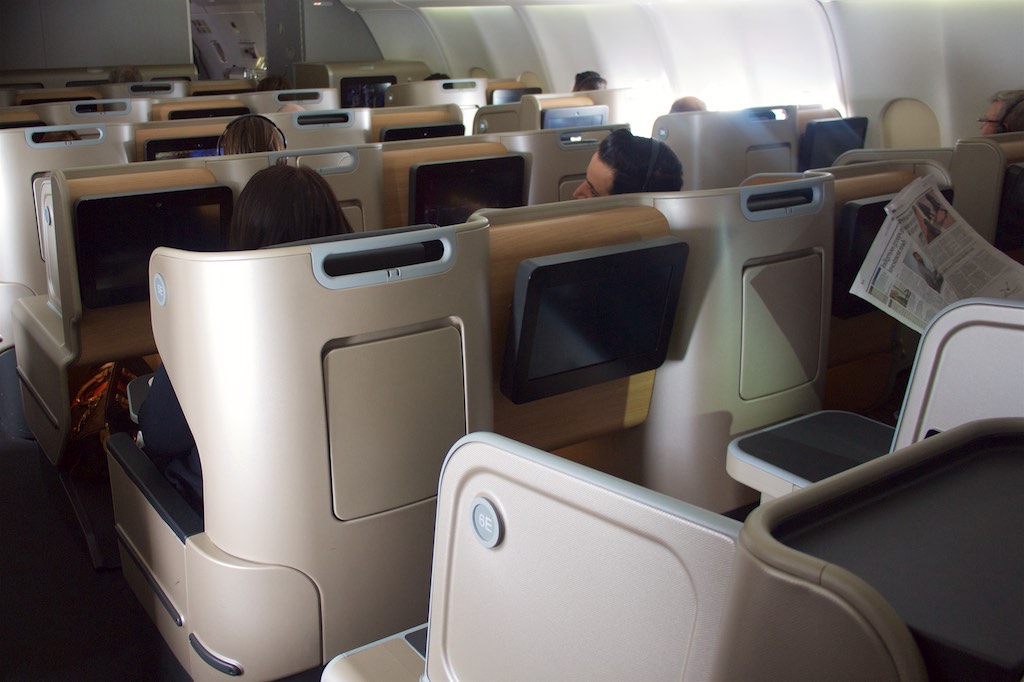 The new in-flight entertainment system was also excellent, with a customised welcome and a very responsive, iPad-like screen and interface.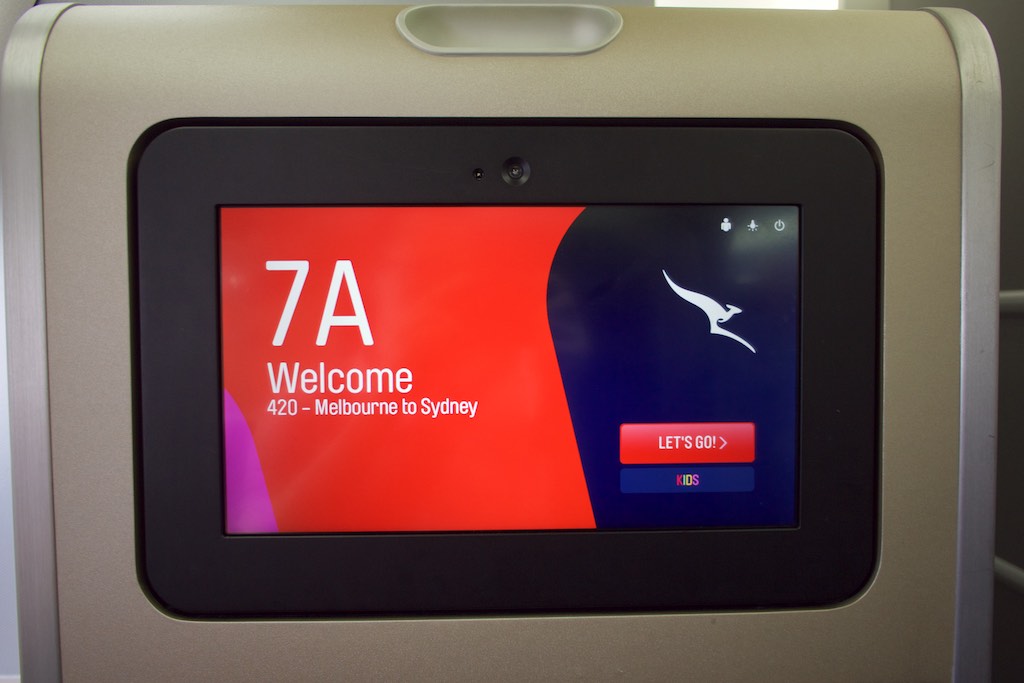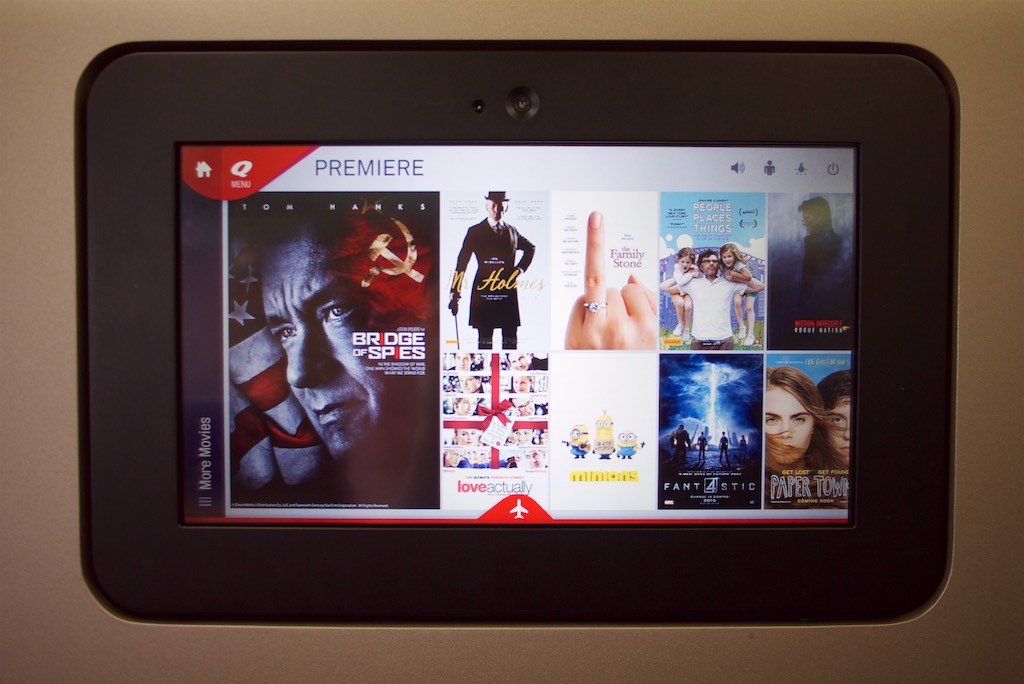 The lacklustre part of this flight was the food. Mid-morning service is always a bit tricky – it's a little late for breakfast, but too early for lunch, with QF420 as a 9.30am departure.
Passengers in the rear cabin weren't served their food until around 20 minutes before landing, which meant eating fast – and it wasn't a particularly tasty sandwich either, and quite greasy. I couldn't finish it.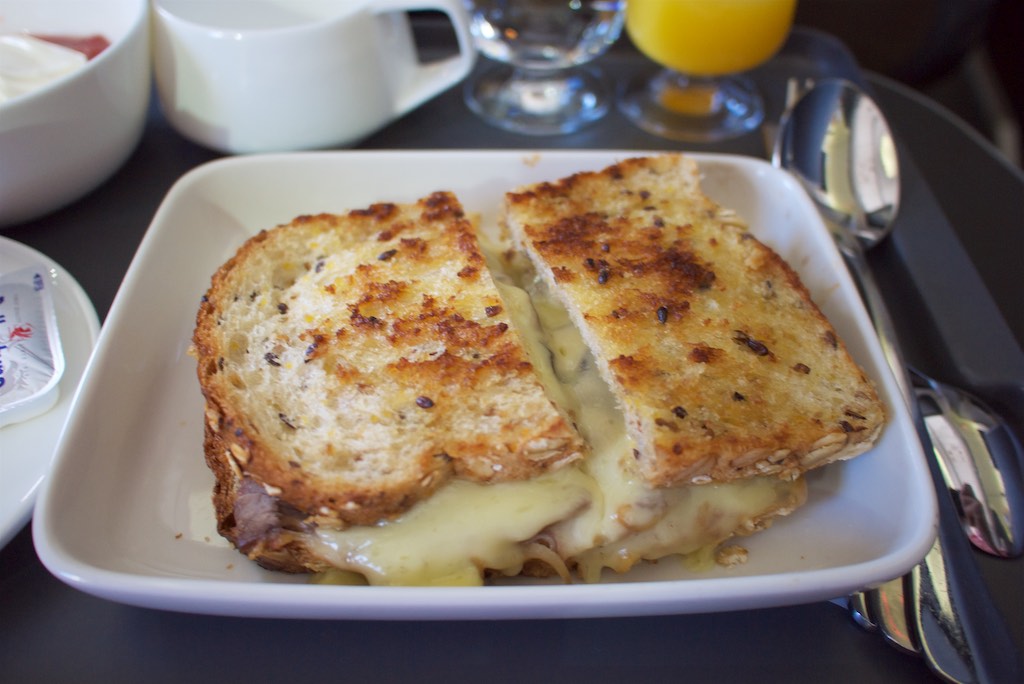 I enjoyed the coffee, chocolate muffin and the yoghurt though.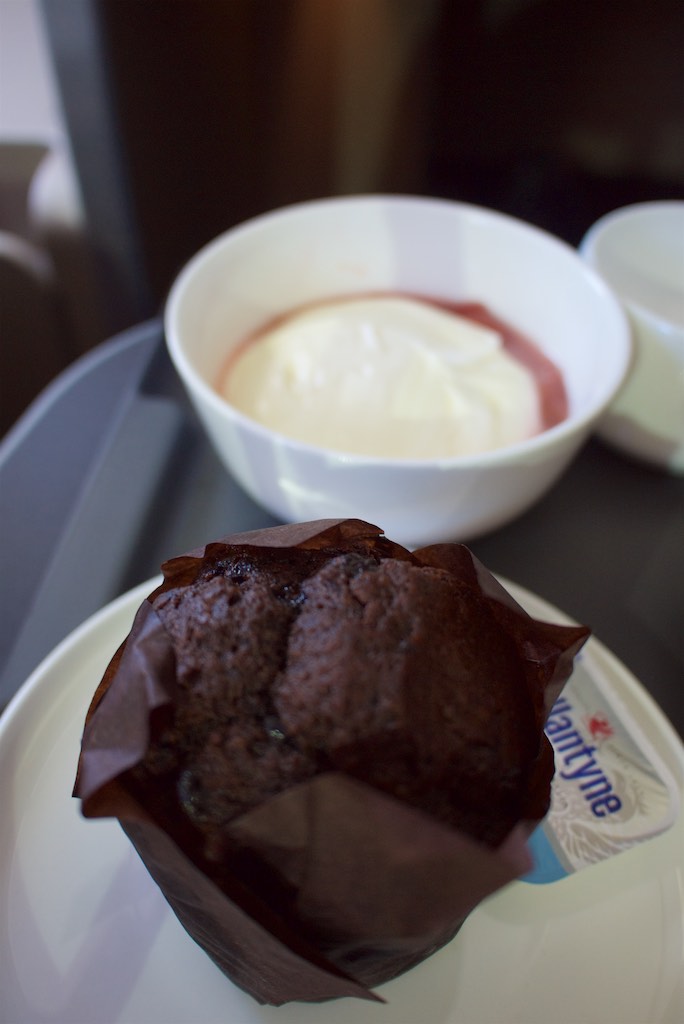 And then, we were down on the ground in Sydney.
My thoughts – Qantas new A330 domestic Business Class
I didn't have long enough on this flight to try out the bed-mode on the seat, or really enjoy the space and comfort on offer.
I really liked the finishes Qantas have chosen and potential for comfort from the new suite, so I'm going to have to get myself onto a Perth flight or international refurbished A330 service to really get to know it.
I think Qantas have done an amazing job with their new Business Class, and this redemption was a great use of my points for some additional space and a much, much nicer experience.
How does it compare to Virgin Australia's new Business Class? Well… that's for another post, but I'm leaving it to second for a reason. I think it might have pipped Qantas'…
Qantas Australian domestic A330 Business Class Review – QF420 Melbourne to Sydney
was last modified:
November 24th, 2017
by