Qantas operates flagship International First Lounges at Los Angeles, Sydney, Melbourne, Singapore and Auckland. All of them except the Auckland one are fantastic. This is a review of the First Class lounge at LAX.
You are most likely to visit this lounge before an overnight flight with Qantas back to Sydney, Melbourne or Brisbane. First Class passengers, as well as Qantas Platinum and Platinum One Frequent Flyers, are eligible for entry.
You are also eligible for entry before a First Class flight with British Airways to London, Cathay Pacific to Hong Kong, or Japan Airlines to Tokyo.
I visited this lounge before I flew Qantas A380 First Class to Melbourne in December 2019.
Qantas International First Lounge Los Angeles details & location
This lounge is located airside (after security) on Level 5 in the Tom Bradley International Terminal.
It's a bit hard to find this lounge. If you have just checked in for your flight and passed through security, you'll reach the central atrium of the terminal. Take the escalators or elevators up one level.
Then turn right and pass by the Qantas International Business and Korean Air (KAL) Lounges. This lounge will be on your left and the entry looks like this: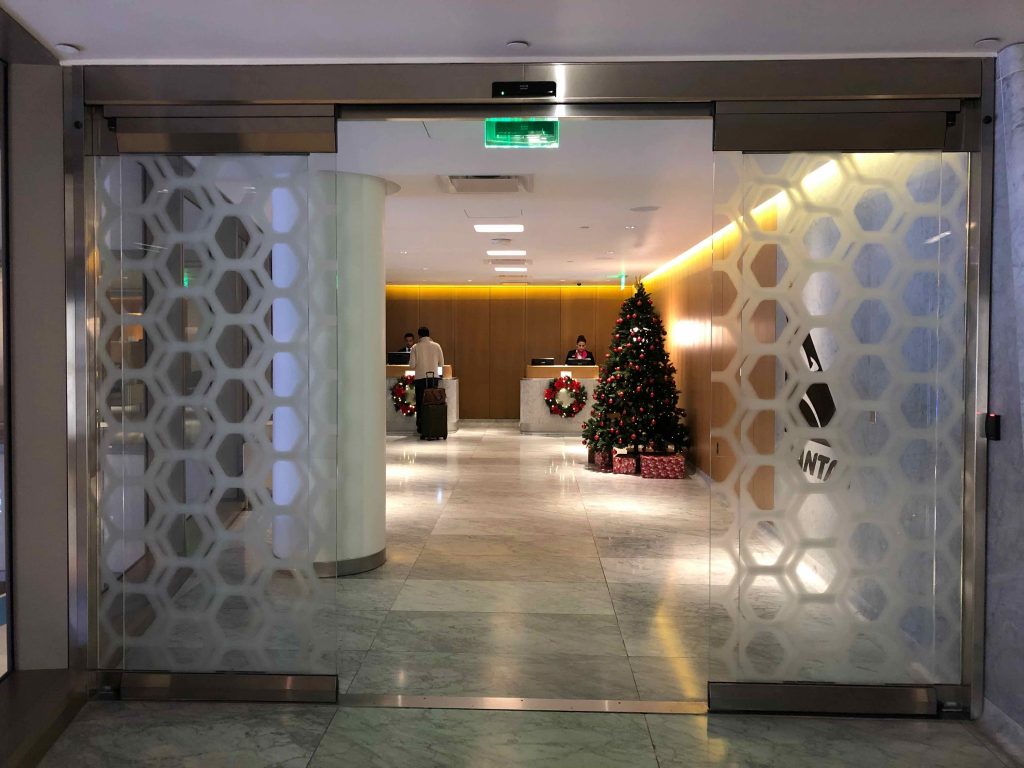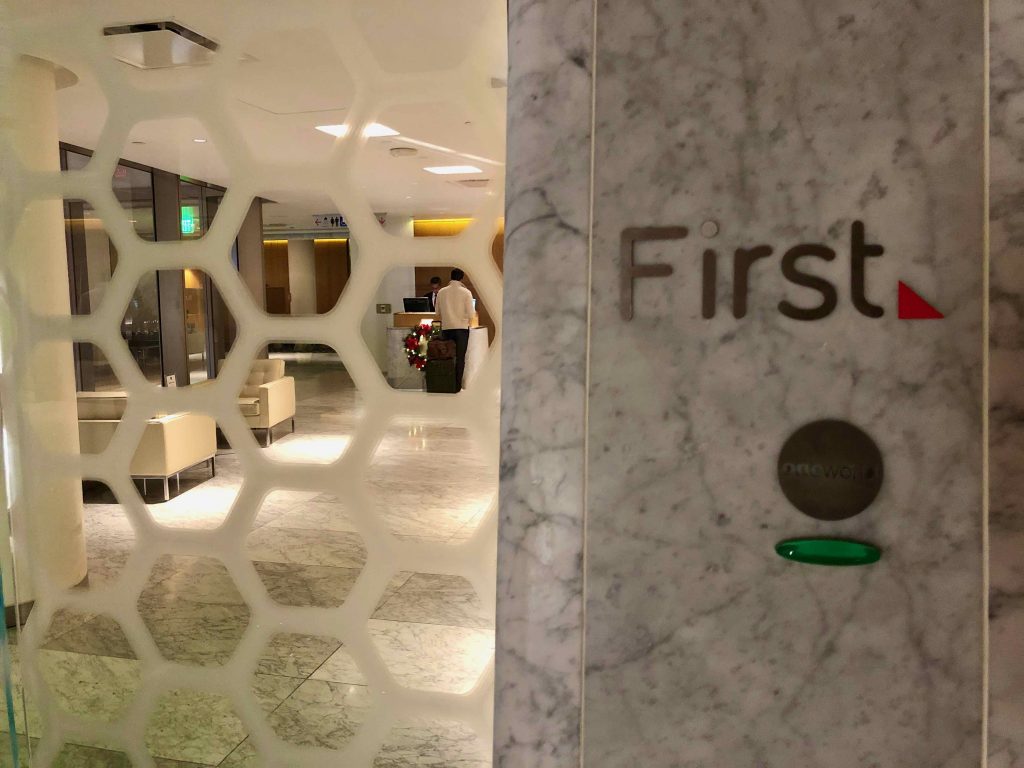 This lounge is open from 6:30 am until 11:30 pm daily. (It was 60% full when I visited at 9:30-10:15pm.)
Qantas International First Lounge Los Angeles seating & layout
This lounge is designed by Marc Newson with vibes of a Californian retreat. It features American oak walls and Tuscan Carrara marble floors throughout.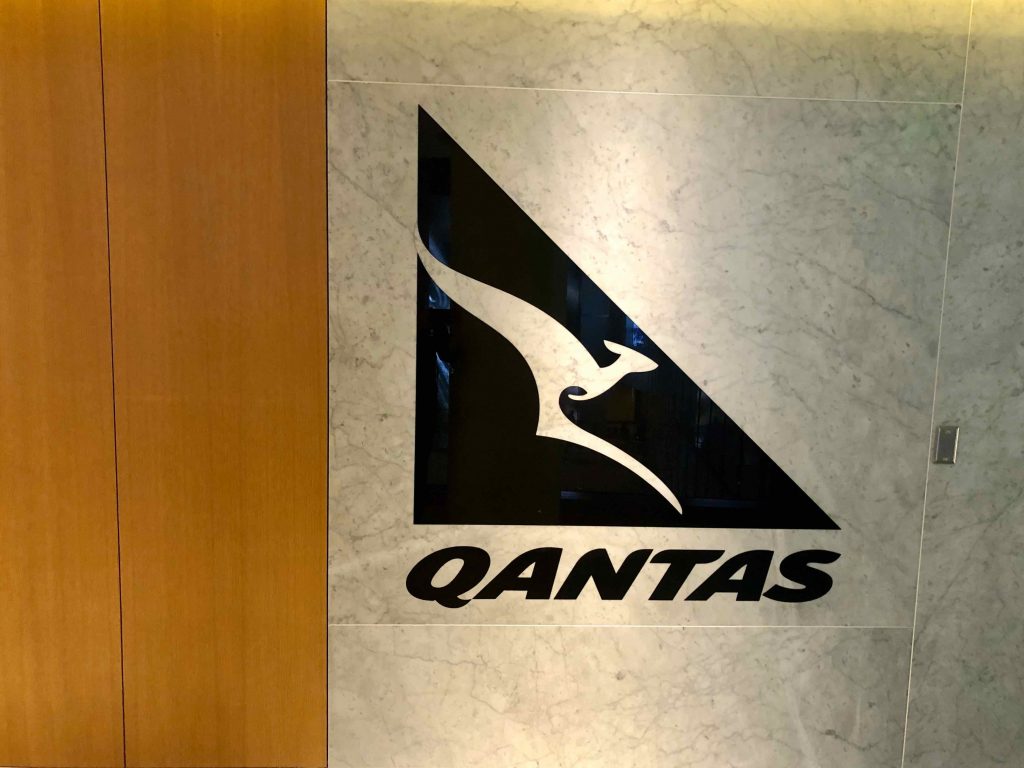 Given I was travelling the week before the holidays, I was greeted by a Christmas tree in the foyer.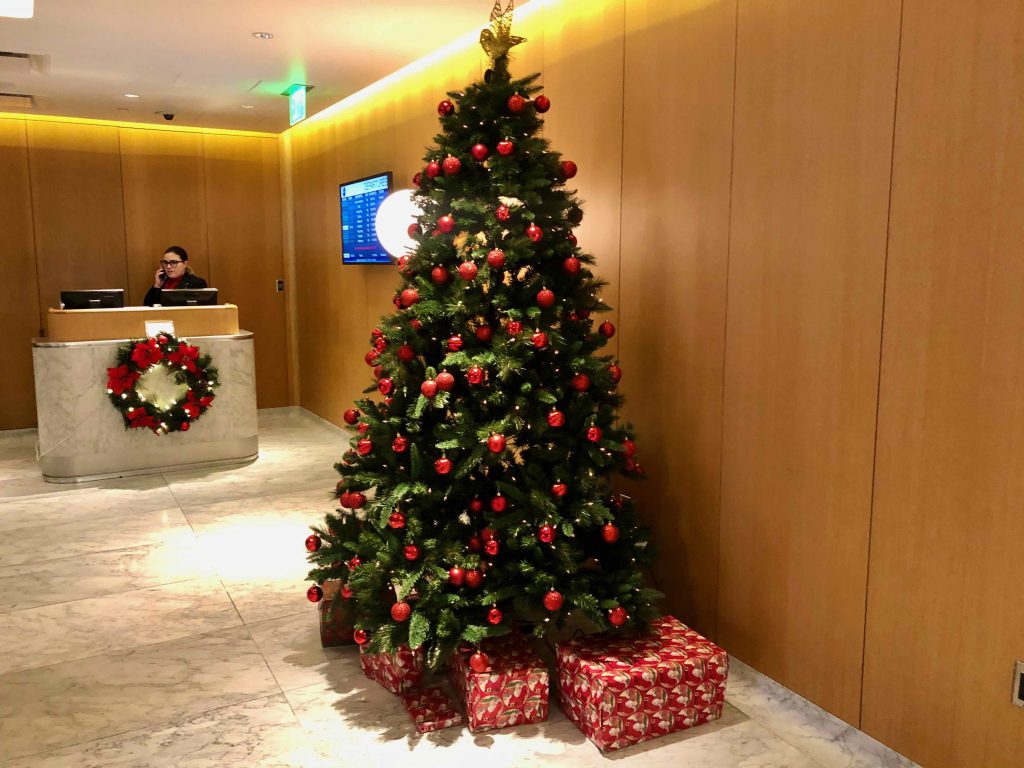 After presenting your boarding pass, you'll enter the open-plan lounge, which is split into a few different sections. The red zone (meaning the area with red furniture) is the first you'll encounter and is the most comfortable for relaxing.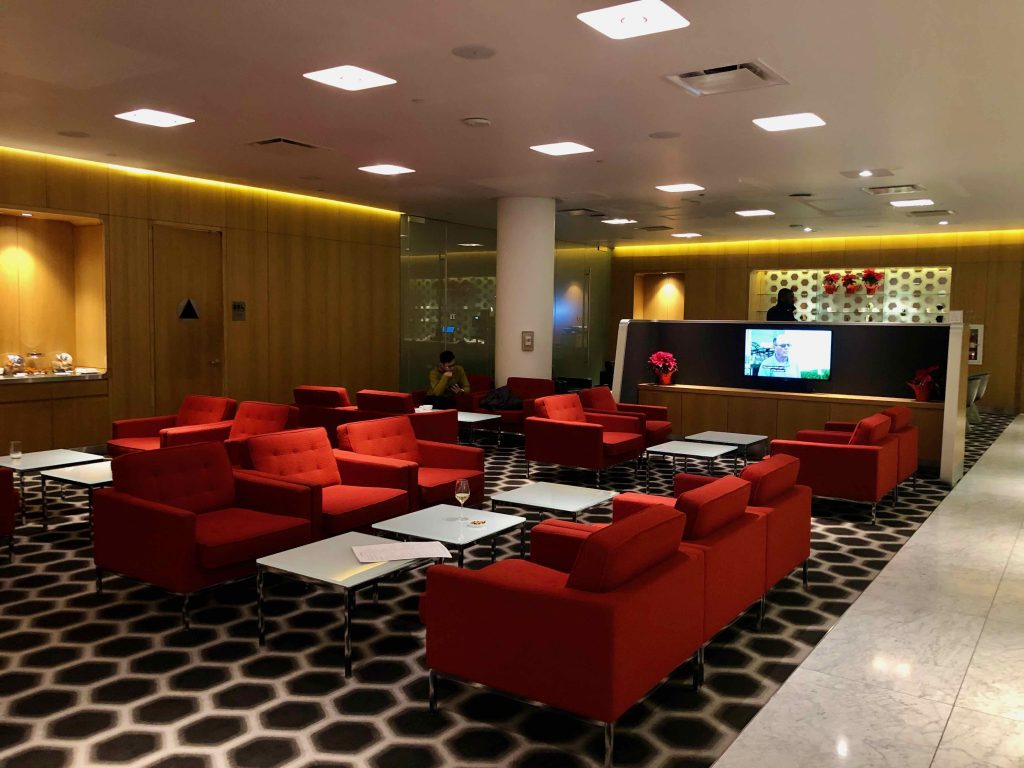 The white zone that follows is best for chatting with a travel companion. It overlooks an atrium. (Unfortunately, this lounge has no tarmac views.)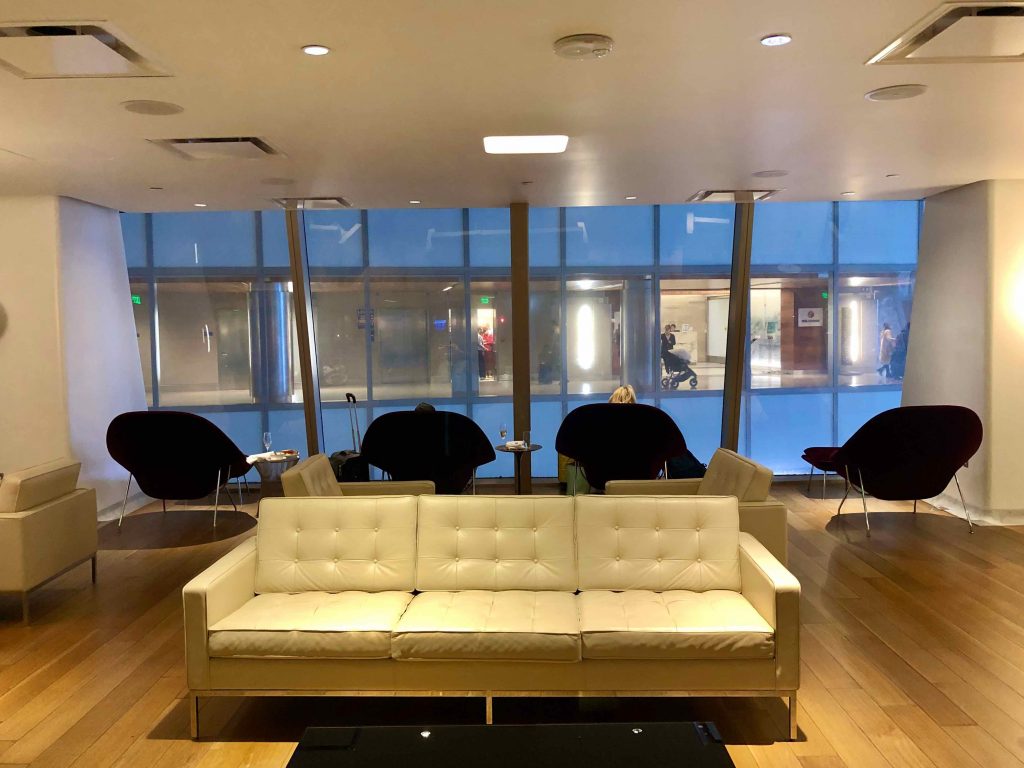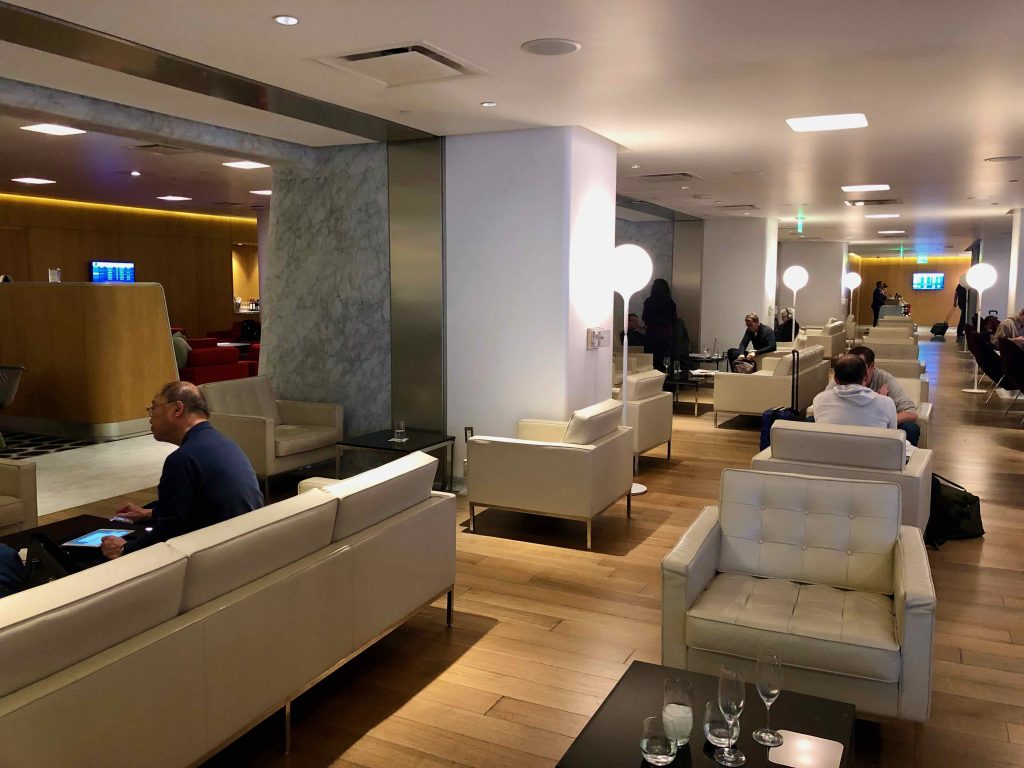 This area has self-service champagne and wine.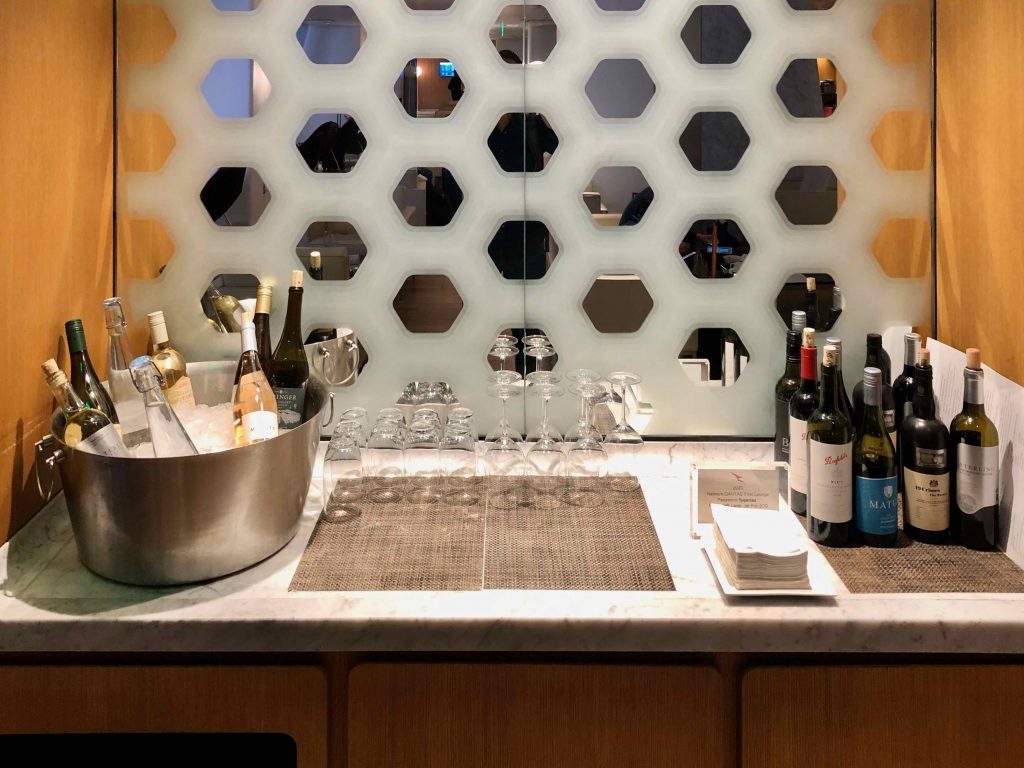 Next, the black zone has uncomfortable seating and is not very useful (or popular).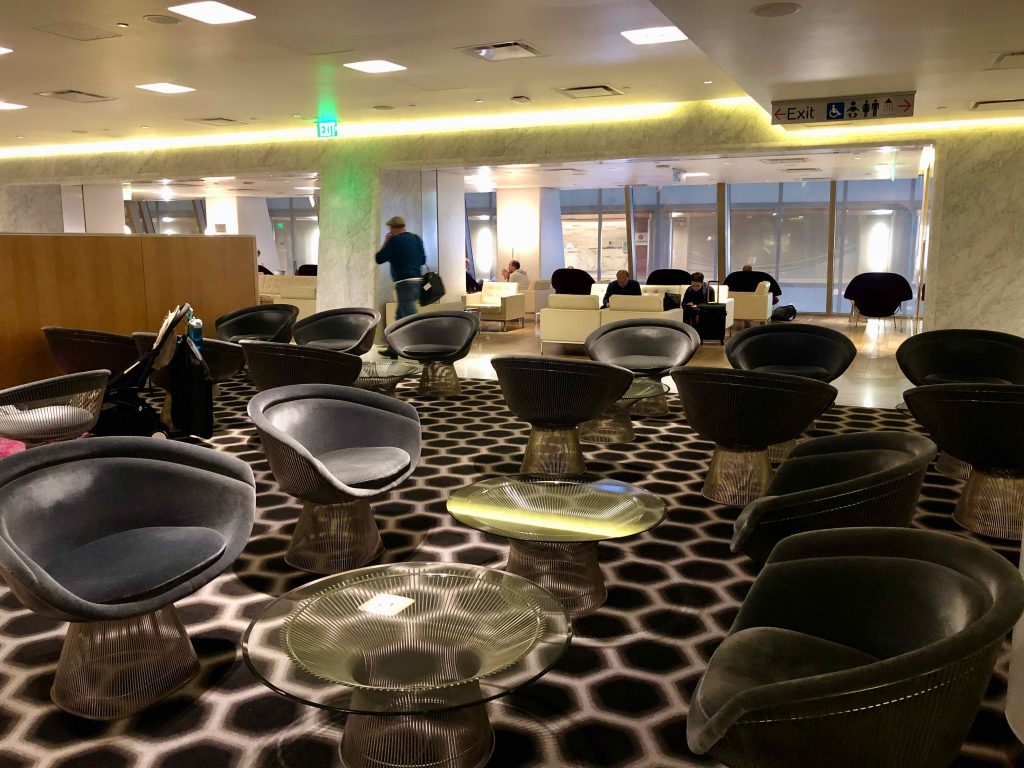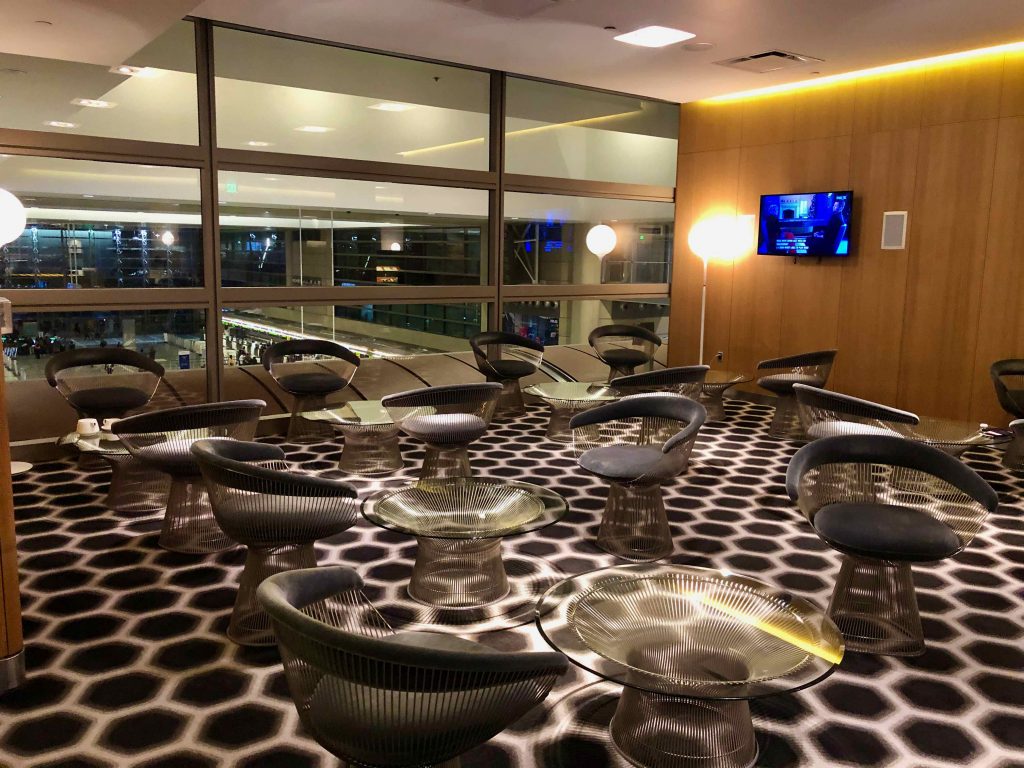 Finally, you'll come to the best part of the lounge: the dining area. It is anchored by a 15-metre-long manned bar with all types of alcohol and a barista coffee machine.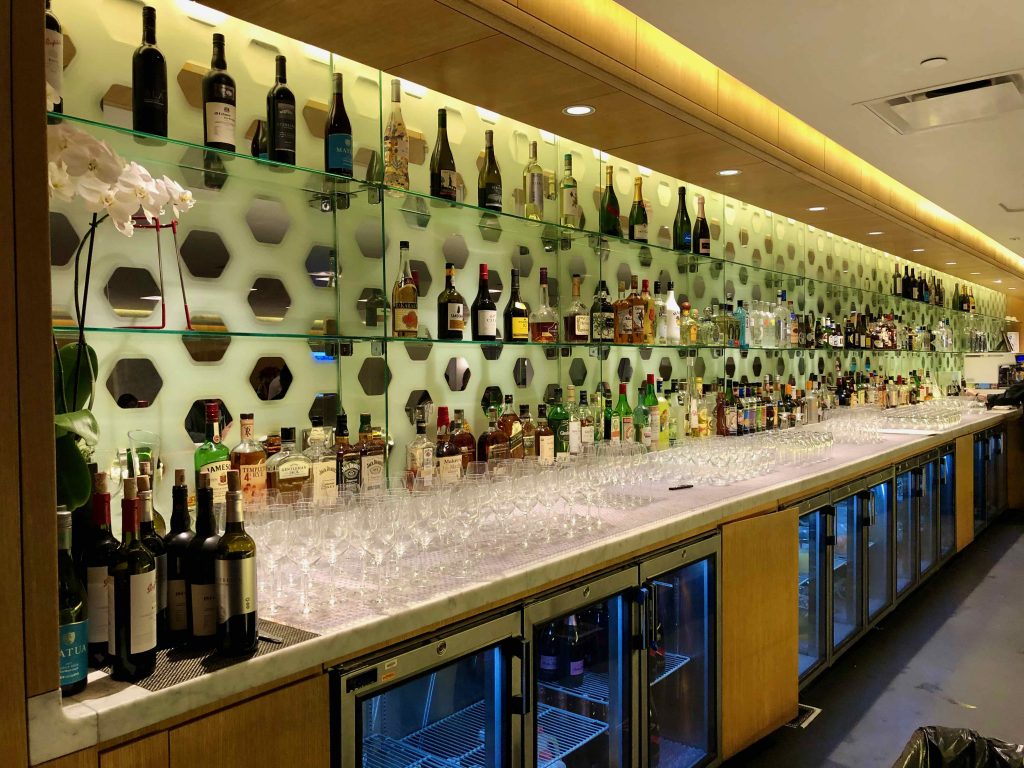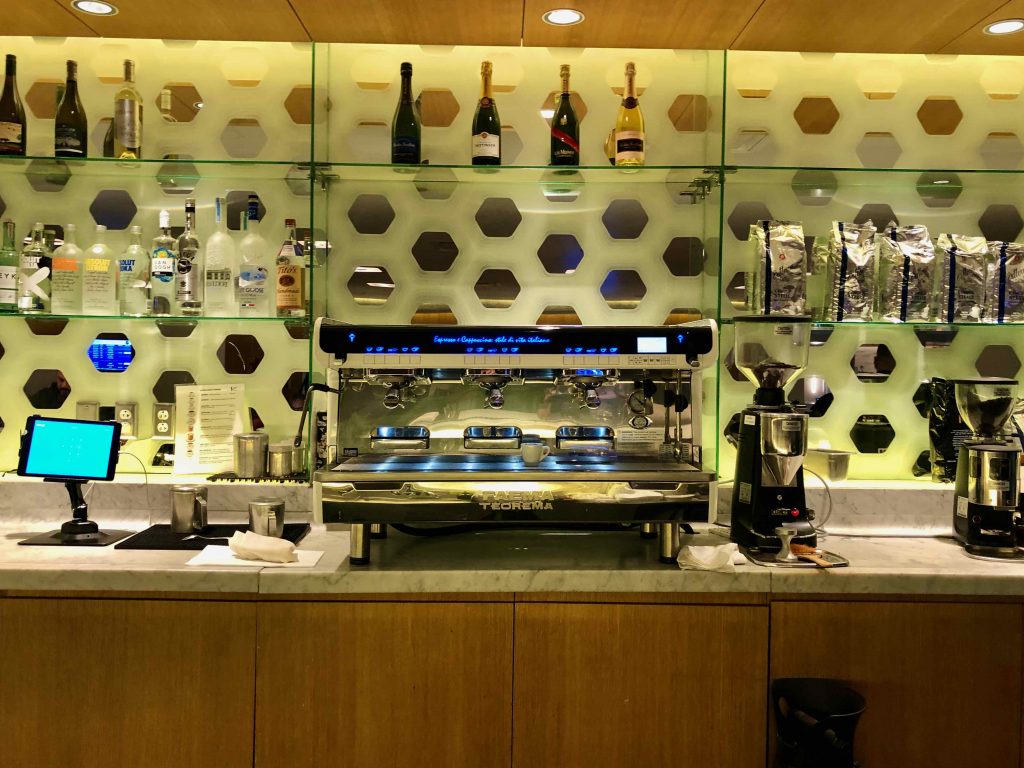 There is seating for 74 people at a time. You'll be escorted to a table by one of the servers. You can also choose to dine at the bar.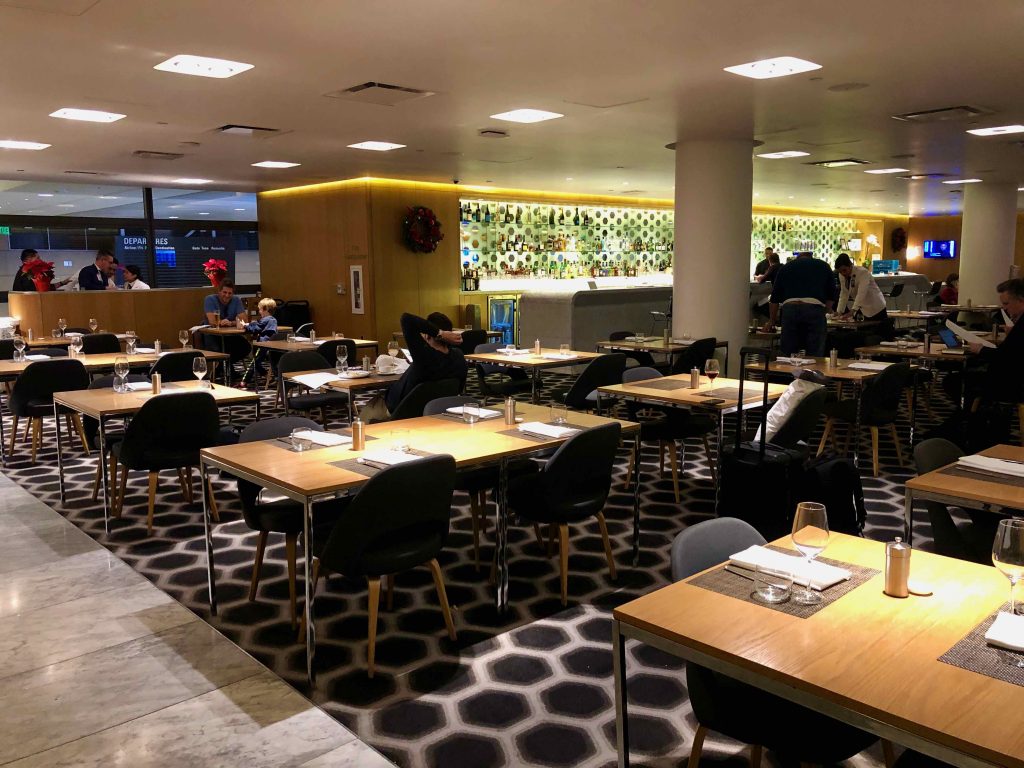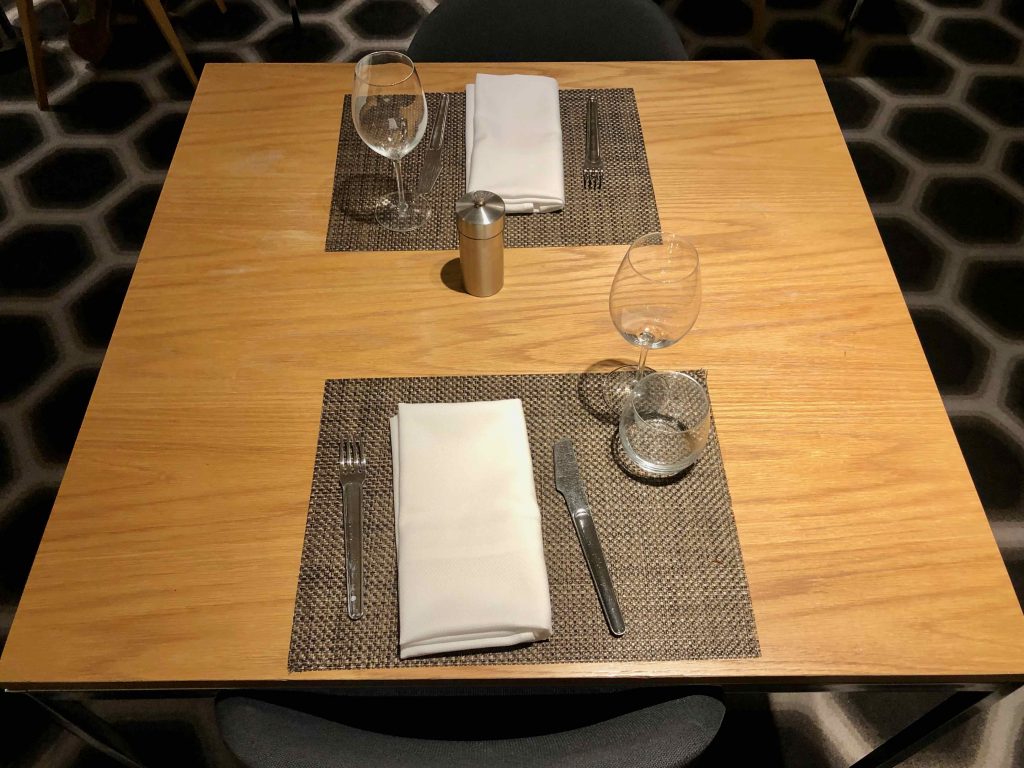 My tip is to avoid sitting near the open kitchen—it can get loud.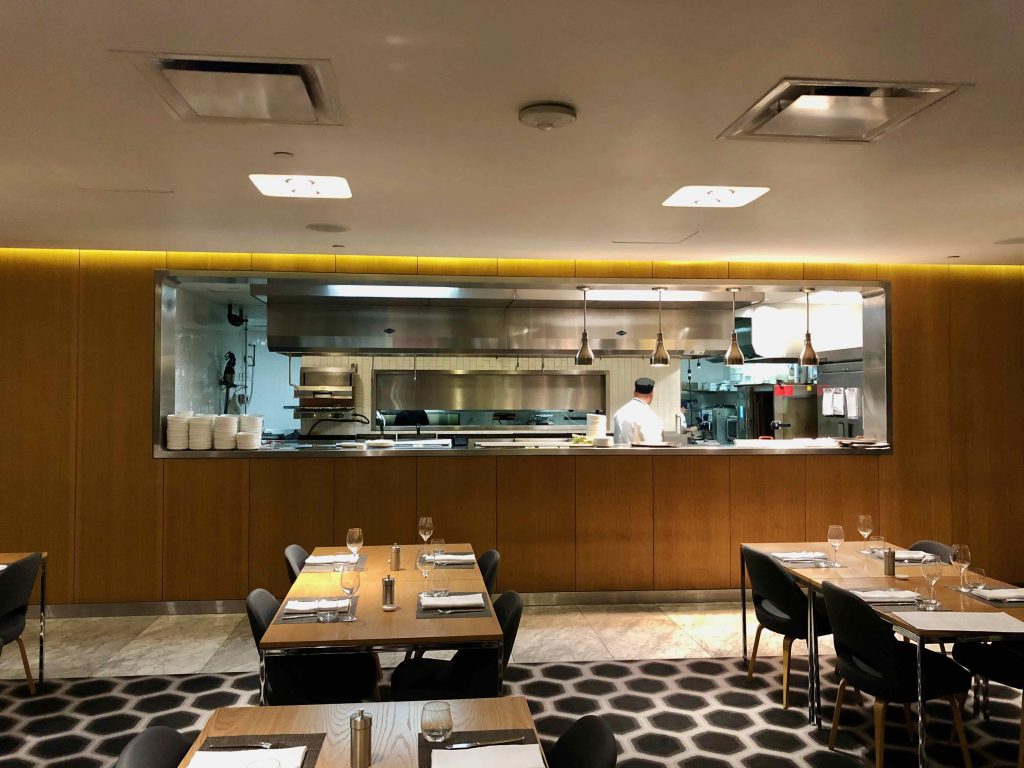 Qantas International First Lounge Los Angeles food & drink
This lounge offers à la carte dining with a rotating seasonal menu. Here is what was on offer during the (northern) winter travel period: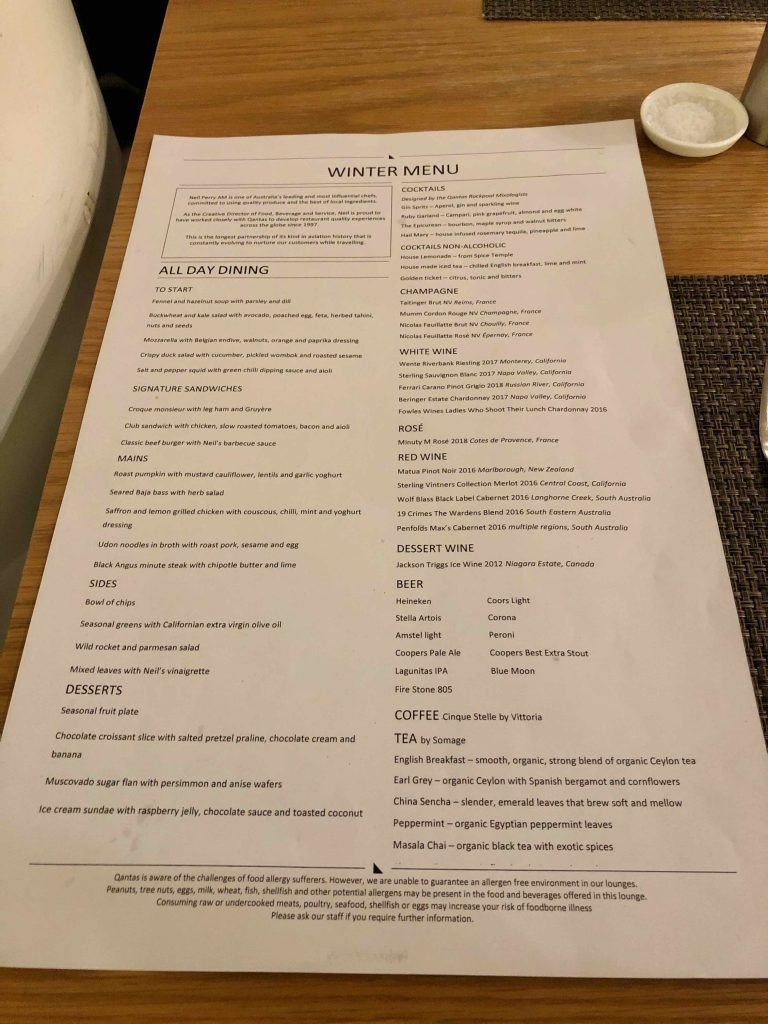 I found the staff very willing to accommodate special dietary restrictions and preferences. And you can choose to eat as much as you want in whichever order you wish.
After an Aperol soda aperitif: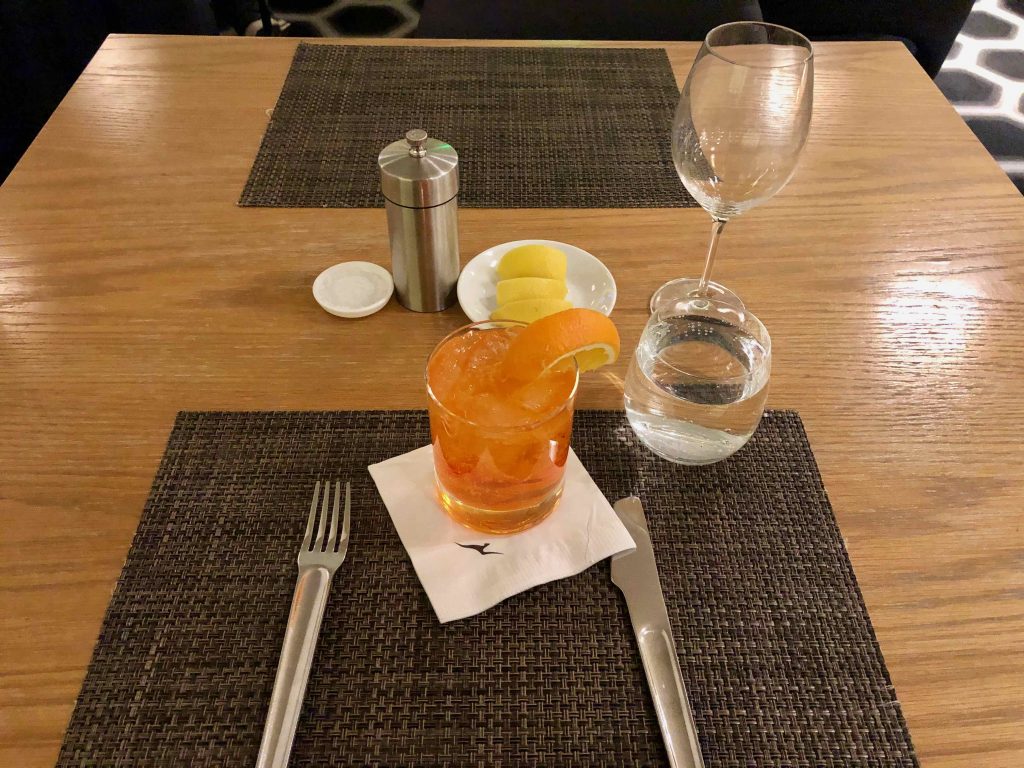 I enjoyed a healthy and fresh buckwheat green salad, which was delivered within seven minutes of ordering.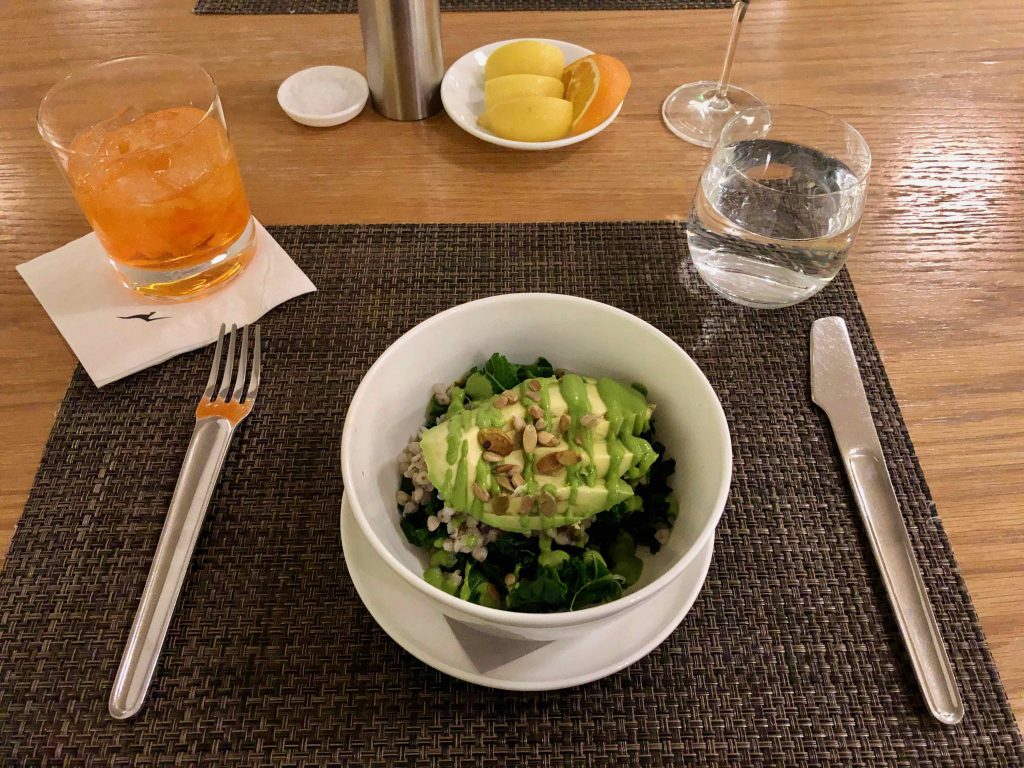 My second course of crunchy mustard cauliflower, lentil and yoghurt was delightful.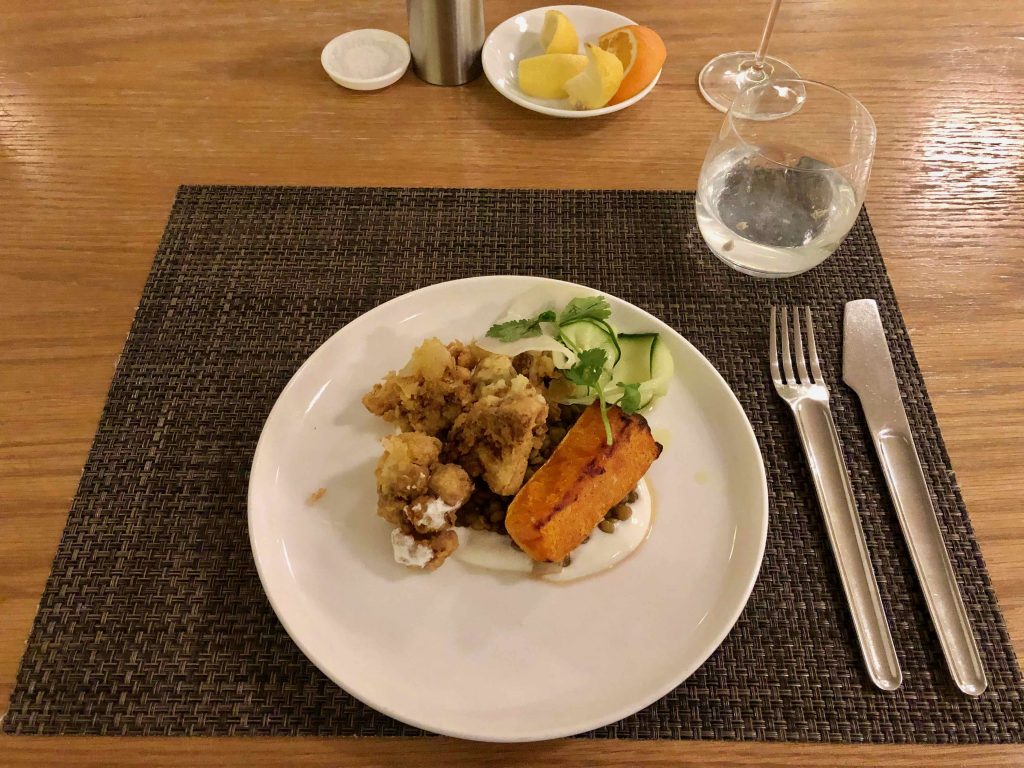 But nothing could top Qantas' famed salt and pepper squid (which you can also order at the Sydney and Melbourne lounges). It was my first time trying this dish and it is honestly one of the best things I've ever eaten.
Unfortunately, I didn't have time for dessert, but the croissant slice, flan and sundae all would've made for a fantastic choice.
Qantas International First Lounge Los Angeles amenities
There are several shower suites available to freshen up before your flight. They all have Aurora Spa products. I found the water temperature and pressure to be great (better than in the Star Alliance lounge).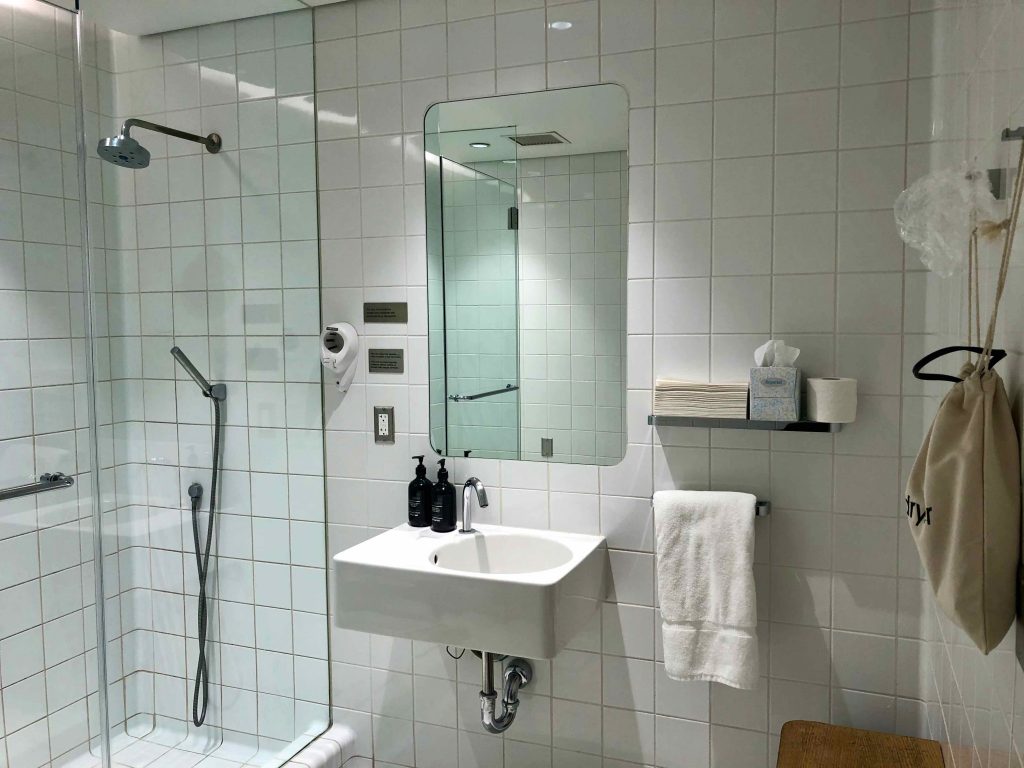 However, if I could nitpick one thing about the bathrooms, it would be that I found them gorily bright. This isn't ideal before an overnight flight. (One reader suggests looking closely at the light switches as there is a dimmer on them.)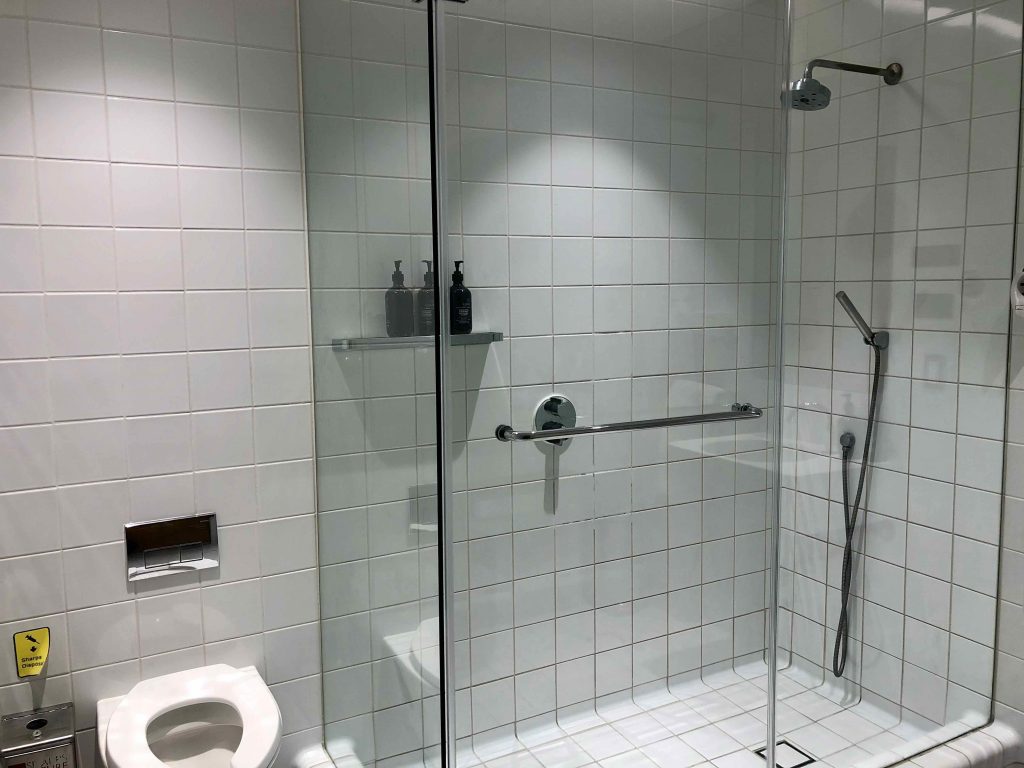 Plus, the noise of people chatting in the hallway carries really easily. Dimmer lighting and maybe some relaxing music playing through a speaker would lift the elegance of this part of the lounge.
My tip: try to shower before 9:30pm. That's when the attendants told me it starts to get busy.
The wifi speed was solid at 34/64 Mbps download/upload.
Qantas International First Lounge Los Angeles customer service
I found the Sofitel-trained staff to be friendly and attentive in all areas of the lounge. They were prompt in taking orders, delivering food and drinks, and clearing dirty tables.
Qantas International First Lounge Los Angeles access options
By class of travel: First Class passengers departing on a Qantas or oneworld flight
By Qantas Frequent Flyer status: Platinum and Platinum One members travelling in any cabin on a Qantas or oneworld flight
By alliance frequent flyer status: oneworld Emerald members travelling in any cabin on a Qantas or oneworld flight
You can bring one guest with you. Your guest doesn't need to be on the same flight as you but they must be flying Qantas or a oneworld airline.
Qantas Club members are directed to the International Business Lounge. You cannot access this lounge (or the Business one next door) with a single-use lounge pass.
Frequently asked questions
Does LAX have a Qantas Lounge?
Los Angeles International Airport has two Qantas lounges. The International First one has à la carte dining for First Class passengers and oneworld Emerald members. The International Business lounge next door has buffet food for Business Class and oneworld Sapphire members.
What is a Qantas First Lounge?
Qantas operates five International First lounges, located at airports in Sydney, Melbourne, Singapore, Los Angeles and Auckland. All offer à la carte dining for First Class passengers and oneworld Emerald members except the Auckland one.
What terminal is Qantas in at LAX?
Qantas operates out of the Tom Bradley International Terminal at Los Angeles International Airport. Check-in opens in Aisle B at 6am for New York departures and 6pm for Australian departures. Here is a trick to save you time at security.
What time does Qantas open at LAX?
Qantas check-in at Los Angeles International Airport opens at 6pm for flights to Sydney, Melbourne and Brisbane. For the daily flight to New York, it opens at 6am. Qantas check-in is located in Aisle B of the Tom Bradley International Terminal.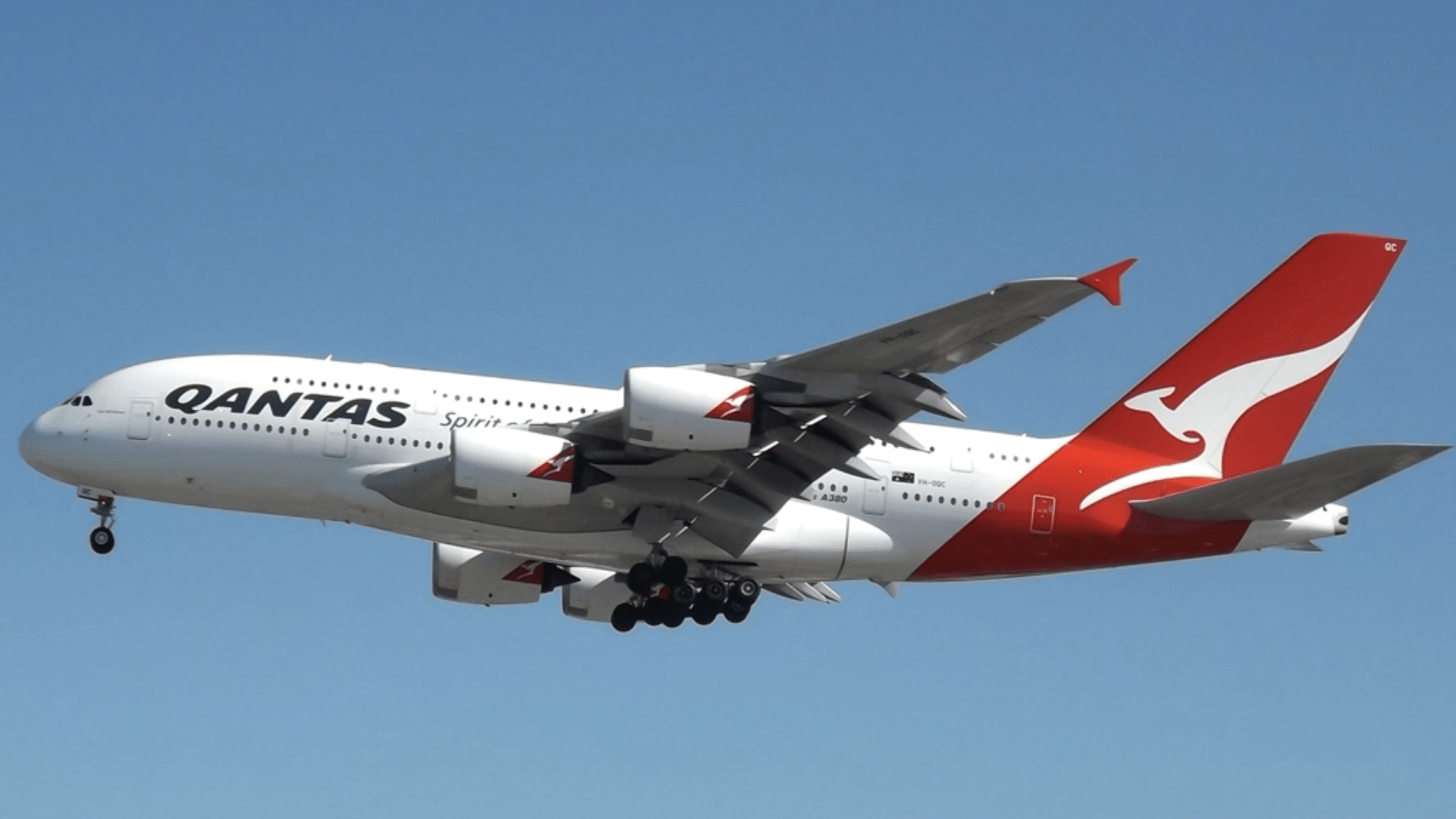 Summing up: my take
This is one of the best lounges I've ever visited and is definitely worth a visit for 1-2 hours.
Qantas flights to Australia depart between 10:30pm and midnight. Therefore, I would suggest arriving to the airport at 7/7:30pm (although the check-in counters open earlier at 6pm.) Here is a trick to save you time in case the security lines are long.
That would get you into the lounge by 8/8:30 so that you can have a shower before sitting down to a (late but) leisurely dinner. It's best to stock up on food in the lounge as the options will be better than onboard your flight. Plus, waits on the tarmac at LAX can be long, so it might be until after midnight that you actually get your inflight meal.
Finally, try to sit away from this lounge's kitchen to enjoy some more peace and quiet.
What is great
Excellent food (especially the salt and pepper squid)
Lots of beverage options
Friendly and prompt customer service
Sophisticated décor
Choice between themed seating areas
Great water temperature and pressure
Fast wifi
What is not great
Noise carriers throughout lounge, especially from open kitchen
Super-bright bathrooms (but this seems to be fixable with the light dimmer)
No spa services (like in Sydney and Melbourne)
No outdoor area or children's play room
Other related reviews
Qantas International First Lounge Los Angeles overview
was last modified:
January 31st, 2020
by