The Qantas First Class Lounge in Sydney consistently ranked as one of the world's top ten airport lounges and along with the Melbourne First Lounge, is one of the jewels in Qantas' crown.
For any traveller that cares about experiencing the best that airlines have to offer, Qantas' First Class lounges should be on your bucket-list – and points can help you check it off.
This lounge goes above and beyond by allowing you to tailor your experience, with table service either in the restaurant area or at your lounge seats, a good menu, spa offerings and a full bar.
How you can access the Qantas First Class lounge using points
The most common way for travellers to is to be either a oneworld Emerald (Qantas Platinum) frequent flyer, or travelling in First Class with Qantas or one of their partner airlines that have an agreement to share the lounge.
Qantas offering lounge passes that can get you into the Qantas First Class lounge are few and far between, so this is not usually an option.
Other than spending many hours in the air to earn status, that leaves the most likely option for most travellers redeeming a large amount of points to fly in First Class with an appropriate airline.
The options here would include:
All of these are mostly accessible using frequent flyer points – primarily Qantas Points or Cathay Pacific Asia Miles. You'll need a healthy balance, and flexibility in when and how you can travel (don't expect to find four First Class seats during school holidays to the US, for example).
Some of the key guides you should read to look at how to redeem points for First Class on these routes are…
Qantas First Class Lounge Sydney location & details
Qantas' Sydney First Class Lounge hasn't changed much physically since it was opened in 2007, but that isn't necessarily a bad thing given the amount of effort and detail Qantas put it into it's original design.
The lounge is located at the top of the escalator leading to both Qantas Business and First Class lounges, somewhere right after the ocean of duty free shops. Once you enter you will be greeted by a large signature design piece of the Mark Newson commissioned interior.
After passing through the first staff member just beyond the doors, who checks your eligibility to enter, the green wall wraps around toward the escalator.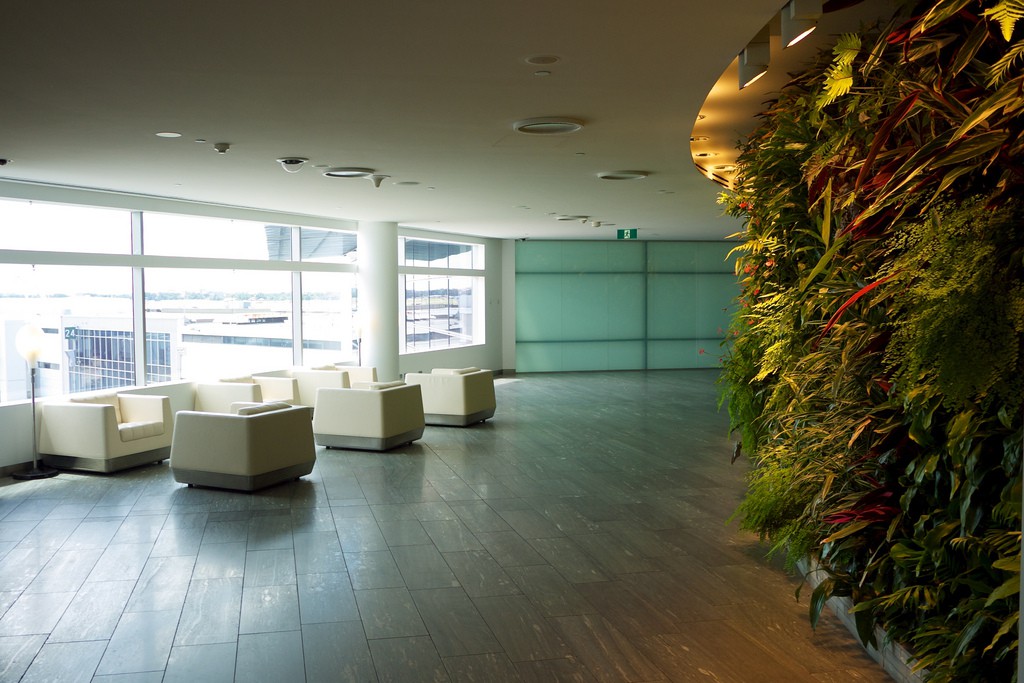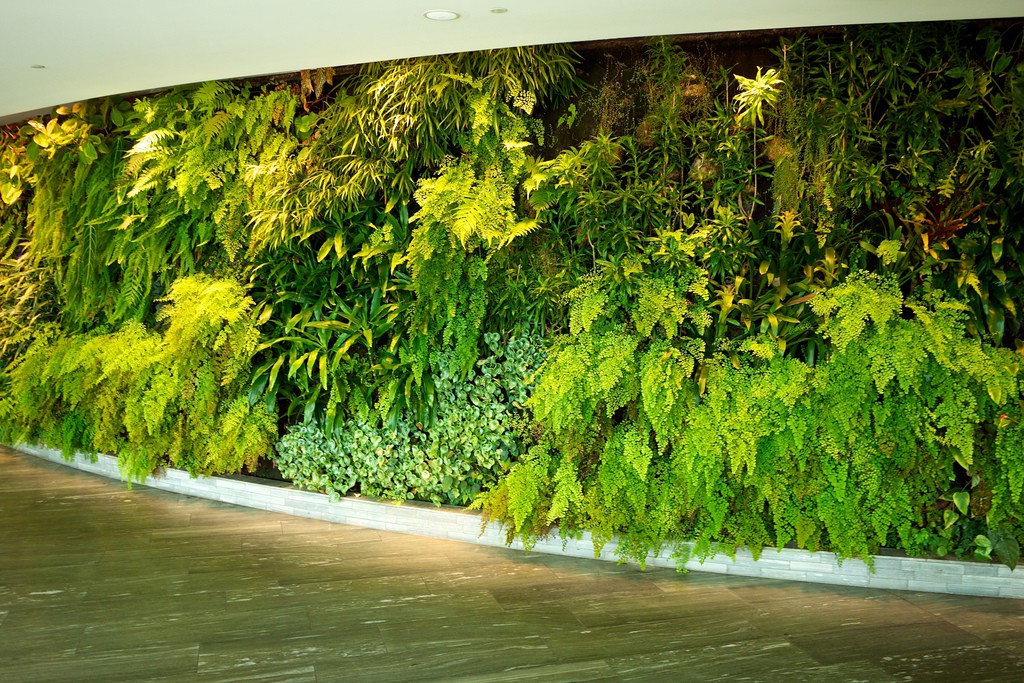 You then head up the escalators, past the old school iconic departures board to the main reception for your proper boarding pass check. There are a few of boards dotted around the lounge, and the make great clack-clack-clack noise every few minutes as the departure information updates. Very neat.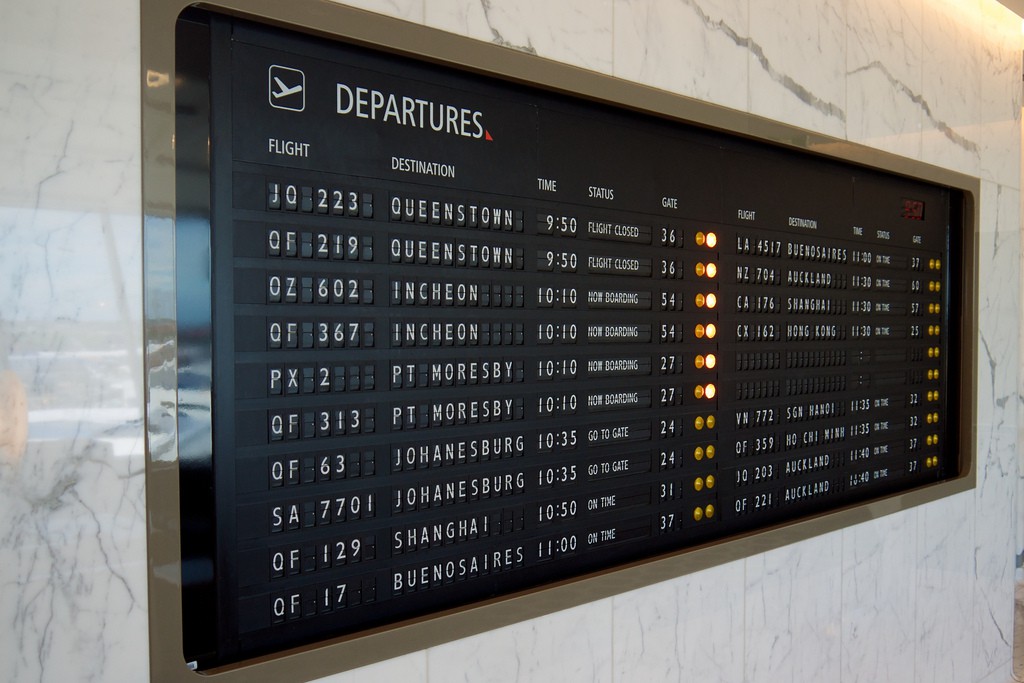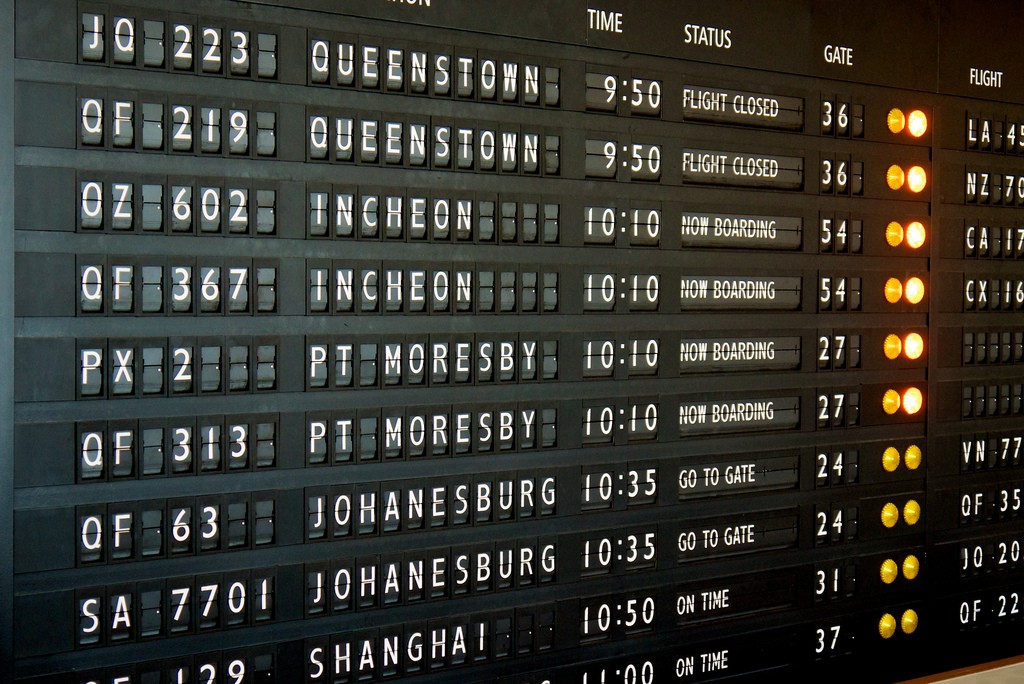 Qantas First Class Lounge seating
The lounge is all set as one long length, divided into sections with very recognisable sculpted wooden beams.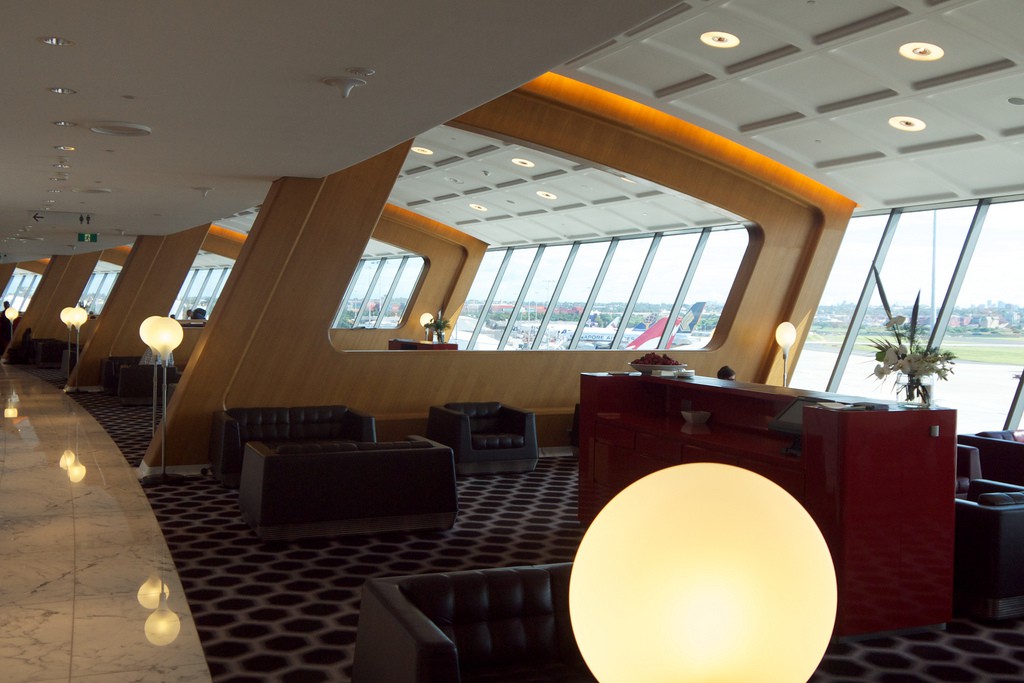 It gives clear delineation to the space, and from left to right, the lounge is divided into multiple seating areas, some with silenced TV's, then cafe/restaurant seating with a large bar and open kitchen, followed by more seating and the library area at the end.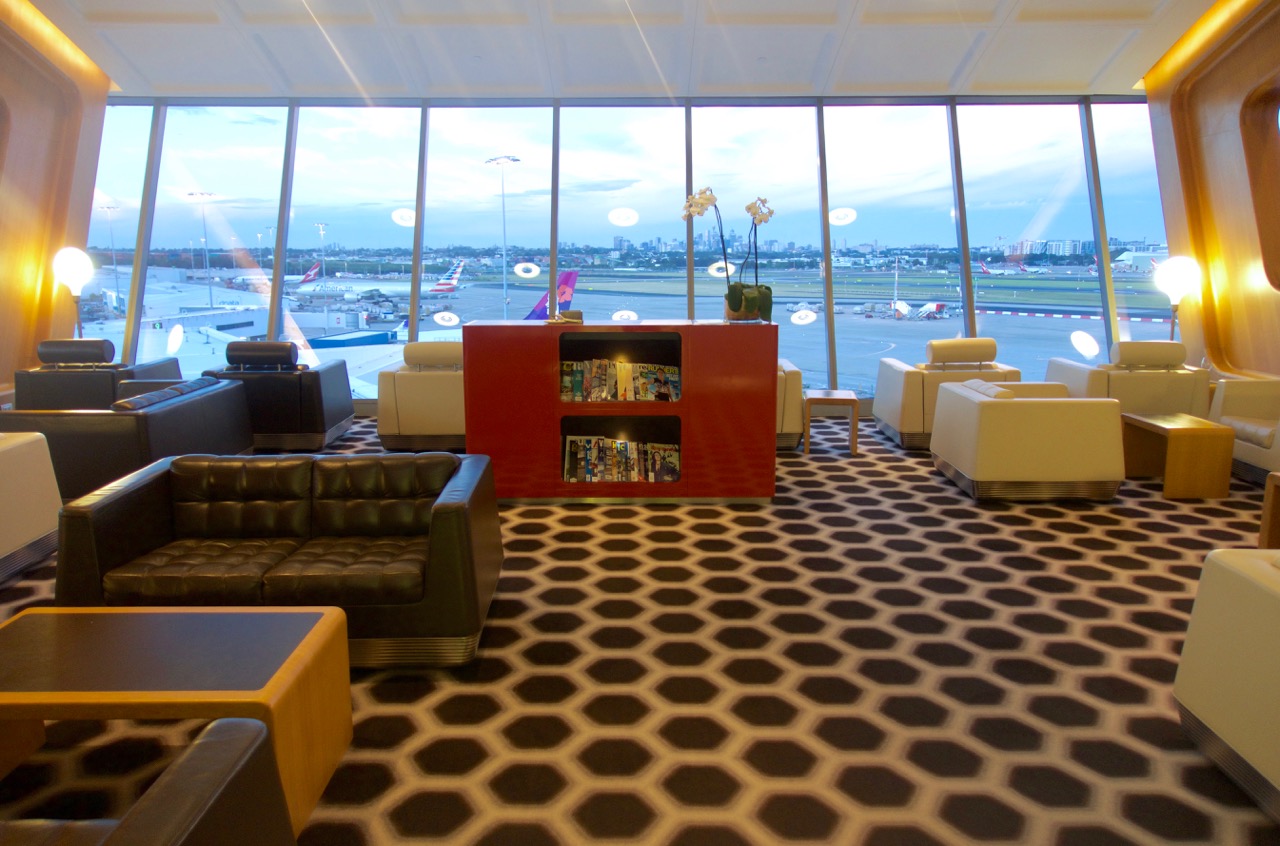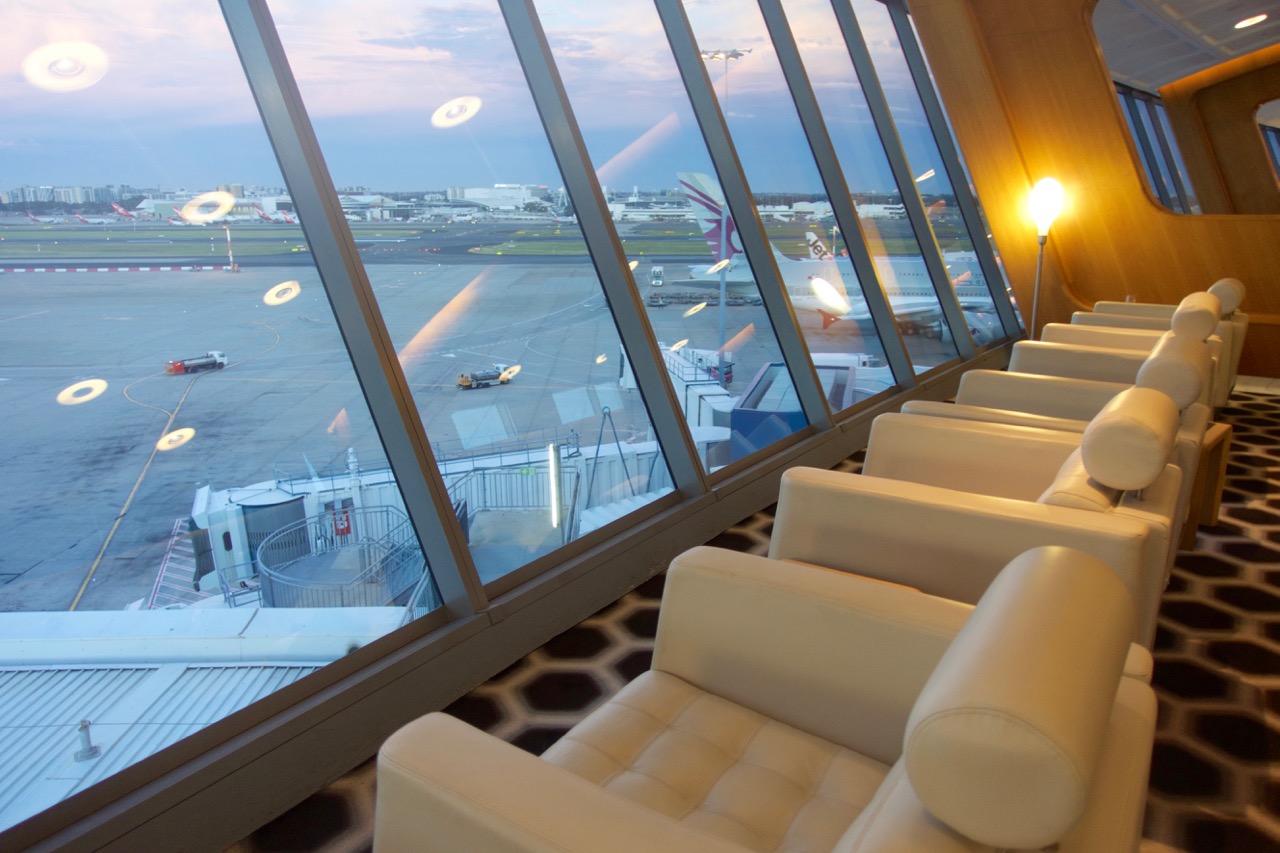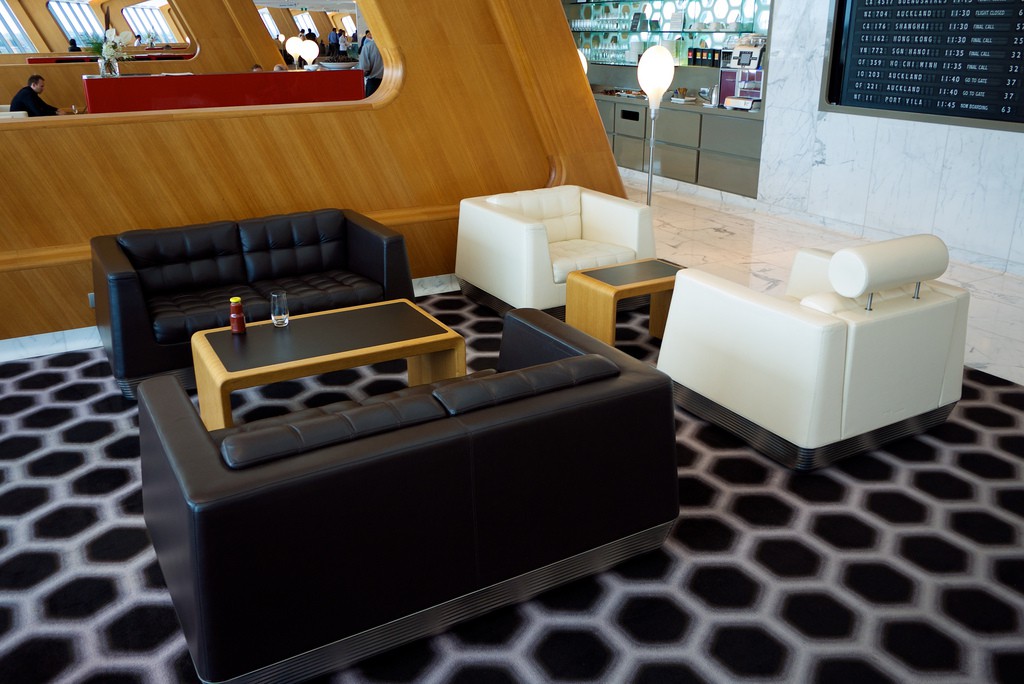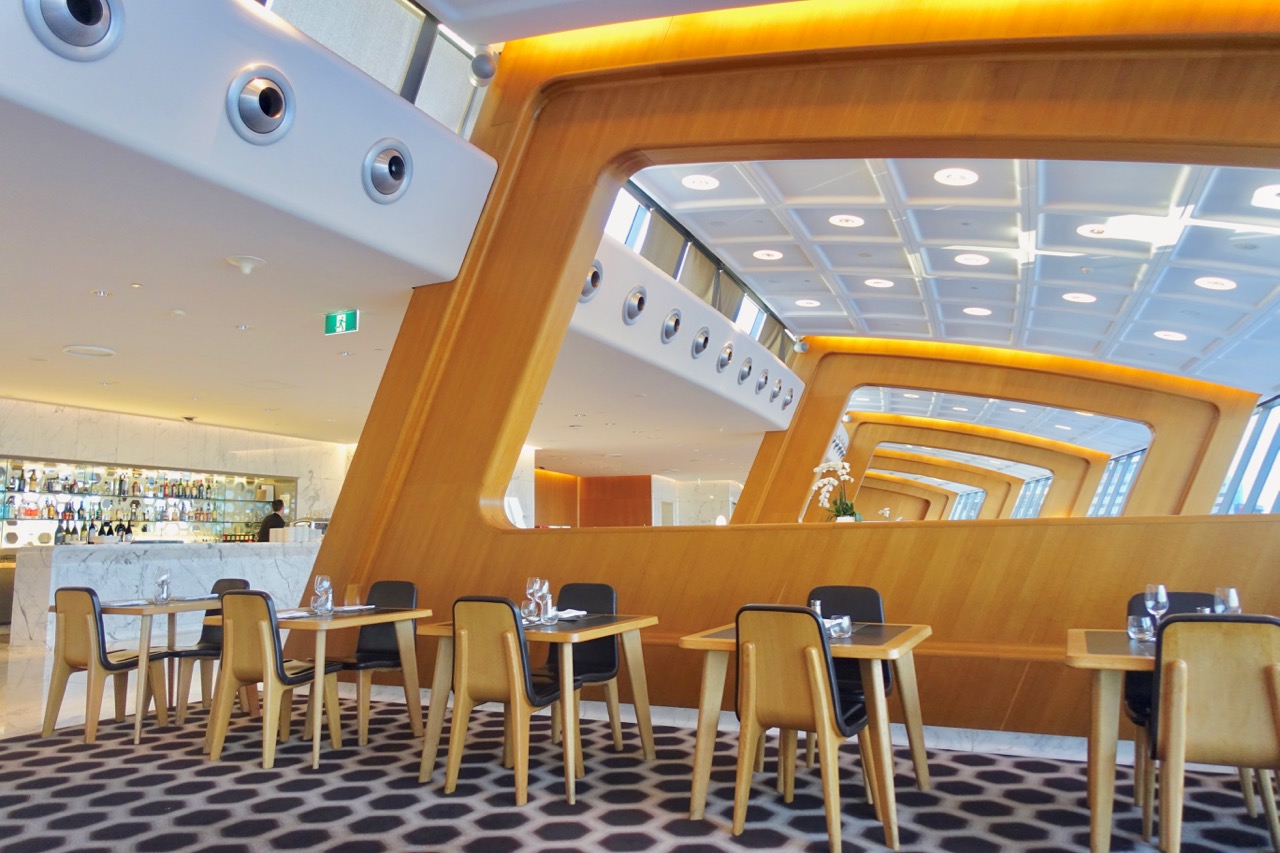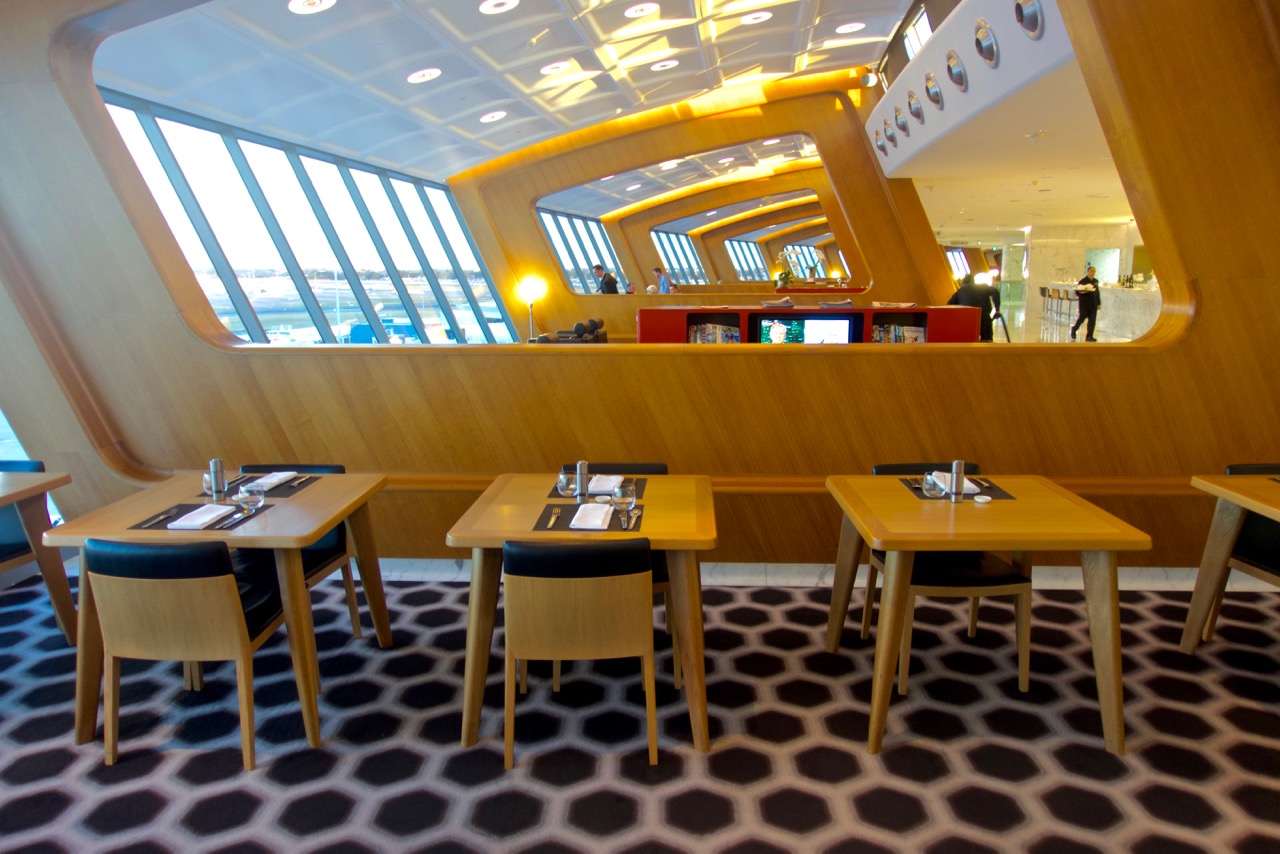 The library area really caught my eye- it's probably the most 'designed' area (in a pretty designer lounge) and was empty. The only thing it lacked was a view, and the books on offer were of the heavy coffee table variety. From an interior design point of view it was great, but in execution it seemed a little pointless- but cool all the same.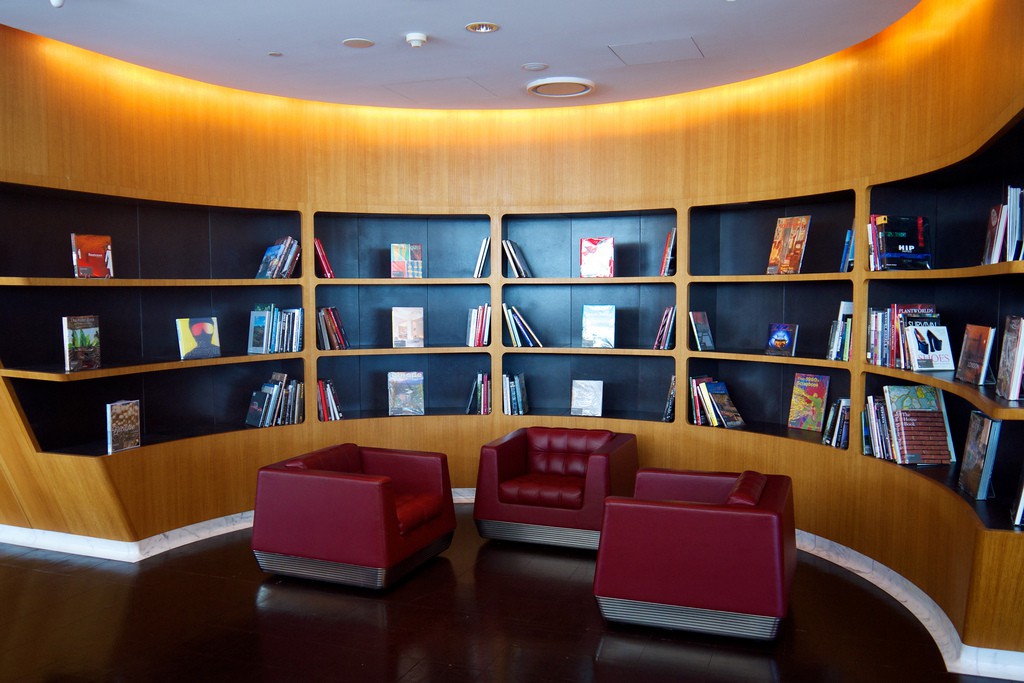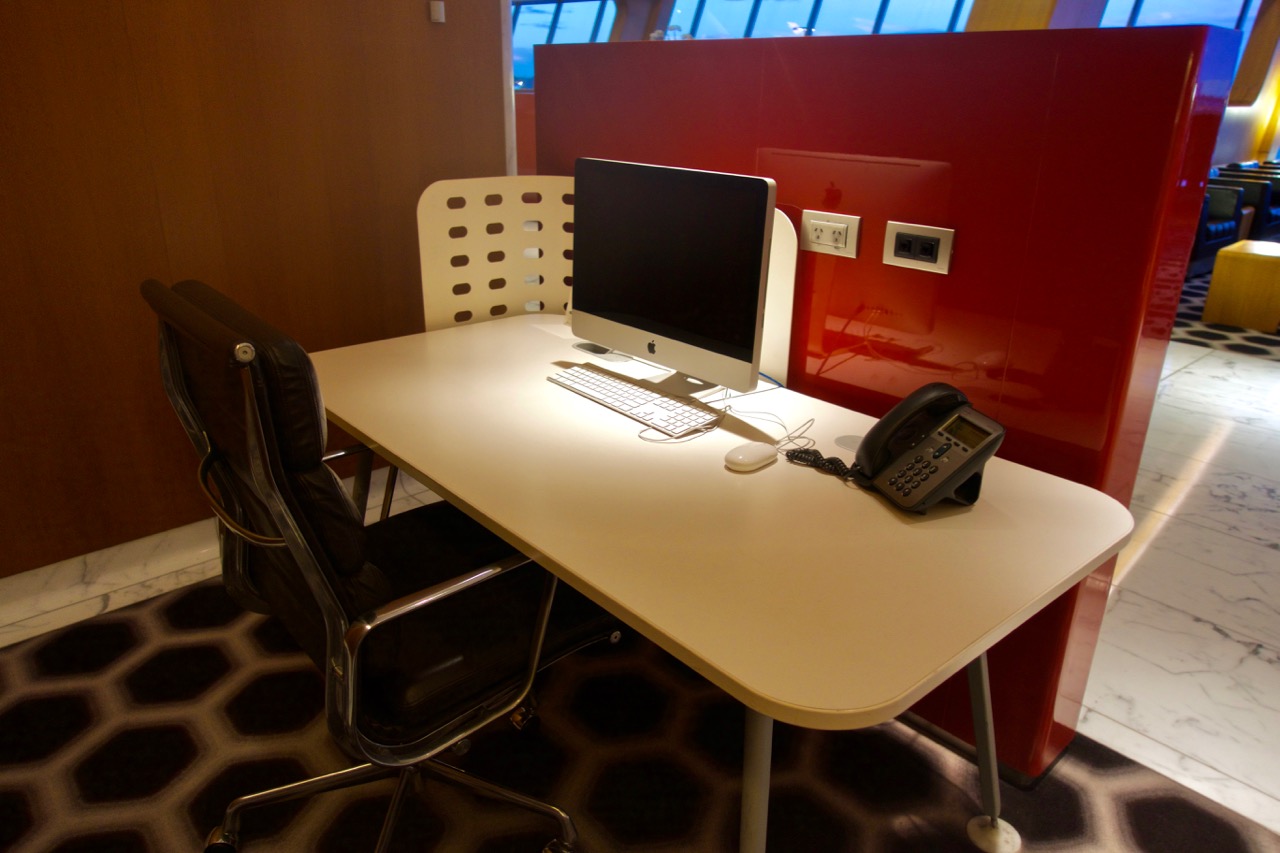 Food, Drink, Dining in Qantas First Class Lounge Sydney
The lounge is fronted by floor to ceiling windows looking out over Sydney Airport's tarmac – you'll have this view all throughout the dining area and other parts of the lounge.
It makes for one of the most interesting places to eat a high quality meal. Neil Perry and Rockpool group have managed the menu here since launch, and it remains consistently good in both choice and execution.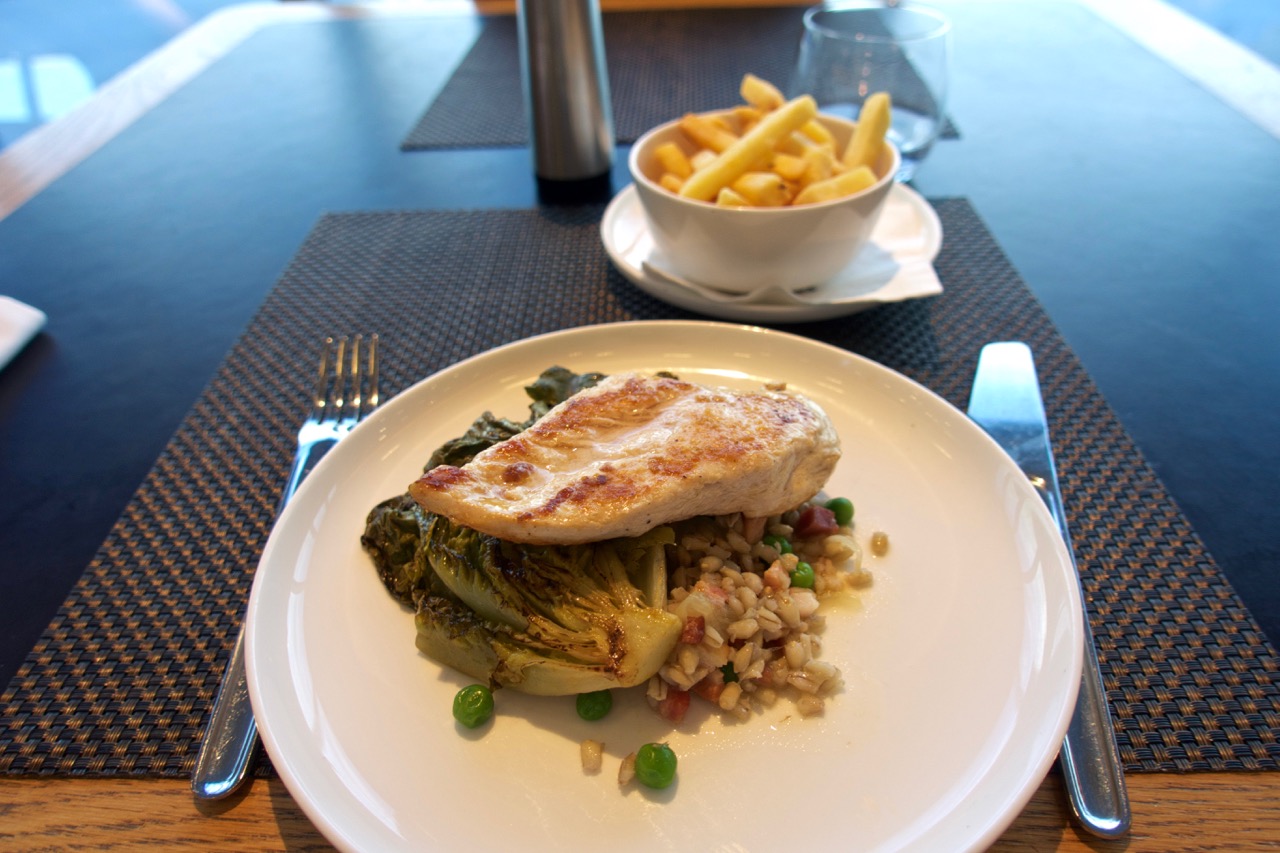 You'll have a choice of sit down dining, although scoring a window table takes good timing or a wait, or you can eat at a lounge or the bar if you prefer.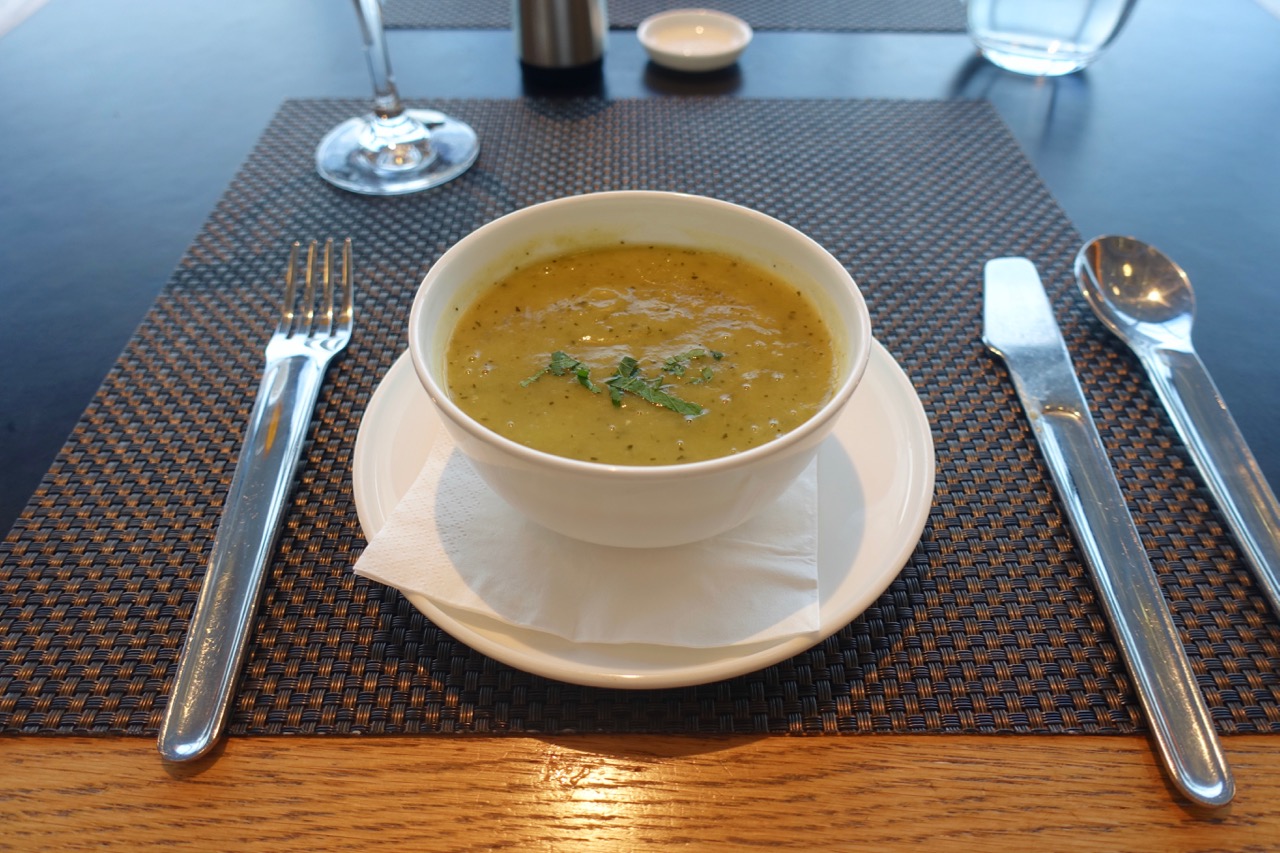 Choose as many courses and sides as you can fit in (or try).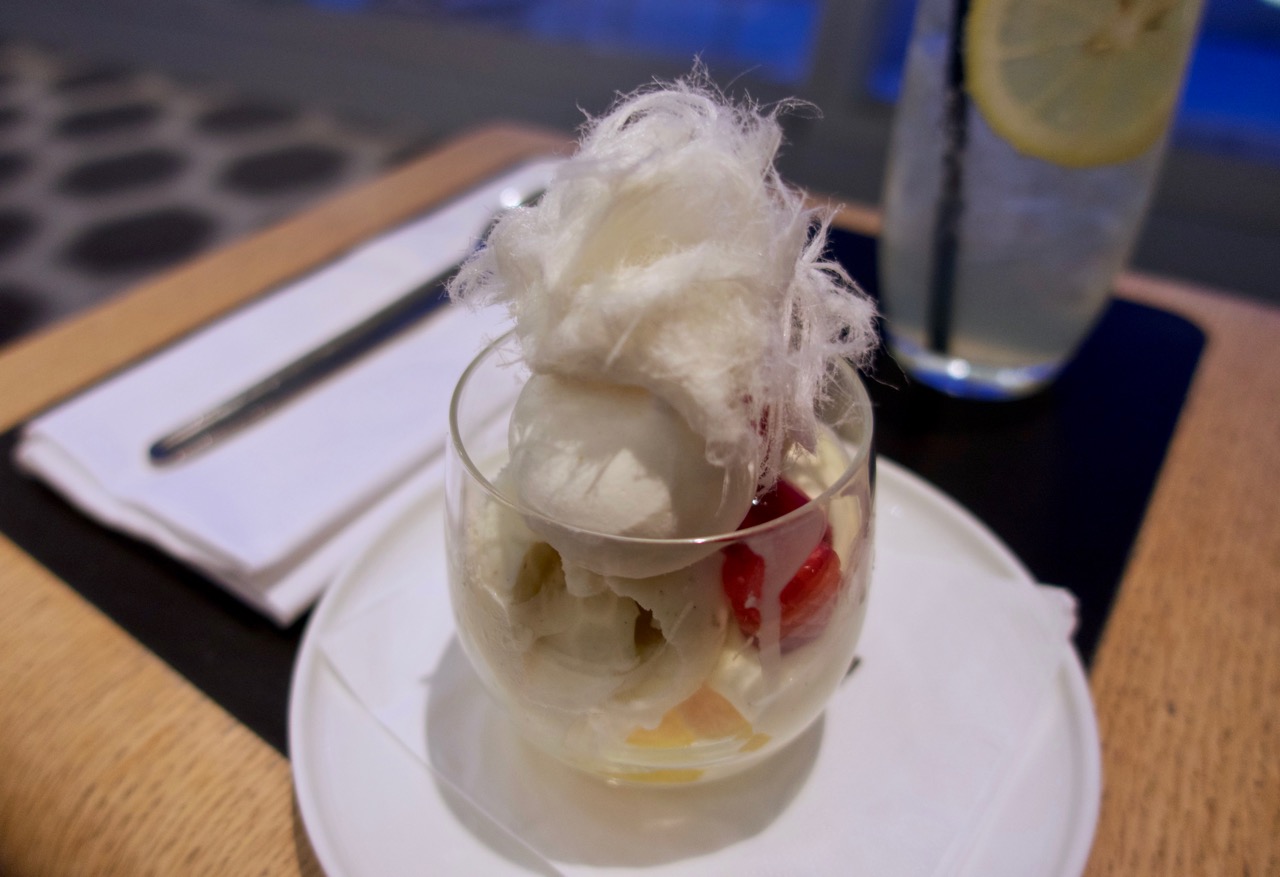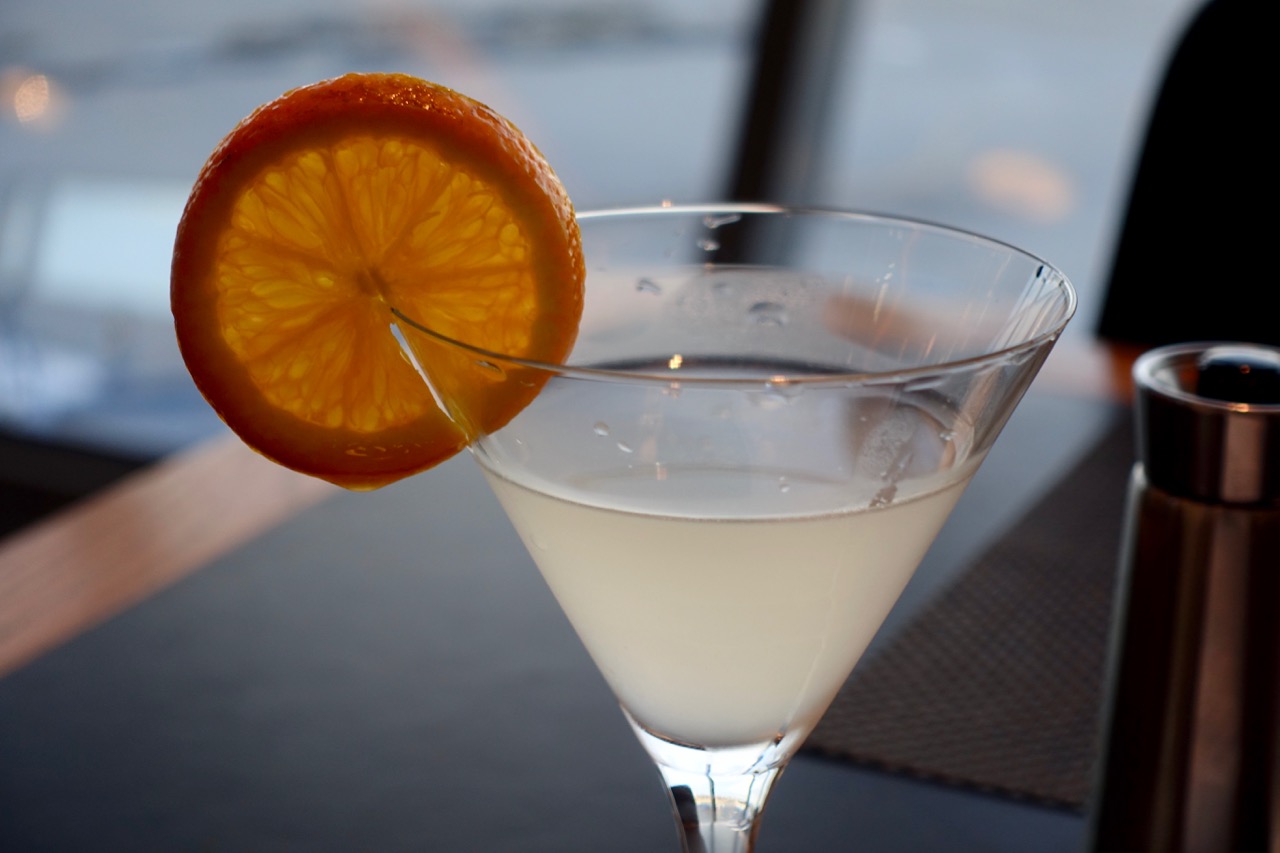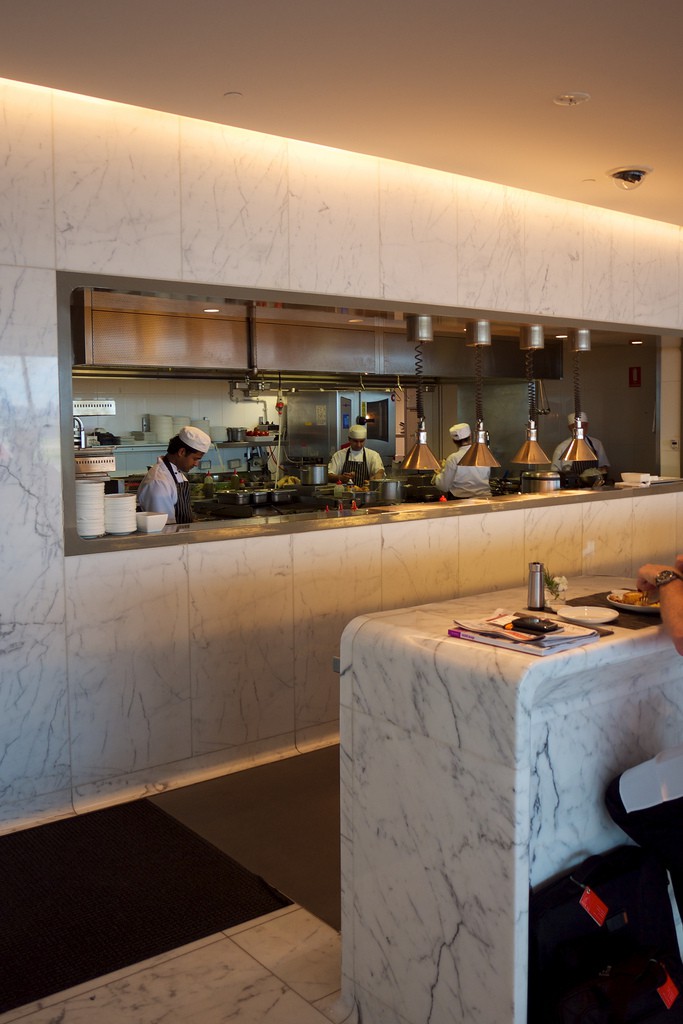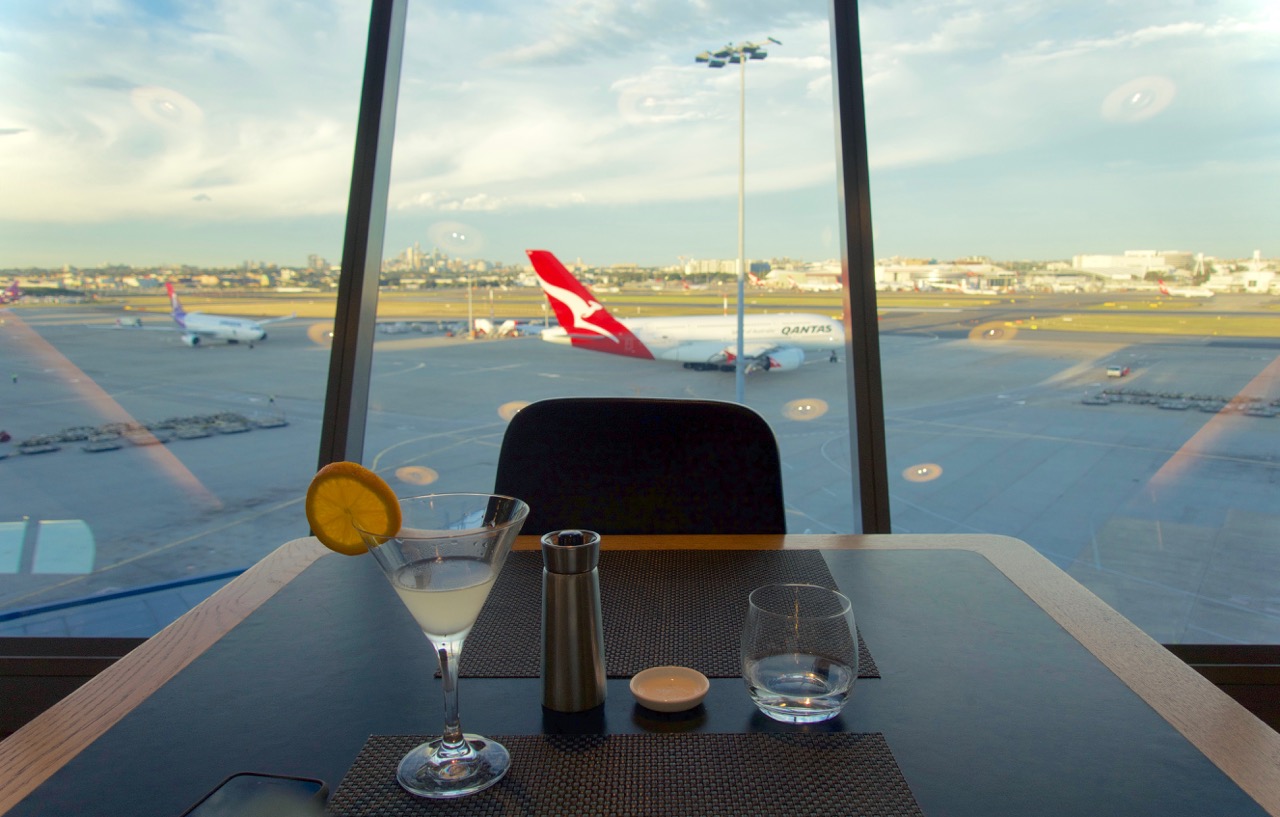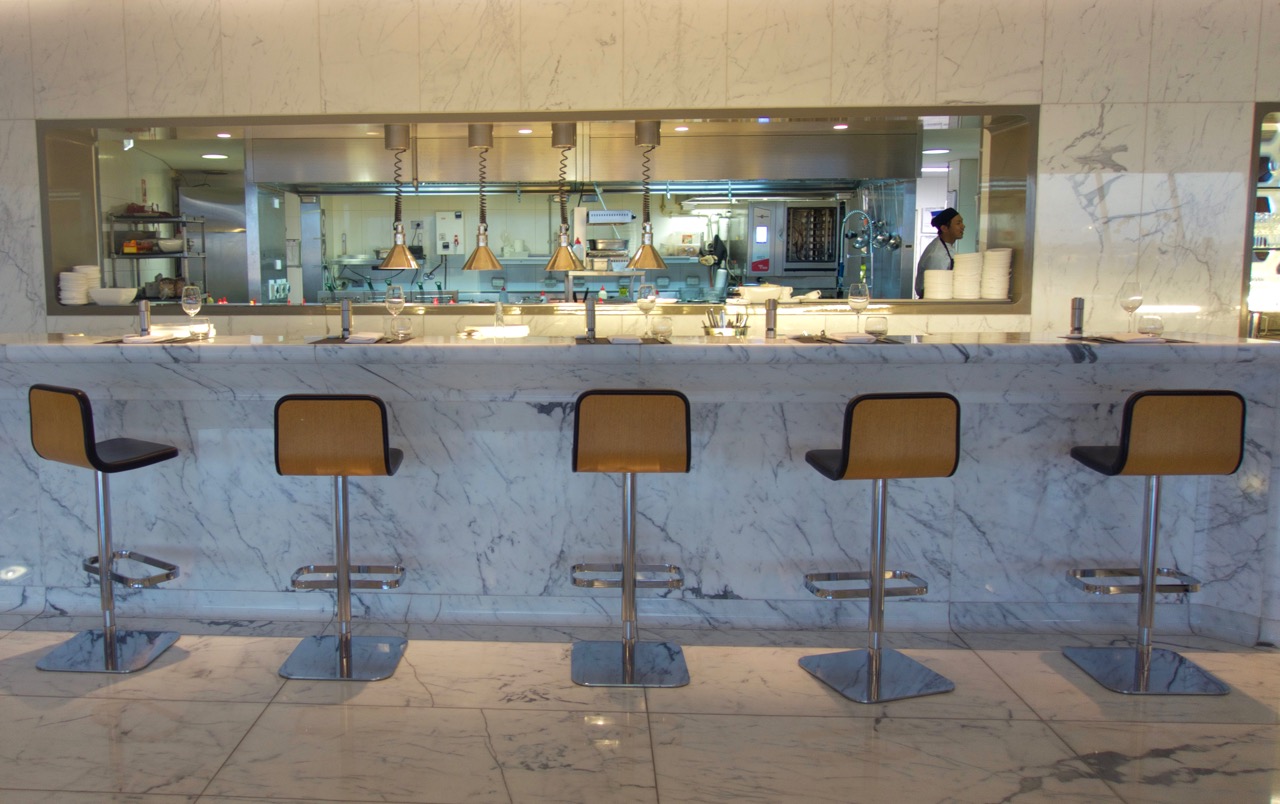 Spa
The spa is something you can pre-book if you are actually traveling in First Class, but can get very busy at times.
The spa opening hours are 8am to 4pm and appointments are limited to 20 minutes. This is a reduction in service in recent years, but is still a nice perk – just not as enjoyable as previously.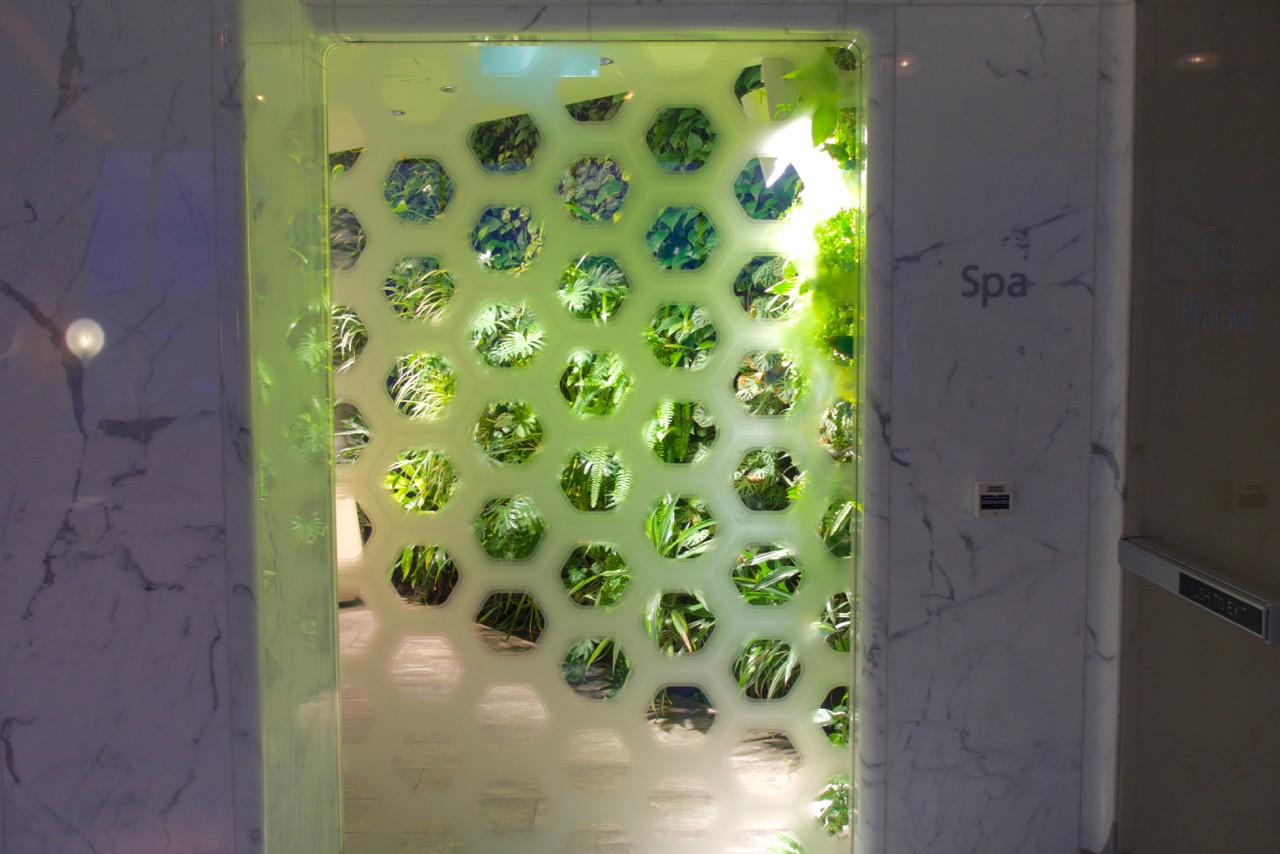 The massage rooms are decked out with the signature green walls too, and are pretty inviting.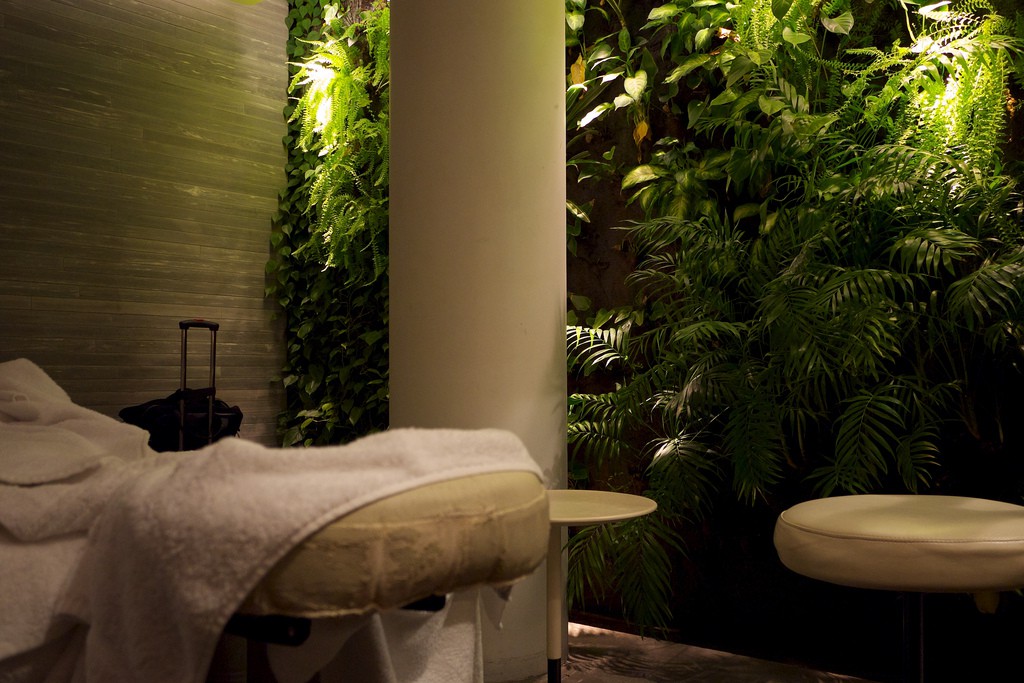 Other Qantas Lounge Reviews
Summing up
After several visits, the things that stick out to me about the Sydney Qantas First Class Lounge are the design and space, the views and the food.
The First Lounge goes above and beyond by allowing you to tailor your experience, with table service either in the restaurant area or at your lounge seats, a good menu, the spa offerings and the bar.
If I am lucky enough to have a flight booked that will offer me entry, I'll always try to set off an extra hour early to sit and make use of the space and time my arrival to work with meal times, if possible.
There has been little change to the environment in the decade that it's been open and I am sure that some true frequent flyers would know where there is room for improvement – but I still get a kick out of enjoying time here before I fly.
Qantas First Class Lounge Sydney Overview
was last modified:
July 16th, 2018
by