Qantas' subsidiary QantasLink operates around 2000 flights each week, normally doing one- to two-hour hops between regional towns and metropolitan cities in Australia. This guide reviews one such route from Rockhampton to Brisbane in Economy Class.
Booking a QantasLink-operated flight is no different from booking a regular Qantas flight in terms of redeeming and earning Qantas Points and Status Credits. Although, most people probably wouldn't want to use their hard-earned frequent flyer points for a domestic short-haul flight, but it can be done.
Fleet & routes
The Dash 8 turboprop aircraft makes up the majority of QantasLink fleet, with the airline owning 3 Dash 8-Q200s, 11 Dash 8-Q300s and 31 Dash 8-Q400s. QantasLink also operates 20 Boeing 717-200, 2 Airbus A320-200 and 17 Fokker aircraft, none of which, however, fly in or out of Rockhampton.
QantasLink operates between a network of 56 metropolitan and regional destinations across Australia, so you will find the Dash 8s only flying on domestic routes, with the exception of Cairns to Port Moresby.
The cabin & seats

The seat pitch is surprisingly good at 31 inches, providing more legroom than some of the bigger jetliners of Qantas. Seat width comes at a standard 17 inches.
As I am what some would refer to as a 'shorty' (164cm), the photo of my legs does not provide a very fair overview of the actual legroom
Therefore, I asked my partner who is average height (183cm) to take a photo of his legroom.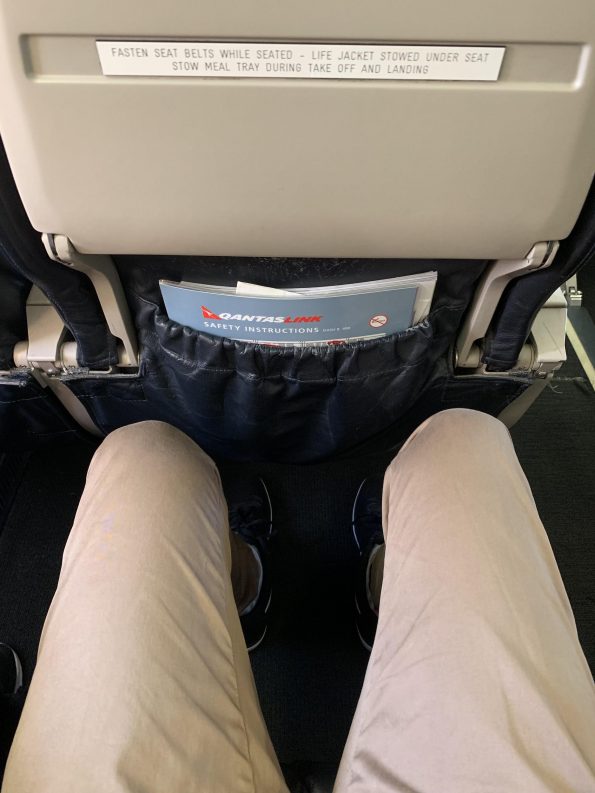 It is obvious that very tall passengers might still lack legroom, however, for passengers of average size (and below, like me) the seats are fairly comfortable for a short-haul flight. You can store your bag underneath the seat in front of you, but it is much more convenient to place your bags in the overhead lockers to maximise legroom.
The seats themselves are a little outdated, especially in terms of the seat design and upholstery. However, it should be noted that QantasLink is currently refurbishing all of their 45 turboprop aircraft, due to be completed by the end of 2019.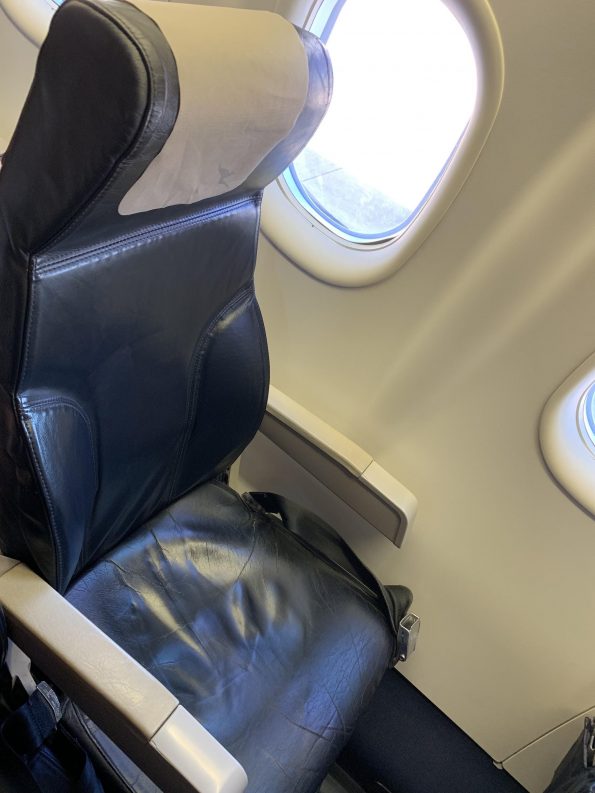 There is also no headrest, and the armrests are quite slim and hard.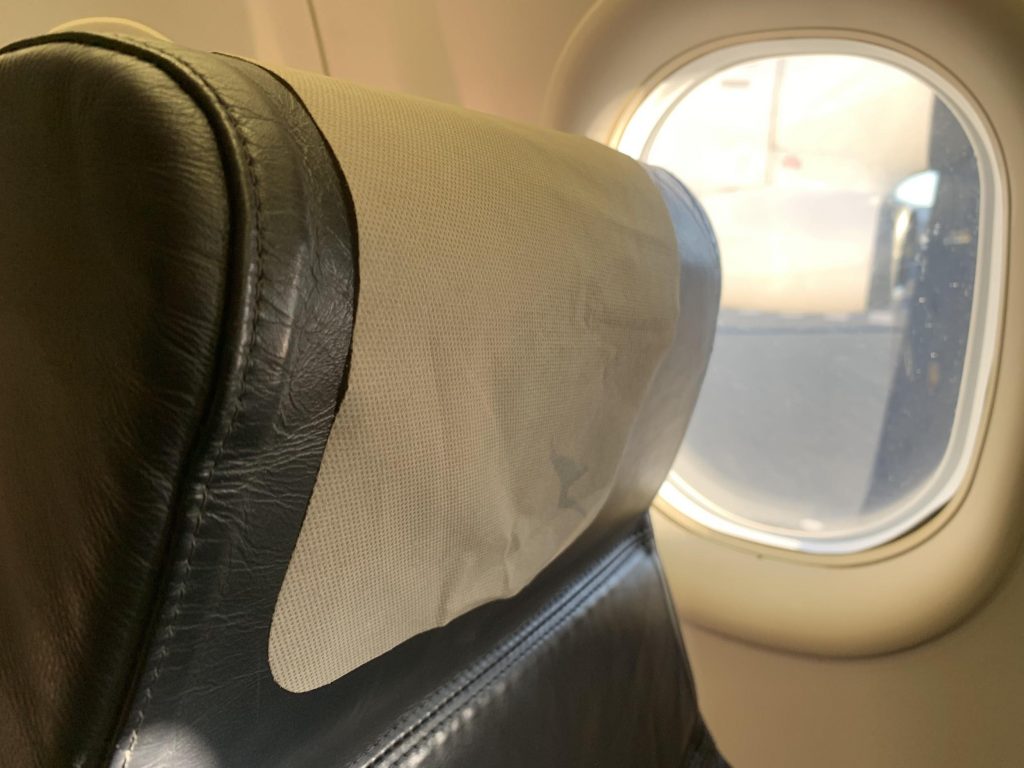 The seats lack a recline option, so you must be a very deep sleeper to get comfortable shuteye on these types of flights. On the other hand, reclining on a short flight like this is not necessarily a 'must-do', so the inability to recline can be seen as a positive, as this assures everyone can have their personal space.
Seat choice
As the Dash 8 features an all-economy layout, all seats have the same pitch and width, except for the exit row seats which are located in the front of the cabin.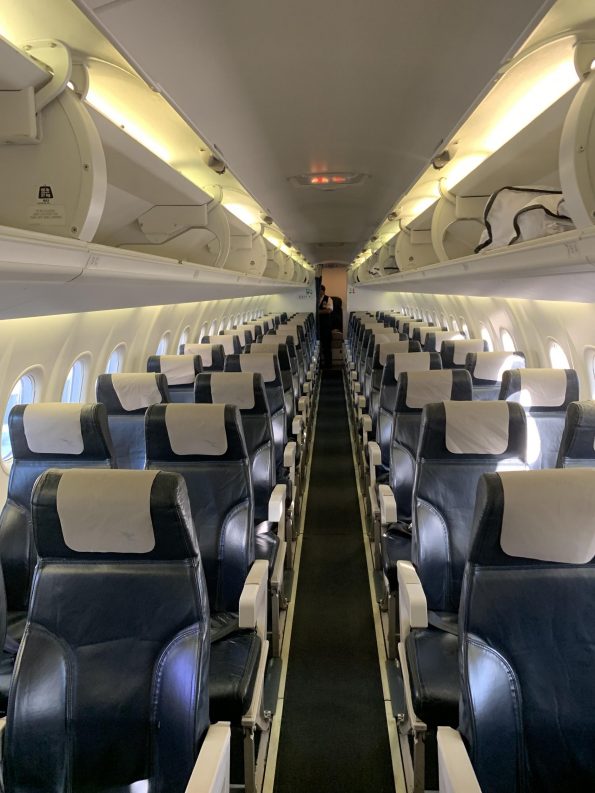 The best out of the four exit row seats would probably be 1B in terms of legroom, as the other three have a bulkhead in front, restricting legroom. Choosing an exit row seat also means that no bags can be stored in front of your feet.
Passengers sitting in 1B, however, should be prepared to have a stare-off with the flight attendant, as 1B is directly facing the crew seat in the front. While this could sometimes be awkward during takeoff and landing, the flight attendants often love to make conversation with the person sitting opposite to them, which can be entertaining and insightful, as well as make these parts of the flight go faster.
It should be noted that seat allocation is not available until you are checked in (which becomes available 24 hours prior to the flight). Once you've checked in online, seat selection is free, and as all seats are classed as standard seats there are no extra costs involved. However, keep in mind that most exit rows and seats in the front of the plane are often reserved for higher-status frequent flyers.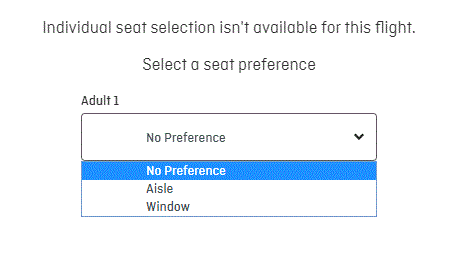 Although seat selection is not available when booking your flights, you can still choose a preference in terms of a window seat or an aisle seat. Personally, as a solo traveller, I would recommend a window seat anywhere in the plane, as lower cruising heights provide beautiful snapshots of the scenery.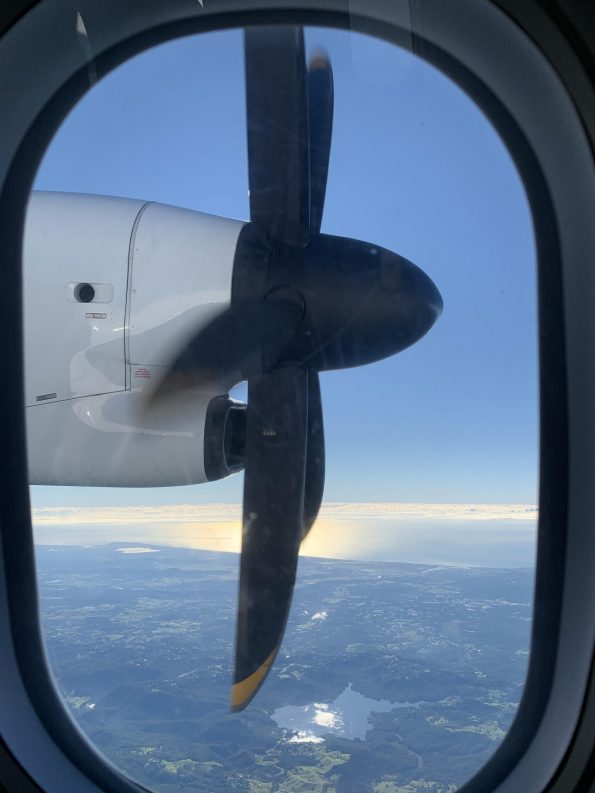 Being a turboprop airplane, the propellers do generate quite a bit of noise. Taking this, as well as the small size of the aircraft into consideration, there are really no 'quiet' sections on the plane.
Food & drink
While QantasLink does not offer any hot meal options on their regional Dash 8 flights, they do serve snacks and refreshment boxes, depending on the time of the day you are flying.
I was on an early morning flight and received quite a substantial refreshment box, containing pear and raspberry bread, an apricot and coconut snack ball and an oat slice. Complimentary tea and coffee, as well as water, juice and a selection of soft drinks are also available upon request. Complimentary wine and beer service commences at 4pm daily.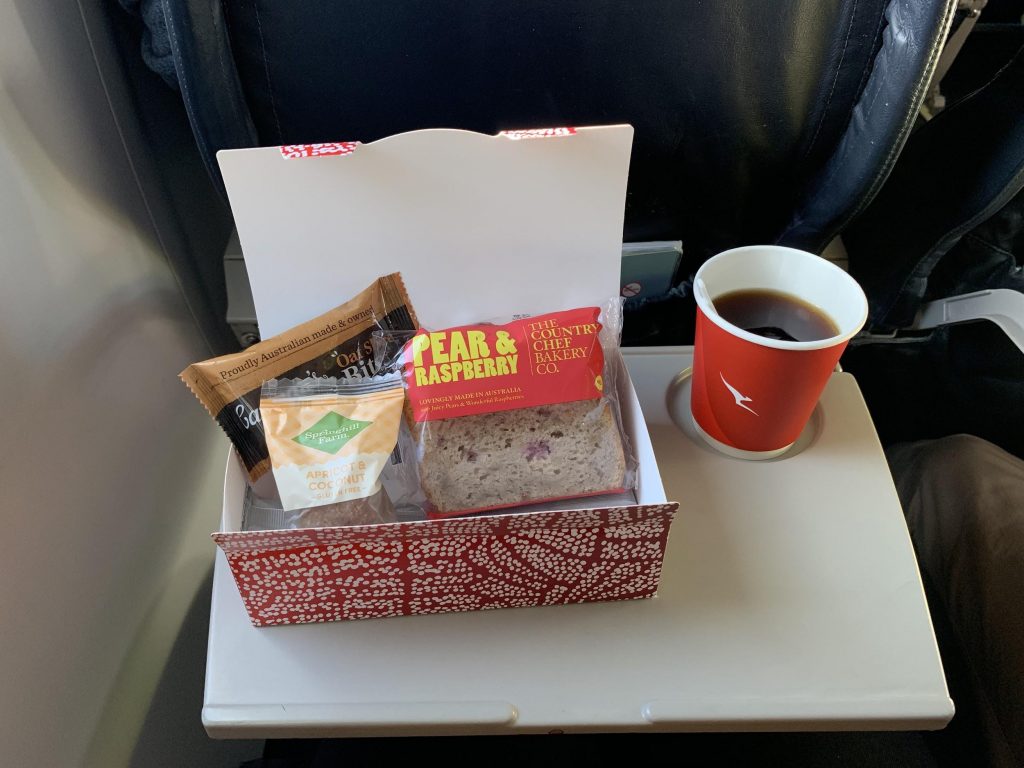 Customer service
Customer service on this regional flight was really outstanding. The smiling face of a Qantas flight attendant welcomes you on board and sends you off upon departure. Notwithstanding being an early-morning short-haul flight, all members of the cabin crew were extremely friendly and attentive, making sure all passengers were comfortable and looked after.
The meals and beverages were served quickly and in a professional manner, which isn't always easy on a flight that only lasts a little over an hour. The flight also landed five minutes early, which is always a plus.
Additionally, just before landing, the flight attendant went through the cabin to offer everyone a refreshing mint. This is a simple yet sweet touch that leaves the passengers joyful (and with minty-fresh breath).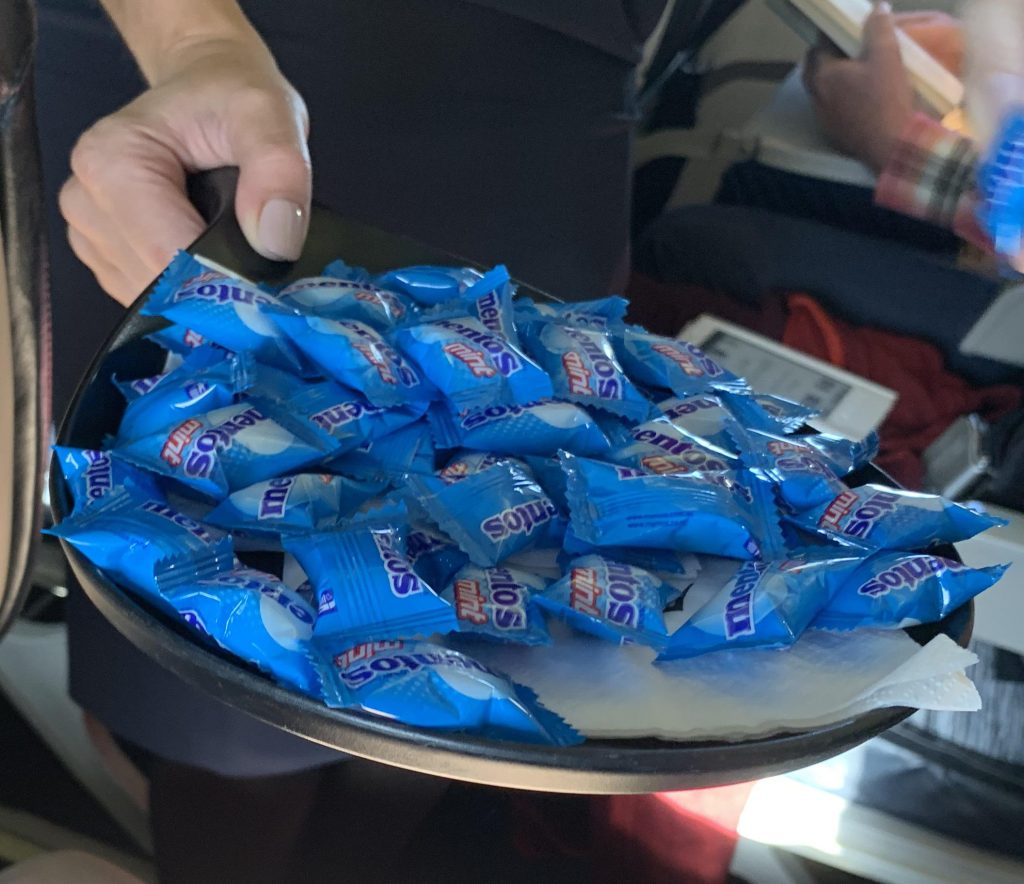 Inflight entertainment
The Dash 8s are not equipped with inflight entertainment or Wi-Fi.
The two Qantas magazines might keep you entertained for a little while, otherwise I would recommend bringing your own book, magazine, or a pre-loaded device with music, movies or TV-shows.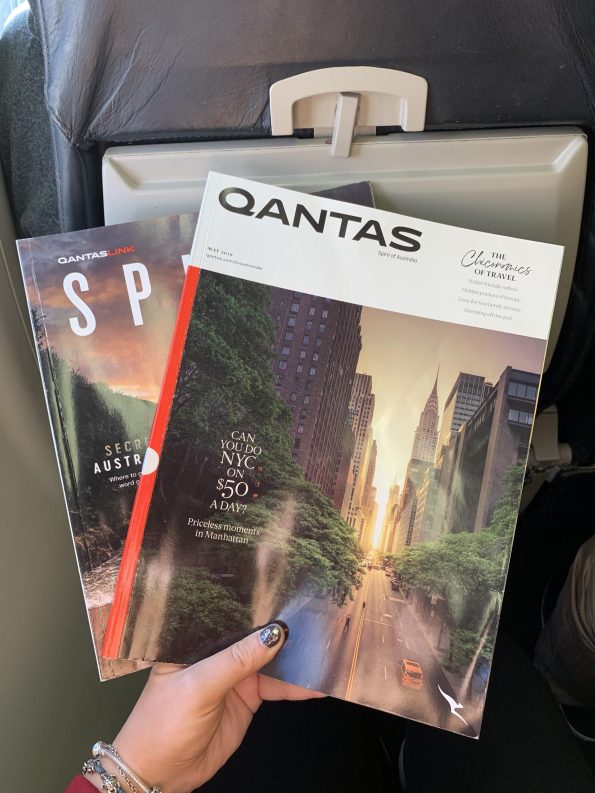 Amenities
There is a lavatory located at the front of the plane. Taking into account the size of the turboprop aircraft, the bathroom is consequently small but nonetheless functional.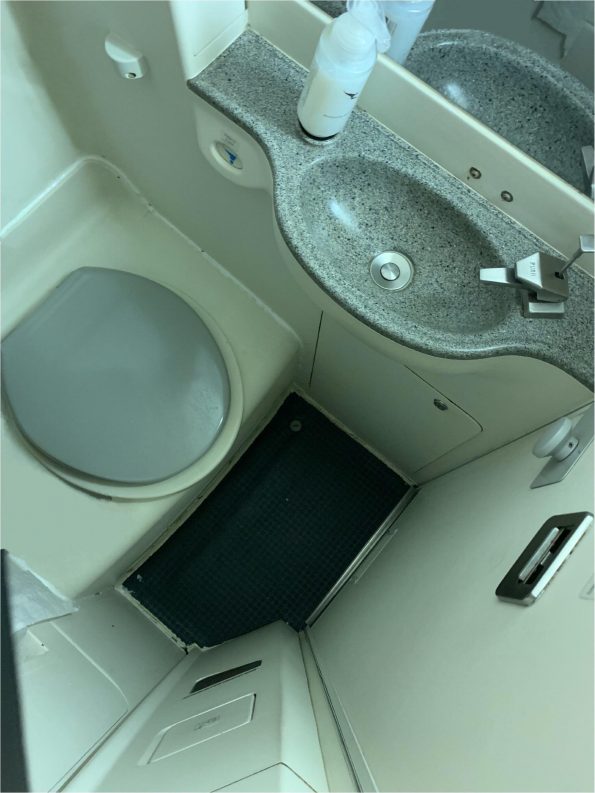 How to redeem points for this flight
This flight is redeemable for Qantas Points, either by selecting a Classic Flight Reward if available, paying only by points, or paying by points and cash.
Point Hacks generally recommends saving your points for Business or First Class redemptions, and not spend them on Economy fares, especially on short-haul flights. Nevertheless, regional flights like this are often running on monopoly routes, meaning that cash fares can be fairly high, or the availability of flights can be limited, especially close to departure. In these cases, using points can represent excellent value.
Booking a flight using just points (via points plus pay method) offers the least value, as the points value is calculated based on the ticket cost. The higher the cash value of the ticket, the higher the amount of points needed to book the flight. Booking this particular flight with only points would have cost me 27,100 points for a standard ticket that equates to 0.68c per point, well below our valuation for a Qantas Point.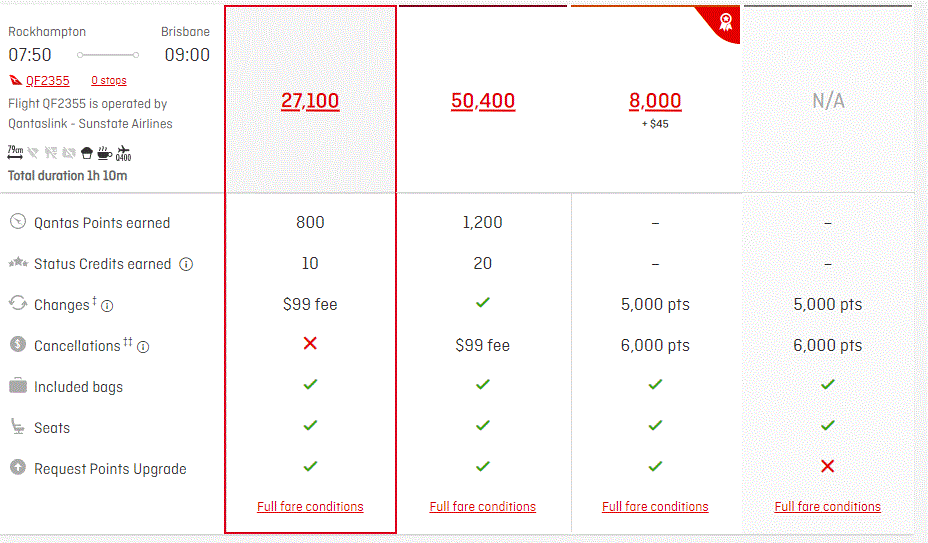 Booking a flight using Classic Flight Rewards can certainly be more beneficial in terms of receiving value for your points. Classic Flight Rewards do not change, regardless of the ticket cost changing. Instead, they are calculated based on the distance and travel class.
When booking this flight using Classic Flight Rewards, I would have paid 8,000 points + $45 in taxes for an Economy Classic Reward seat, representing 1.75 cents per point value. While this is a huge improvement on solely using points, it still falls below our redemption target value of 2c per point. The value proposition would be better if the cash fare price were higher, which is often the case closer to departure.
You can use Qantas' points calculator for Classic Flight Rewards by entering your intended travel destination before even booking the actual flight, and the cost of the points remains the same. Keep in mind that Classic Flight Rewards seats are also subject to availability, and may not be offered on all flights. It should also be noted that booking a flight with Classic Flight Rewards does not earn you any Qantas Points or Status Credits.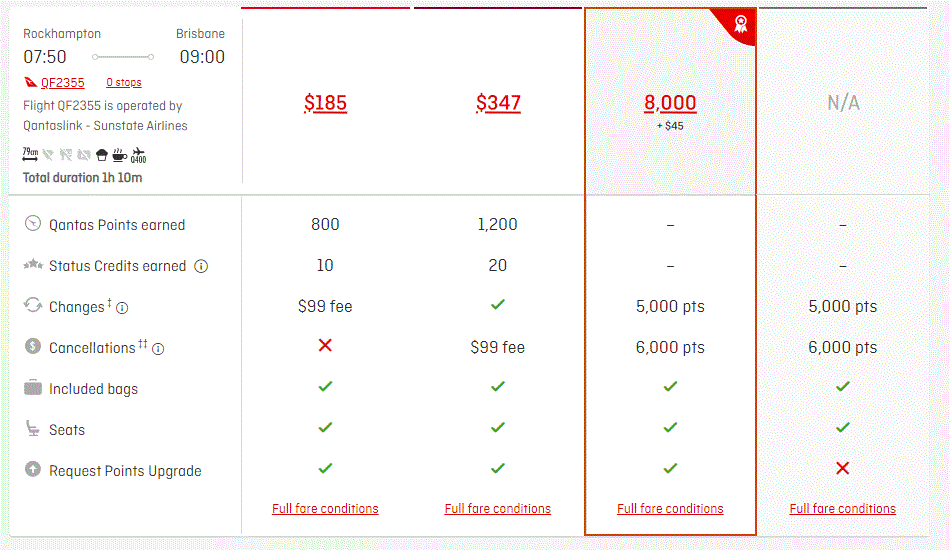 Using Points Plus Pay
Booking your flight with points and cash is also an option. Once you have selected your Qantas flight, you have an option to select 'Use Points Plus Pay' (you have to be logged into your Qantas FF account to do this). There you can change the ratio of Qantas Points and cash to your liking. Please do keep in mind that minimum points levels apply and are subject to change.
If I were to book this flight with points and cash, the minimum points that I would have had to spend was 5,000, leaving me with a cash amount of $152.51. Again, this is not great value, representing only 0.65 cents per point value. Booking a flight with points and cash does, however, earn you Qantas Points and Status Credits just like it would when paying fully in cash.

Lounge access
Eligible passengers and frequent fliers have access to the Qantas Regional Lounge in Rockhampton. The lounge opens an hour before each Qantas operated service and is located right next to the QantasLink check-in counters, before security.
The lounge does not offer a very wide range of snacks and drinks, but just the basics. It does however provide a private space with a couple of TVs, newspapers, magazines and power points to keep you well entertained for an hour before your flight departs.
Related reviews
Other Economy Class reviews
Summing up: why choose this flight?
For people in regional areas these types of flights are generally the only option they have, so flying on a Dash 8 can be perceived as more of a transit option rather than an experience as such. Furthermore, regional flights can often be more expensive due to the regional locations they fly between. The good side of this is that you can still earn decent points for the flights, as well as redeem your points if you wish.
It is also worth mentioning that the turboprop aircraft do not use aerobridges, and therefore, passengers either have to walk across the tarmac (regardless of weather conditions) or be taken on a bus to get to the plane.
Although Qantas does a decent job in making the flights on the turboprop planes as comfortable as possible, it is not the aircraft that is the highlight of the flight. The factor that differentiates the Dash 8 flights from others is the crew. During most of my Dash 8 flights, the flight attendants have been extremely welcoming and chatty, and provided excellent customer service.
What is great
Decent pitch size
Fairly comfortable seats
Complimentary food and drink
Friendly and professional staff
Ability to earn and redeem Qantas Points
What is not great
Lounge only open one hour before departure
No head rest on the seats
No inflight entertainment or Wi-Fi
Seat allocation not available until check-in
The turboprop aircraft do not use aerobridges
Qantas Dash 8-Q400 Economy Class overview
was last modified:
November 19th, 2019
by