Qantas now have a majority of their Airbus A330s reconfigured with their 'new' domestic Business Class cabins – despite them being first seen last year, their full fleet isn't quite finished.
That said, if you book yourself onto a Qantas A330 flight you should now find yourself with the reconfigured cabin more often than not – including on the Auckland – Perth route, and it's an absolutely fantastic seat.
In this guide we run through what to expect from the Qantas A330 domestic Business Class experience, and look at how to redeem a range of frequent flyer points currencies ↓ for the routes it most frequently flies.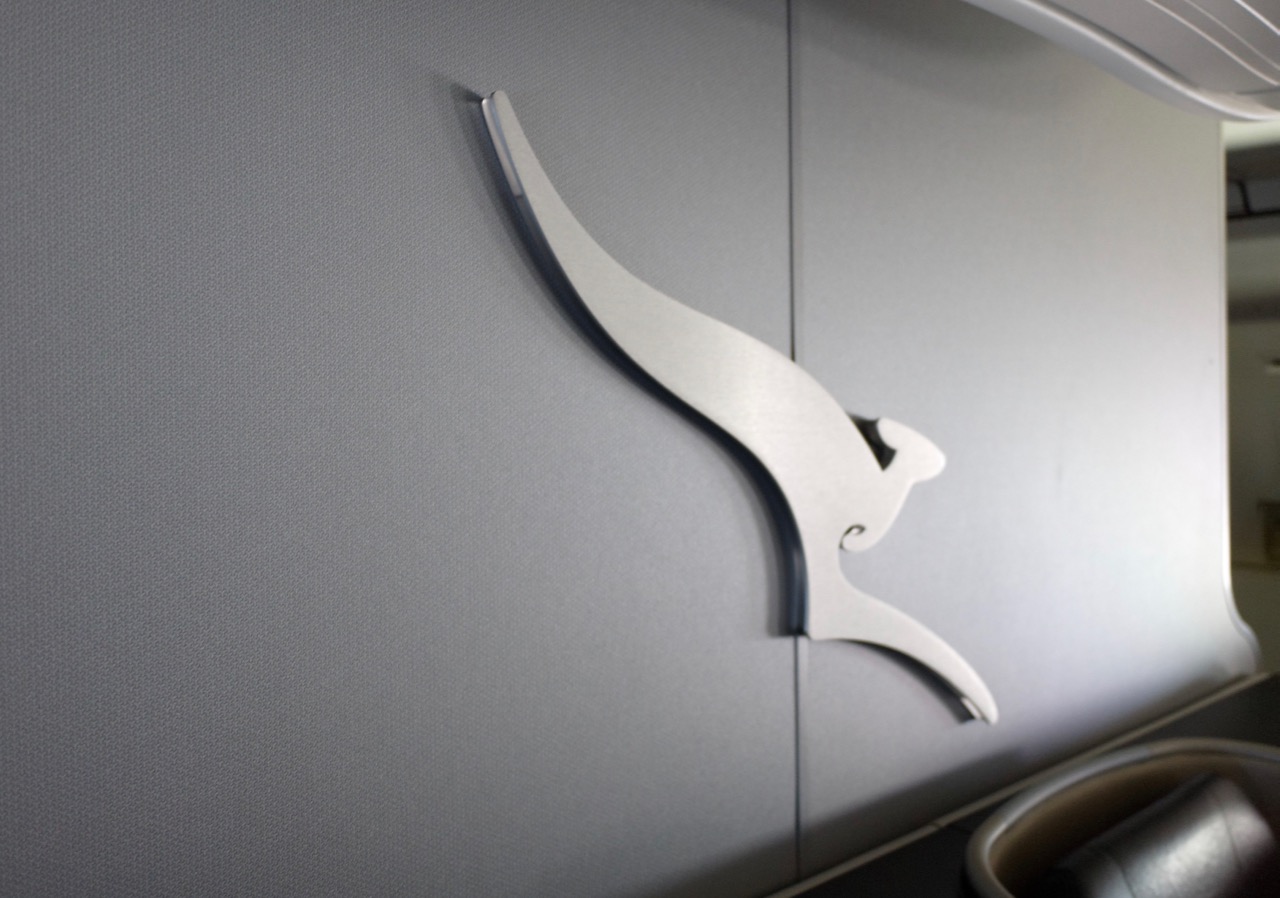 Fleet & Routes
Qantas have 18 Airbus A330-200 in their fleet (A332s), and 10 A330-300s (A333s). This is significantly larger that Virgin Australia's A330 fleet, with just six A332s operating. Our overview of Virgin Australia's new A330 Business Class is here.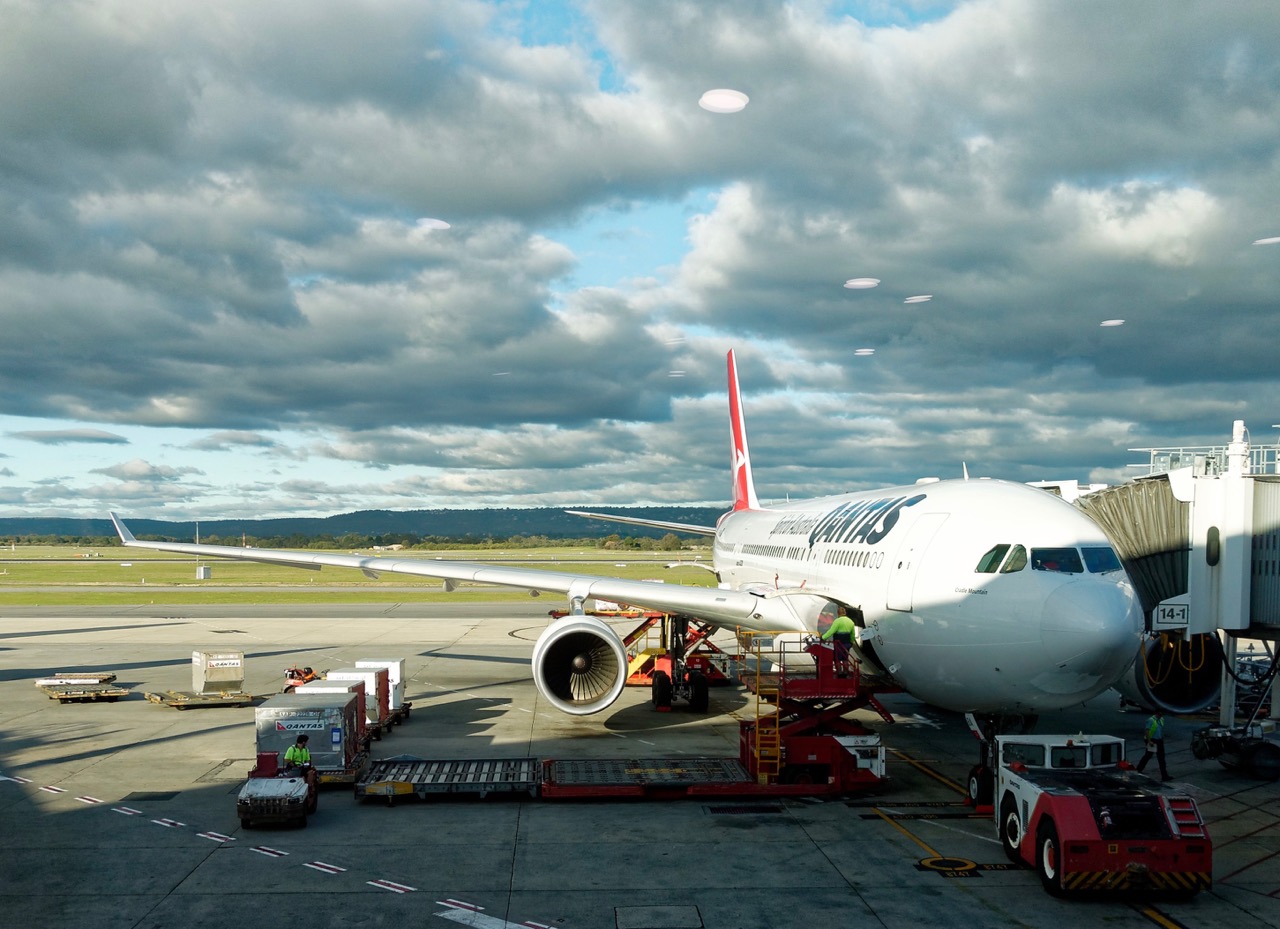 Qantas' own seat maps indicate that at the time of writing, all 10 of their A333s have been reconfigured, while there are 16 reconfigured A332s across two slightly different layouts (here and here).
The A332s are primarily used on domestic and shorter routes, but are also more frequently being placed onto the Auckland – Perth route, and are the focus of this guide. The seat and cabin are very similar between the Qantas A332 and A333 aircraft.
There is still a chance that an older A330 may be used on for Auckland – Perth – but on checking some recent and upcoming flight schedules, it seems like this reconfigured cabin is now available more often than not.
From here-out we'll use the term 'domestic A330' to mean the A332 fleet for our purposes, and we've combined a couple of different experiences with photos from each in this overview.
You'll find Qantas operating their domestic A330 fleet primarily between Brisbane, Sydney, Melbourne and Perth. Occasionally they are placed on short-hops to reposition amongst the East Coast capitals – you can read our short review of a Qantas domestic A330 flight between Sydney and Melbourne here, for example.
The Qantas Domestic A330 Cabin – Seats & Seatmap
There are 28 Business Class seats on Qantas' A330s, plus 243 Economy seats. Business Class seats have a large pitch of 78″ and are 21.5″ wide, while Economy weights in at a respectable 31″ pitch and 17.5″ width.
Qantas would like you to believe the experience they offer on their A330s is something like this:
There is a small mini cabin of two rows which is immediately in front of the Economy cabin, while the main cabin has six rows.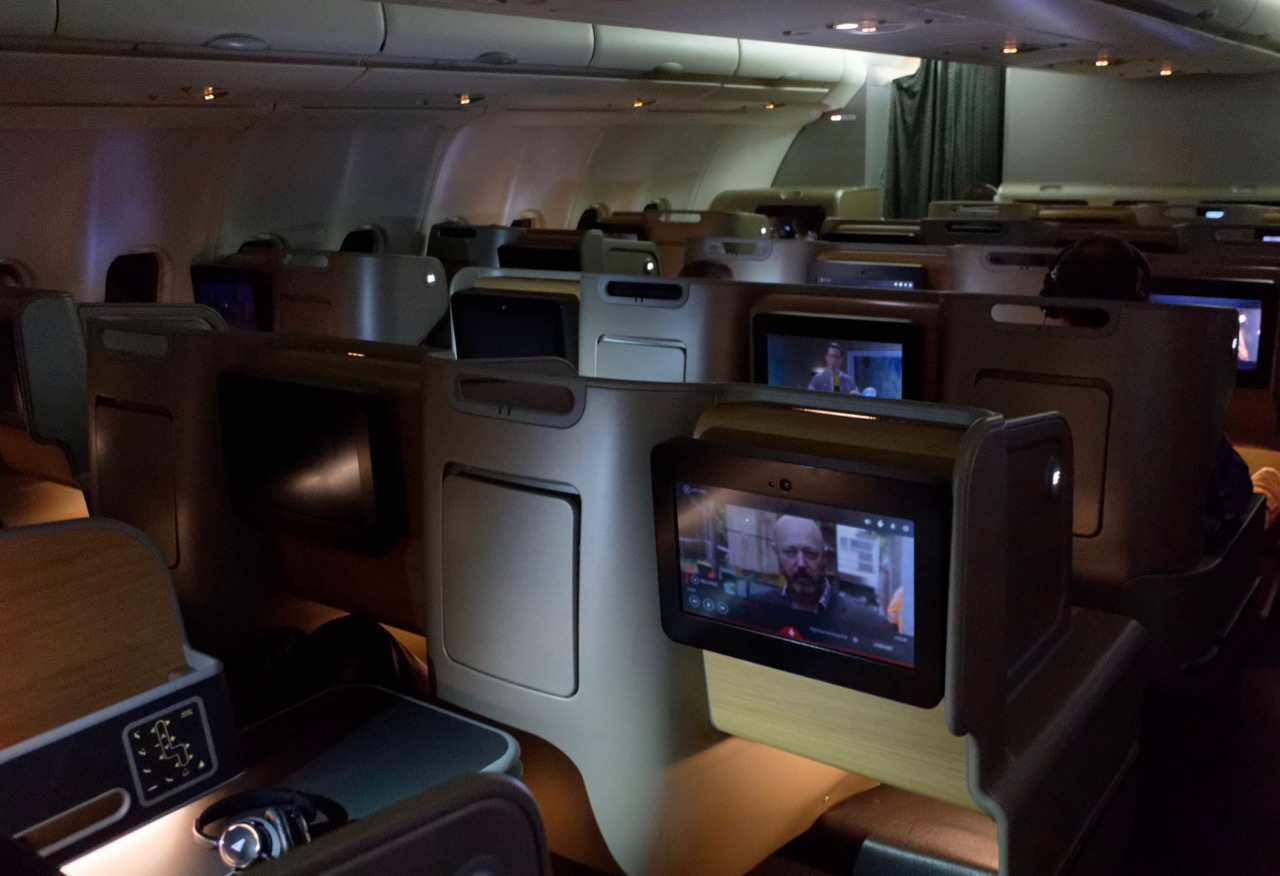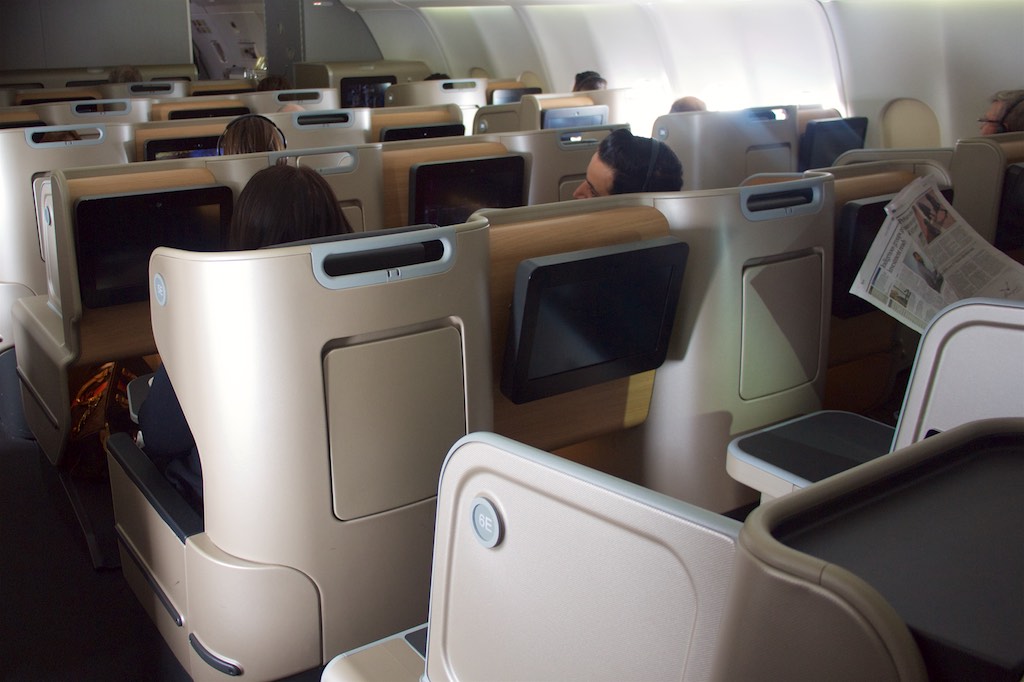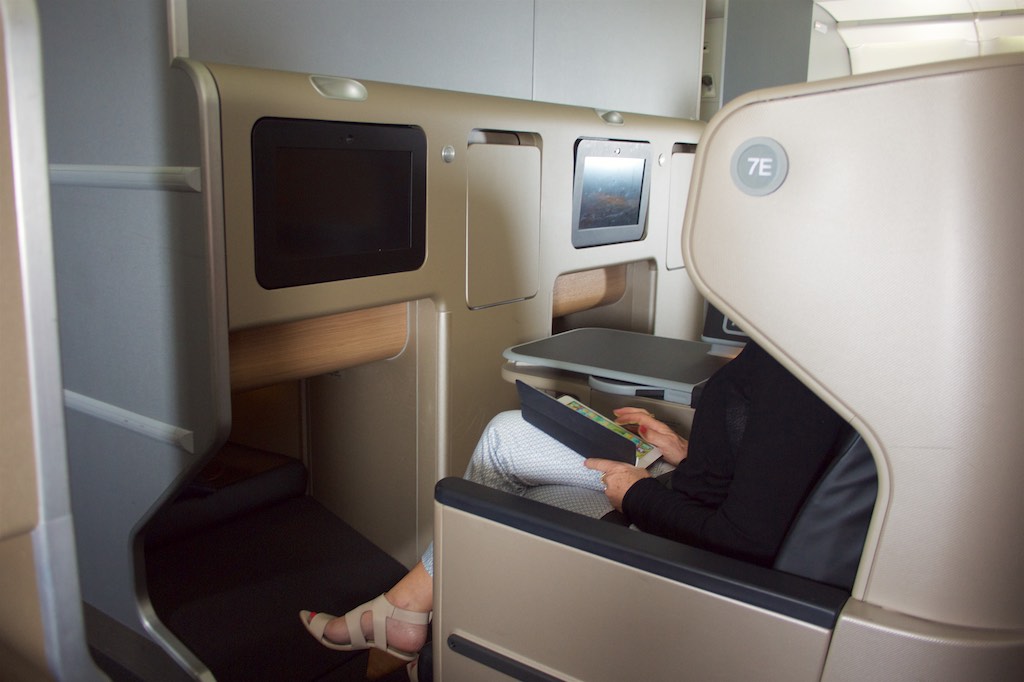 Boarding for the whole flight usually occurs from the doors between both cabins, so all Economy passengers pass through the rear mini cabin making it a lot more hectic and busier during boarding. There are also two Economy bassinet positions immediately behind the mini cabin to factor in as well.
That said, the rear mini cabin is quieter and more private once the flight is underway, and if there are no excessively loud infants in Economy behind you.
When it comes to the specific seats to choose, almost every seat in the A330 Business Class cabin has a slightly different set of attributes – each row is staggered so there are some window seats next to the window, and some where the seat is next to the aisle while the tray / storage are next to the window.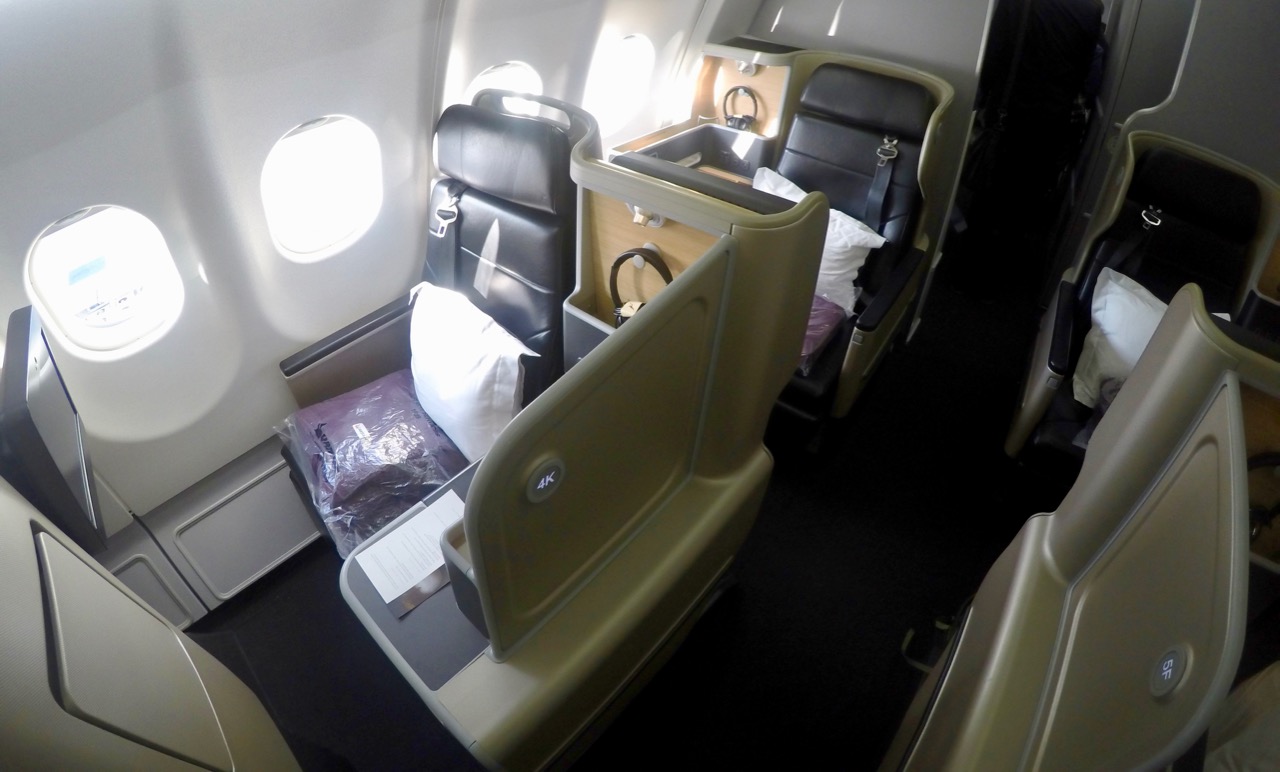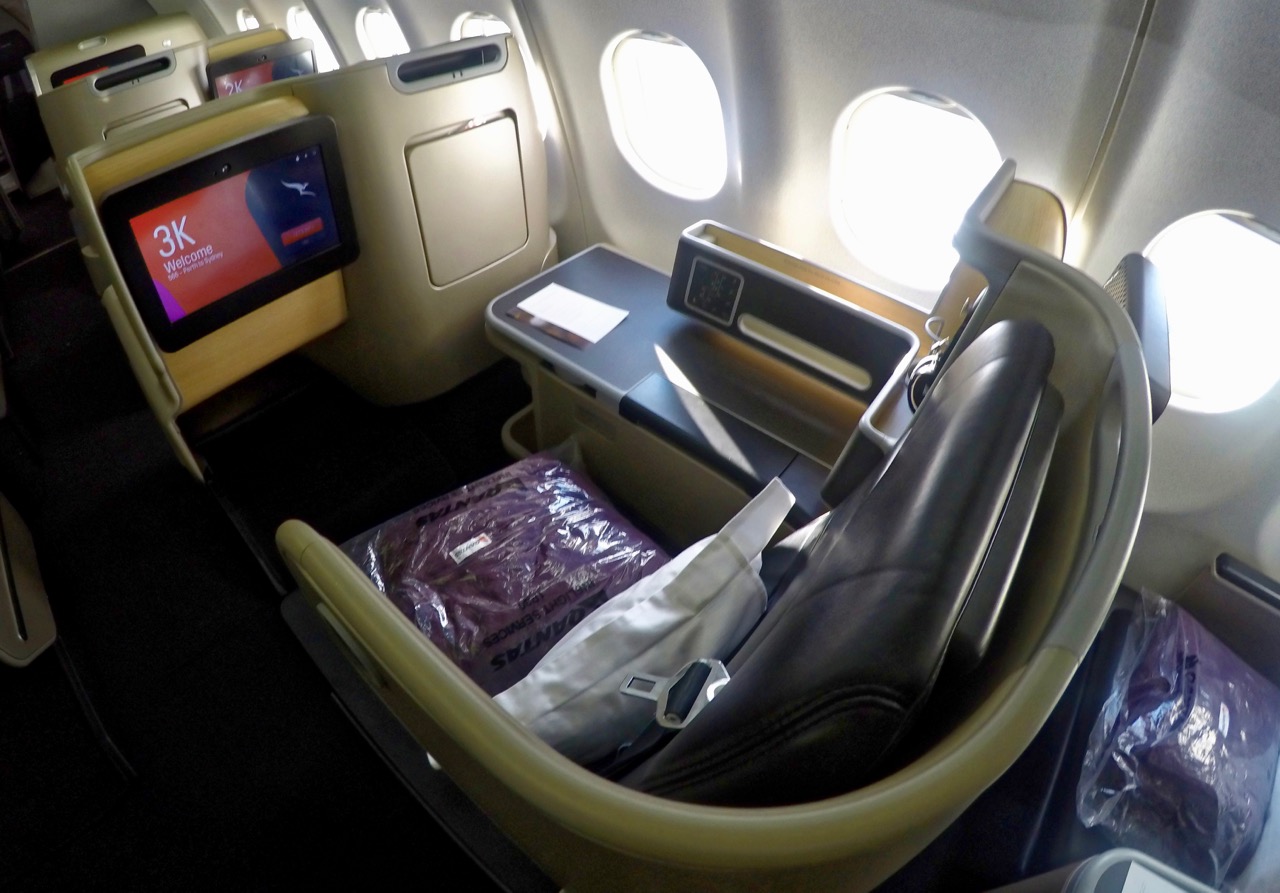 Personally, as a solo traveller I would aim for the seats right next to the window which are 2A, 2K, 4A and 4K. All other window seats have the seat next to the aisle, with the table adjacent to the window.
The only exception is row 7 in the rear cabin – as these are on a row on their own, they are particularly throne-like with a lot of space for single travellers – but keep the trade-offs or risks of picking that cabin as mentioned above in mind.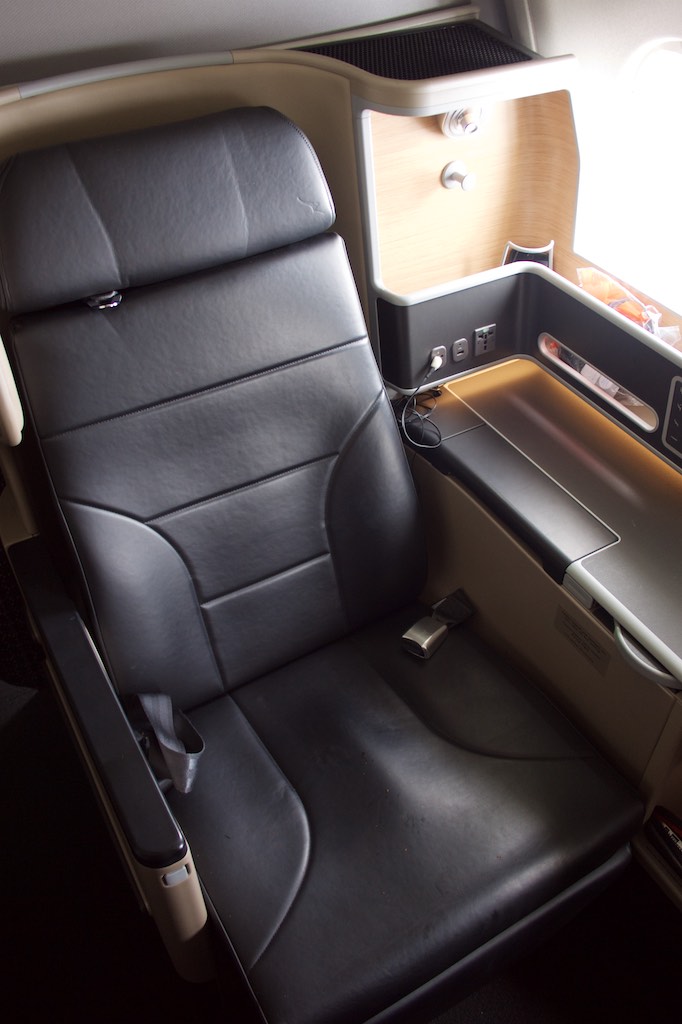 If flying as a couple or with family, any E and F middle seat is preferable than leaning or reaching across the aisle to converse. The side storage and tray divides all the E and F middle seats and each seat is still quite private.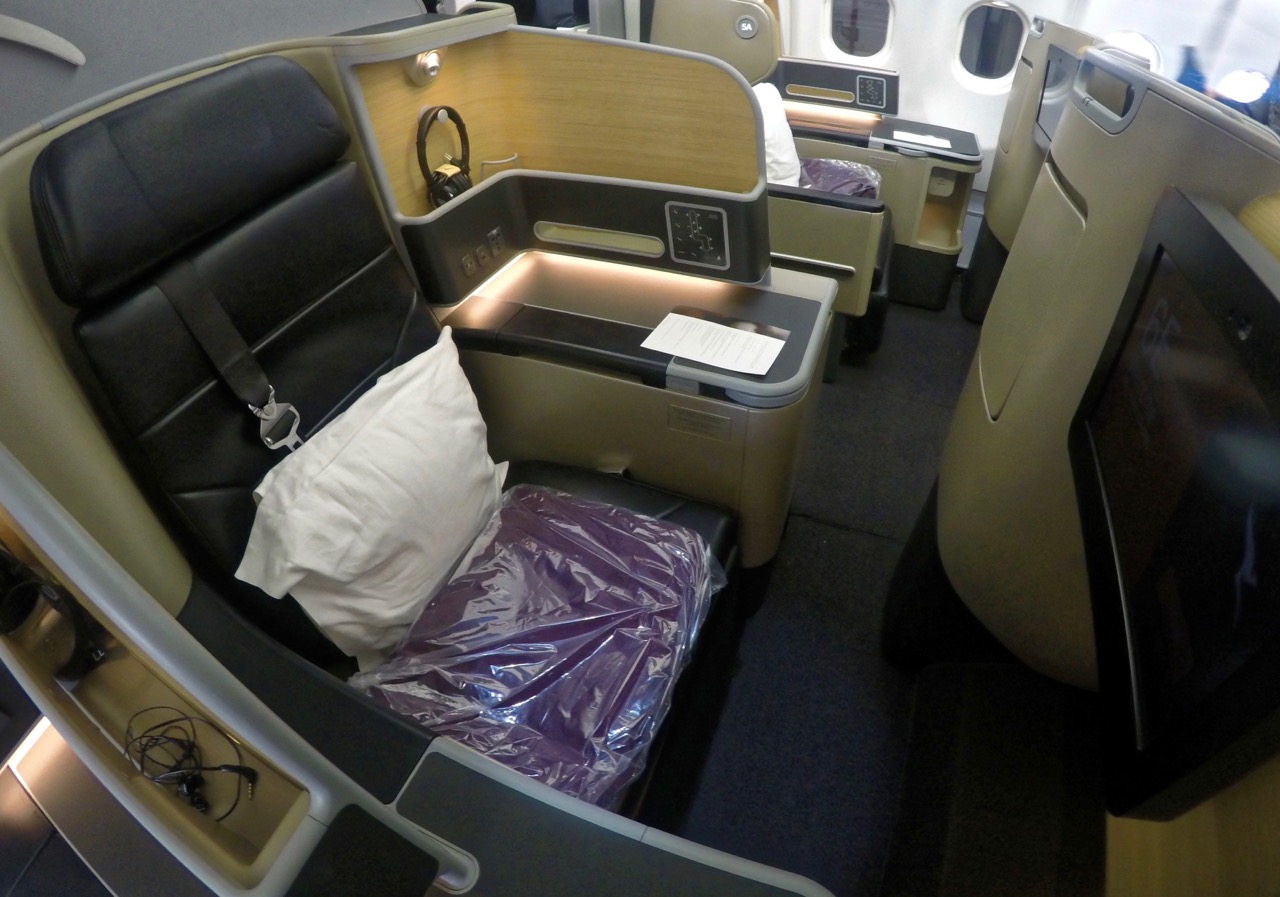 There's a number of nooks and crannies to stow your personal items around you with this seat – it's been well thought through. The main area for your gear is a large shelf immediately next to your seat, above which is a secondary shelf useful for wallets, glasses or keys. Just don't leave them behind.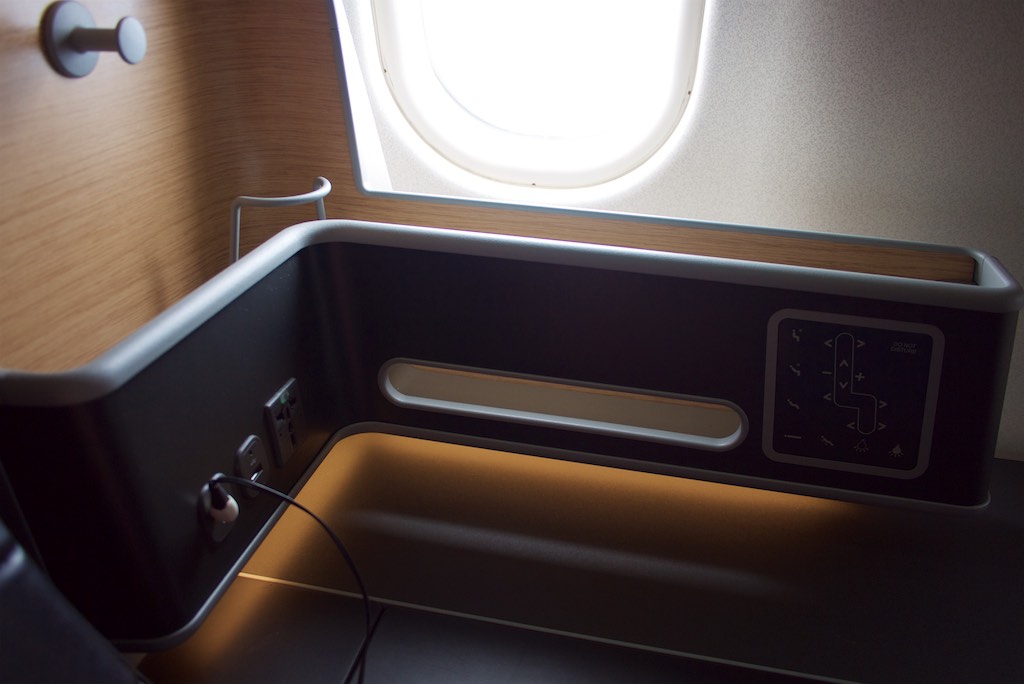 All seats transform into full lie-flat beds, with the small foot-rest in front of you turning into the end of the bed once the seat is fully reclined.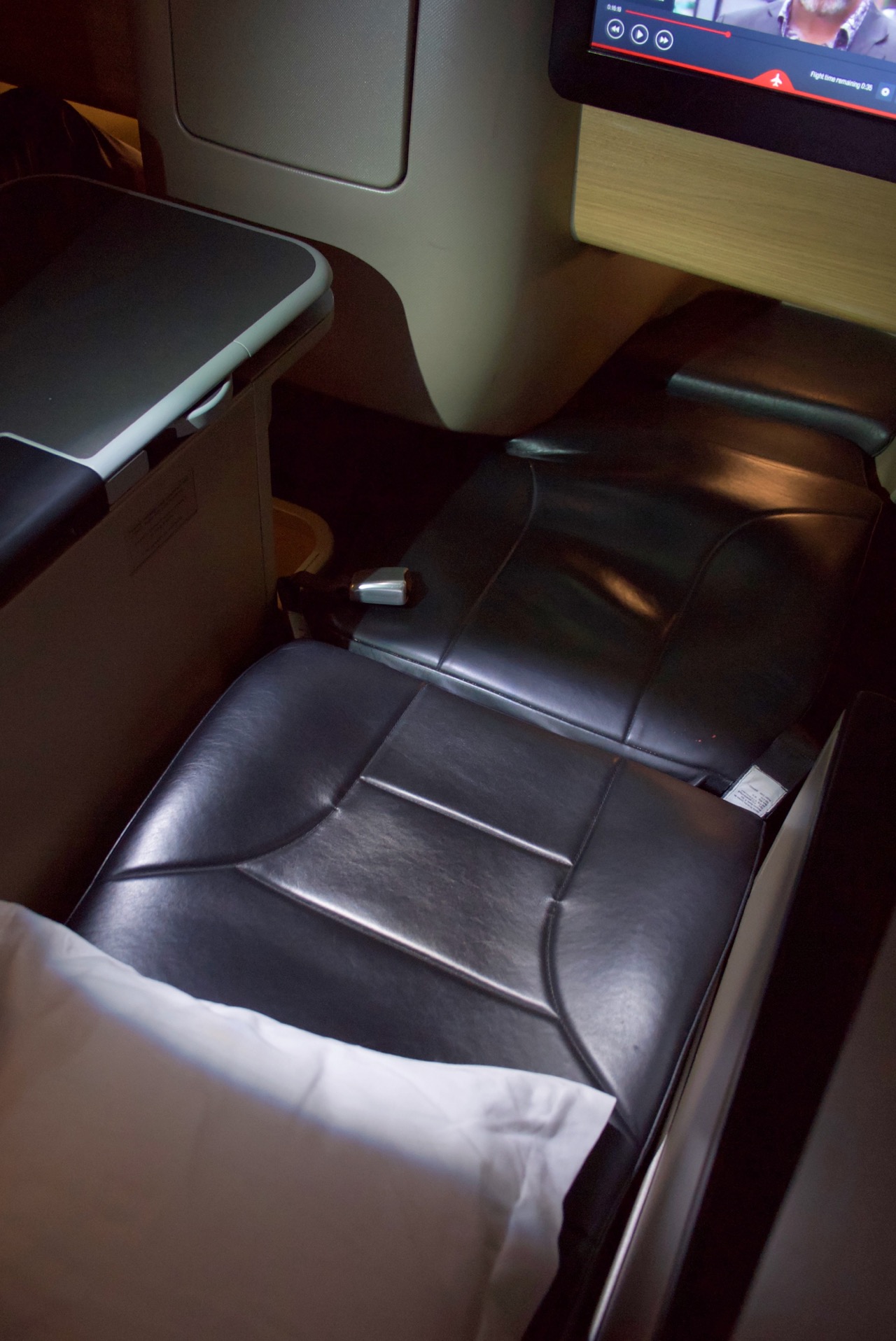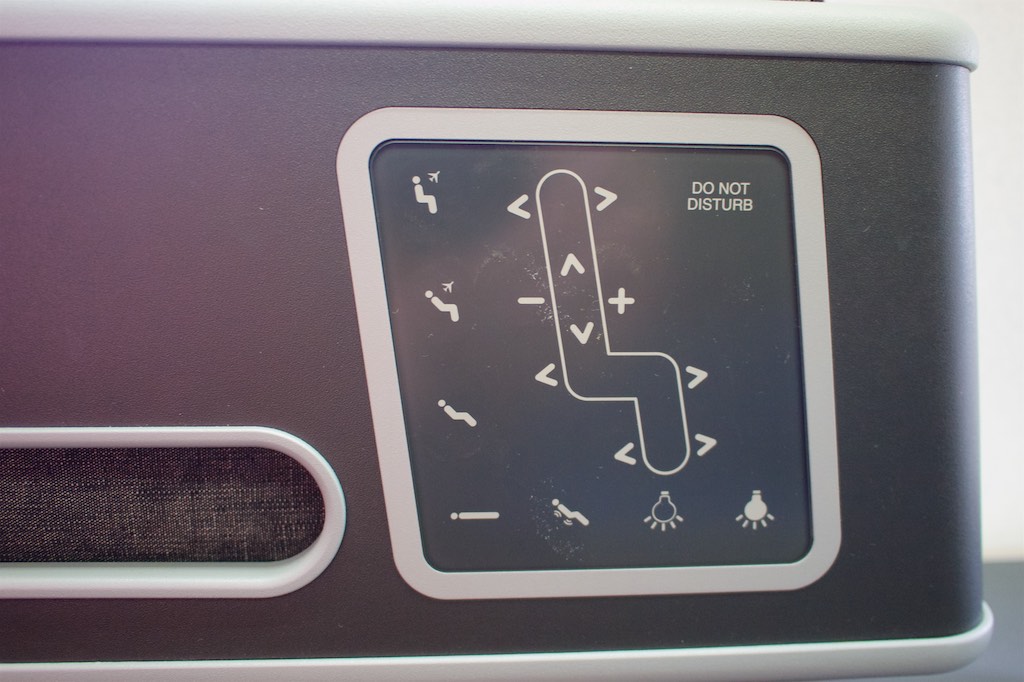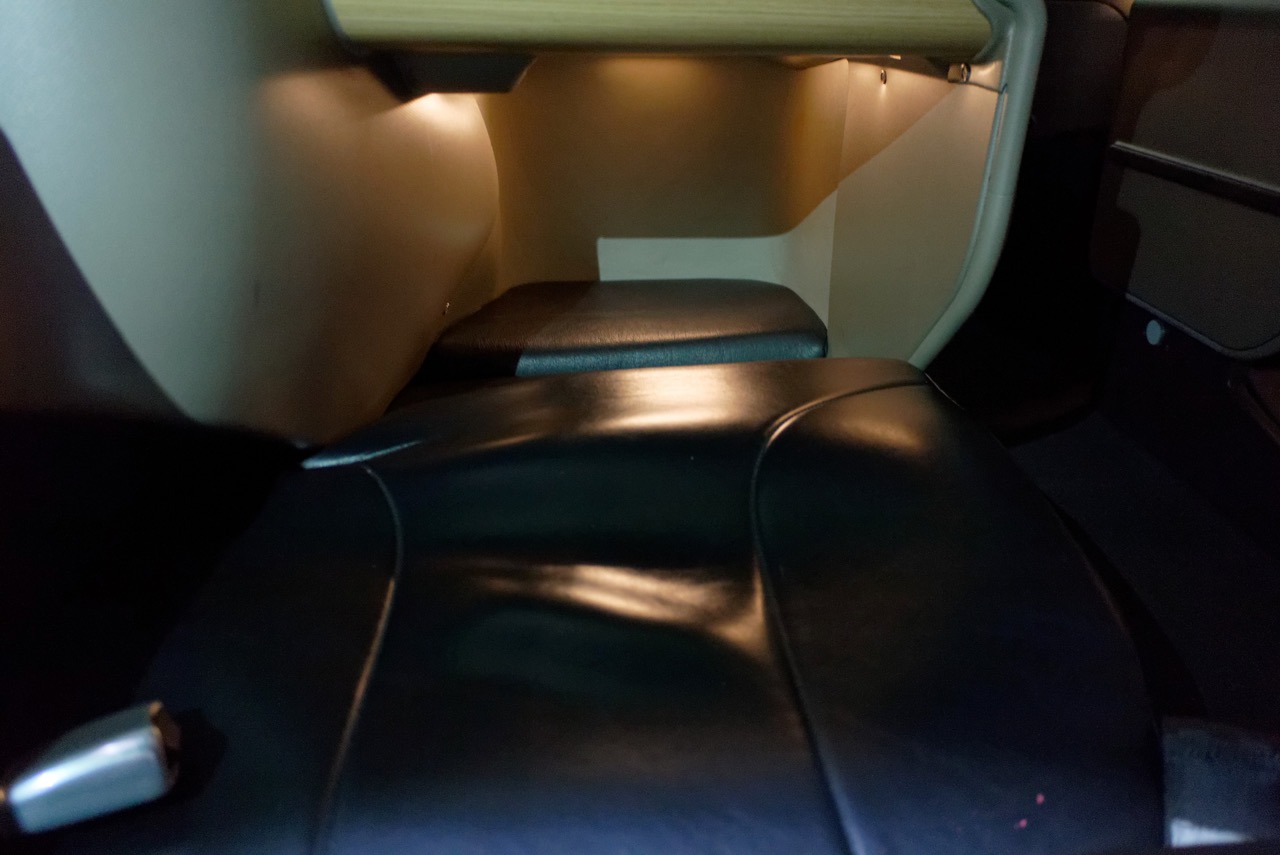 Here's me hanging out in seat 6F, at the rear of the front cabin, in full 360 degree glory.
Inflight Entertainment on Qantas Domestic A330s
Entertainment in Business Class is provided on a large, 16″ screen fixed to the seat in front of you which can tilt up and down.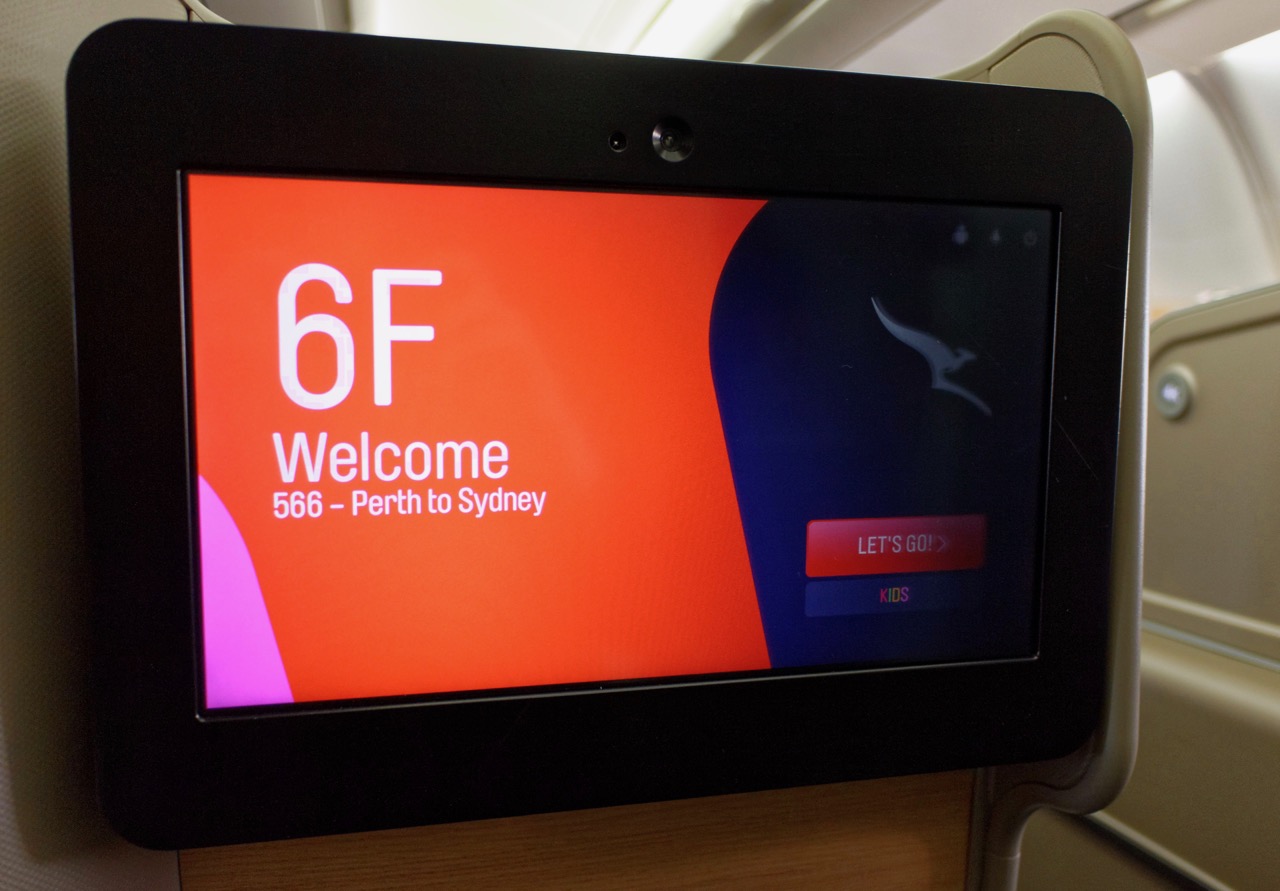 Qantas publish what's new on their IFE each month here, if you're interested in checking that out before you fly.
Qantas also offer their Q-Streaming entertainment system for those who bring their own devices on board. You'll need to pre-install the Qantas in-flight entertainment app (available at the previous link) and connect to the on-board wifi network – this doesn't offer access to the wider internet though.
Service – Food & Drink
For longer trans-continental flights you'll find Qantas Business Class dining to be similar, in terms of quality to what you'd find a long-haul international flight – although with slightly fewer options.
Usually there will be several courses on offer, with choices for each. In the case of our example flight in the evening between Perth and Sydney we opted for a Kingfish starter, Chicken Salad main, and Chocolate Mousse for desert.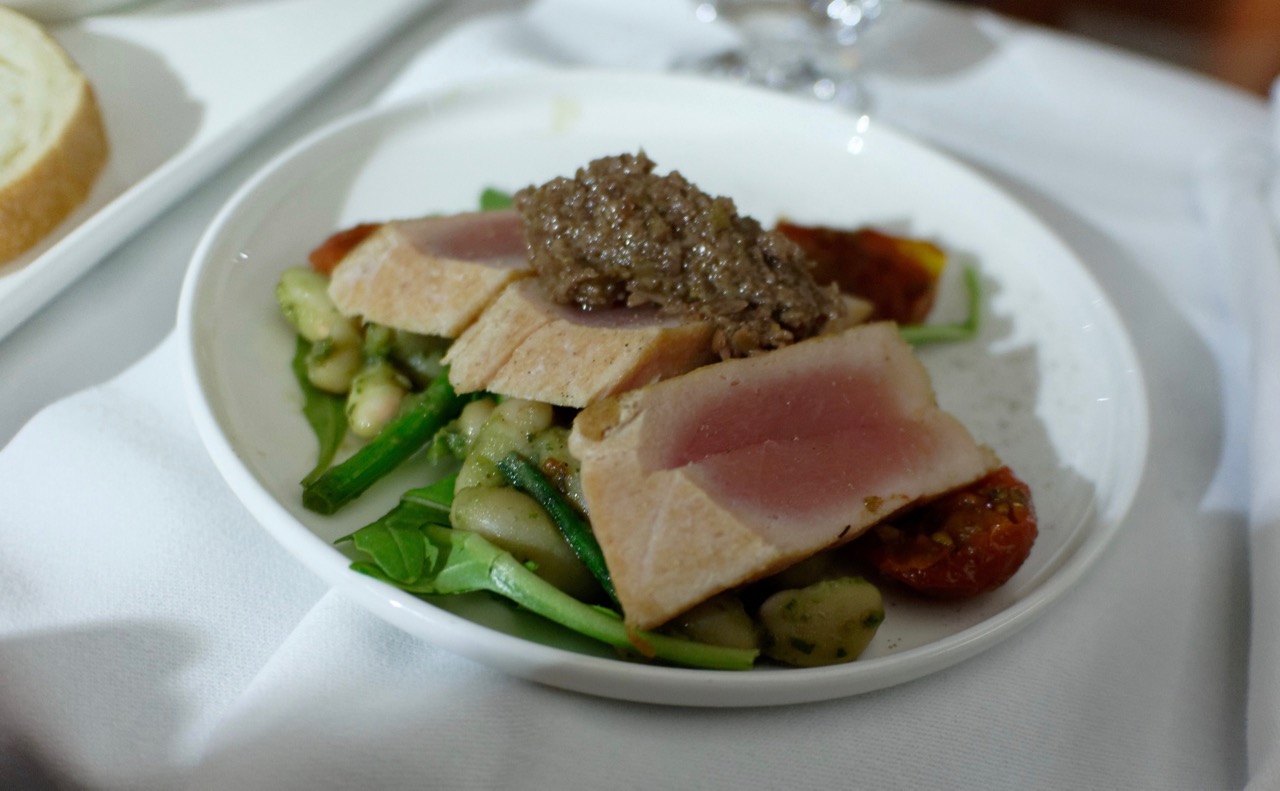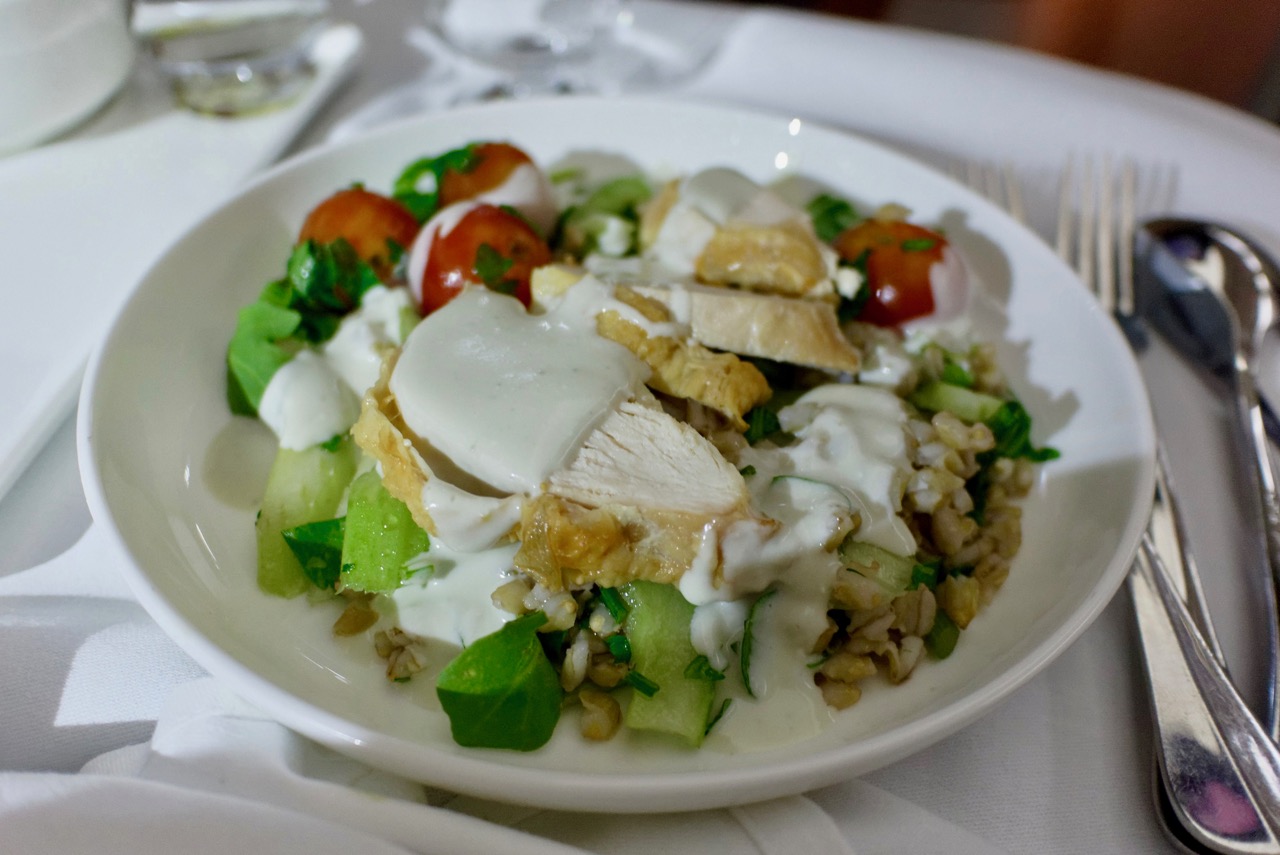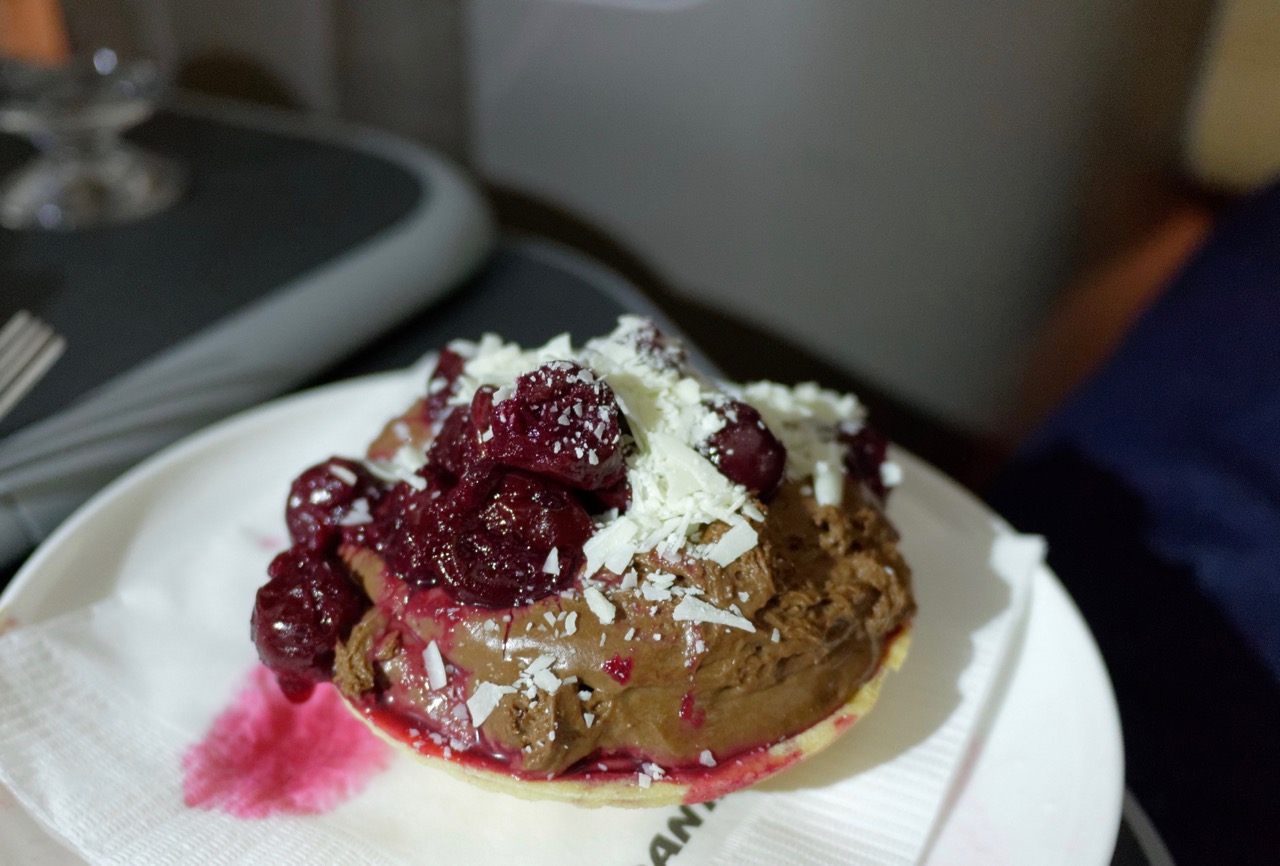 ---
How to redeem points for this flight
Qantas' A330 flights can be redeemed for using a number of different frequent flyer programs, with the primary programs of interest to us being Qantas Points and Cathay Pacific Asia Miles, plus for those interested in buying miles, British Airways Avios, American Airlines AAdvantage and Alaska Airlines Mileage Plan.
Finding award availability is best done through Qantas.com – simply search for your intended dates and check the 'Use Points – Classic Flight Awards' option.
For flights between Perth and Auckland
All of Qantas' flights between Perth and Auckland are operated by Qantas A330s.
Here's the award pricing you can expect:
| | Points Required |
| --- | --- |
| Qantas Frequent Flyer | 50,000 Qantas Points one way |
| Cathay Pacific Asia Miles | 45,000 Asia Miles one way, 80,000 Asia Miles return |
| American Airlines AAdvantage | 25,000 AA miles one way |
AAdvantage miles represent particularly good value on this route, with only 25,000 miles needed for a one way Business Class redemption.
Given AAdvantage miles can often be purchased for around 2 US cents per mile, that's a cost of $500 USD plus some minimal taxes to fly 7+ hours. Not bad.
For Australian Domestic flights
Finding the domestic flights operated by reconfigured Qantas A330s used to be a big headache, but with most of them now reconfigured to the new business class cabin almost all A330 flights should offer it. The key is to find which flights are operated by an A330.
Qantas.com makes this relatively easy. Whether you are looking to use cash or points, searching for a flight on your preferred date will yield a number of results, and to see what type of aircraft operates it, just click on the flight number.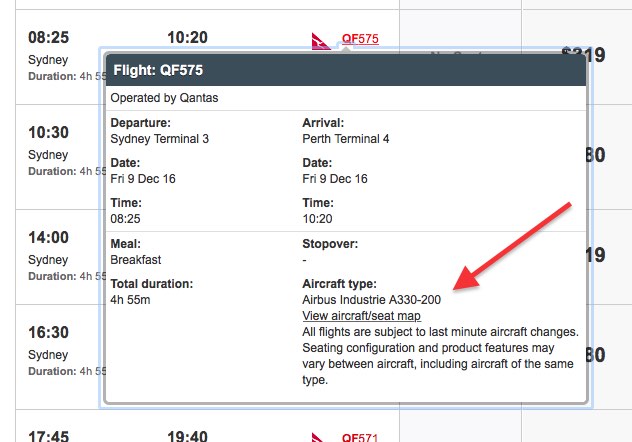 Focusing on the key partner programs, here's a points price comparison for a flight to/from the East Coast and Perth:
| | Points Required |
| --- | --- |
| Qantas Frequent Flyer | 36,000 Qantas Points one way |
| Cathay Pacific Asia Miles | 30,000 Asia Miles one way, 50,000 Asia Miles return |
| British Airways Avios | 37,500 Avios one way |
| American Airlines AAdvantage | 20,000 AA miles one way |
| Alaska Airlines Mileage Plan | 20,000 Mileage Plan miles one way |
In my view, the most logical program to redeem points from for one way flights for most people would be Qantas Frequent Flyer, despite the comparatively high rate compared to other programs – simply because most people have many options for collecting Qantas Points and their own Business Class is one of the better uses of Qantas Points for getting most value from them.
If you're looking to buy points for a redemption then there's no doubt that either AAdvantage or Mileage plan offer good value here, at 20,000 miles each way, and the ability to buy points for around 2.5c per mile in various promotions throughout the year.
If looking at a return redemption, then Asia Miles cost of 50,000 miles for a return flight is pretty good value given how Asia Miles can be collected relatively easily from credit card spend as partners with Altitude Rewards, Membership Rewards and ANZ Rewards.
All programs also add on taxes to a redemption booking. American and Alaska will likely offer the lowest taxes too, but as a domestic redemption these should not be too high in any of the programs mentioned above.
Summing up – Why choose Qantas A330 Business Class?
Qantas and Virgin have been slugging it out with their new Business Class cabins for around a year and both are a great use of frequent flyer points on Australian domestic routes.
Compared to Air New Zealand on the Auckland – Perth route, Qantas' A330 Business Class is more modern and comfortable – but with a reduced flight frequency to Air NZ.
There are a number of frequent flyer partners from which you can choose to redeem your points for travel with Qantas, and specifically targeting their A330 aircraft if they work for your travel plans is a savvy way to get more out of your points balances.
Qantas A330 Domestic Business Class Overview
was last modified:
November 24th, 2017
by