After booking a trip to Melbourne, my next step was to pick a hotel that would be near the theatre district, as we were planning to watch Harry Potter and the Cursed Child during that stay (sidenote: amazing staging and effects).
Research & booking
This is a 5-star hotel with an average of 4.5 stars and ranking #16 out of 164 hotels in Melbourne, according to Tripadvisor. Since I booked a prepaid (non-refundable) special rate, payment was taken a day later and I received the cashback soon afterwards.
As a Category 5 Marriott Bonvoy hotel, a night redemption will cost you 35,000 points. A King Suite can be booked for an extra 18,000 points per night, which I would recommend if you had the points to spare, if solely for space and Executive Lounge access.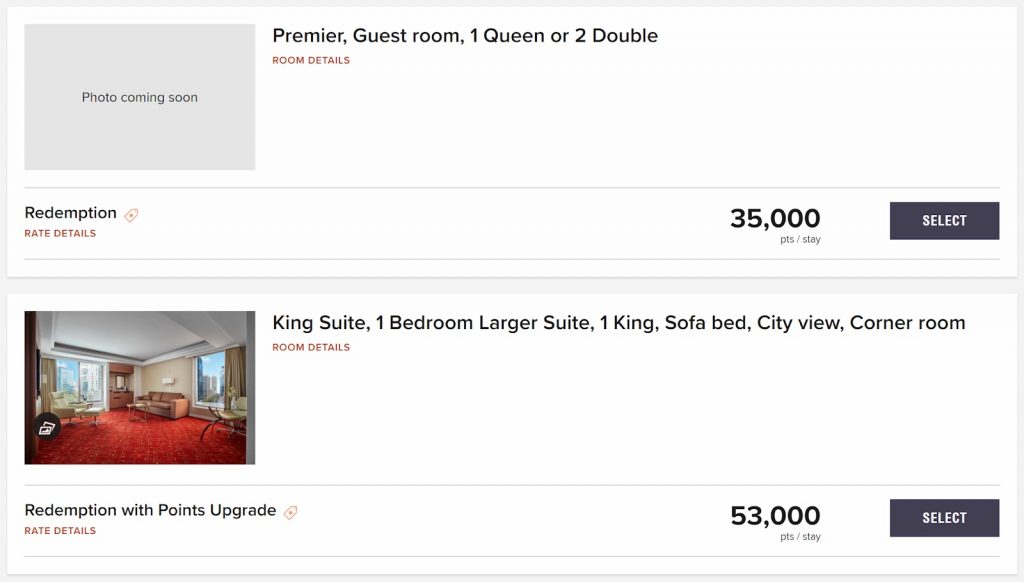 If booking in cash, check the rates for different room types closely. I didn't know it at the time, but I later found out that sometimes the King Suite only sells for $10 more per night than a standard Executive Room, which is definitely worth paying for the huge increase in space.

Checking-in
After using online check-in a day before the stay, I found my room was changed to a corner King Suite with a sofa bed, which was a pleasant surprise.
The lobby is small, but the staff here really do give a great first impression. We were greeted at the door, our luggage taken away and offered a glass of sparkling wine or infused water.
This appeared to be standard for all guests checking-in at the hotel, rather than for specific members (which I am only entry-level anyway).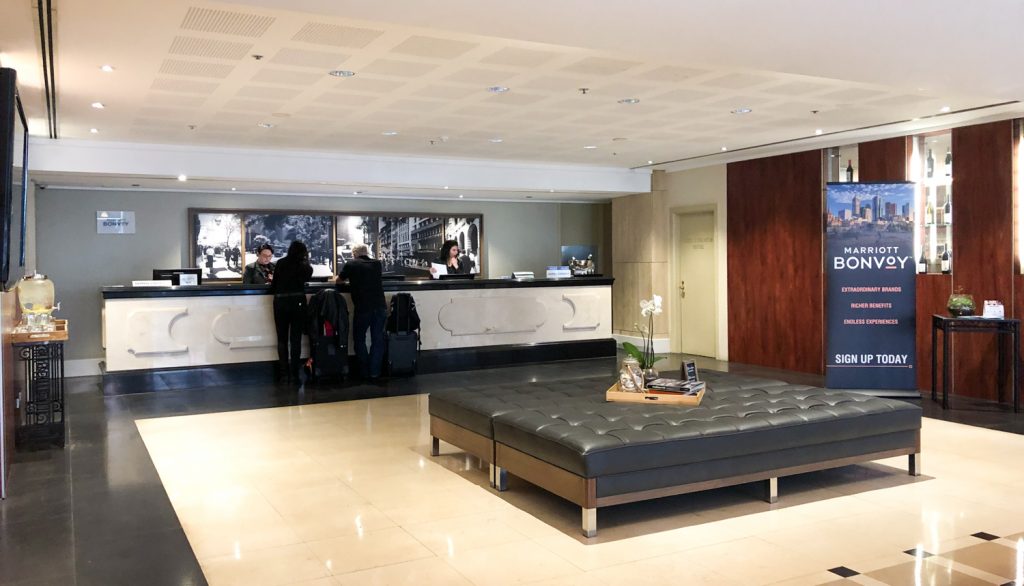 Room Layout and Features
The 57 sqm one-bedroom corner King Suite is a perfect haven for both work and relaxation. You're greeted by the expansive living room when you first walk in.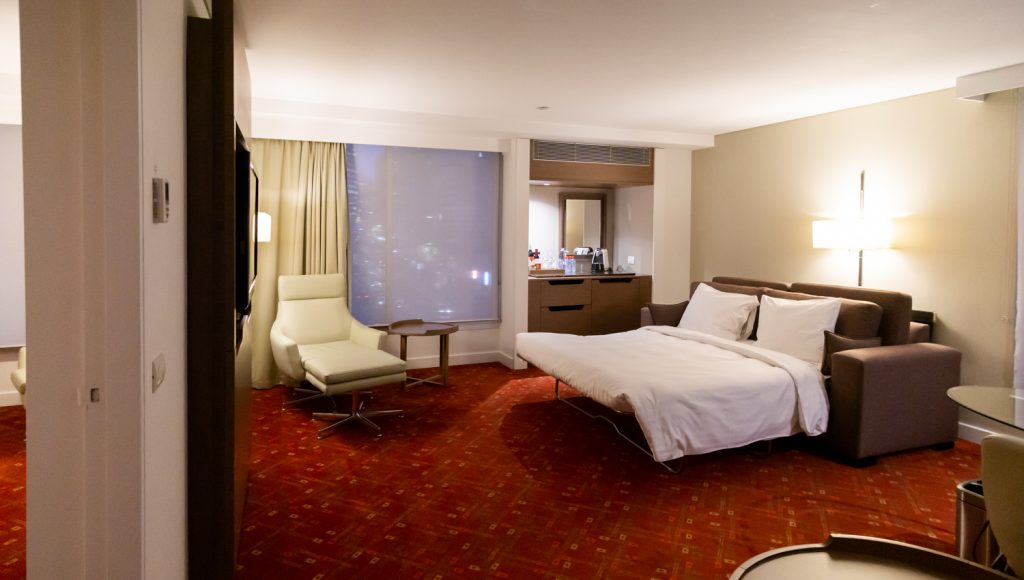 To the far right is the working area with a desk, lamp and chairs.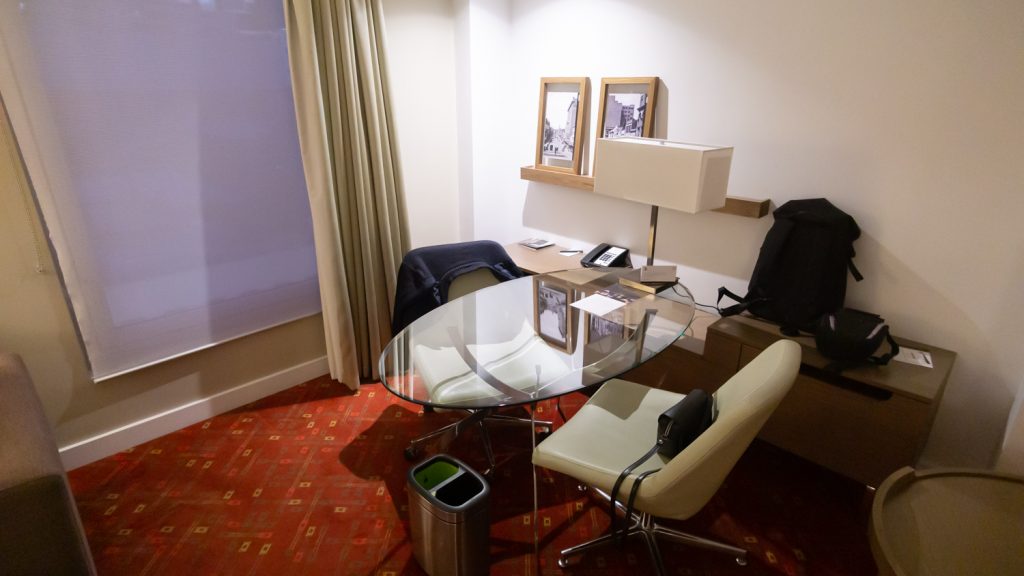 In front of the sofa bed is a TV, a comfy 'reading chair' near the window, and the mini-bar area.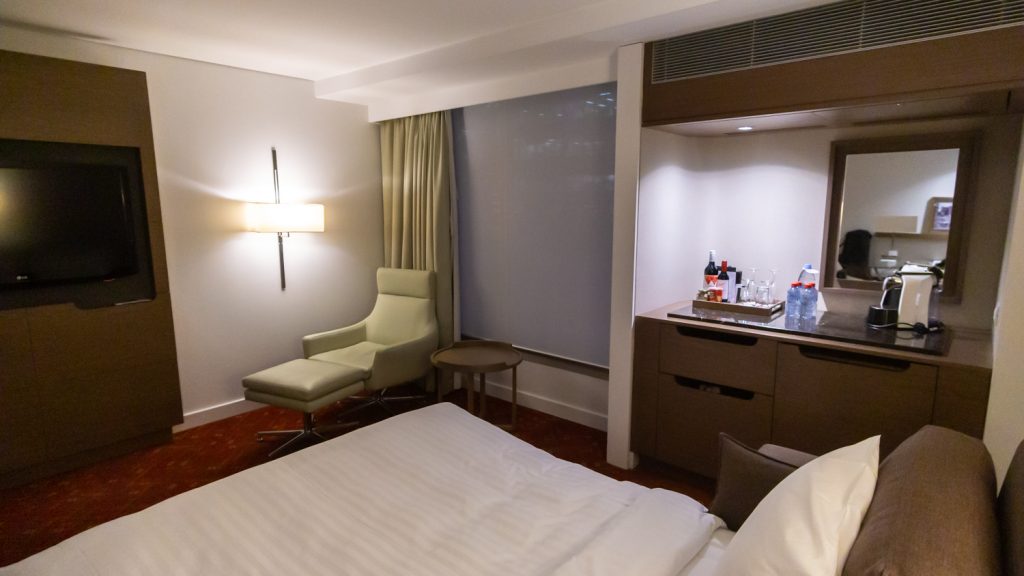 To the left of the entrance is the master bedroom, complete with a plush king bed. Yes – it was very comfortable to sink into.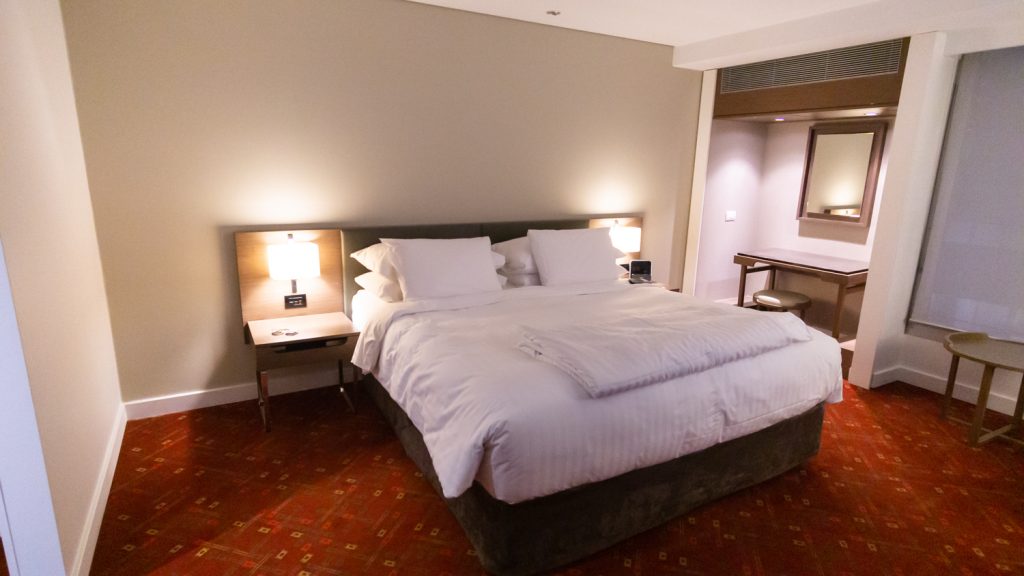 There is another TV in this room, plus a dressing table and another chair by the window.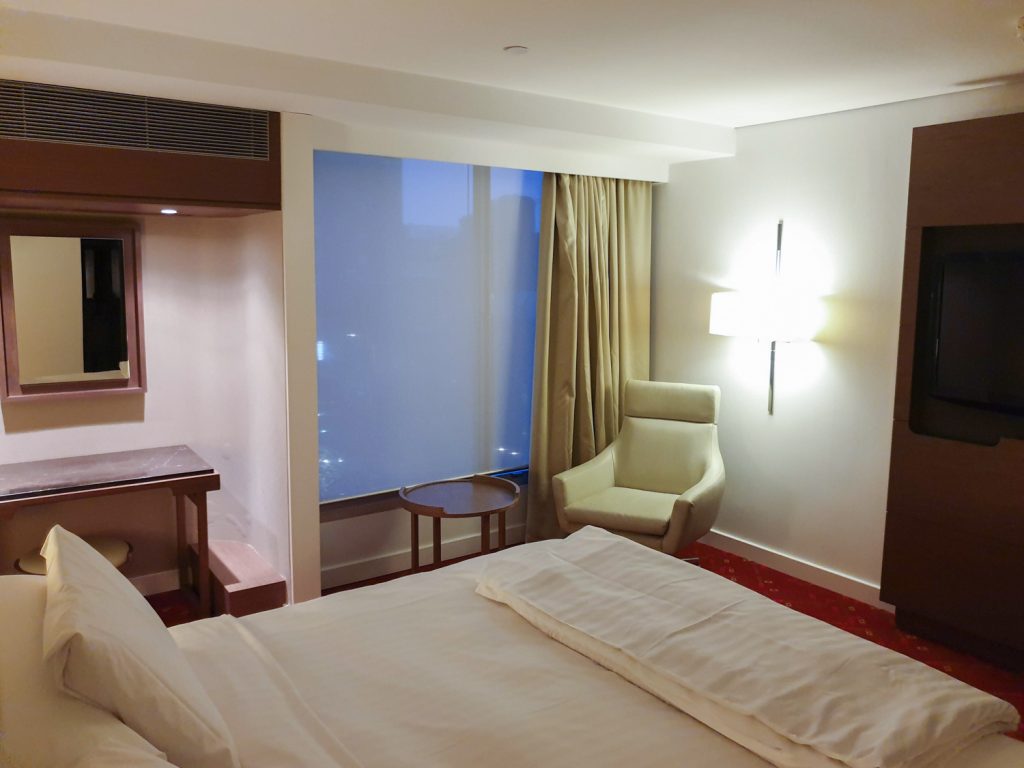 Next to this bedroom is a very expansive walk-in wardrobe where the porter stored my suitcase shortly after arrival.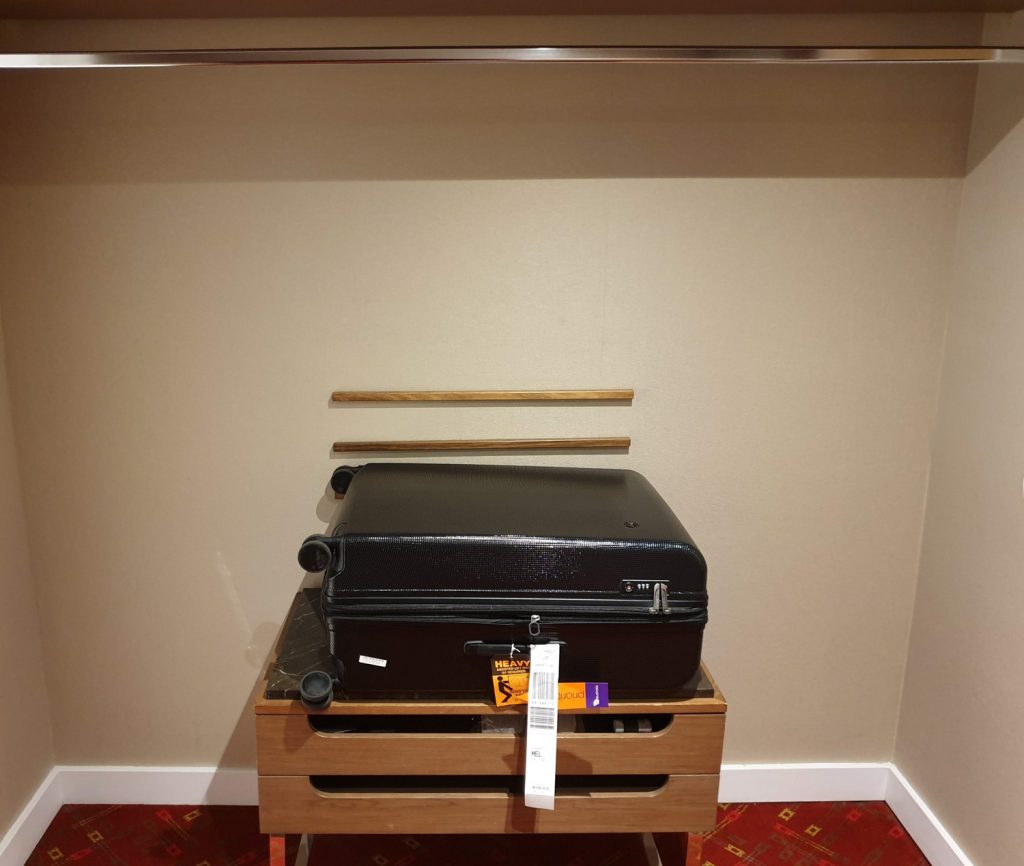 On the other side is a wardrobe with two bathrobes, the in-room safe, hairdryer and iron.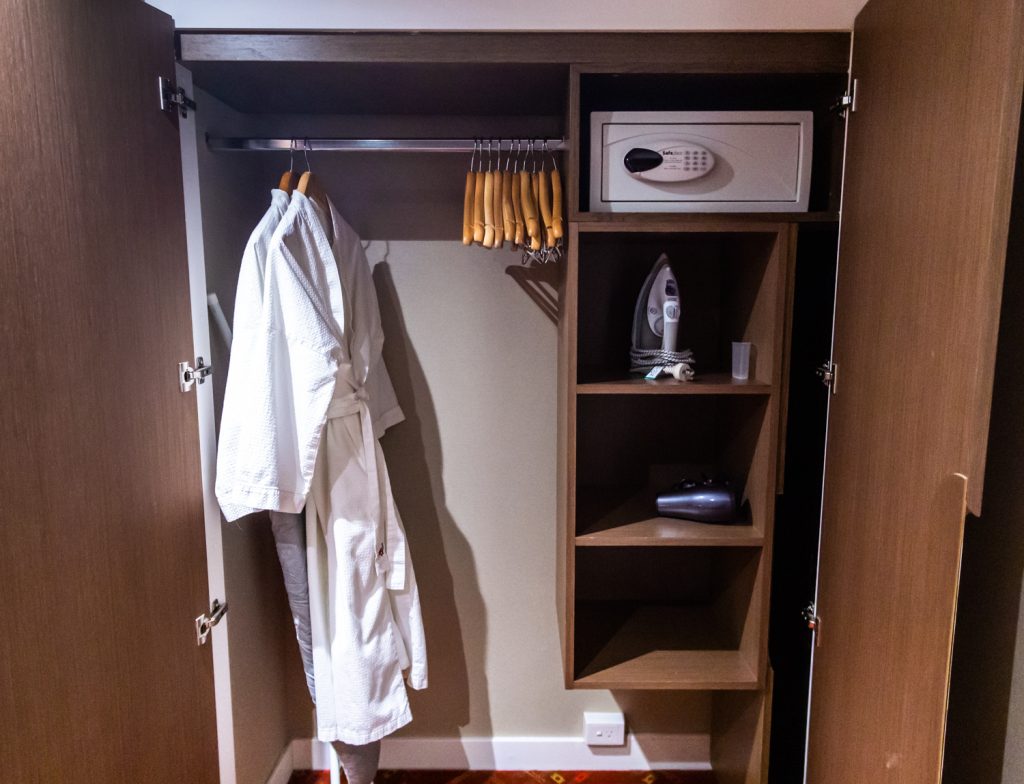 Finally, we reach the well-appointed bathroom which has a very wide walk-in shower. While I would have loved to have a bathtub in a Suite-level room, I understand the Melbourne Marriott is more tailored to business travellers rather than 'staycation' guests.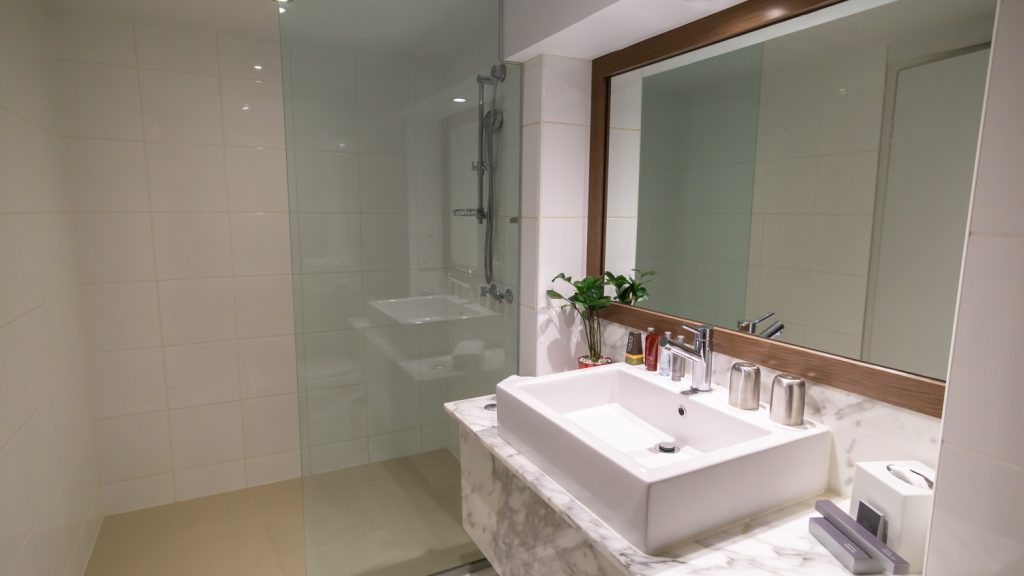 A selection of good quality amenities are supplied and can be replenished daily if required.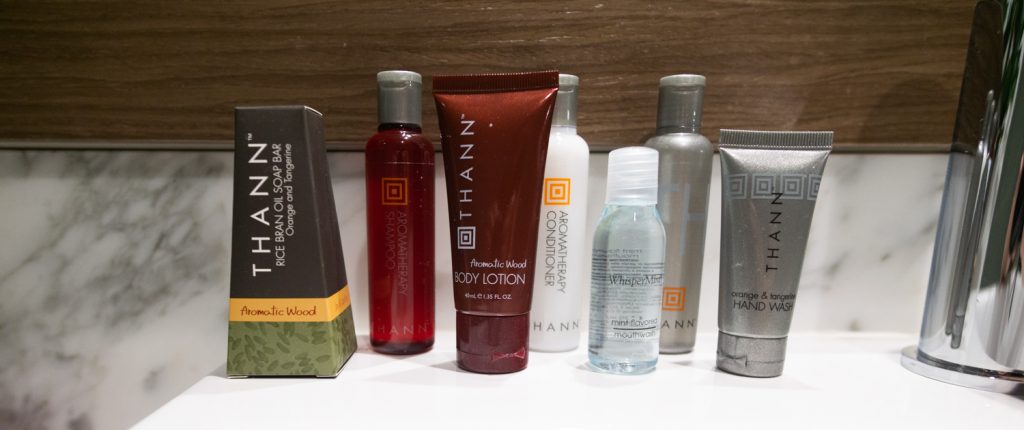 On the tech side of things, there is one bedside charging port near the king bed, along with master light switches, a telephone and dock. Plenty of charging spots are found elsewhere in the suite.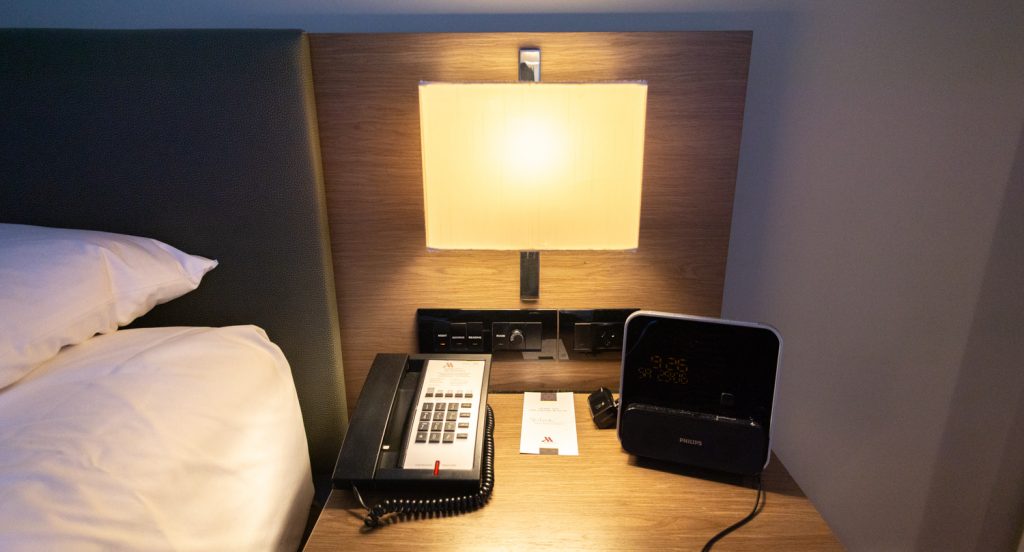 Hotel Services
The minibar comes stocked with a selection of wines (~$29), soft drinks (~$4) and beers (~$9). Our room also came with four small complimentary bottles of water daily.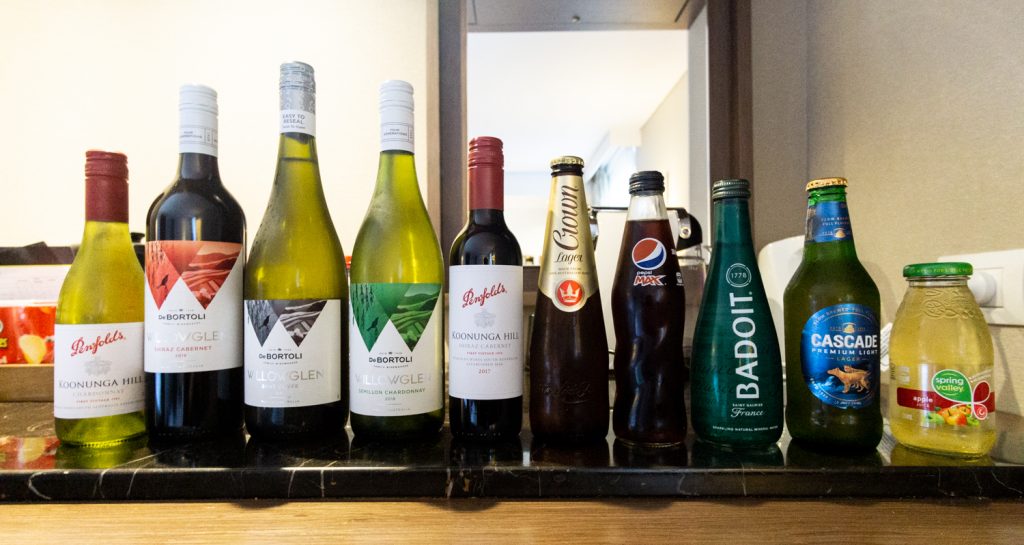 There is an extensive room service dining menu as well with very reasonable prices (mains from $18).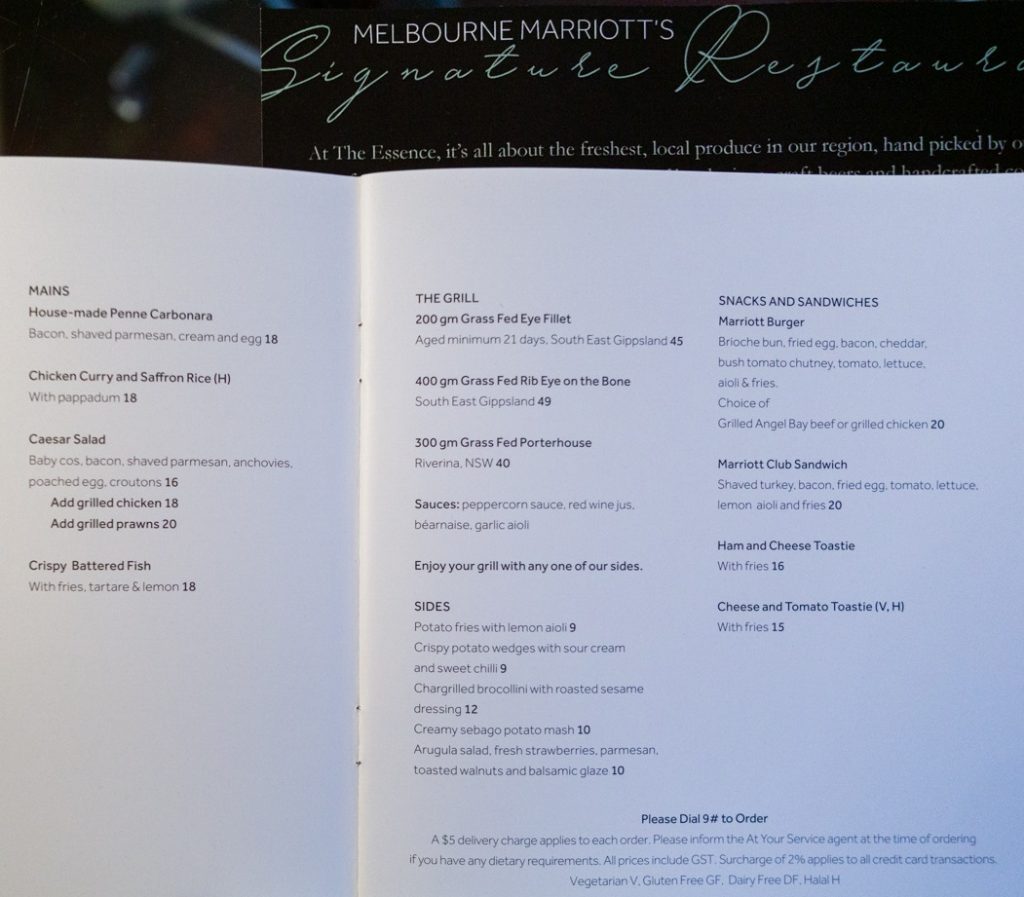 Tea and coffee facilities are also provided, including an L'OR capsule coffee machine.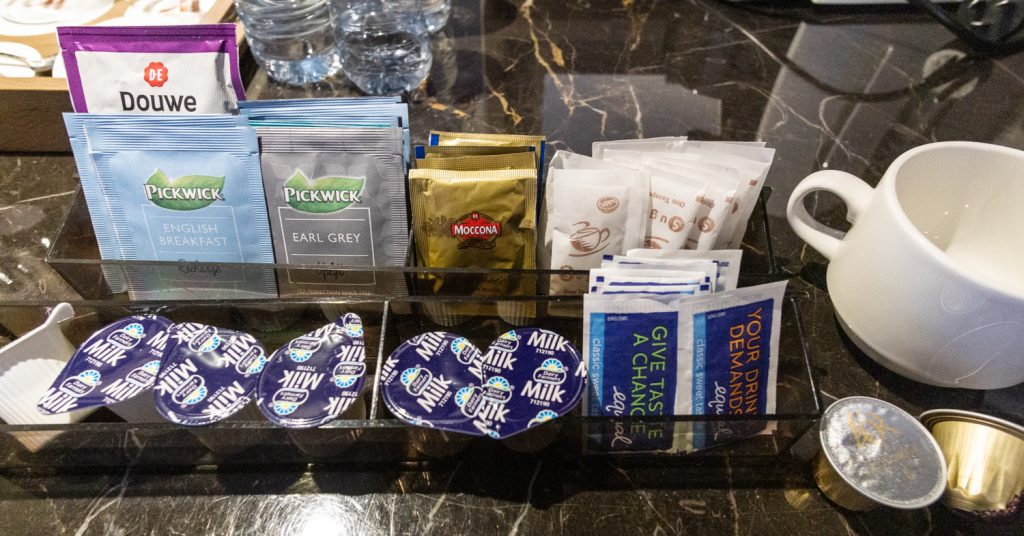 For those who need valet parking or business/meeting facilities, these can all be provided.
Dining
On the lobby level is Essence, the hotel restaurant which hosts the buffet breakfast. It is also popular for working lunches and pre-show dining.
I didn't dine here though since a complimentary breakfast is offered to all guests with Executive Lounge access, which is included as part of a King Suite.

Executive Lounge
The Melbourne Marriott Executive Lounge is nestled within Level 9 of the hotel. It's open for breakfast from 6:30am and closes at midnight, with additional evening canapes and drink services. You just need your room key card for entry, and it's only staffed during the breakfast and evening service hours.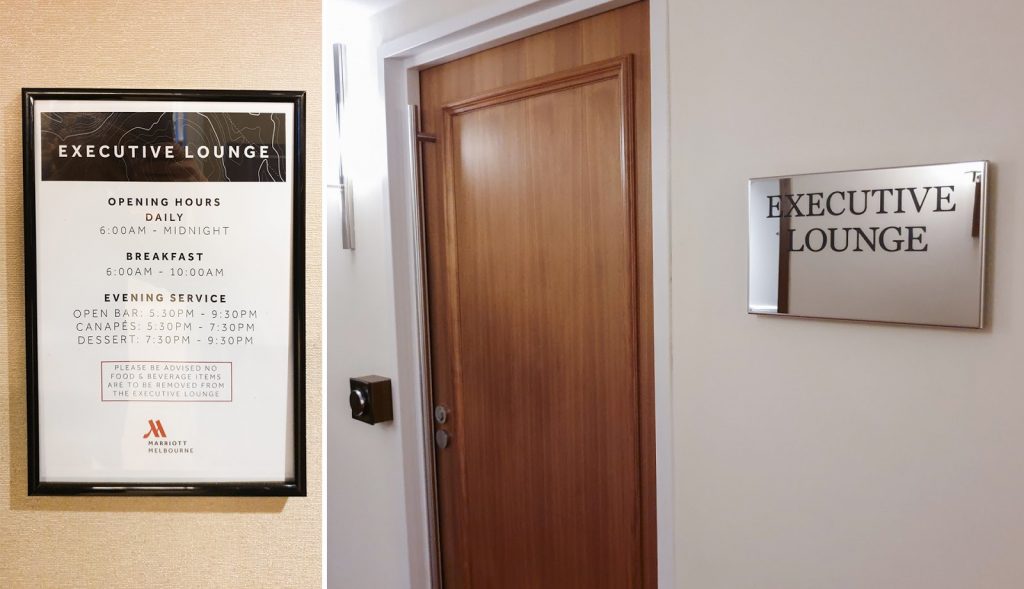 It's a reasonably cosy space, split into a dining area and a lounge area with a TV, a computer and printer.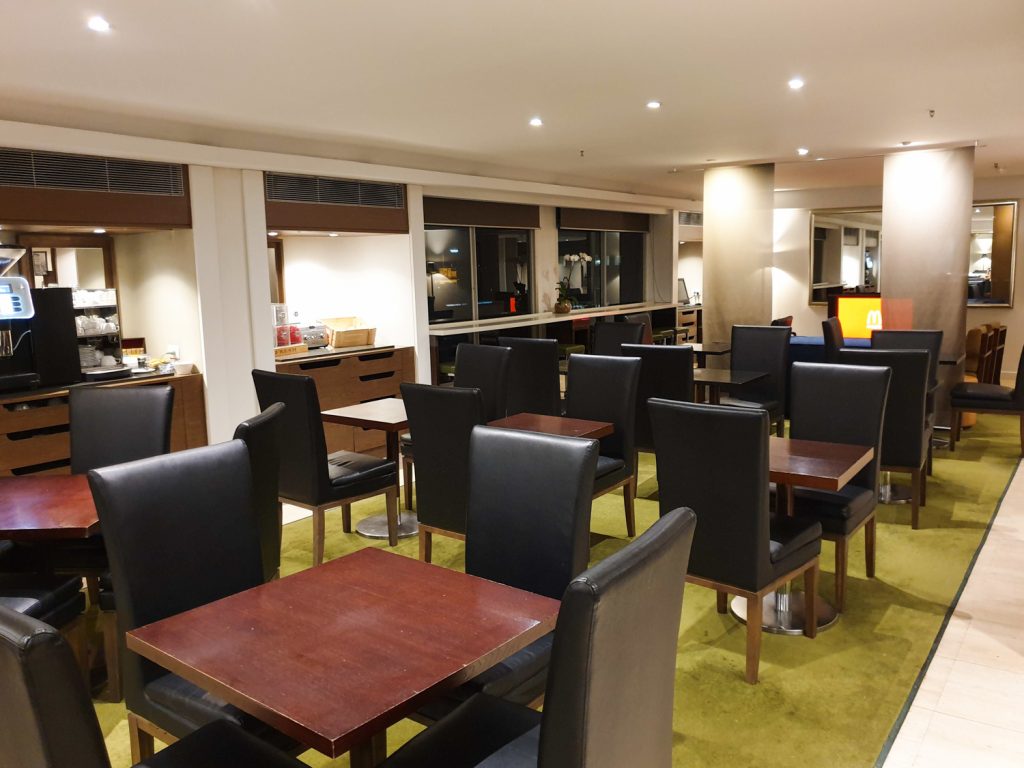 Soft drinks are available free of charge whenever the lounge is open (but can't be taken out of the room). Alcohol is available from 5:30pm to 9:30pm every night.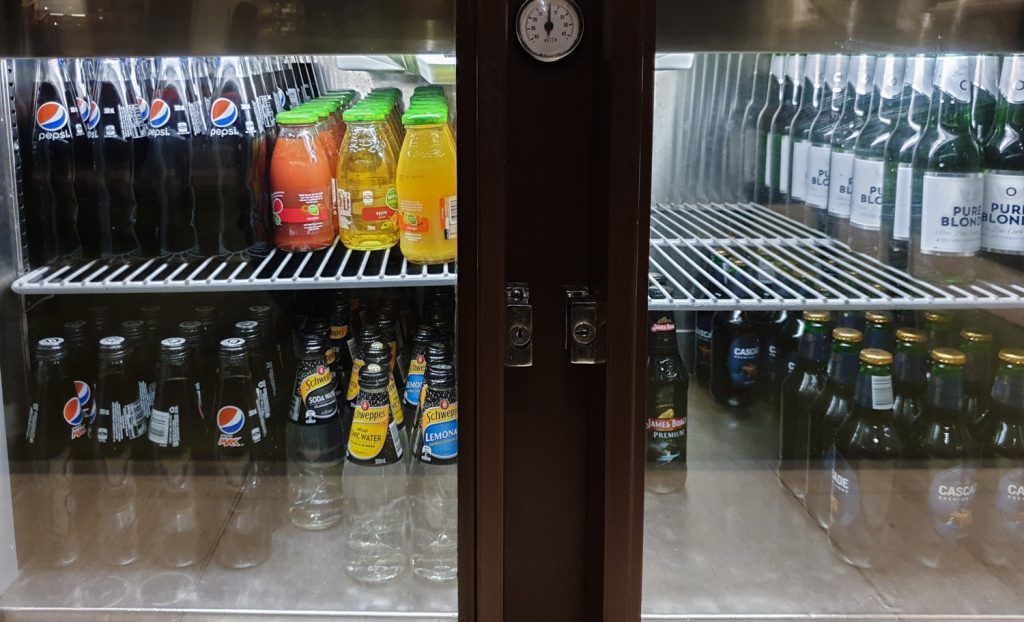 The complimentary breakfast spread here is smaller than a typical restaurant buffet, but still very good and perfectly fine for anyone who needs a quick bite in the morning. Cold items include sliced fruits, cereals, yoghurts, bread and pastries.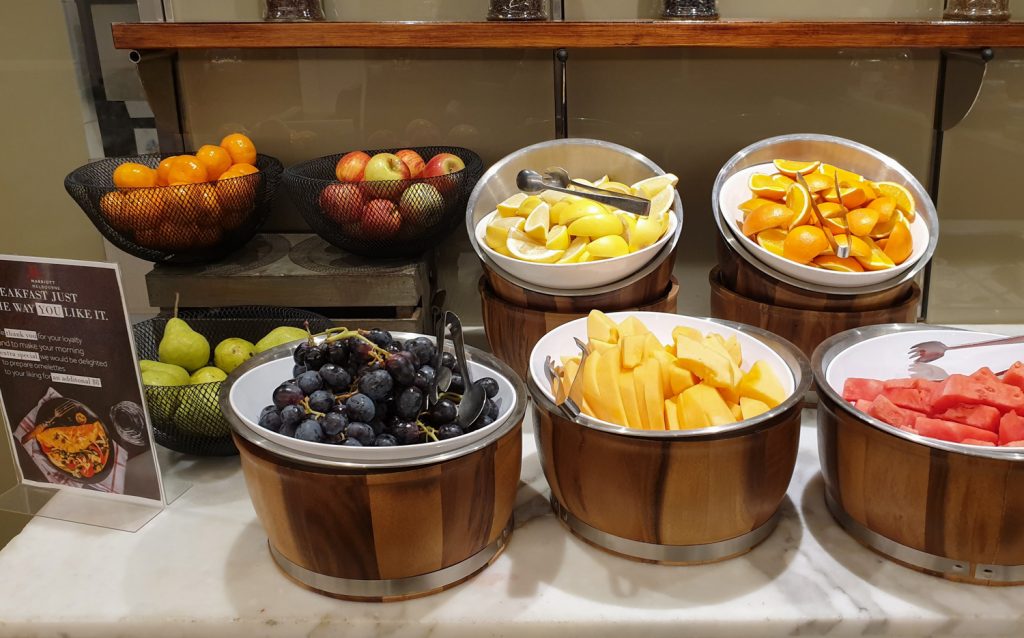 There are four hot dishes, such as two types of eggs, bacon and grilled tomatoes. Made-to-order omelettes are available on request but have a surcharge of approximately $8.

The morning staff member was extremely friendly and offered all guests coffees and teas as they walked in. The coffee is just from a machine but was quite good actually.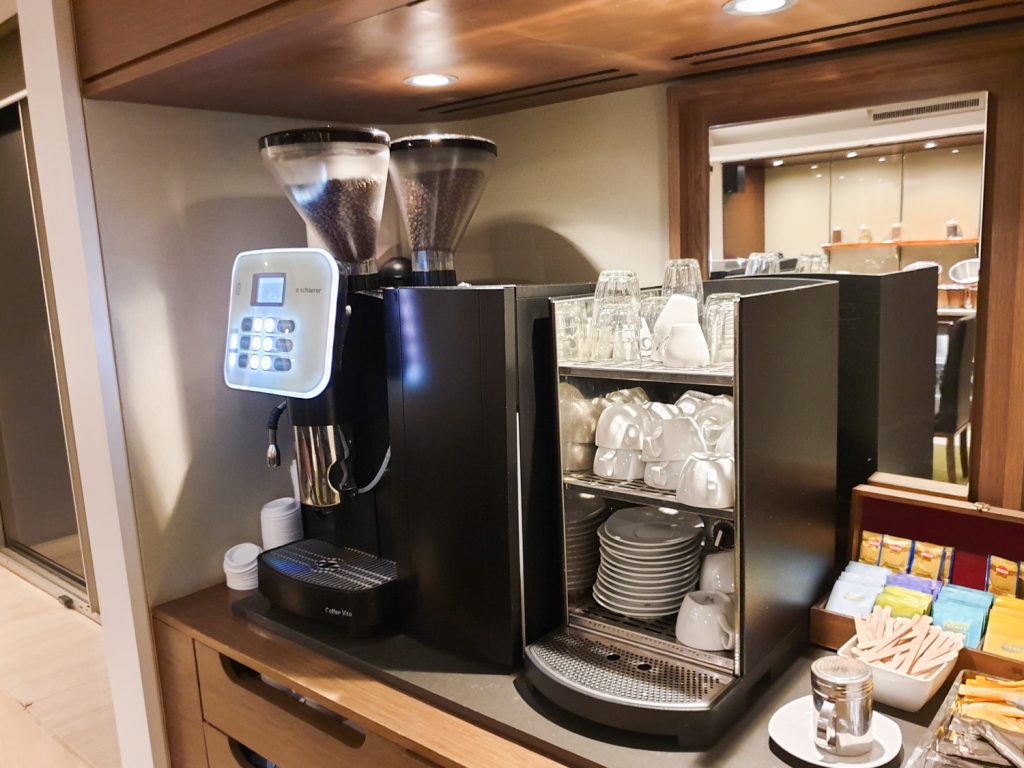 In the evenings, there is an open bar including a DIY cocktail station.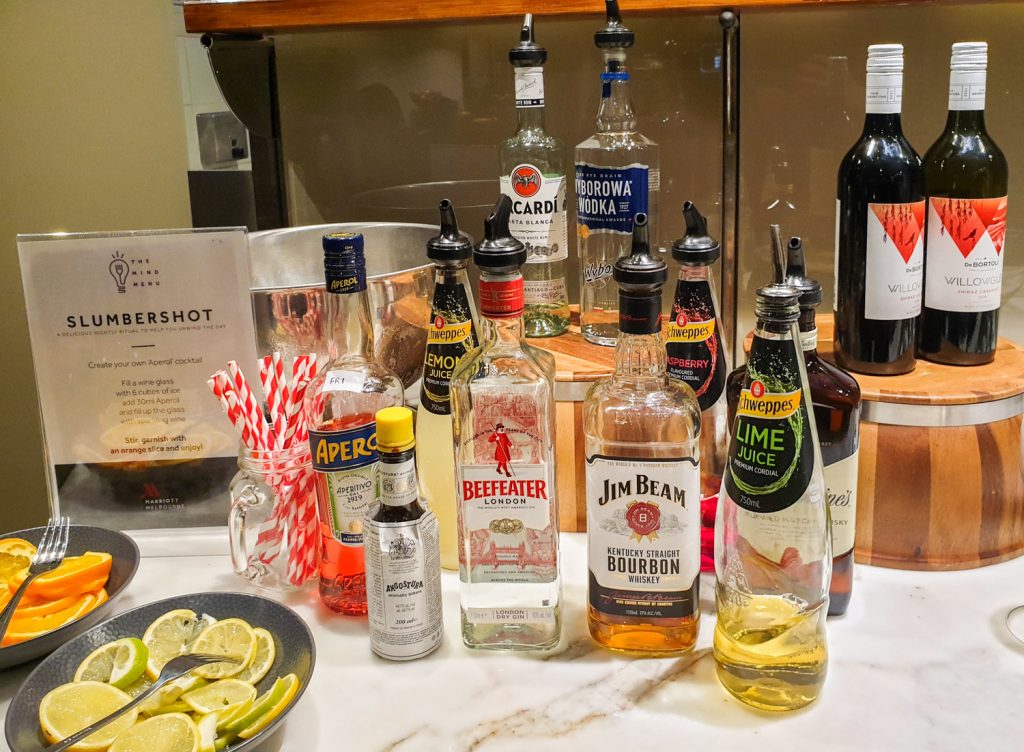 Supper options aren't shabby either, such as chicken schnitzels, sushi, salads and cold cuts.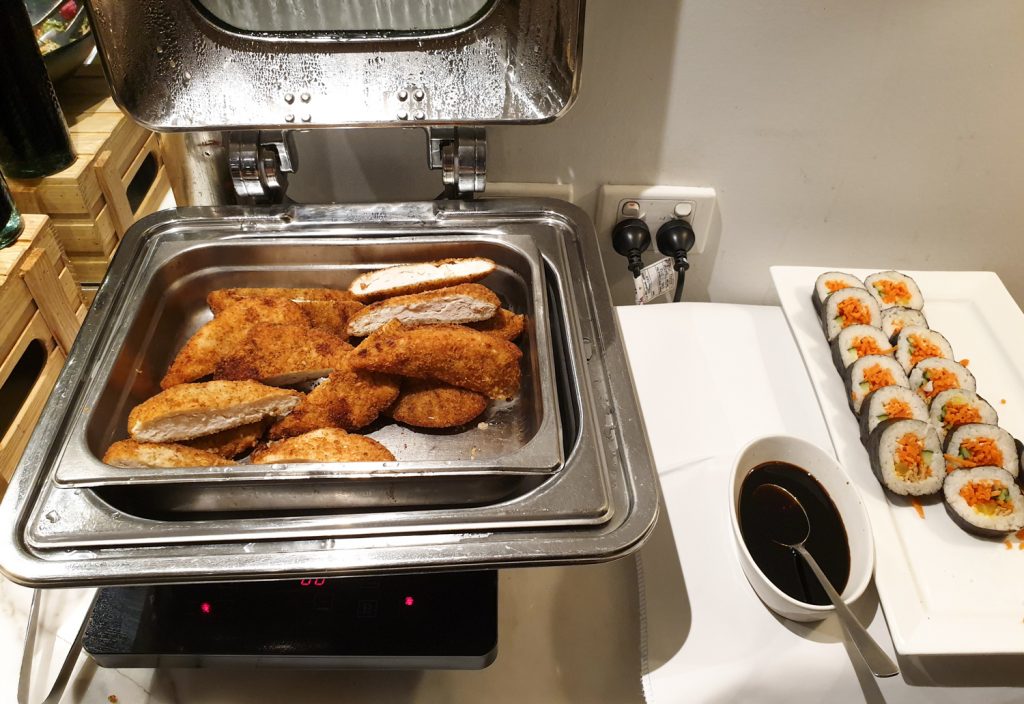 Overall, the Executive Lounge here is a great place to hang out and relax, or even for working during the day when it is quieter.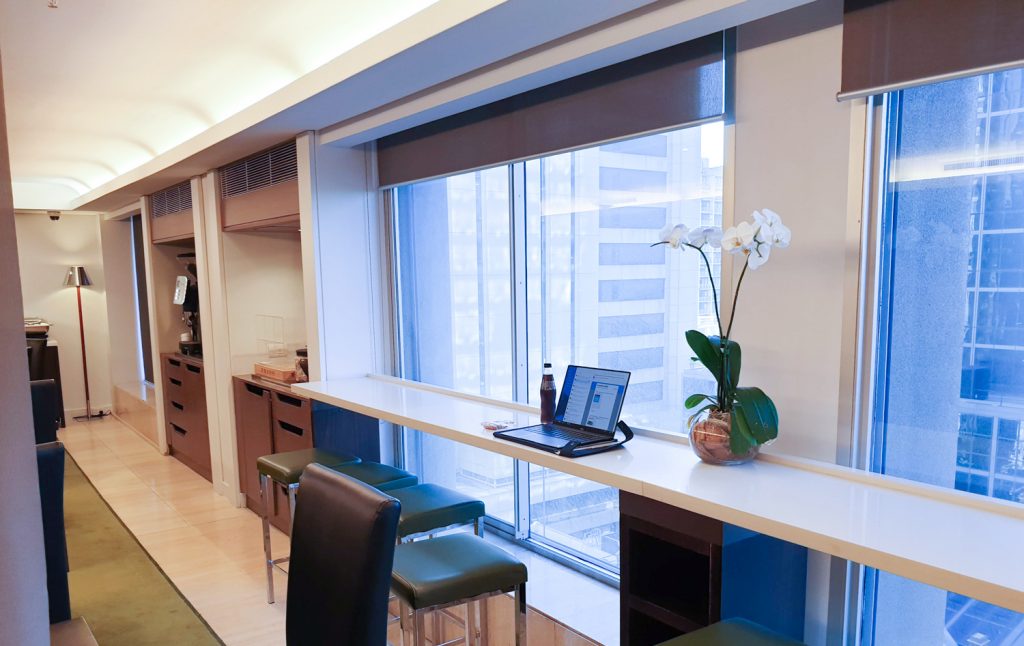 Unfortunately, I wasn't able to make it to the dessert service on either night due to being at the theatre.
Facilities
As expected, Melbourne Marriott has a pool and fitness centre, located on the first floor.
The indoor pool is heated and even has a smaller 'spa' section with a button to activate the jets. There is also a dry sauna located inside the change room area.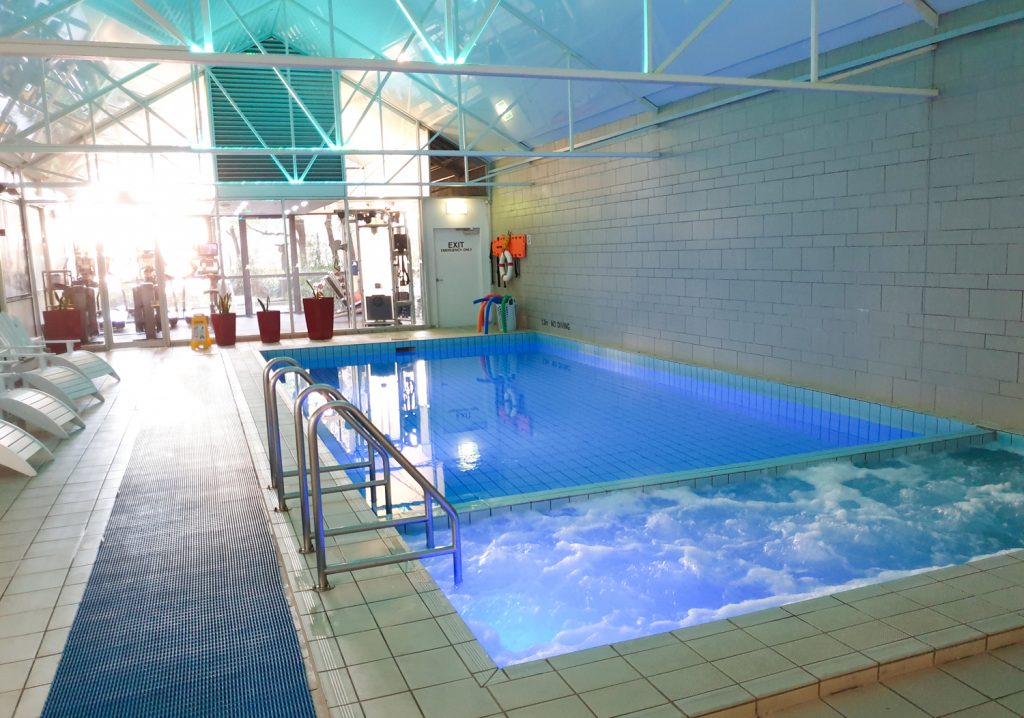 The adjacent fitness centre is also small but equipped with just about everything a traveller would need to do a simple workout on the go. Towels are provided in both areas.

Around the hotel
The hotel is located in the corner of Exhibition and Lonsdale St. For theatregoers, the Comedy Theatre is diagonally opposite the road, Her Majesty's Theatre is about 2 minutes walk away, and the Princess Theatre (where Harry Potter will play indefinitely) is about 5 minutes walk away.

Also nearby is Chinatown with plenty of dining options, and then the main CBD area beyond that. Parliament Station, trams and a nearby Skybus Link stop make this hotel very convenient.
I also appreciated having the Carlton Gardens and Fitzroy Gardens just a few minutes away, as they were a wonderful escape from the bustling city centre.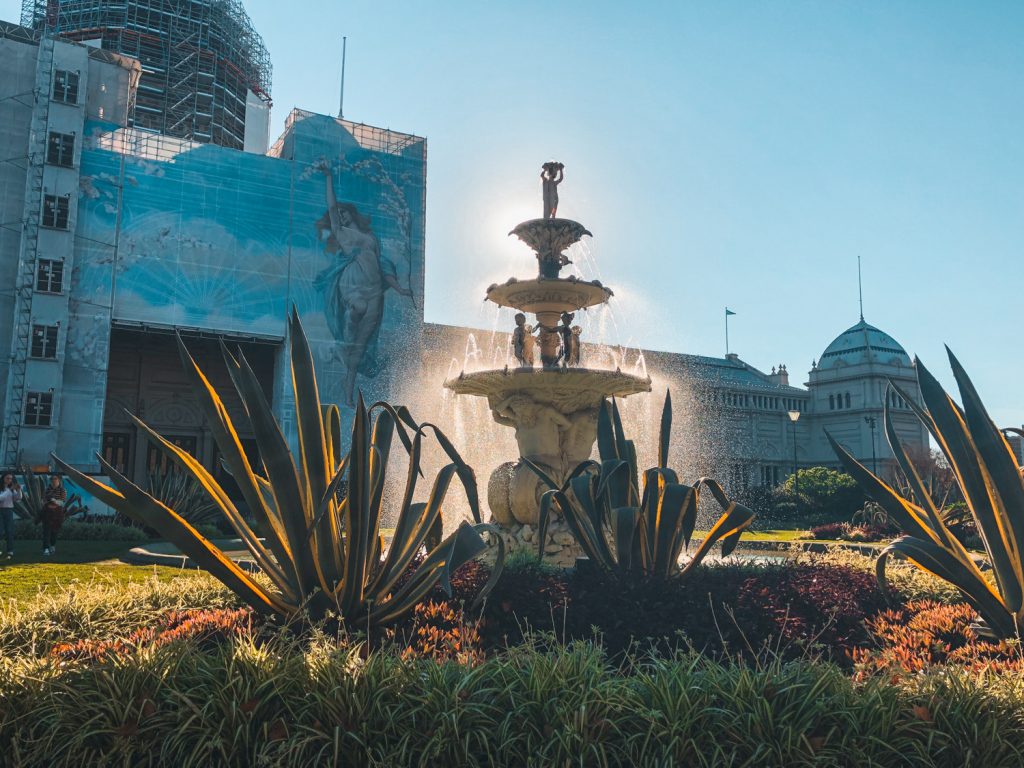 Other Melbourne hotel reviews
Summing up
As you can probably tell, I really enjoyed my stay at Melbourne Marriott. The staff here are really their best asset, and from the moment I walked in, I was looked after very well indeed. It's the small touches that get noticed the most, such as being offered bottled water after storing our bags during check-out, and mentioning we were still spending the day walking around the city.
My main gripe with the hotel is the aging décor. While some may describe the deep red carpets as 'heritage' or 'vintage', I think it does make the rooms look a bit dated. This is also seen in the pool area which is rather drab and grey. But that's just a personal preference and didn't really affect the quality of my stay.
The Executive Lounge was a very handy facility to have which I visited a few times. The King Suite is very spacious, which adds to the levels of comfort.
One last thing to consider is the room rates – they are quite high compared to most other hotels nearby.
But if you have lots of Marriott Bonvoy points or want a hassle-free and premium stay near the theatres, then the Melbourne Marriott is highly recommended.

Things I liked:
Close to Melbourne's Theatre District and about 10 min walk into the CBD
Proximity to public transport, including airport transfers (e.g. Skybus)
Staff were very proactive, professional and helpful
The Executive Lounge is a great facility to have

Things I did not like:
Rooms and some facilities feel a bit 'dated', but that's all!
Melbourne Marriott Hotel King Suite review
was last modified:
September 26th, 2019
by