My wife and I have been spending our Friday nights exploring various hotels in Auckland. It's been fun exploring what our home city has to offer, and it has been nice to relax on Friday nights after work instead of the usual exhausting commute home.
The Grand Millennium Auckland is part of the Millennium Hotels group, an international chain with 20 hotels across New Zealand. Their membership program is known as 'My Millennium'.
Base rooms at this hotel start at around $230 per night.
The hotel is currently #13 of 65 Hotels in Auckland, according to TripAdvisor.
Research & Booking
There were a few booking nuances that I was not aware of before our stay, so I will go through these below to help others.
As I have Premium status with My Millennium, I decided to book direct.
The following benefits are on offer at this level:
15% off food & beverages
15 My Points for every USD$1 spent on room bookings
Two complimentary club room upgrades (room only, not including club benefits)
Complimentary early check-in from 10am
Complimentary welcome drink
Birthday treats
Dedicated e-concierge at

[email protected]
All members regardless of status will receive a 10% instant discount on direct room bookings, and complimentary Wi-Fi.
Note that my status was not earned, rather it was matched with my Hilton Diamond status. If you already have status with another program and have an upcoming stay with a Millennium-branded hotel, you can seek a match simply by emailing a copy of your card and membership details to [email protected].
Knowing that a complimentary club room upgrade upon arrival was one of my status benefits, I booked a base 'Superior Room' for $215 (or $239 before discount).
If you have an Australian bank account, you can also use Cashrewards to receive an extra 4.2% cashback on your booking. This saved us an extra $9 NZD.
Little did I know, the 'complimentary club room upgrade' only gives you the room, and none of the benefits that come with the room. This meant that we had to pay an extra $100 at check-in if we wanted access to the following added extras:
Complimentary breakfast for two (either Continental and A la carte in the Millennium Lounge, or Buffet in the Brassiere)
Complimentary Pre-dinner drinks and Canapés in the Millennium lounge between 5pm and 7pm
Complimentary Late Check Out at 12.00 pm
Complimentary Self-Parking
Complimentary pressing of two business shirts per day
All day access to the Millennium Lounge for complimentary soft drinks, tea & coffee and light snacks
Given the Club Room would have only cost an extra $100 to book online anyway, it effectively shows that this 'upgrade' is pretty much worthless, unless you really value having a room on one of the upper levels of the hotel. We opted to pay the extra, and therefore our total bill came to around $306 after cashback. If I had just booked the Club Room online, the bill would have only come to $292 after cashback.
Note that you have the option of either receiving 'My Points', or frequent flyer points with numerous programs, including Air New Zealand Airpoints, KrisFlyer, and Asia Miles.
Unfortunately, you cannot load your frequent flyer account number to your My Millennium account, and you cannot convert My Points to points/miles later on.
I made the novice mistake of forgetting to provide my Air New Zealand Airpoints number at check-in, which meant that I missed out on 21 Airpoints Dollars – 1 Airpoints Dollar per NZ$15, or an effective 6.6% return on the final bill settled at the hotel. Alas, I earned 2,958 My Points instead.
To redeem for a $30 USD food and beverage voucher, you require 12,000 My Points – 0.25 cents per points. This means the points earned have a value of around $7.40 USD, or $10.50 NZD – half of what I would have valued the Airpoints Dollars at.
Lessons learned!
The Room – Grand Millennium Auckland King Club Room
The Club Rooms are all at least 36m2, which is a generous size for Auckland. The Superior Rooms are the same size, but are located on a lower level.
We were assigned Room 1111 on Level 11.
When you enter the room, there is a short hallway leading to the main room. There is a large closest, which contains the usual helpful hotel amenities.
The bathroom is accessed from the hallway, and contains a separate shower and bathtub.
The bathroom amenities are made in New Zealand, which seems to be typical of many hotels we've stayed at in New Zealand.
The room contains a comfortable king-sized bed.
There are conveniently placed USB charging points adjacent each side of the bed.
There is a sofa, ottoman and table adjacent the window.
Opposite the sofa is a desk, an ergonomic chair, and a built-in luggage rack. The TV is on a swivel, so you can pull it out and orientate either towards the sofa, or the bed.
The servery and mini-bar are located behind the desk.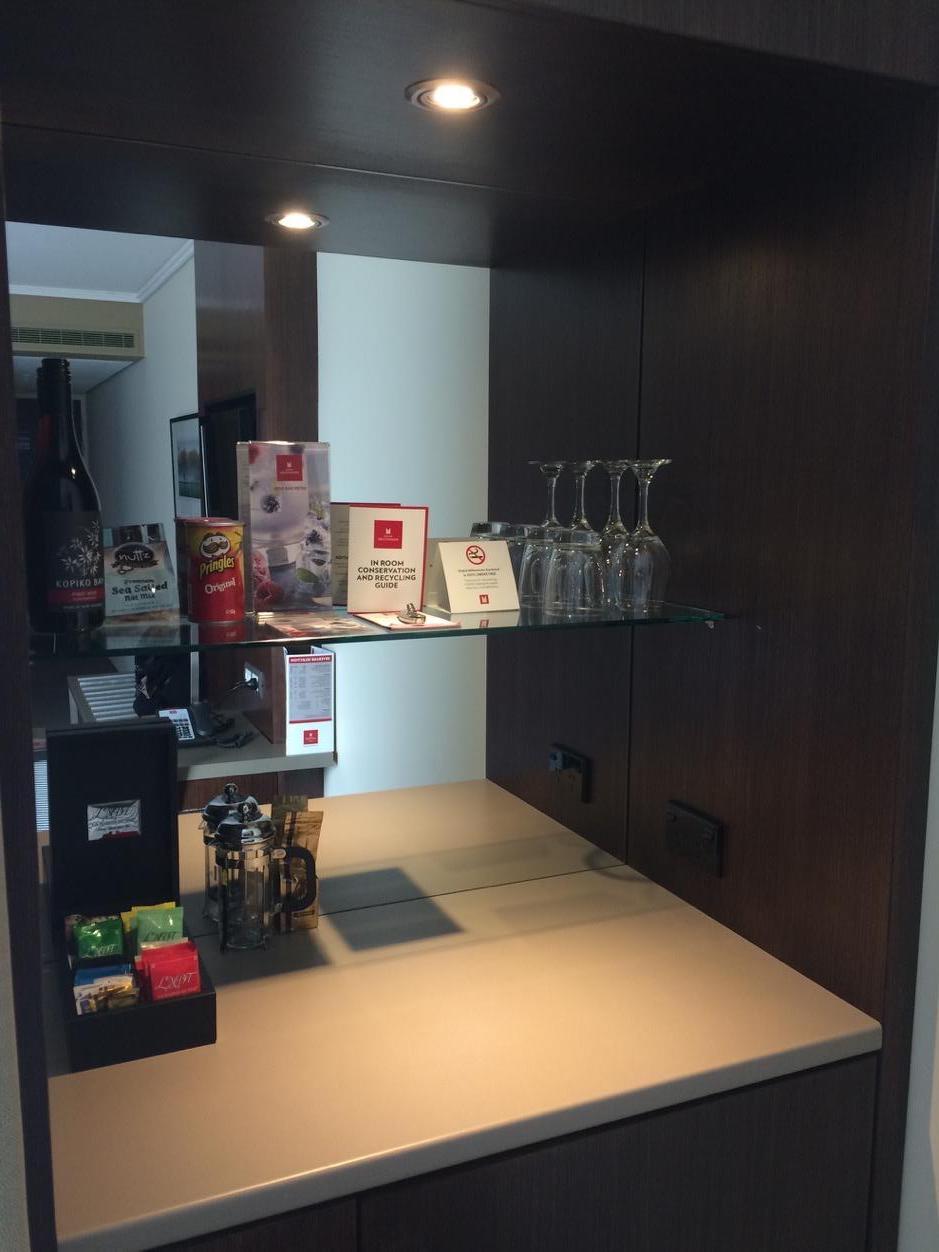 For coffee, you have a plunger and a pack of Vittoria Coffee. There are also packets of hot chocolate, and French hand-crafted tea (La Maison Du Thé).
The mini-bar is stocked with a variety of alcoholic and non-alcoholic beverages, chocolate, and complimentary milk.
Noticeable omissions from the room include bottled water, and a welcome sheet listing the Club Room benefits. For the full list of benefits, you can refer to the hotel website.
Within Grand Millennium Auckland
The hotel was built in 1989 as the Pan Pacific, and has been managed by numerous brands since, including Carlton, Rendezvous, and now Grand Millennium as of 2016.
The hotel remains New Zealand's largest, with 452 guest rooms.
Having been constructed by a Japanese developer, the design of the hotel is reminiscent of major business hotels in Asia. There is a separate lift from the drop-off area (seen in the image below) that takes you direct to Levels 10 to 12, which contain the Club Rooms, Suites and Millennium Lounge.
The hotel atrium is very open, with a void that runs through the centre of the building providing ample light to corridors and communal spaces.
On Level 4, you'll find an indoor heated swimming pool, men's & women's saunas, a gym, and an outdoor terrace and garden area.
The hotel also has a business centre with computers, a printer, and seperate meeting rooms.
Millennium Club
One of the benefits of booking a Club Room is 24/7 access to the Millennium Club on Level 12.
The club has views towards the Auckland skyline. Not particularly picturesque!
It is a comfortable space, albeit reasonably small. They do open up an adjacent meeting room to provide for more seating when busy.
While open 24/7, you won't find much in the club lounge during the day outside of the hours that they serve breakfast and evening canapes. I witnessed fruit, mints, crackers, tea/coffee, bottled still and sparkling water (which is good, because the rooms don't have any), and soft drinks.
Evening canapes and drinks are served in the club lounge between 5pm and 7pm. There is a bar and table service for drinks. The staff are lovely, and very attentive.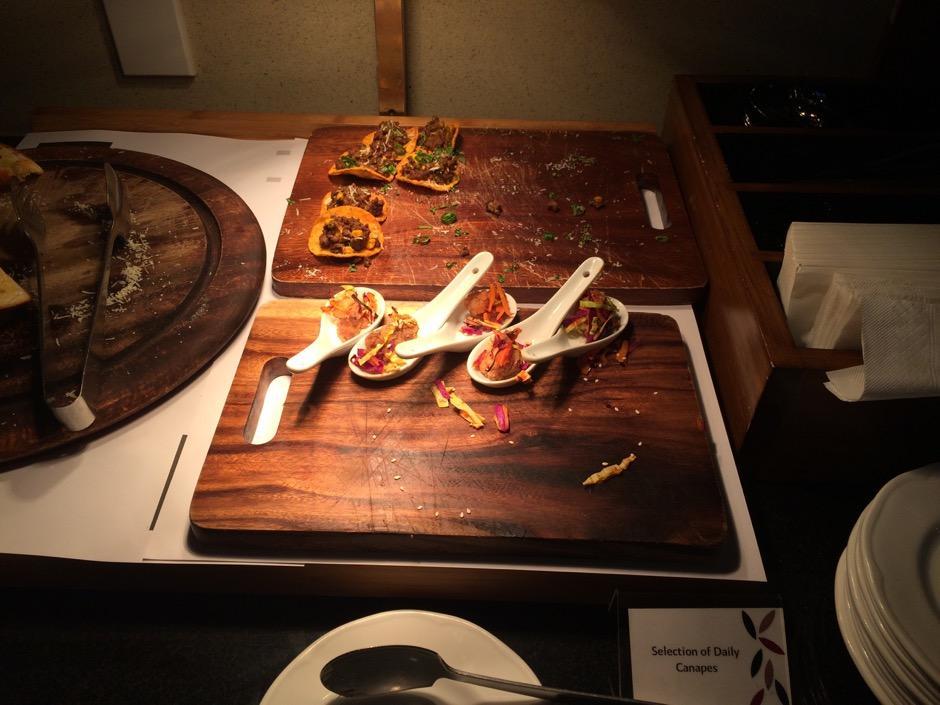 Breakfast
While not clearly publicised, if you book a Club Room, you will ultimately have two choices for breakfast:
Continental and A la carte in the Millennium Club; and/or
Buffet in the Brassiere on the Lower Level
The continental breakfast options are limited though sufficient to complement an order from the A la carte menu.
The A la carte menu contains much of what you would expect to see from any café that serves breakfast. There is no additional cost for making an order from this menu.
We had the Creamy Mushrooms on Toast, and the French Toast. I haven't been to many chain hotels that offer complimentary A la carte with a club room, so I have to say that this was one of the better breakfasts that I've had away from the boutique brands.
The Millennium Club is also the only place where you can get barista coffee without a surcharge (the Brassiere charges extra), so I would suggest heading there if you need a decent coffee fix in the morning.
Note that persons under 18 are not allowed into the Millennium Club, even if accompanied by an adult. This won't be great if you're travelling together as a family.
The buffet options in the Brassiere are pretty extensive, with a mix of Western and Asian options. I'll let the images speak for themselves.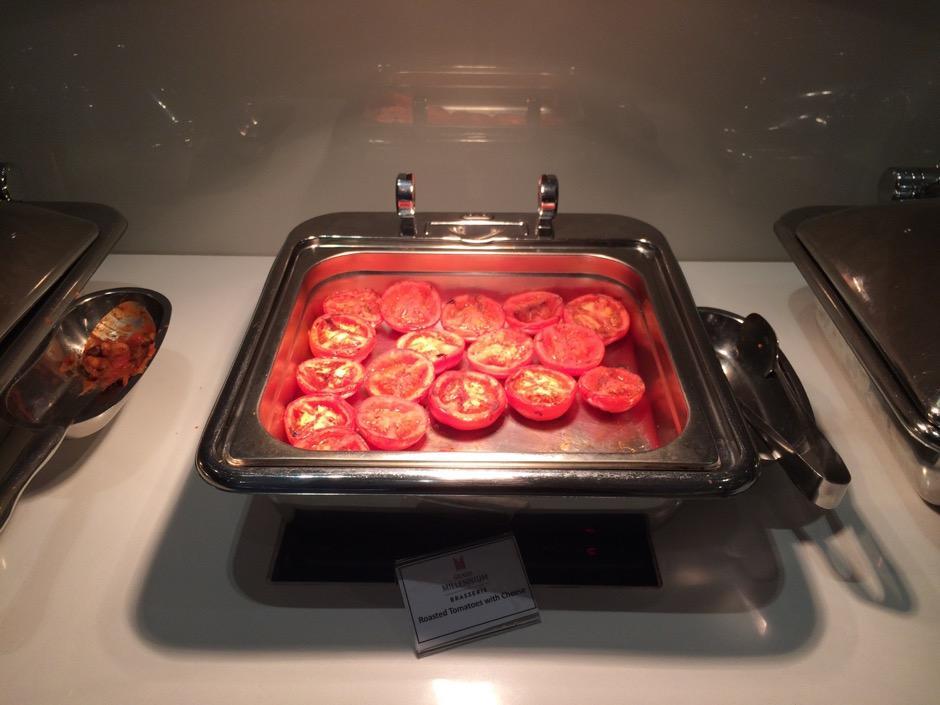 Around the Hotel in Auckland
While centrally located, the Grand Millennium is awkwardly separated from the CBD by Mayoral Drive, which cuts quite an ugly swathe through what should be one of the nicest parts of Auckland. While Aotea Square, the Town Hall and Queen Street are only a short walk away, make sure you stick to the crossings! You'll find some shortcuts to Aotea Square through Greys Avenue, a little to the east of the hotel.
Other Auckland Hotel Reviews
Summing Up – Grand Millennium Auckland
While the Grand Millennium Auckland does not feel quite as refined as some other 5-star Auckland hotels, we found the room to be comfortable, the Millennium Club to be cosy with great service, and the breakfast options to be extensive. This hotel would be a good option for leisure and business travellers alike.
Just make sure you remember to present your frequent flyer membership card at the front desk if you want to earn points!
Feature image courtesy of Millennium Hotels and Resorts
Grand Millennium Auckland, King Club Room – Picture Review
was last modified:
October 9th, 2017
by