Prior to my Dreamliner flight to Perth, I needed to position to Melbourne and due to the 6:45am flight, it wasn't possible to fly down from Sydney the morning of departure. I also had business to attend to in Melbourne, so I decided to book a hotel closer to the CBD rather than the airport.
Research & Booking
The Four Points Melbourne Docklands is ranked #42 out of 161 hotels in Melbourne on TripAdvisor, which is in the upper quarter of the hotels in the area.
At the time of writing this review, this property was classified as an SPG Category 4 property, costing 10,000 Starpoints per night.
Due to the merger of SPG into Marriott Rewards, this is now a Marriott Category 3 property, costing 15,000/17,500/20,000 Marriott Rewards points per night (off-peak/standard/peak).
I booked a standard City View Room on a flexible SPG Member rate which I've seen range from $135-200.
This represents good value compared to hotels in the CBD, where I often see rates well over $300 when booking a month out. Plus being out on the outskirts of the CBD, it's quicker to get to the airport in the morning.
Due to my SPG Platinum status, I was upgraded to a 28 square-meter Deluxe Harbour View room at check-in.
Four Points Melbourne Docklands Deluxe Harbour View Room – Picture Review
was last modified:
September 26th, 2019
by
The Room – Deluxe Harbour View
The rooms are decorated with a wood-look bedhead which spans the length of the wall with deep-blue carpets and light-grey furniture.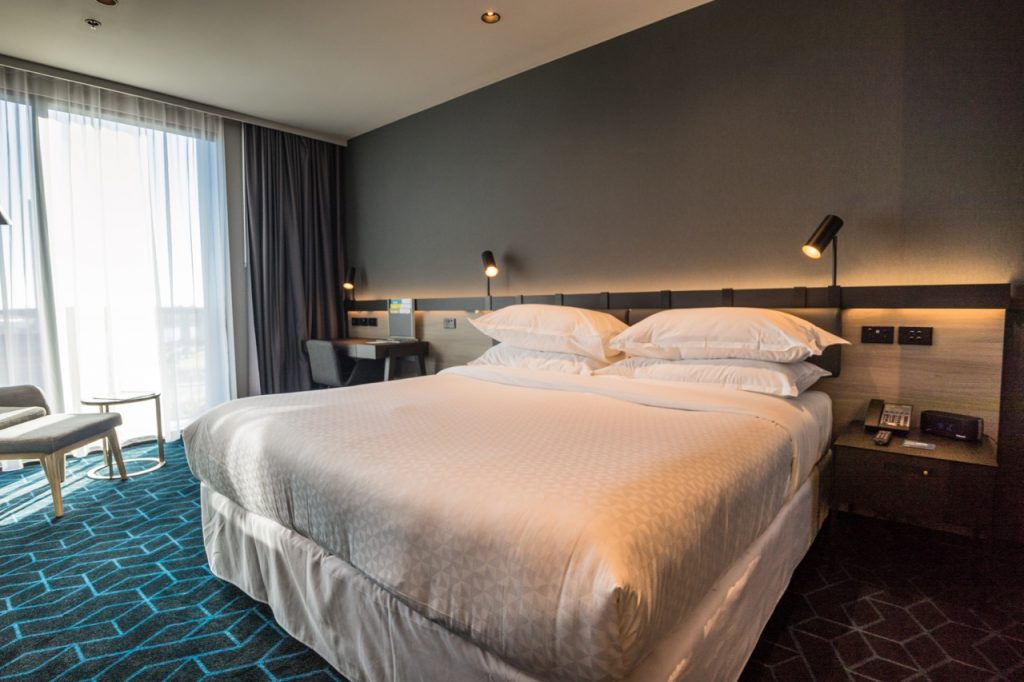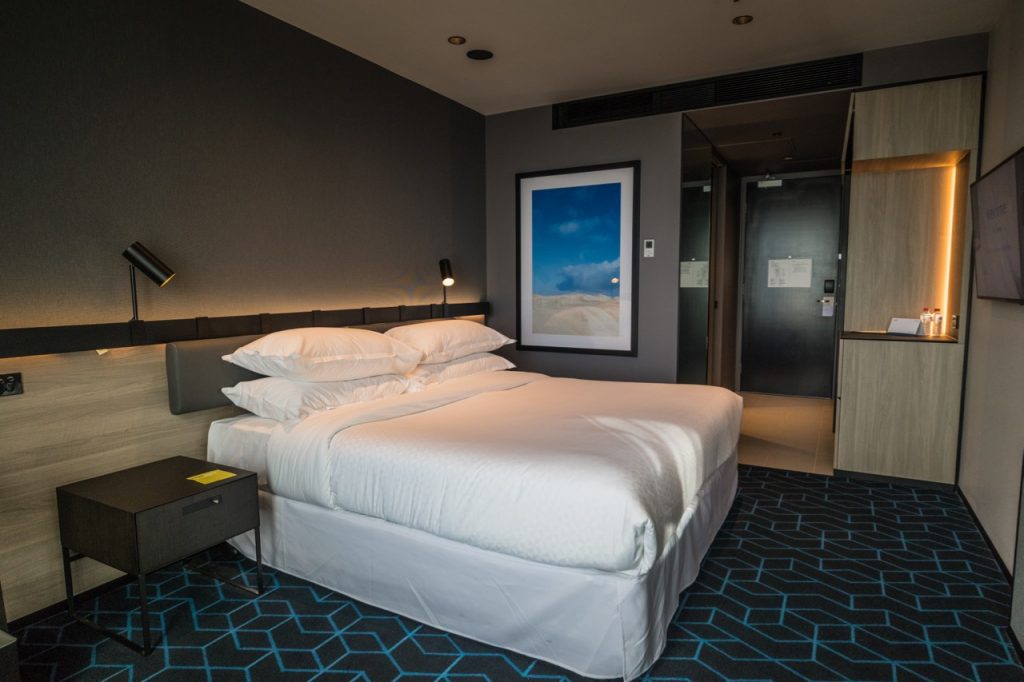 A large flat-screen TV is mounted on the wall in front of the king-sized bed. Power and USB charging points are conveniently located on either side of the bed.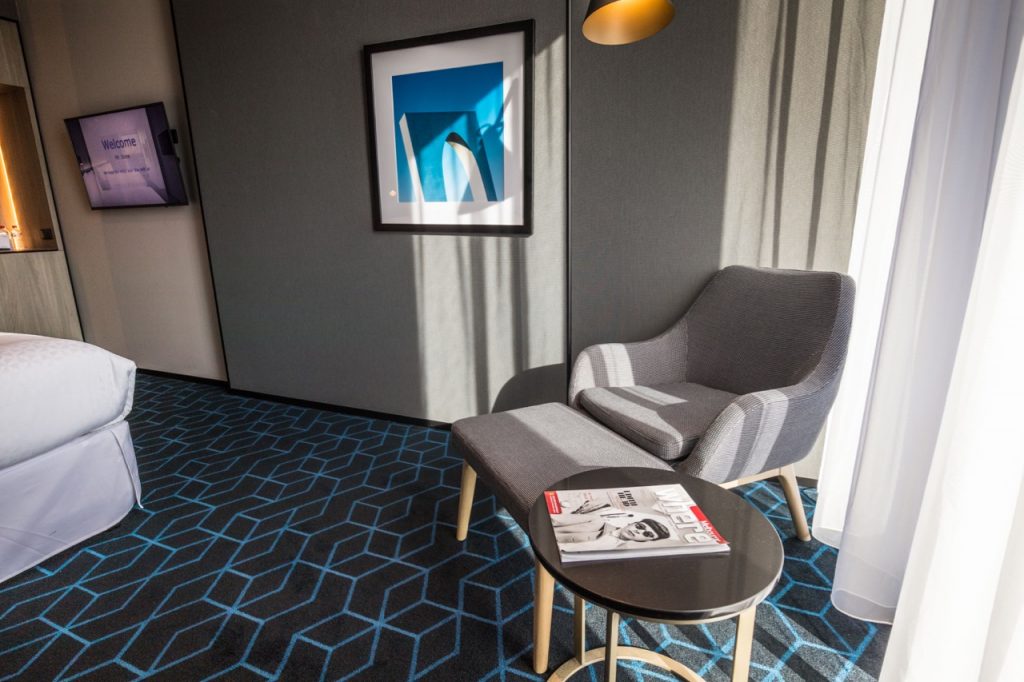 The Deluxe rooms are located above Level 8, so they have the best views over Melbourne Harbour and the Bolte Bridge.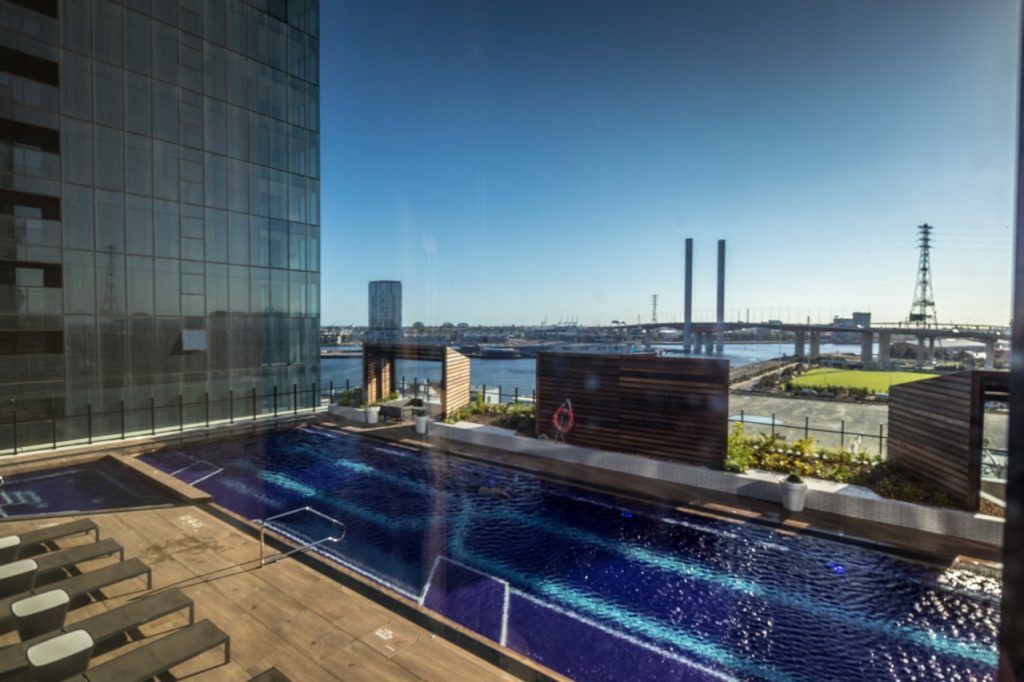 Complimentary bottles of water are provided for SPG members.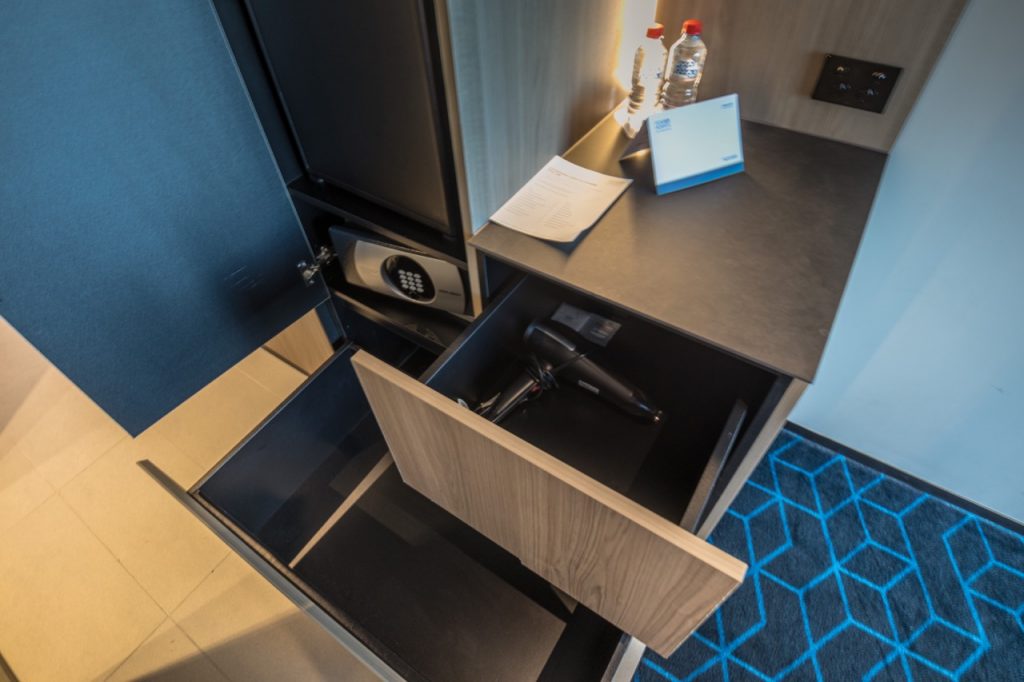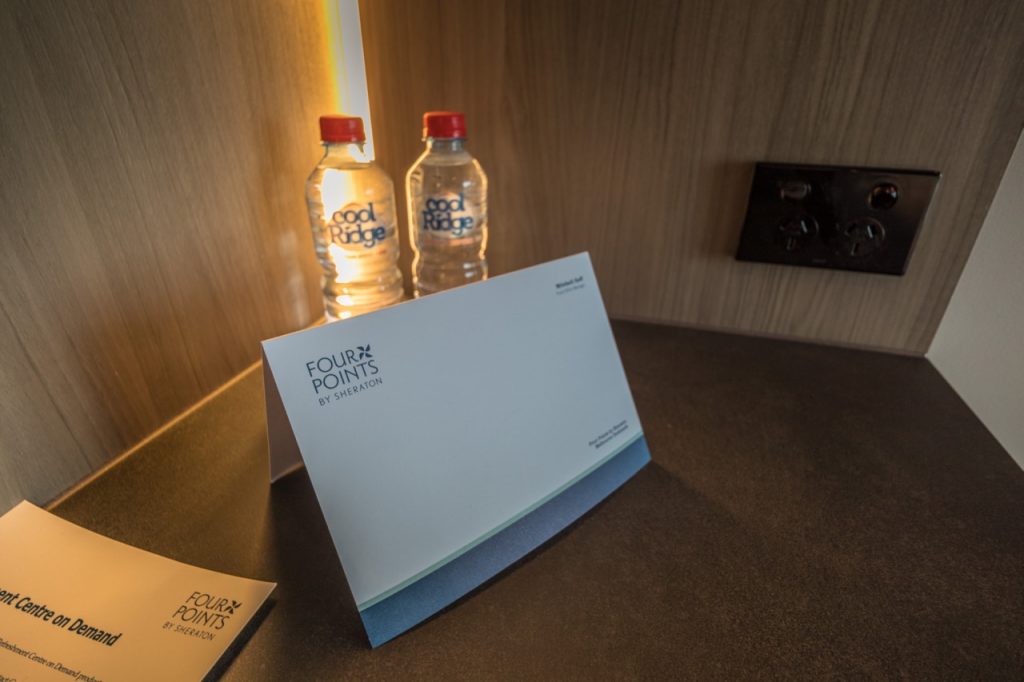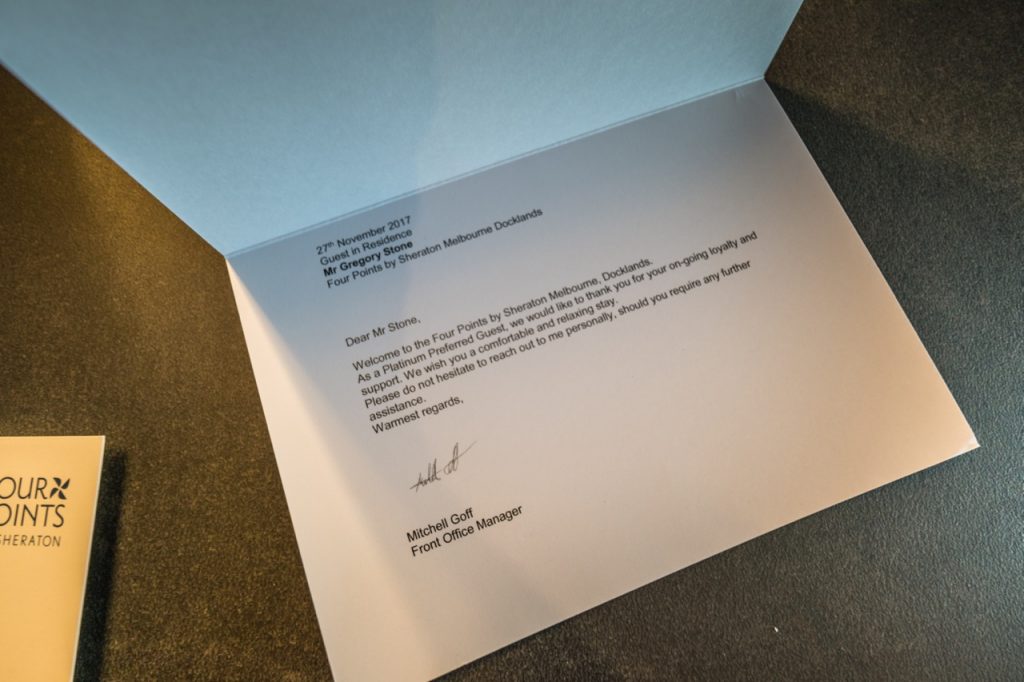 There are adjustable reading lights either side of the bed and at the desk. The desk is functional with power and USB charging points on the wall behind.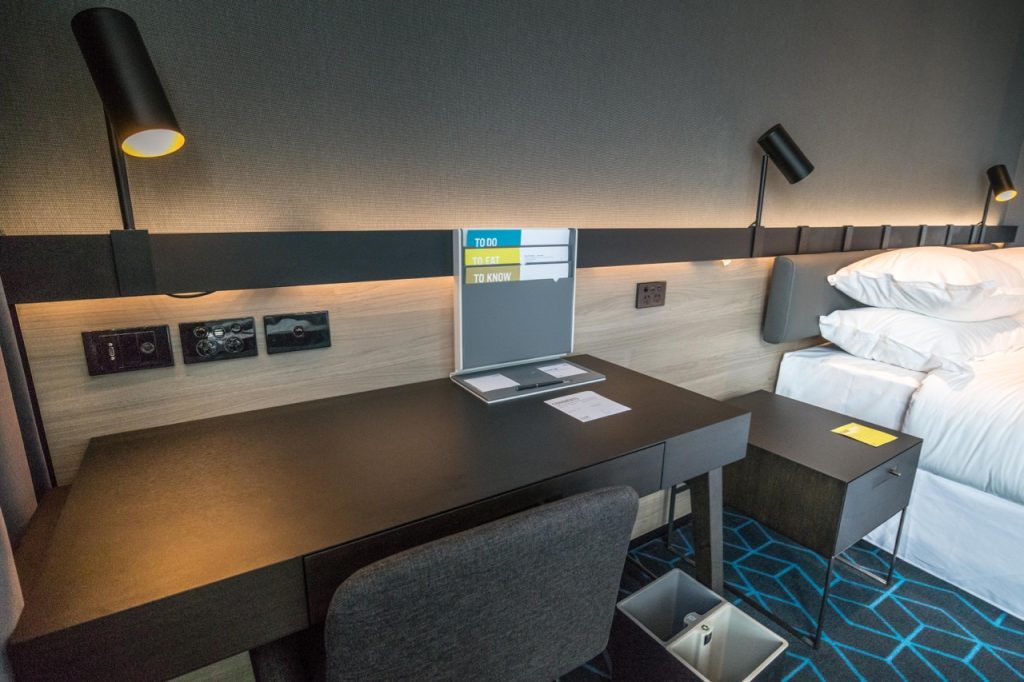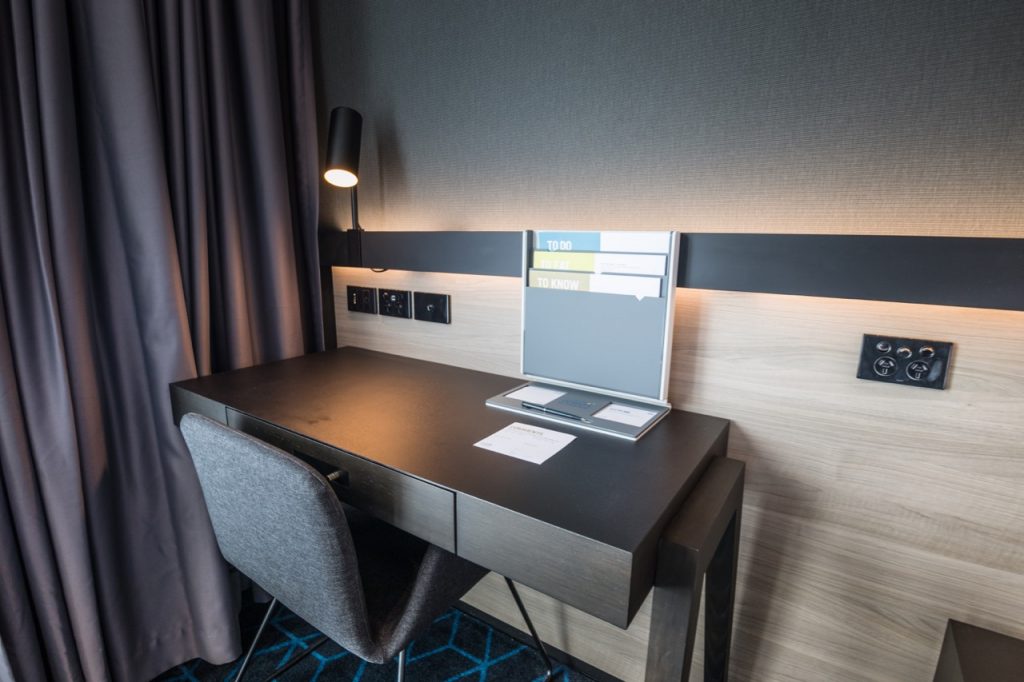 On a previous stay, I had been upgraded to a 48-square-metre Deluxe Studio, which features a separate living area, bathtub in the main bathroom and a water closet.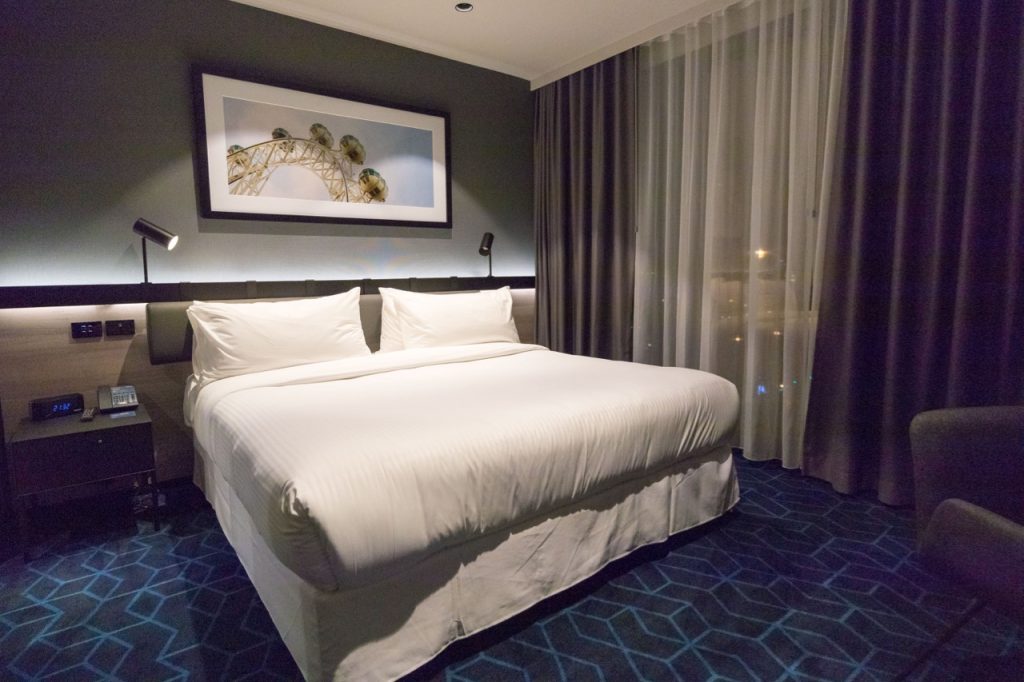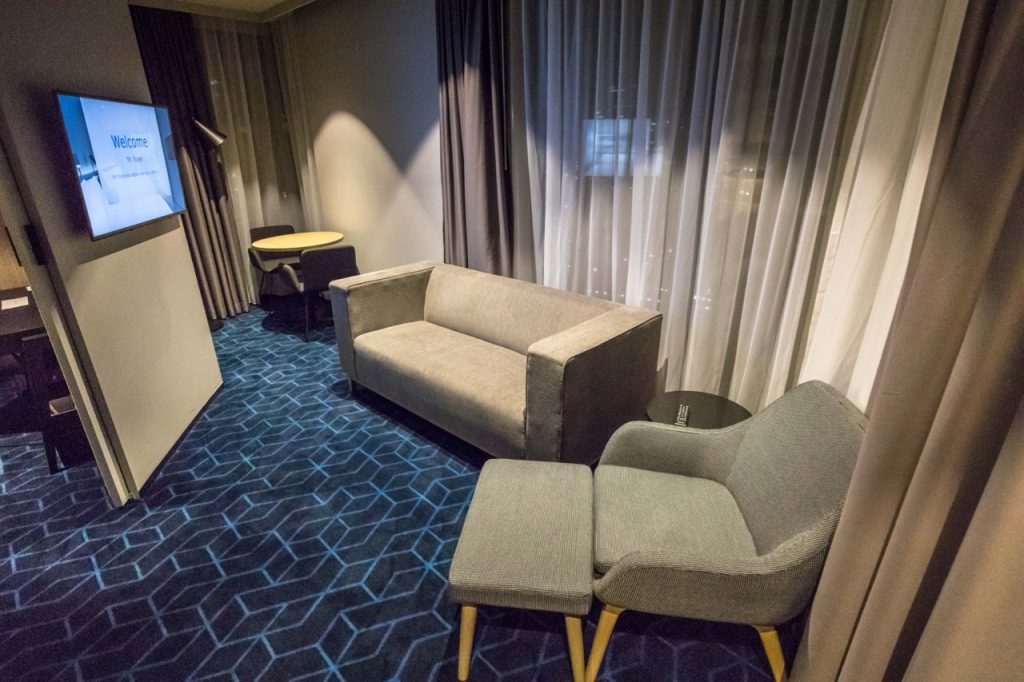 Bathroom
The bathroom has large dark-grey floor-to-ceiling tiles and a white wall-hung vanity with just enough space to store your toiletries bag on.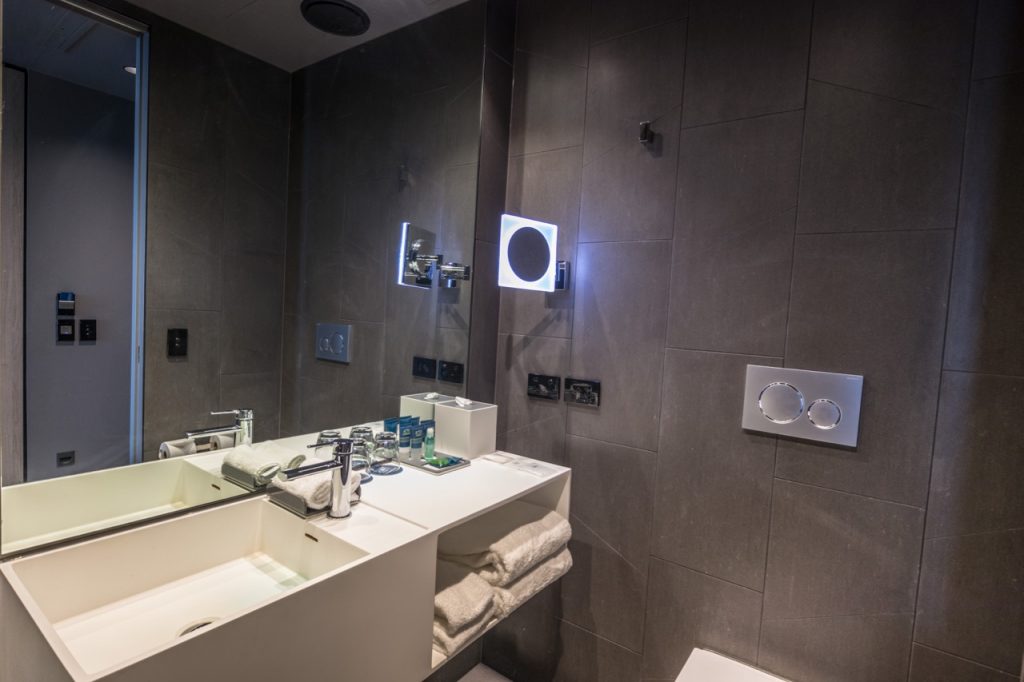 A large walk-in shower features an overhead rainforest head as well as an adjustable hand-held showerhead with excellent water pressure.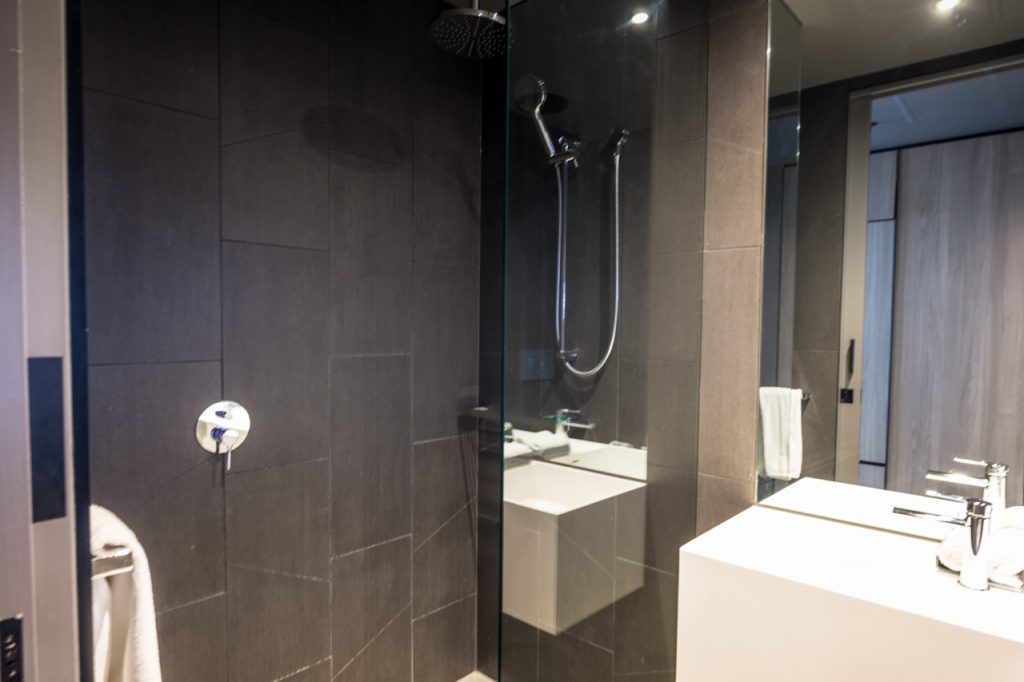 Activ toiletries plus mouthwash are included.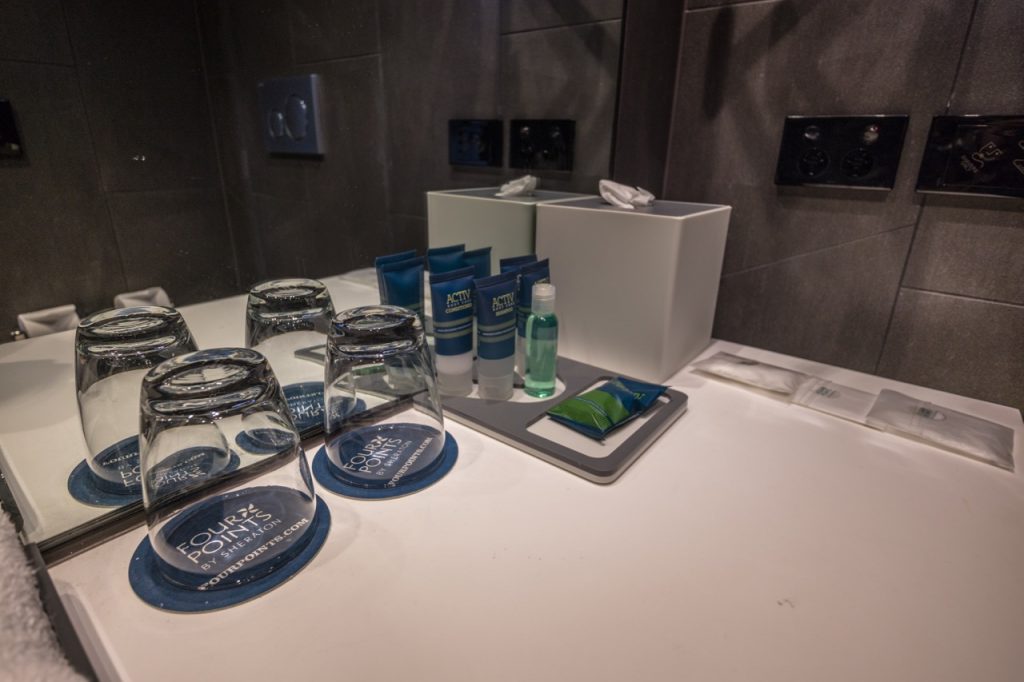 The Hotel
The double-height lobby fills with afternoon sun and has entrances from both Docklands Drive and Pearl River Road.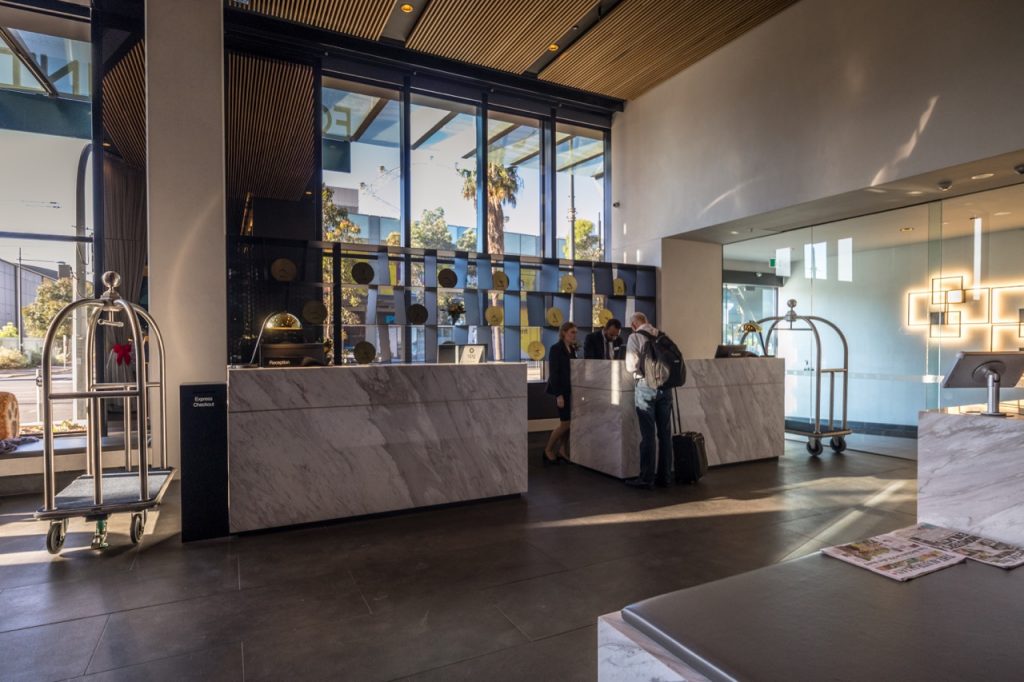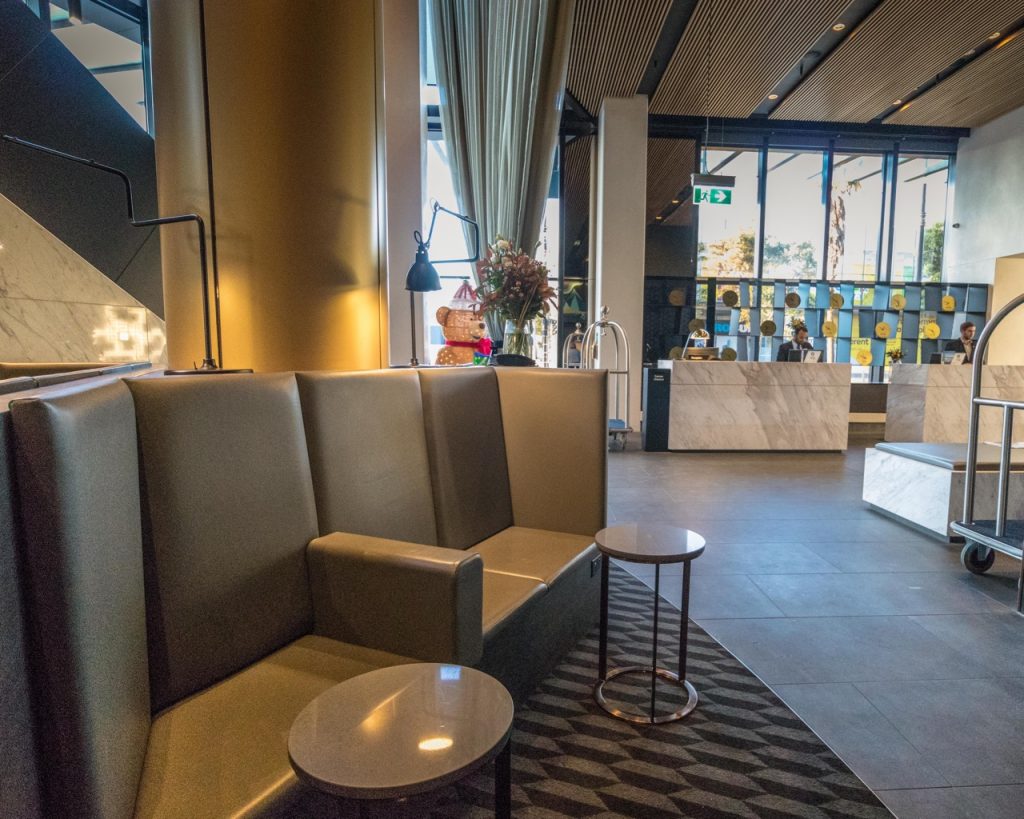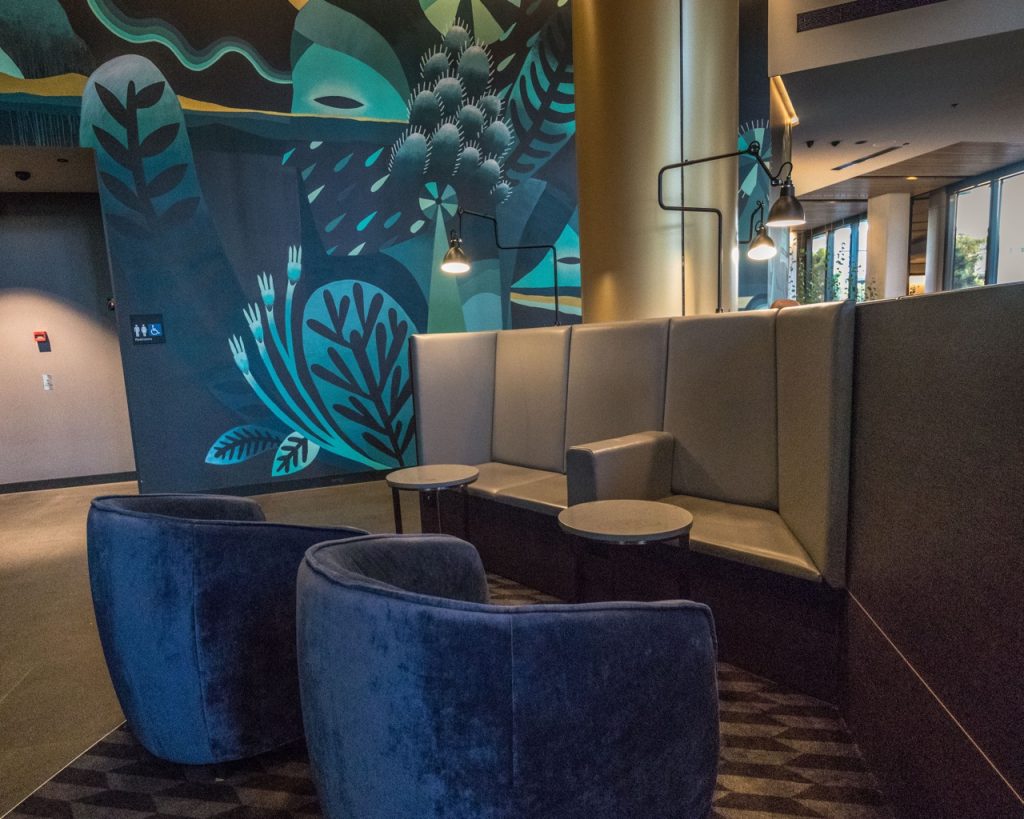 Dining
The Best Brews Bar is located adjacent to the lobby and was quite busy on the afternoon of my arrival.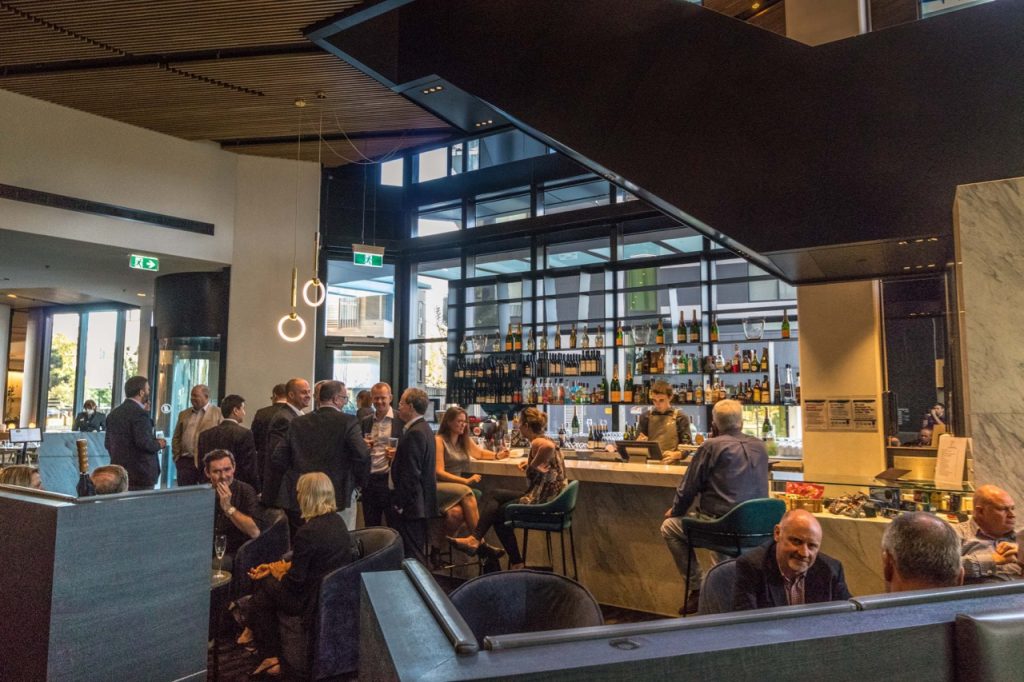 One of its highlights is a large selection of local Melbourne craft beers.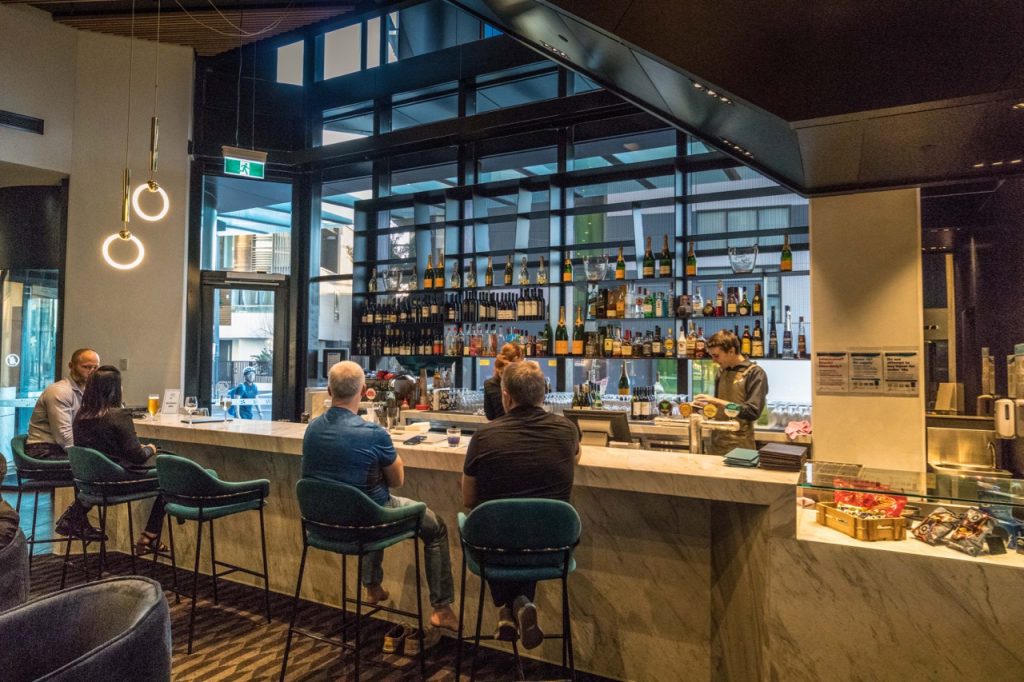 The relaxed all-day dining Dock 18 Restaurant is also on the ground floor. Due to my 6:45am flight, I skipped the buffet breakfast this trip.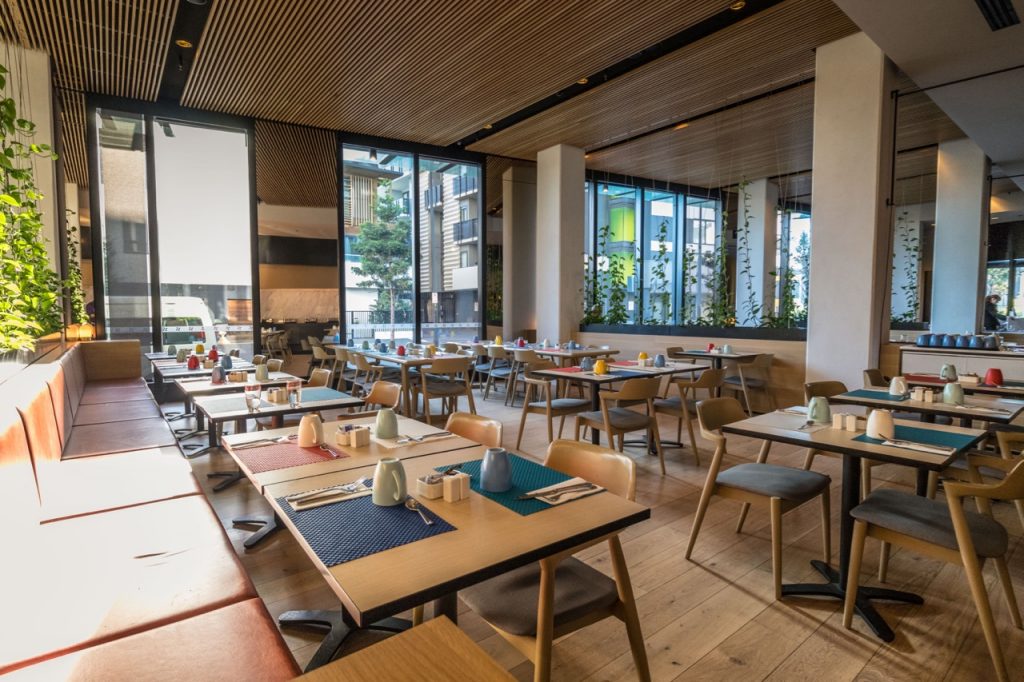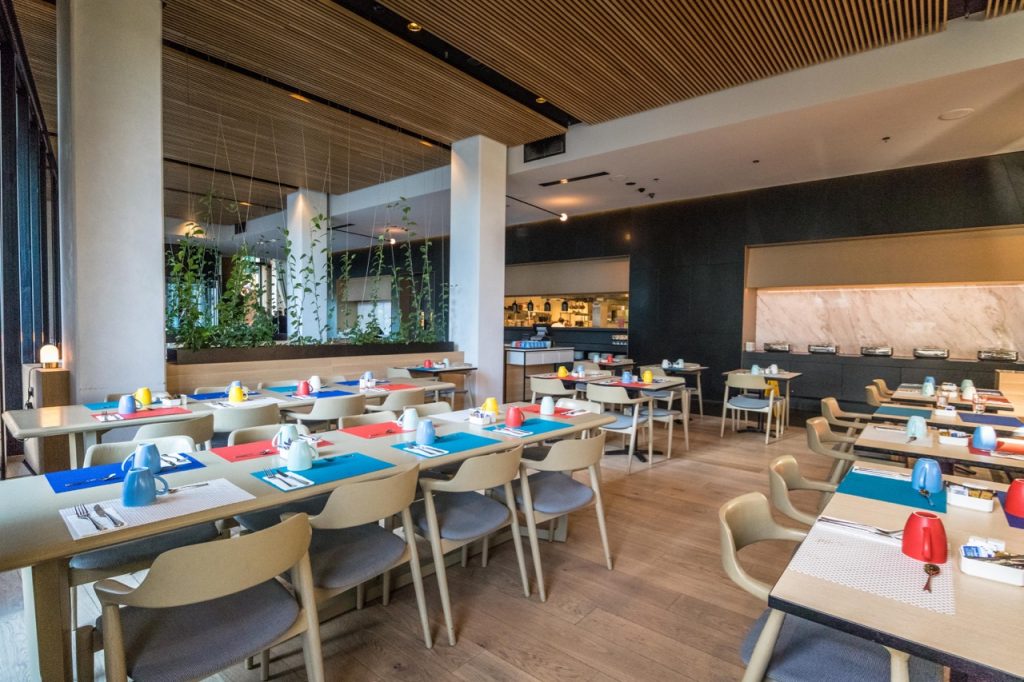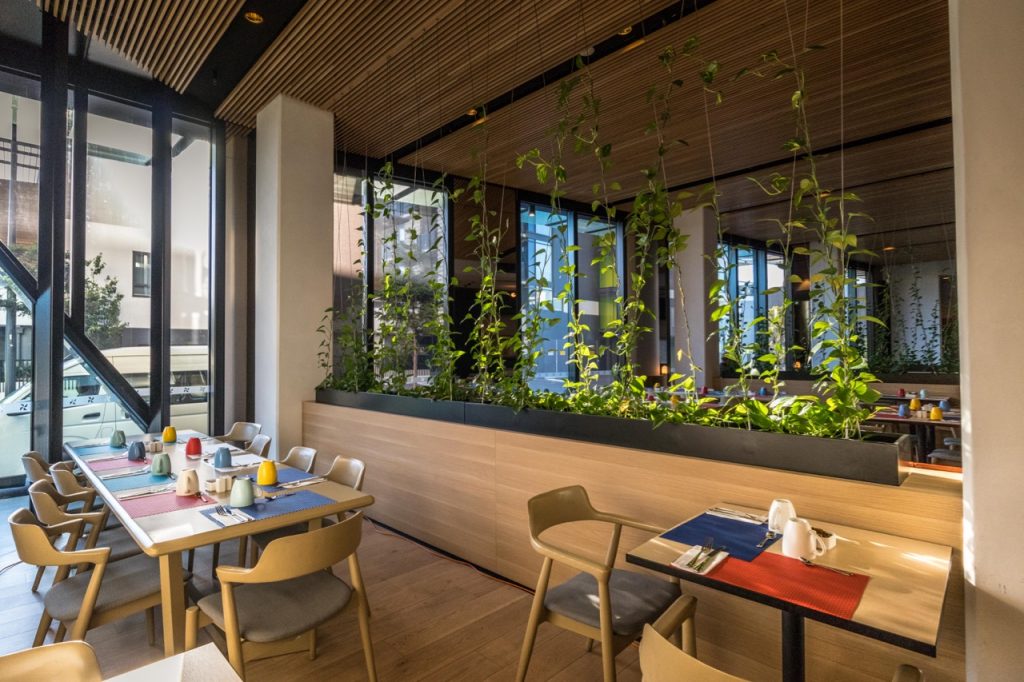 Amenities
There is an outdoor 25m heated pool on Level 7 and a 24/7 fitness centre with a range of cardio equipment, free weights and a mat area. At the time of my visit, the gym was busy so I couldn't grab a photo.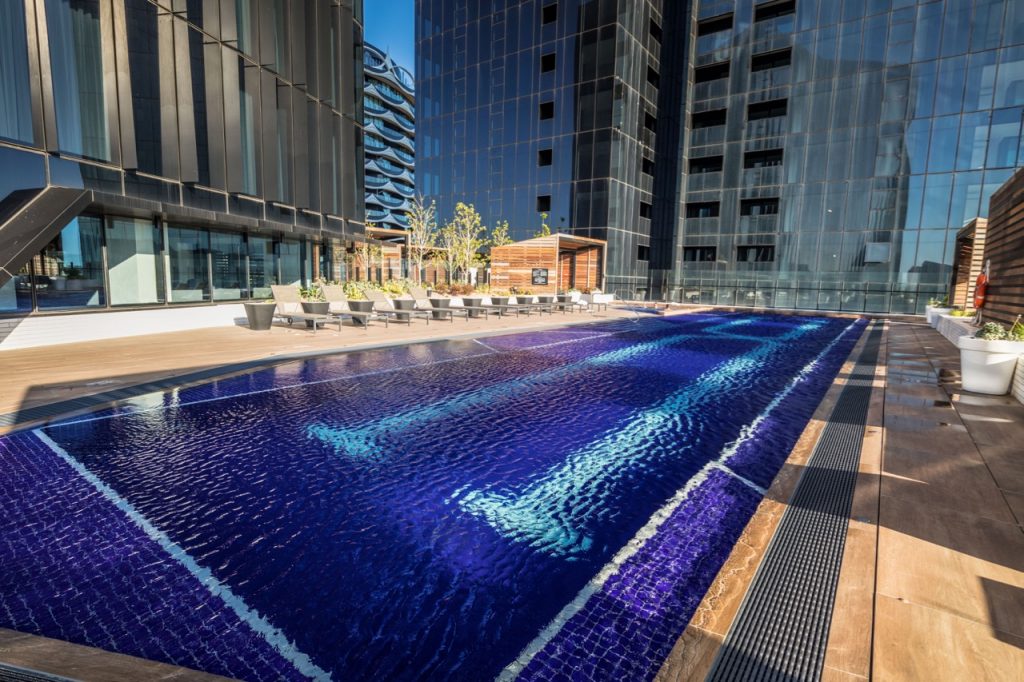 The wifi coverage and speed is excellent and is free for all SPG members.
Around the Four Points Melbourne Docklands
The Docklands area has a huge number of restaurants within walking distance from the hotel. A free tram conveniently stops right out the front of the hotel and takes you into the CBD. The trip to the Elizabeth/Bourke Street intersection takes approximately 18 minutes.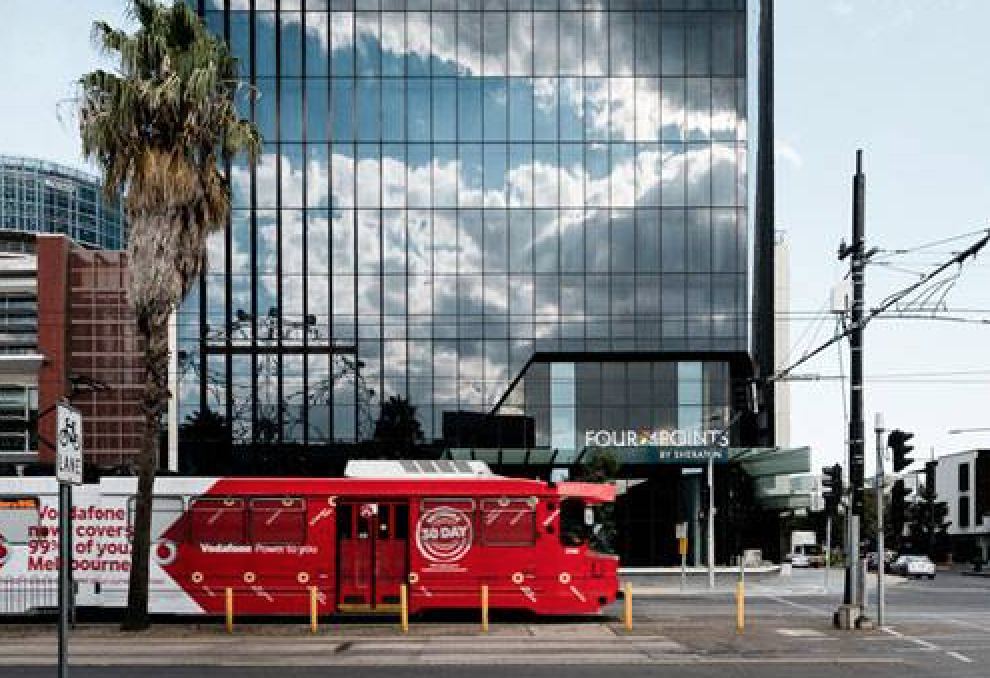 Reviews of other Melbourne hotels
Our take – Four Points Melbourne Docklands
The Four Points Docklands is a really good value Melbourne hotel with modern rooms and good facilities. Its close proximity to restaurants, Etihad Stadium and quicker exit from the city will appeal to both business and leisure travellers.
The only interaction I had with staff was at check-in, when the staff member provided me with two complimentary drink vouchers for the bar after I said I would skip the breakfast due to my early-morning start the next morning.
My only problem during this visit was the previous guest had set a 4am alarm which housekeeping didn't disable at changeover, which woke me up an hour earlier than I needed to be!
Supplementary photo courtesy of Four Points Melbourne Docklands.
Four Points Melbourne Docklands Deluxe Harbour View Room – Picture Review
was last modified:
September 26th, 2019
by