I had the chance to sample Etihad's unique First Class cabin in one of their small fleet of Airbus A380's late last year – and it blew me away.
Travelling in Premium Economy, Business or First Class for me is all about the seat – as a tall guy with long legs, I really value the space and comfort, much more so than food, wine or champagne. Etihad First Class Apartments really delivered.
It's unlike any other seat or cabin I've experienced, and we're fortunate to have two cities in Australia receiving daily service – and the ability for those with larger Velocity balances to redeem their points for it.

Etihad's A380 Fleet & Routes
First Apartments, as opposed to regular First Class, are only available on Etihad's Airbus A380 fleet, which currently service the following destinations from Etihad's Abu Dhabi hub: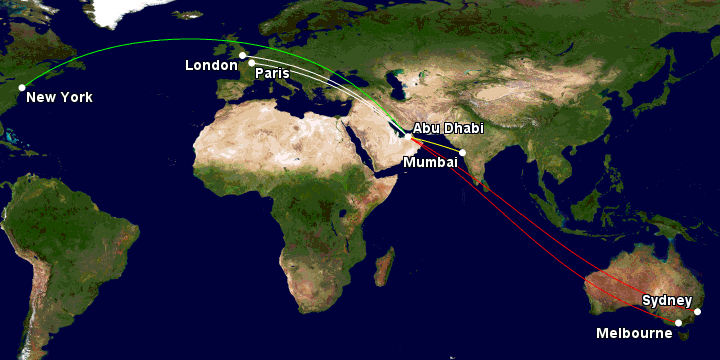 Sydney 1x daily
Melbourne 1x daily
London 3x daily
Paris 1x daily (seasonal summer service from 1 July to 28 October 2017)
New York 3x daily
Mumbai 1x daily (until 30 June 2017)
How to redeem points for Etihad A380 First Class
There are three key primary loyalty programs whose points can be used for Etihad redemptions:
Velocity Frequent Flyer
Etihad Guest
American Airlines AAdvantage
Here's how the pricing in terms of points stacks up:
| Route (one way, First Class) | Velocity points | Etihad Guest miles* | AAdvantage miles |
| --- | --- | --- | --- |
| Perth - New York | 203,000 | 272,498 | 215,000 |
| Melbourne - New York | 203,000 | 272,499 | 215,000 |
| Brisbane - London | 203,000 | 223,999 | 162,500 |
| Sydney - Abu Dhabi | 152,500 | 136,249 | 100,000 |
*Updated with Etihad Guest minor award pricing changes on its own flights effective January 2018.
[etihadredemptionguide]Read our full guide to redeeming Velocity Points for Etihad flights here →[/etihadredemptionguide]
–>
Velocity have a few points earning options in New Zealand, including through flights, car hire, online shopping, and the American Express Platinum Charge and Platinum Edge cards.
Etihad Guest and AAdvantage have less visibility in the market – for American Express Membership Rewards, you can transfer to these programmes via Starwood Preferred Guest.
AAdvantage will usually always win when it comes to taxes and fees – they should be minimal. Etihad Guest charges substantial fees but without the additional surcharge imposed by Velocity. Velocity's Etihad surcharges are very high, and increase for each additional sector you add into your itinerary, making one-stop return itineraries to Europe expensive in terms of out-of-pocket costs.
The Cabin – Etihad's First Class Apartment Seats & Seat Map
The nine First Apartments are located at the front of the upper deck of the Airbus A380. They are arranged in a 2-2 configuration, with a walkway for direct aisle access to window suites.
The First Class cabin also features the three-bedroom The Residence, with its own private bathroom and shower.
The nine First Apartment passengers share two bathrooms and one inflight shower.

Seatmap for Etihad A380 First Class Apartment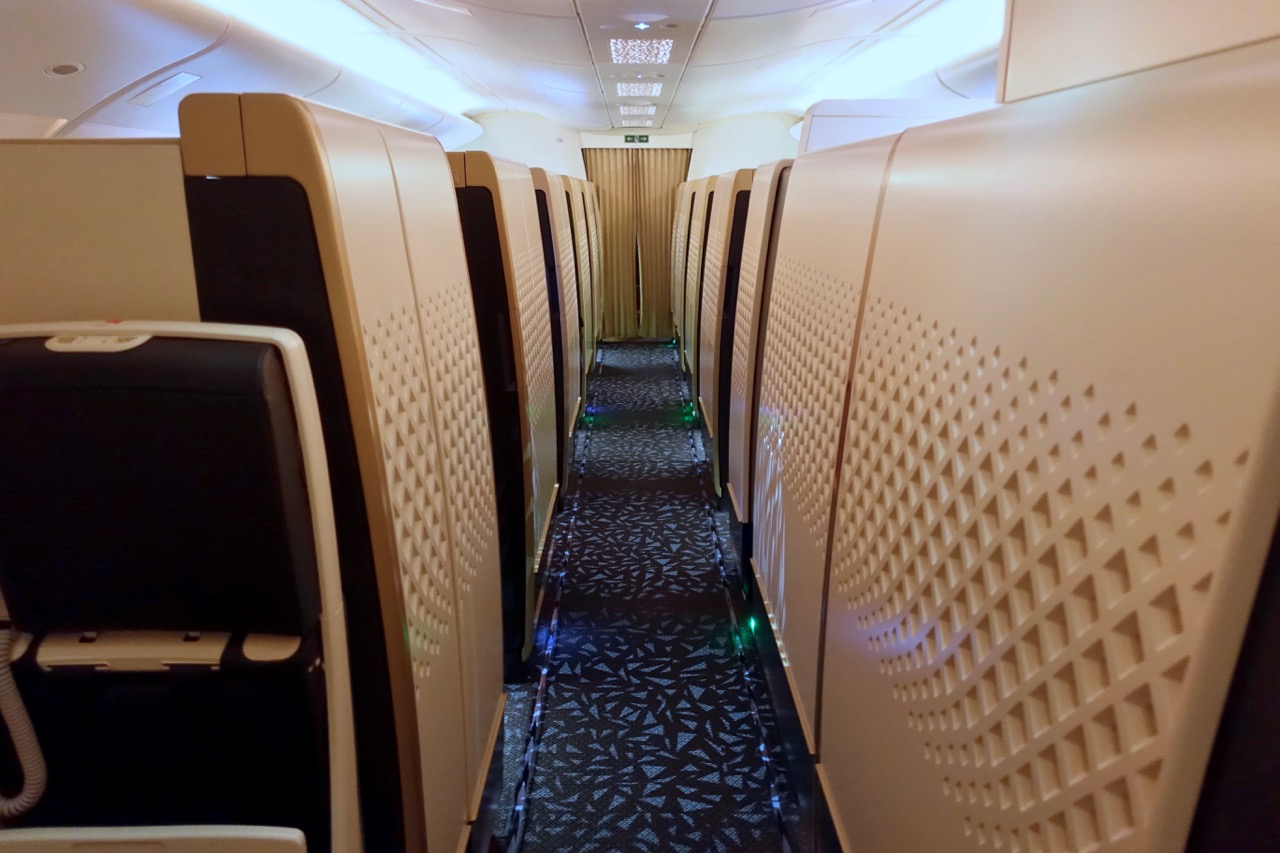 Six of the nine Apartments are interconnecting, meaning you can lower the wall to share a meal or chat with a travelling companion.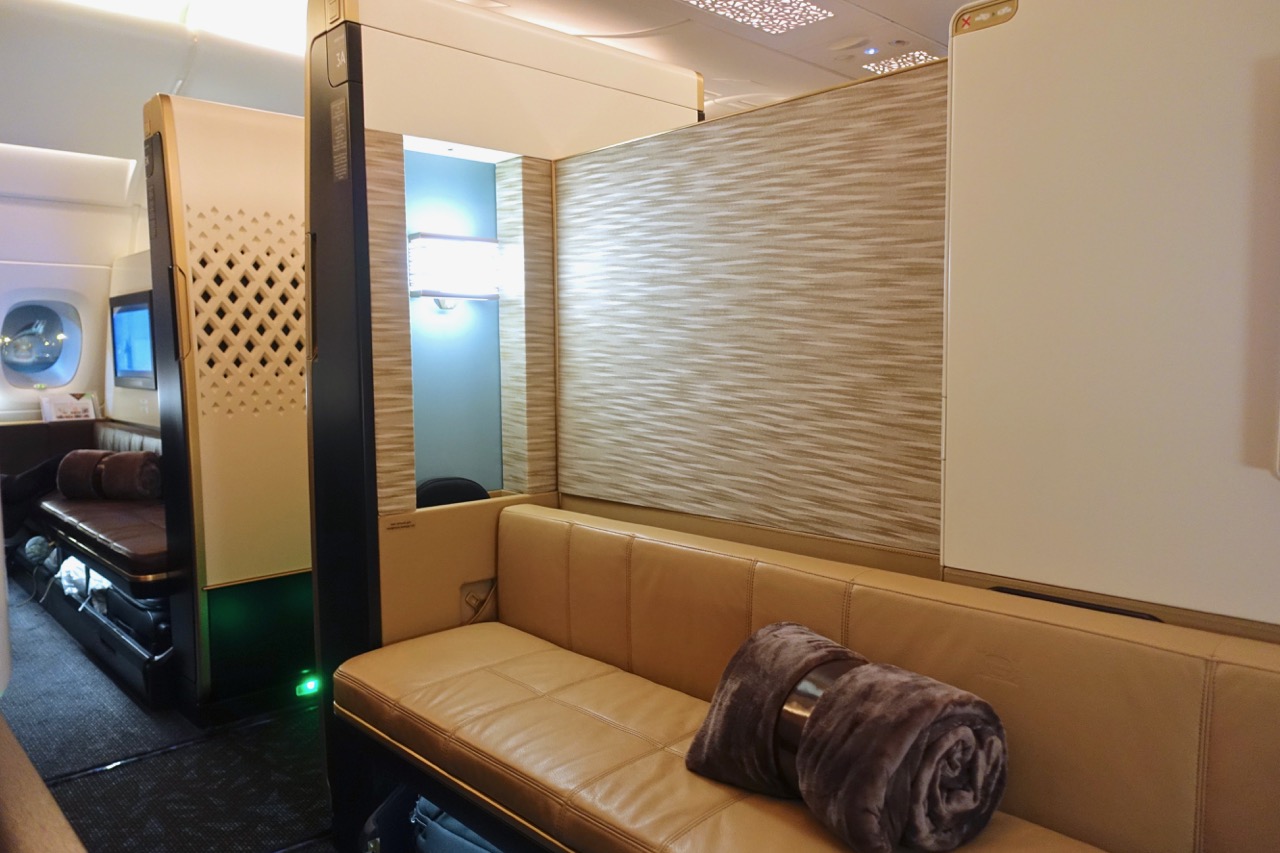 Here's the promotional video from Etihad:
Etihad's A380 First Class Apartment Seats
The First Apartment is supremely private – each passenger can be closed in their suite with a set of high sliding doors, which are more than a metre or so away from the seat itself near the window.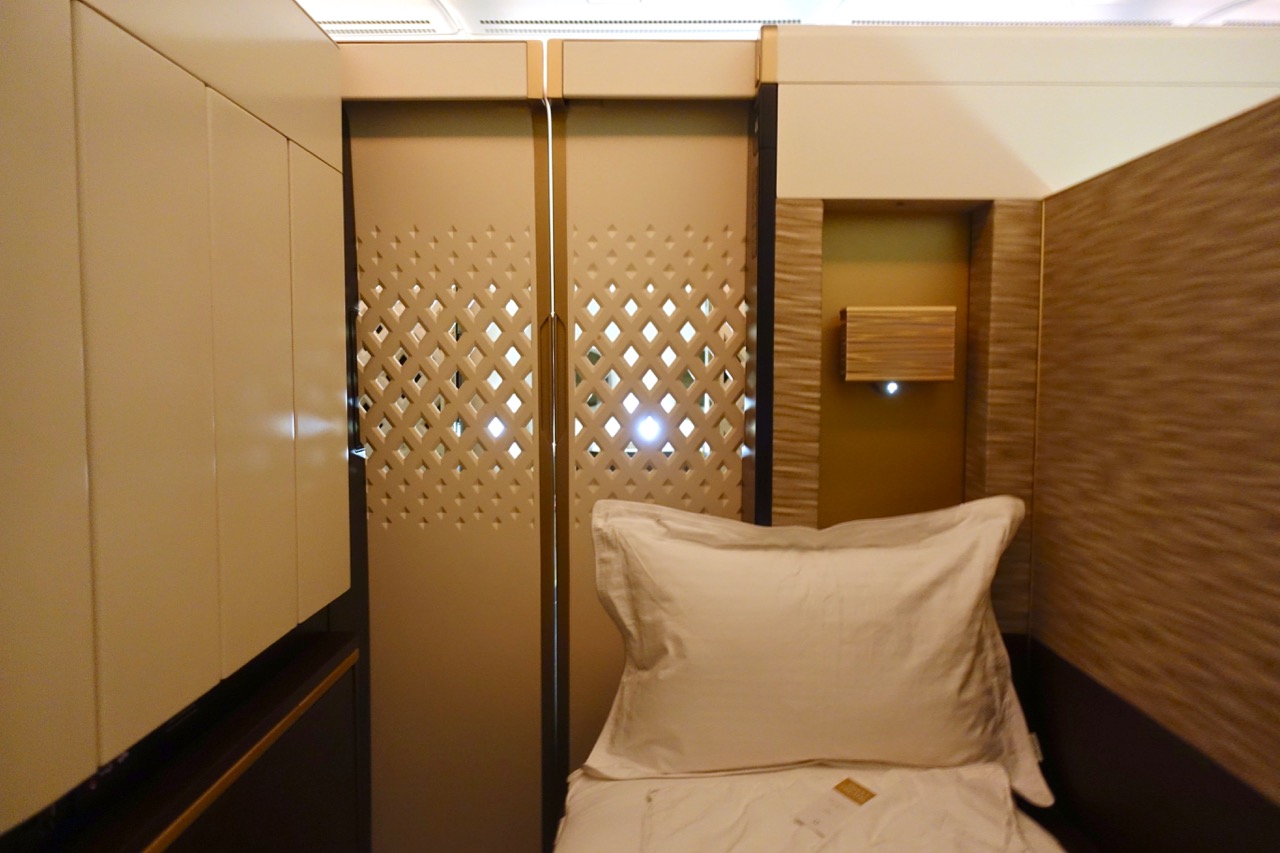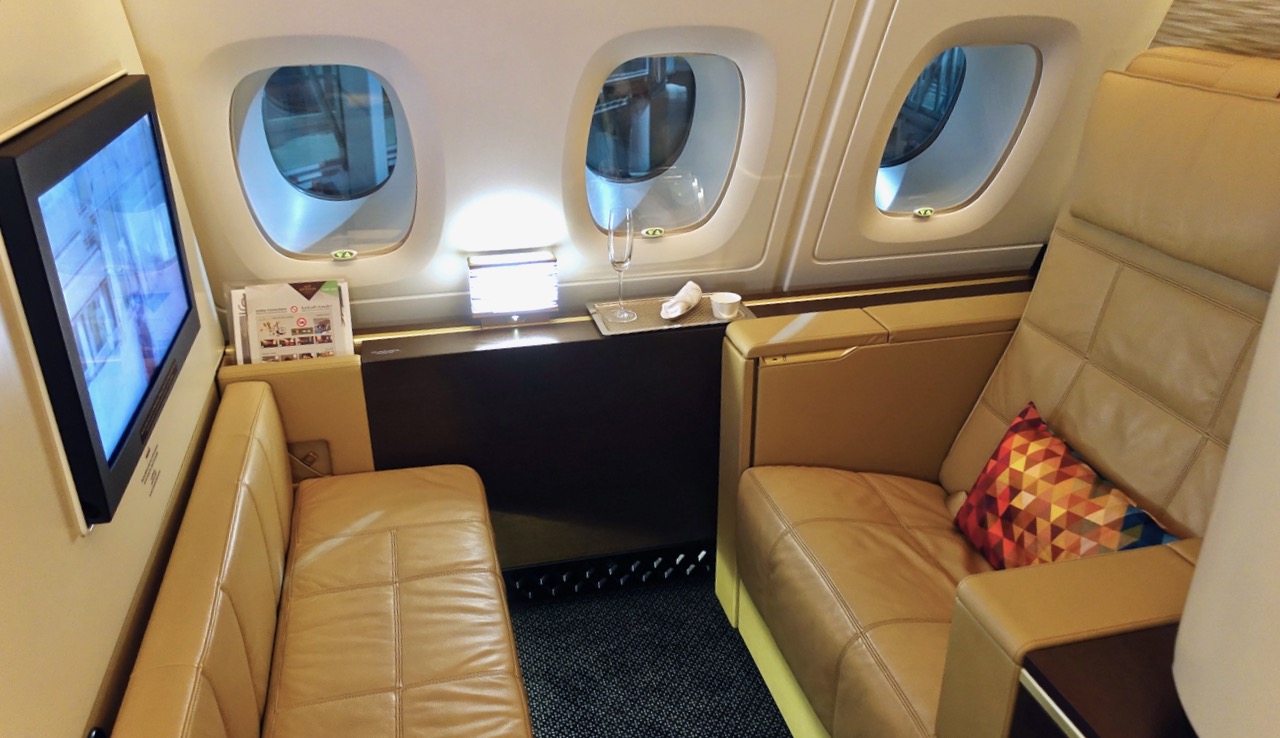 The seat faces a large, 24″ in-flight entertainment screen and is where you would dine, get some work done or recline to enjoy a movie. Opposite the seat is a long bench on which another passenger can join you to eat, or you can use as a foot rest.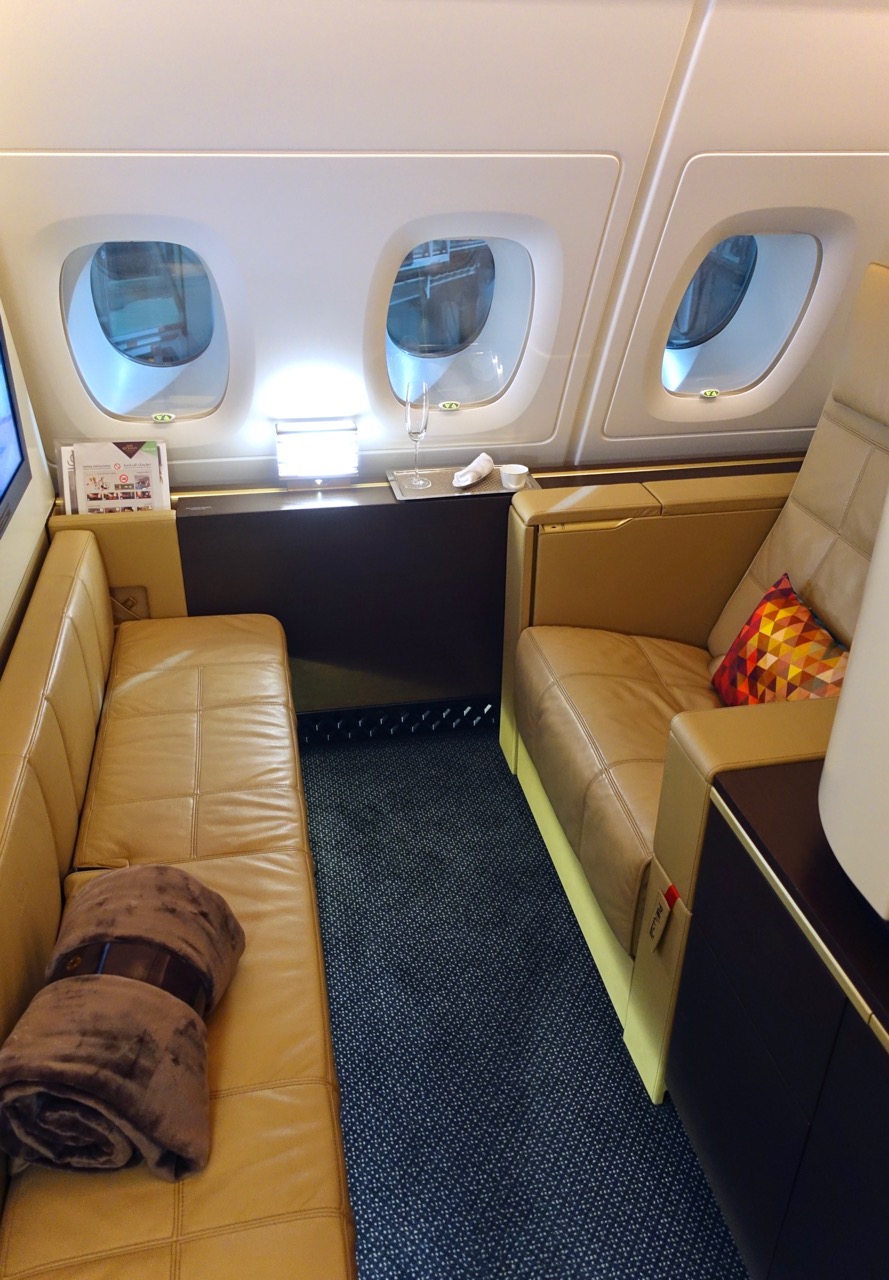 Each seat has several windows and a large console on which you can place drinks, snacks or belongings.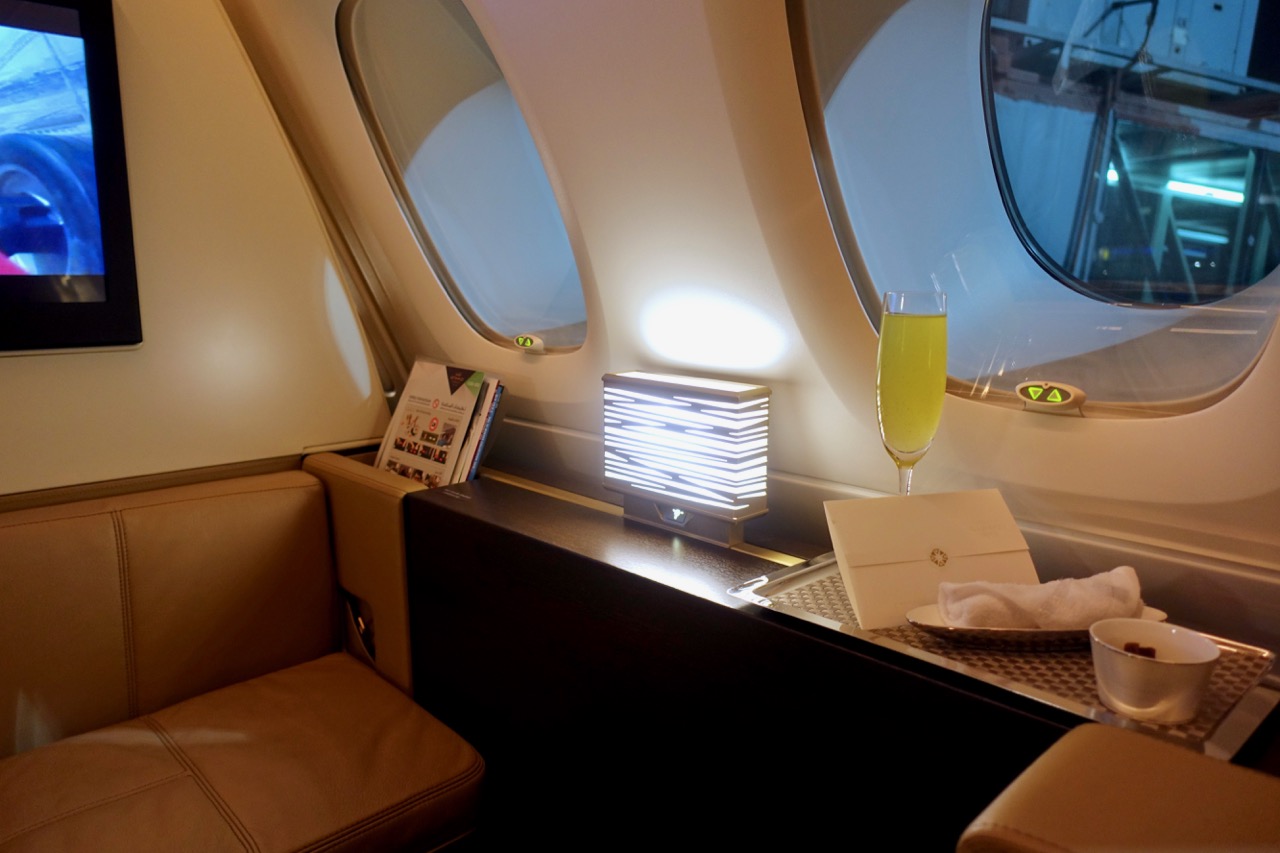 While on the other side you'll find the controller for your inflight entertainment – the screen itself is too far away to reach without getting up from your seat.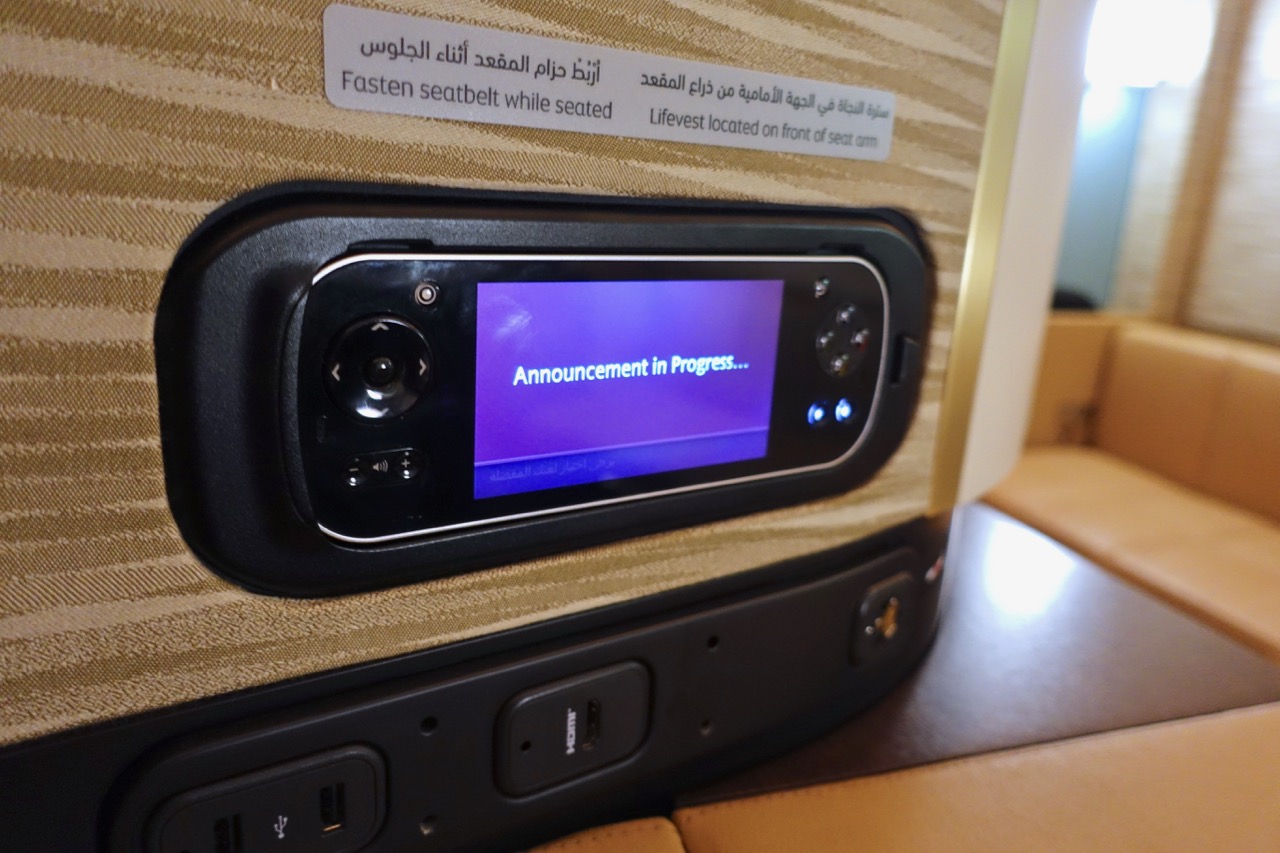 You can store your carry on luggage under the bench.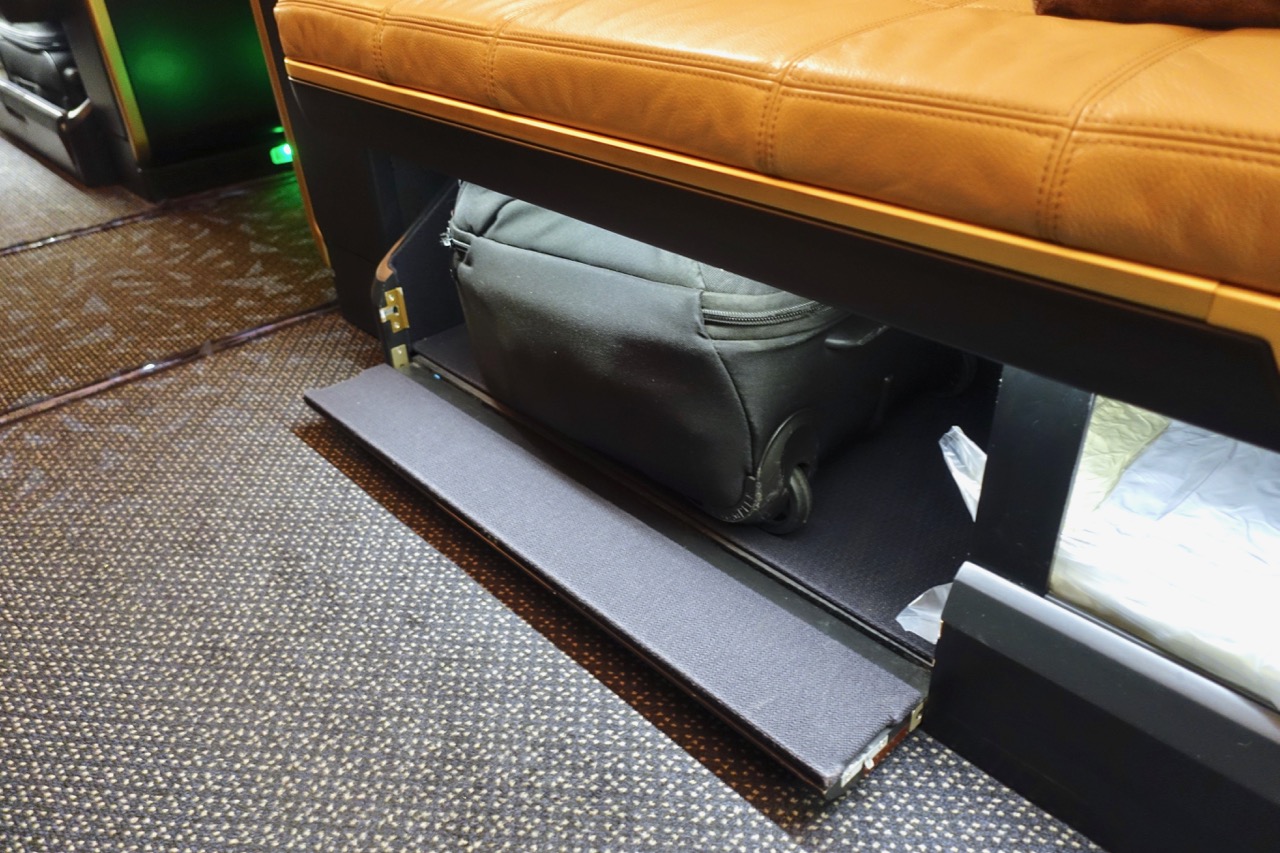 Instead of the seat itself fully reclining, the bench itself folds out into a separate 6'10"-long bed. This let me have the best night's sleep I've ever had inflight, racking up around 8 hours solid rest.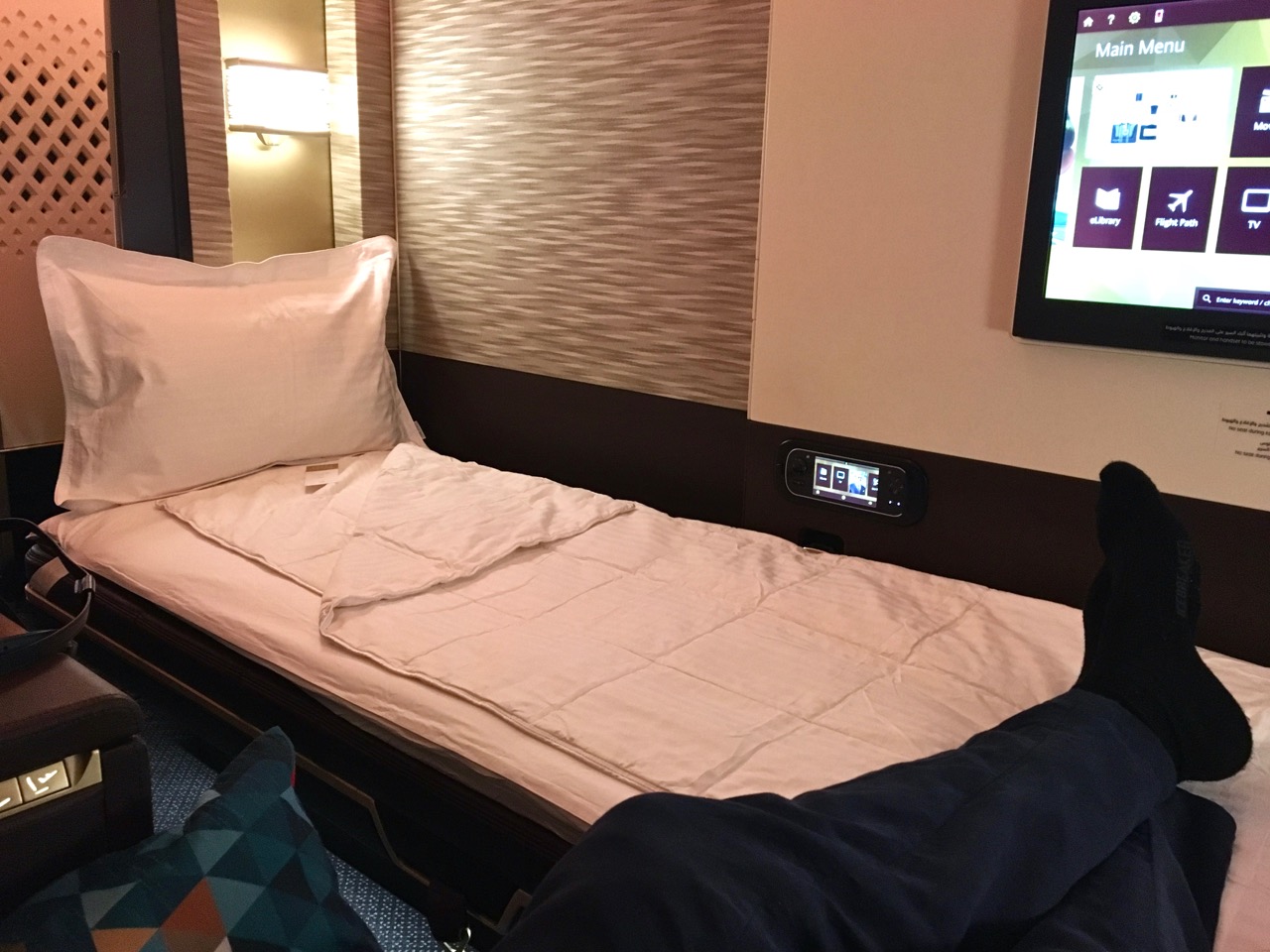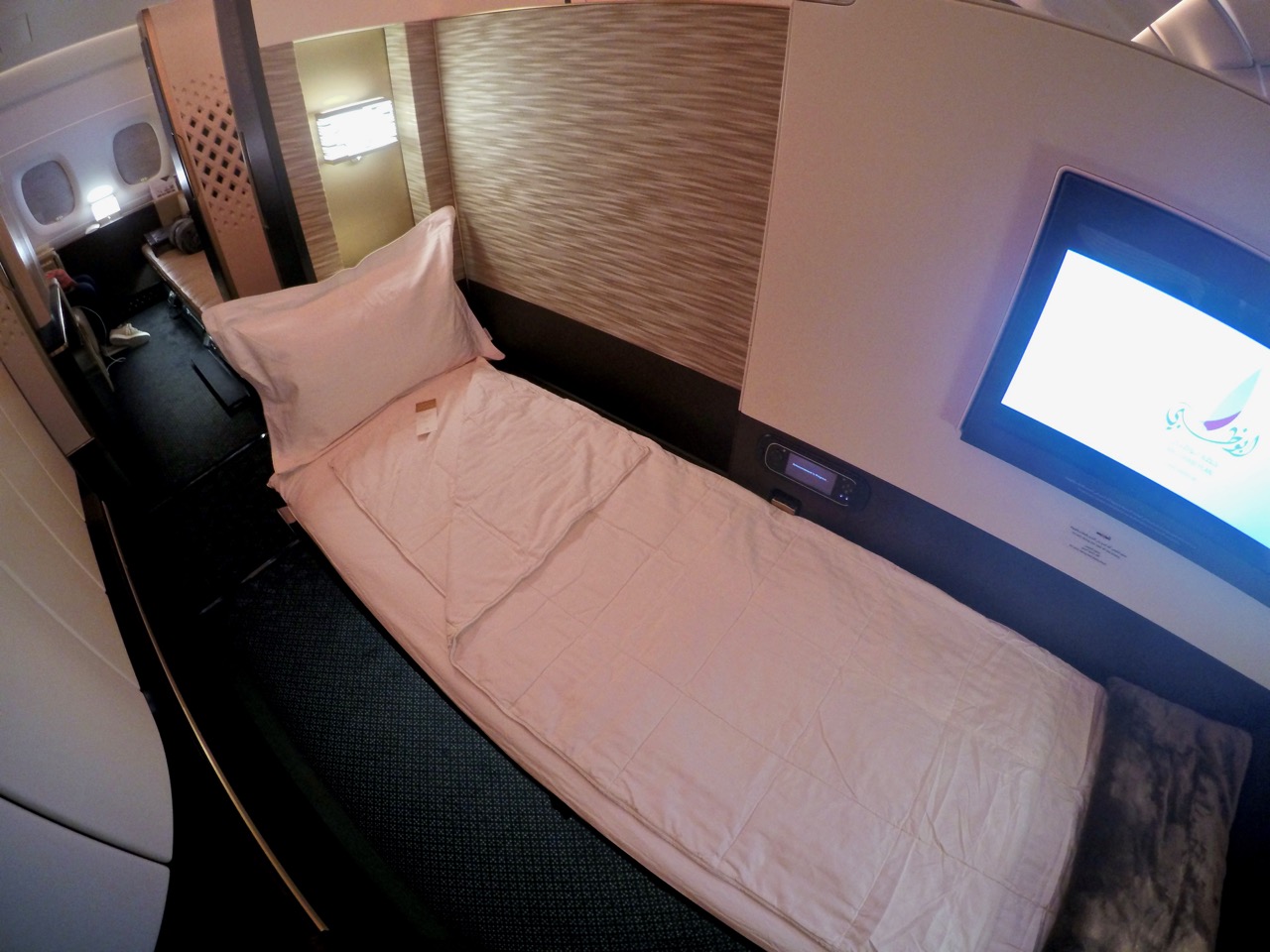 There's an abundance of storage, with drawers and shelves all around to help with keeping your things neatly stowed. I found most of them unnecessary – I don't tend to unpack on a plane, but maybe others do?!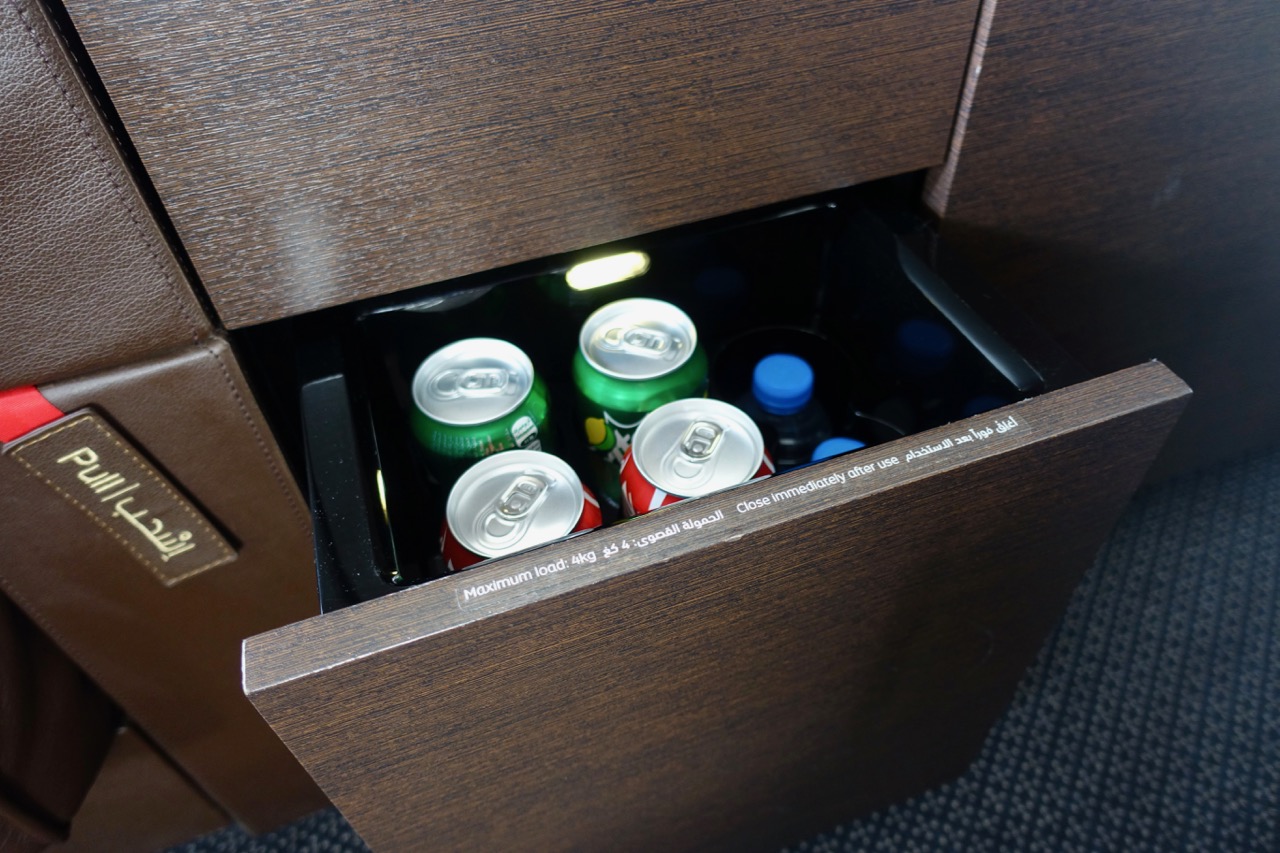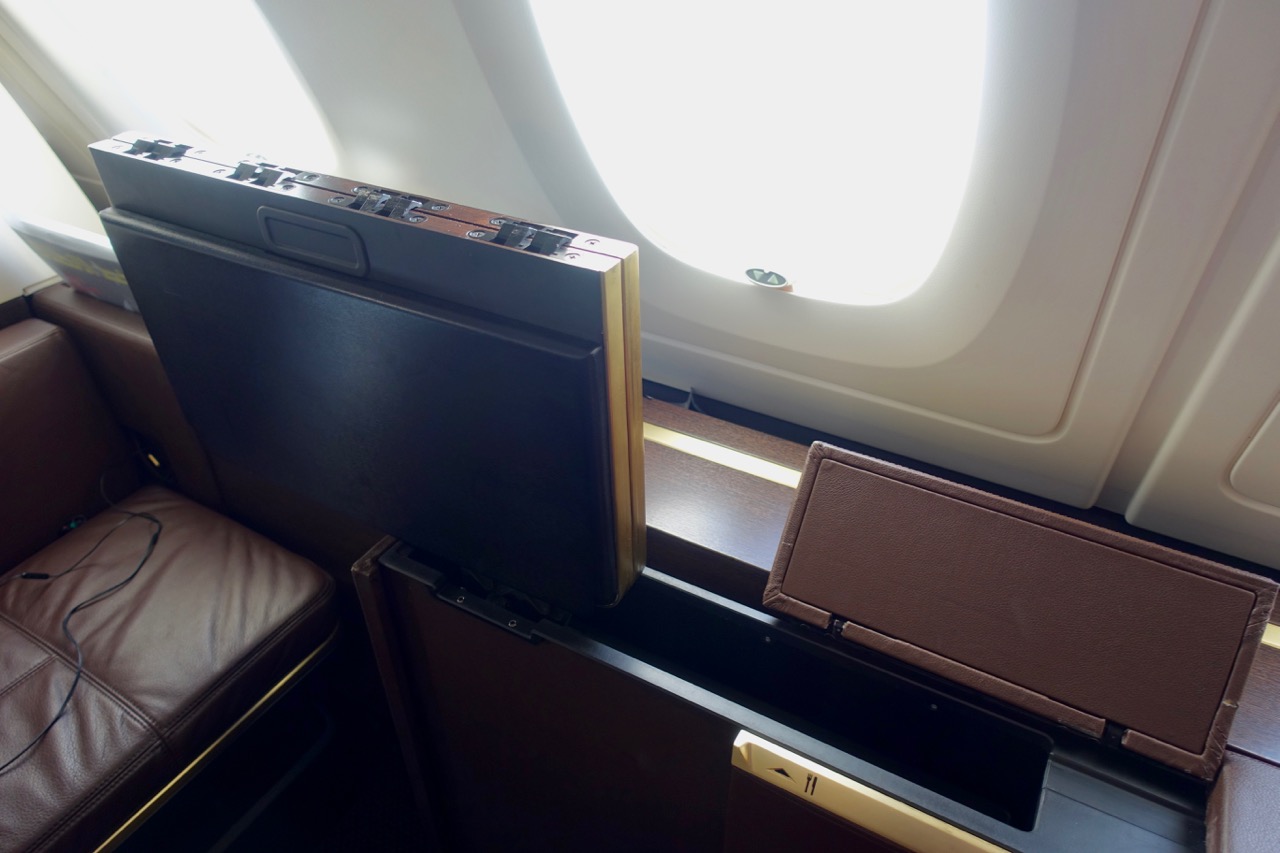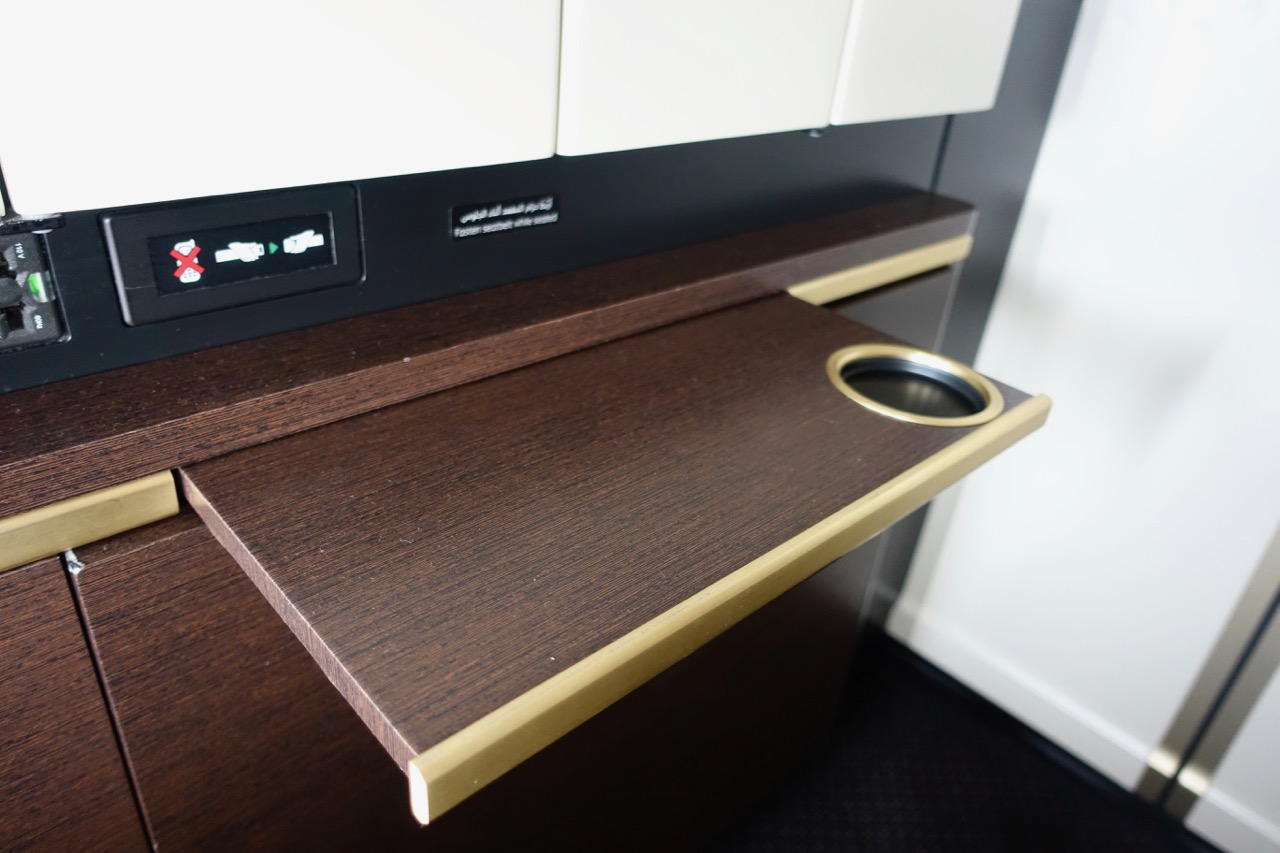 The seat and other Apartment controls are handled by a dedicated touch screen, complimented with some physical buttons. A second screen is found at the head of the bed so you can control lighting without getting out of bed.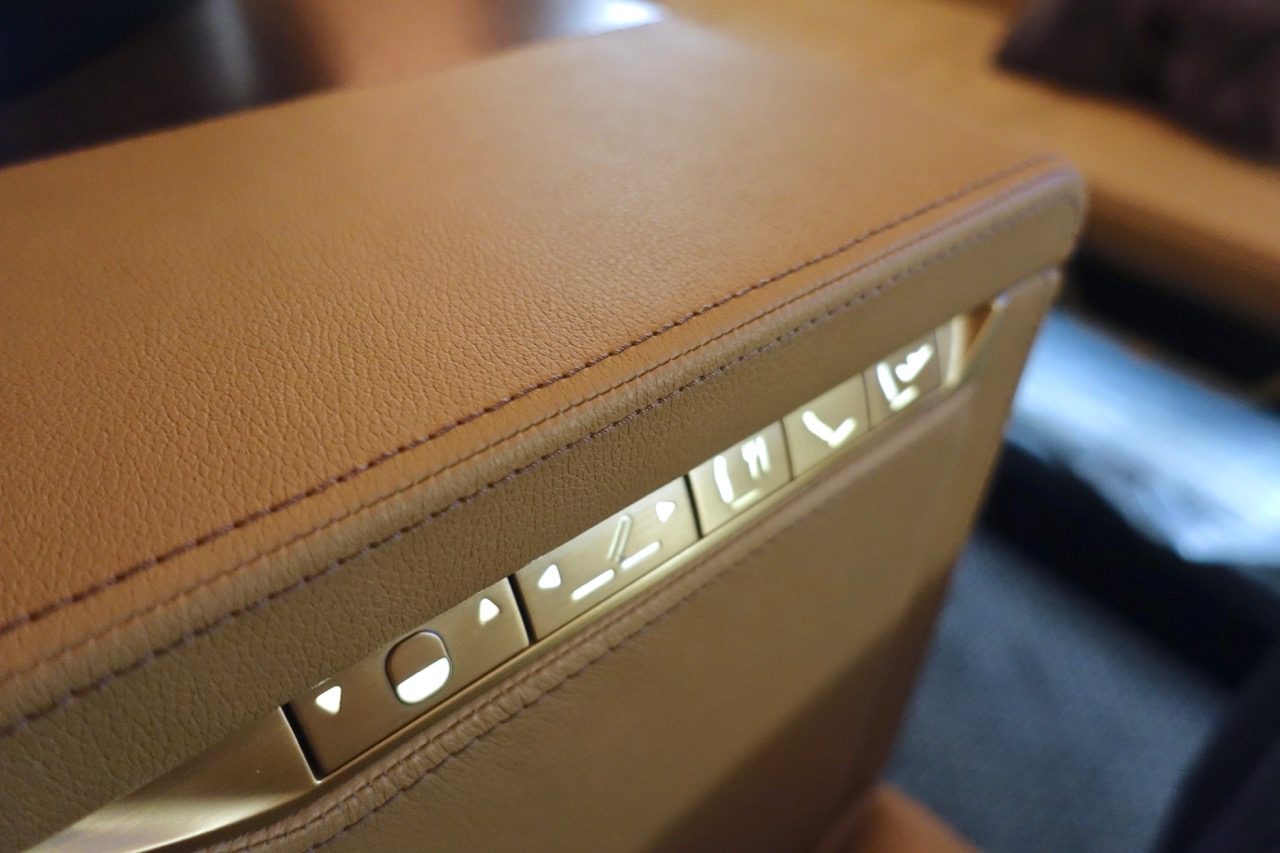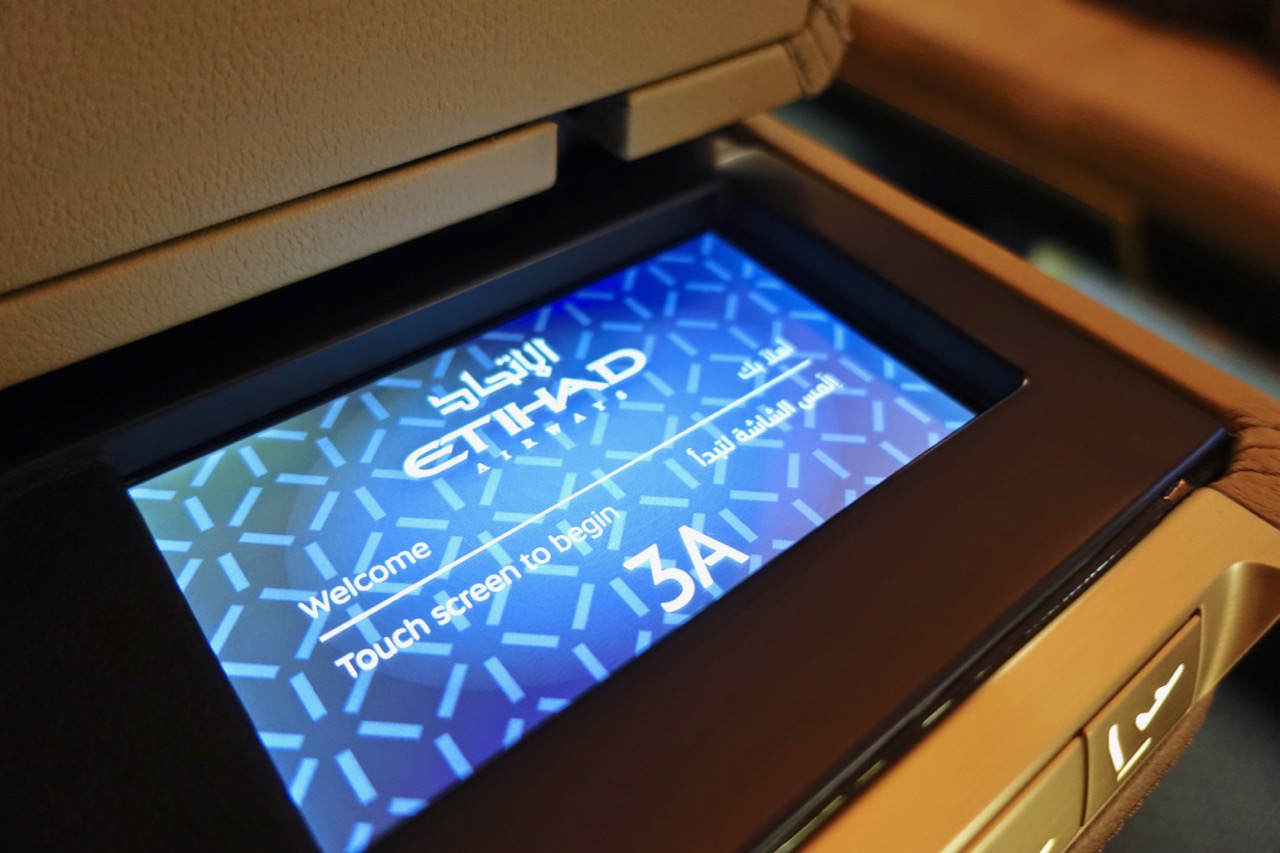 The First & Business Class Bar
The onboard bar is located in between the First and Business Class cabins.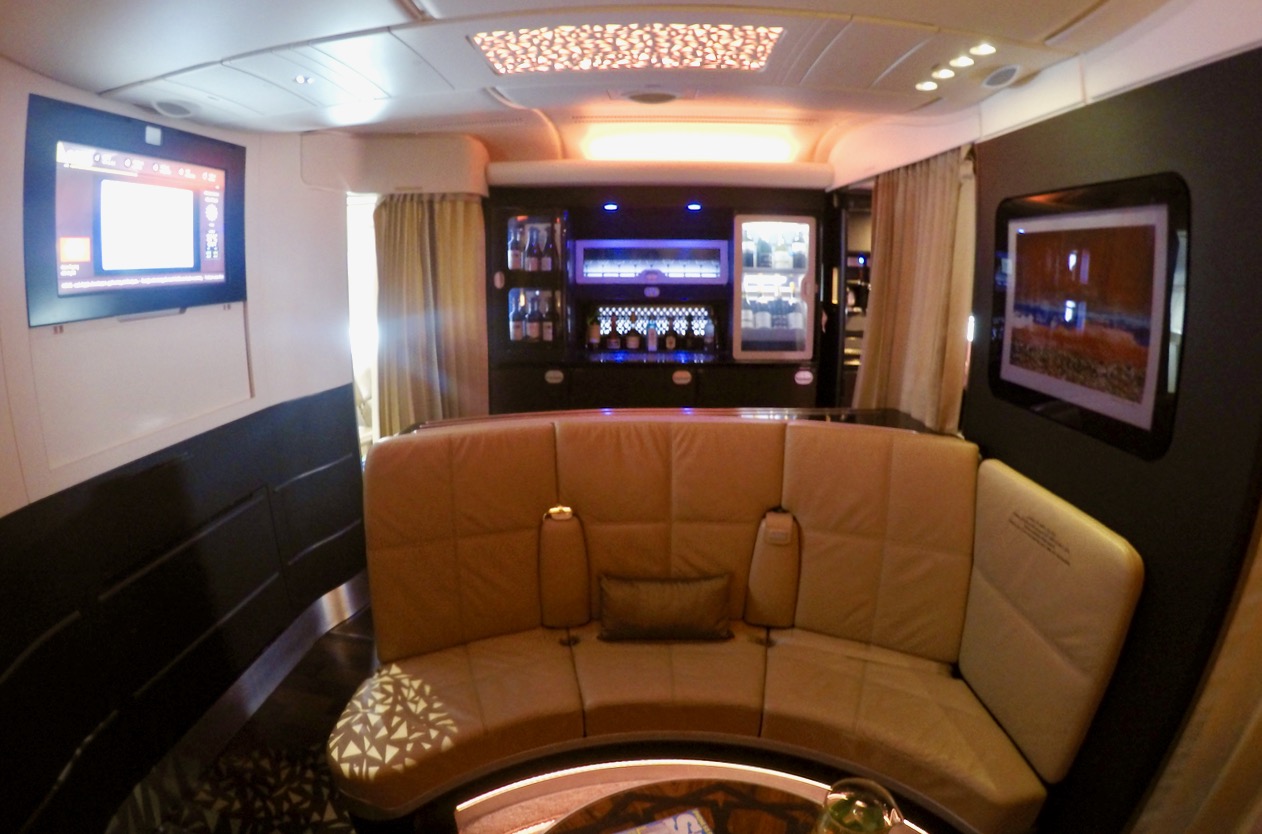 There's room for around six guests, and is really useful for Business Class passengers – but given the amount of space you have in First Apartments, I can't see many First Class passengers using it much unless they know people travelling in Business Class too.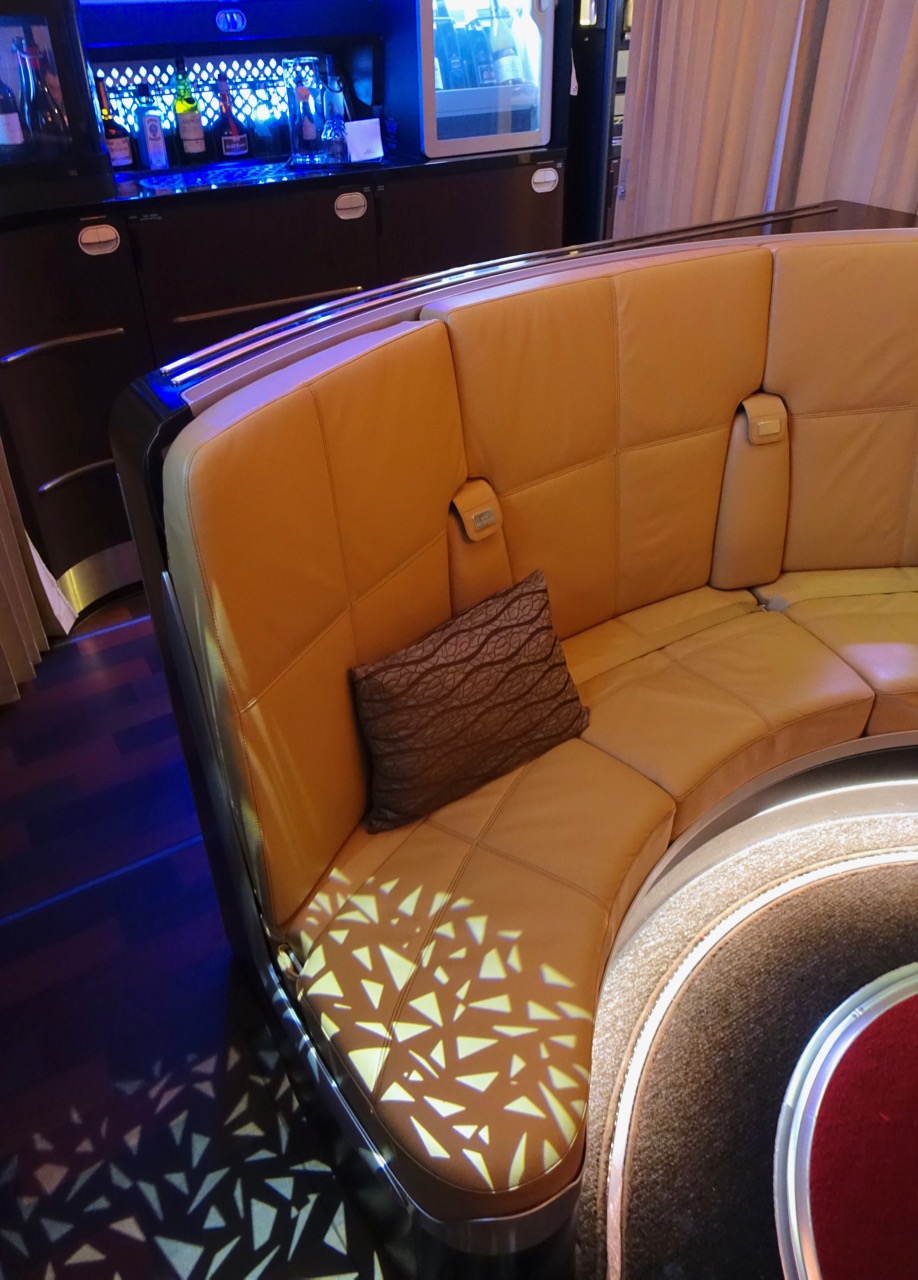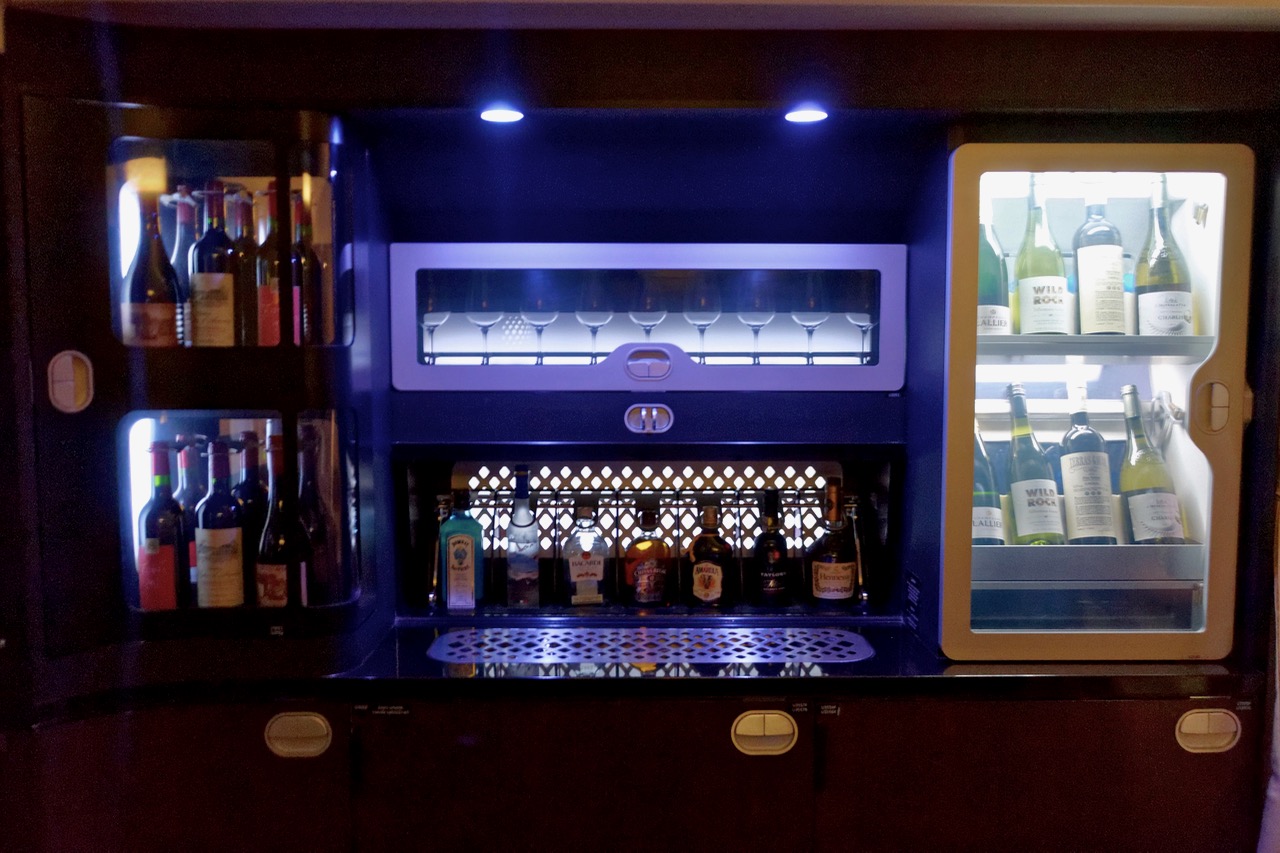 There's a range of premium wine and spirits on display in the bar for you to choose from.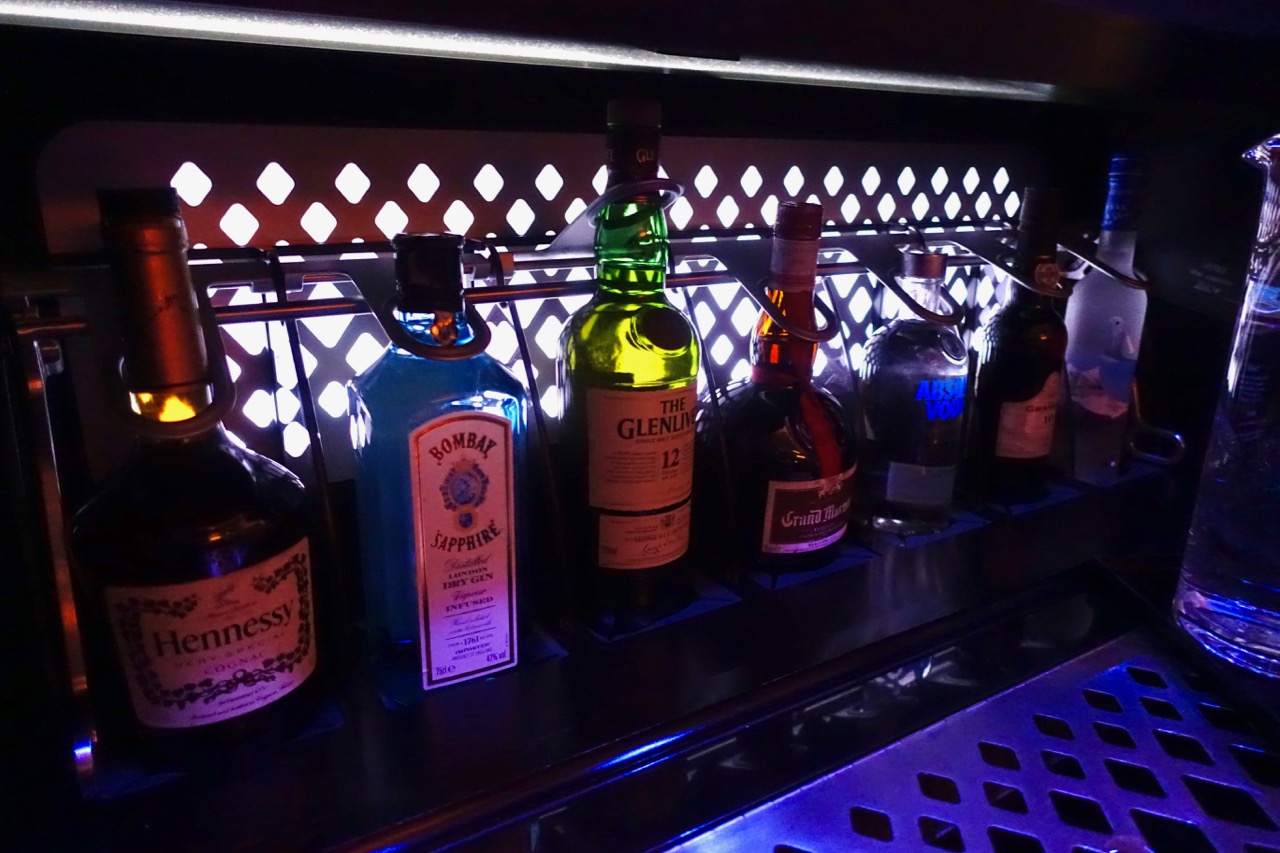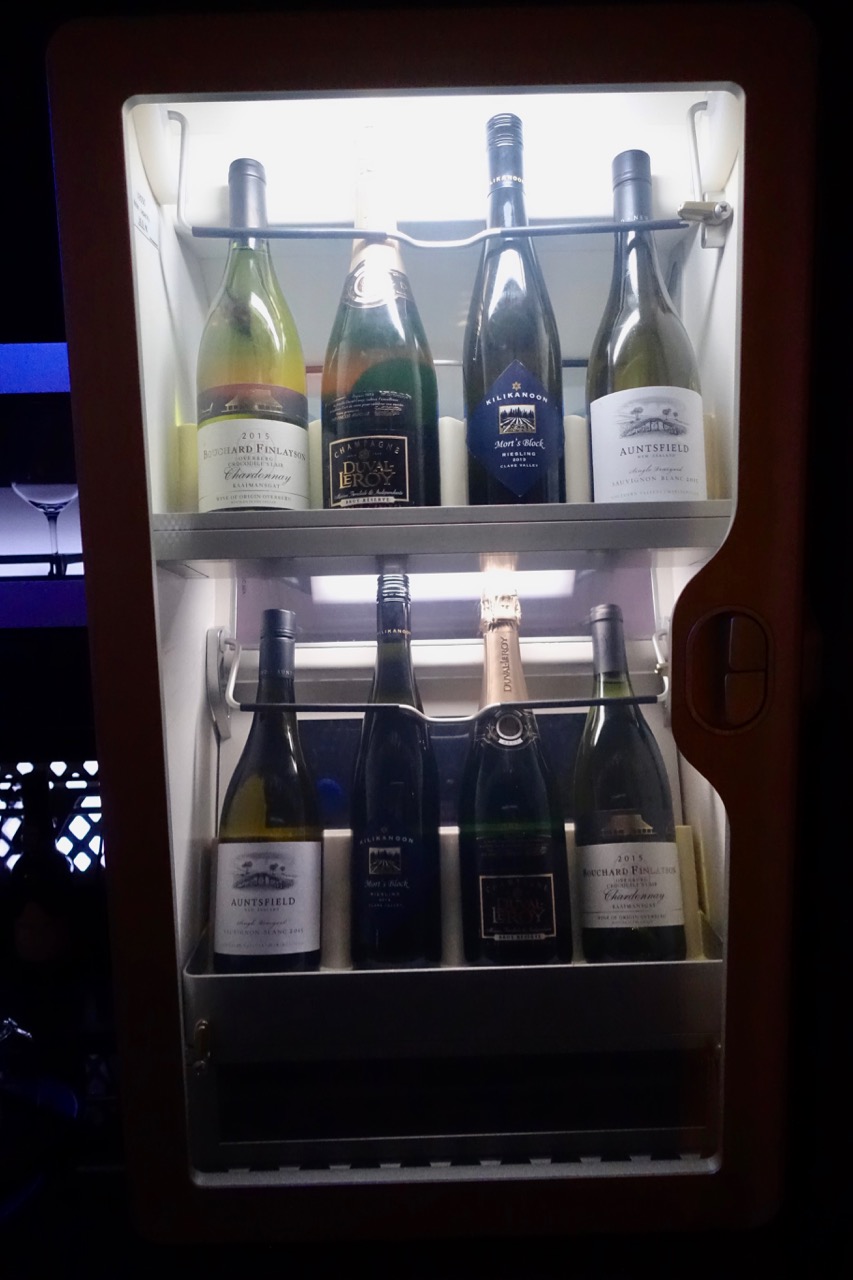 Service: Food & Drink
Here was the menu on my flight:
and the wine and drinks list:
All food service is dine on demand, so you're best to think through what and when you'd like at the beginning of the flight to both secure the options you'd like and make the most of your time in the air.
In my case, I went straight to bed, then woke up for breakfast and followed it up with a meal service a few hours later.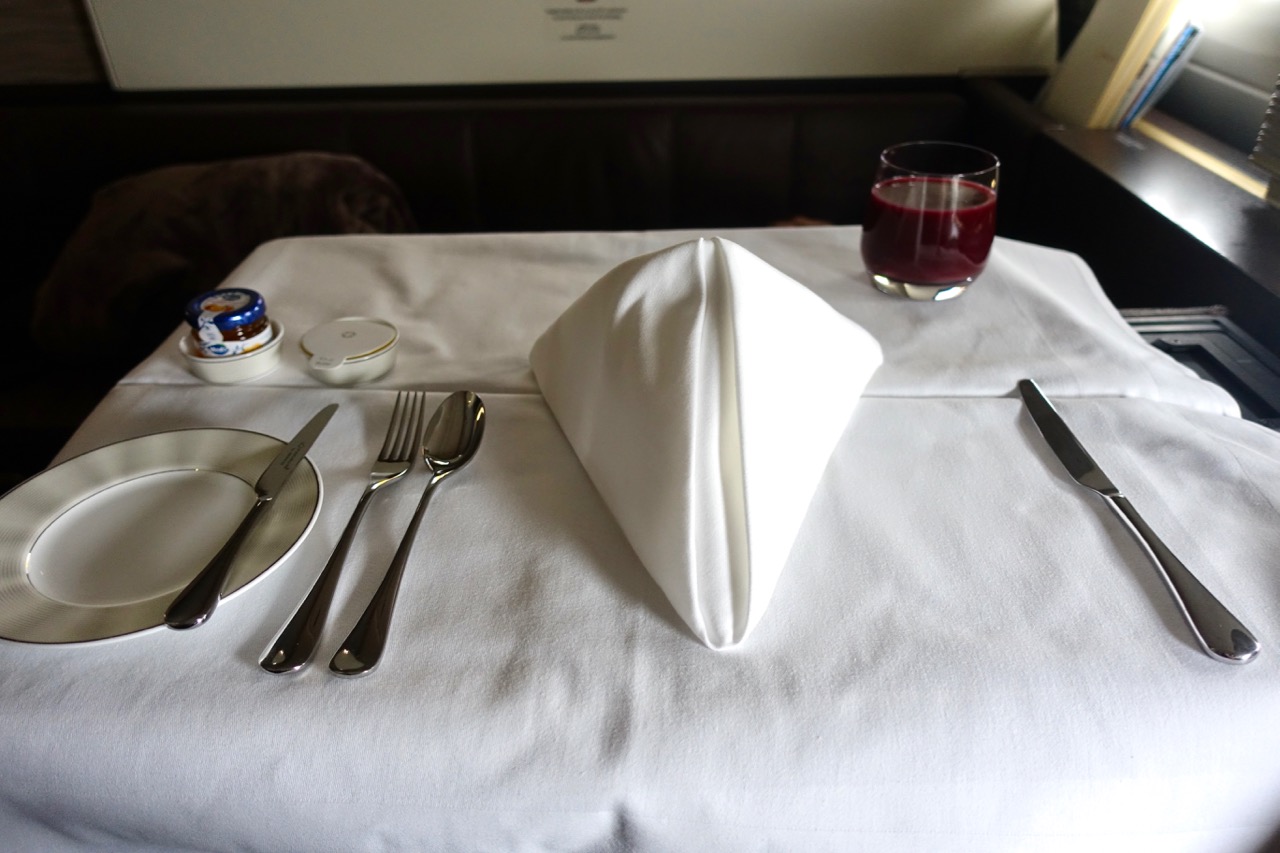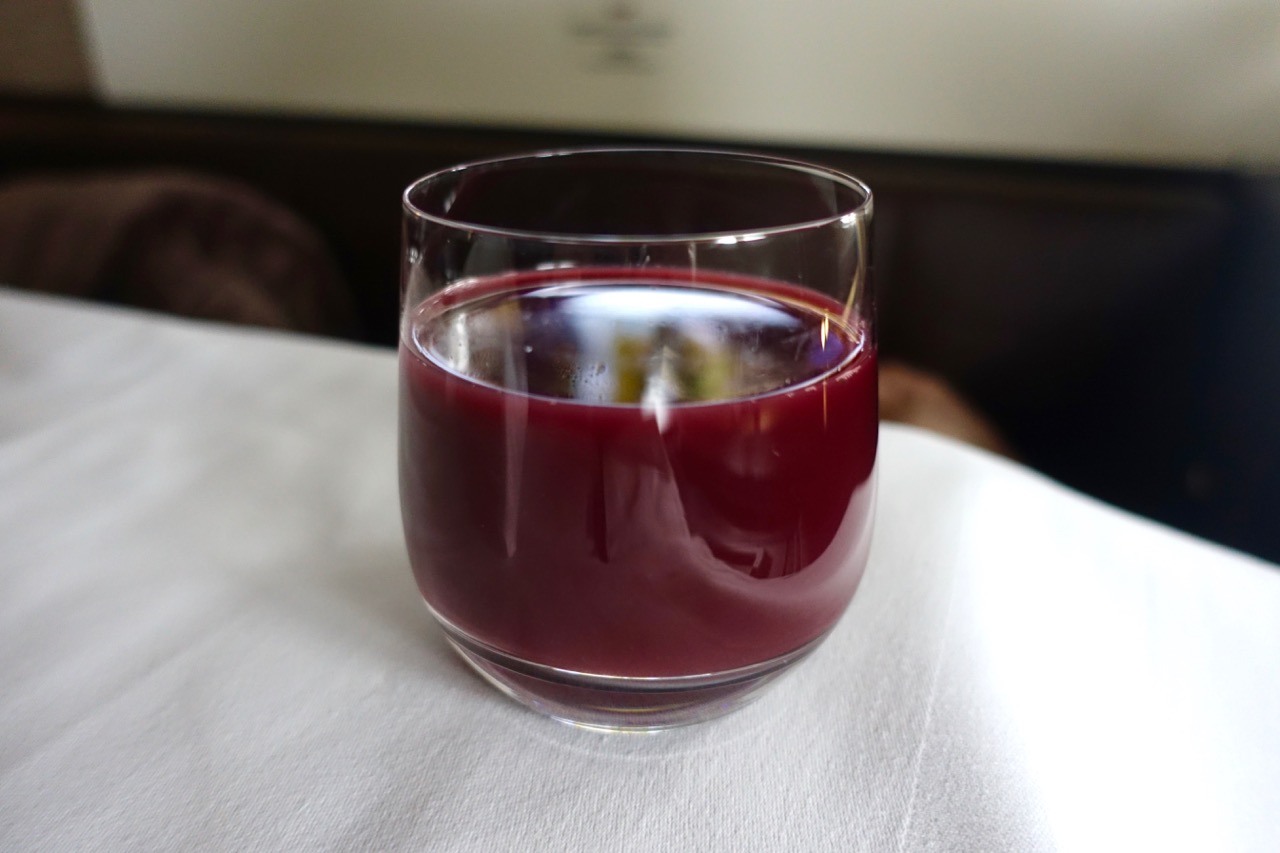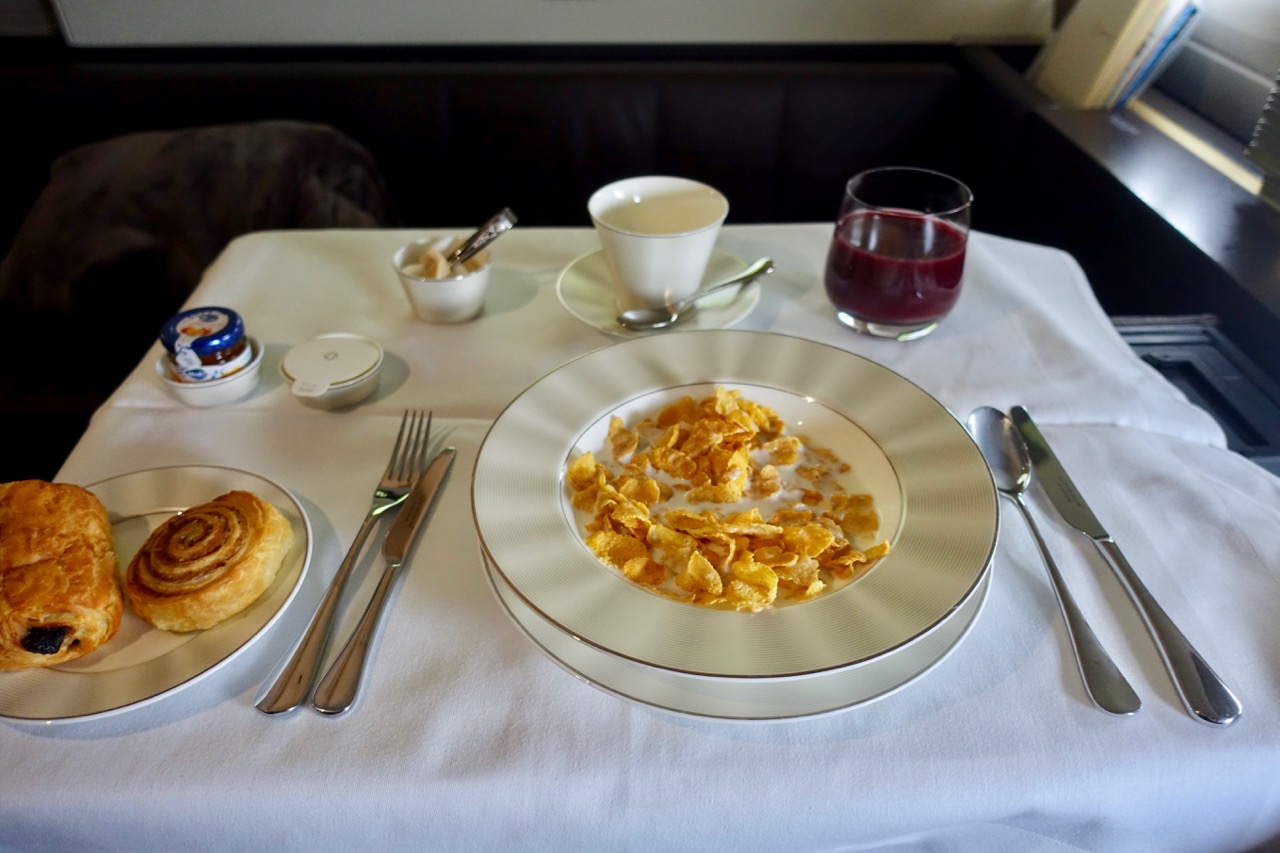 Breakfast cereal and pastries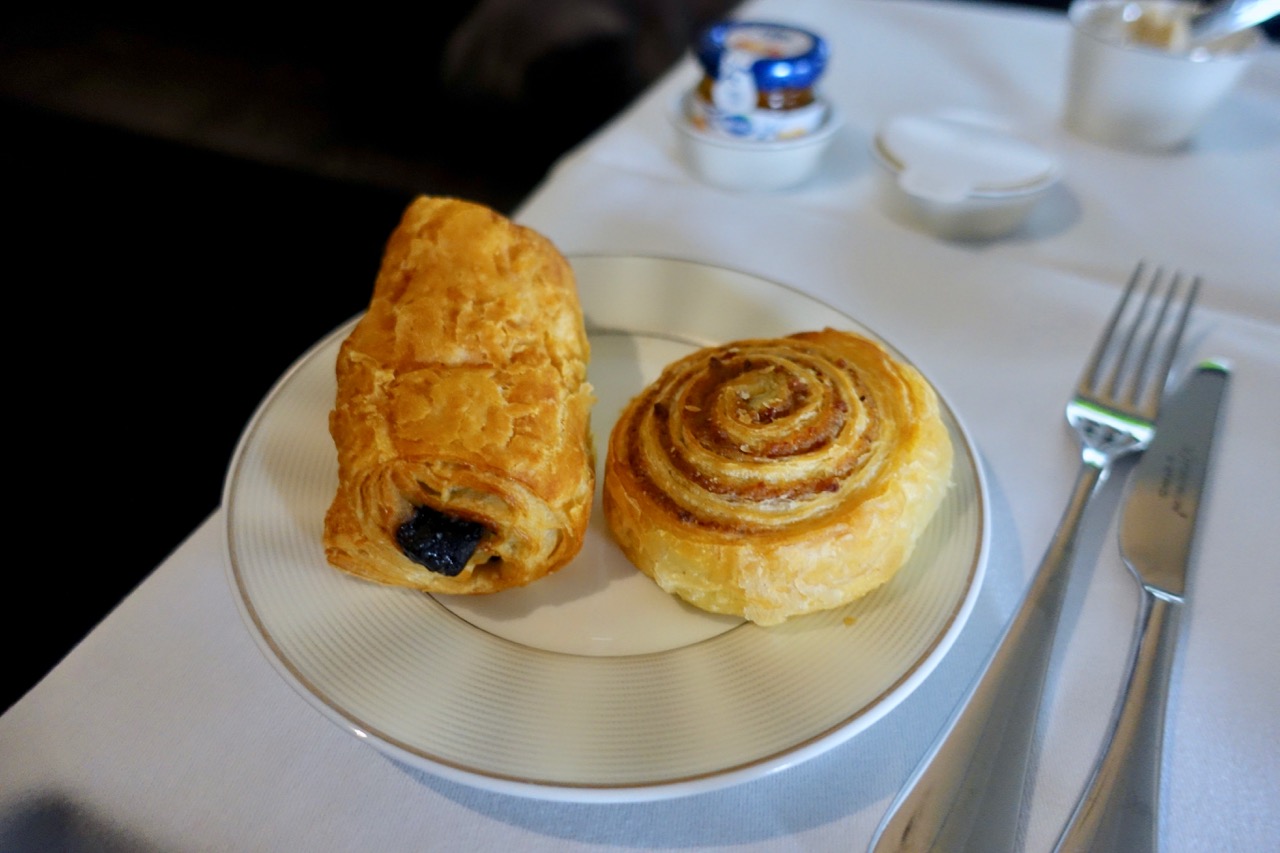 Pastries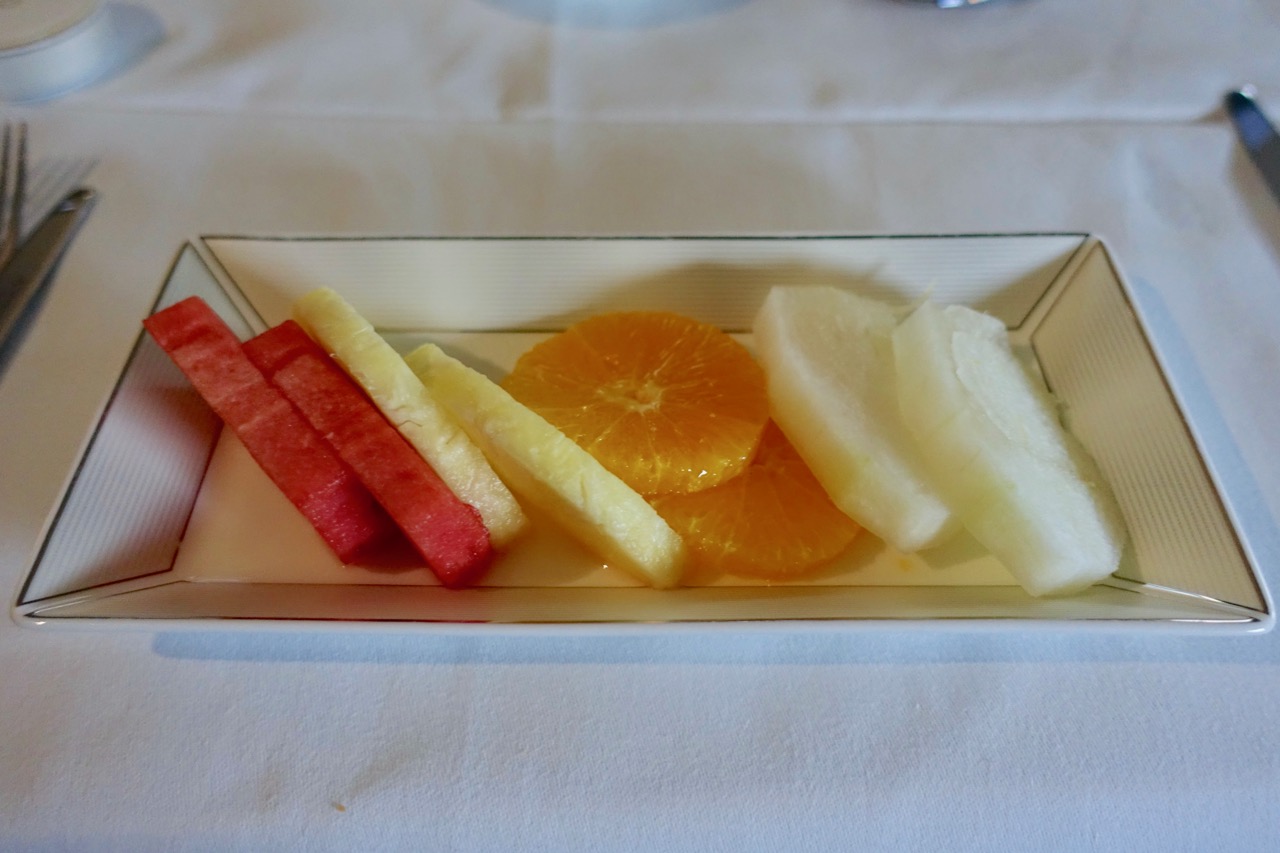 Fruit platter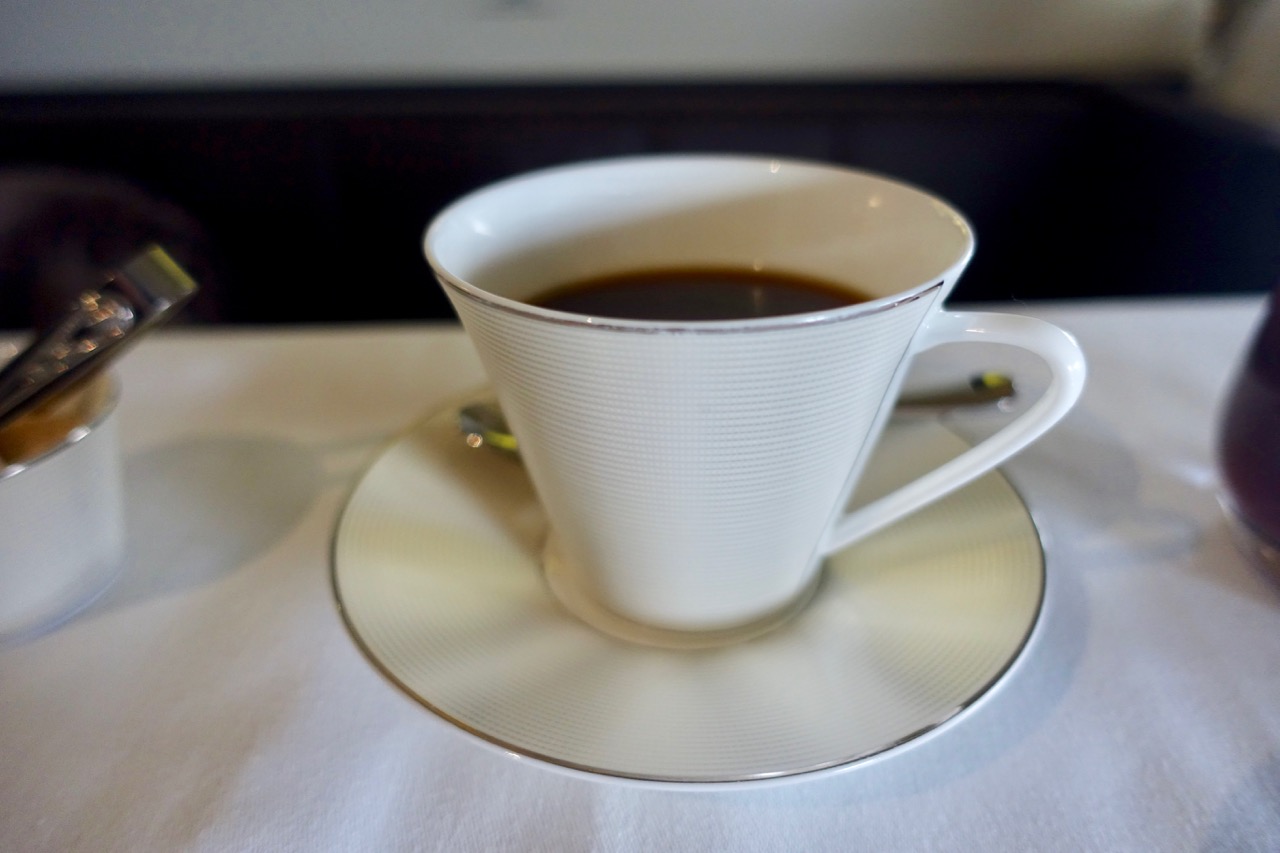 Coffee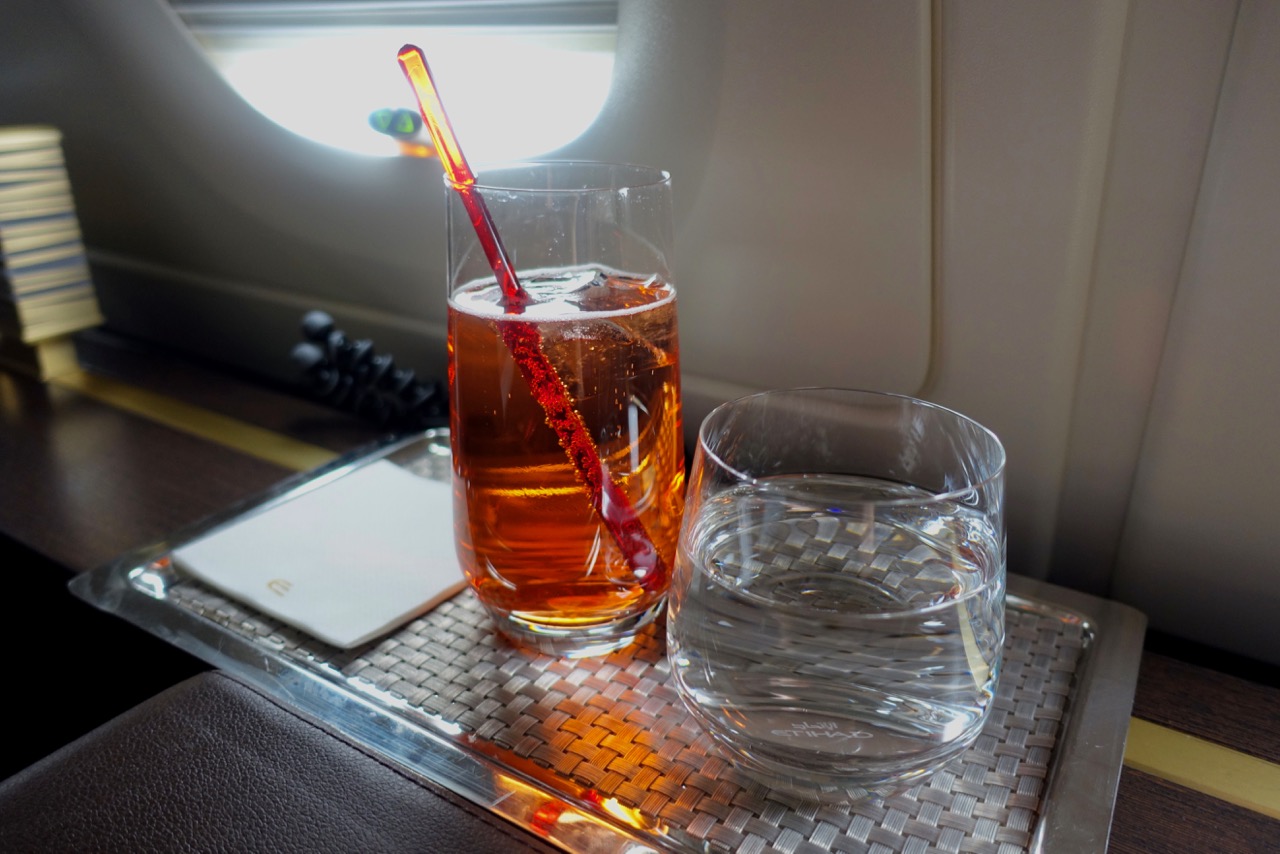 Negroni – a great pick me up
A few hours later, I kicked into the full Etihad First Class dining experience.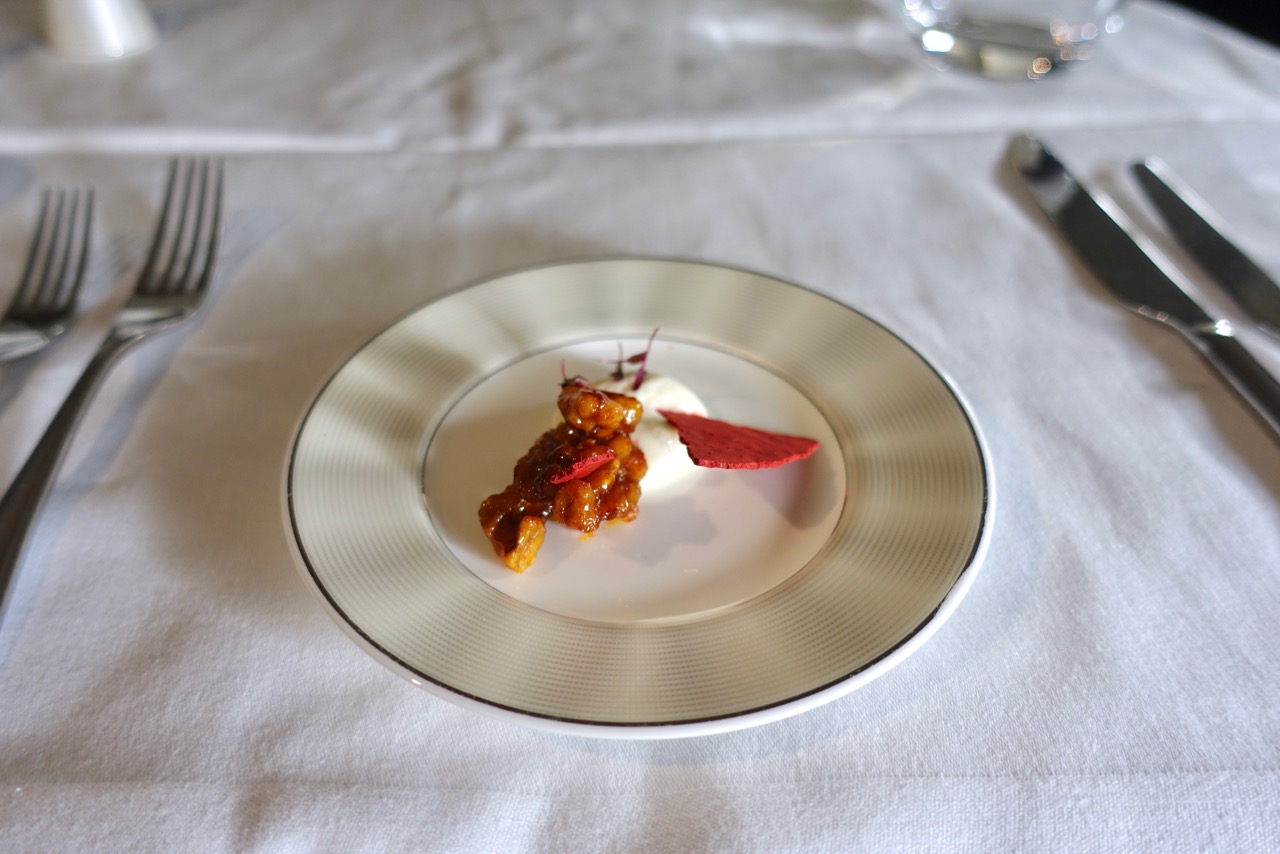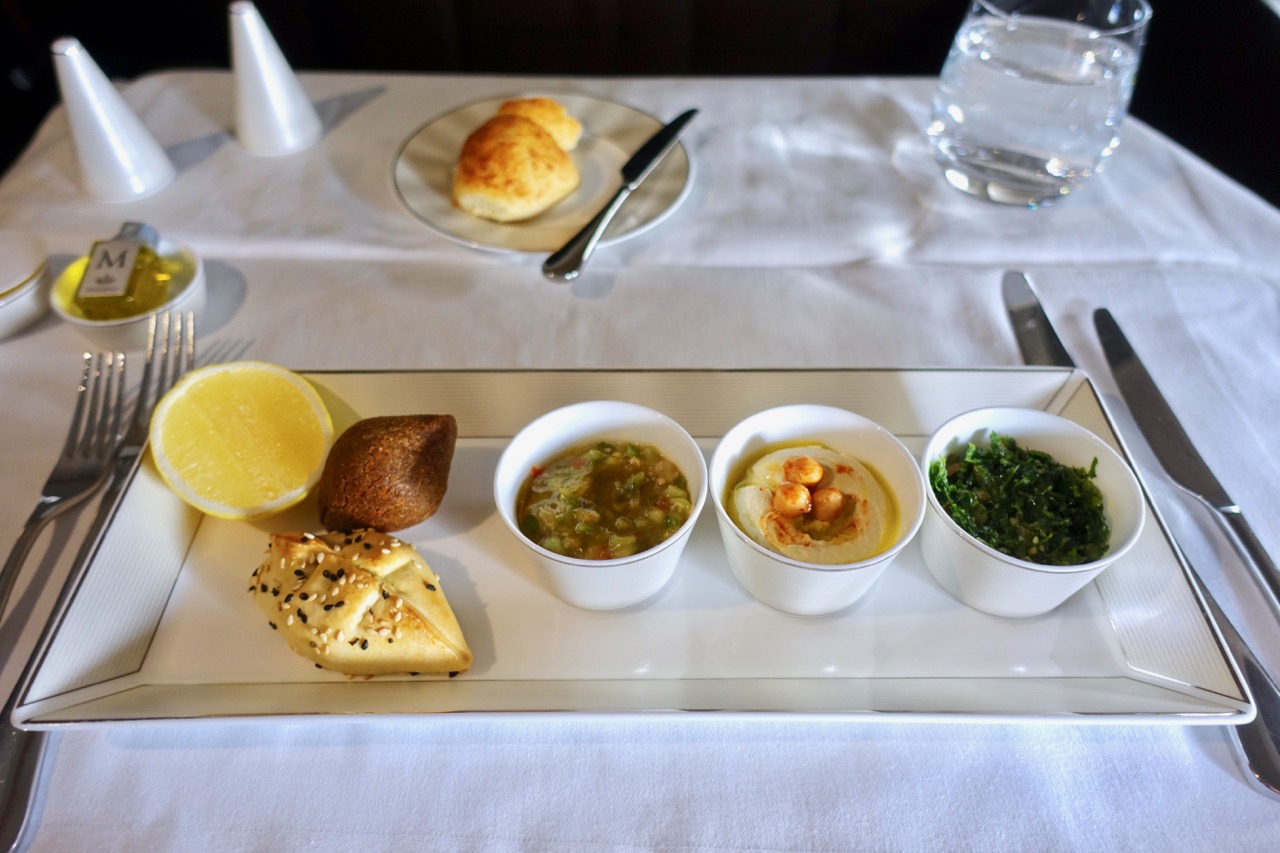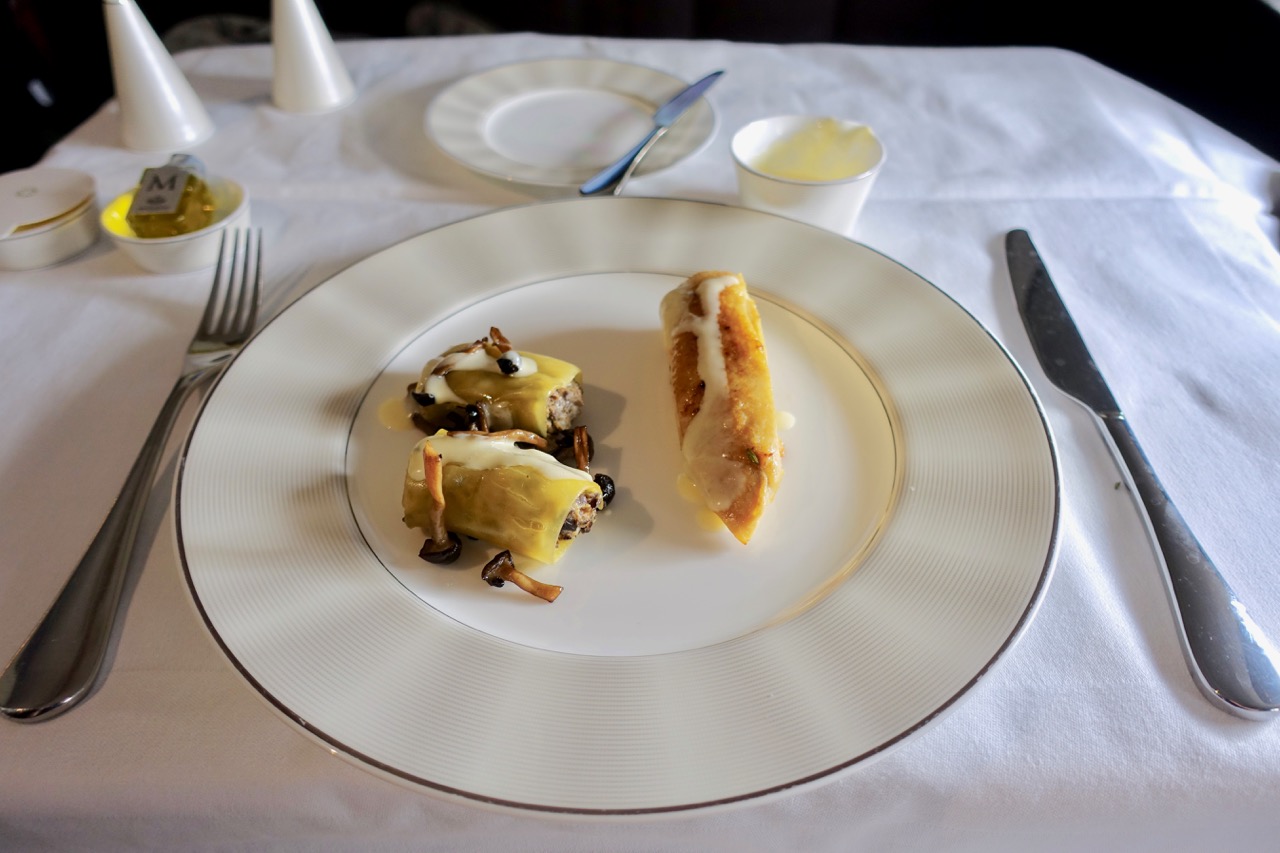 Arabic Mezze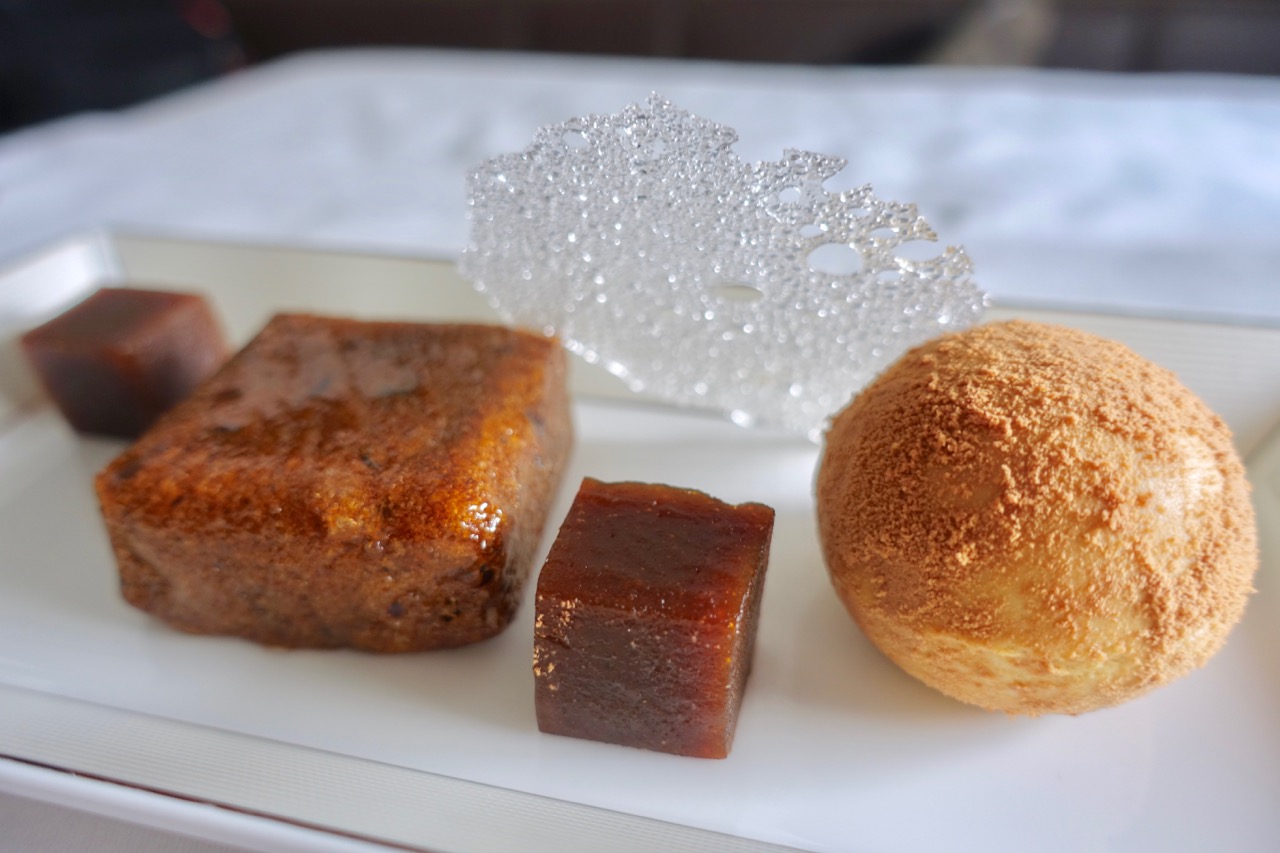 Dessert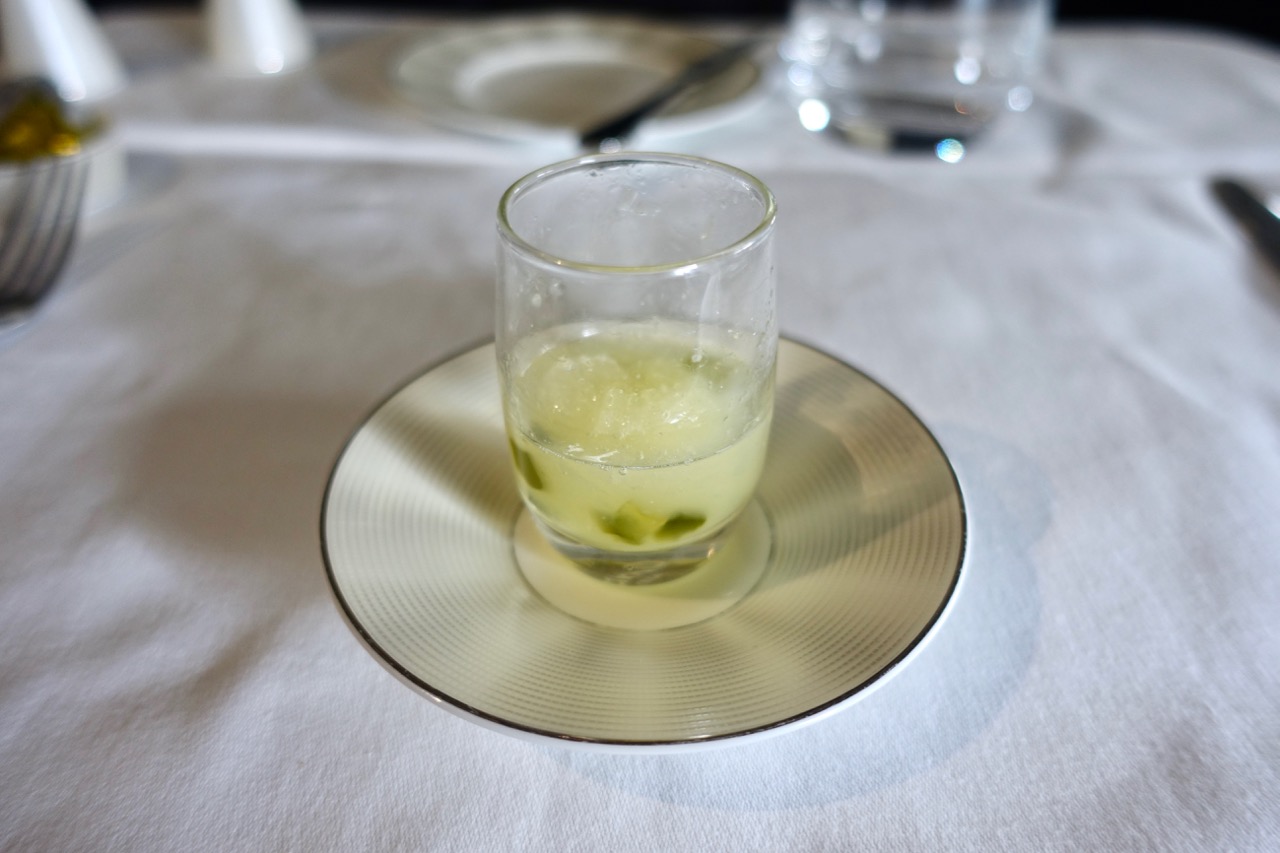 Inflight shower and amenities
Each suite has a lit vanity mirror: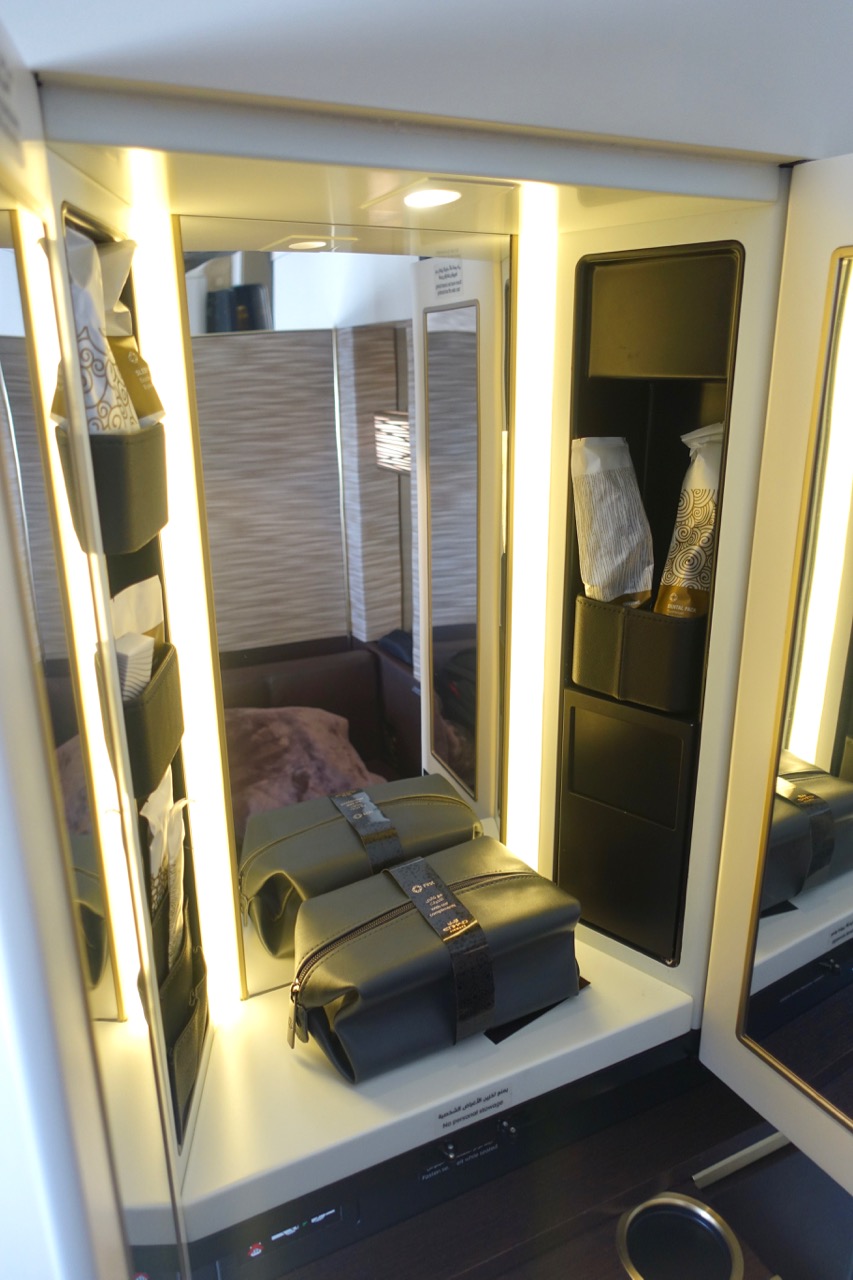 Complimentary travel bags are provided by Christian Lacroix and skincare products by Hungarian brand Omorovicza.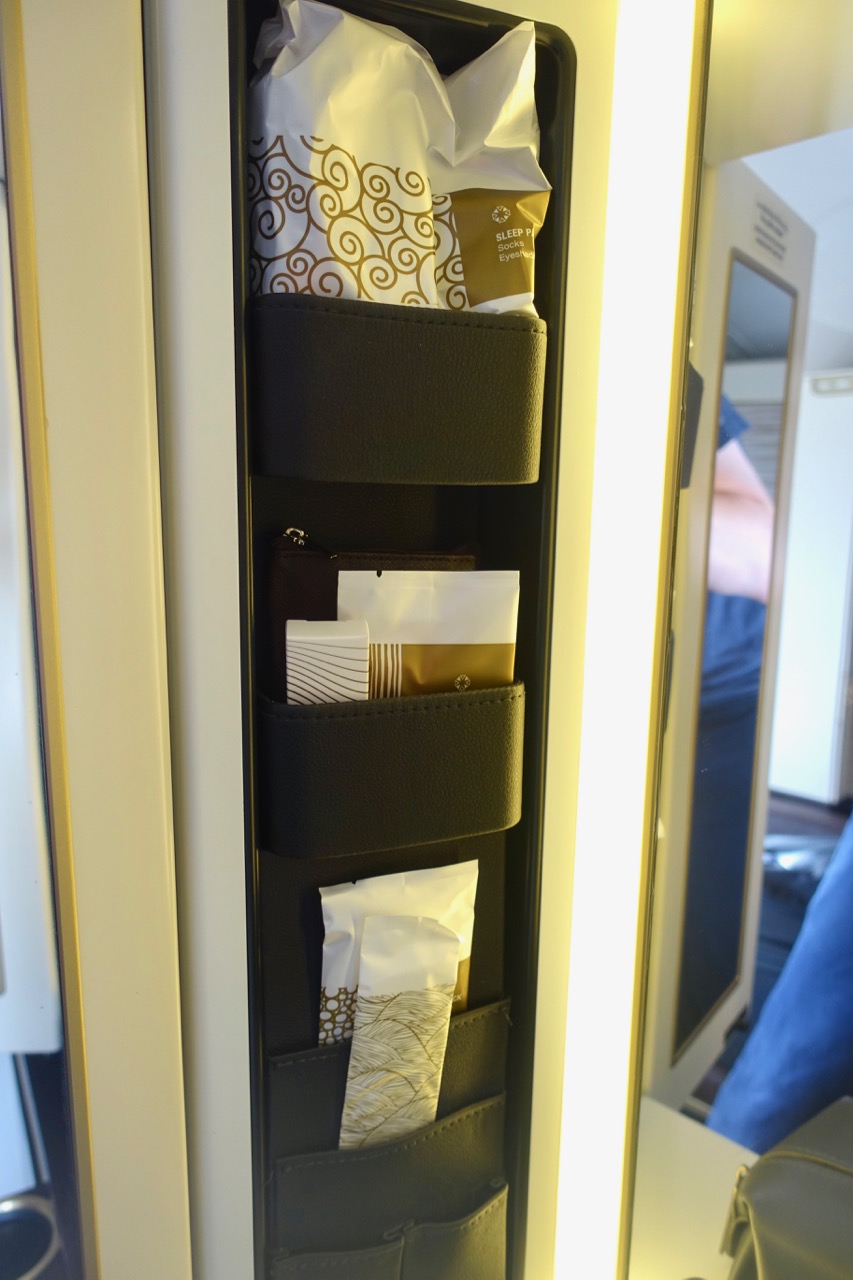 You can make your own amenity kit from the vanity – which is great if you want to avoid waste and taking excess stuff home, and the opposite if you're a hoarder… just grab everything!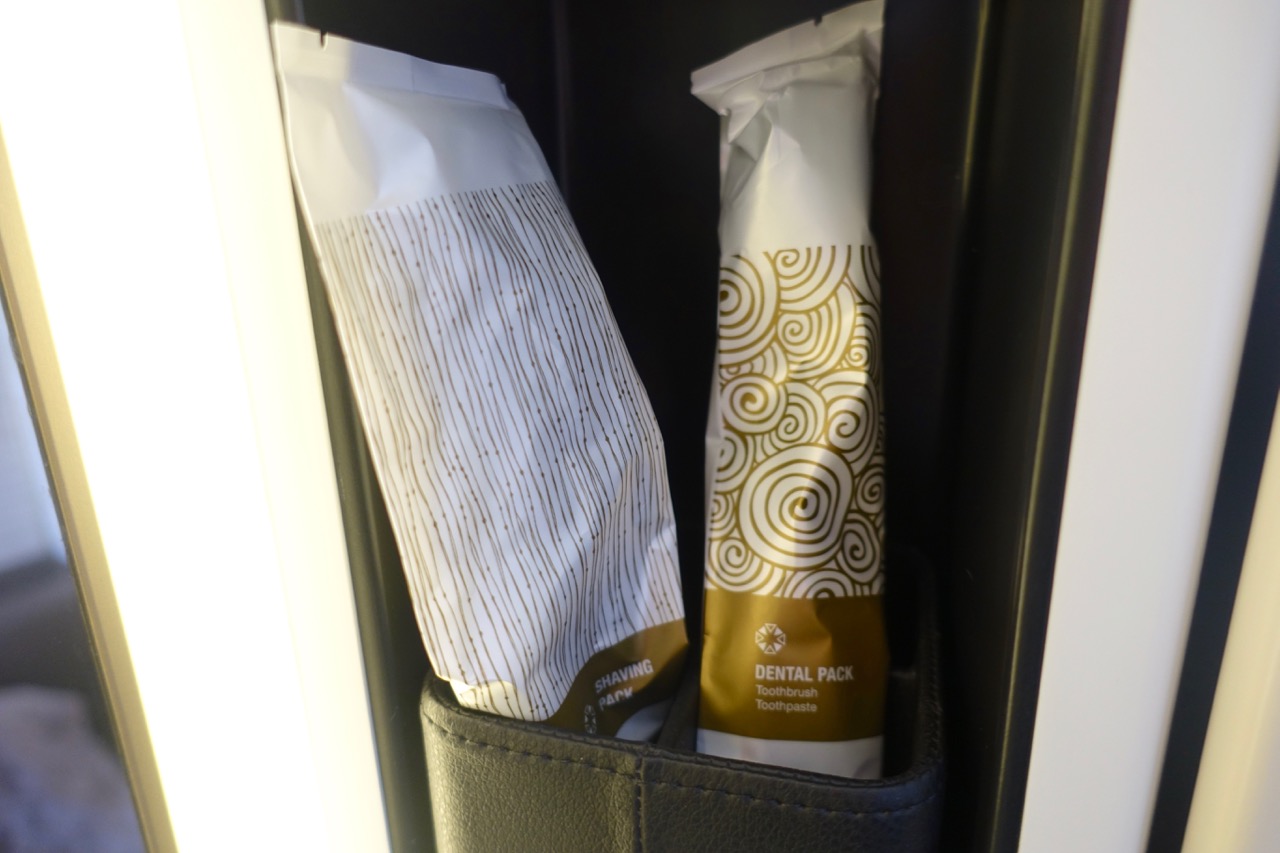 Inflight Shower
Somewhat the pieces de resistance, Etihad has a single shower for First Apartments passengers which can be reserved or requested during the flight for a single 5 minute shower (water time). The shower itself is hot and strong and an amazing way to feel more human while inflight.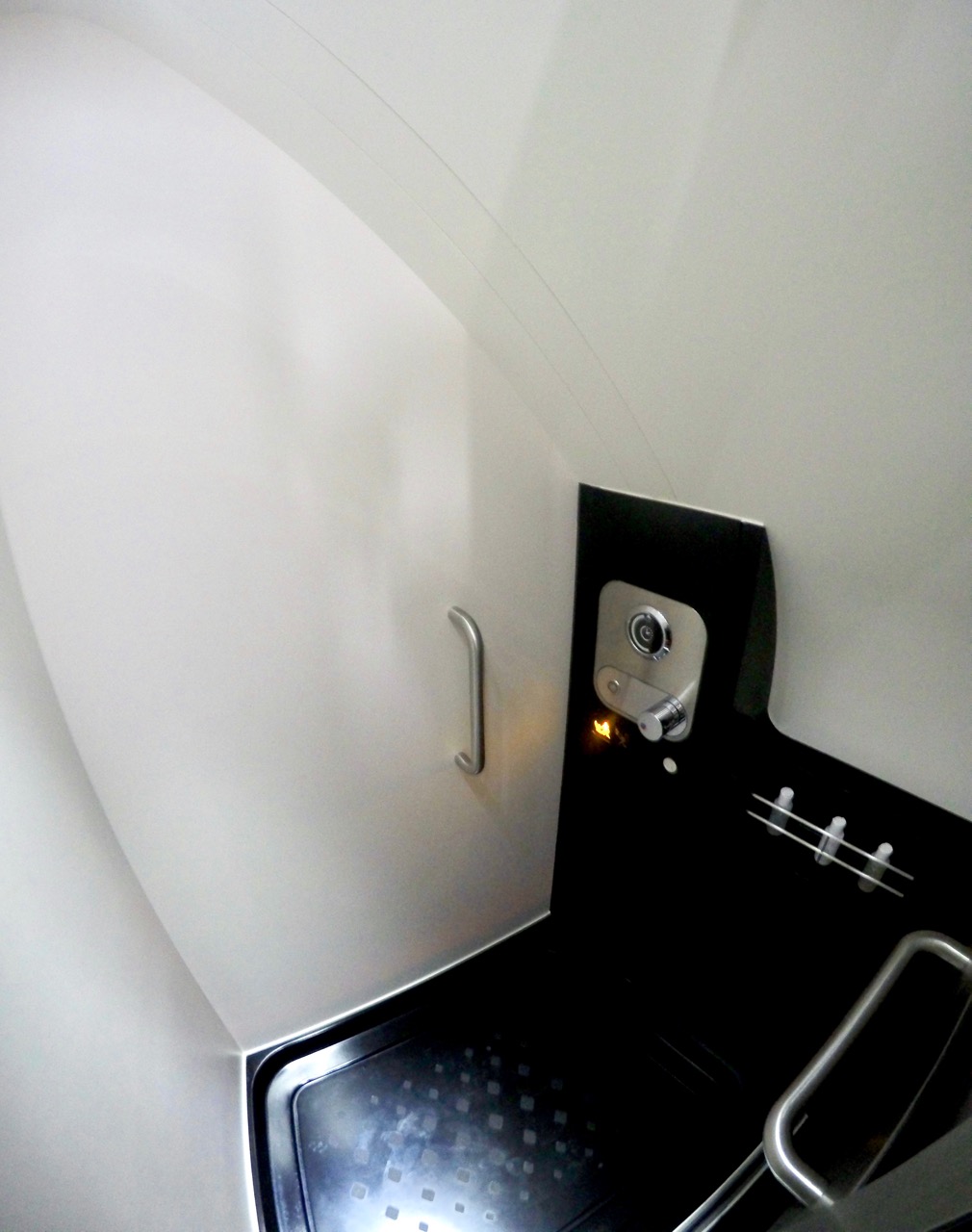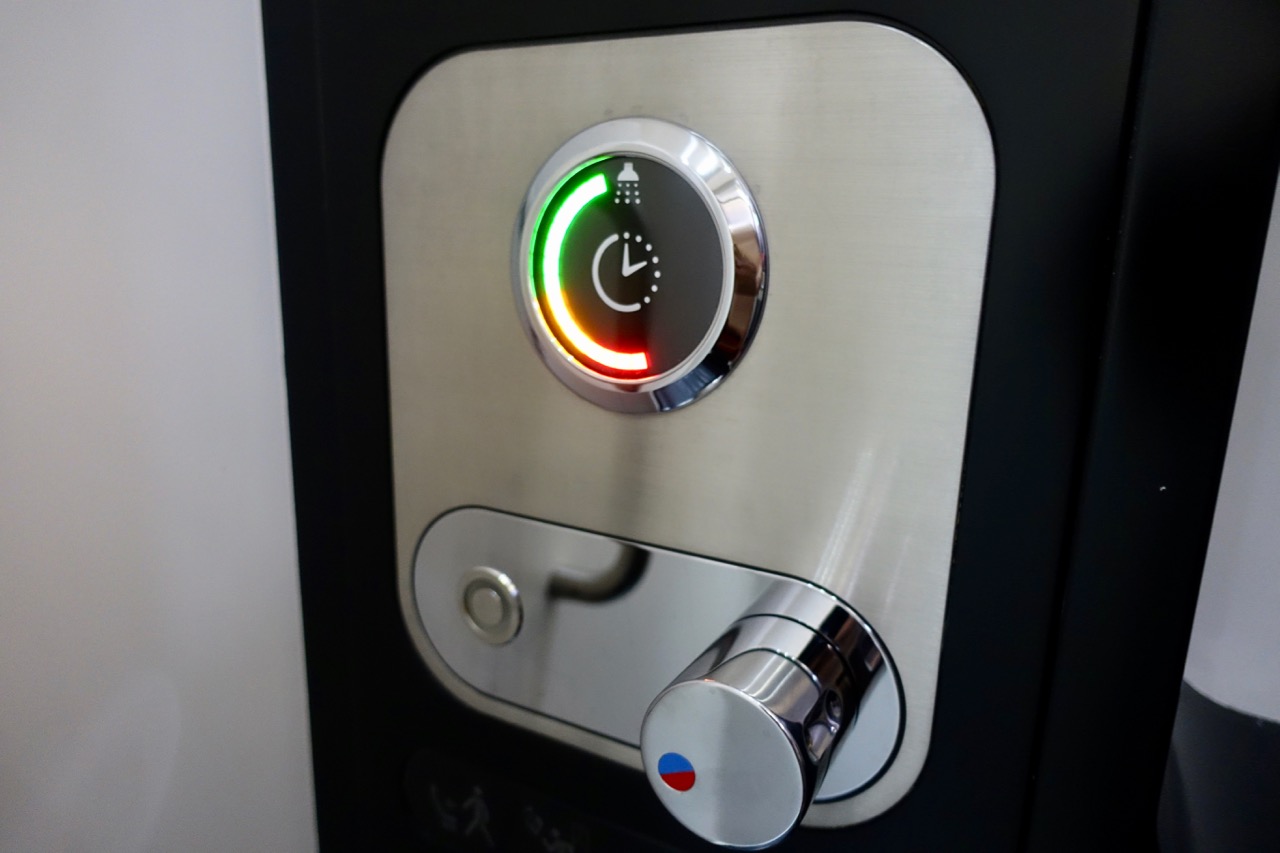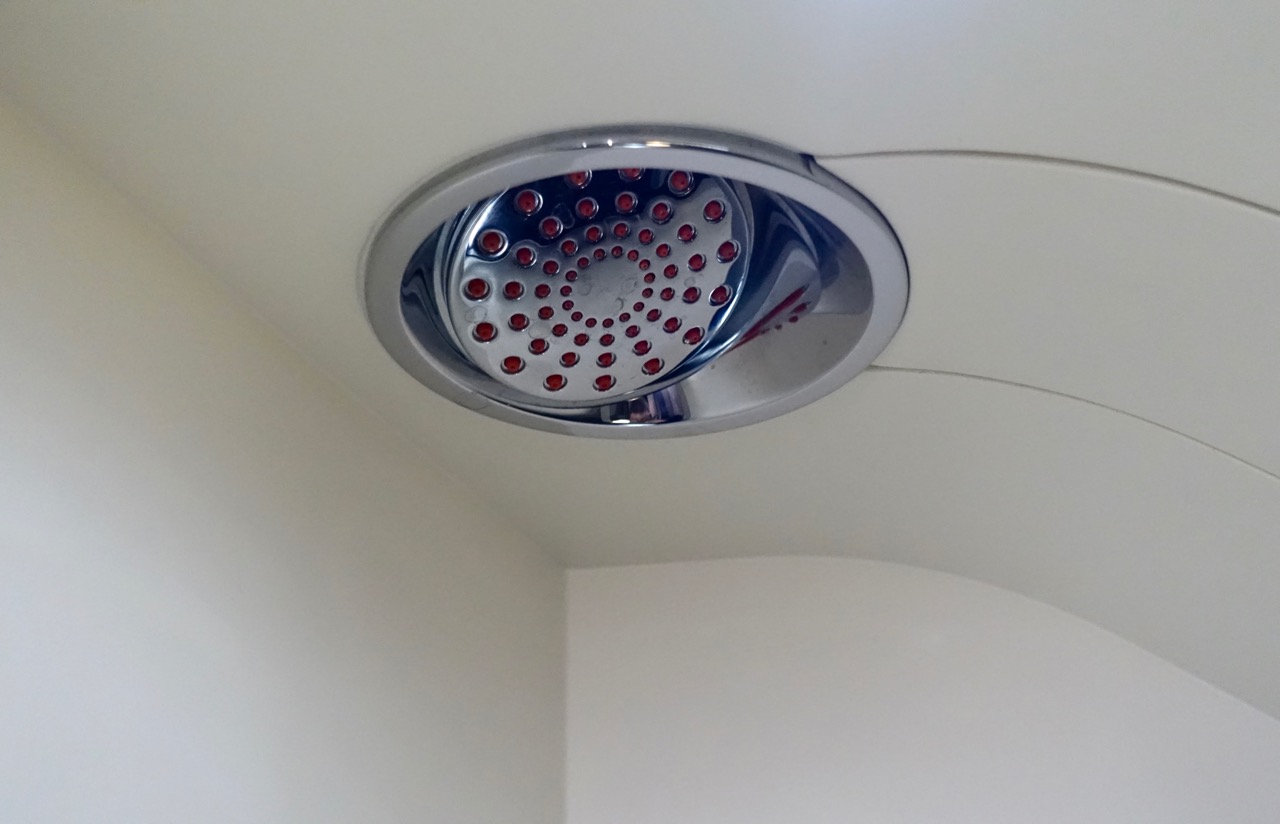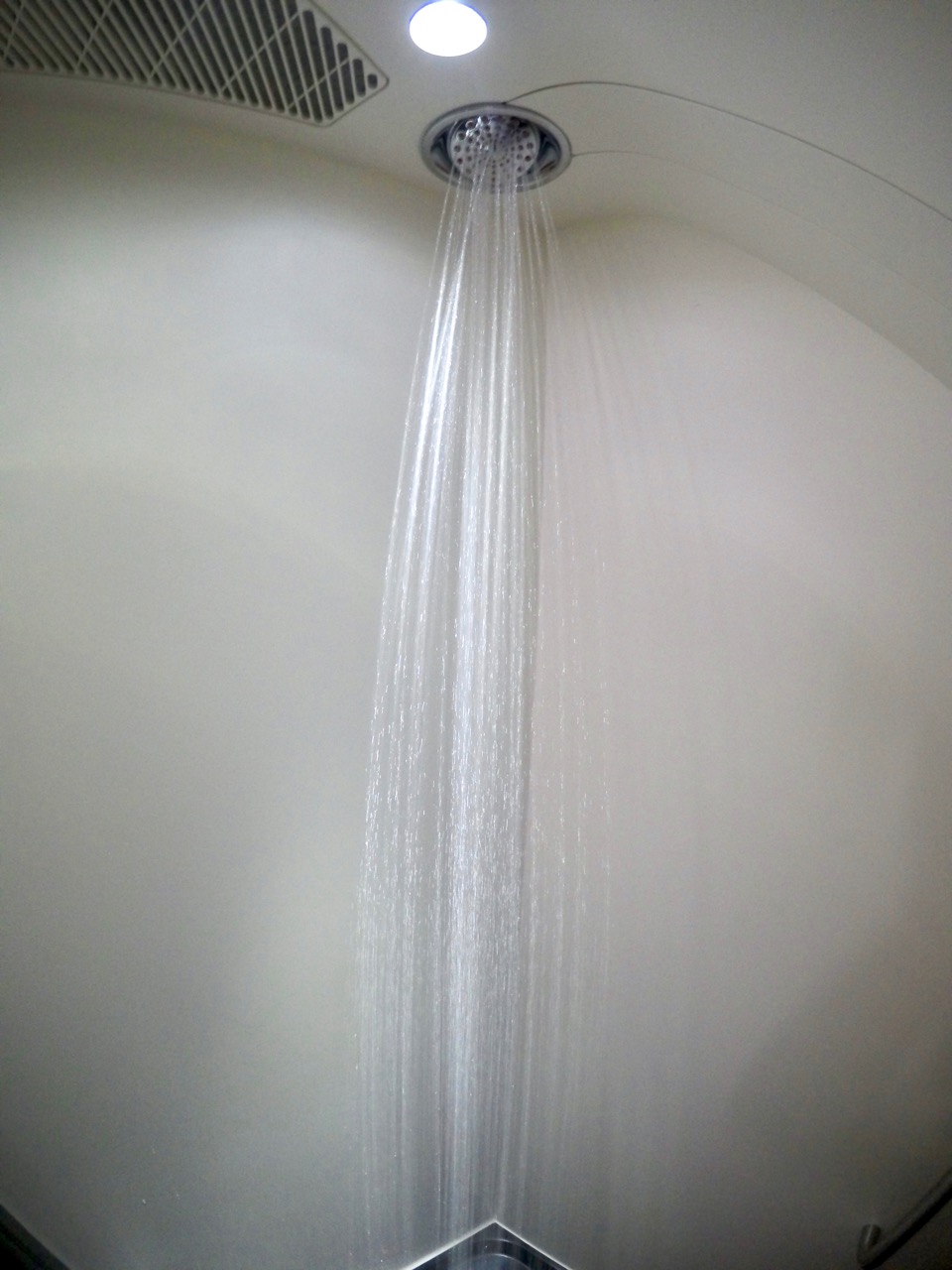 Etihad Premium Lounge Access
In Sydney, Melbourne, New York JFK, London Heathrow and Paris, you'll gain access to the Etihad Airways First & Business Class Lounge.
In Abu Dhabi, Terminal 3 hosts both a First Class Lounge & Spa and an Arrivals Lounge. We'll have reviews of the Abu Dhabi First Class lounges coming soon.
Our Other Reviews
Summing up – Why choose this flight?
If you have a stash of Velocity points to burn, and don't mind paying their fairly outrageous surcharges, then this is an amazing experience to sample.
If you have points with American Express Membership Rewards that you can transfer over to Etihad Guest or AAdvantage via Starwood Preferred Guest, you will be able to pick up a redemption at a higher points price than Velocity, but saving more cash. Take your pick, really, it all depends how points-rich you are.
Either way, this is definitely an experience worth saving points for – I doubt many people would be able to justify paying the many thousands of dollars for a paid airfare, but to be able to redeem points and have the same experience was, as you can imagine, awesome.
Etihad A380 First Class Apartment Overview
was last modified:
November 17th, 2019
by