Etihad has a small fleet of 8 Airbus A380s, with 2 more on the way. Right now, they operate them between Melbourne & Sydney to Abu Dhabi, and then beyond to London, New York, Mumbai (until 30 June 2017) and Paris (seasonal service from 1 July to 28 October 2017).
I used Velocity Points earlier this year to travel between London and Sydney and it was one the best Business Class flights I've experienced.
In this guide we run through what to expect from the Etihad A380 experience and the key ways that Kiwis can redeem points to fly with Etihad (once they cross the pond), and specifically on the Etihad A380.
Etihad's A380 Fleet & Routes
With 'only' 8 Airbus A380s in Etihad's fleet, they are a relatively rare beast compared to the likes of Emirates who operate a staggering 80 or more, or Singapore Airlines with 19.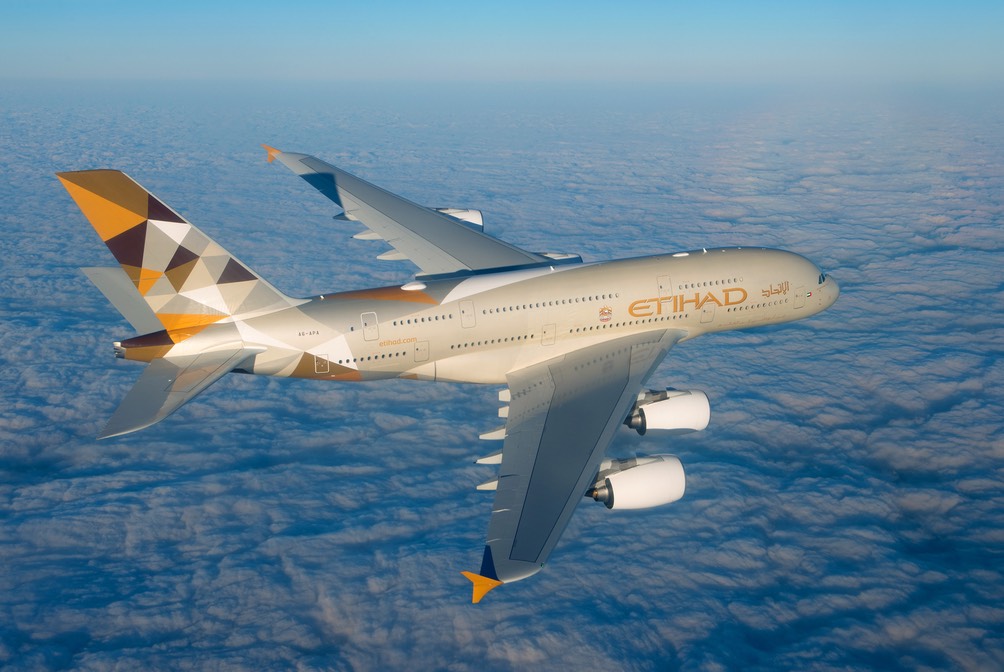 Etihad fly two of their A380s every day to Sydney and Melbourne.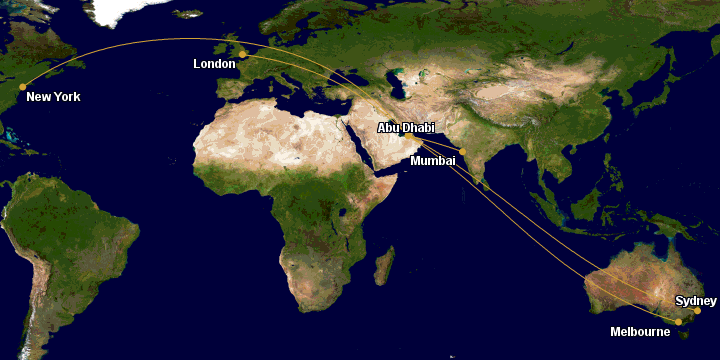 Etihad put a substantial amount of thought, time and money considering how to make their Airbus A380 experience the best they could imagine – with 70 Business Studio seats on the upper deck.
---
How to redeem points for Etihad A380 Business Class
There are three key primary loyalty programs whose points can be used for Etihad redemptions – Etihad Guest, Velocity Frequent Flyer, and American Airlines AAdvantage.
Here's how the pricing in terms of points stacks up:
| Route (one way, Business) | Velocity points | Etihad Guest miles* | AAdvantage miles |
| --- | --- | --- | --- |
| Perth - New York | 139,000 | 190,001 | 150,000 |
| Melbourne - New York | 139,000 | 200,002 | 150,000 |
| Brisbane - London | 139,000 | 162,503 | 122,500 |
| Sydney - Abu Dhabi | 104,000 | 99,999 | 80,000 |
*Updated with Etihad Guest's minor award pricing changes on its own flights effective January 2018.
Velocity have a few points earning options in New Zealand, including through flights, car hire, online shopping, and the American Express Platinum Charge and Platinum Edge cards.
Etihad Guest and AAdvantage have less visibility in the market – for American Express Membership Rewards, you can transfer to these programmes via Starwood Preferred Guest.
AAdvantage will usually always win when it comes to taxes and fees – they should be minimal. Etihad Guest charges substantial fees but without the additional surcharge imposed by Velocity. Velocity's Etihad surcharges are very high, and increase for each additional sector you add into your itinerary, making one-stop return itineraries to Europe expensive in terms of out-of-pocket costs.
Personally, I redeemed for my Business Class flight between London & Sydney, via Abu Dhabi, using Velocity points before price increases that took place in early 2016. I got lucky, but I would still definitely consider using my Velocity Points for Etihad again (and have done since).
---
The Cabin – Etihad's Business Class Apartment Seats & Seatmap
Etihad's Business Class cabin can be found taking almost the entirety of the A380 upper deck – with the exception of First Class at the front, and the shared Business & First Class bar / seating area between the two.

As you can see from the seat map, the Business Studios are laid out in a 1-2-1 configuration, with alternating forward and rear-facing seats. This makes seat choice particularly important, especially if you're travelling with a partner, colleague or family members.
The seats interlock in a complex jigsaw puzzle to maximise available space – every seat has direct aisle access – no need to climb over your seat partner.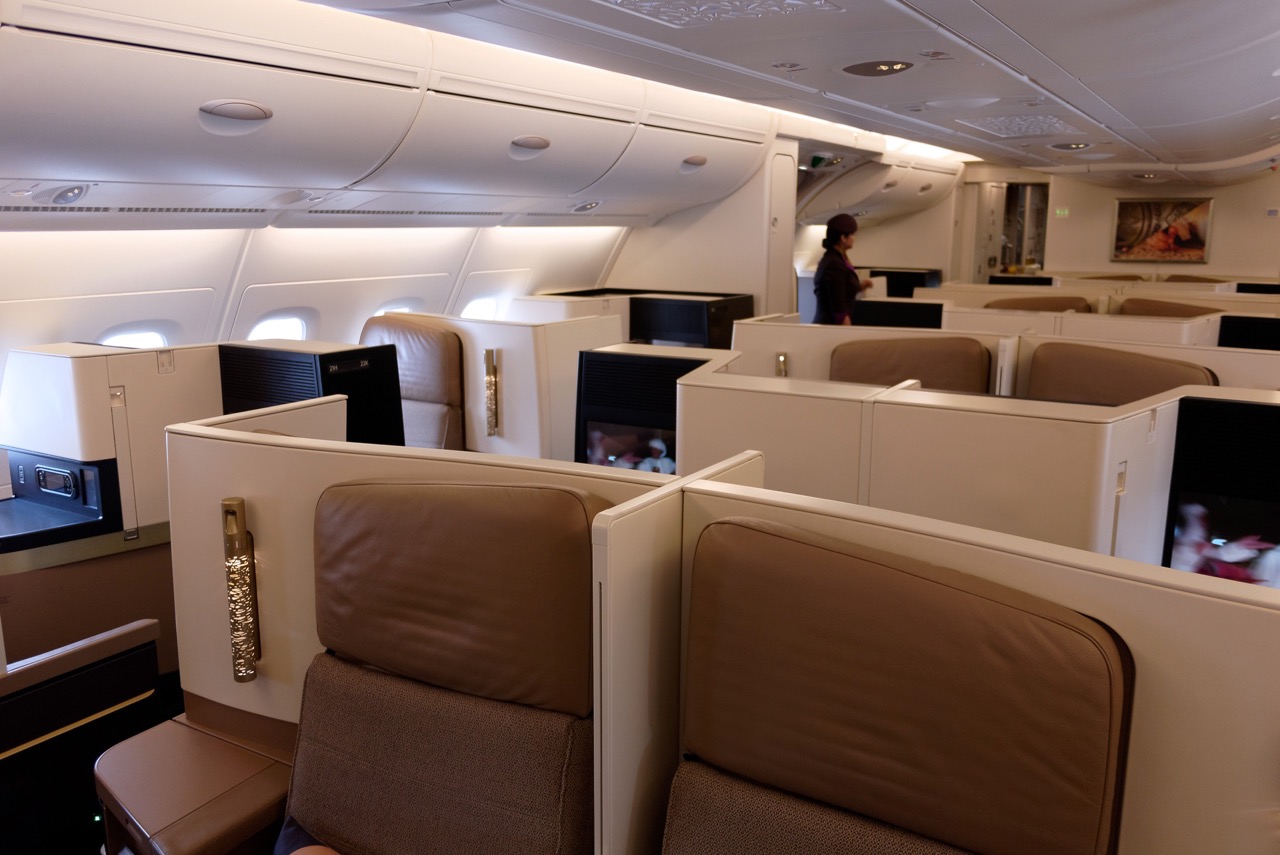 There are two large cabins in Business Class, with the rear cabin a little smaller – and probably the pick for a little more quiet. That said, food is prepared in the galley at the rear of the plane (on the left of the seat map above) – so there may be more foot traffic from the crew serving the other guests the further back you go.
Etihad's A380 Business Class Studio Seats
Beyond picking where in the cabin you sit, there's also a question of the kind of seat(s) that would suit your needs.
The forward facing centre seats are next to each other, as pictured below. These are ideal for couples, or folks wanting to talk during flight. They are also the most practical option for travellers with young children.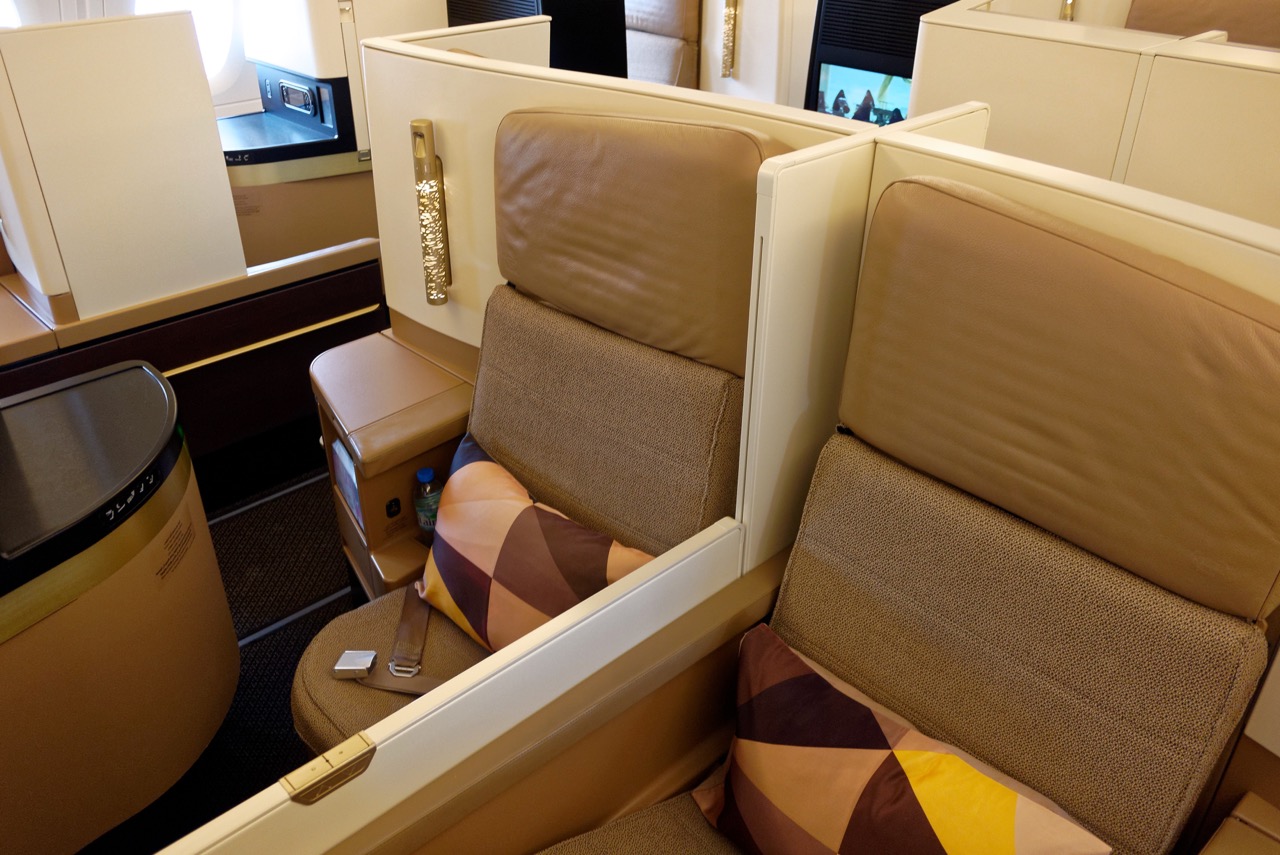 Here's us using two centre seats. Passengers are close enough to converse but a centre privacy divider also can be raised for total privacy too. In either case, the divider is fixed down to the floor so you can't walk between the two seats.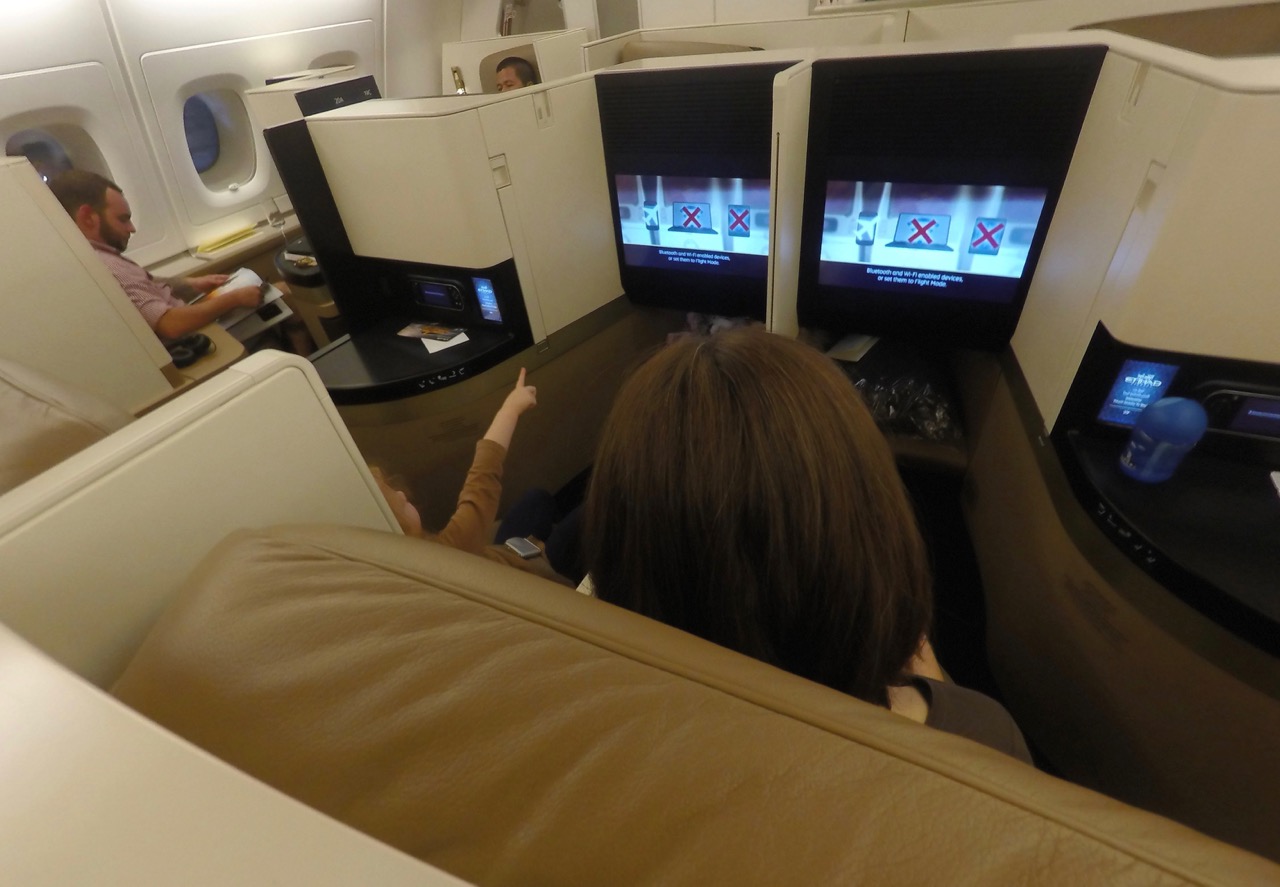 By comparison, the rear facing centre seats (shown below) are positioned with the seat next to the aisle and your seat mate around 1.5 metres away – well out of arms reach, and again, separated with a small divider.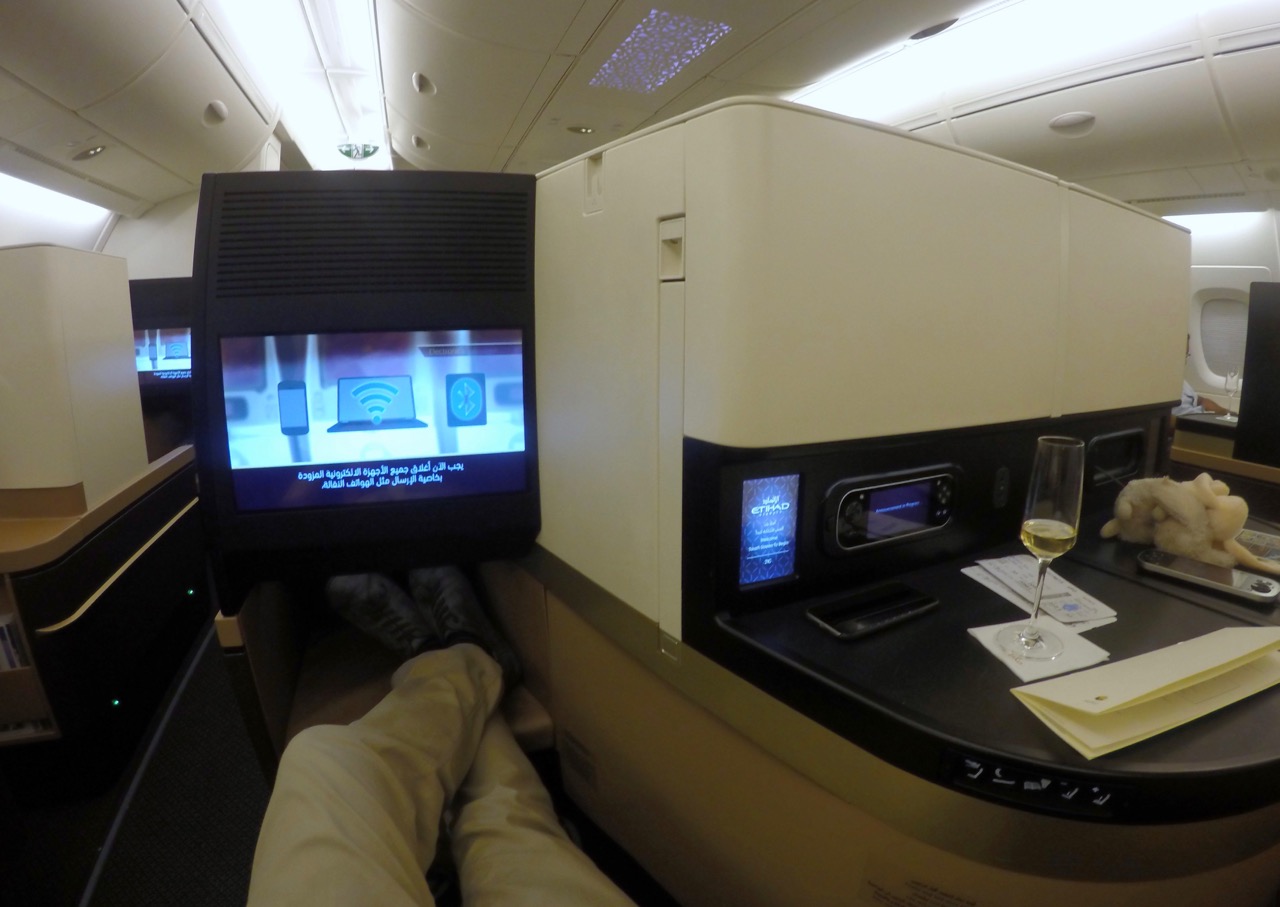 The aisle seat options are simpler – all the forward facing seats are positioned next to a window, while the rear facing seats are next to the aisle – like the seats pictured below.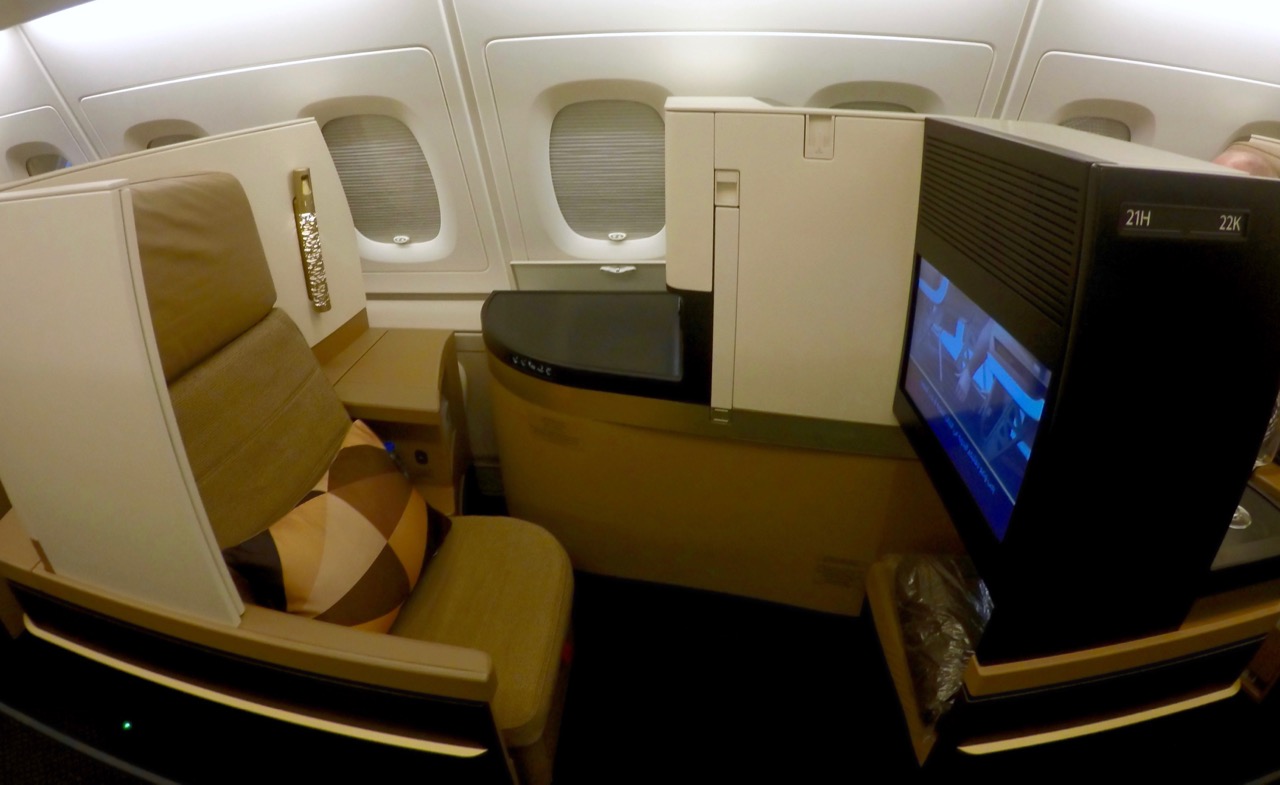 If you're travelling with a partner that you want to converse with during the flight then the only option is to aim for the forward facing centre seats as mentioned before. All of the window seat options are significantly separated from both the seats in front and behind them, but also those over the aisle.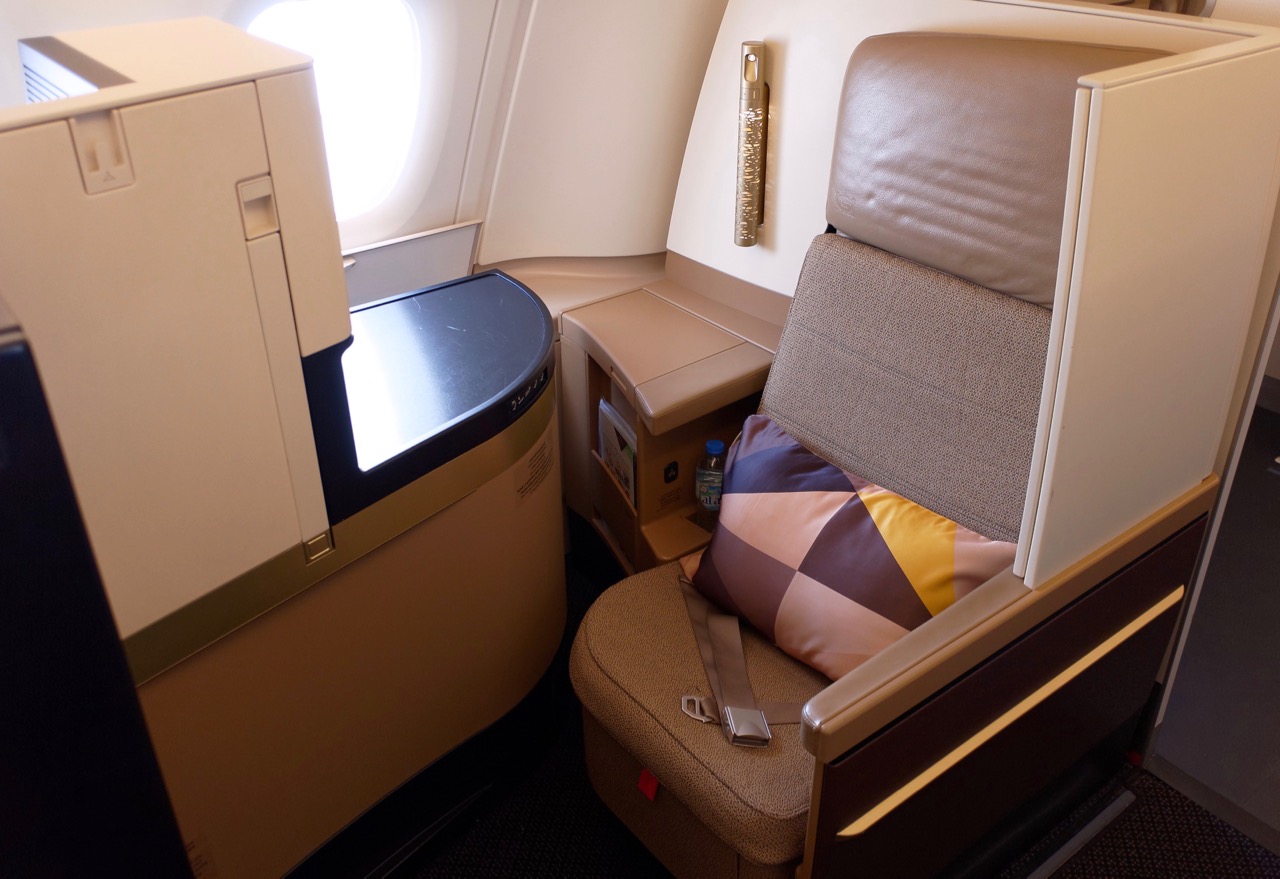 All seats adjust to be fully flat. On offer is a small pillow and a soft-touch and relatively thick blanket – compared to other airlines – to help keep you comfortable while you sleep.
In my opinion, while all the seats are top-notch in terms of comfort and space, the additional privacy offered by the window seats makes them worth aiming for if you're a solo traveller.
For a couple, go for the aforementioned centre seats, unless you really want the view from a window seat, in which case take whatever you can find for the two of you.
For a family of four, aim for a block of four centre seats together – two forward, two rear.
Etihad A380 In-Flight Entertainment
Etihad's in-flight entertainment in Business Studios is excellent, with a vast touch-screen – – that is usually out of reach unless you have your seat forward, for example while dining.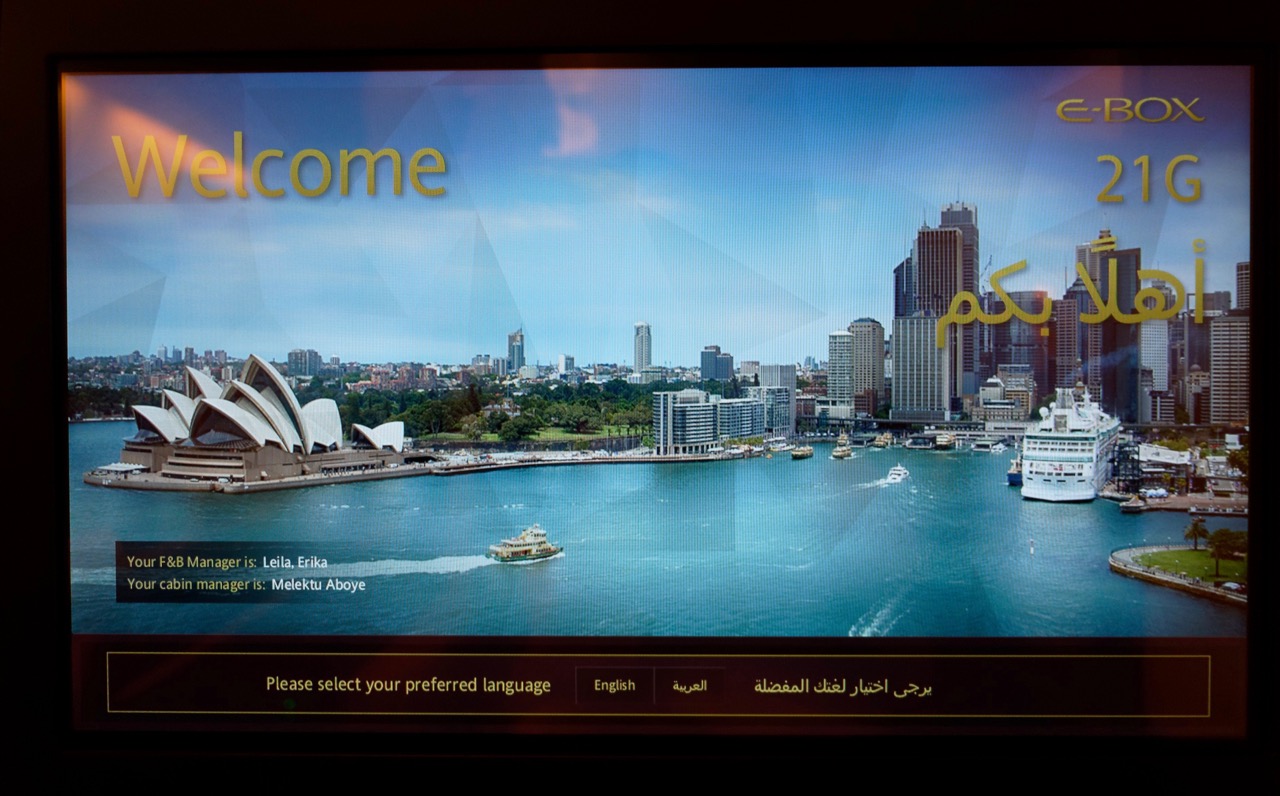 Next to the IFE is a secondary screen with information about the flight, the content you are watching or listening to and other information.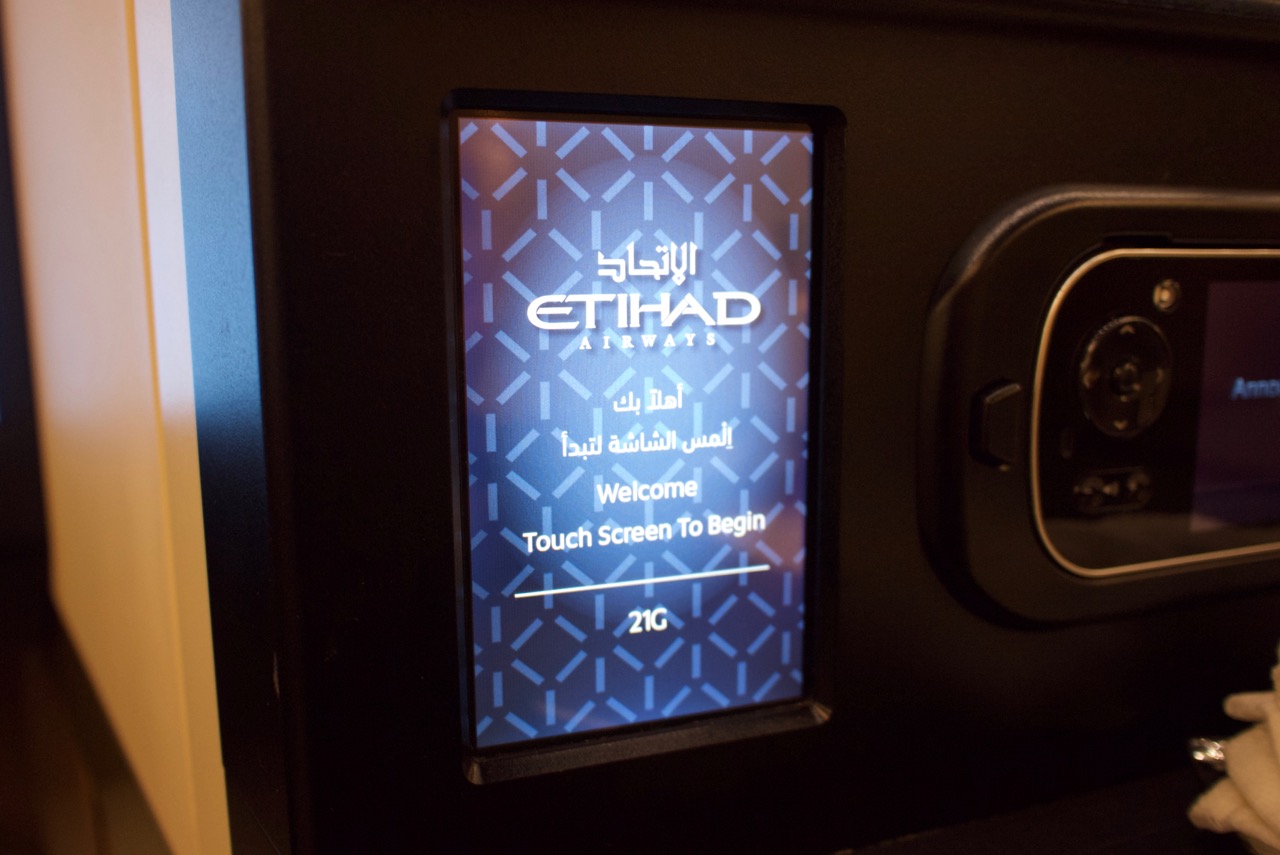 And then next to that is a third touch-screen (!) and secondary controller, which is useful for navigating content when you can't reach the main screen. It can also be used as a secondary screen for viewing content such as TV Shows and Movies, although that's of less use given it's size.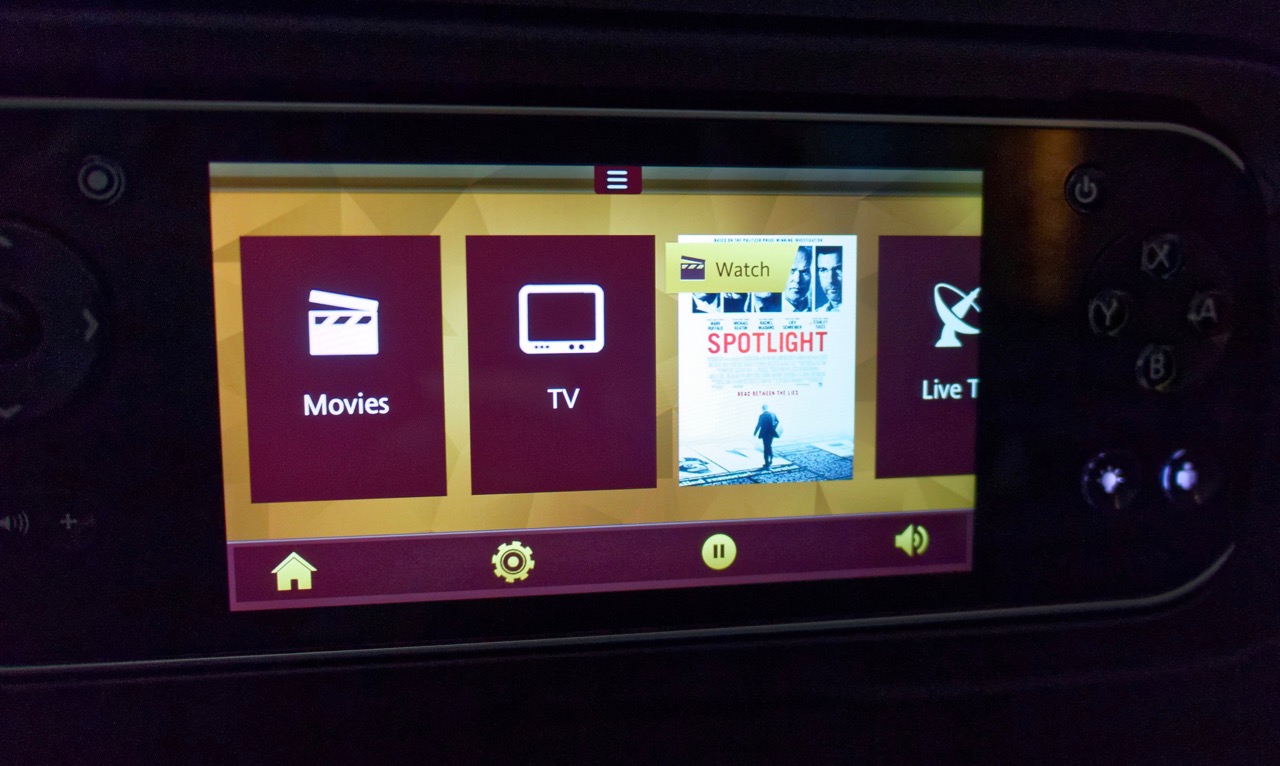 All screens are super-responsive to touch input and the IFE interface offers a variety of ways of navigating quickly to key information like maps and flight progress.
Beyond that, you'll find two USB ports to charge the usual plethora of mobile devices we now tend to carry with us.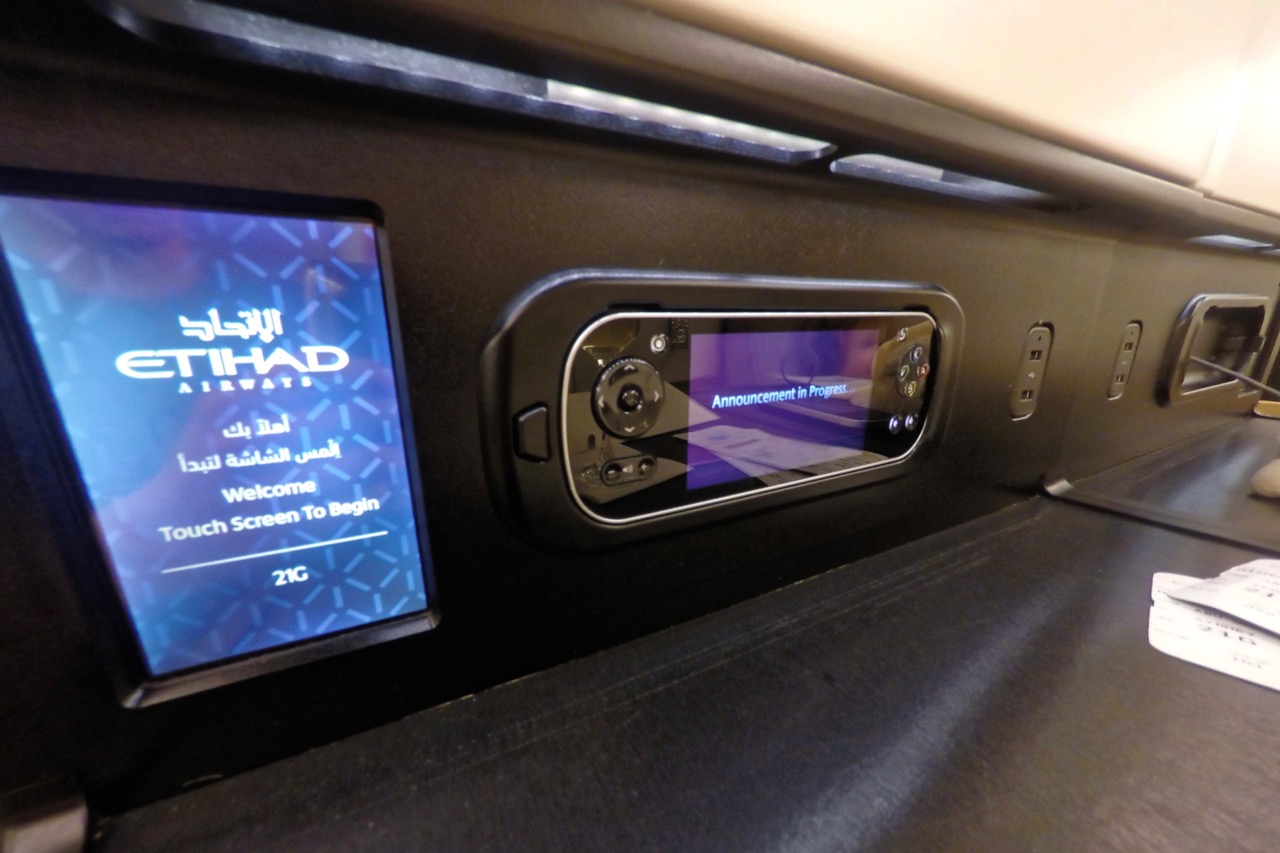 Etihad also offer their "wi-fly" internet access which is available for a fee – $24.95 for the duration of the flight being the most effective offer. I found the speed perfectly acceptable given we were 40,000 feet in the air, and totally usable for browsing the web and email.
The Business & First Class Bar
At the front of the Business Class cabin (and behind First Class) you'll find an open space with a circular table and chairs with seating for 6 passengers.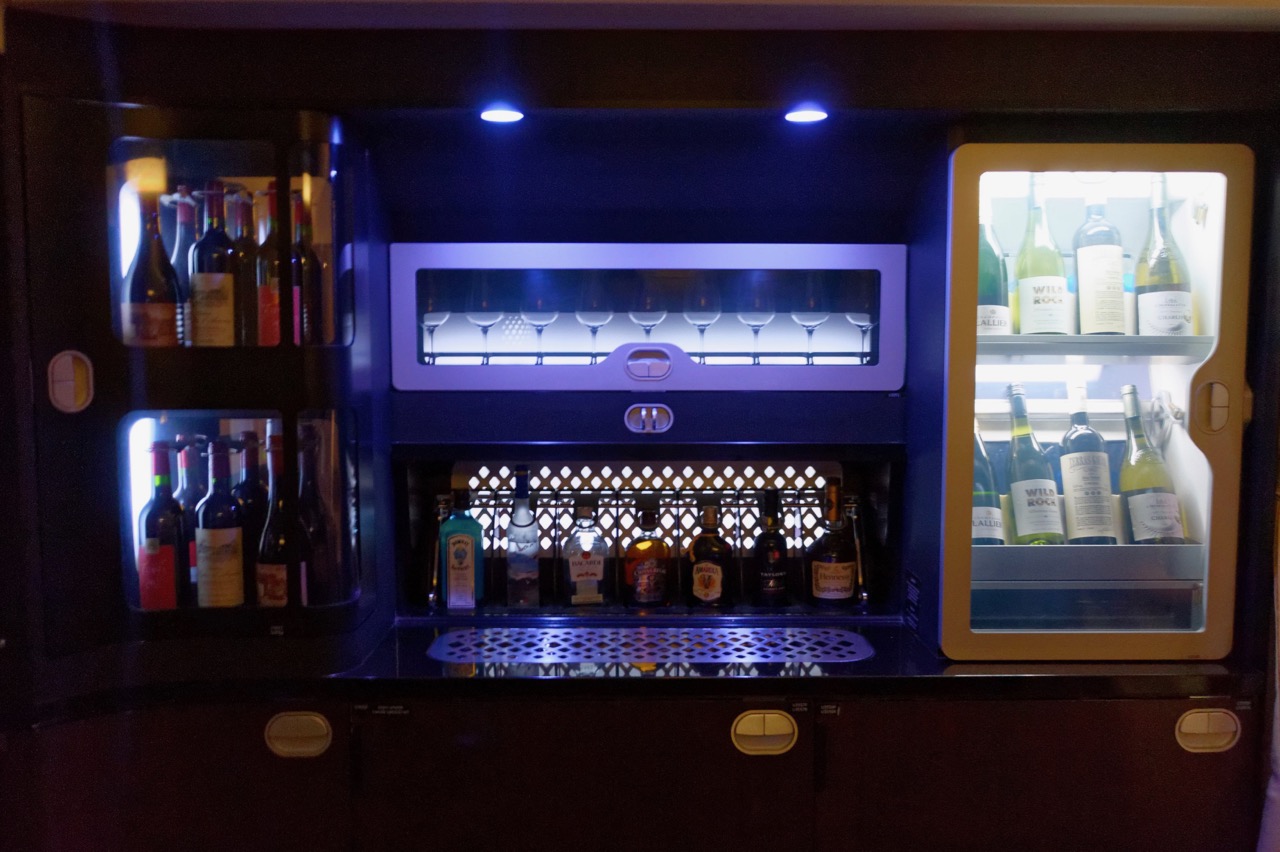 There's a fully stocked bar with spirits, wine and champagne, and the crew will happily serve you with food, drinks and snacks here. The area is usually quite dark with no windows, and there's a large in-flight entertainment screen usually tuned to live sports or news.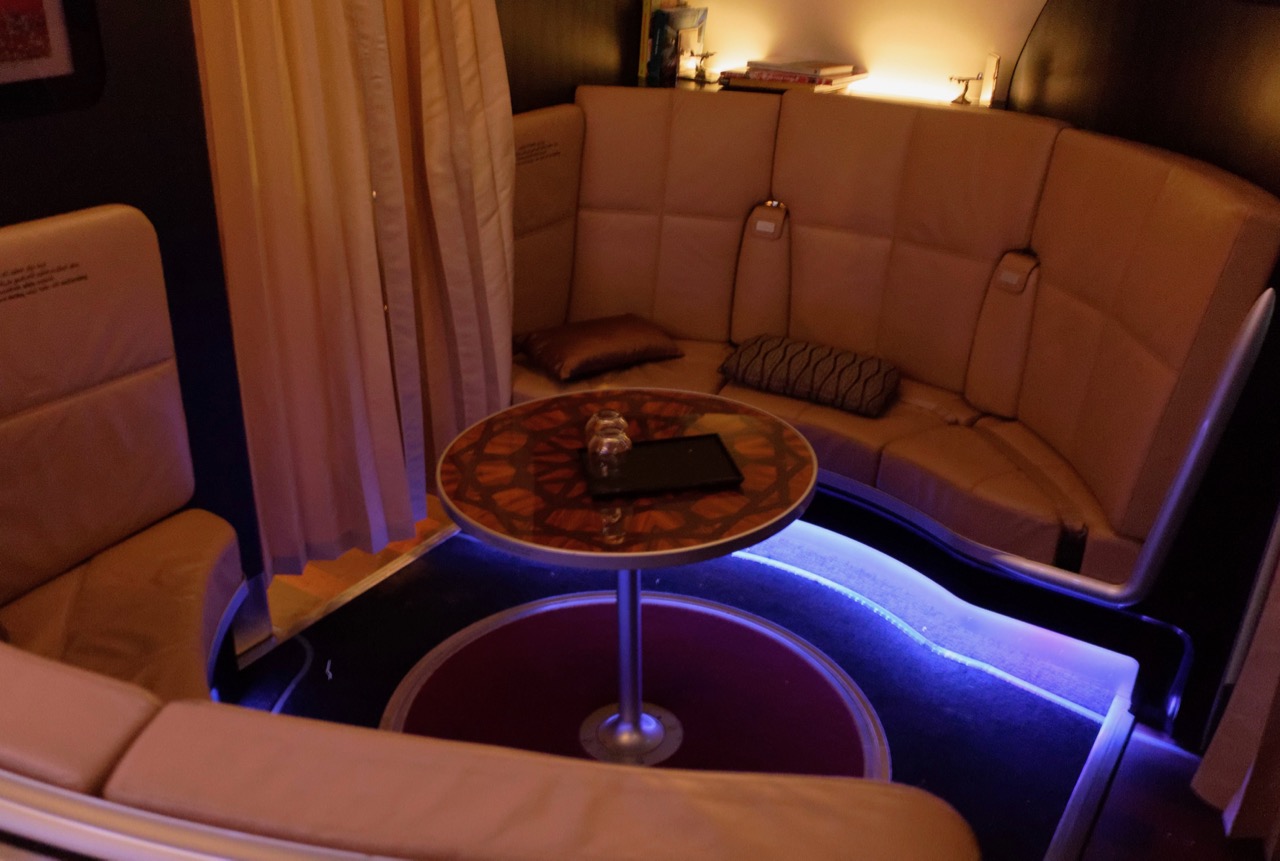 If you're travelling in a group of two or more, this is a great spot to come and hang out, catch up, have a bite to eat or grab a drink. The space is not as big as Emirates offering on their A380 and less conducive to hanging out and meeting strangers, but it's still a usable and relaxing spot to spend some time.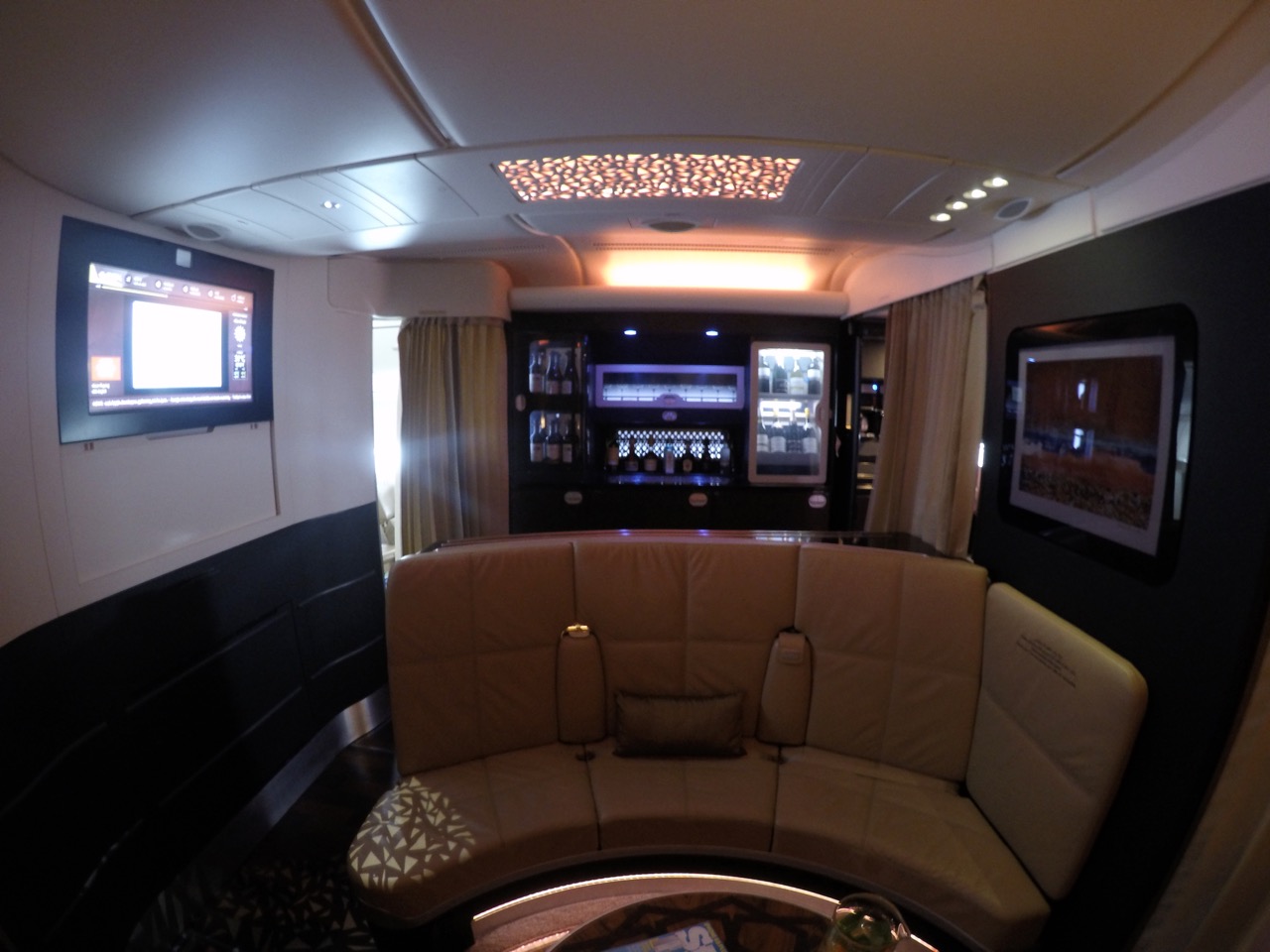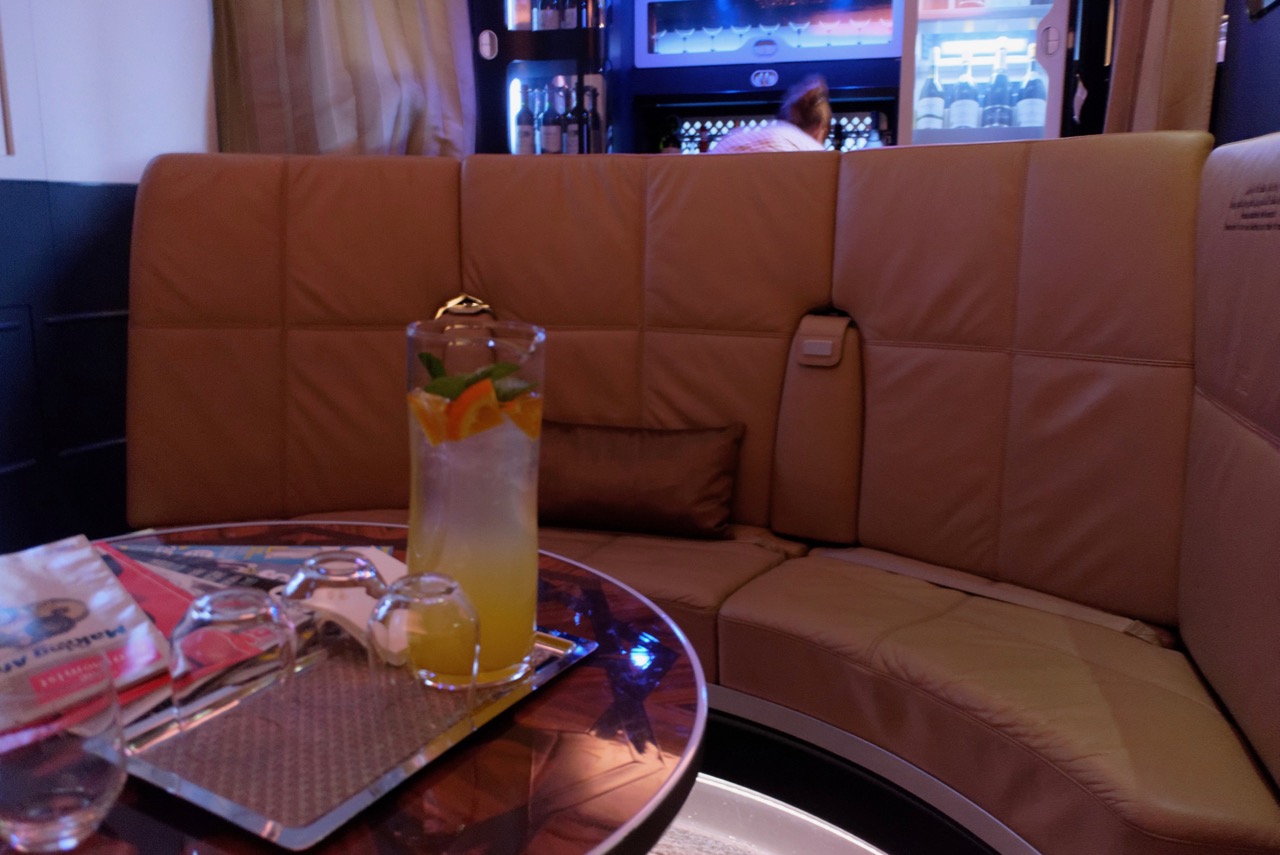 Service – Food & Drink
Etihad offer a dine (and drink) on demand service – you choose what you want to eat, when you want. This is a true 'what and when you want' service – you'll find the crew are happy for you to order, within reason, any combination of items from the menu at any time allowing you to eat according to your own rhythm.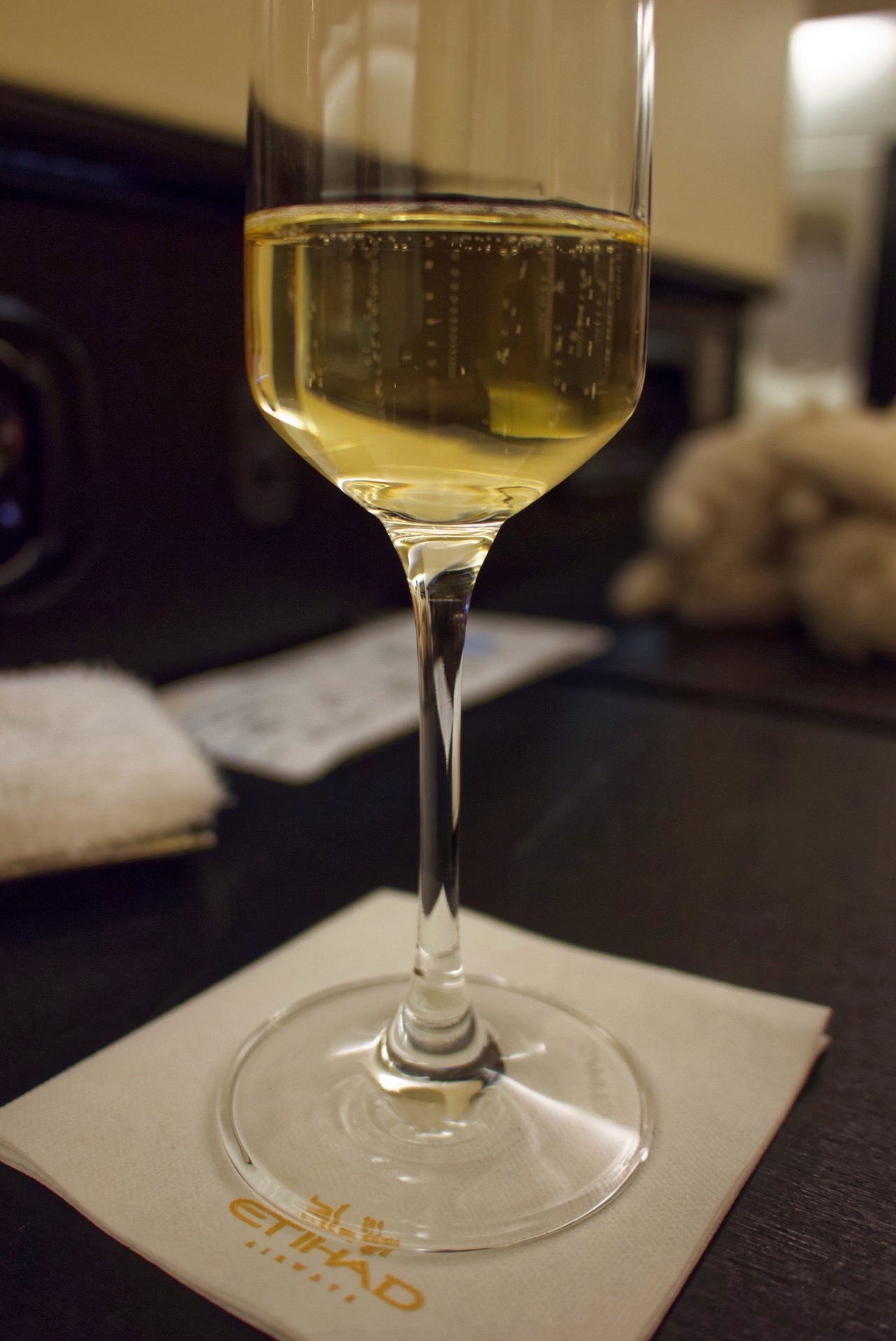 Here's a couple of example menus to give you a taste of what's on offer. First, from London to Abu Dhabi:
And then from Abu Dhabi to Australia:
And here's the wine / drinks list:
The crew will prompt you around the general time of meal services but they are also generally happy for you to tailor your dining times as you see fit.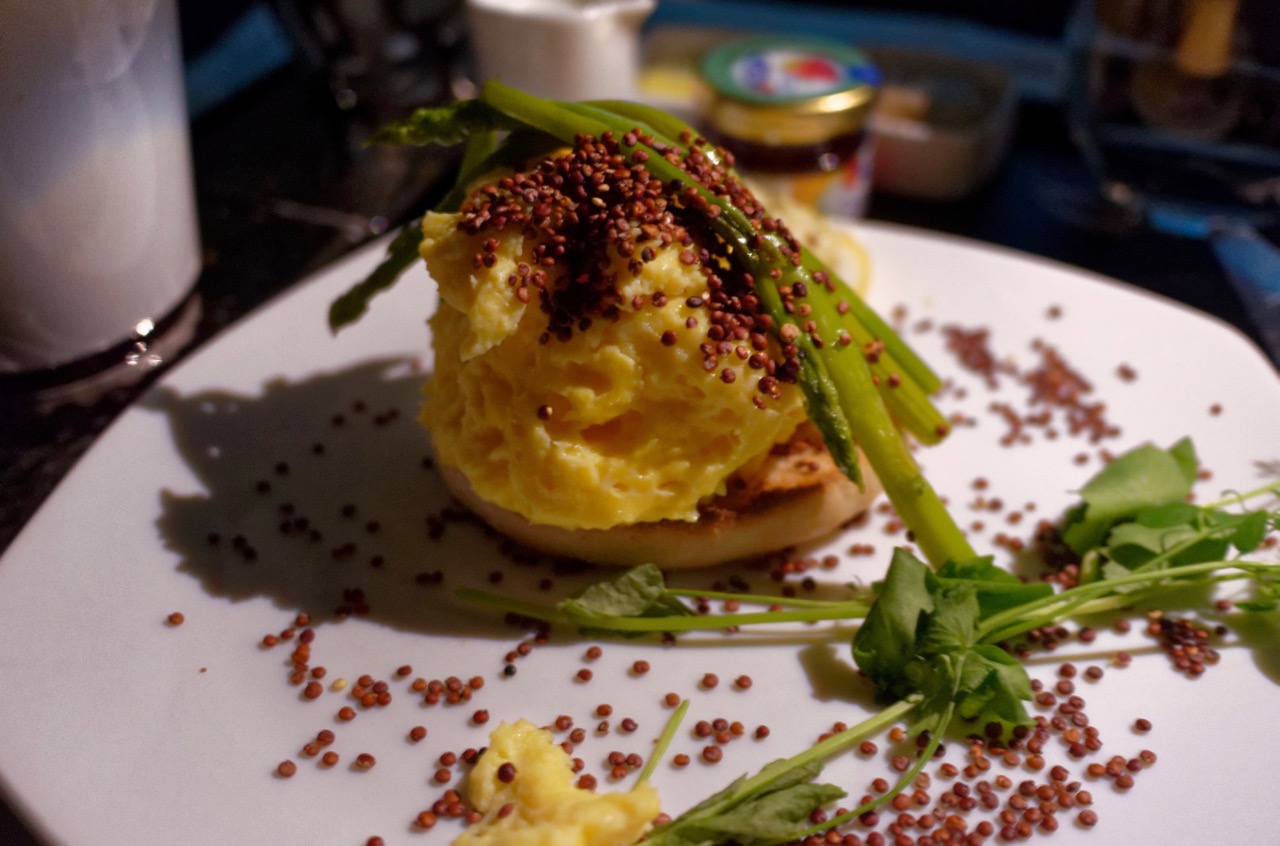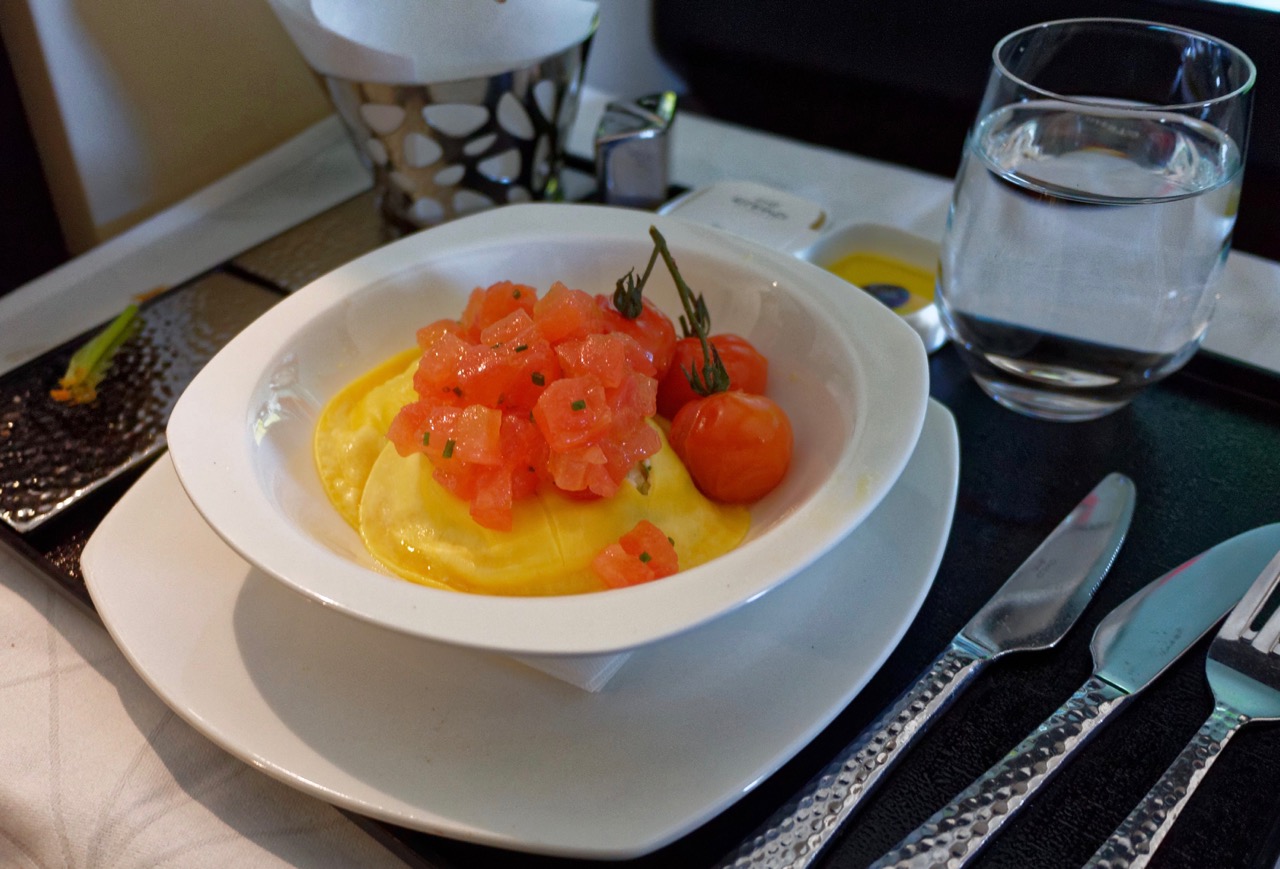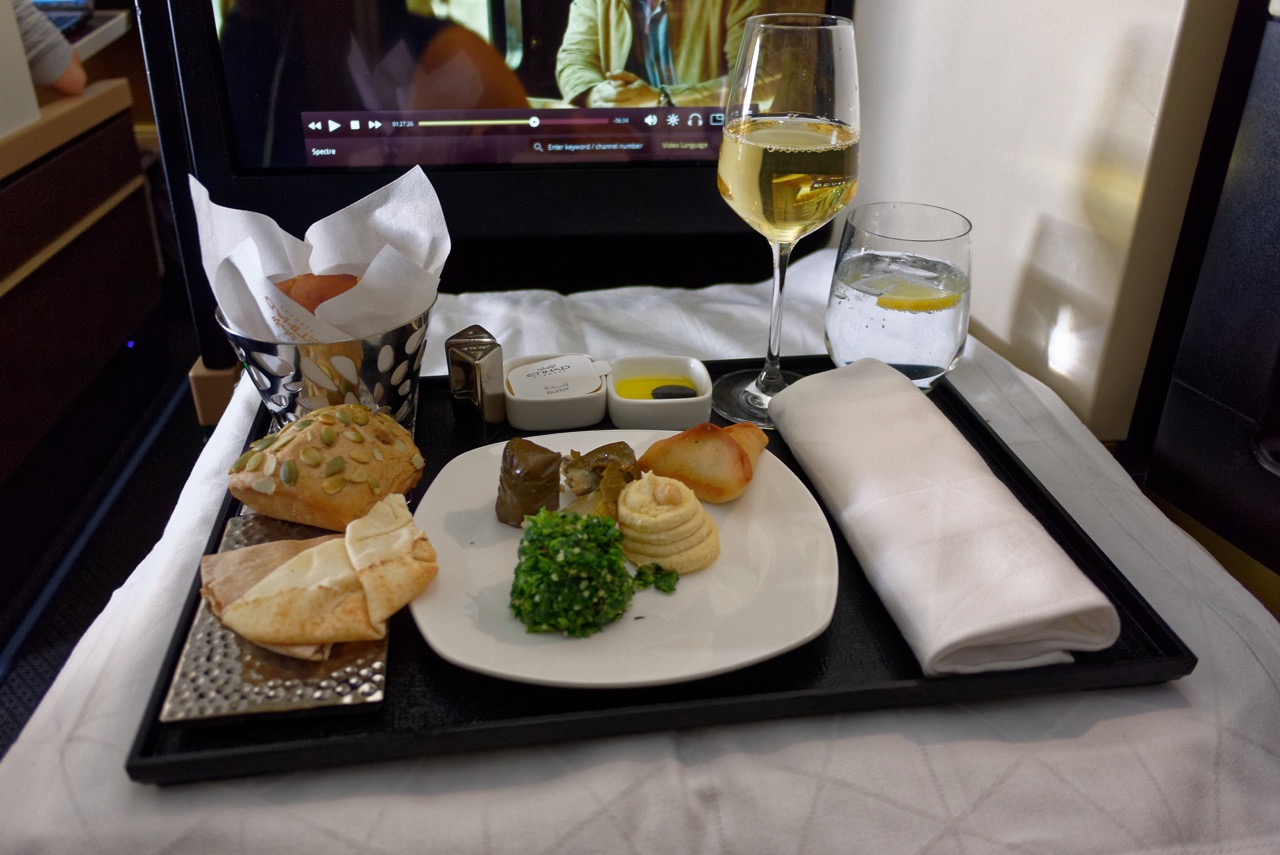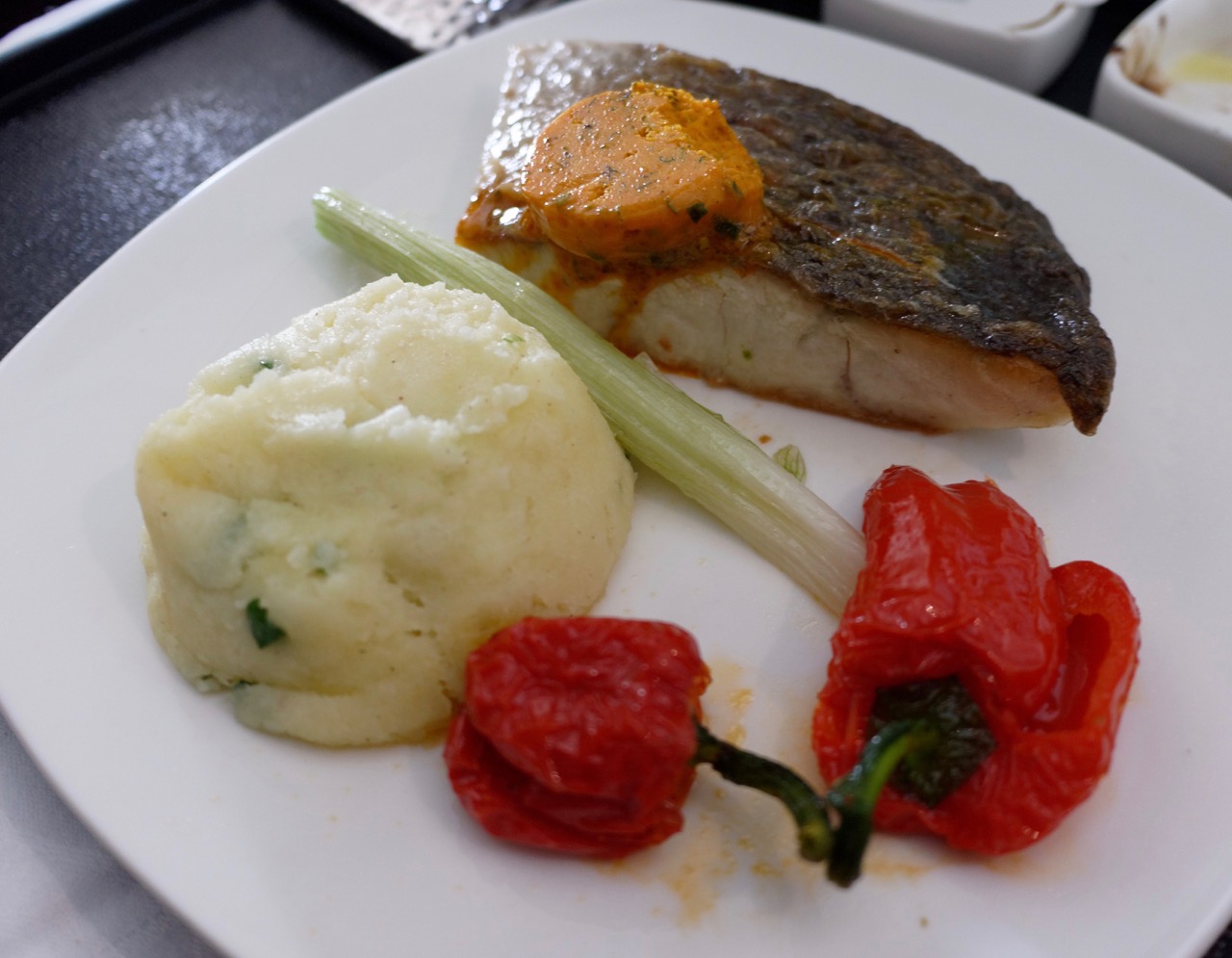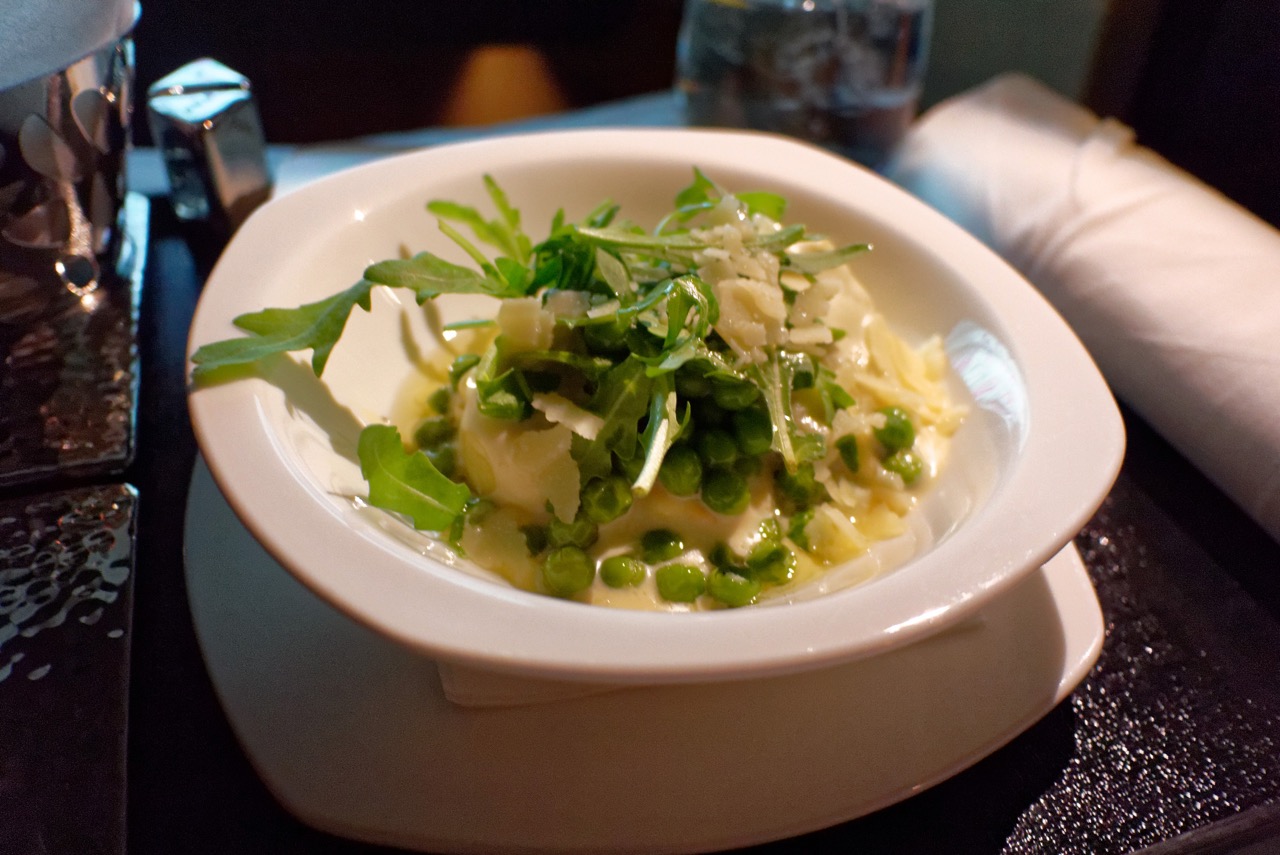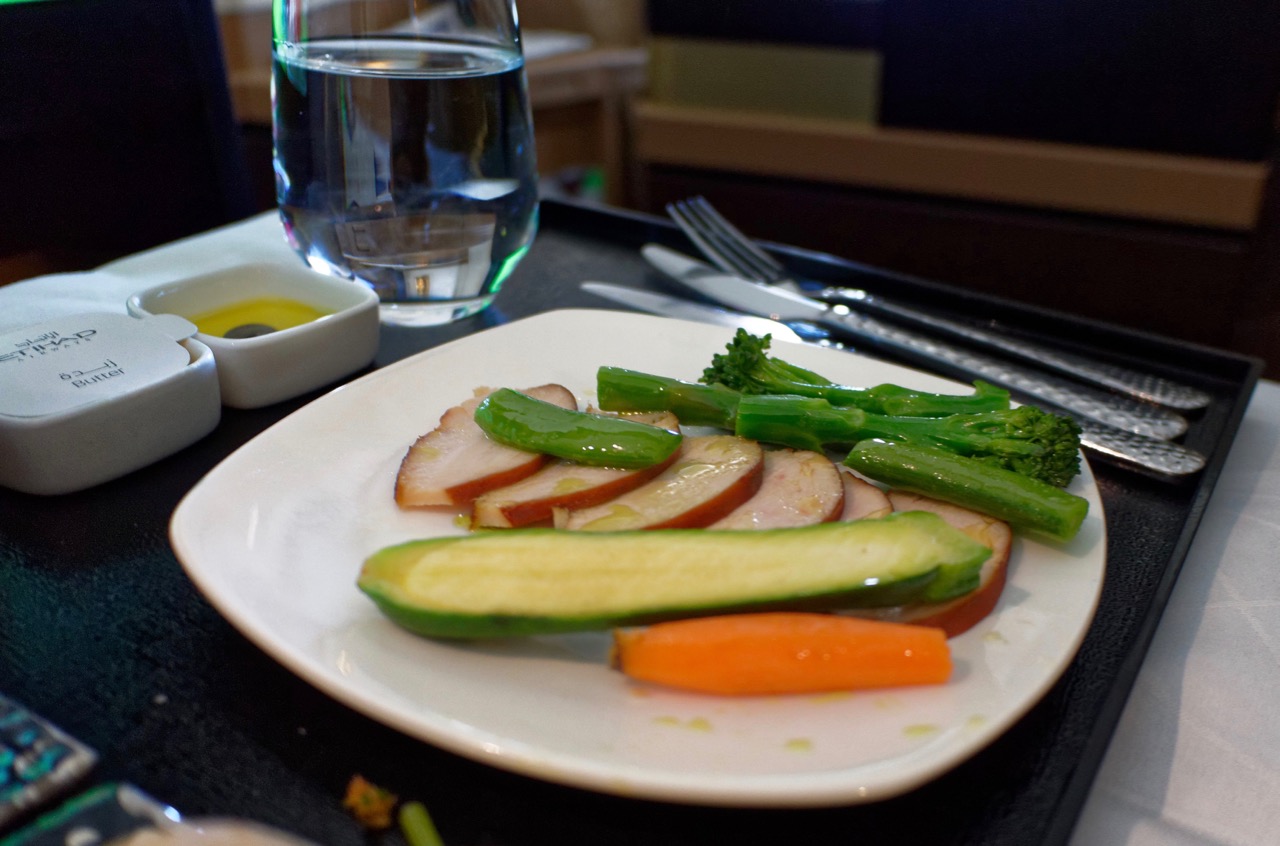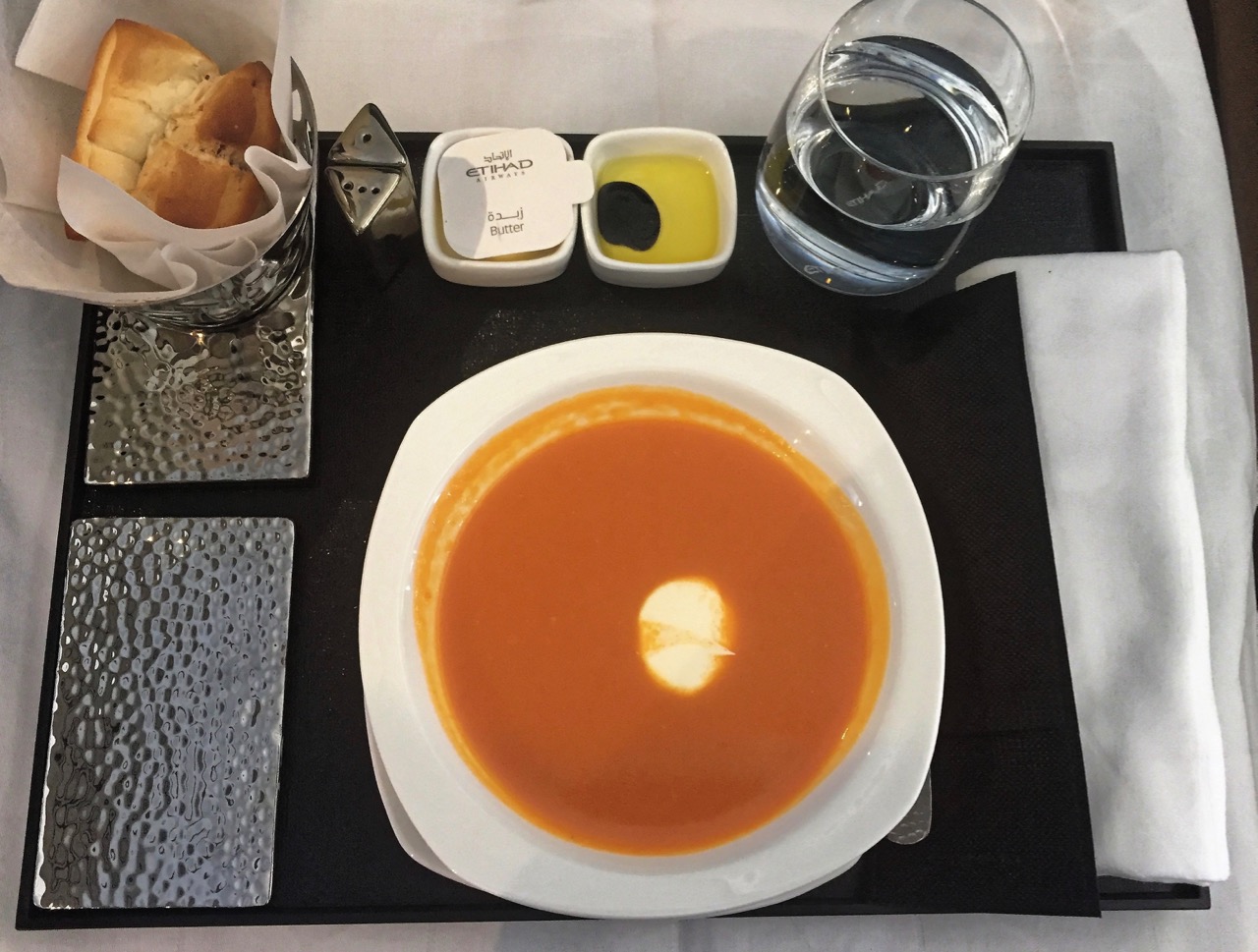 The quality of the food on our flight was excellent – some of the best Business Class meals I've been served. But what really stood out for me was the absolute flexibility we were offered in how and and when we wanted to eat, as I already mentioned.
Other carriers offer this too, but in practice you'll often end up eating during the planned meal service. We felt that the way the dining service was offered by the crew – more on our interactions with them later – was top-notch.
Additional Amenities
Every Business Class passenger will also receive an amenity kit and a set of Etihad's business class pyjamas.
The pyjamas are fairly classy and unbranded, made of a mid-weight cotton with a zip neck, and come in one of Etihad's chocolate brown colours. I can't find a stock shot of them, and you're not about to see a picture of me in my pyjamas here either.
Amenity kits are of high quality, containing everything you need to sleep and some extra skin-care products to see you through the flight.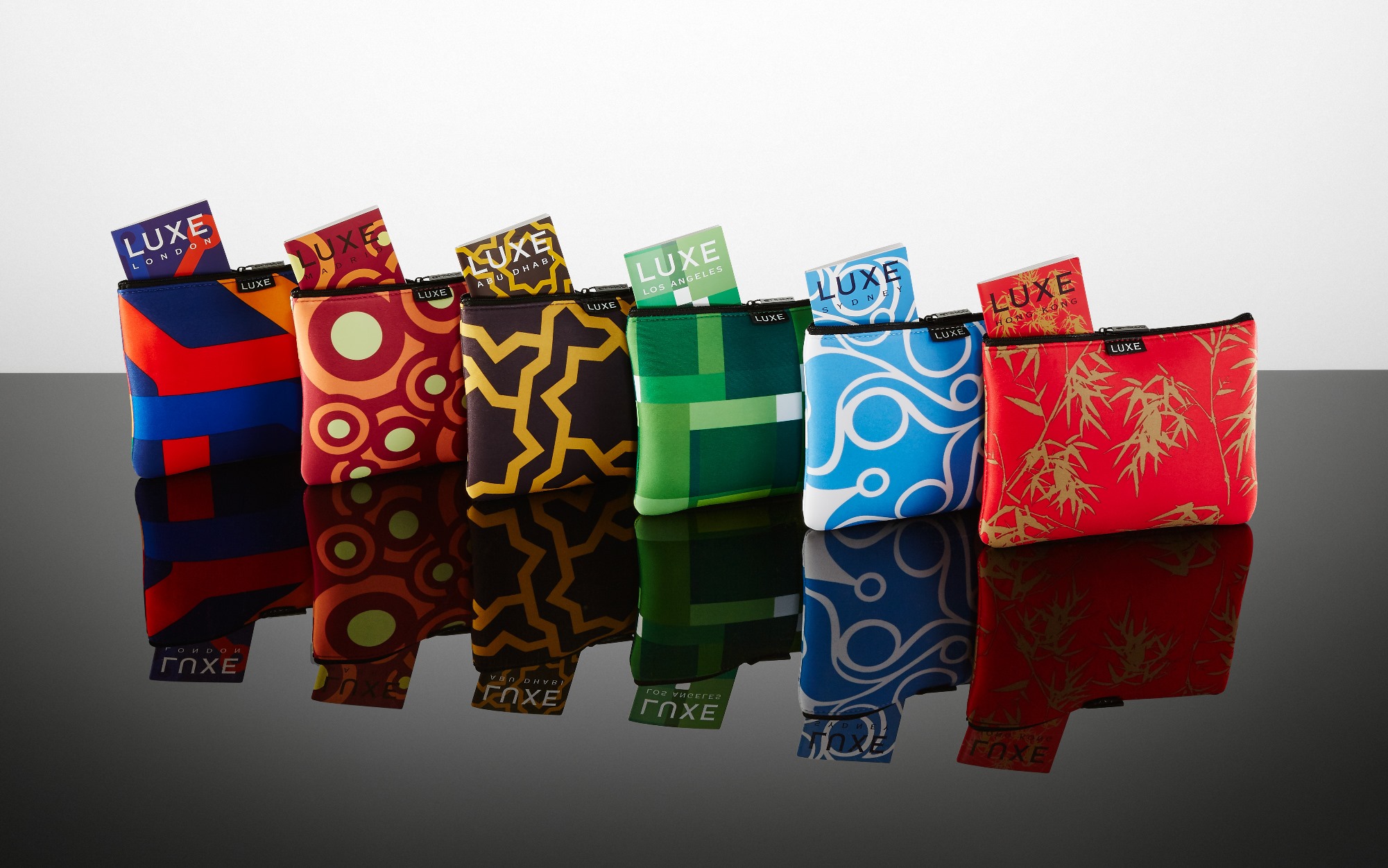 Other reasons to consider Etihad Business Class
Etihad are one of only a few airlines that offer limousine transfers to and from your departure and destination- within a specified radius of the airport.
They have recently tightened up their policy on limo transfers with award / points bookings, and reservations via Velocity and AAdvantage are no longer eligible for this. In addition, paid tickets in the discount Z class aren't eligible for transfers either. If you're on any other paid Business Class ticket, you'll be fine.
In practice you may still get lucky – try and reserve your transfer online anyway, or ask on arrival in Abu Dhabi where you could ask about availability and might get lucky.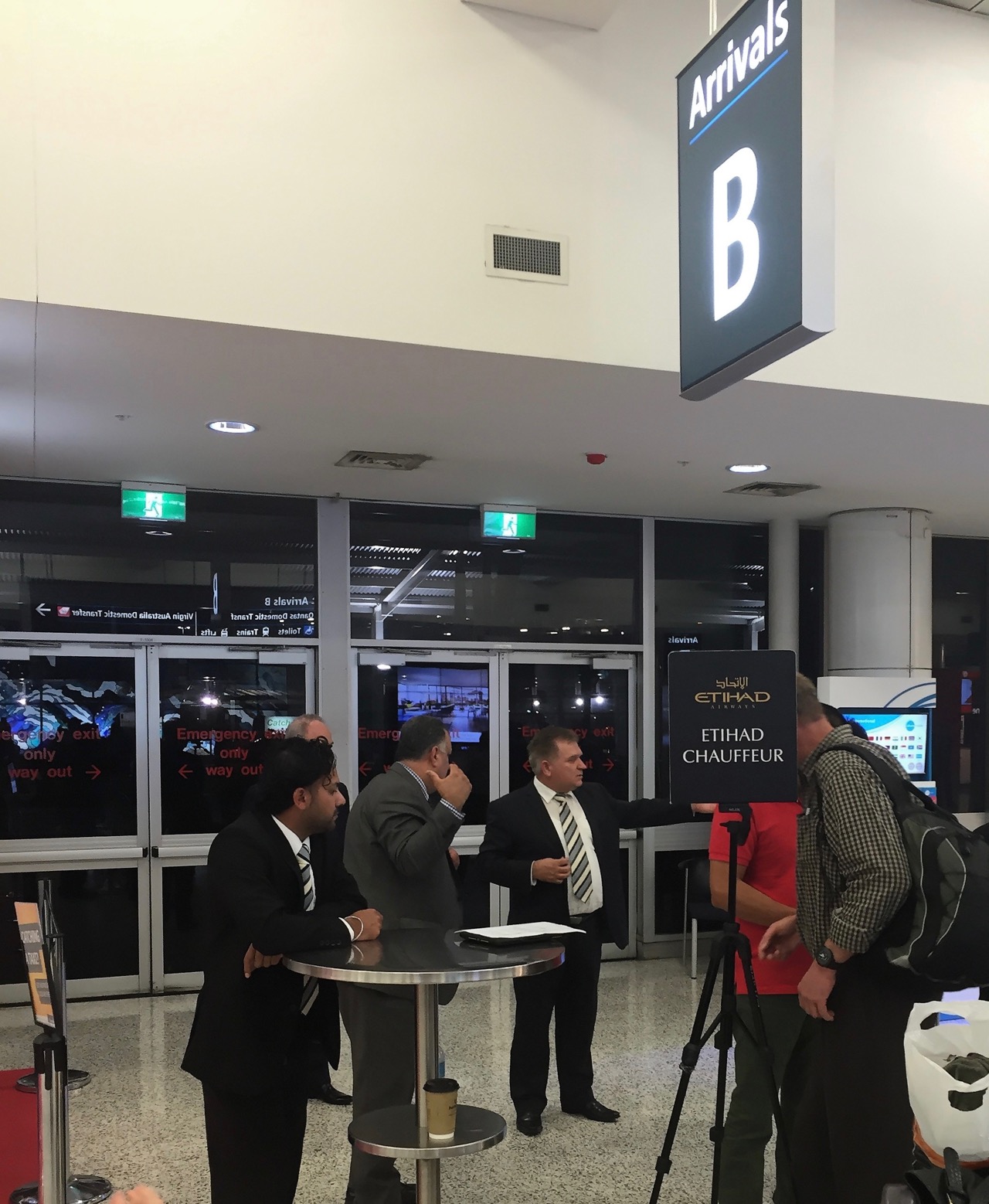 You book your limo transfer on the Etihad website before departure – do this at least a few days before your flight. 24 to 48 hours before your flight you'll get a call (for collections, usually) or email confirmation of the transfer.
If you have several passengers travelling on multiple bookings and want them combined into one car reservation, you need to ensure this is noted in advance of your flight – you'll need to do this by calling Etihad directly.
Etihad Premium Lounge Access
Etihad has a number of premium lounges around the world, including in London, Sydney, Melbourne, New York and of course, Abu Dhabi. More on these in future reviews, but their facilities in Etihad's own lounges are usually extensive with sit-down dining, full service bars and children's areas.
In London, Etihad's Premium Lounge looks like this, with buffet dining: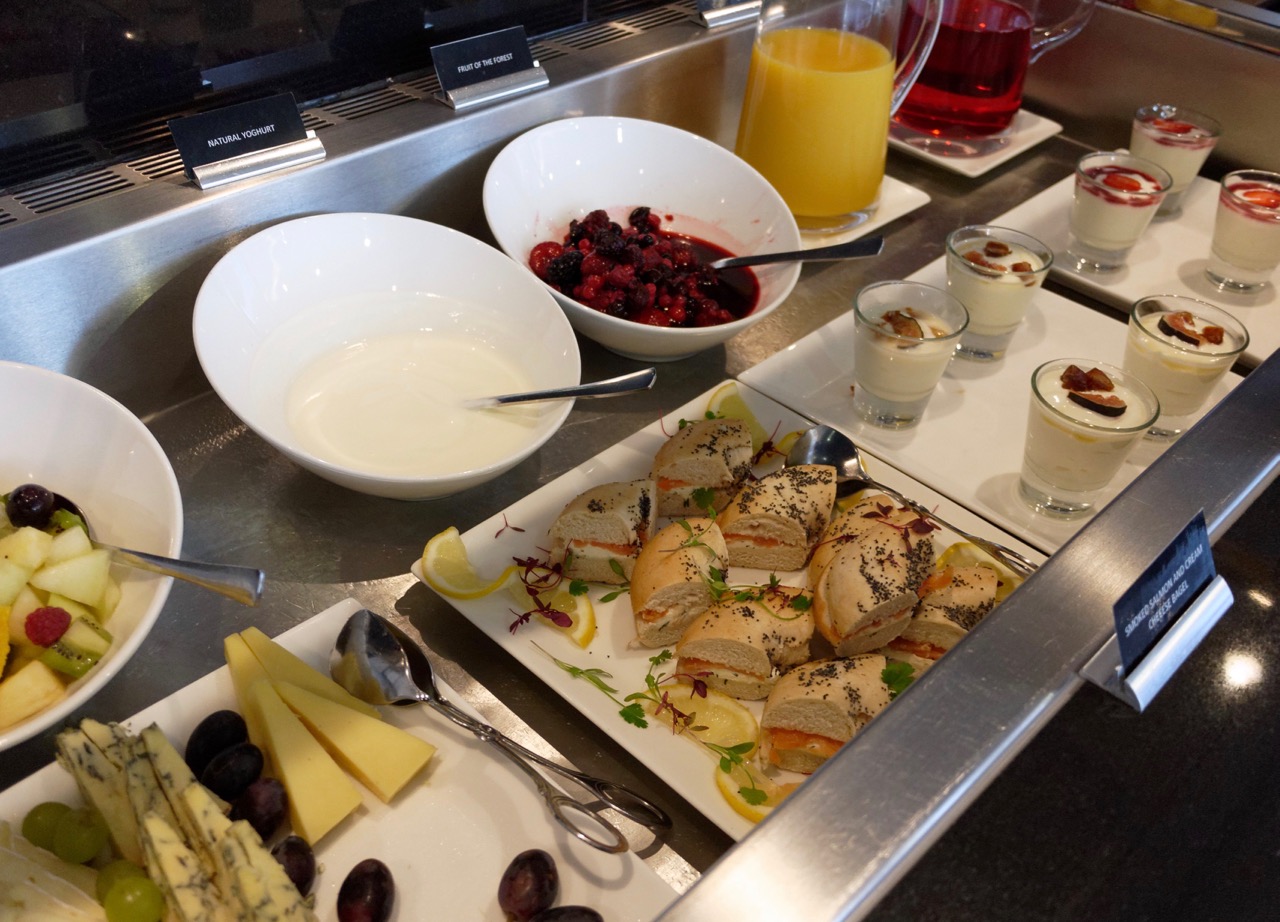 As well as table service.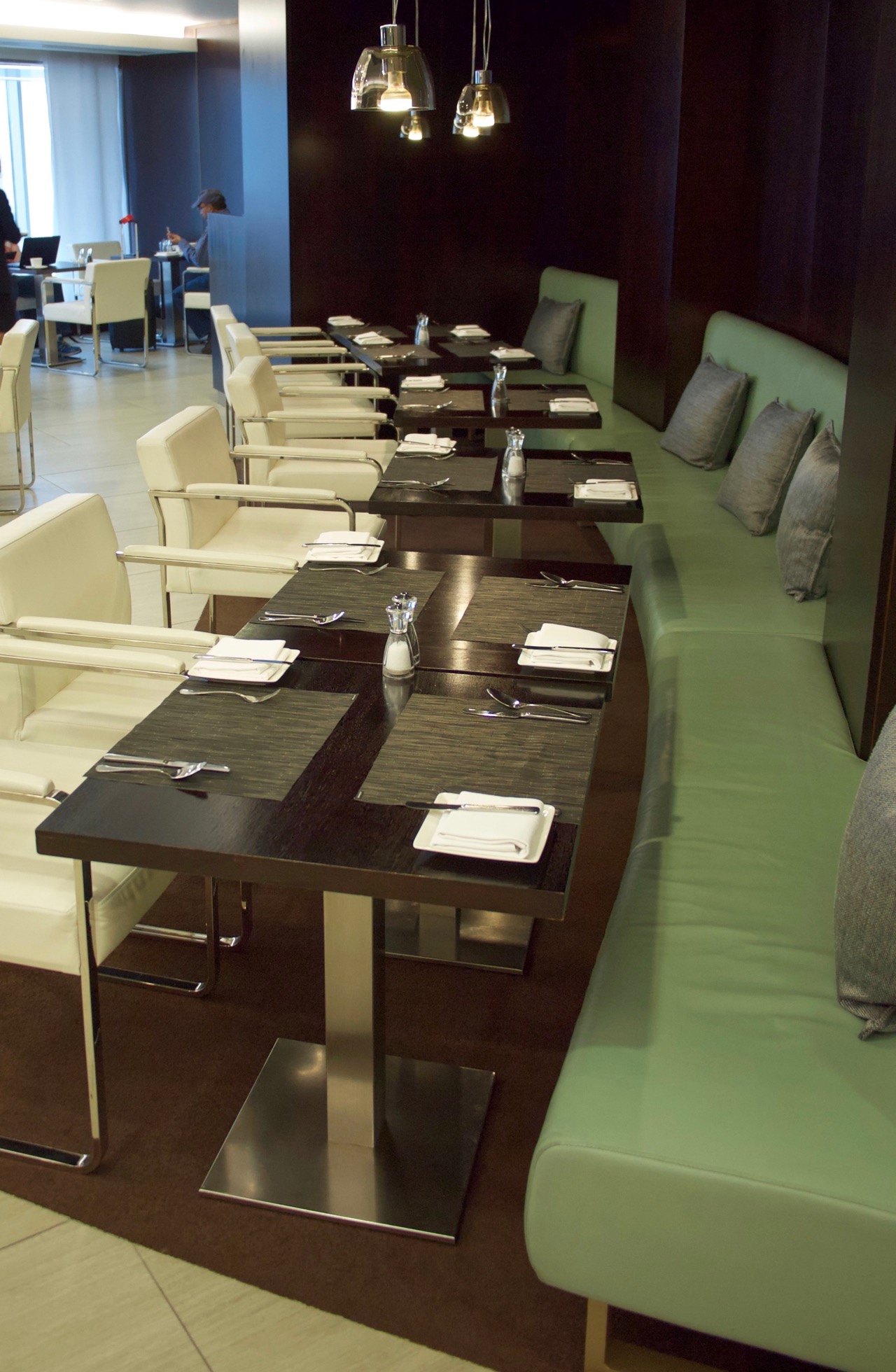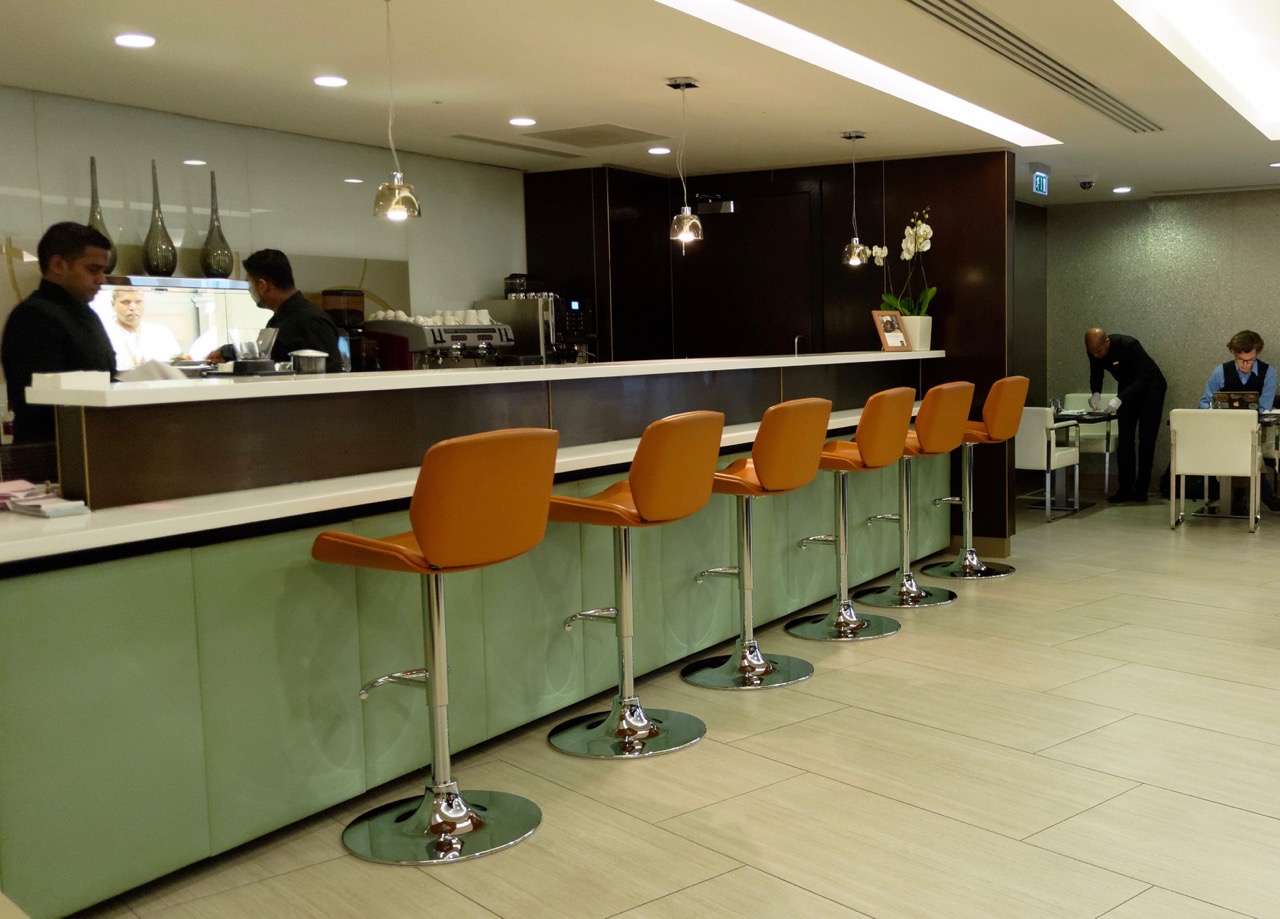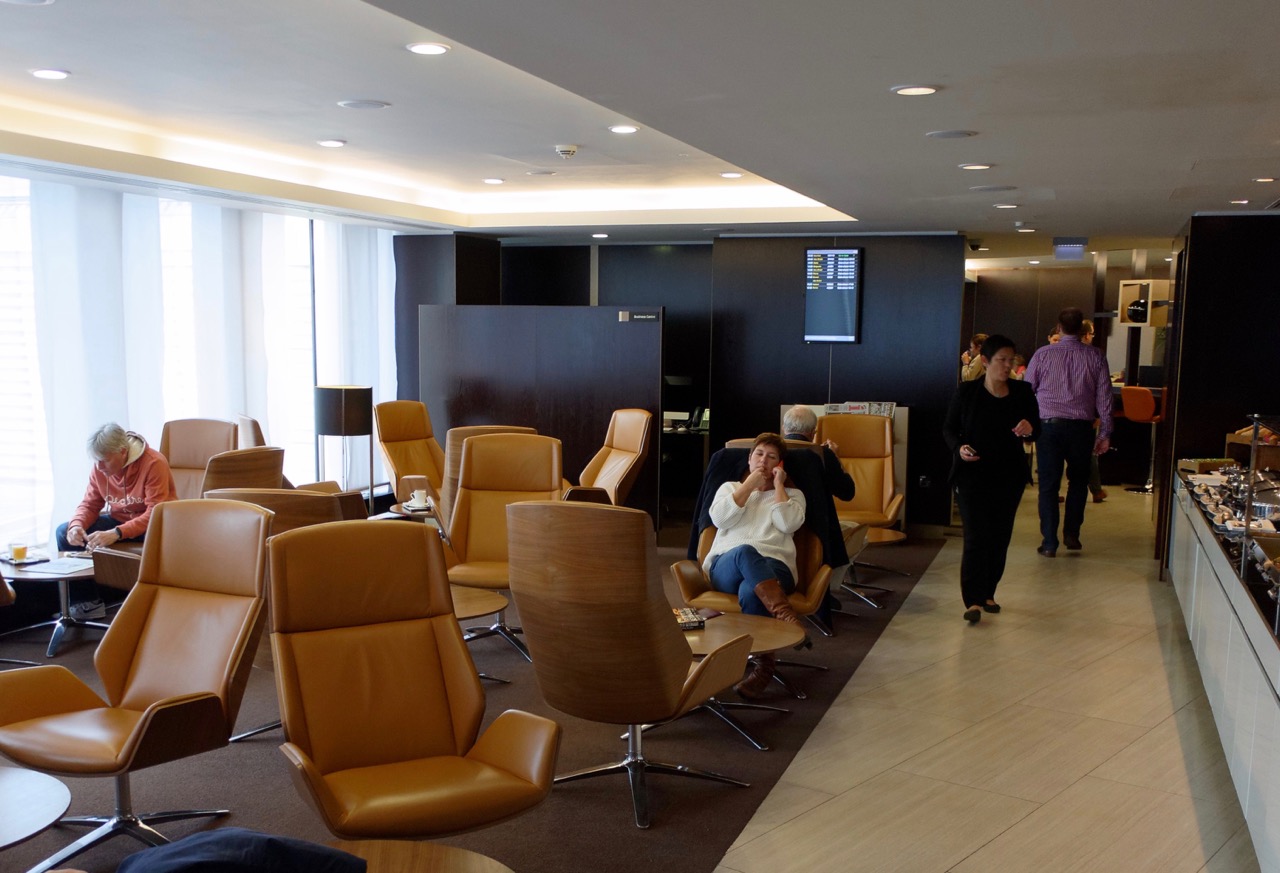 And in Abu Dhabi, you'll find Etihad's large Premium lounge, where there is a vast buffet, bar and children's room with nannies so parents can duck out and grab some food or a drink.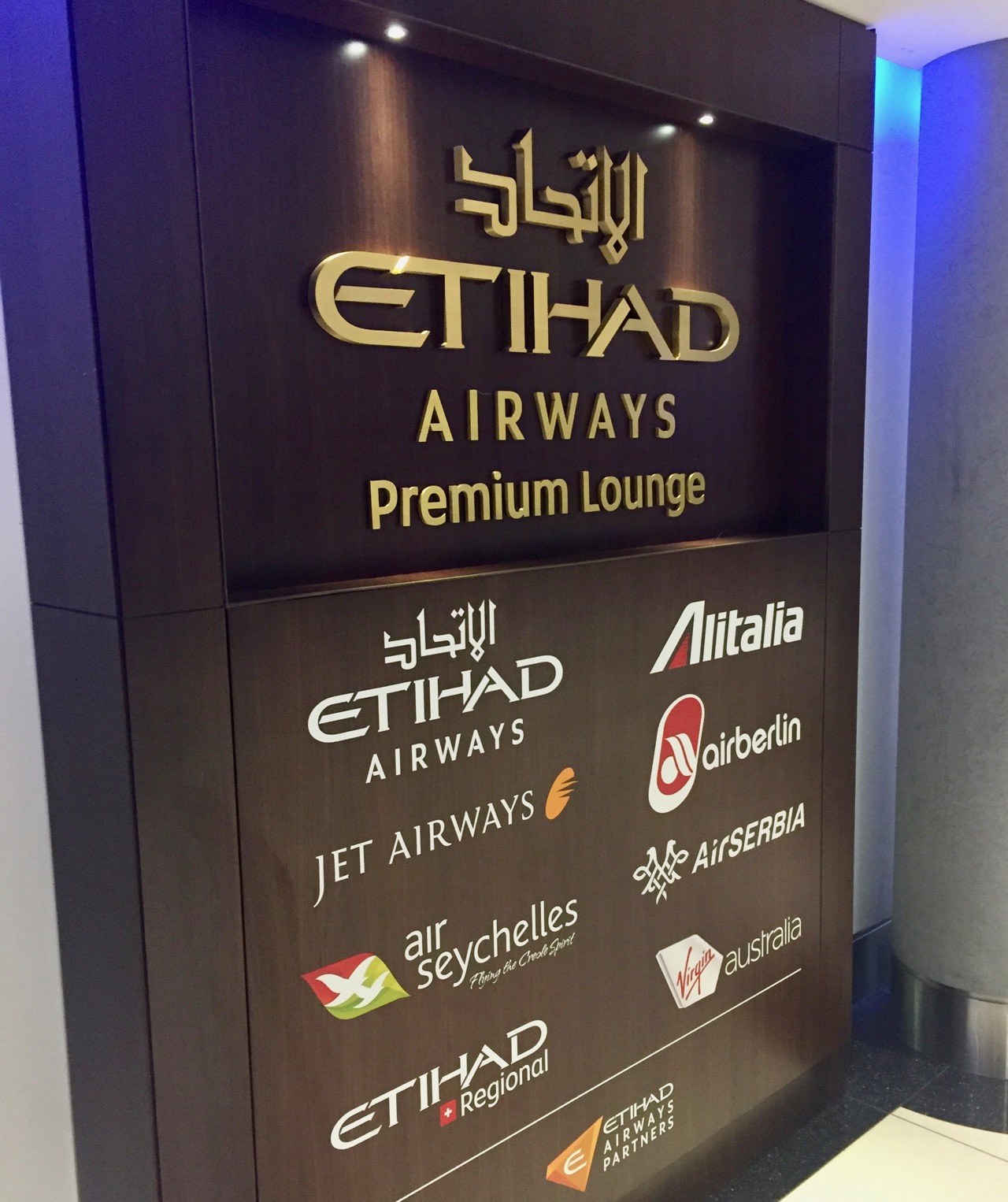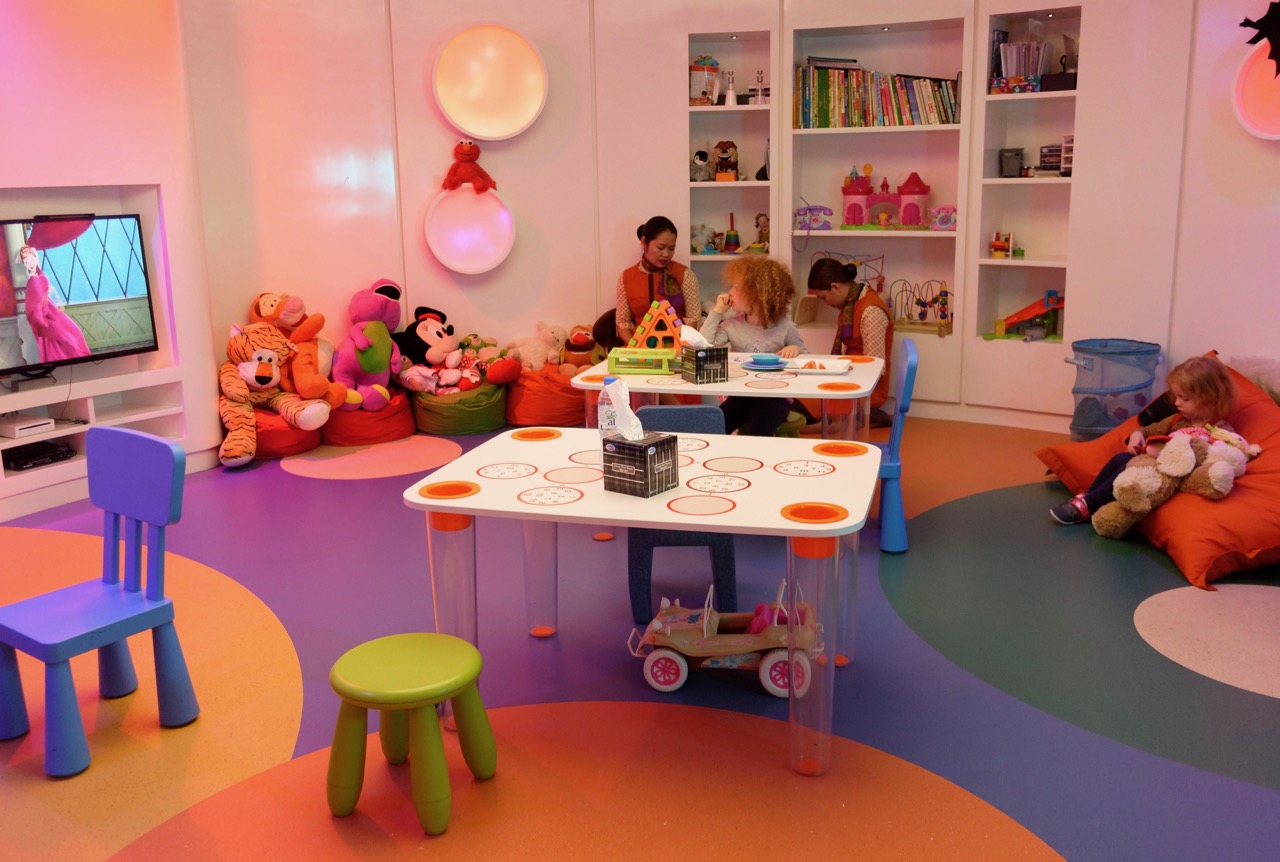 There's also a spa and a barber where for around $30 you can pick up a 15 or 25 minute massage or treatment, and/or a quick haircut.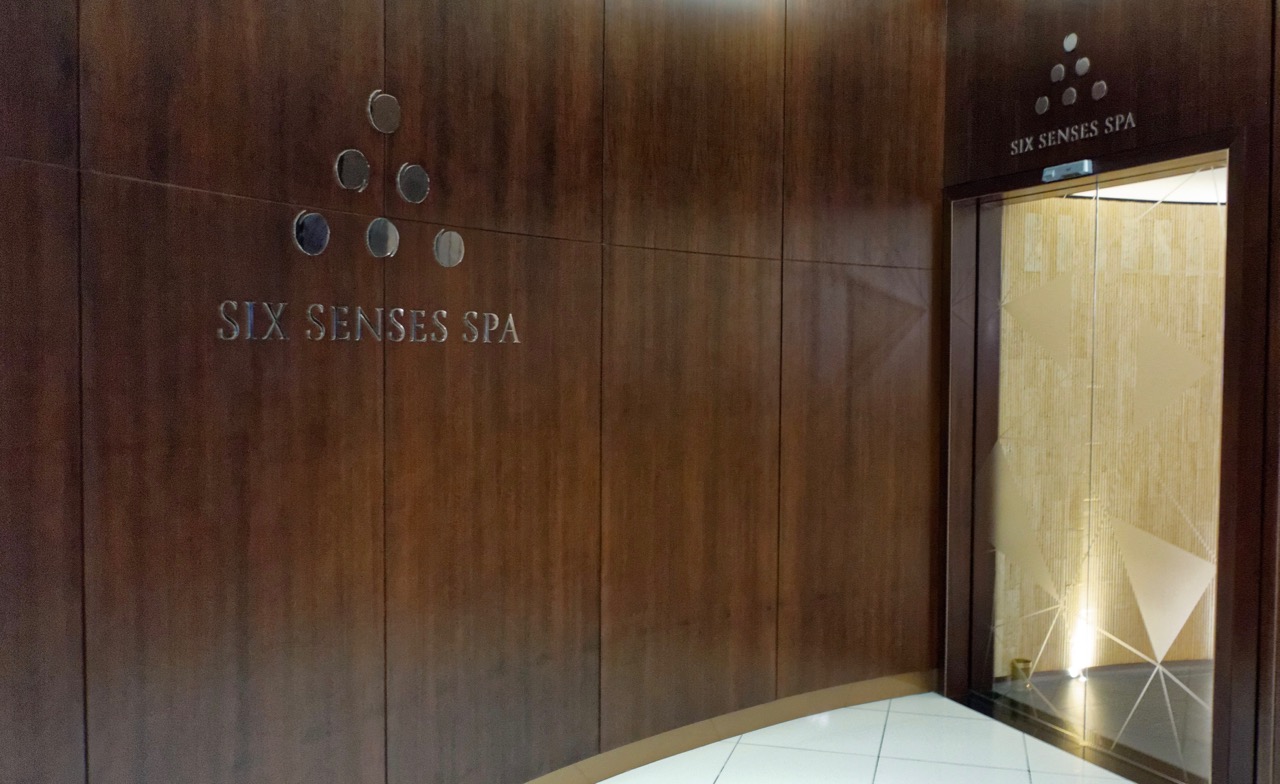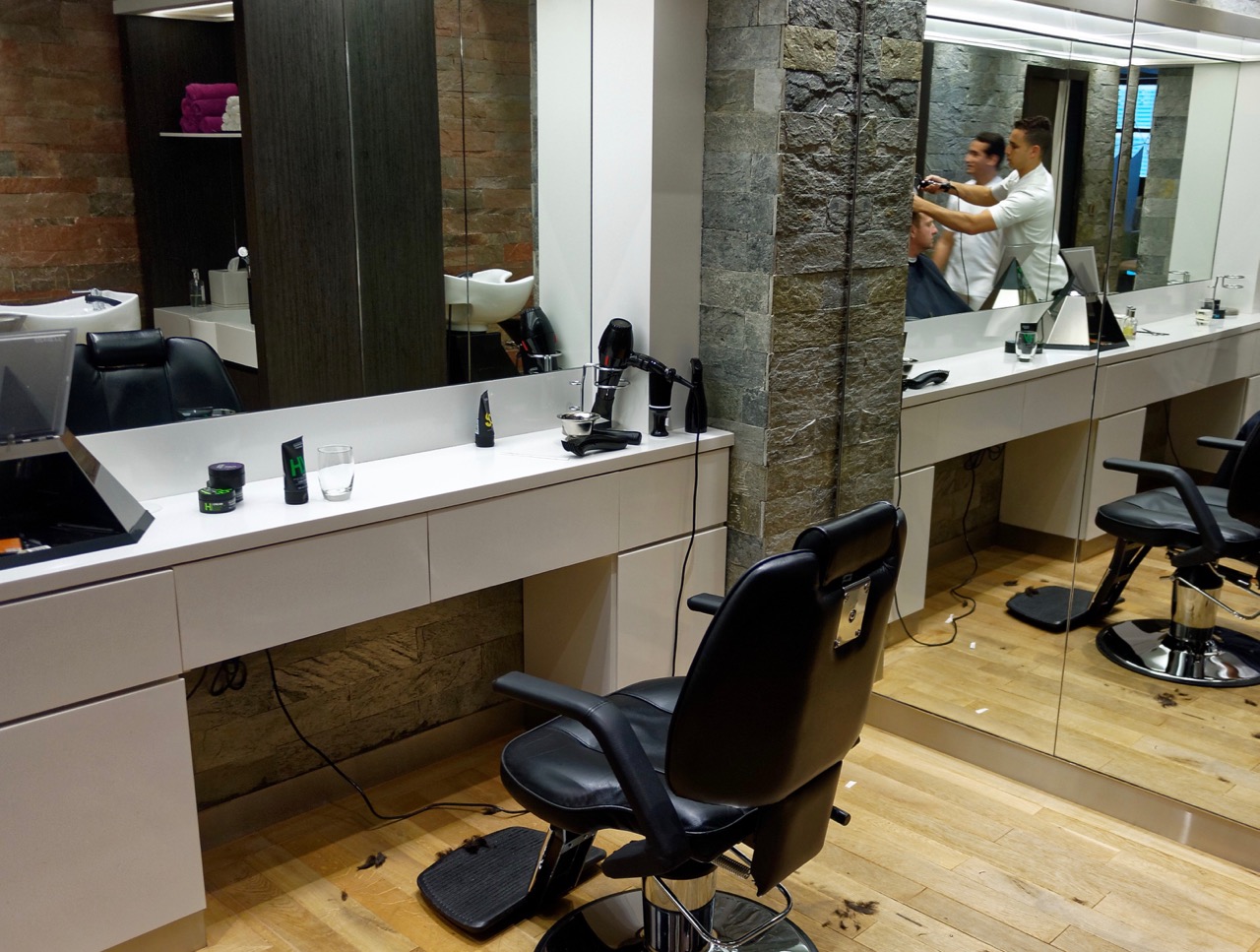 Our Other Review
Summing up – Why choose Etihad's A380 Business Studios?
If you couldn't tell, I'm a fan of Etihad Airways, and especially their A380 service. Etihad have tried to enhance and control as many aspects of their Business Class passenger experience as possible and make them the best they can – from the moment you step out of your front door to when you arrive at your destination.
Their lounges are generally excellent, and I think Etihad's Business Studios is one of the best Business Class seats out there, whether that's on their A380 or growing fleet of Boeing 787s.
I like and value their menu and dining service where the menu has a great mixture of flair, whilst offering a range of meals that aren't too complex and rich, and all at high quality.
After a handful of Etihad flights now though, what has consistently stuck out to me as a real differentiator from their competitors has been their staff – and not just the crew, but those at check-in and in lounges too.
Almost every crew-member I've interacted with on Etihad flights have been first and fore-most amazingly friendly and chatty, whilst remaining professional and treating you like a valued customer. Other airlines do get this right too, but for some reason, this has really stuck out in my Etihad flights so far.
I'd be happy to travel with Etihad again – despite the high cost in Velocity Points and taxes to do so.
Etihad Airways A380 Business Studios Overview
was last modified:
January 23rd, 2018
by