This review is part of a three-week round-the-world holiday paid for using reward points. Following ten nights in Canada, my partner and I flew from Toronto to the Maldives via Dubai on Emirates in First Class.
The first segment of our journey was on the flagship Airbus A380 which arrived into Dubai at 7:25pm. As our onward flight wasn't until 4:35am we decided to book a room at the Dubai International Hotel. As we personally chose to have a longer connection in Dubai instead of taking the 2:30am service to Male, we forfeited a complimentary night of accommodation through the Dubai Connect program.
Fleet & Routes
Emirates currently has 147 Boeing 777 in its fleet, in a mix of 777-300, 777-300ER and 777-200LR models.
For New Zealand-based travellers, most Emirates flights are on Airbus A380s, with the exception being Auckland – Dubai via Bali starting in June, which will use 777s.
How do the First Class products on the A380 and 777 differ?
If you are flying on the A380, you'll get to access the onboard shower and bar but with almost double the number of suites, service will probably be less attentive.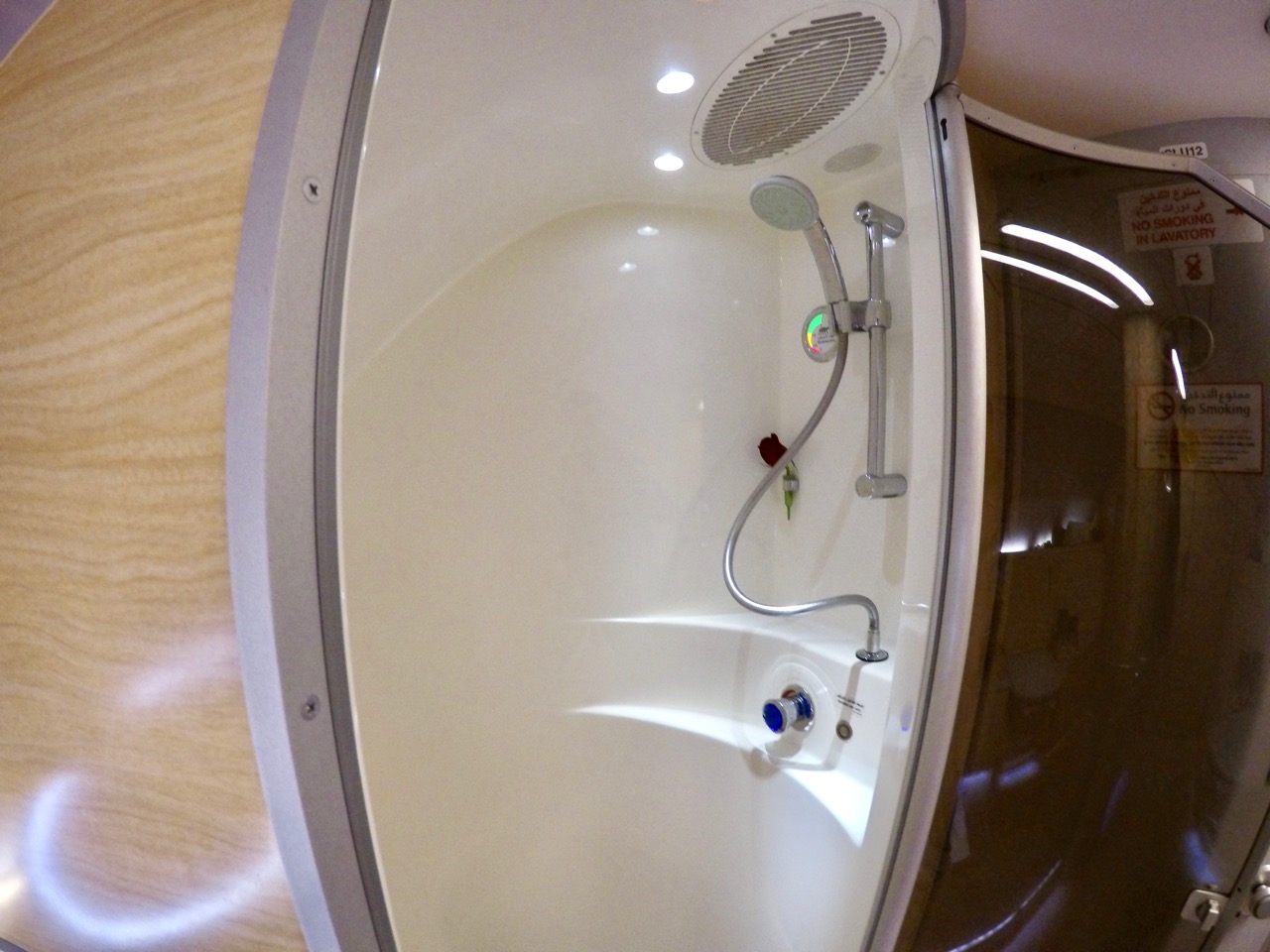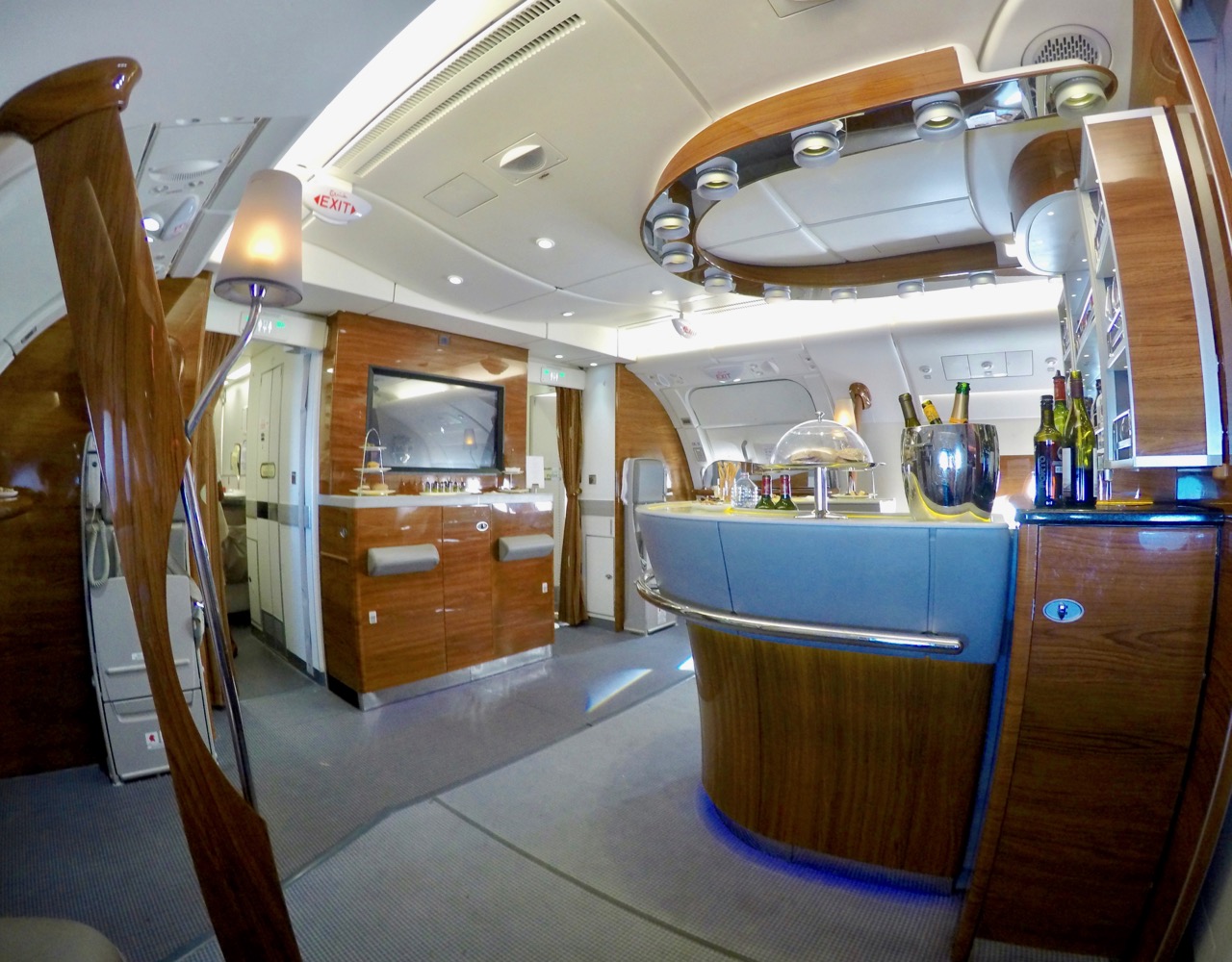 By contrast, having eight suites instead of 14 means that service on the 777 is generally more attentive. Also, each individual suite on the 777 is more spacious than on the A380 due to the wider cabin cross-section. The smaller cabin feels more intimate.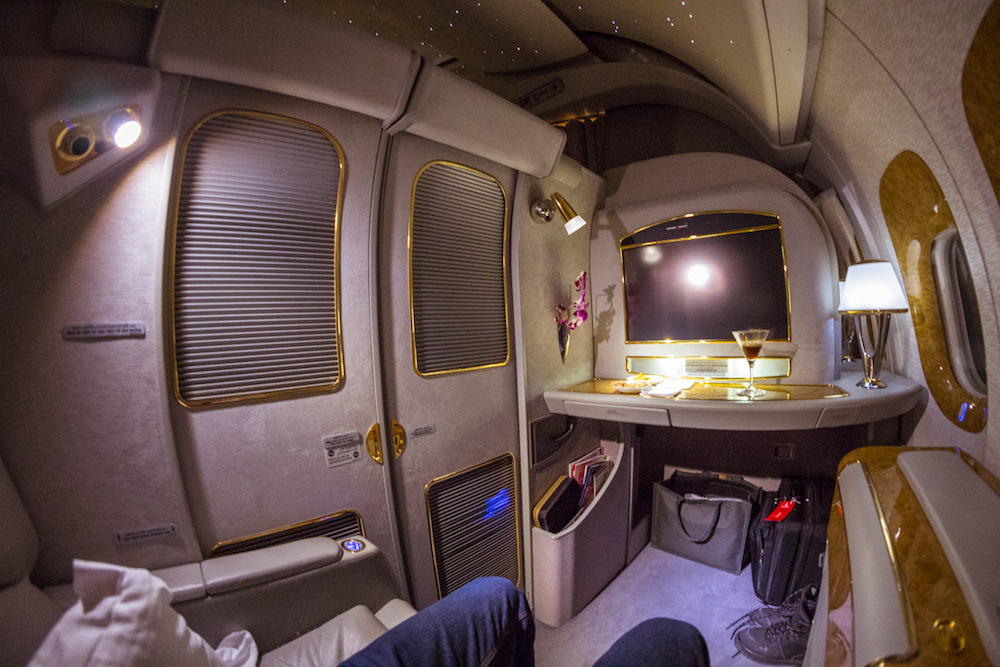 The cabin: seats & seatmap
The three-class 777-300ER aircraft feature eight First Class suites, 42 angled-flat Business Class seats in a less-than-ideal 2-3-2 setup and 310 seats in Economy Class.

The First Class cabin is configured in a 1-2-1 layout, each with closing doors.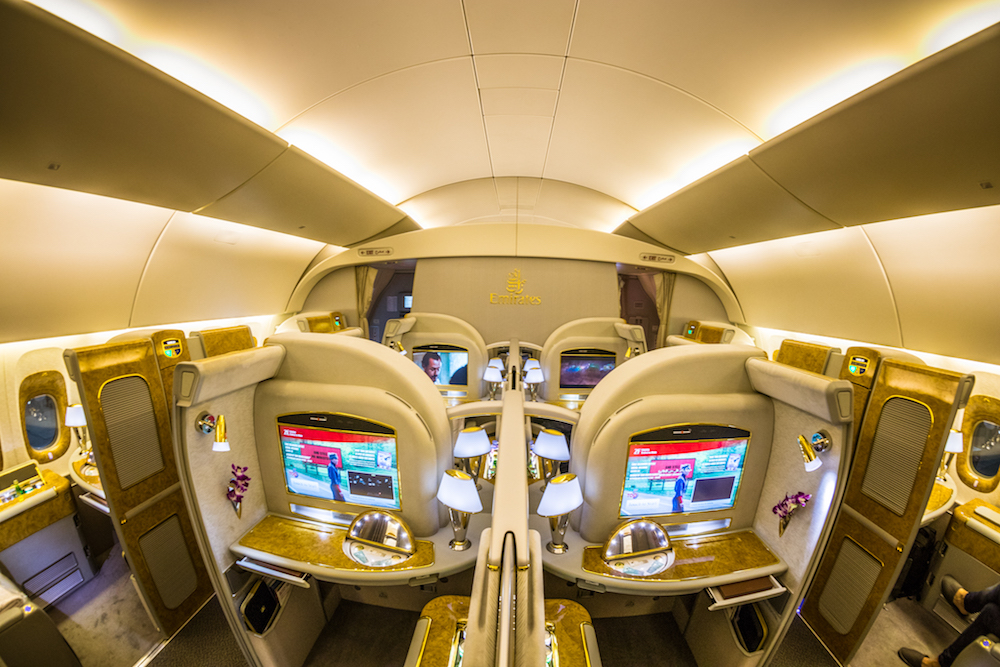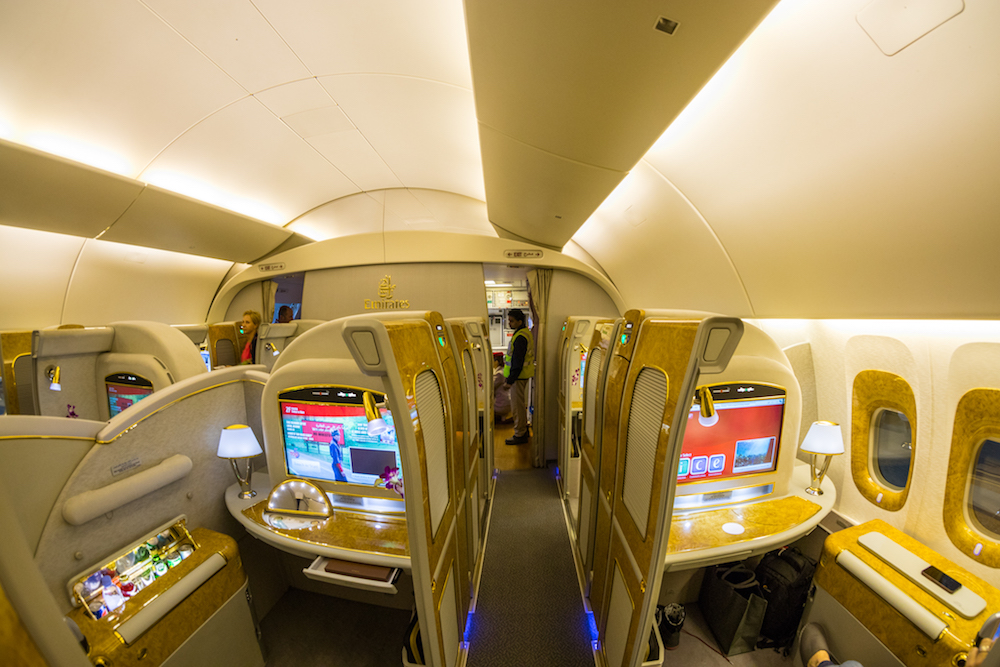 The cabin styling won't appeal to everyone's taste, with faux-burled wood and gold trimming as far as the eye can see, however, once settled into your private suite, you'll look beyond the bling. There's just no escaping the feeling of luxury and the expectation that it is going to be an amazing flight.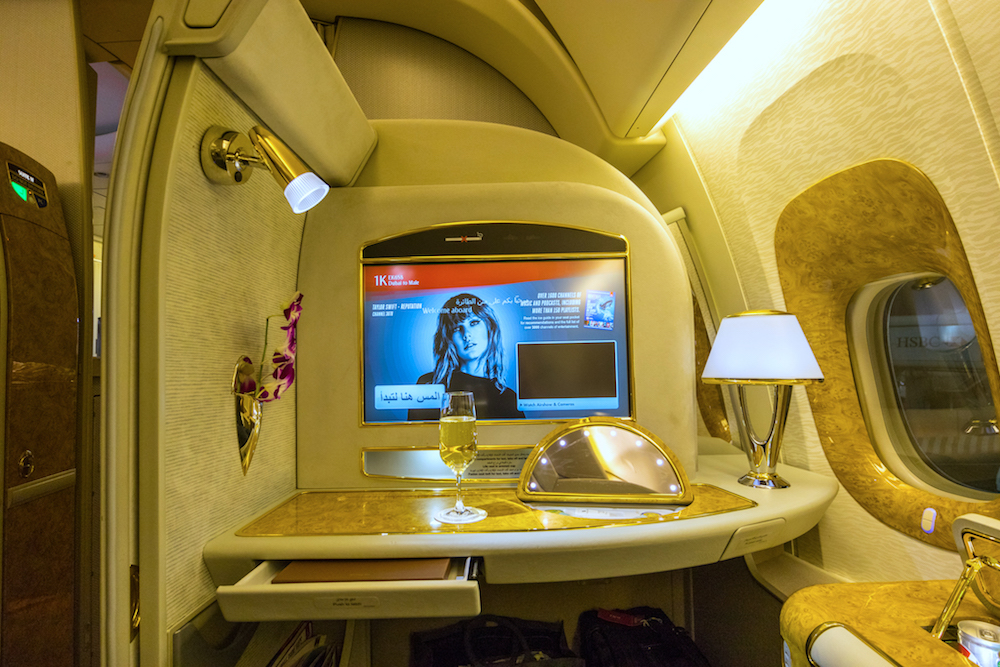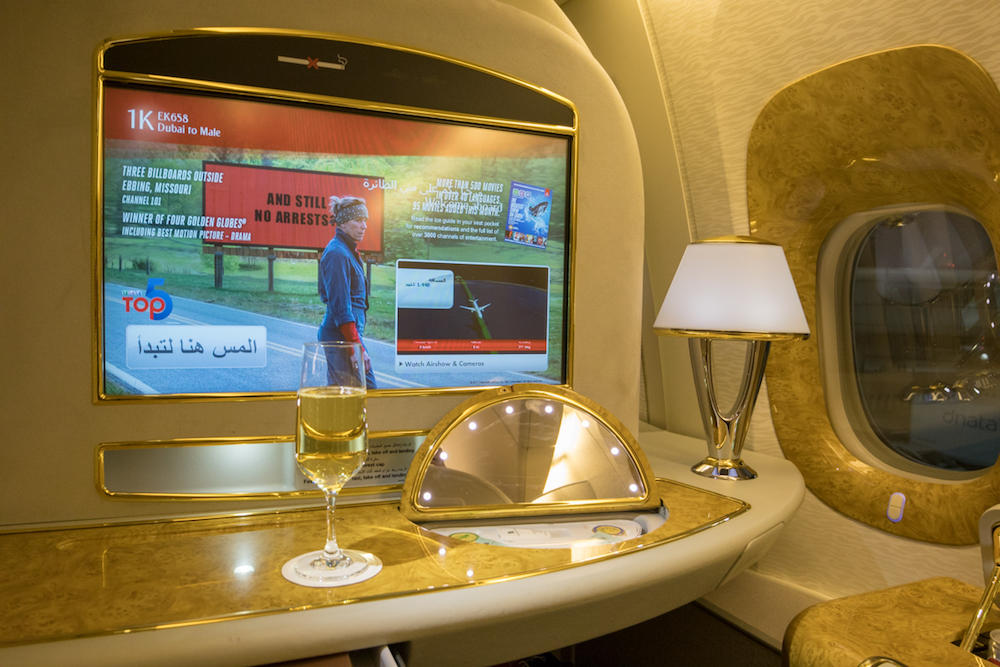 There is a cupboard to hang garments from the outside of the suite, a storage pocket on the inside of the suite door and a compartment with a lid directly next to the seat, as well as open storage next to and behind the seat and a small compartment in each of the armrests.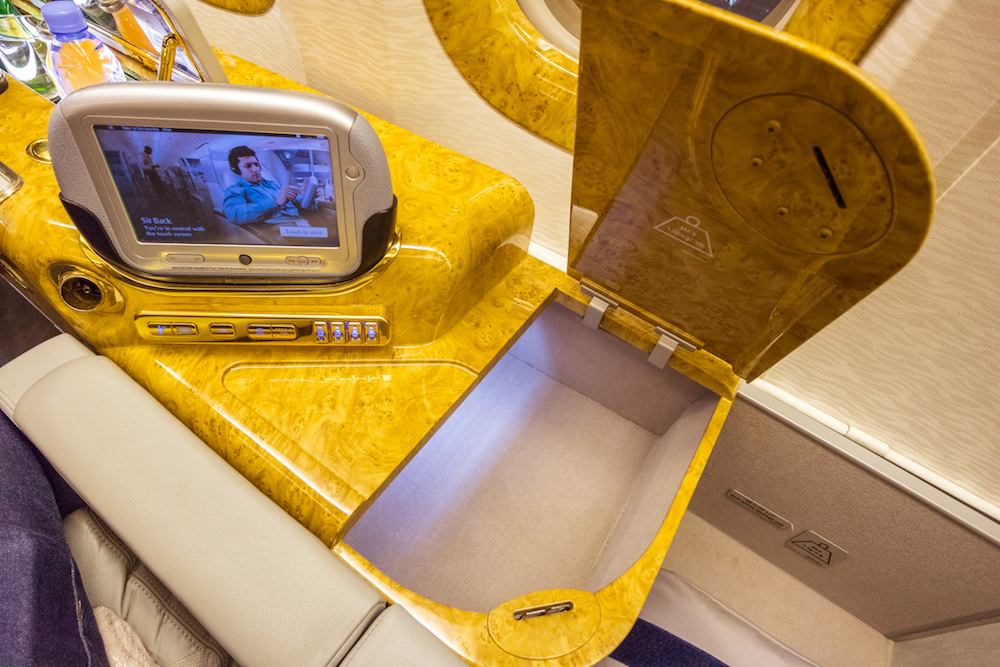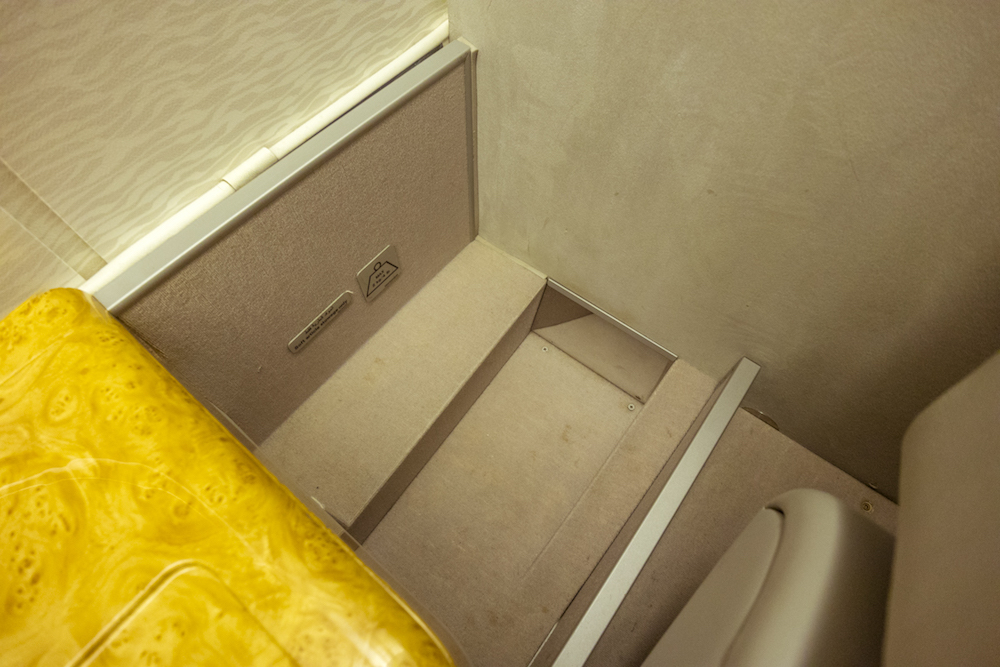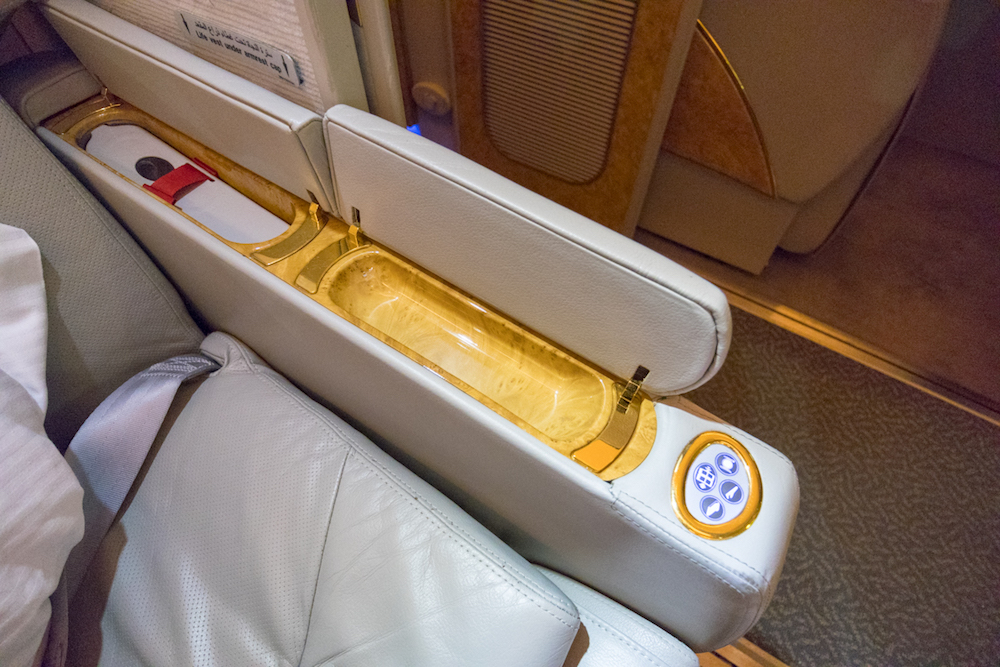 There is a writing kit in a drawer, toiletries in a compartment which also houses an illuminated mirror, and a stocked mini-bar alongside the window.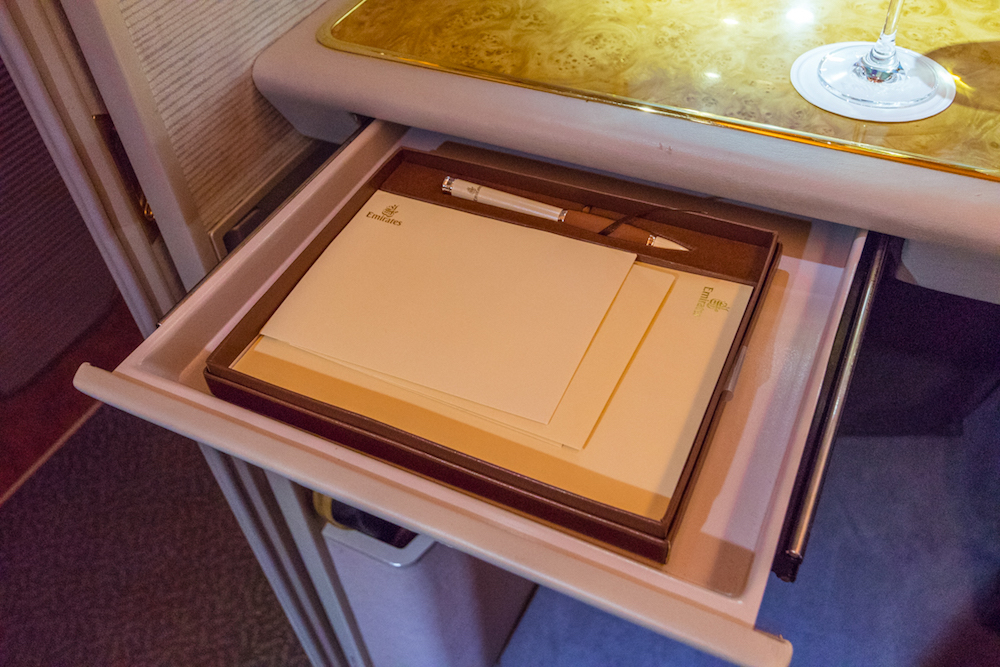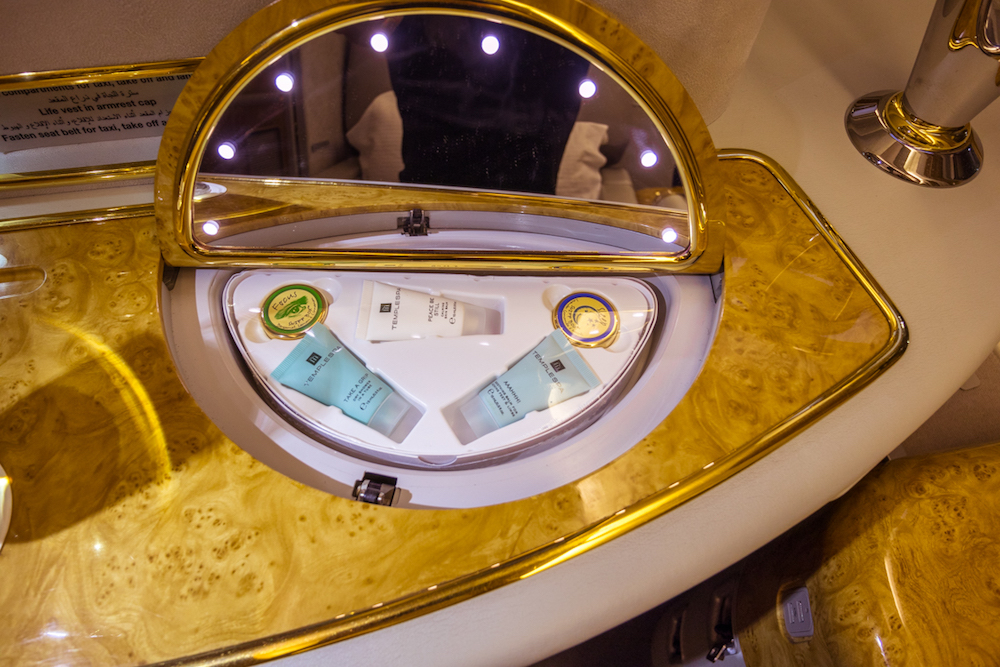 There is an adjustable reading light, wall lamp and table lamp. A power socket is located under the table lamp, which is opposite a USB socket.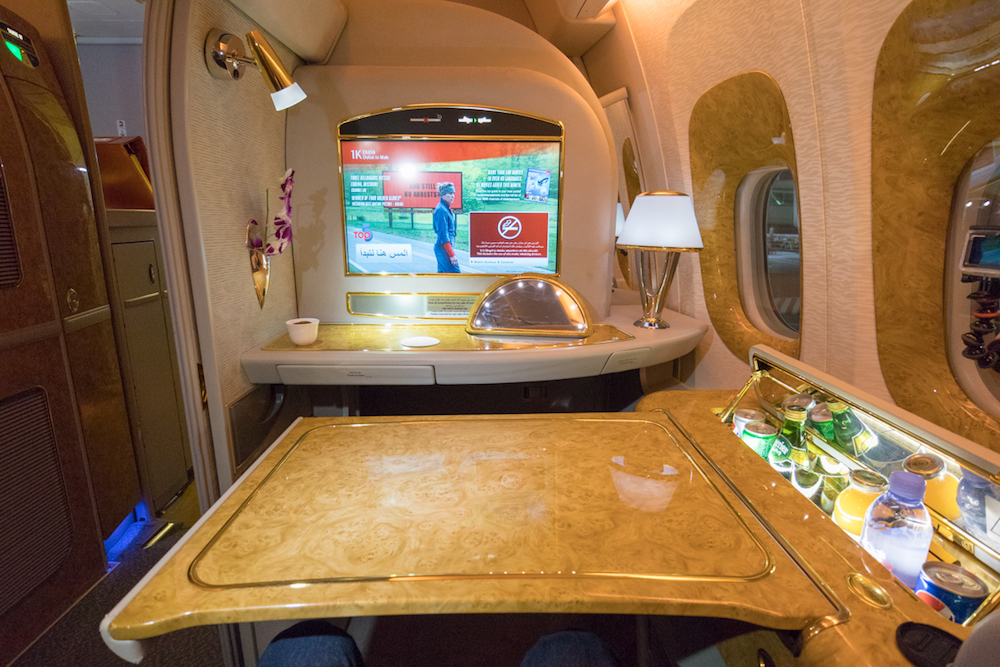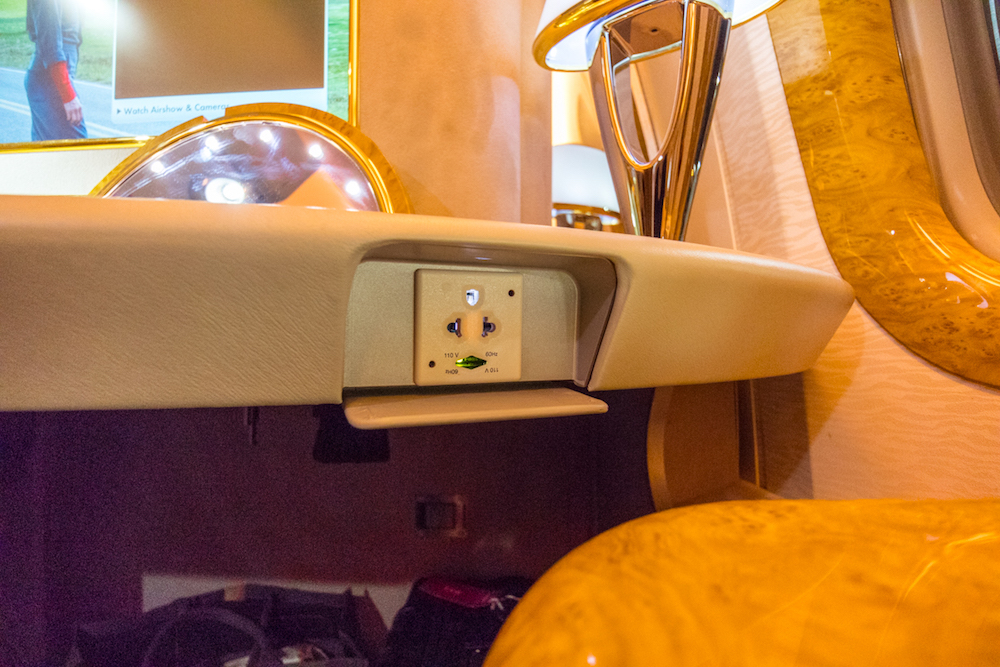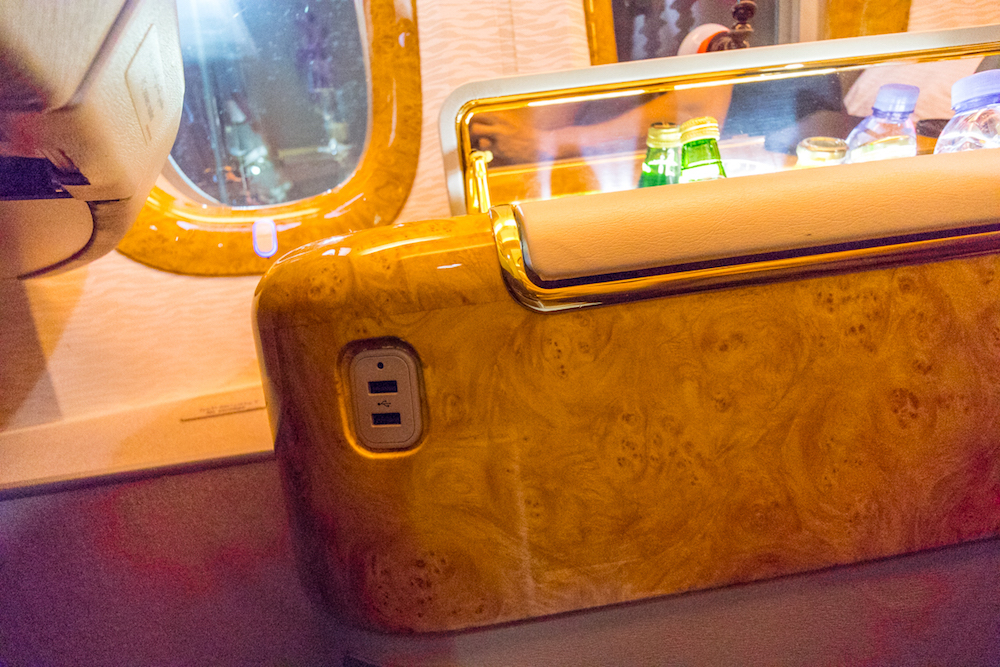 There are two adjustable air conditioning vents, one next to the reading light and the other next to the IFE touchscreen controller.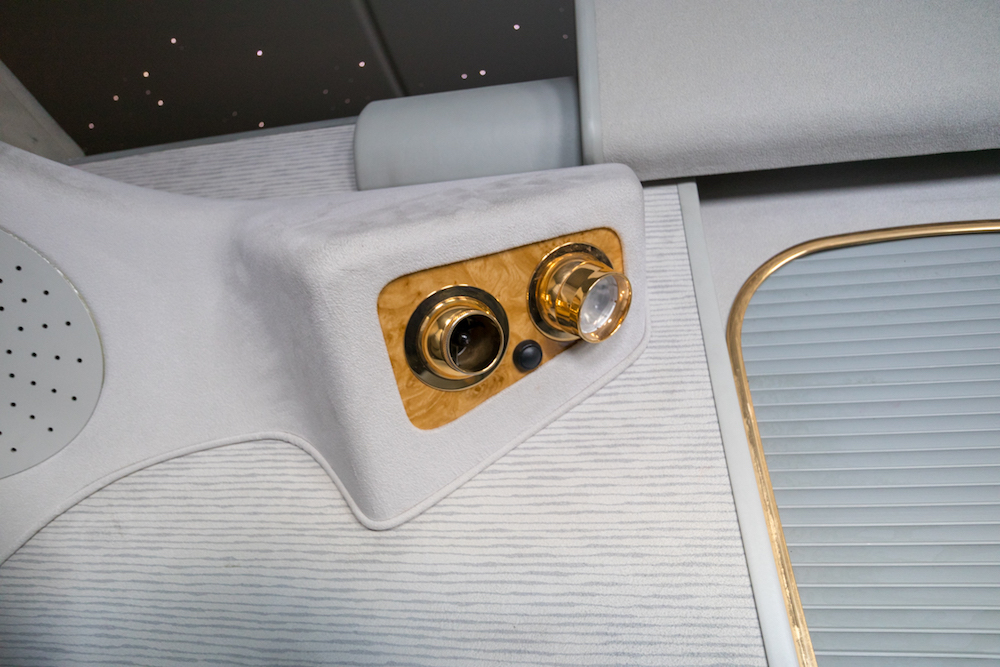 The suite doors provide exceptional privacy. I closed these straight after takeoff and they stayed closed right up until the top of decent.
Although the cabin lighting was kept dark during the entire flight due to the early morning departure, I was able to leave my windows open the entire flight because the suite doors prevented light from disturbing my fellow passengers in the cabin.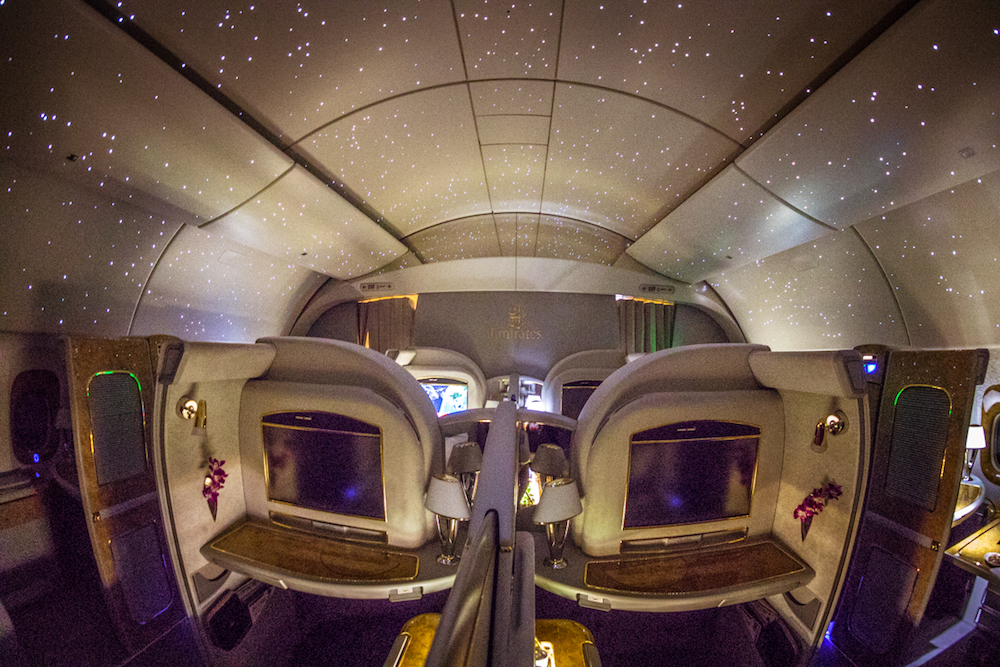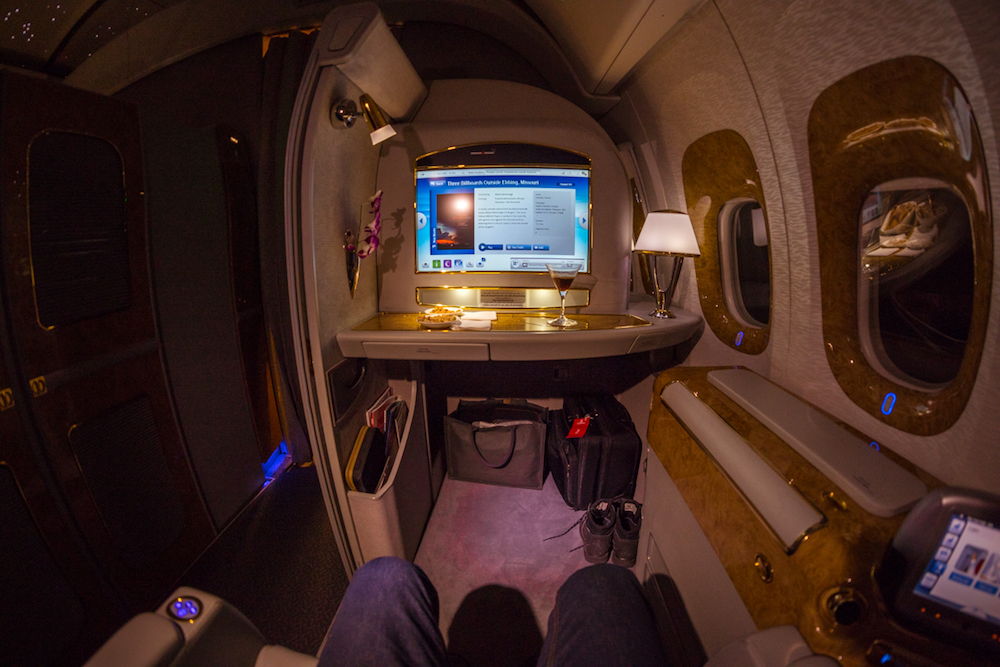 Seat choice
You cannot go wrong with any suite in the cabin. Solo travellers will prefer the A & K window seats and those travelling together may want the middle E & F seats. Even if you are flying solo and end up in a middle seat, there is a partition which raises to provide you with some privacy.
My partner and I always prefer window seats so I selected 1K and my partner sat in the suite behind me in 2K. Flying into The Maldives, I suggest everyone aim for a window seat as the views will not disappoint!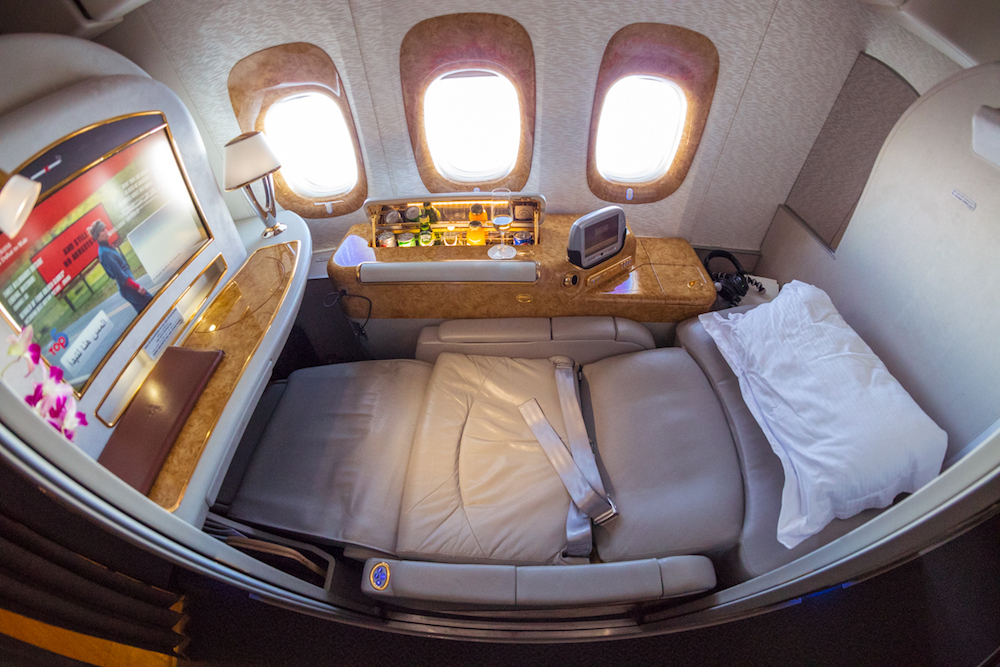 Service: Food & Drink
Before takeoff, Dom Perignon 2009 champagne was offered, which I definitely wasn't going to refuse even though it was 4am local time!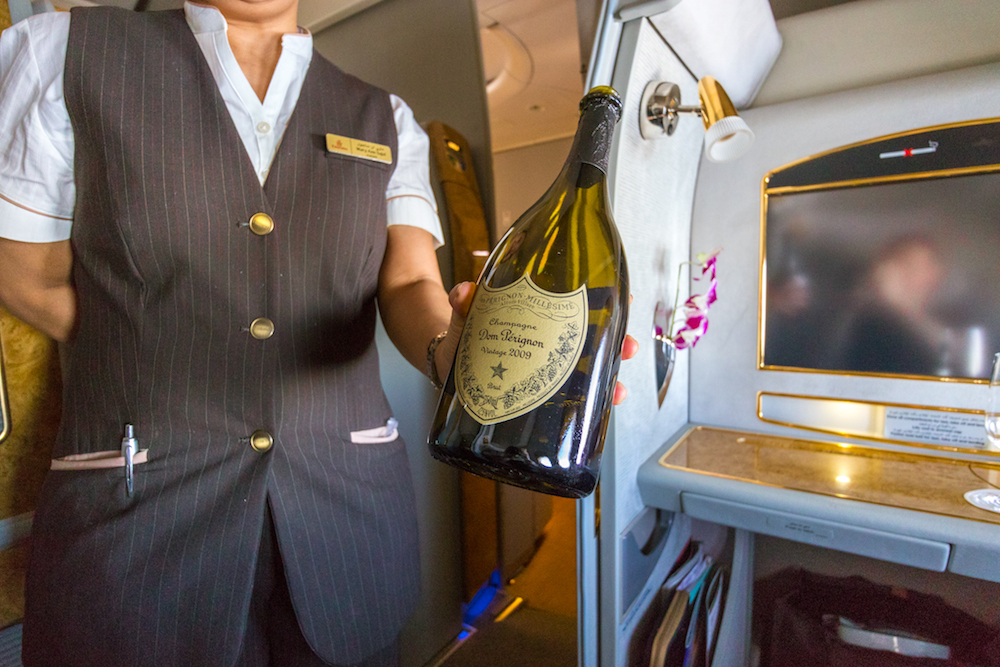 After takeoff, warm nuts and a drink is offered. I decided on an espresso martini—because it was morning so I thought I might as well have some vodka with my morning coffee!—which was one of the best I have ever tried on an aircraft before. Min, the cabin crew member looking after First Class, insisted I tried both regular and the spicy nuts to go with the martini.
Although dine-on-demand is available on all Emirates Business and First Class flights, Min suggested breakfast would be best served 90 minutes before the morning landing into Malé, to which I agreed.
There were four options for breakfast which can be seen in the menu below.
I selected the fruit to start with, followed by a spinach and feta omelette, which was nice but not remarkable.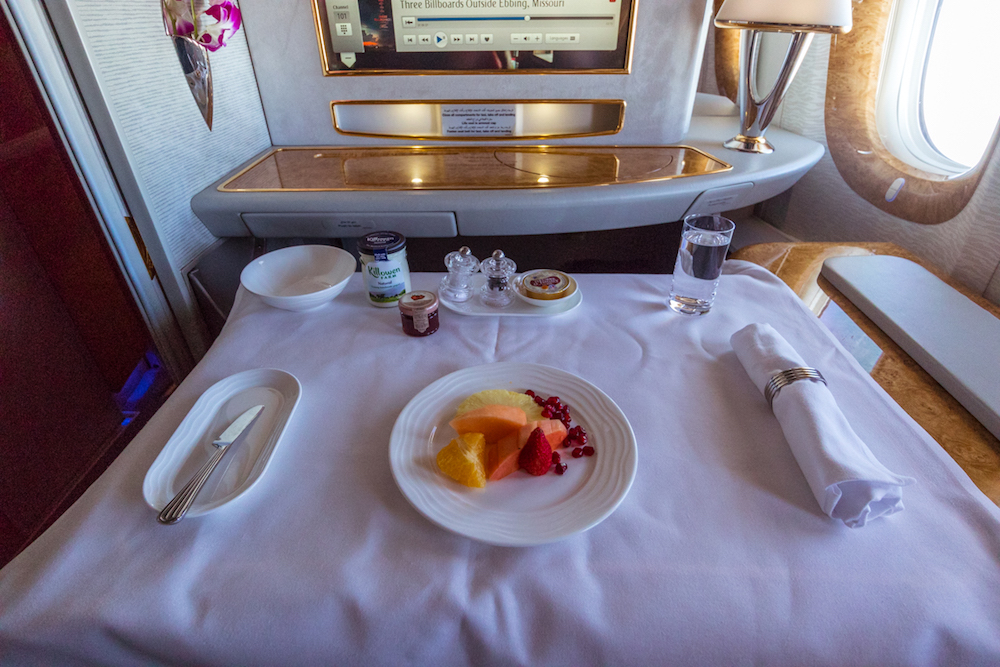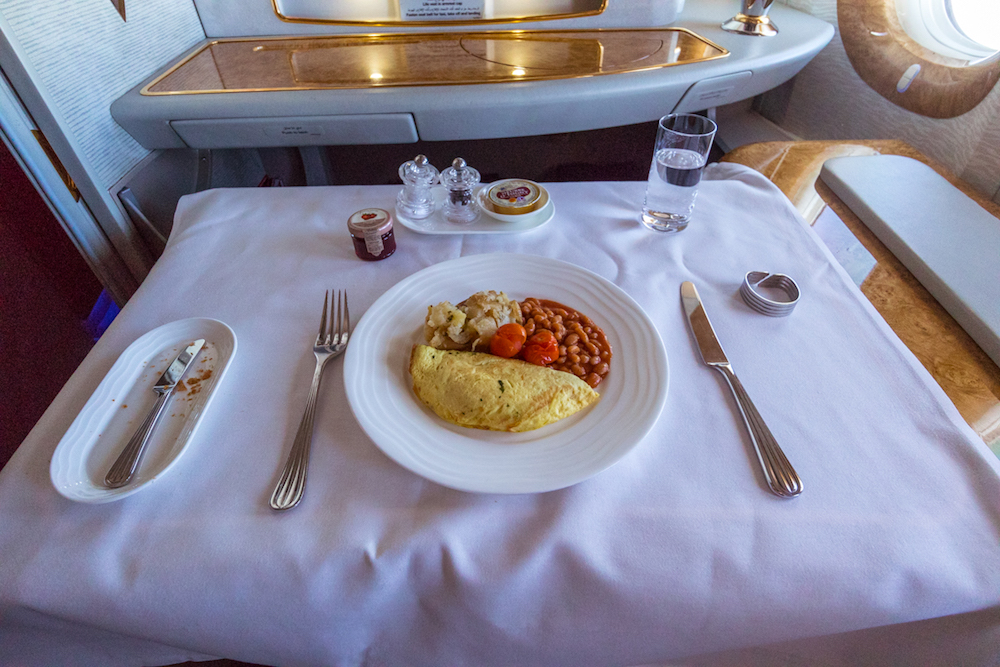 Coffee rounded out the meal service.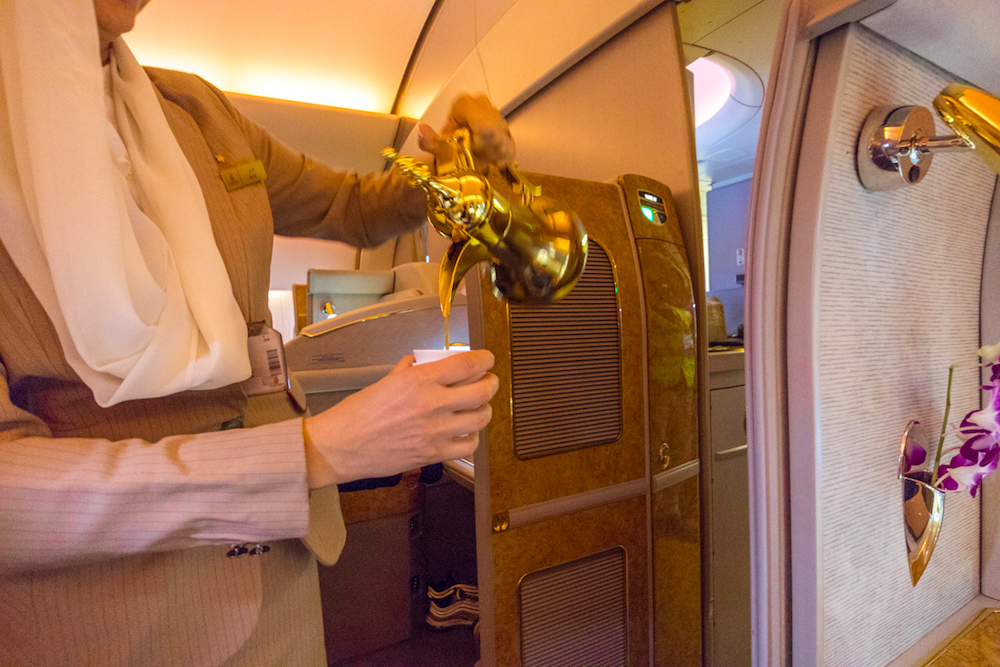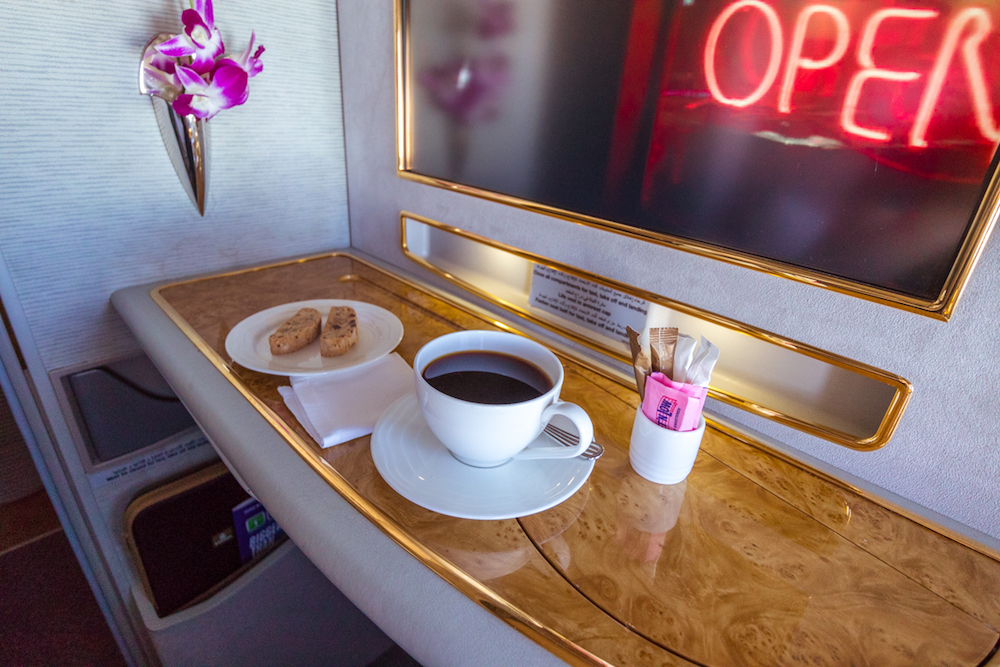 Although I didn't have much interaction with the crew given I kept my door closed most of the flight, Min was very friendly, always had a huge smile on her face and proactively offered champagne top-ups during the meal service. I never had to use the call button.
Inflight entertainment
A large 32-inch fixed-angle HD display sits in front of the seat and you can either select content from the screen itself—which is too far from the seat to use the touchscreen—or, more conveniently, the touchscreen remote next to the seat.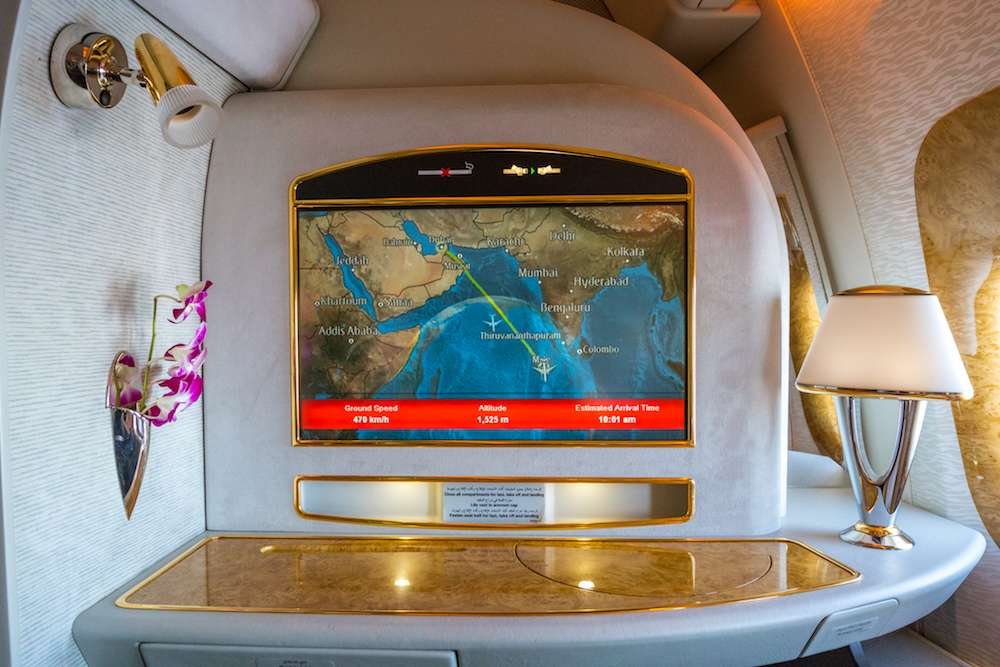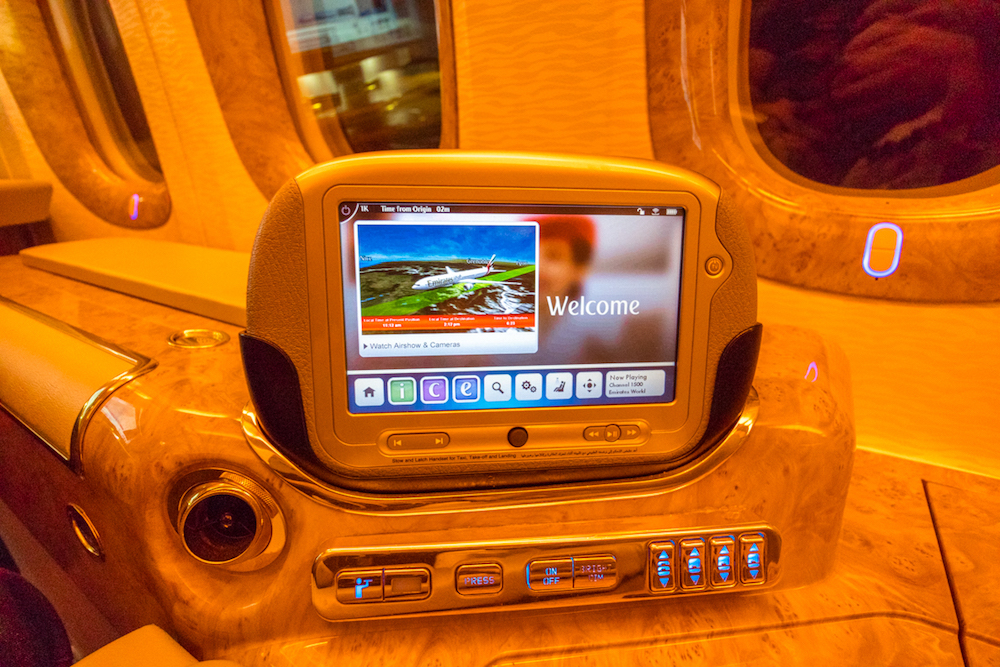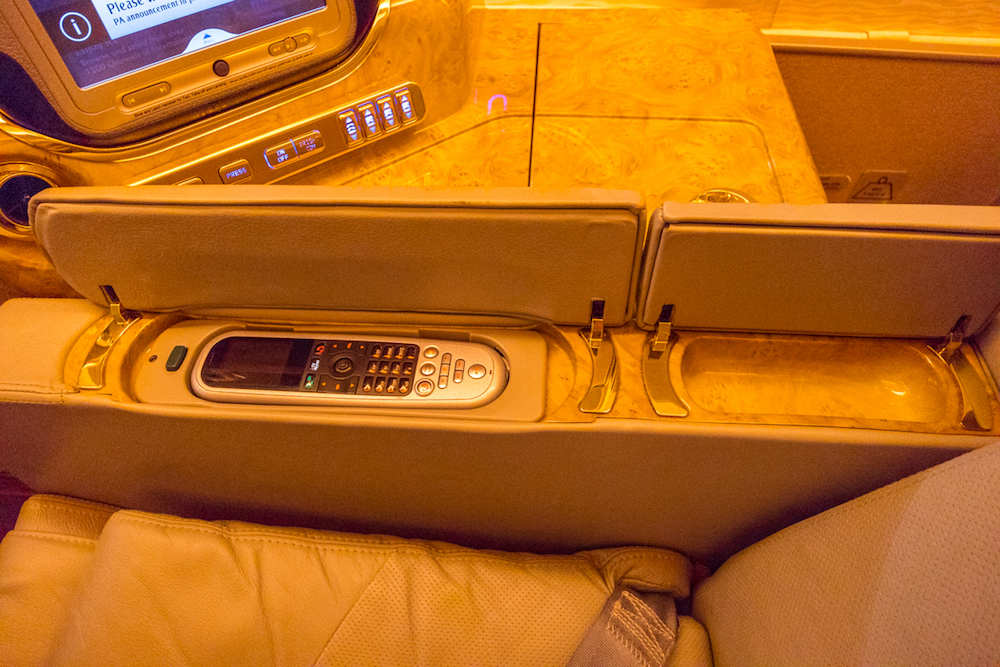 Noise-cancelling headphones are provided.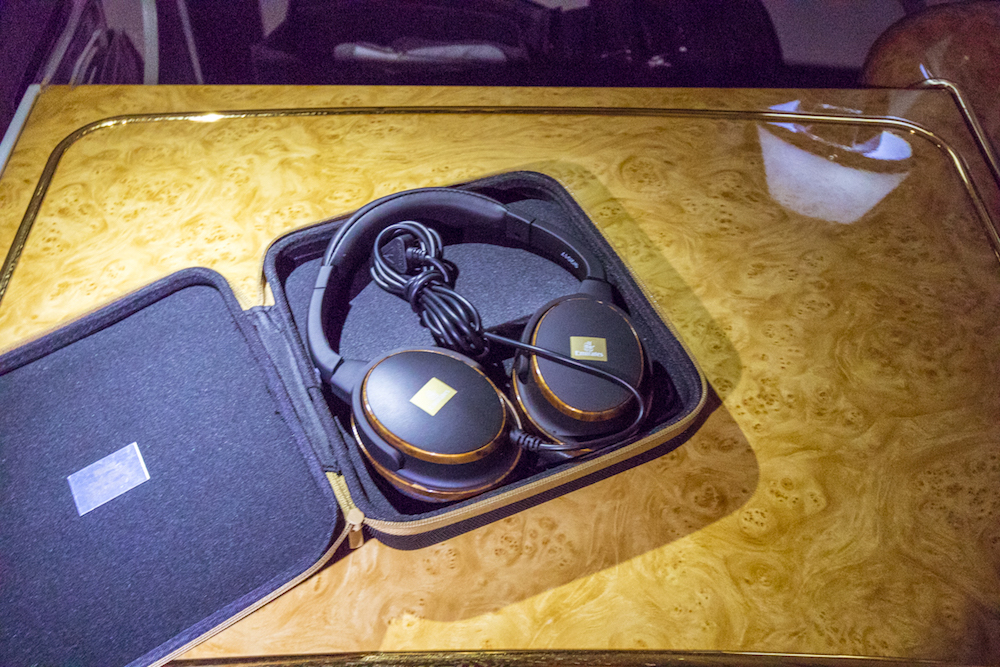 The Emirates ICE (Information, Communication, Entertainment) system is, in my and many others' opinion, the best IFE system out there. It is packed full of thousands of hours of new release movies, classics, TV box sets, music channels and so much more. I watched the highly-acclaimed Three Billboards Outside Ebbing, Missouri during my flight.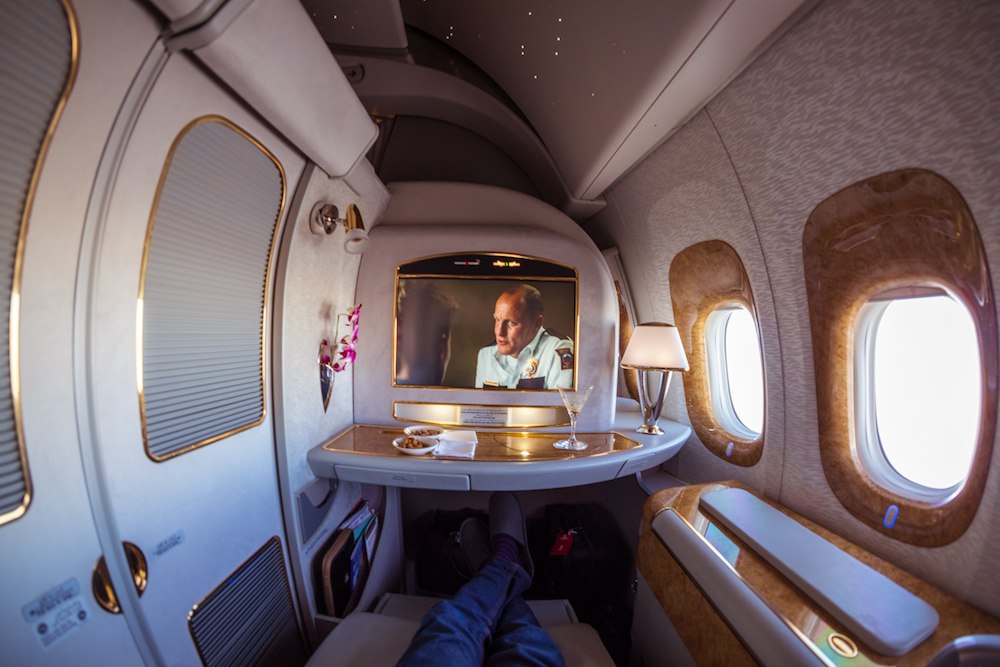 Complimentary internet is available for First Class passengers, however, not over Indian airspace, which was where we were for most of this flight.
Amenities
Two lavatories are located at the front of the aircraft.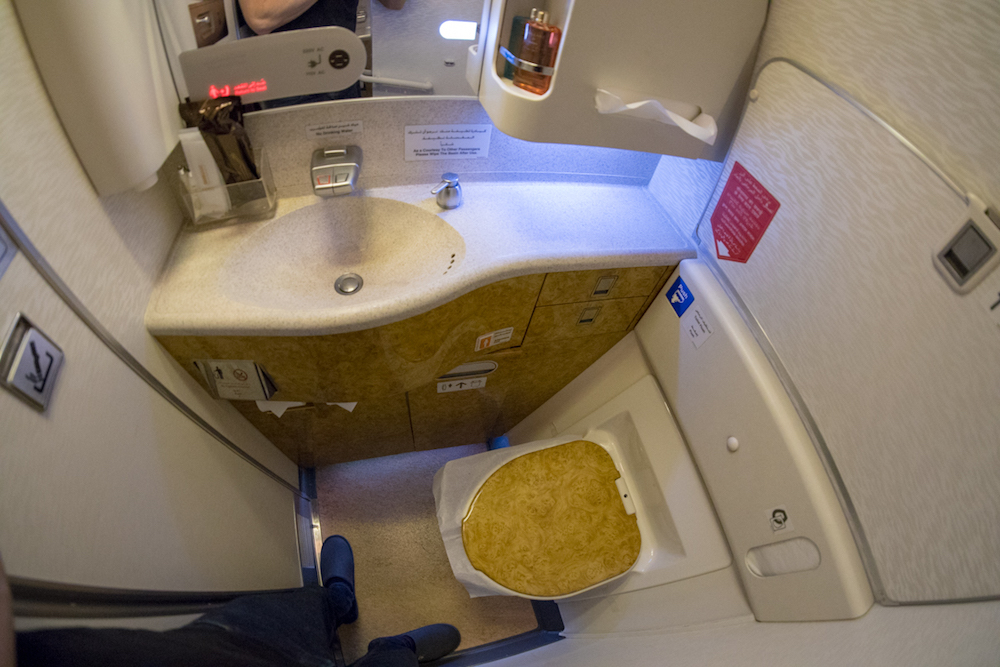 Due to the relatively short 3½-hour flight, no amenity kits were provided.
How to redeem points for this flight
I transferred American Express Membership Rewards points to Emirates, which convert at a ratio of 1:2 in New Zealand, and used 160,000 Emirates Skywards miles per person for our one-way flight between Toronto and Malé. At the time of booking, these flights were worth $12,900 AUD per person one-way. The Dubai – Malé segment alone would cost 71,250 miles.
Lounge access
Guests travelling in First Class can use the Emirates First Class Lounges at Dubai International Airport. As this flight departed from the far end of Concourse C, we were directed to use its smaller First Lounge rather than the newer lounges in Concourses A and B.
In Auckland, you can access either the Qantas or Emirates lounge; in Christchurch, you'll use the contracted Manaia Lounge.
There is a complimentary limousine service for First Class passengers, which is explained in the A380 overview linked below.
Other Emirates reviews
Summing up: why choose this flight?
This really is an excellent First Class product, but 3½ hours — Emirates' Christchurch to Sydney service is even shorter — is just not long enough for a full Emirates First Class experience.
Compared to the A380 flight from Toronto, there were no amenities, shower facilities or an onboard bar and fewer meal options, however, the wider 777 suite was more comfortable.
If I had to choose whether to fly this exact segment again in First Class, I would save the points and opt for Business Class, as that would have been fine for this quick flight. However, if I was on a longer flight, say, to or from New Zealand, I would most definitely book with Emirates to experience First Class again.
Emirates Boeing 777-300ER First Class overview
was last modified:
May 31st, 2018
by