My focus for this flight was to stay sane and comfortable whilst travelling with my family – my partner and our two daughters, aged 3 years and 3 months. Hong Kong to London in Cathay Pacific's 777-300ER in Business Class was the second leg of our journey on a 5 week trip to Europe in December 2013.
Ensuring we all travelled well without going too insane, or making other passengers want to kill us, the level of attention spent on taking photos and noting details of the 'experience' was significantly reduced – so my focus of reviews for this trip is to give others who are considering travelling with children, such as on Cathay Pacific in Business Class, an idea of what to expect.
Hong Kong Airport – Cathay Pacific Lounges & Children
The best thing about the 3pm departure time was that we didn't have any kind of rush to leave our hotel and get to the airport, far preferable to the alternative departure times early in the morning or late in the evening. A few hours after take-off the children should be tired according to their natural body clock, and start to get some sleep to see them through the journey. However, the 8pm (same day) arrival time in the UK posed potential problems – more on that later.
After arriving on our excellent hotel car transfer from the Hyatt Sha Tin, we were checked into Business Class slowly but without issue, despite having about 8 bags. It took so long that Zoe, our 3 year old, decided it would be a good idea to do some origami at a small children's entertainment area while I sorted the check in.
10 minutes later, we were off though security and looking for a lounge, leaving our nicely priority-tagged range of bags behind. I was secretly hoping I'd never see them again so I wouldn't have to pick them up, ever.
Hong Kong Airport is massive and Cathay have more than a handful of excellent lounges there to choose from. Normally on personal or work travel I might go to a couple of lounges – The Wing for some food and The Cabin for the views.
I've previously reviewed The Cabin and The Wing Business Class lounges and I love both for different reasons. The Bridge also opened in November and I had originally planned to try that out, but it ended up being just too far away from our departure gate with the time we had available.
With kids, unless you have LOTS of time, it's about picking the closest lounge to your departure gate in Hong Kong, as the place is just so big you don't want to have to walk up and down the terminal unnecessarily. For us, that seemed like The Cabin, so we ventured downstairs.
The Cabin is a long, narrow, galley-style lounge so it wasn't the ideal place to spend lots of time with small kids. However the food here, such as the smoothie bar, is probably more kid-friendly than what's on offer in some of Cathay Pacific's other Hong Kong lounges.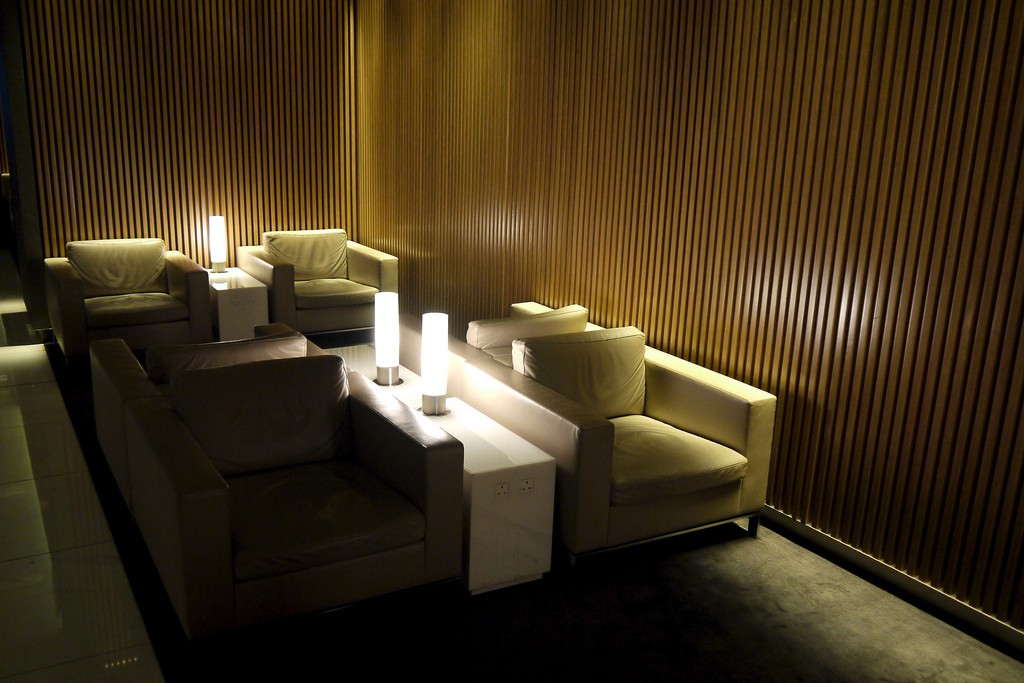 If you have time and it's convenient, I'd recommend The Wing as a better place to spend time with kids as there's more space, facilities and corners to settle down in.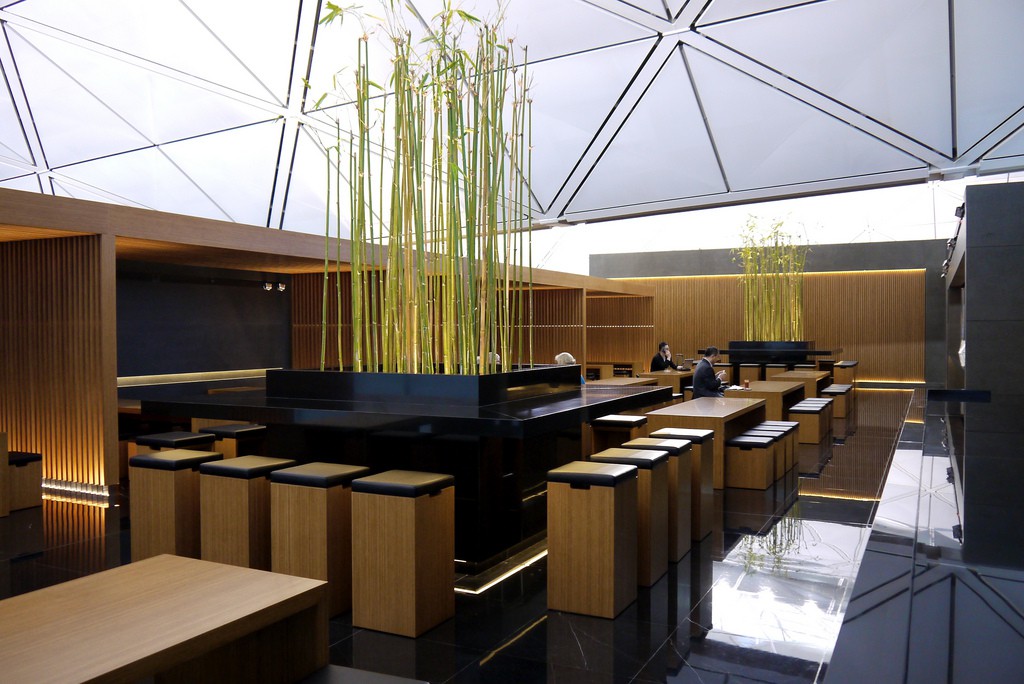 We only had 1/2 hour to spare, so left for boarding and were some of the last Business Class travellers to board.
The Flight – Hong Kong to London in Cathay Pacific Business Class
This was my first time on a Cathay 777-300ER and my first impression of the Business cabin was that it was pretty massive. There's a small First Class cabin upfront, and behind a mini cabin of 2 rows of Business Class seats. Behind that is the First and Business Class galley, and then the main Business Class cabin of 45 seats in one area. The full seat map is here.
From our seats in row 15 with the bassinet position at the front of the cabin it seemed particularly vast, and was around two-thirds full of other passengers when we arrived as one of the last to board.
I was quite glad it wasn't looking full – this was our first overnight flight with an older child and we had some trepidation about how meals and bedtime might work for both children.
Seating
Having previously travelled in Cathay Pacific's newest Business Class from Hong Kong to Sydney, I knew what to expect from the seat – a very private space, with a fully lie-flat seat, large screen entertainment and plenty of space for extraneous bags, food – and toys.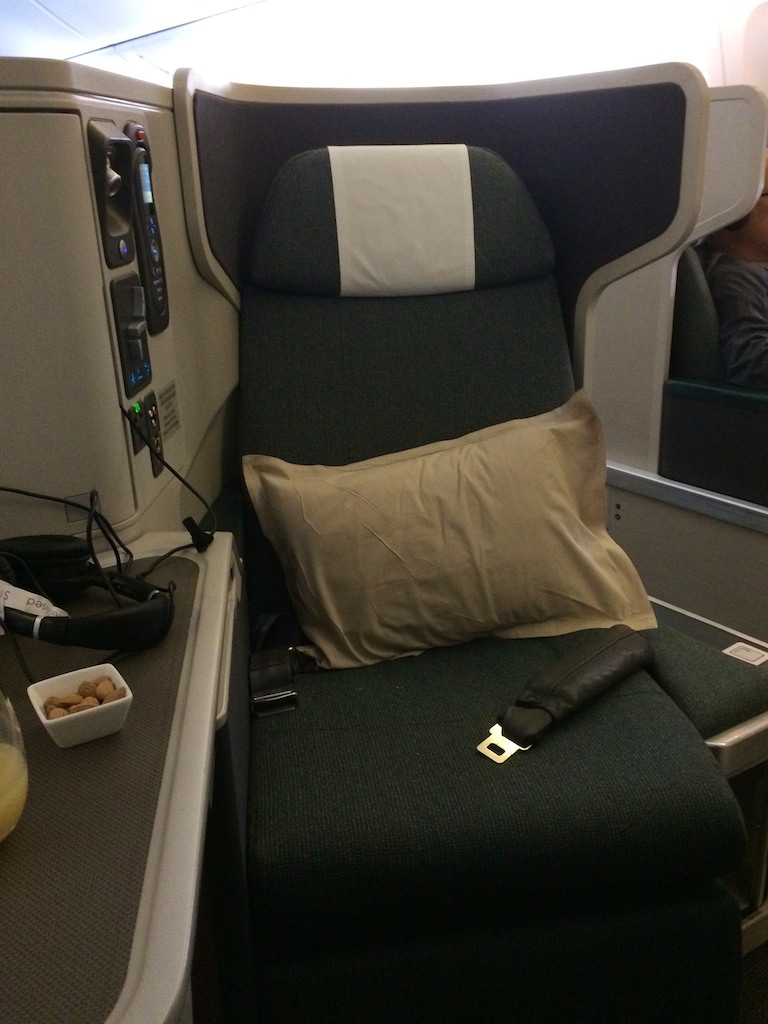 The 777 was no different to the A330 in this regard – a great seat for Business Class, and possibly the best in the market at the minute. We had selected two of the centre seats as this the designated bassinet location, and one aisle.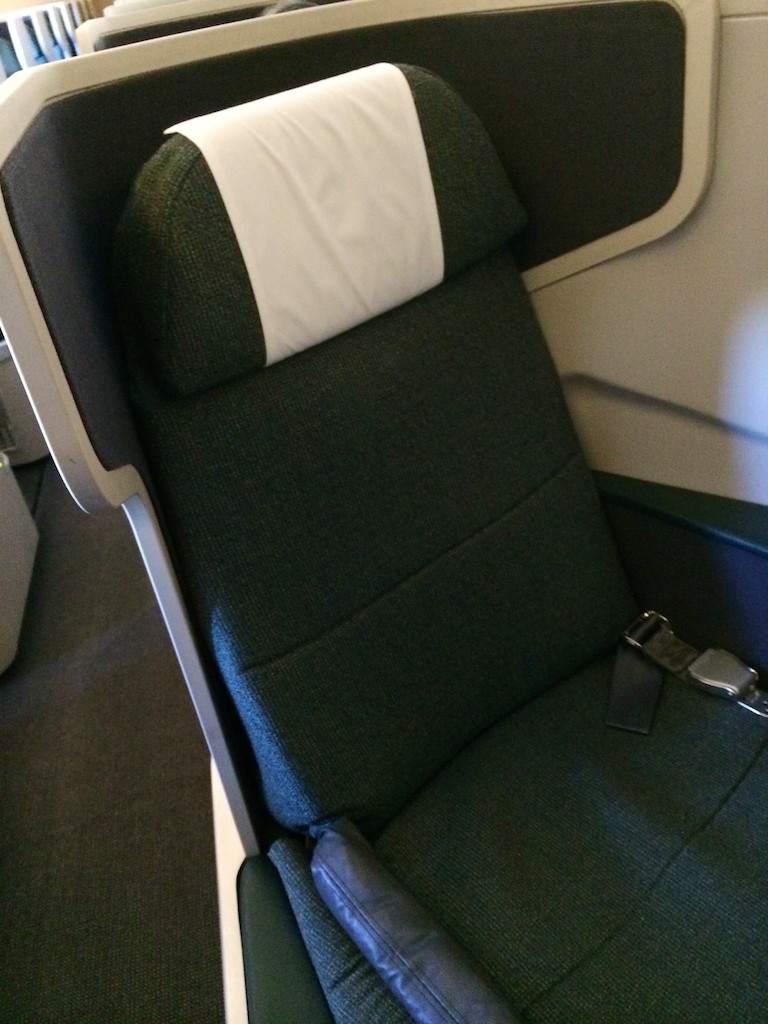 Above the two front middle seats is a large bulkhead space, at the sides of which is the actual bassinet location. You can just about see it at the top of the image below, above the in-flight entertainment screen. This was excellent as a dumping ground for bags in flight, meaning we didn't have to constantly pop open the overhead lockers for toilet visits, food, clothing and the like.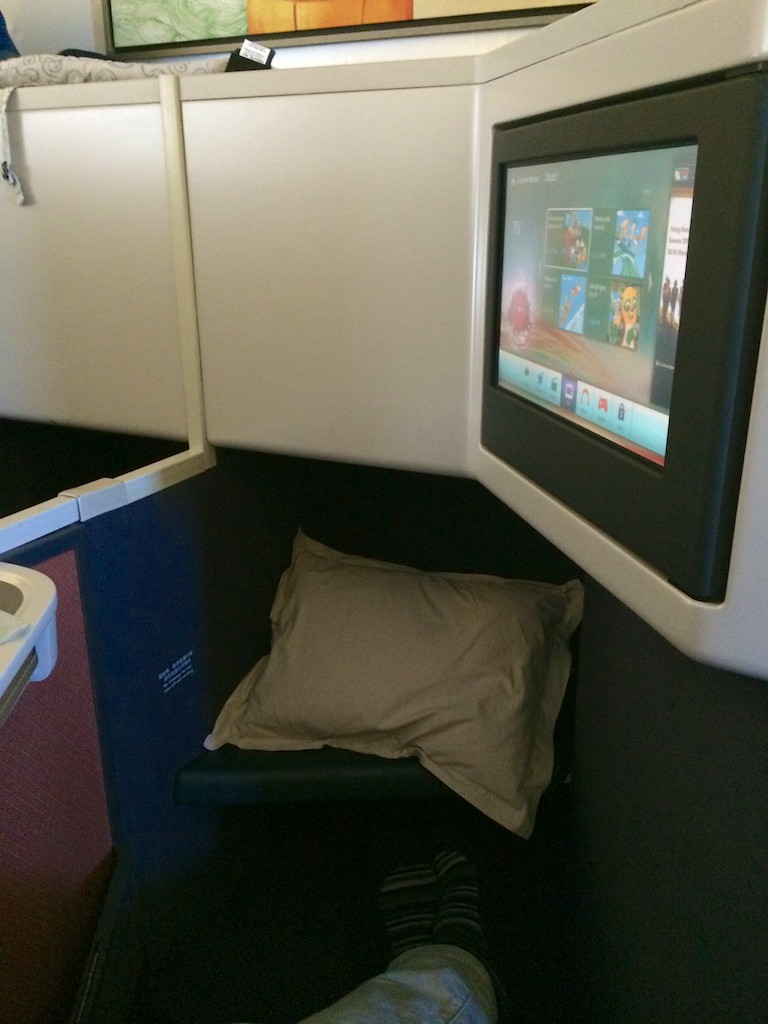 On take-off it become evident that the usual advantages of a Cathay Pacific Business Class seat would actually cause some challenges when travelling with a child seated in one of them. It was almost impossible to reach across from my aisle seat to my daughter in the other centre seat next to me, thanks to the masses of dividing space for side storage, trays, and privacy. I nearly dislocated my shoulder trying to hold her hand for take-off.
After the seatbelt sign was turned off, we executed a quick swap, allowing my partner to sit in the other seat, and my daughter in the solo aisle seat. This made it a little easier for me to reach her, not so much physically closer but certainly more visible than when sitting in the centre.
It also meant she had a lot of private space to herself, which meant that later in the flight she slept like a champion for around 6 hours – but now she is in the mindset of thinking that all airline seats 'turn into beds', which is going to be problematic for her in later life.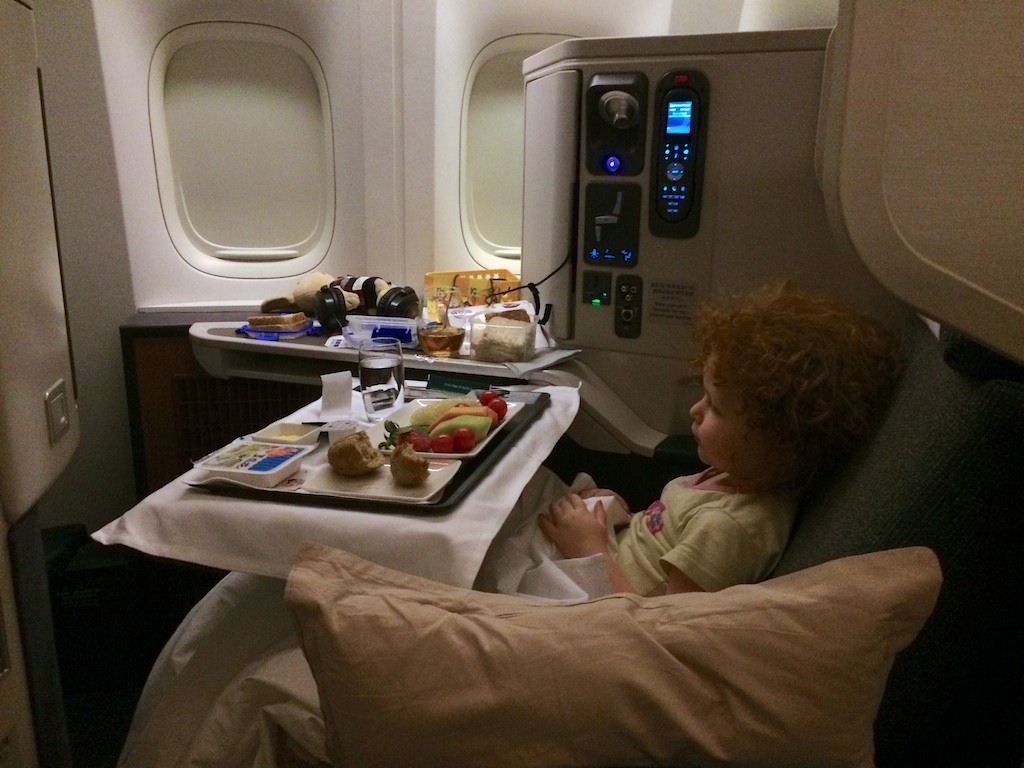 It also turned out that the gentleman sitting in the window seat on the other side of the plane decided (as I would too) to move further back down the cabin when he saw we had two kids in tow, leaving us the full row of four seats open to us at the front of the cabin.
This was the first time I had ownership of the width of the whole of an aircraft, and it was so, so good. Not something to rely on happening though!
The standard bassinet position, as I mentioned, is above the two centre seats. The bassinet on offer by Cathay Pacific on the 777 for Business Class is a fold out basket-style offering with a hood, rather than integrated into the bulkhead.
This isn't necessarily a bad concept, but the bassinet fitting to the bulkhead was by just a few poppers, and a single poorly designed piece of webbing. The crew, including the manager, didn't know for sure exactly how it was supposed to work, and this left the littlest one somewhat open and unsecured in the bassinet.
We didn't feel comfortable with her being less secure than an adult in a regular seatbelt, so moved the bassinet over to the vacated spare seat and belted her down to the seat. It worked like a treat, and she ended up sleeping for around 8 hours of the 13 hour flight – massive win.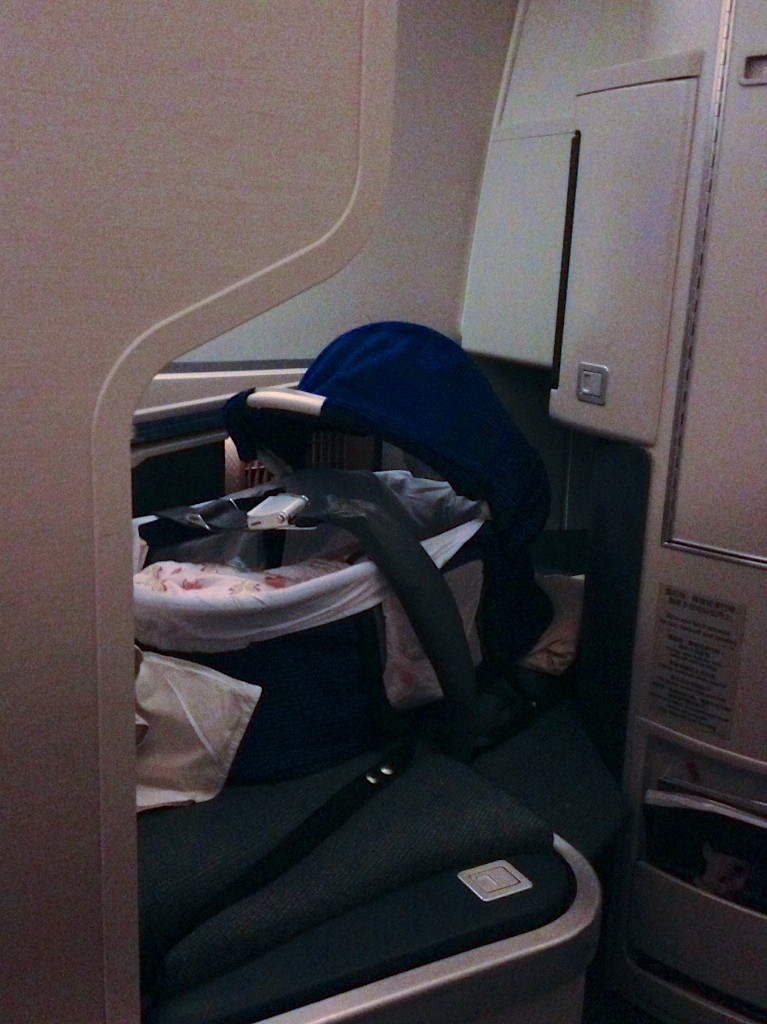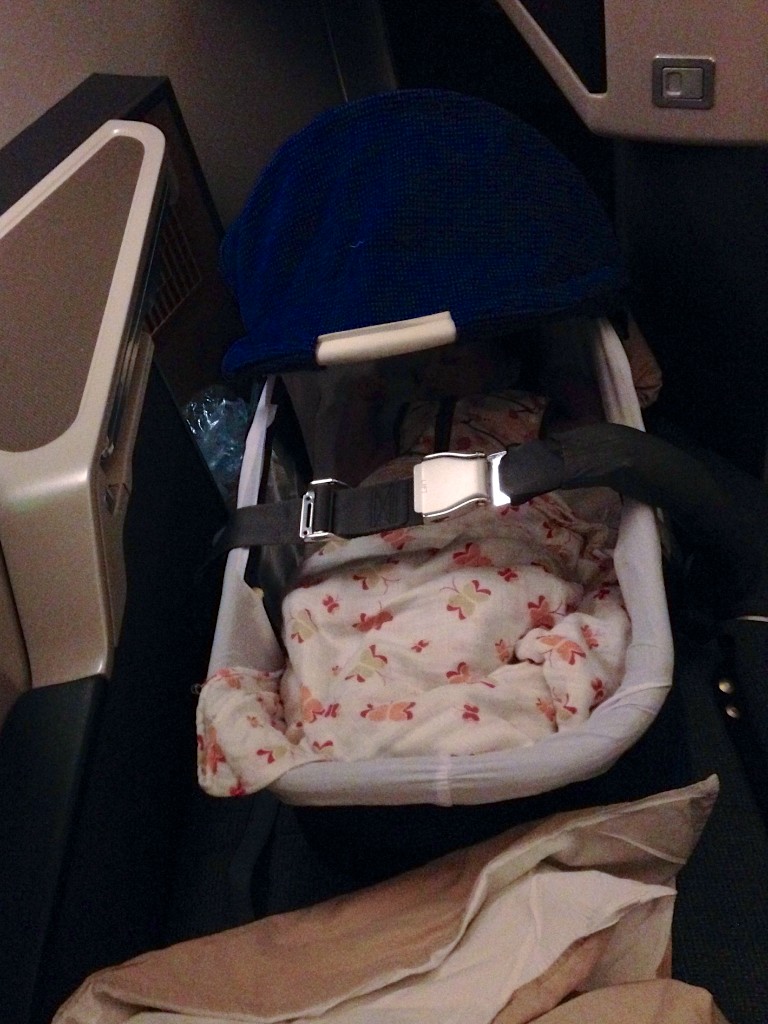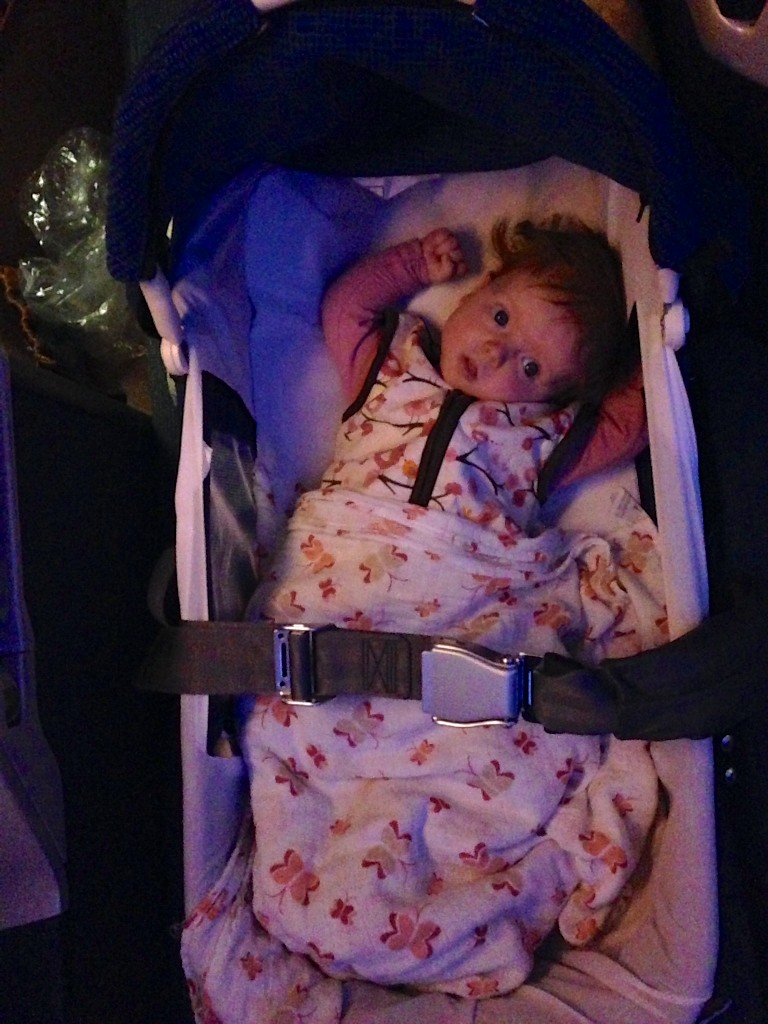 Food
I don't remember much at all about the food on this flight, good or bad, to be honest. The service on offer was good, allowing us to delay meals as necessary to handle kids, and with proactive questions on what meals we'd prefer in order to be kept aside. Having said that, the courses could have been served closer together to minimise that 'stuck in the seat' feeling.
As I run through at the end of this review, this flight was originally booked in Premium Economy, and for some reason I thought that ordering an adult meal instead of a kids meal for our eldest was the right idea.
Given that we upgraded ourselves to Business a day before departure, our meal preference didn't get changed and this was the wrong decision, and meant that she was presented with overly complex Business Class food. We had, however, packed a lot of sandwiches, leftovers and snacks so this wasn't a drama – if we hadn't had those though it would have been more stressful.
The Business Class menu from this flight is below.
Special service for children offered by Cathay Pacific
I've found that one of the most important things to ease the pain of any flight with kids is the attitude of the staff around you. If they are offering great, proactive service, but still remaining professional and letting you parent them without getting in the way, then it makes all the difference.
On this flight, the crew were pretty spot on. They paid appropriate attention to our eldest without overdoing it, making sure she was OK and that she knew they were there to help her, but not making her think she was an absolute princess. They also listened to our concerns about the bassinet positioning, trying to help with the positioning it effectively to get the baby secure, while also apologising and looking to offer solutions.
There was also a kids pack handed out which was a collaboration with Disney – and again, this was really good. The majority of the pieces were foldable paper toys and puzzles, plus a few stickers and colour story books. It felt like there was minimal wastage, not much plastic to throw away, and I didn't have any qualms about exploding it all out onto the seat around her to play with. There was a collapsable plastic box to hold all of this in, which still gets played with now.
By contrast, Qantas' pack is a pack of drawing pencils, a colouring book, pencil sharpener and a luggage tag – all of which require a bit more adult supervision, and the last thing you need as a flying parent is another thing to think about.
How I researched & booked this flight – using British Airways Avios to book Cathay Pacific flights
I originally booked this leg in Premium Economy using 45,000 British Airways Avios points per person. I used to live in the UK, and have maintained my British Airways Executive Club account and the ability to earn the odd credit card signup bonus from American Express UK.
Given our flight up to Hong Kong in Qantas Business Class had gone so will with the children, and I'd earn a few more Avios since making the booking, I started pondering the possibilities of getting us all into Business Class.
Knowing that Cathay Pacific often open up award space on their flights in the days immediately before departure, in the few days we were staying in Hong Kong I started monitoring Business Class availability for our existing flight. I really didn't want to make day or time changes given we had a range of logistics locked in in the UK on our arrival based on us taking this flight.
Sure enough, Business Class availability opened up, so just 30 hours before our original departure time I placed a call to BA Executive Club in the UK to see if we could make the change up to Business. I knew this would be a tense call, as I'd be cancelling our existing Premium Economy booking, getting a refund of the Avios in my account, then making a new booking into Business Class – and there's always scope for any one of those steps to go wrong and have the availability I intended to book disappear before I could confirm the flights.
Thankfully, for an extra 15,000 Avios per person I was available to get us into Business Class on CX253, the same flight – however the new booking hadn't ticketed with no email e-tickets arriving in my inbox, all the way up to leaving our hotel for the airport despite several calls to British Airways to try and get this sorted.
I was anticipating problems at check-in, but in the end they just had to make a few phone calls to ensure the bookings were actually confirmed. I don't know what went wrong, but I certainly felt better knowing that I had done everything I could do get us confirmed in Business for this flight, and thankful that no problems eventuated when we got to the airport.
Conclusion
This flight went very well, and much better than we could have hoped given it would be the longest flight we had taken with two children to date. Nearly 14 hours in the air is a long time for adults, let alone children, and given they both slept for nearly half or more of that time, and neither disrupted other passengers in any way, we were happy.
The Cathay Pacific service was excellent, and the seating lived up to my expectations – with the surprise that it was actually harder to keep tabs on our 3 year old given how vast and private the space Cathay have on offer for you.
In hindsight, this was almost the hardest part of the flight, and given a choice between a more traditional side-by-side Business Class cabin layout with children, I might actually opt for that option over the otherwise excellent Cathay Pacific Business Class set up.
Aside – Heathrow, and dealing with kids after a 13 hour flight with an 8 hour time difference
Arrivals at Heathrow were a bit of a farce. The fast-track arrivals lane had only one person staffing it initially, and as we were at the front of Business Class and one of the first to leave the plane, I felt particularly sorry for the other 30-40 premium passengers who ended up behind us as we made our way through.
Bags arrived quickly thanks to the priority tagging, and we headed off to meet family and then spend the night at an airport hotel – the Novotel Heathrow. The Novotel was fine – not amazing, to be honest, very worn down. In future I'd choose somewhere different.
Another data point for parents considering this kind of flight, the kids essentially felt like they'd had enough sleep after only 3 or 4 hours, leaving us awake from the early hours of the morning before we made our way out of London the next day. Not ideal, but I'd rather be awake and killing time in a hotel room with our children than on a plane, so a necessary evil I guess.
All up, it took around a week for everyone to get over their jet lag with the time difference from Hong Kong & Australia.
Cathay Pacific 777 Business Class review – Flying with kids on CX253 Hong Kong to London
was last modified:
August 15th, 2017
by