For Kiwis who are American Express Card Members and have to travel through Melbourne Tullamarine a lot—access to this lounge a nice benefit.
It sits adjacent to the new Plaza Premium Lounge, which is operated by the same company. In my opinion, the American Express lounge wins on design and work-friendliness but the Plaza Premium Lounge wins on more food options and natural light.
American Express Lounge Melbourne details & location
The lounge is open from 6am until 11pm, seven days a week.
This lounge is located in the lounge precinct of the International Terminal 2 at Melbourne's Tullamarine Airport. That means it is only accessible by passengers departing on international flights. After security and passport control, take the escalator opposite Gate 7 down to the entrance on the lower level.
For those familiar with the airport, this lounge is located opposite the Qantas International Business Lounge.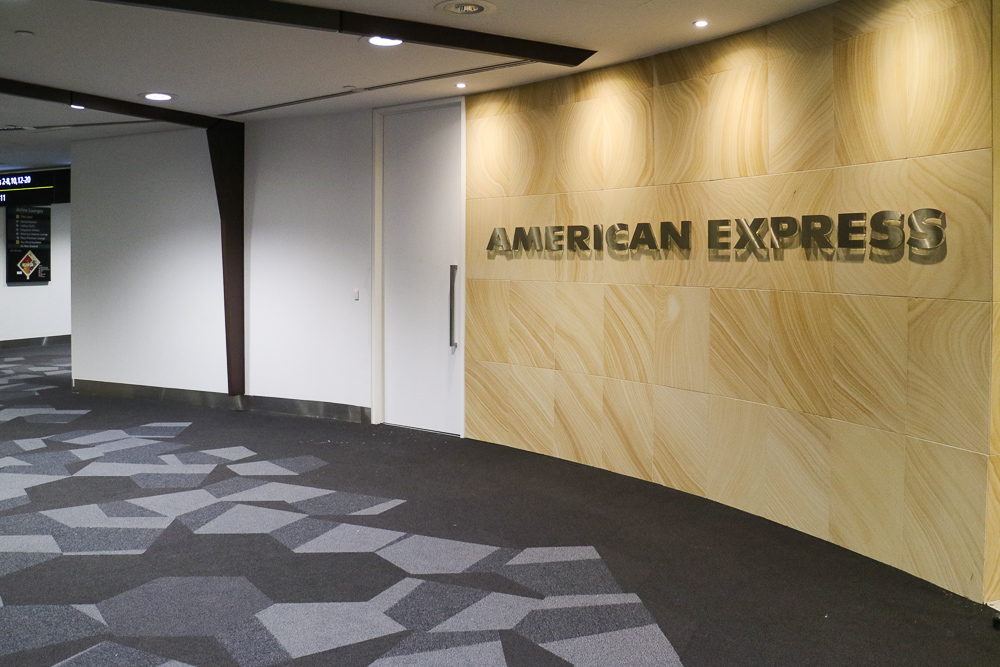 This lounge opened in late March 2018.
It can accommodate up to 65 guests at a time, which is slightly larger than its Sydney counterpart. That seems like a quite low number, so you may expect this lounge to get crowded as knowledge of its opening becomes more common. In the case of capacity constraints, guests will be directed to the adjacent Plaza Premium Lounge.
American Express Lounge Melbourne seating & layout
The lounge area is split into two main areas, both of which are very open. There is a main food and drink area with a long communal table running down the middle and tables along the side: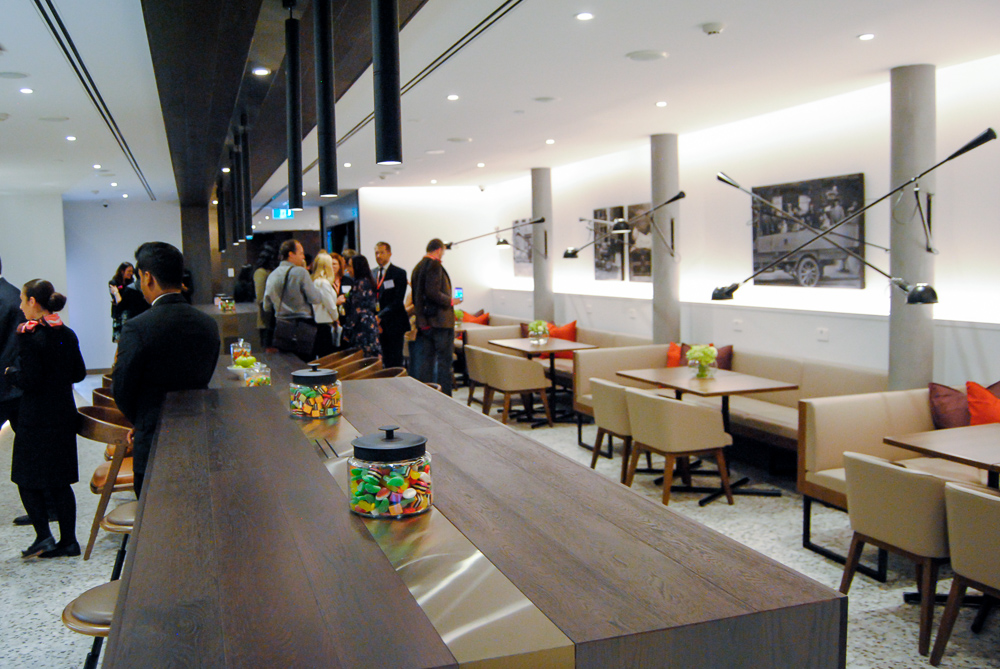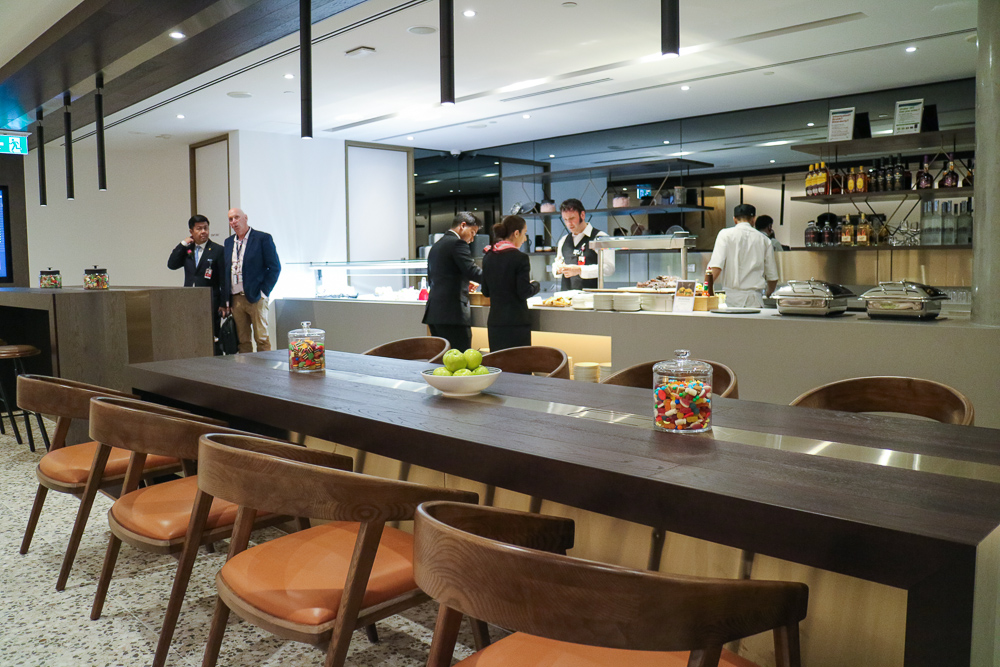 with a range of seating heights and options: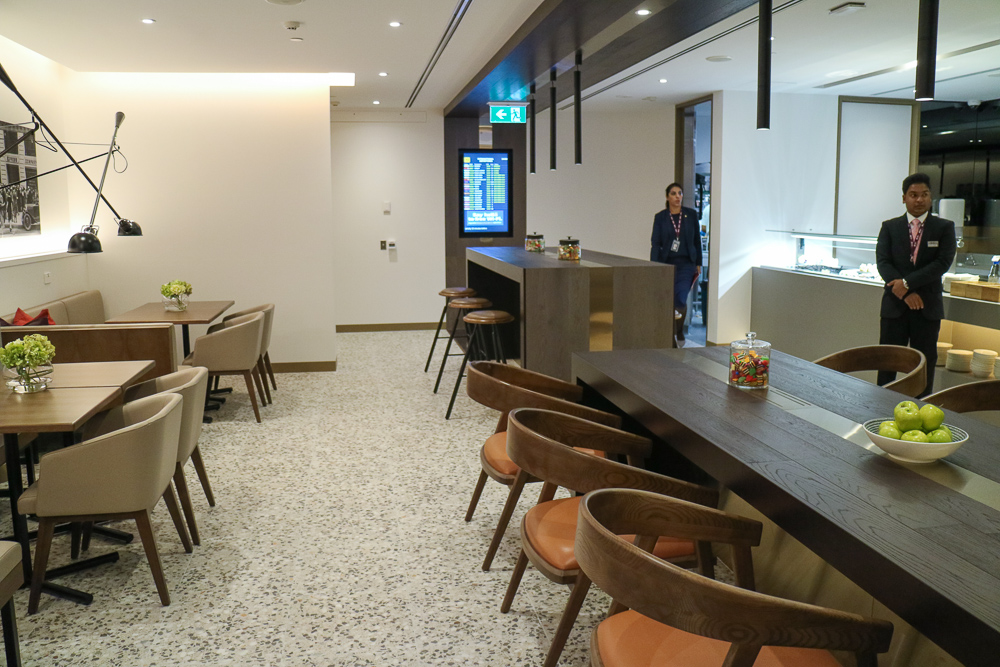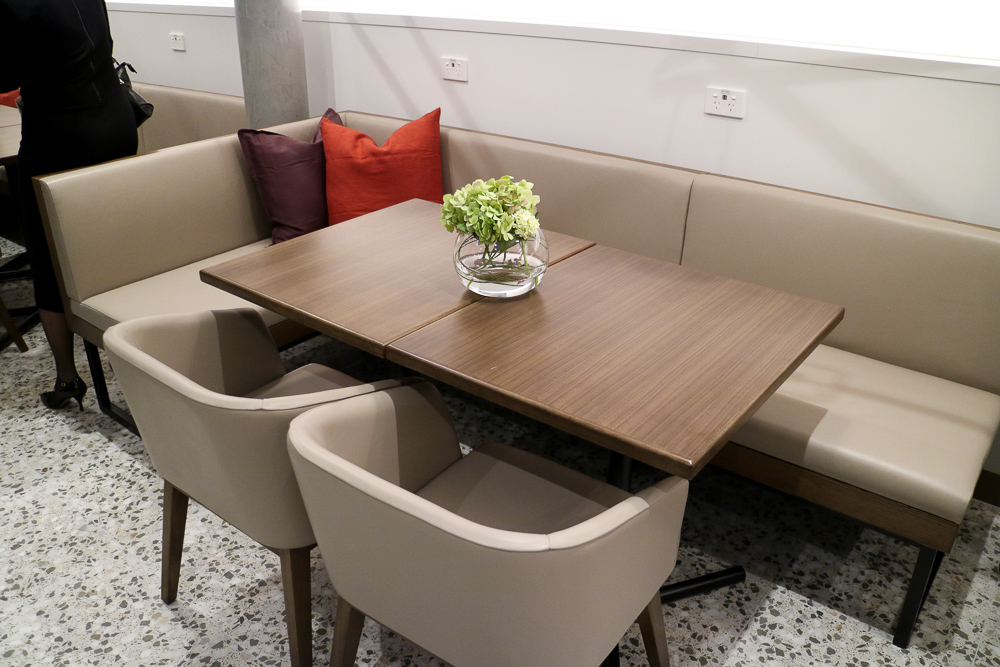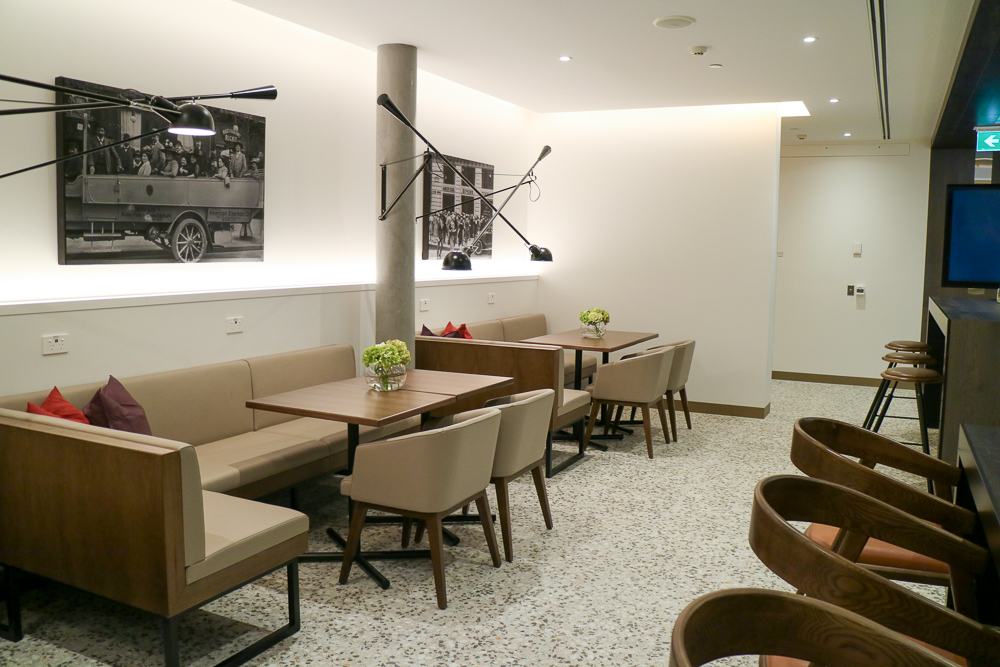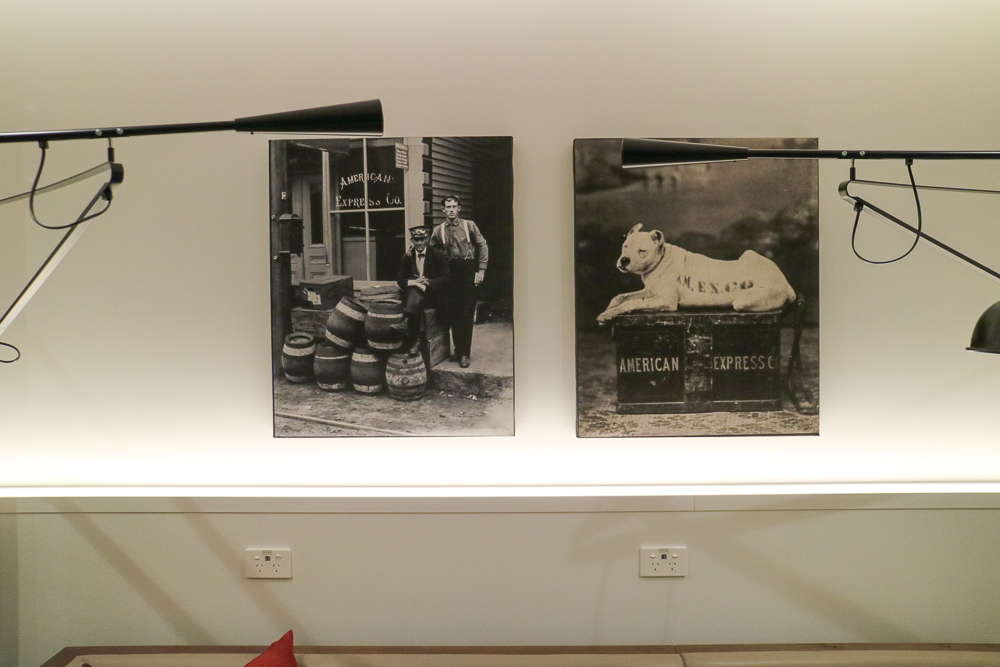 and a lounging area, which is quite open with big padded seats: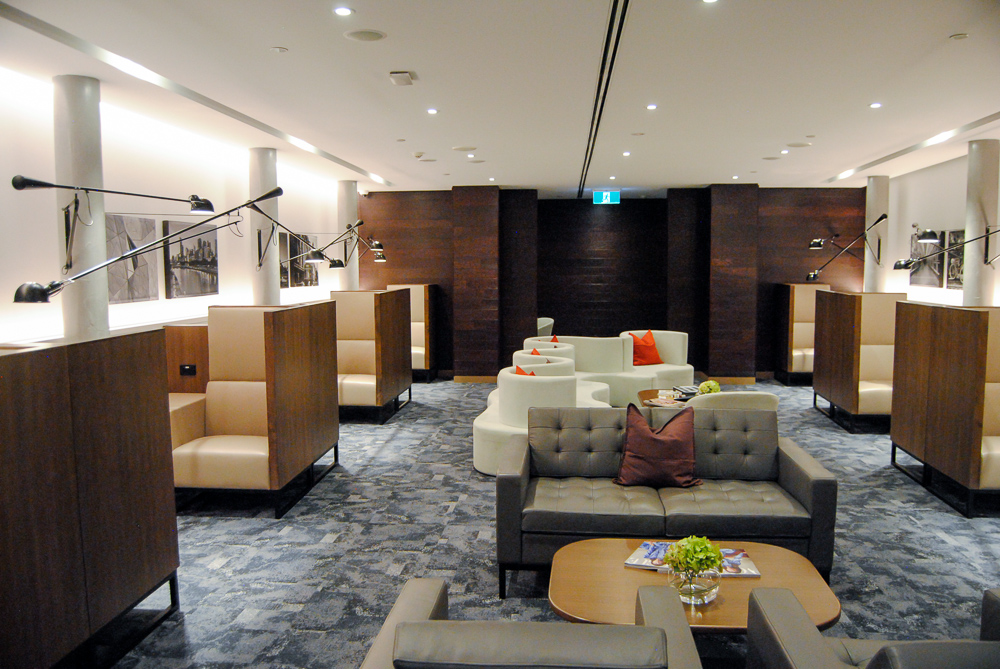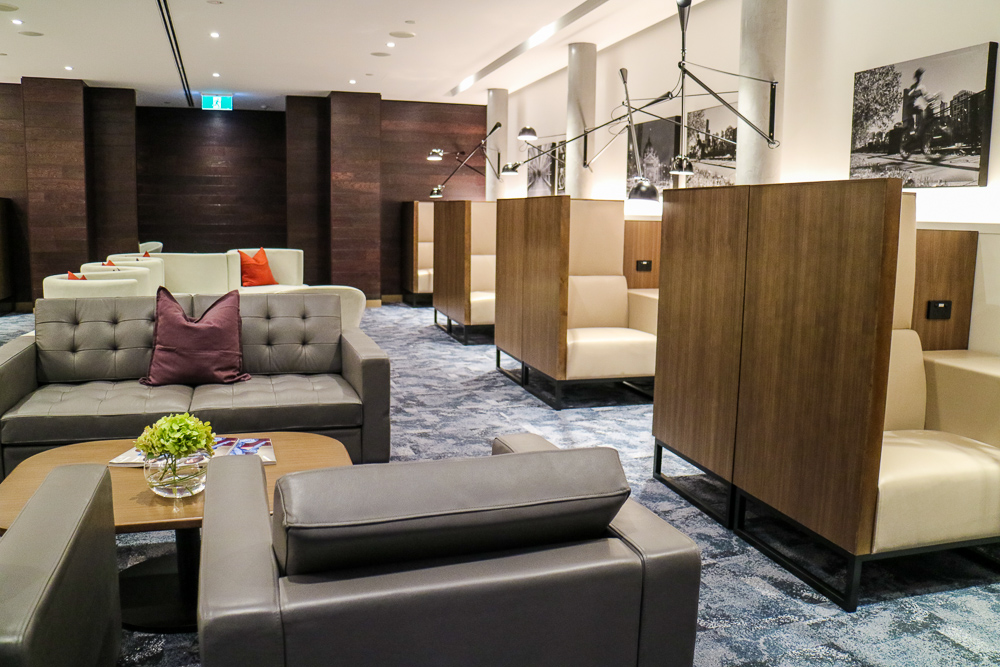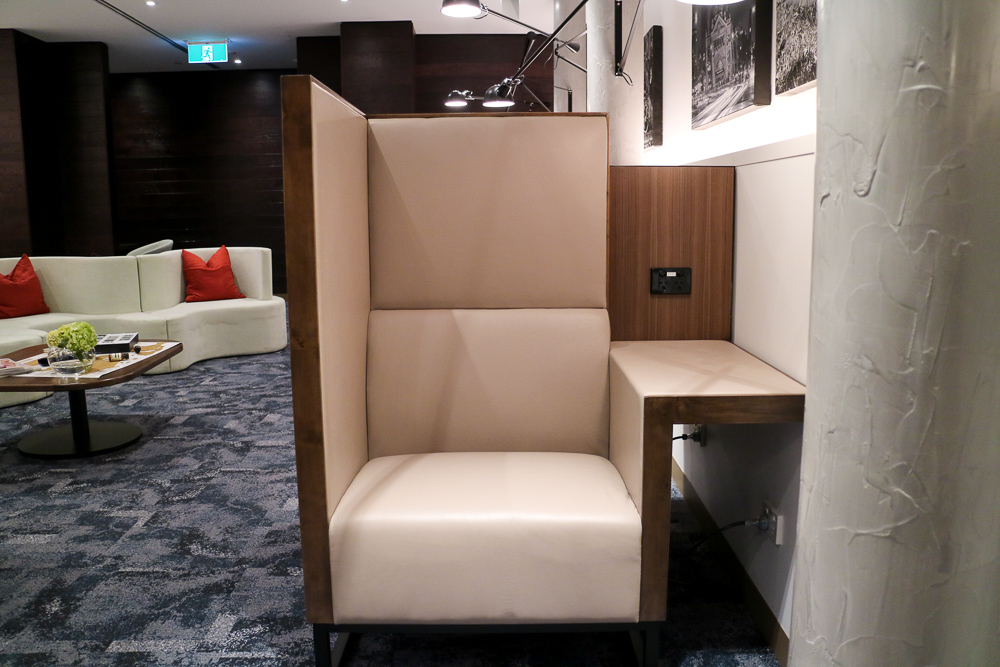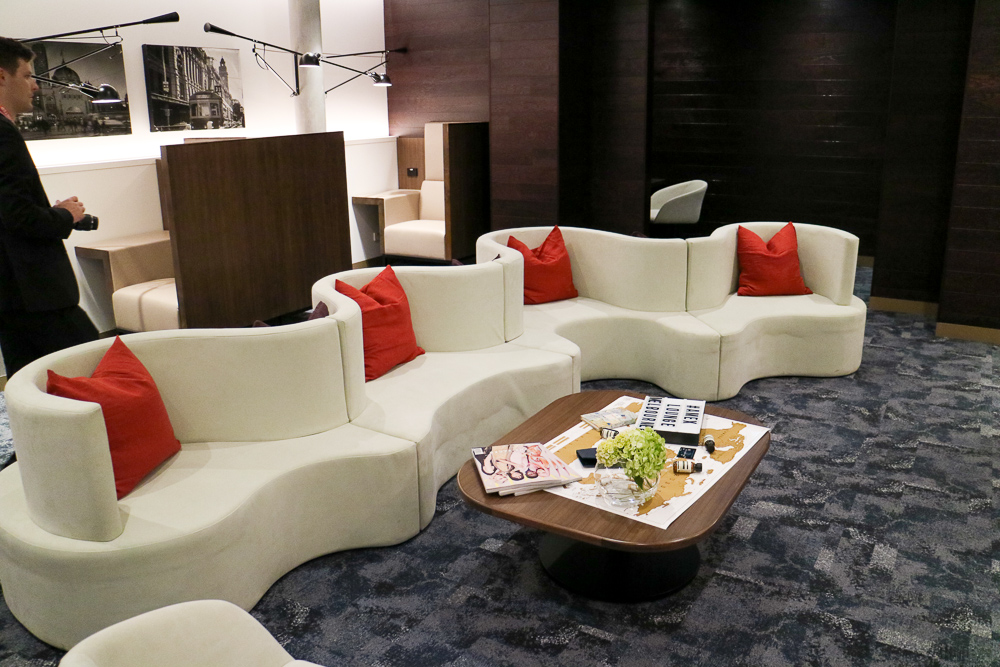 As to be expected from a lounge, there is room to work: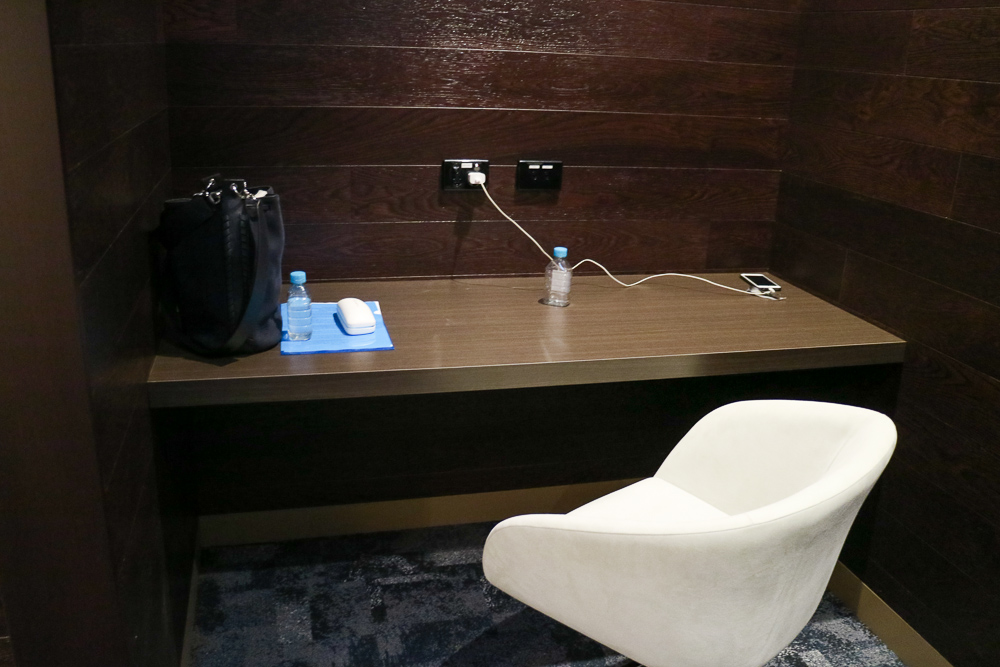 and a selection of reading materials: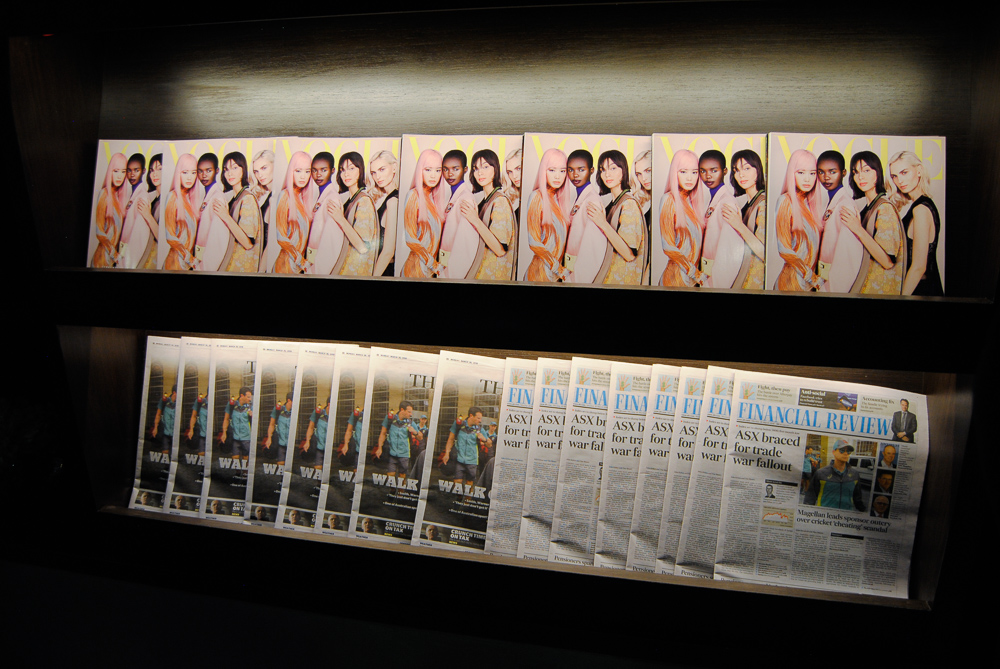 However, this lounge has missed the mark with no natural light or tarmac views.
American Express Lounge Melbourne food & drink
The food on offer during our visit on opening day in 2018 was, to be expected, fantastic. However, reports from travellers note that food has gone way downhill since then.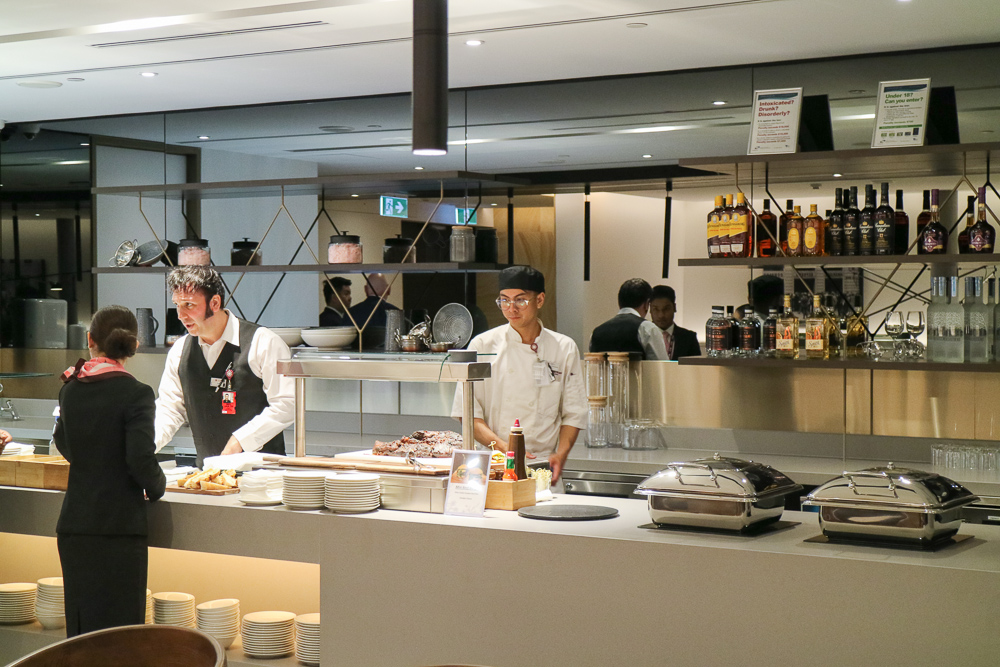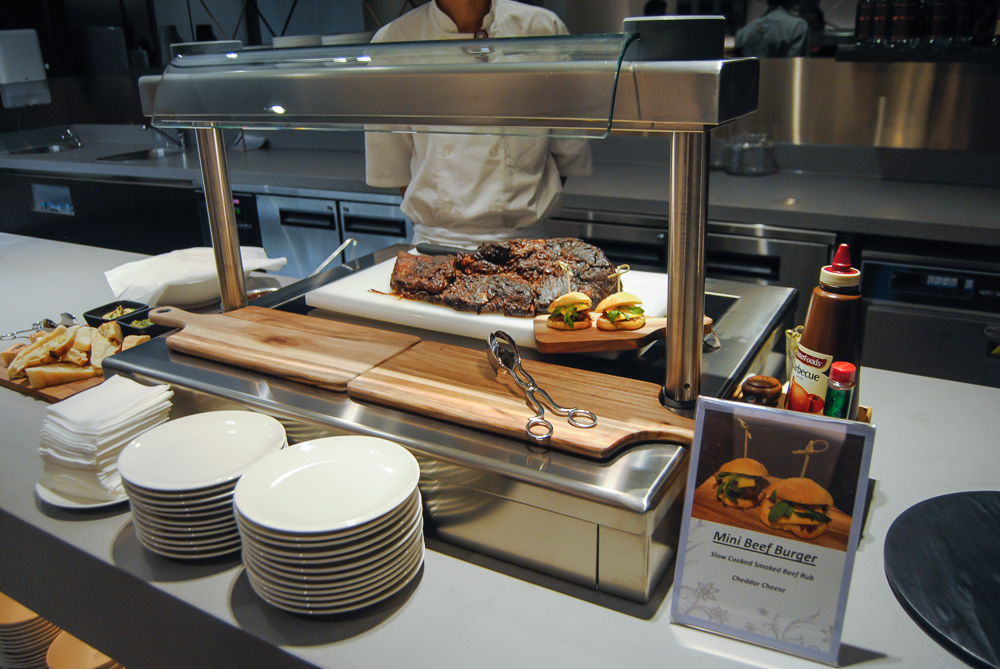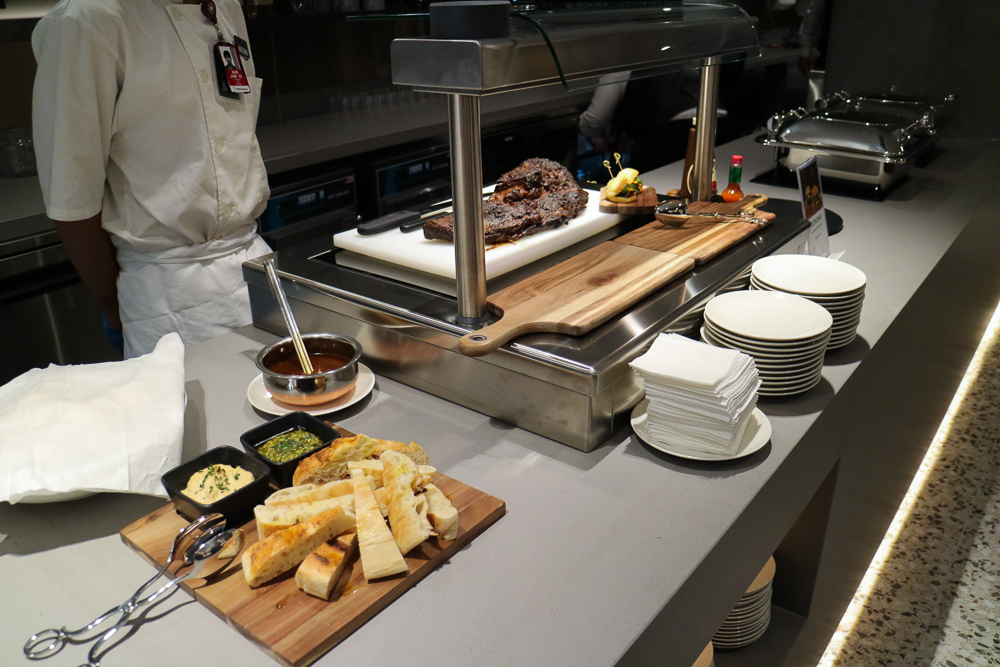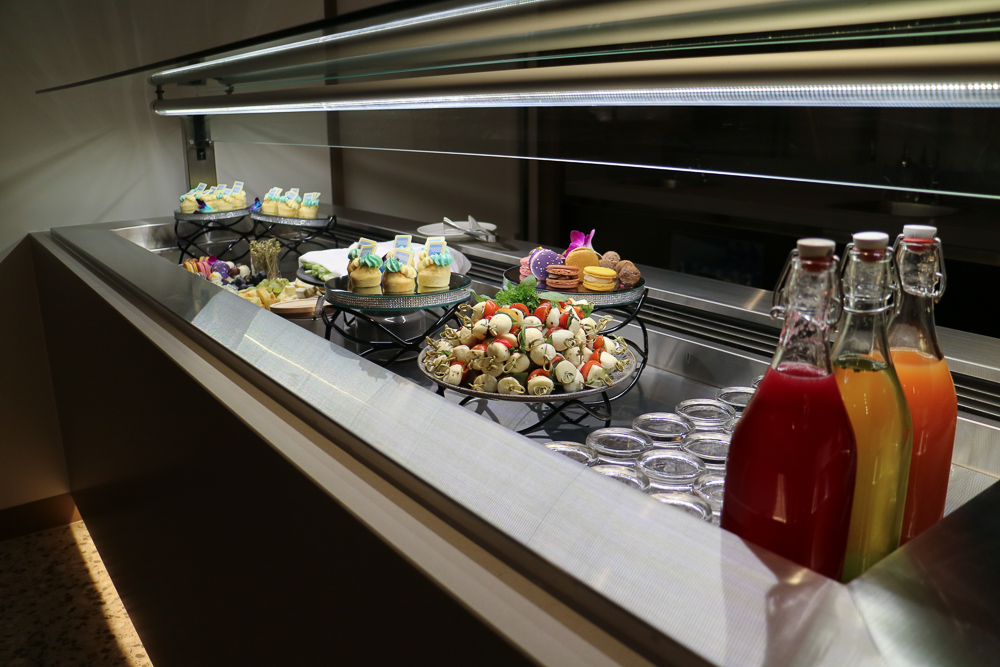 One plus is that the alcohol selection includes premium and top-shelf spirits such as Four Pillars Gin, Seppelt wine, Canadian Club 12 Year Old and Naked Grouse Scotch.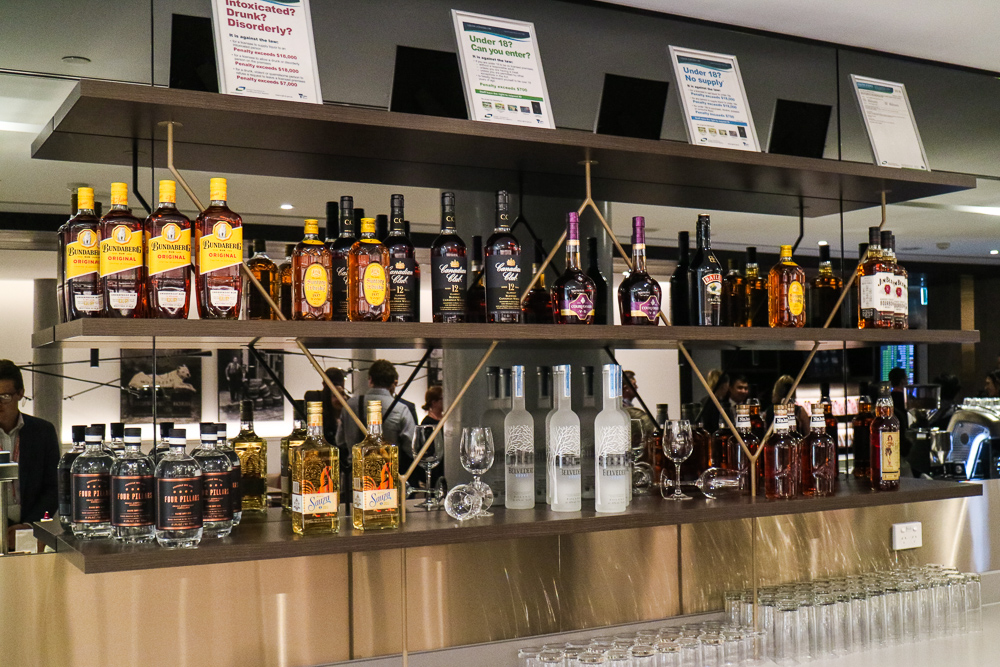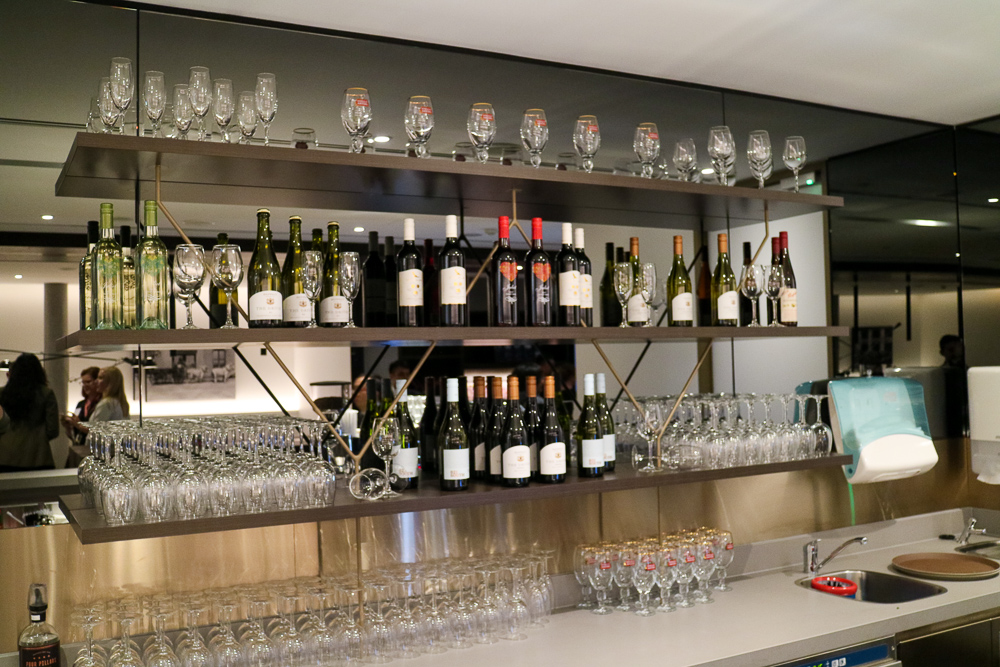 and self-service non-alcoholic drinks: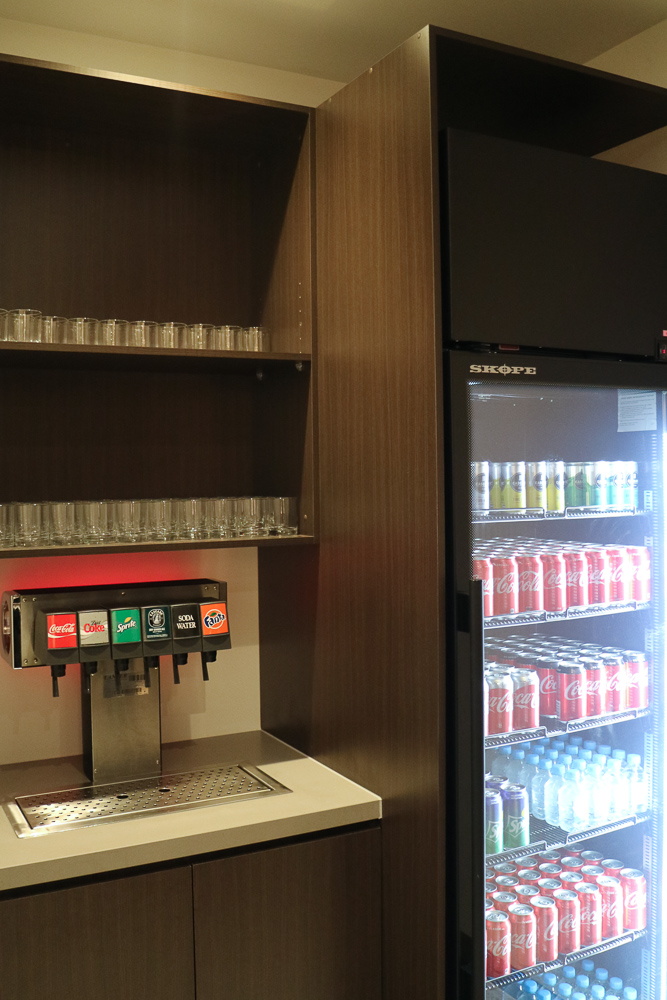 There is also an all-day barista coffee service.
American Express Lounge Melbourne customer service
You can expect the staff here to be friendly enough but probably won't go out of their way to help you. Dirty dishes are often left on tables.
American Express Lounge Melbourne other amenities
This facility shares bathrooms and showers with the Plaza Premium Lounge next door.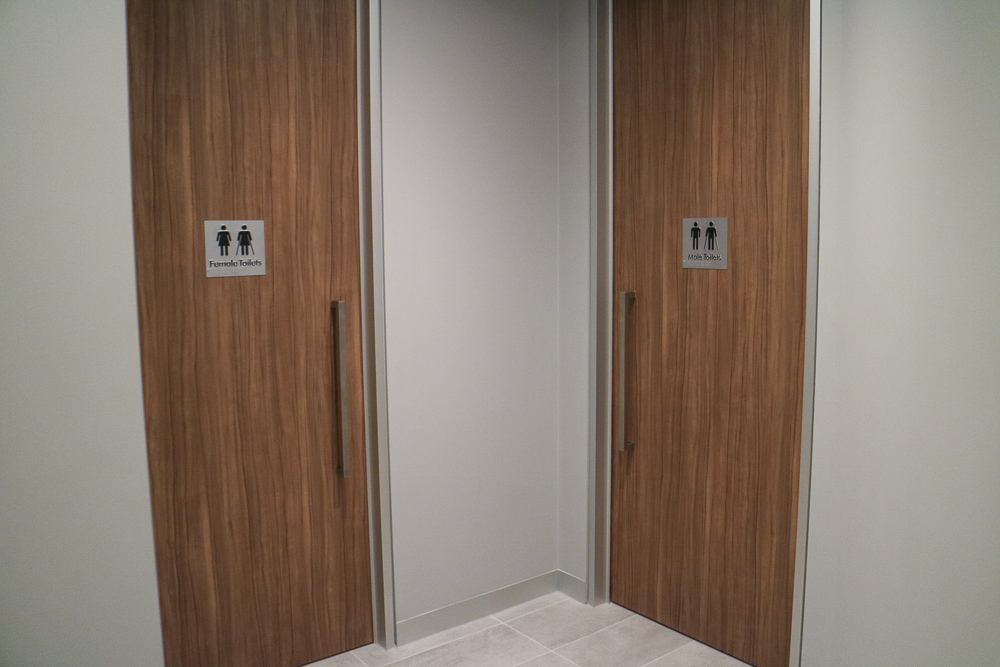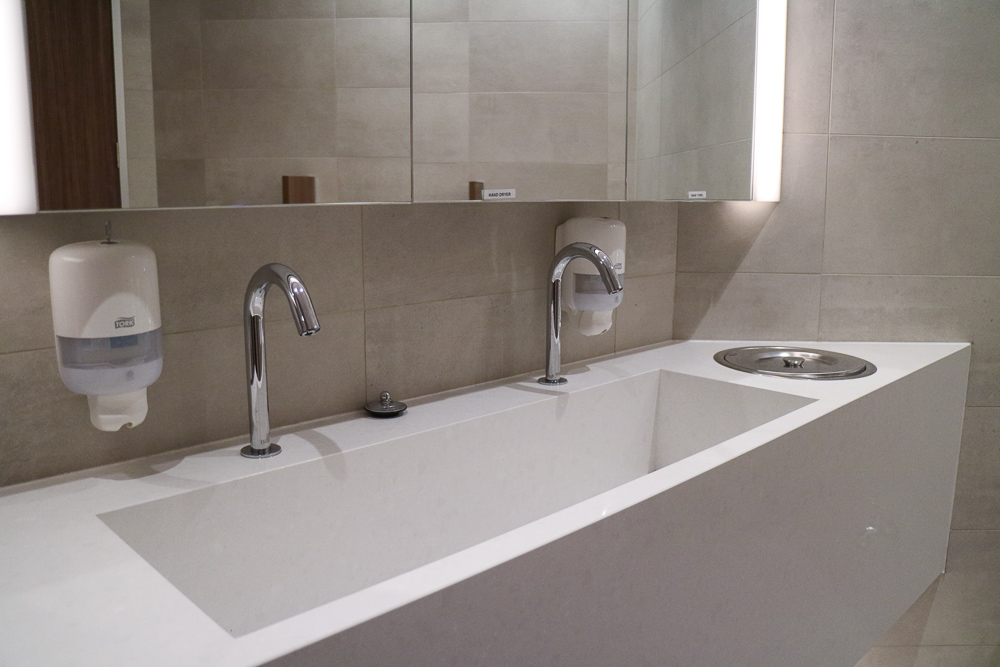 It also has high-speed Wi-Fi and printing facilities available.
American Express Lounge Melbourne access options
Access to American Express lounges is available to those holding an eligible American Express card.
If you're flying Economy or Premium Economy frequently and value lounge access, using the American Express lounge instead frees you from the likes of paid membership programmes like Koru Club. You can access the American Express lounge with any ticket, on any airline, as long as you are an eligible Card Member.
Even if you travel in Business Class, with accompanying lounge access elsewhere with your ticket, this lounge could be worth seeking out for comparison purposes.
As for guests, children under 18 enter free; for anyone else, you must use one of your complimentary passes. The only exception is for Platinum Card Members, who can bring two guests for free.
Frequently asked questions
Who can gain entry to the American Express Lounge Melbourne?
Access to American Express lounges in Australia is available to those holding an eligible American Express card. These include cards such as the American Express Airpoints Platinum and American Express Platinum Charge. See the full range of cards in this guide.
Can I access the American Express Lounge Melbourne on arrival?
No, you cannot. Given that this lounge is located airside in the international terminal, you will need to first pass through immigration and customs on arrival. You would then need to be departing on another international flight to access this lounge.
Other American Express lounge reviews
Other Melbourne Airport international lounge reviews
Summing up: our take
American Express' investment in a standalone lounge at Tullamarine is great news for those who travel from or through Melbourne Airport.
In an ideal world, improvements would be made to the natural light situation and the size of the lounge. However, these factors are restricted by its location.
What is great
Free entry for eligible American Express Card Members
Modern and stylish aesthetics
Breakfast highlights of pancake machine and juices
Lots of power outlets
Barista coffee
Fast wifi
What is not great
Small space
Lack of natural light
Lack of quantity and variety of food
Limited seating options
No children's play area
Let us know in the comments below what you think of the lounge as you pass through for the first time!
American Express Lounge Melbourne overview
was last modified:
August 21st, 2019
by