Air New Zealand's Business Class, dubbed 'Business Premier', on their fleet of Boeing 787s, makes frequent appearances on routes from New Zealand to Australia, and to numerous destinations in the US, South America, South Pacific, and Asia.
As such, it is worth knowing what you're in for if you're booked to travel with Air NZ for long-haul travel in future. This trip was from Sydney to Auckland in early 2017.
In my case, I managed to find award availability and used 17,500 KrisFlyer miles plus a few dollars in taxes to book this one-way flight.
Air New Zealand are renowned for releasing very little partner award space in Business Class to book using partner frequent flyer program points, which makes it very difficult to find a points redemption opportunity.
As such, Air New Zealand Airpoints are probably the most reliable way you will get to enjoy Business Class without paying full-fare, noting that these can be used for any available seat on the aircraft.
Award availability does pop up now and again with partners though, so it's worth looking to use Velocity points, KrisFlyer miles, or United MileagePlus miles on a redemption if this makes more sense for you.
Fleet & Routes
Air NZ started operating its first 787-9 between Auckland and Sydney in August 2014, now counting nine in its fleet (with four more on order) serving flights between its Auckland hub and:
Australia
Adelaide (seasonal)
Brisbane
Cairns (seasonal)
Melbourne
Perth
Sydney
Air NZ uses the 787 on at least some flights between its seven Australian destinations (except Gold Coast and Sunshine Coast)
Asia and the Pacific Islands
Apia
Denpasar
Ho Chi Minh City (seasonal)
Nadi
Nuku'alofa
Osaka
Papeete
Rarotonga
Shanghai
Singapore
Tokyo (Haneda and Narita)
The Americas
Buenos Aires
Honolulu
Houston (changes from 777 from 8 December 2017)
as well as a seasonal summer service between Christchurch and Perth.
Targeting the Air New Zealand flights with flight numbers beginning NZ1XX is the key to getting a 787 or 777 aircraft on a short hop like Auckland to Sydney, which makes the experience much more comfortable than on a narrow-body which usually ply such short routes.
Cabin: Seats & Seatmap
The 787 Business Premier cabin differs from that which you'll find on the 777-200ER and -300ER's setup, both of which squeeze an extra seat into the centre in a 1-2-1 configuration.
On the narrower 787, you'll be in a 1-1-1 configuration (like on Virgin Atlantic's 787 planes), with 18 or 27 Business seats, depending on the version.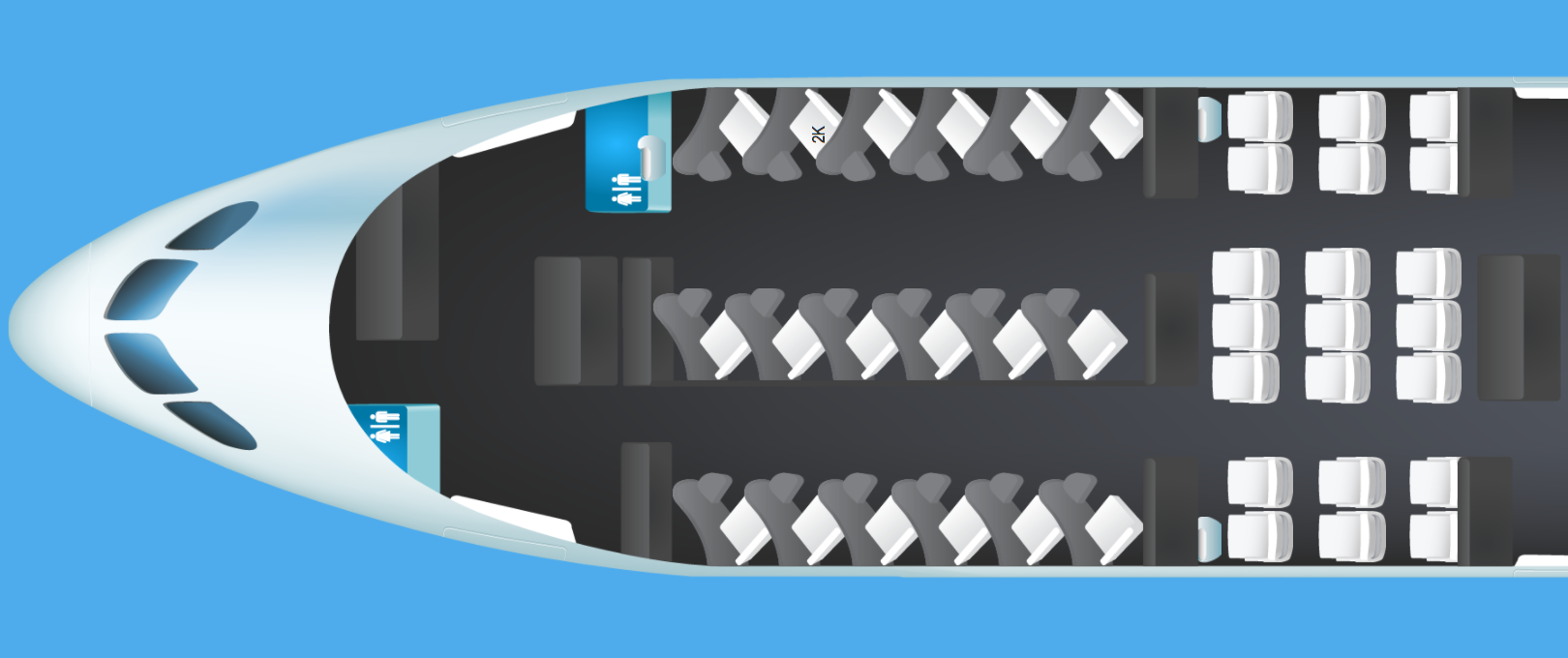 The window seats on both sides are angled toward the centre of the cabin instead of the windows (a not-so-ideal design), reducing privacy.
If you are a solo traveller, you may prefer A seats as you will still be facing inward but staring at the back of someone's head in the centre J seats (instead of their face).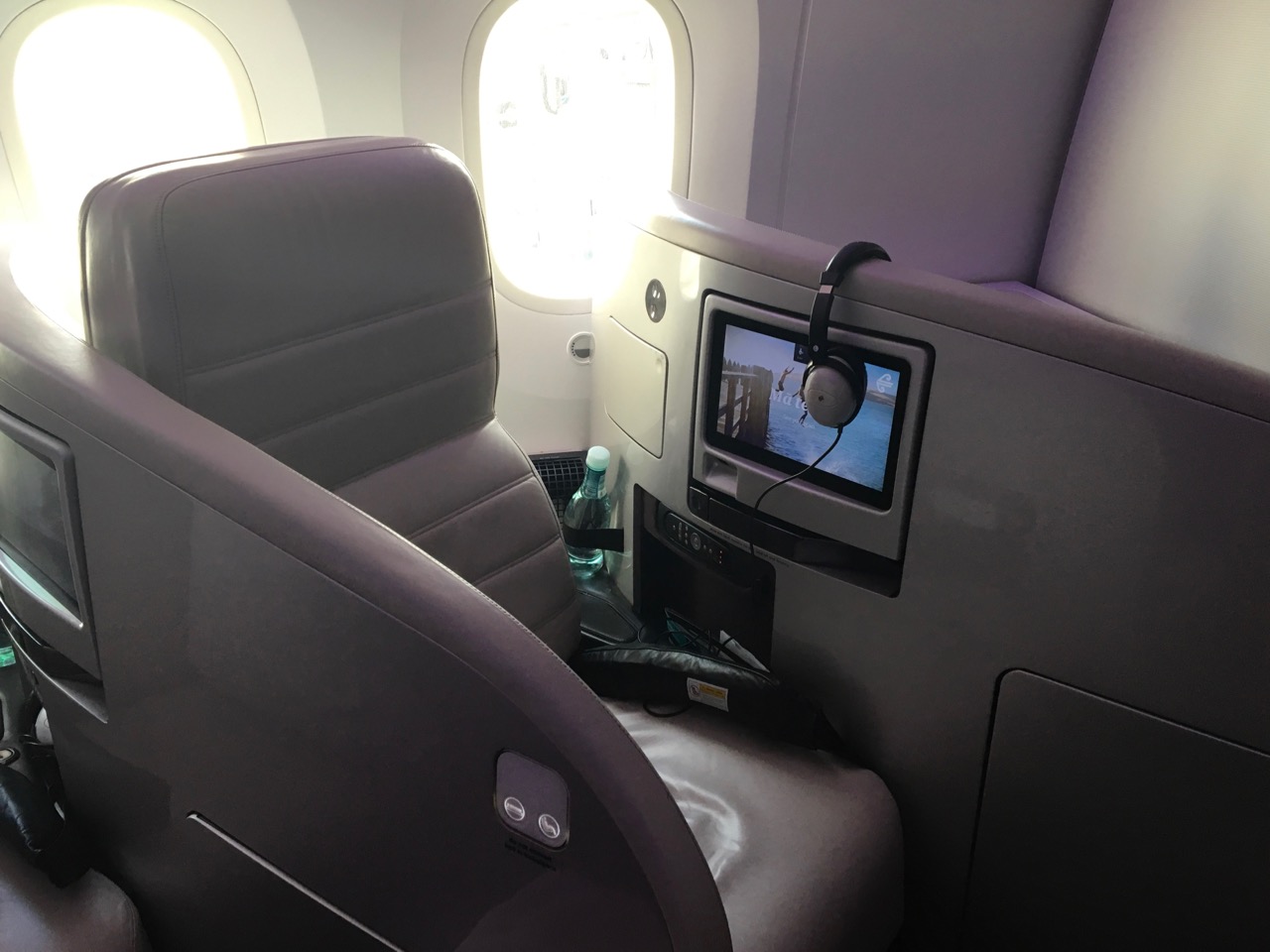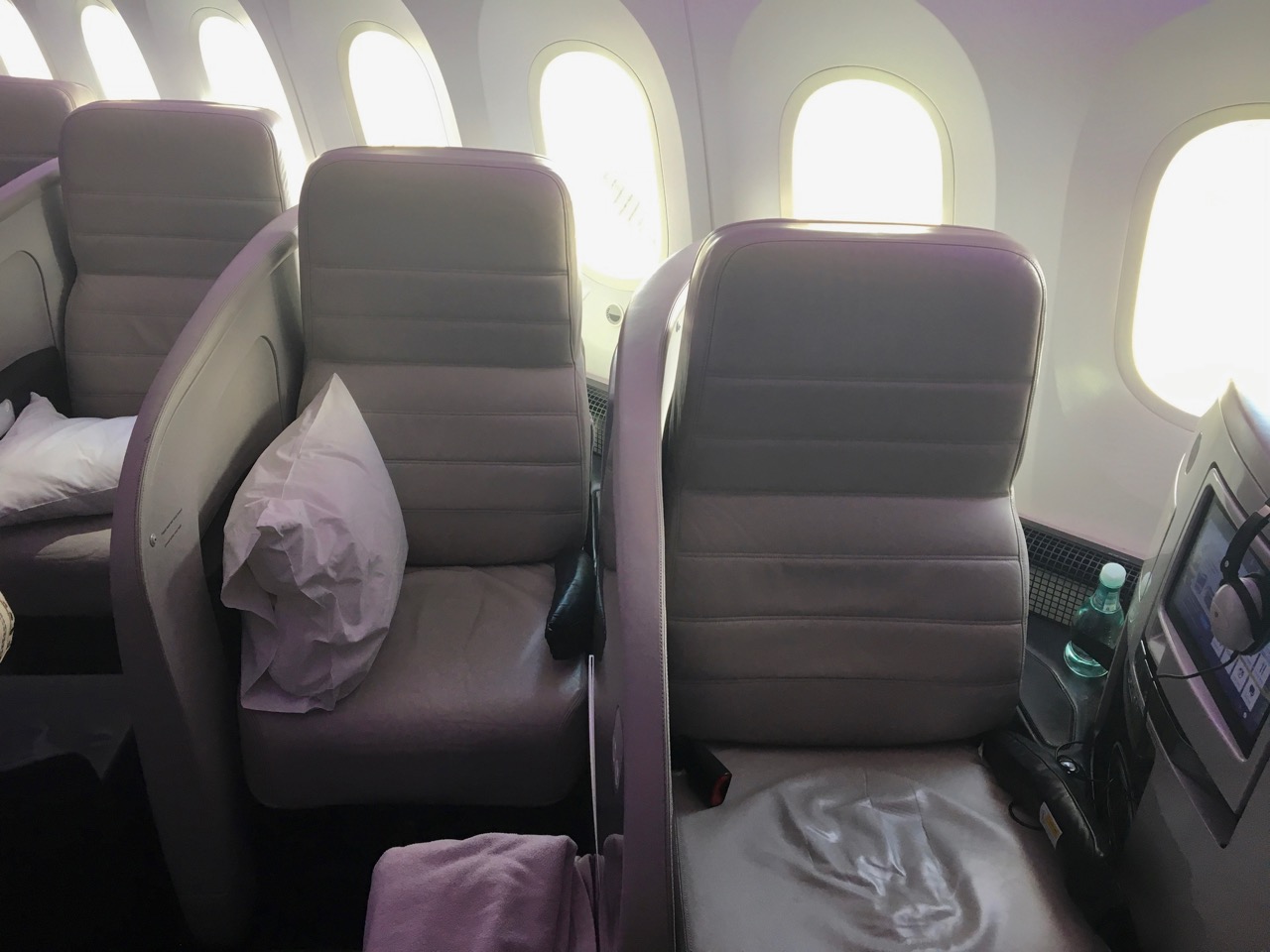 Couples may prefer grabbing a centre seat and the corresponding one in K on the other side, which allows them to face each other (well, diagonally).
Bassinets for the Business section are located in Row 1 and immediately after the last Business row in Premium Economy, so positioning yourself in between those may give you the least noise trouble.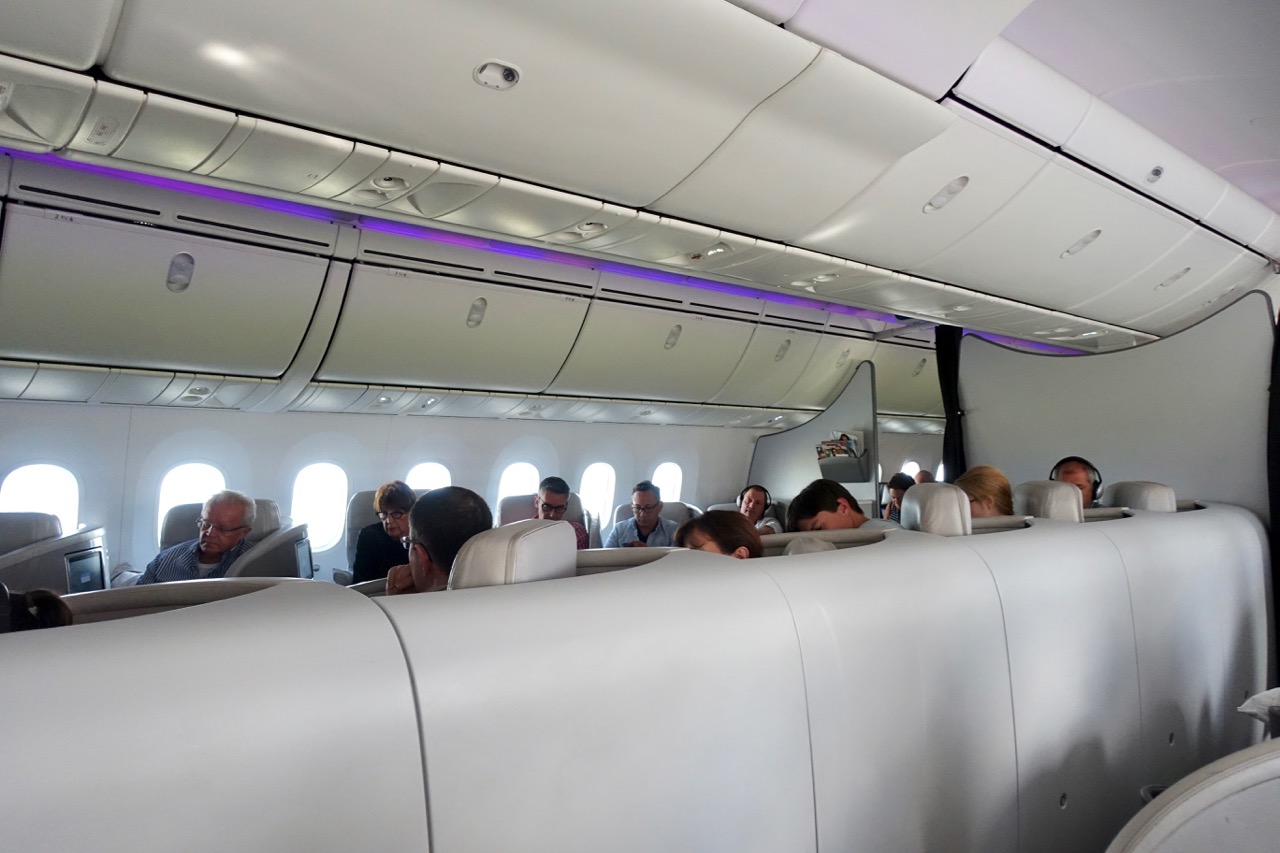 Legroom is adequate, but for a 185 cm tall guy like me, the constrained width of the foot-rest area did not leave as much space as I would have liked.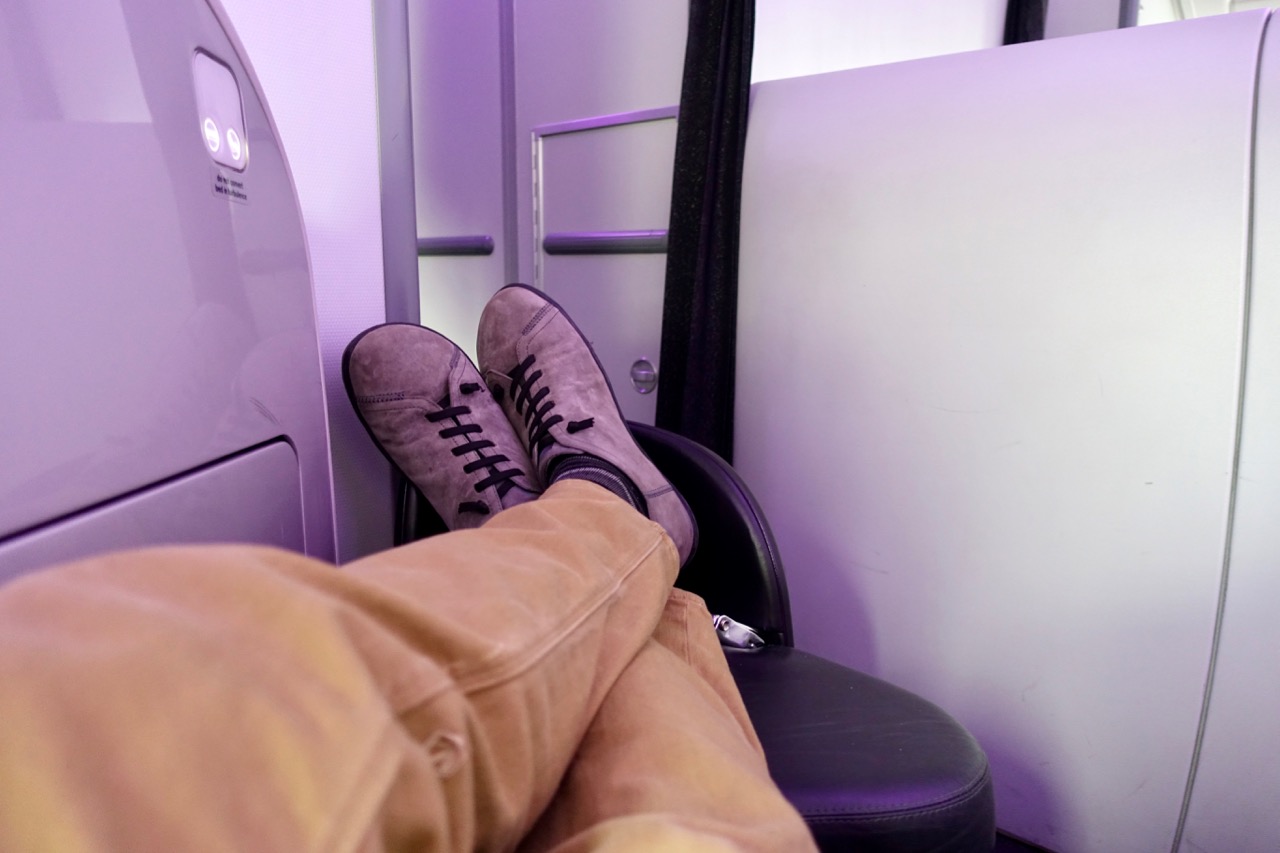 The bed is made by folding down the backrest, which you can ask the crew for help with doing. On this Trans-Tasman flight, I do not recall blankets being proactively offered but are available on request. Nonetheless, I snagged a couple of hours' nap to help catch up on sleep.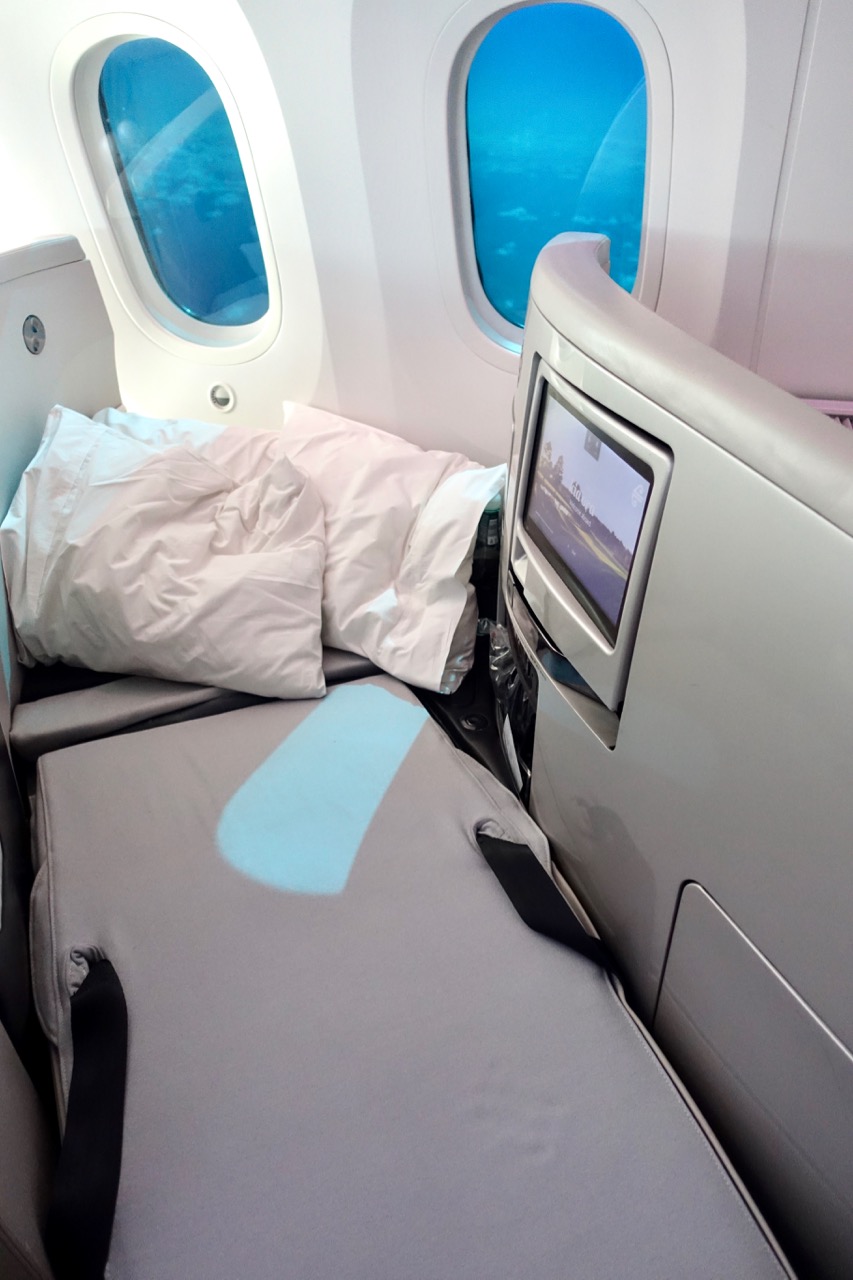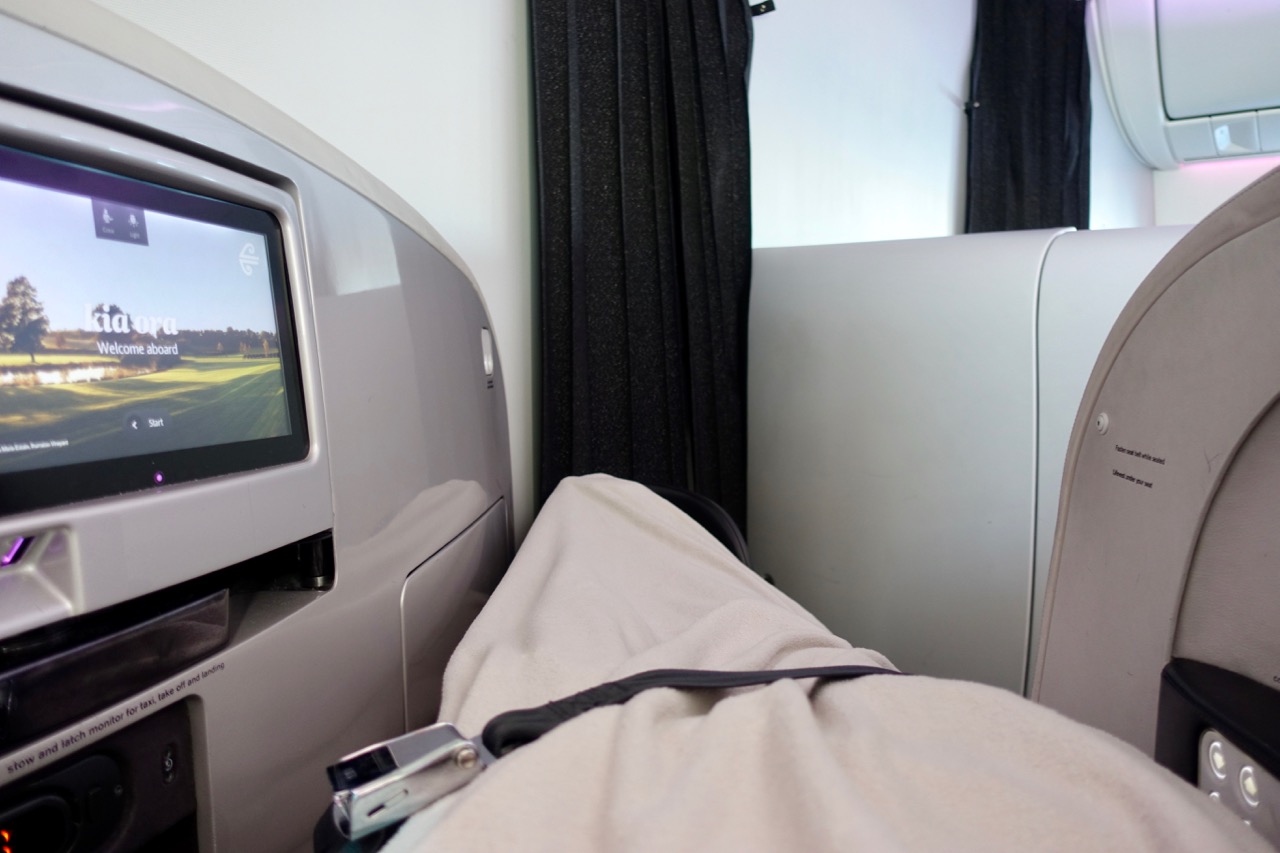 Given the manual nature of the bed, the recline of the seat when upright is limited.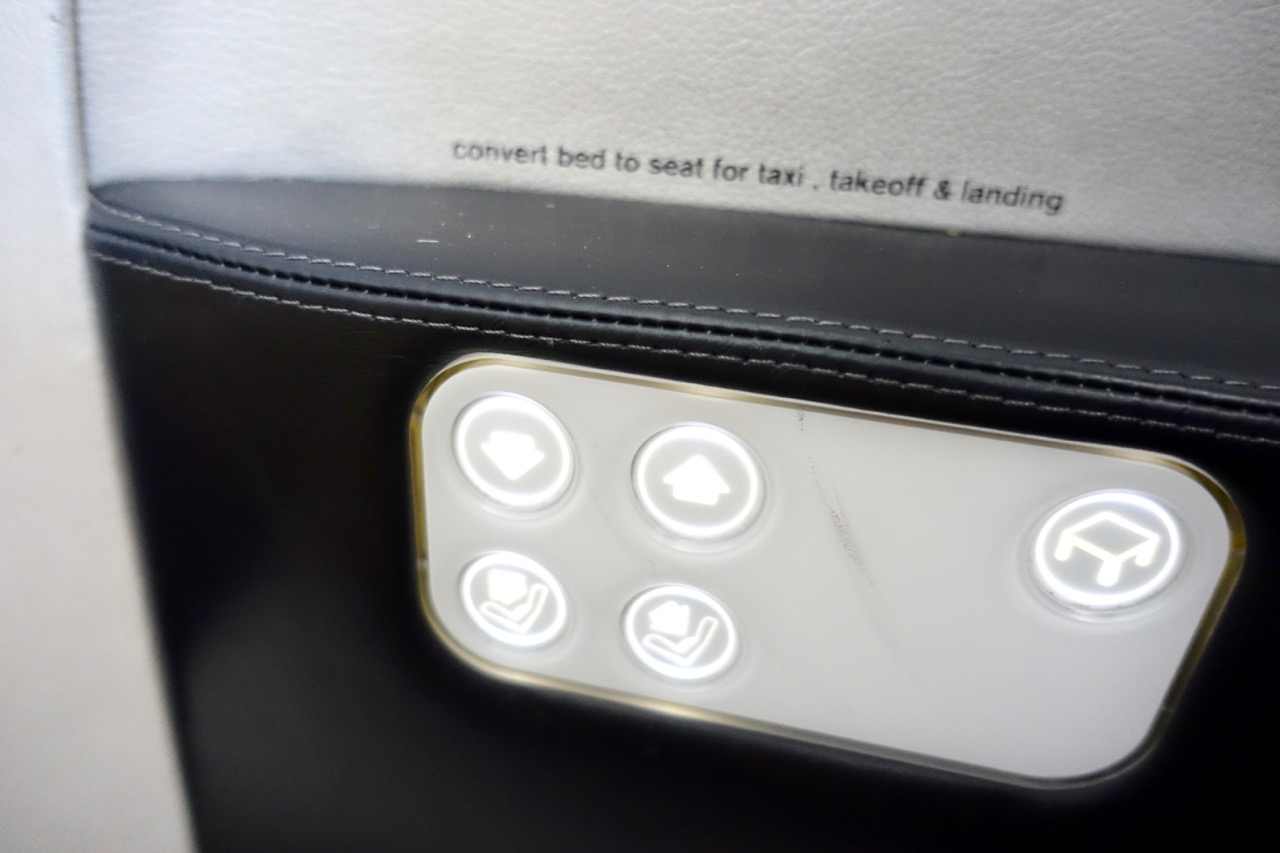 Inflight Entertainment
An 11-inch screen folds out from the back of the seat ahead of you. This makes it hard to watch movies or TV when the screen has to be stowed during take-off and landing, but otherwise is a fairly flexible arrangement for bringing it as close to you as you need.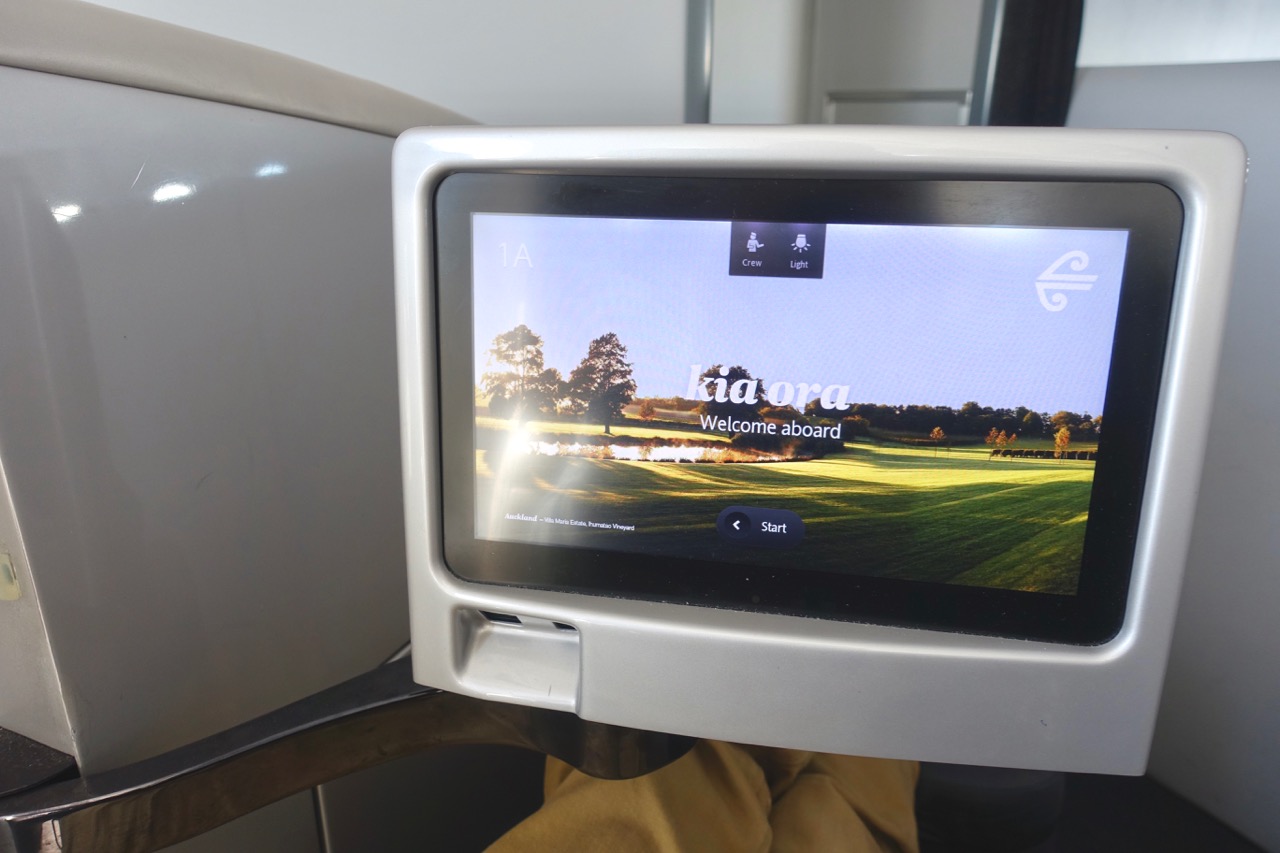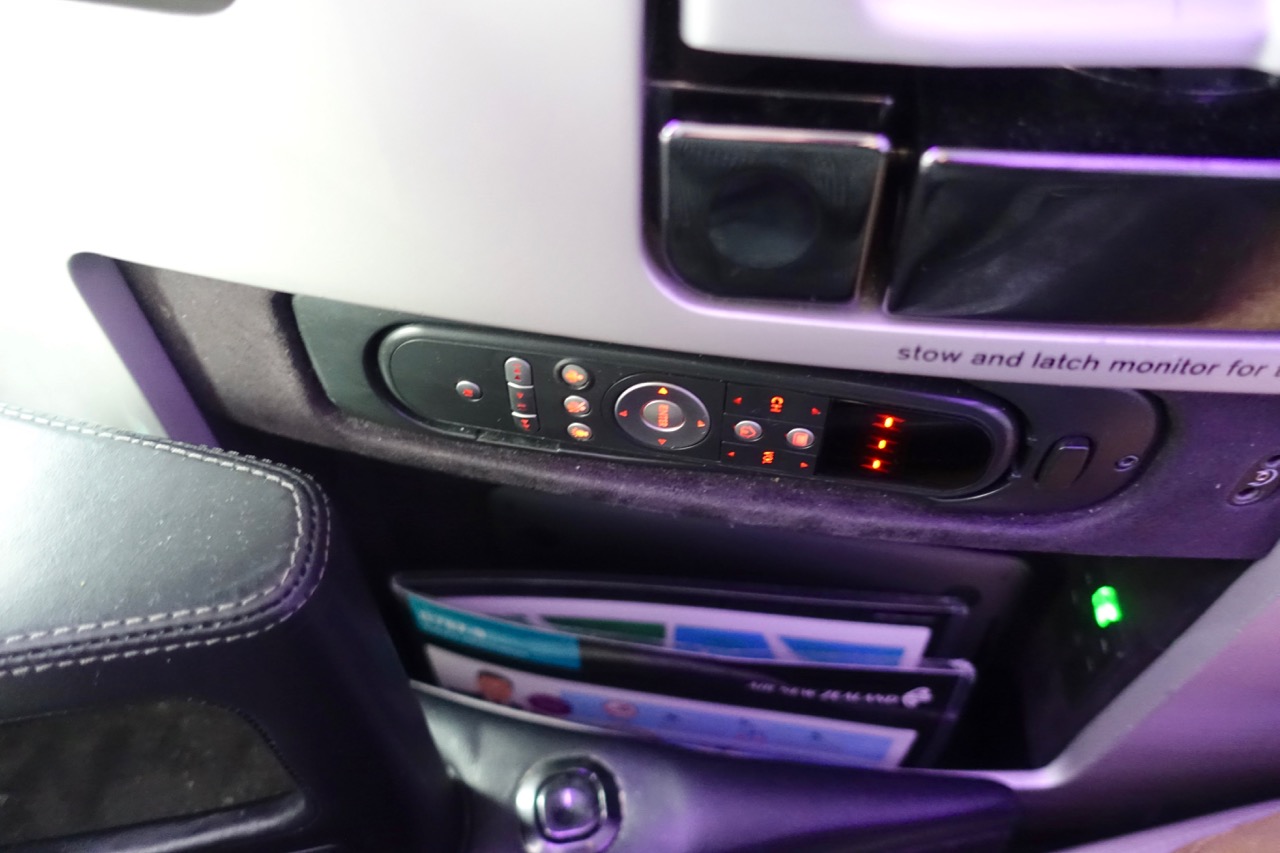 Service: Food & Drink
The service was typically friendly, as I'd expect from Air New Zealand given my past experiences with them. The food was decent, but not remarkable, again, as I'd expect for a 3½-hour Trans-Tasman flight.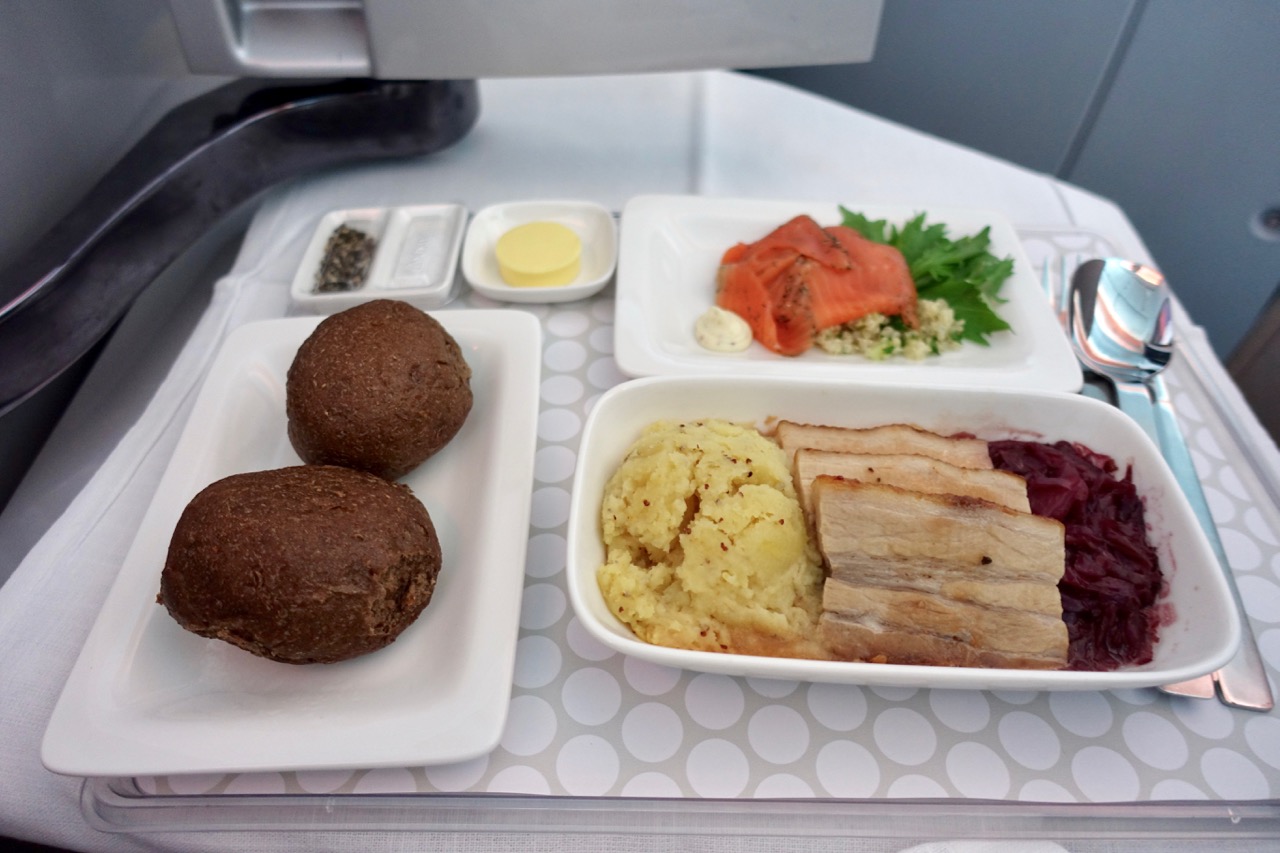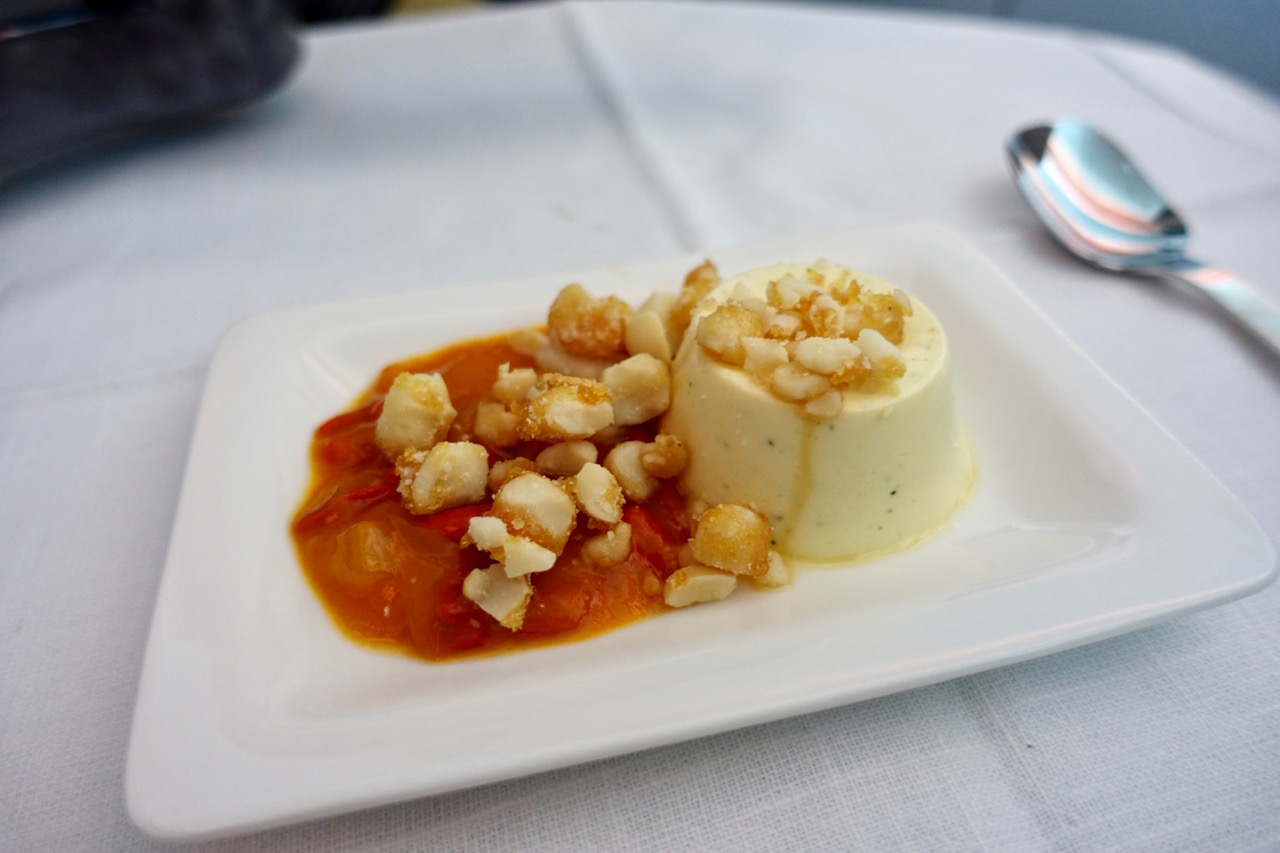 How to redeem points for this flight
The main currencies Kiwis can use for Air NZ flights are Air New Zealand Airpoints, Velocity points, United MileagePlus miles, and KrisFlyer miles.
Here are the required points for a one-way flight in Business Class from Auckland:
Origin
United MileagePlus miles
KrisFlyer miles
Velocity points
Amex Membership Rewards Points
Sydney/Melbourne/Brisbane/Adelaide/Cairns
25,000
17,500 (until 6 December 2017)
28,000 (from 7 December 2017)
35,500
56,000 (transferred to KrisFlyer)
Perth
25,000
17,500 (until 6 December 2017)
28,000 (from 7 December 2017)
49,500
56,000 (transferred to KrisFlyer)
As you can see, United MileagePlus offer much cheaper redemptions on 787 flights between New Zealand and Australia, with Velocity coming in a close second after KrisFlyer have their devaluation in December 2017.
You can use this guide to find out how many points are required for other destinations.
All airlines are prohibited by the New Zealand Government from imposing fuel surcharges, so your departing flight across the Tasman will have lower fees than your flight heading home from Australia.
You can search and book Air New Zealand flights directly through the Velocity Frequent Flyer website, or through United MileagePlus.
Another option is to use Air New Zealand Airpoints Dollars (APD) on a Business Class flight, but as it is a revenue-based program and one-way Business Class fares from Auckland to the East Coast of Australia hover around $900 NZD, you'll need that same amount in APD and that generally does not represent good value.
If you already have a substantial number of Airpoints Dollars, it may be worth using a card like the Air New Zealand Airpoints Mastercard to top-up, at $1 NZD per APD.
American Express Membership Rewards points transfer to Airpoints. However, it makes much more sense to transfer these points to KrisFlyer rather than Airpoints for this redemption.
You would transfer 56,000 Membership Rewards points to 28,000 KrisFlyer miles for this flight, post-devaluation in December 2017 (but you do have the added constraint of having to encounter difficult-to-find award availability).
In contrast, you'd need to transfer around 140,000 Membership Rewards points to 800 Airpoints Dollars for a $900 NZD flight, assuming that around $100 comprises of taxes/fees, with you being unable to use Airpoints Dollars to pay for these.
Read more in our beginner's guides to using your points to get from New Zealand to the Australian East Coast & South Australia and Western Australia.
If you are paying for a flight with cash, you can get cashback by booking through Expedia and Cashrewards.
Lounge access
Access to Air New Zealand lounges is complimentary for any passenger holding a ticket with a same-day Air New Zealand Business Premier ticket.
Air New Zealand operates:
eight international lounges, including in Auckland, Christchurch, Wellington, Nadi, Rarotonga, Sydney, Melbourne, and Brisbane
three domestic lounges in Auckland, Christchurch and Wellington
eleven regional lounges in smaller NZ airports
You can access a full list of Air New Zealand lounges here.
Our other Air New Zealand reviews
Summing up: why choose this flight?
I love trying to find options on Trans-Tasman flights to get out of the standard single-aisle options from Virgin Australia, Qantas or Air New Zealand and onto a long-haul aircraft, when redeeming points for Business Class offers more value.
Air New Zealand's NZ1XX flights are one of the less accessible ways of doing this using points, but if you can find availability, I would not hesitate to use my points for a flight of this length. Air NZ also often have some decent paid fares in Business Class too.
That said, the seat itself is the weak point. It is a little too narrow for my liking – you have to bend yourself like a banana in one direction only if you are a side-sleeper, and there's not much room for your feet, which can get knocked by people moving down the aisle who aren't being careful.
For longer-haul travel, if you are using your own money for Air NZ Business Premier, I would look at the alternatives closely. Their Business Class is not inherently bad, but the competition has improved since it was conceived and introduced and there are more spacious options out there.
Air New Zealand 787 Business Premier overview
was last modified:
January 22nd, 2020
by