I'd imagine that the majority of NZ Qantas frequent flyers usually use their points to redeem award travel for simple one-way or return tickets – to Australia, the United States, Asia or even domestically on Jetstar.
However if you're sitting on a pile of points, there is a great value points redemption that allows for up to 15 flights with Qantas and Oneworld partner airlines – the 'Oneworld Classic Flight Reward' – which can be used for up to 35,000 miles of travel, in Economy, Premium, Business or First Class.
In this guide, we outline how Qantas oneworld Classic Rewards work as a great way to maximise the value of your Qantas Points for round-the-world (RTW) trips.
Do note that these awards do not technically have to go around the world, but this is the most common use for them. See FAQs later on for more information.
You can read our RTW guide using KrisFlyer miles or Velocity points.
So, how do you snag a Oneworld round the world redemption using Qantas Points?
Firstly it's important to understand the basic differences between the Qantas FF reward tables to help us get the best value from your QFF points stash.
The key uses for the Oneworld Classic Flight Reward are to fly:
further (e.g. round the world)
on more carriers
on more flights
compared to redeeming an award using one of the other three tables.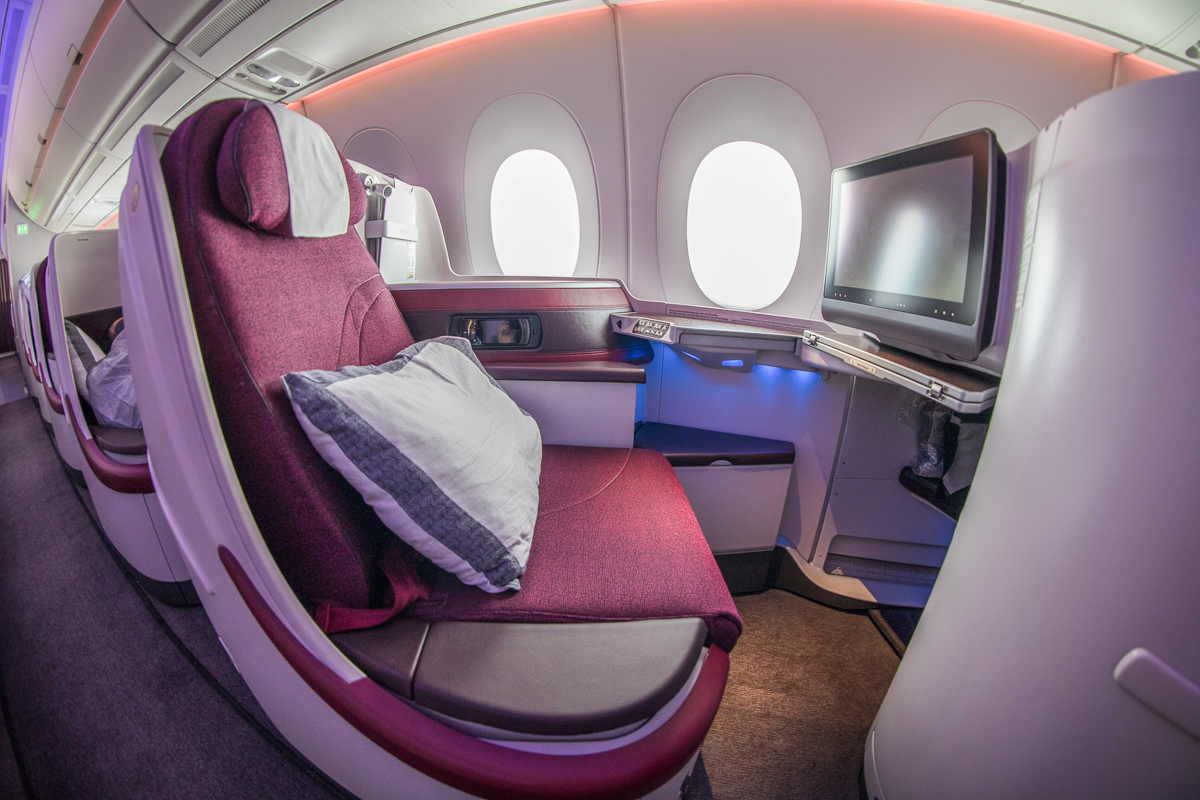 With an extensive network and modern product on its A350, A380 and 787 aircraft, you might aim to include a Qatar Airways Business Class flight as part of your trip
Why are Qantas Oneworld round-the-world redemptions good value?
A round the world itinerary booked via a Oneworld Classic Reward is one of the best ways to maximise the value from your Qantas points.
The RTW ticket allows you to explore the world and stopover in up to five cities over a 12-month period, provided there is award availability and the total distance is kept under 35,000 miles.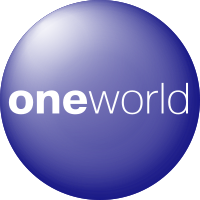 <
p style="text-align: center;">
If you bought a RTW ticket with cash, retail fares usually start from $3,000 in Economy, $11,000 in Business and upwards of $20,000 in First. We know that RTW Business Class itineraries are very popular with couples and with this guide, some of our readers have saved between $20,000-$35,000 in out-of-pocket costs.
With this award, you can choose from over 1,000 destinations in more than 150 countries covered by the oneworld alliance:
American Airlines
British Airways
Cathay Pacific
Finnair
Iberia
Japan Airlines
LATAM
Malaysia Airlines
Qantas
Qatar Airways
Royal Jordanian
S7 Airlines
Sri Lankan Airlines
Emirates is not part of the oneworld alliance and, therefore, cannot be included in this itinerary.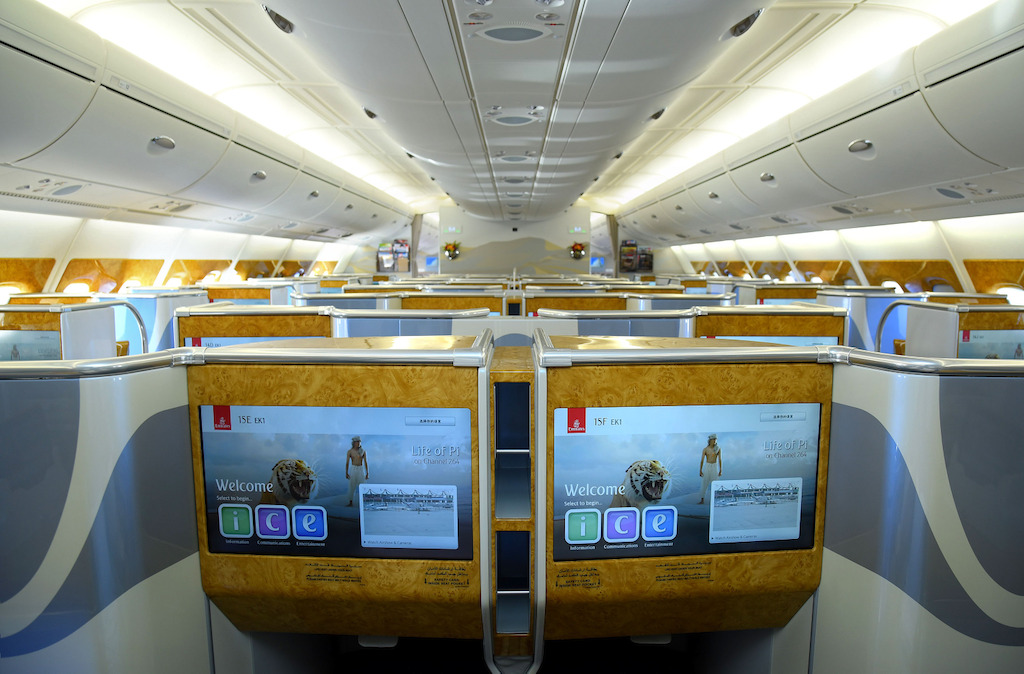 Although its a great airline to fly, you cannot include Emirates flights in this award
Comparing the different long-haul Qantas Point redemption options
If you analyse the table below, you can see that tacking on a significant amount of extra flying comes with only minimal additional points cost.
| Cabin | Auckland to London return on Qantas or Emirates | Auckland to London return on Cathay Pacific | oneworld Classic Flight Reward |
| --- | --- | --- | --- |
| Economy | 120,000 | 150,000 | 140,000 |
| Premium Economy | 192,000 | 225,000 | 210,000 |
| Business Class | 256,000 | 278,000 | 280,000 |
| First Class | 384,000 | 406,000 | 420,000 |
| Miles Travelled | 24,478 (AKL - DXB - LHR return) | 23,302 (AKL - HKG - LHR return) | Between 19,201 and 35,000 |
Say you want to fly return to Europe on Qantas or Emirates (which is a preferred partner). You'll be up for 256,000 points in Business Class or 392,000 in First, plus taxes and fees of $500-1000.
Or you could fly one of their non-preferred oneworld partners like Qatar Airways, Cathay Pacific or British Airways for 278,000 in Business or 406,000 in First.
By comparison, you could fly almost 10,000 miles more (up to 35,000 miles) and have stopovers in five cities for just 2,000 points more in Business Class or 14,000 more in First Class.
If you'd rather use your points for a trip in Economy or Premium Economy, you'll actually save 10-15,000 points by doing a RTW itinerary compared to flying with one of Qantas' non-preferred partners. Crazy, right?
Just note that not all oneworld carriers operate a Premium Economy cabin, so you'd want to target British Airways, Cathay Pacific and Qantas flights. Other flights would be in Economy.
Example: 30,000 miles in Business Class for 280,000 Qantas Points
The following basic Business Class itinerary totals just over 27,000 miles flown, well within the 35,000-mile maximum:
Auckland to Santiago with LATAM
Santiago to New York with LATAM
New York to Madrid with American Airlines
Madrid to London with British Airways
London to Hong Kong with Cathay Pacific
Hong Kong to Auckland with Cathay Pacific
If you want to check the mileage of a range of flights, I recommend inputting the airport codes into Great Circle Mapper to get the total distance, ensuring you are keeping it under the 35,000-mile maximum.
Because the Qantas RTW reward allows you to have up to 15 connections, you do not necessarily have to fly the most direct route, as above. This is handy when there are no seats available on the most direct route and you have to fly to your destination via a different city.
Another benefit is that you can also stop in cities for under 24 hours. As long as it 23 hours and 59 minutes, it is considered a 'transit' rather than a stopover.
The sample itinerary above only has six connections, so let's tweak it slightly and add more connections.
Auckland to Santiago with LATAM
Santiago to New York via Dallas/Fort Worth with American Airlines
New York to Madrid with American Airlines
Madrid to London with British Airways
London to Hong Kong with Cathay Pacific
Hong Kong to Auckland via Singapore and Sydney with Cathay Pacific and Qantas
This sample itinerary now comes in at a little under 30,000 miles.
You don't have to tack on long flights, of course. Adding on a number of smaller flights to reach non-hub cities, if that is where you want to go, is also a very useful way to get value from this award.
How to research and book a Qantas oneworld Classic Flight Reward
Like other award redemptions, seats are subject to availability and there is a decent chance you would not be able to fly on the date you desire, so you need to be flexible on dates and routes (as always when using points to travel).
To kick things off, you can use the qantas.com search engine to find most award availability, with the British Airways search engine providing results for partners like Japan Airlines, which do not show up on the Qantas website. You can read more about searching award space on Qantas partners here.
Once you are ready to book, the simplest way to find reward seats for a RTW itinerary is to search one flight at a time. It can be time-consuming, so have a notepad handy to write down the:
Date of travel (e.g. 4 July 2017)
Departure and arrival cities (Auckland to Hong Kong)
Flight number (CX 198)
Departure and arrival times (2:50 pm – 9:00 pm)
Keep repeating this for each city, bearing in mind that sometimes you might need to connect via an intermediary city.
Then book online through the Qantas website or, if you need help and/or want to book a seat on a partner that doesn't show up on the Qantas website, then call Qantas Frequent Flyer.
Frequently Asked Questions
This guide is one of our most-read on the Australian Point Hacks site, with a long comment thread, so we've picked out the most common questions to save you some time.
Please read carefully to see if your question has already been answered in the FAQ or comments section.
You can also read the detailed Qantas oneworld Classic Flight Reward booking conditions here (see Section 14.5).
Routing
Do I have to go around the world?
No, not necessarily. The award is calculated on total mileage and doesn't have to go in one direction.
Is backtracking permitted?
Technically, yes, however, some phone agents may apply geographical sense to your itinerary and prevent you from doing so. If so, hang up and call back.
Are transit cities calculated in the total mileage?
Yes, so if you are flying from Auckland to Hong Kong via Sydney and Singapore, you will need to include the three segments, not the direct distance between Auckland and Hong Kong.
Are surface sectors counted?
Yes. A surface sector is when you fly into one airport, make your way on the ground (or a cheap airfare) to another airport to fly out of. For example, if you fly into Berlin, catch a bus to Paris, and fly out of Paris, then the mileage between Berlin and Paris will be calculated as part of this award.
Do I need to return to the same airport?
Yes. If you are flying out of Auckland on a RTW trip, you need to return to Auckland at the end of it.
Can I travel more than 35,000 miles?
No. Once you go even one mile more, it will recalculate as separate awards and be much more expensive.
Pricing
How do I add segments?
You can add segments for most airline partners (except Japan Airlines) online, but note that you'll be charged a 5,000-point change fee each time you alter your itinerary, so try to lock down as many flights and dates as you can at the start.
If you need to phone the call centre to make a change and are flying in Economy or Premium Economy, you'll be charged an extra 8000-point service fee. Premium cabins do not attract this fee.
Can I mix cabins, e.g. fly Business Class for most segments and First Class for one or two?
The award is calculated on the rate for the highest cabin, which means that even if you have one First Class flight and the rest are in Business, you will be charged 420,000 points instead of 280,000. This means you're best to stick to the same cabin the whole way.
How are infant and child fares calculated?
If you have a child under two years of age, then you just pay the taxes, no points. If a child is two years of age or older, then they are charged the full adult rate for points redemptions.
Why should I avoid flying British Airways?
Because they charge high fuel surcharges. Read more in our guide to airlines and frequent flyer programs that charge the lowest fuel surcharges.
Why should I avoid flying out of the UK?
Because departing flights from the UK are charged the Air Passenger Duty. However, if your transit through the UK is less than 24 hours, then your departing flight won't be charged the APD.
Read more in our guide to cities and countries to aim for to minimise taxes and fees.
Booking
Can I book this award online?
Yes, you can, and we recommend it. Remember to use the multi-city search tool on the Qantas website, not the round-the-world tool on the oneworld website.
The only exception is that if you include Japan Airlines in your itinerary, you'll need to phone Qantas. And be prepared for potential long wait times.
Can I include Emirates in my itinerary?
No, Emirates is not part of the oneworld alliance, therefore it is not eligible for this award.
Can I include Jetstar in my itinerary?
Qantas flights operated by Jetstar Airlines (JQ, 3K, GK or BL) cannot be included in oneworld Classic Flight Rewards.
What should I do if the phone agent doesn't seem to know what they're doing?
Hang up and call back.
Summing up
Qantas oneworld Classic Flight Rewards require a lot of points comparatively to redeem simple one-way redemptions but you can get a hell of a lot of travel squeezed into one itinerary.
You'll be able to see at least five cities and, if you're clever, add overnight stops of up to 24 hours in connecting cities too.
Just remember to keep your total distance flown to under 35,000 miles and try to book as many of the flights as you can at the start so you're not slugged with change and service fees.
Have you successfully redeemed your Qantas Points for a RTW award and, if so, where did you go?
How to fly around the world in Business Class for 280,000 Qantas Points with the oneworld classic award
was last modified:
January 6th, 2018
by