As one of the most competitive international aviation markets, you have a plethora of options to fly between the East Coast of the US and Europe.
In this guide, we cover which airlines and routes you can use with your Qantas Points and Asia Miles, how much they cost in Business and First Class, how to search and book these awards, and our tips to get the best-value redemption.
We've previously reviewed this American Airlines flight from New York JFK to London Heathrow as an example of how to use points between the two continents.
Airlines and key routes that can be used with Qantas and Asia Miles partners
For the purpose of simplicity, we have chosen five major airports on the US East Coast to make comparisons, those being New York, Boston, Washington DC, Miami and Orlando. You may consider other East Coast hubs like Philadelphia and Charlotte (where American Airlines has a significant presence).
American Airlines has the most flights of any oneworld carrier between the US East Coast and Europe, flying from its hubs in New York JFK and Miami to London, Edinburgh, Manchester, Paris, Rome, Milan, Barcelona, Madrid, Dublin and Zurich.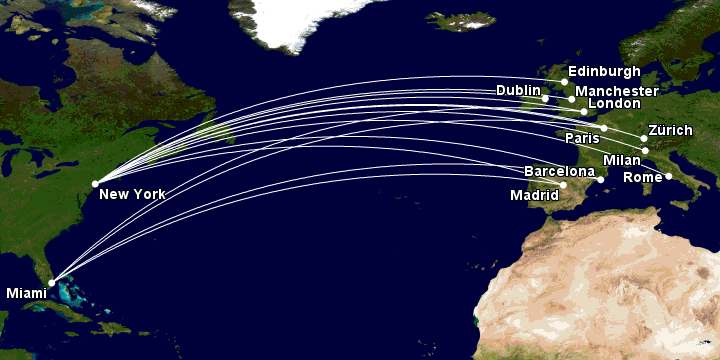 British Airways flies its A380 between London and JFK and Miami, as well as servicing Boston, Washington DC and Orlando, and Iberia flies between Madrid and JFK, Boston and Miami.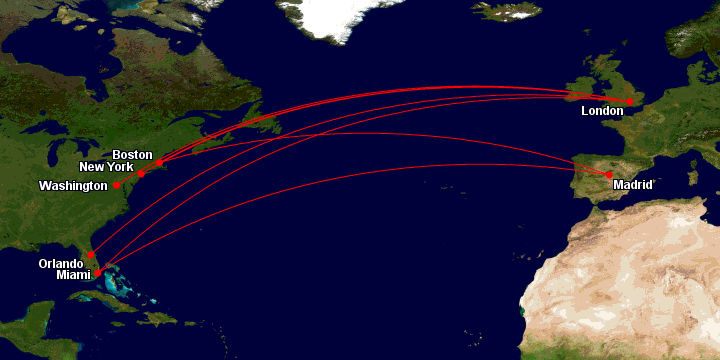 Aer Lingus flies from its main hub in Dublin and secondary hub in Shannon to New York JFK, Newark, Boston and Orlando, with Finnair flying from its hub in Helsinki to JFK and Miami. Emirates operates an A380 flight between JFK and Milan as a fifth freedom route.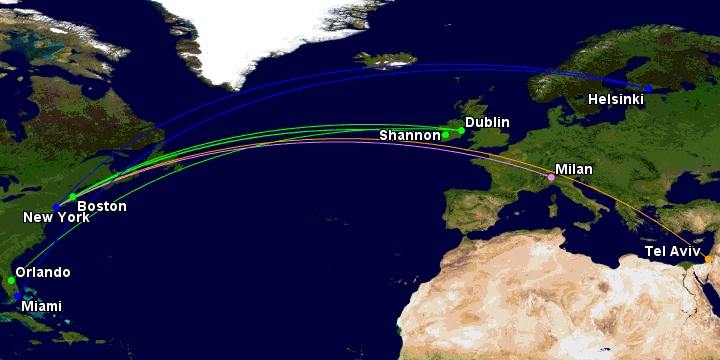 EL AL also flies between New York and Tel Aviv, but you can only redeem your Qantas Points for Economy Class seats, so we have omitted it from the following results.
Pricing: Asia Miles is cheaper than Qantas Frequent Flyer
Asia Miles
Let's start with the simpler program.
Most awards between the East Coast of the US and Europe on the carriers mapped above cost 50,000 Asia Miles for a one-way Business ticket or 75,000 in First.
The only exception to this is the longer Finnair Helsinki-Miami flight, which costs 67,500/110,000, not representing good value at all compared to other awards between these regions.
On a point-by-point basis, Asia Miles is cheaper for all routes compared to Qantas Frequent Flyer.
Note that Emirates flights can only be redeemed through Qantas Frequent Flyer, not Asia Miles.
Qantas Frequent Flyer
For Asia Miles' (basically) one zone for Transatlantic flights, Qantas has three, so there are some different scenarios. Here are some of the most common for our readers:
From New York
To the UK, Ireland or Madrid: 53,000 points in Business/78,000 in First (slightly less at 50,000/75,000 on preferred partner American Airlines flights)
To the rest of Europe: 65,000/96,000 (60,000/90,000 on AA)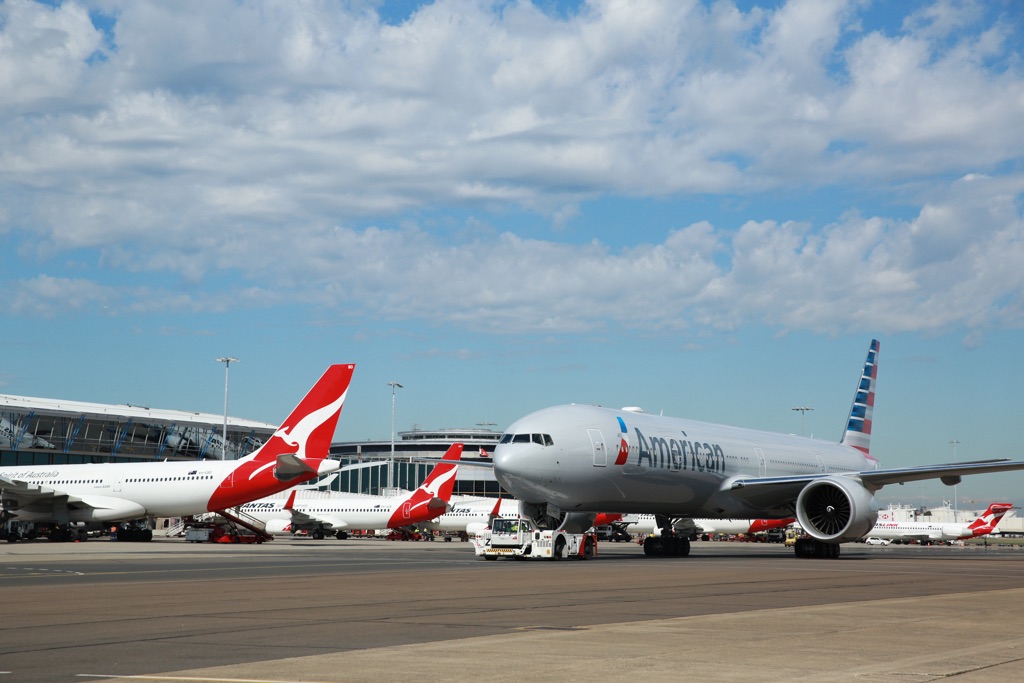 Redeeming Qantas Points for AA flights is slightly cheaper as AA is a preferred partner of Qantas
A First Class Suite on the Emirates A380 between New York and Milan will cost you 90,000 Qantas Points (or 60,000 in Business) or between New York and Athens from 108,000 Qantas Points (or 72,000 in Business).
Compare this to the 54,000 points it costs to fly the A380 between Christchurch and Sydney, which is at maximum a four-hour flight, with the Milan-JFK flight clocking in at nearly nine hours (more than double the Trans-Tasman flights) for less than 2x the price. This represents great value.

Emirates A380
From Miami
To the UK, Ireland, Paris, Düsseldorf, Spain: 65,000/96,000 (60,000/90,000 on AA)
To the rest of Europe: 78,000/114,000 (72,000/108,000 on AA)
How to search and book
To search for award availability, use qantas.com to search for availability mainly on its preferred partners like American Airlines, British Airways and Emirates (but you may still find flights on other carriers), and use British Airways to search for the rest.
For redemptions through Asia Miles, you can redeem your miles for British Airways and Finnair through the online booking service and for all others by filling out this form.
For redemptions through Qantas Frequent Flyer, if you can find availability through its search function, then you can book that flight online.
You can read more in our guide to using Qantas Points for flights with Qantas' partners.
Our tips to get the best value from your points
Reduce fuel surcharges
Avoid British Airways redemptions as they charge high fuel surcharges
Conversely, American Airlines offers some of the lowest fuel surcharges
If flying westward from Europe to the US, you may want to avoid the UK's departure tax of £146 for Business and First Class tickets (half of that for Economy Class) by choosing to leave from a different airport like Paris or Dublin. If flying from the US into the UK, you will not be charged this departure tax.
The best Business Class products
Most of the American Airlines Transatlantic flights are now on the 777 fleet, with lie-flat seats. Be sure to check the seat map on SeatGuru to avoid getting an angled-flat seat on an older 757 or 767. Aside: I flew from Chicago to London with AA on a 757 in May 2017 and it felt like I had been transported to the 1980s
Finnair has upgraded its Business Class product on its A330 flights between Helsinki and New York/Miami, with lie-flat seats in either a 2-2-2 or staggered 2-2-1/1-2-1 configuration
Most of Aer Lingus' flights from Dublin are also on an updated A330 in a staggered 2-2-1/1-2-1 configuration, with the remaining flights from Dublin and Shannon on Boeing 757s. Both aircraft have lie-flat seats in Business Class
The best-value First Class flight
The Emirates A380 flight between New York and Milan represents great value in First Class for 90,000, with an onboard shower and bar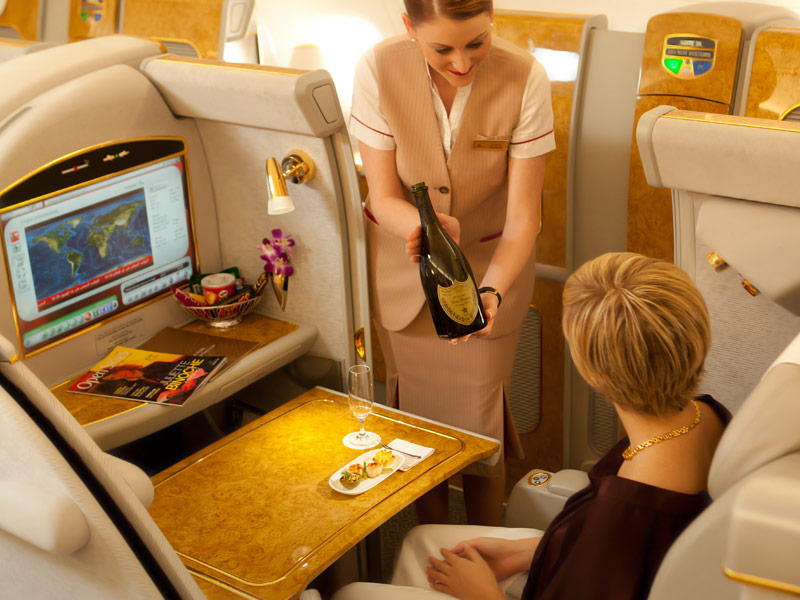 First Class Suite on the Emirates A380. Photo courtesy of Emirates.
Lounges
Aer Lingus has new departure lounges in Dublin and New York, plus if you fly from Dublin (or Shannon for that matter), you will pass through US immigration and customs before boarding, meaning you arrive in the US effectively on a domestic flight, saving you time on the other end
The only notable lounge on the US side of things is the American Express Centurion Lounge in Miami, which offers free access to Amex Platinum Charge and Centurion cardholders, and costs $50 USD for other Amex cardholders, regardless of which carrier or cabin you are flying. It also has complimentary spa treatments. You can read more in our American Express Lounge network guide.
The only notable lounge on the European side is the American Airlines Arrivals Lounge in London Heathrow Terminal 3, offering an excellent English breakfast and great showers.
Summing up
With most flights between the East Coast of the US and Europe running between 6 (Boston to Shannon) and 11 hours (Miami to Helsinki), choosing the best-value redemption in Business or First Class using your Asia Miles or Qantas FF points is essential.
If you have access to Asia Miles, then this will offer you the lowest-cost redemptions on oneworld carriers. Try to choose an American Airlines, Aer Lingus, or Finnair flight, making sure that you get a lie-flat seat to increase comfort.
Avoiding flying on British Airways (and Iberia to a lesser extent) will reduce your fuel surcharges and, likewise, avoiding departing from the UK will avoid its high departure tax, especially on premium cabins.
Lounge access on oneworld carriers on the Transatlantic hop is much of a muchness (excluding British Airways, which has great Concorde Rooms at Heathrow and JFK for First Class passengers, but then you have to contend with high fuel surcharges).
Finally, if the routing is convenient for you, the Emirates A380 flight between New York and Milan is a great-value redemption using Qantas Points.
How to use Qantas Points or Asia Miles for US East Coast & Europe flights
was last modified:
August 22nd, 2018
by