Qantas have quietly announced the launch of six new routes over the past month, increasing their already expansive global reach.
Continual route expansion by Qantas obviously benefits us here in New Zealand, through providing increased connectivity to our friends and family in Australia, and also giving access to some international destinations that cannot be reached directly from home.
This guide looks at where these routes go to, what airline product you can expect if flying them, and points pricing.
What are the routes?
Qantas have announced three new Australian domestic routes:
Adelaide – Uluru
Darwin – Uluru
Sydney – Bendigo
and three new international routes:
Sydney – Nadi (Fiji)
Cairns – Port Moresby (Papua New Guinea)
Sydney – Sapporo (Japan; seasonal)
What in-flight product can I expect?
On flights between from Adelaide and Darwin to Uluru, and from Sydney to Nadi, you can expect to experience Qantas' 737-800 Business Class recliner seats, which is a perfectly acceptable product for flights of this duration.
Qantas 737-800 Business Class
If you're flying to the ski slopes in Sapporo, you can enjoy Qantas' upgraded Airbus A330 aircraft, and their self-proclaimed 'mini-suite' Business Class.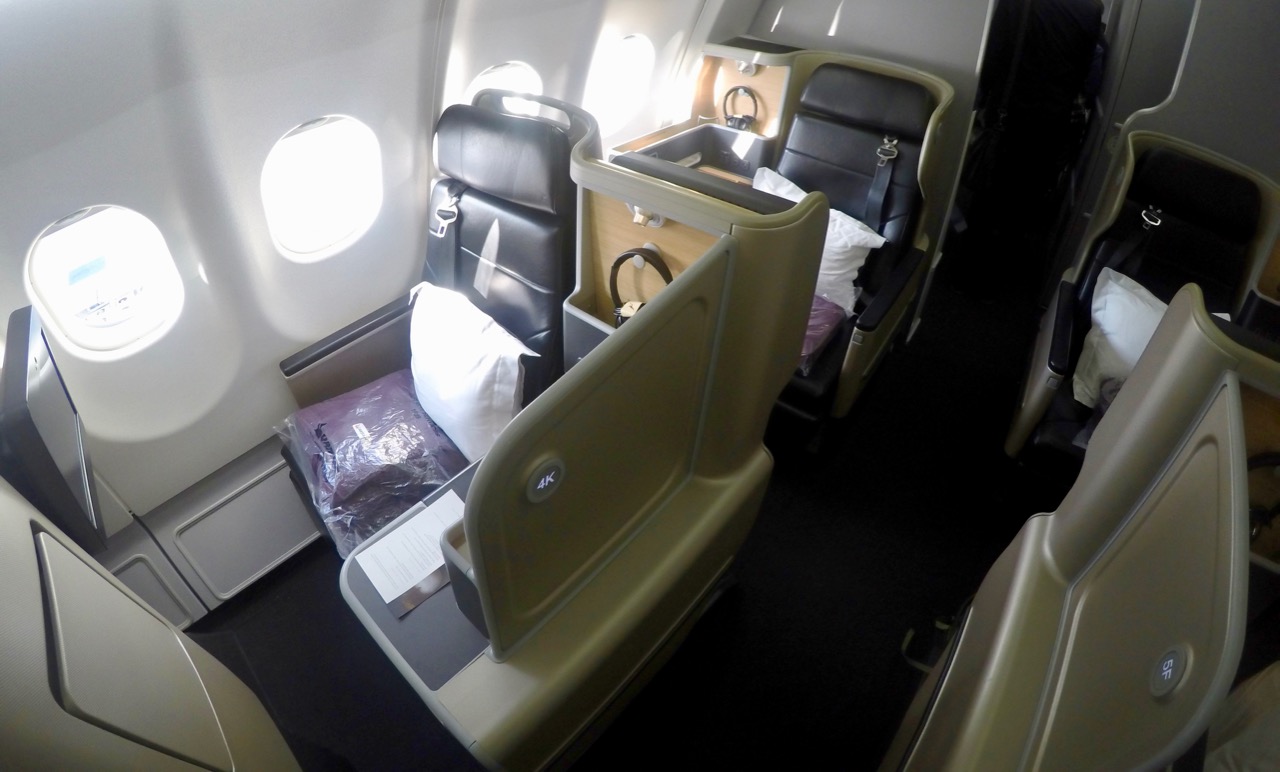 Qantas A330-300 Business Class
Flying to Bendigo or Port Moresby? Then you're out of luck, as the Q300 and Q400 aircraft respectively that fly these routes from Sydney and Cairns only offer Economy Class.
But hey, if everyone is in Economy, then no one is missing out!
Qantas Dash-8 Upgraded Interior
Right, so how much for an award redemption?
We are glad you asked – the table below lists the current points pricing with the main frequent flyer programmes accessible to us here in New Zealand, along with the cheapest revenue cost of the same flights found at time of writing through searching across the calendar on Google Flights.
Route
One-way
Economy Price
One-way
Business Price
Qantas Points
& Emirates Skywards
Asia Miles
AAdvantage
Alaska Mileage Plan
Economy / Business
Adelaide- Uluru
$458
$1,613
12,000 / 24,000
15,000 / 30,000
10,000 / 20,000
12,500 / 20,000
Darwin - Uluru
$396
$1,292
Sydney-Bendigo
$209
N/A
8,000 / NA
10,000 / NA
Cairns - Port Moresby
$296
N/A
15,000 / 30,000
N/A
Sydney - Nadi
$361
$1,330
18,000 / 36,000
15,000 / 30,000
Sydney - Sapporo
$881
$3,663
35,000 / 72,000
35,000 / 70,000
30,000 / 40,000
Fare prices found on 18 April 2019
There appears to be plenty of Business Class award seats available on flights to Uluru and Nadi.
I expect award availability on the Sapporo route to disappear quickly, though at time of writing, I did manage to find decent availability on the route in January 2020:
Summing up
I always find the launch of new airline routes exciting, as it helps to expand the possibilities on where I can visit using my frequent flyer points.
As an Australian expat, I still have a lot of respect and loyalty for the Qantas group, so I am particularly fond of watching their growth and expansion.
I will also look to do similar guides for the other major airlines that fly to and from New Zealand, including Air New Zealand and Virgin Australia.
Featured image courtesy of QantasLink
Qantas have been busy – six new routes announced
was last modified:
April 26th, 2019
by