Qantas are taking their battle for frequent flyers with Air New Zealand to consumers by hooking up with Electricity provider Meridian Energy.
Qantas and Meridian have announced a joint promotion where new customers who sign up between 10 May – 31 July with Meridian Energy to provide their residential power supply will receive a one off allowance of 10,000 Qantas Points.
This is an interesting promotion as Qantas has successfully expanded its New Zealand domestic market share thanks to their subsidiary Jetstar, but apart from the roll out of a NZ version of their Qantas Cash debit travel card, I wouldn't say they have actively targeted any consumer partners in NZ to help promote their frequent flyer loyalty programme yet.

It's a neat move from Qantas and Meridian that will help promote both companies. There are a number of discount promotions out there, attempting to entice people to switch electricity providers but this may be seen as more valuable to those who are chasing Qantas points for a high value redemption.
Already a Meridian Customer
Feeling left out because you are an existing customer, and therefore ineligible for the promotion? They haven't totally left you out either.
As part of the promotion Qantas and Meridian have also set up a competition for existing Meridian customers, where 10 lucky winners will each receive 20,000 Qantas Points.
To enter all you have to do is look up your Meridian account number, grab your Qantas Frequent Flyer number, and complete the online form.
Qantas Frequent Flyer
Frequent Flyer is the loyalty programme for Australian International Airline Qantas. As well as earning frequent flyer points from flying with Qantas, or Jetstar, points earning opportunities are possible when flying with Qantas' OneWorld or strategic partner airlines.
Other point's collection avenues include, bookings with hotel, rental car, and a number of other travel partners, not to mention collecting points for overseas purchases made with the Qantas Cash Card.
Qantas Frequent Flyer points can be redeemed for award flights with Qantas and Jetstar, and/or any other oneworld or strategic airline partner. Check out the Qantas flight redemption tables here for inspiration on where you could go, then follow us at Pointhacks to be kept in the loop on other points/miles earning opportunities.
Meridian Energy
Meridian Energy are a New Zealand owned electricity generator, and retail power supplier. 100% of Meridians electricity generation comes from renewable resources, i.e. hydro-power stations and wind generation farms.
Interested to know more
Considering switching power suppliers and think this could be the deal for you? But not sure if Meridian will provide you with a better rate than your current provider, check out the NZ Electricity Authority's website, What's my Number, and their on-line calculator can help you to work it out.
Be aware however, that this deal is only available for residential Fixed Rate or Variable Pricing Plans. Make sure you are comparing the right deal before you jump in, remember the promotion runs until 31 July, so there's no rush with this one.
Summing up – My 10 watts worth
The fight for our airline loyalty has begun to heat up this year. Qantas partner American Airlines, and Air NZ Star Alliance partner United are both set to commence direct flights from Auckland to the US mainland from June this year, so it's only likely to get hotter as they try and get bums on seats. That's great for consumers.
Similarly the battle between local electricity providers has also been generating some valuable incentives to switch as of late.
I see this deal as a logical step for both Qantas and Meridian, Qantas want to entice disenfranchised Air NZ flyers over to see if the grass is greener on the other side of the fence, and Meridian want to stand out from the pack by offering prospective customers an incentive none off their competition can provide.
The only disappointment I hold with this promotion, would have to be the lack of any ongoing points earning opportunity between the two partners. While the 10,000 point sign up bonus is of value in itself, an ongoing earning hook-up would have made it more enticing for me.
If you're already an existing customer with Meridian but been thinking of switching, you might consider waiting until after the competition promotion, 20,000 Qantas points could make quite a nice parting gift.
Either way if you want more information on the promotion, you can check out a list of frequently asked questions provide by Meridian here, and the official terms and conditions of the promotion here.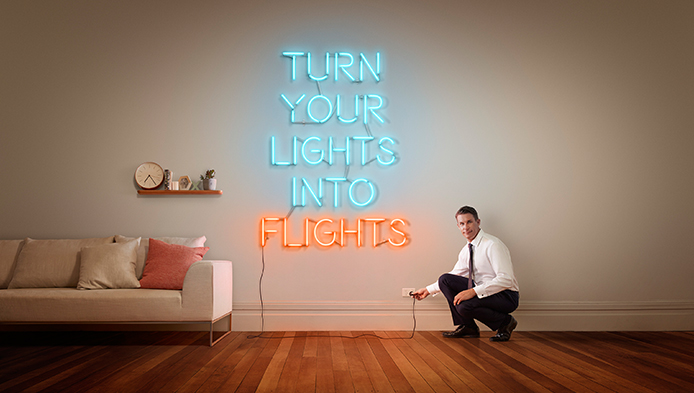 Points with Power – Meridian Energy offering 10,000 Qantas Frequent Flyer Points for new energy customers
was last modified:
May 27th, 2016
by