Point Hacks NZ was launched a few months ago in December 2015 to try and better serve the NZ points enthusiast with tips, guides and flight and credit card reviews – just like Point Hacks Australia.
It was a slow start, and as I suspected when I launched it, to support the NZ site properly we should have someone who knows the market, can spot a deal, and can really focus on helping the most people in New Zealand out.
This is where Clayton comes in, and I'm excited to have him bring more New Zealand points deals to you over the coming months.
— Keith, Point Hacks founder


Image above – Clayton, scruffy and waiting for his Beer in Vietnam 2014
What's your background, Clayton?
Born, bred and resident in Auckland (there actually isn't many of us) I have 3 kids – Jade 23, Nikita, 16 and Blake, 14.
I was self employed since the age of 18, that all changed 5 years ago when I decided to chuck it in and complete a double Diploma in Construction Management & Quantity Surveying full-time. After the first this changed to part-time when I was offered a Project Managers role with an Australasian property services company.
At the beginning of last year I resigned from the position and returned to full-time study to complete both Diplomas along with taking up the second year in a Bachelor of Construction. During the year I was offered first a tutorial assistant role then a part-time lecturing position which I am continuing with this year while completing the third year of the Degree.
I am also currently renovating my house which along with kids, study, lecturing and Point Hacks makes for a fairly busy life – but I'll always find time to travel, and hey you only live once!
How did you become involved with rewards points and Point Hacks?
I live a fair distance from where I study and after having spent 25 years stuck in Auckland's traffic congestion I committed myself to making the journey by ferry and train. Something that a number of people would shudder at the thought of even considering, however I can testify to the improvement in Auckland's public transport system compared with the dark old days of Diesel trains.
This freedom provided by public transport gave me the opportunity to read the news, research travel deals, drink lots of coffee, during which I discovered and became addicted to Point Hacks in Australia, along with the coffee.  I had always been interested in travel and reward programmes, however not having a job which afforded me constant travel around the country meant my earning potential always seemed limited to credit card spend along with the occasional holiday flight.
During the year I was able to use the information gained to open  frequent flyer memberships with most airlines around Asia/Pacific and understand better how to capitalise on the opportunities they can provide to access points for reward travel from NZ.
Toward the end of last year I read that Keith had decided to expand the concept to Pointhacks.co.nz. I was instantly intrigued, after spending the last year obsessed telling my girlfriend that we should have a resource like this in NZ, here it was.
I knew I had to get involved – and here I am. If you had told me at the beginning of last year that within a year I would be lecturing and writing for a travel blog I would have laughed you out of town.
What kind of travel do you enjoy?
I'll go pretty much anywhere, anyhow. Mostly though, I enjoy travelling to places outside the resort destinations. Somewhere there's a bit of adventure, lots of locals and not too many suitcase tourists.
South East Asia would have to be my favourite destination in the world. I love the people, the food, the beaches.
My most memorable and challenging trip would have to be 10 years ago, taking my kids backpacking across Cambodia and Thailand. They were 14, 6 & 4 at the time so I spent over a year researching and planning for every contingency, every obstacle, every scam we may encounter along the way. I'm happy to say it was a great adventure for all the family where we got to see so much including the impressive Angkor temples.
Travelling on local transport and night trains we got to meet a lot of locals, many of which particularly in Cambodia at the time had never seem small white kids before. They would always rush to lend a hand and even give up their seat so the kids could drop their packs and sit down, quite an eyeopener compared to travelling in western countries.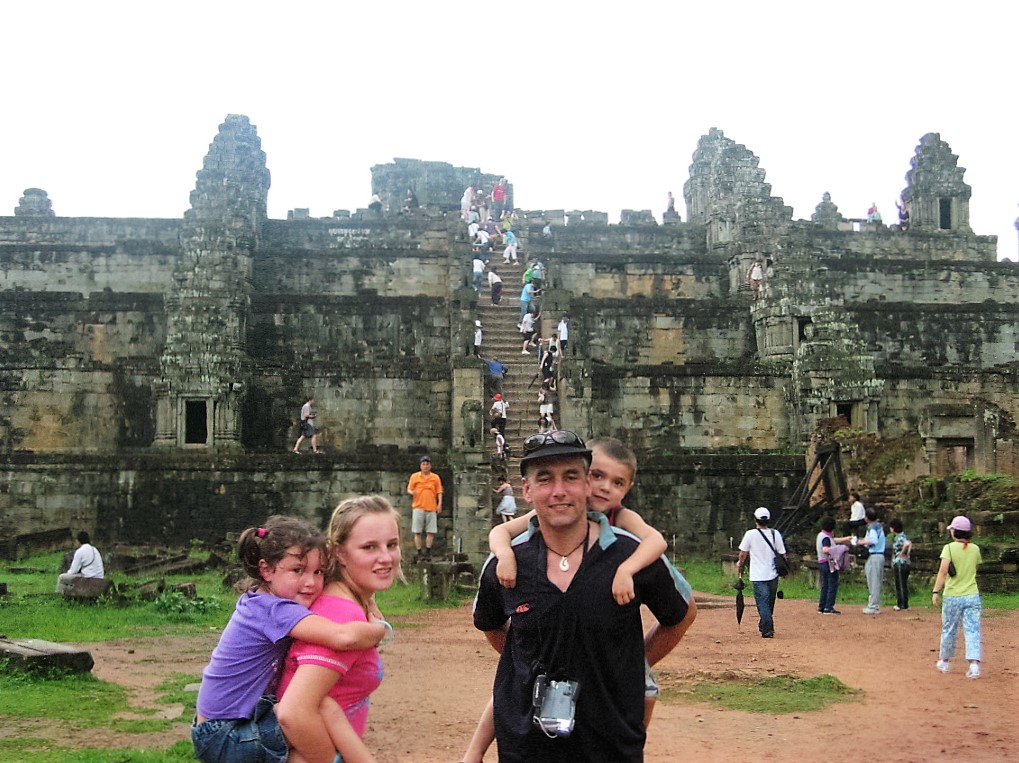 Siem Reap Cambodia 2006 with my kids
My current travel plans involve mostly low key travel destinations but down the track when I have time I want to backpack through Laos, Myanmar, Bangladesh and Nepal. Would also love to spend time in the middle east particularly Jerusalem and Iran
The big one – Air New Zealand and Airpoints, or Qantas and Qantas Frequent Flyer?
Well being a born and bred Kiwi, like most I naturally grew up with an unhealthy allegiance to only flying the Koru. I never flew enough to aim for status and back in the days when they had a good rewards programme I collected my points through Amex spend transferred to my Air NZ account.
I do still always enjoy flying Air NZ occasionally and they have a great cabin staff, however unless you fly for work or long distances in business it's almost impossible to get status recognition.
That's not to mention their odd system where you have to pay market price for a reward ticket with Airpoints dollars, but don't earn status credits with the flight.
These days  I base my decision on where I'll get the best value from.I have the experience of flying different airlines around the world (some great and some definitely not), increased local competition, and the ease of accessing information on the internet..
For the first time I'm actually chasing status on Qantas. I had a trip to Thailand last year with Qantas and after reading Point Hacks, I decided to use the trip as foundation for making Silver – only the first tier, but it's a start.
We had a few other flights in the pipeline which were channeled through Qantas and I'm happy that we will make the target with an upcoming return Auckland Sydney flight in LAN Business Class, where the flights are not much more than standard economy with most Trans-Tasman competition.
I also have a Qantas Club membership which was offered to me at a discounted rate prior to last years trip to Thailand. Being able to take my partner and kids into the Qantas Clubs with me I have already paid off the cost more than twice in the time I've had it.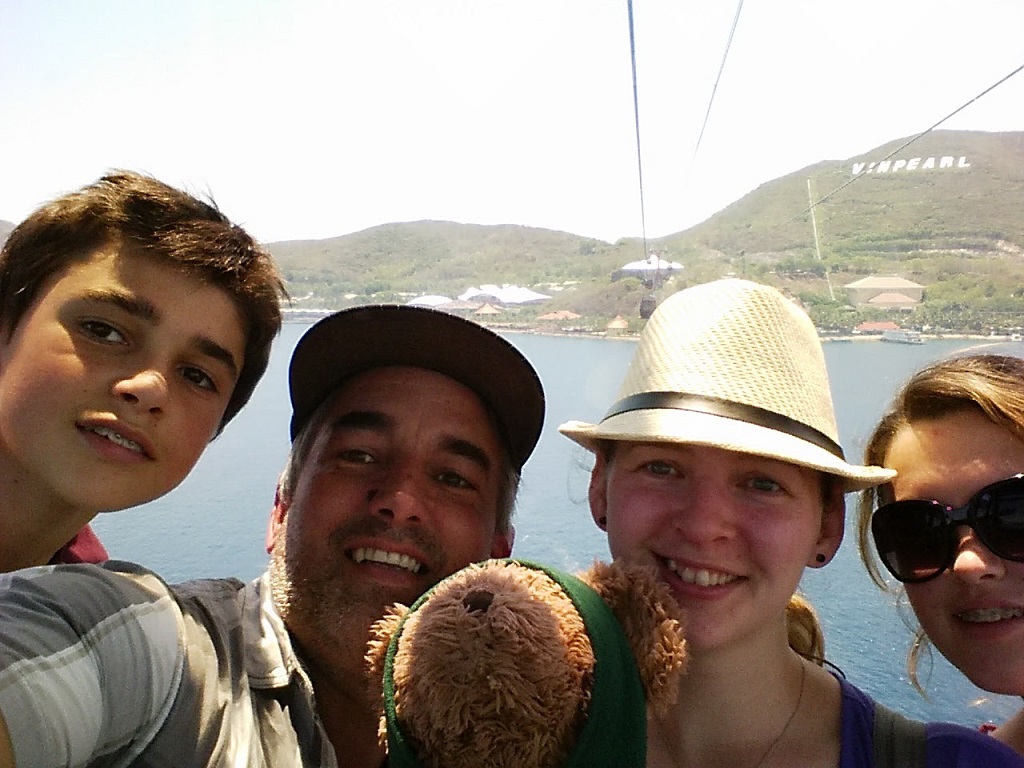 Cable car to Vinpearland Nha Trang, Vietnam with my partner and 2 youngest kids (The Bear? that's Chuck he goes everywhere)
What do you hope to bring to Point Hacks?
I am extremely excited to be involved in the infancy and growth of pointhacks.co.nz. Working with Keith, adding value as much I can and learning more from all the talented PH community is my main goal for the next few months.
I've learnt a lot in the last year, not just about points earning opportunities but also sadly sometimes how little there are in NZ compared with Australia, I'd like to change that. There are however deals to be found out there with other airlines that we can leverage off from here if you keep an eye out and know where to look.
Utilising good bonus promotions in the right way even with rental cars for domestic travel can net you a nice chunk of points for something you were planning on doing or buying anyway.
I want to show Kiwis that you don't have to be a fat cat flying business for work to get rewarded or be receive recognition. My wish would be that from highlighting the good value vs bad value opportunities that are available in NZ it might create more and encourage some of the providers to lift their game.
Dreaming? Maybe, but sometimes there's nothing like a little extra positive spotlight on your competition to ignite a fire under your backside.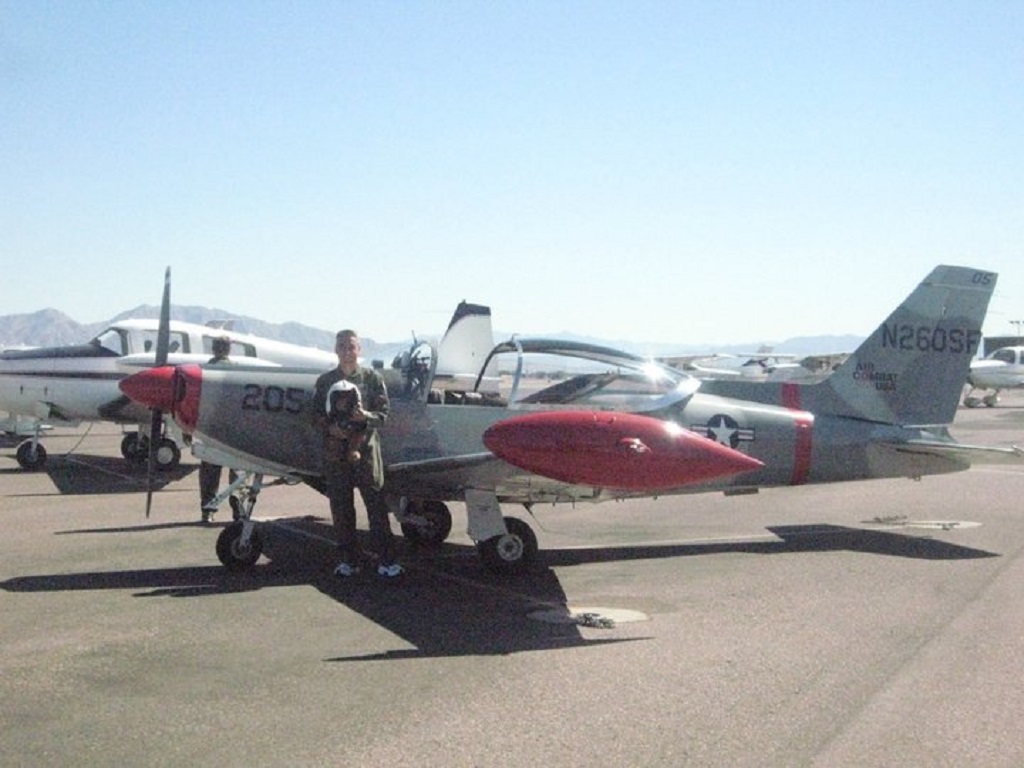 MY 40th Birthday in Vegas about to go up for a mock dogfight against a yank in an old US airforce training jet (I won by the way 🙂 )
So tune in, become a regular, join the community – it could lead to great things!
Meet Clayton, new Point Hacks New Zealand Editor!
was last modified:
February 12th, 2016
by