Marriott is the largest hotel chain in the world, with a global reach of 6,500 hotels across a range of brands.
The recently completed merger with Starwood has led to the amalgamation of the SPG and Marriott Rewards programs – at least on the back-end. While the final name of this program has not yet been revealed, we will in the interim call it 'Marriott Rewards' for simplicity. Final branding is expected to be revealed in early 2019.
Marriott points are one of the few hotel currencies that are available from credit card spend in New Zealand.
This guide goes over the basics of the program, including hotel locations, status benefits, how to get free status, and the basics of earning and redeeming points.
Featured photo is the St Regis Bora Bora Resort.
But… my account is still branded SPG or Ritz-Carlton Rewards?
Yes – the program is still very a little confusing. Marriott have in part kept intact legacy SPG and Ritz-Carlton memberships, at least on the front-end. However regardless of the 'brand' that your membership is under, it is now for all intents and purposes a 'Marriott' membership, with the same earn rates, status benefits, and membership functions. To keep things easy in the interim, we recommend merging your accounts and acquiring a single membership number.
Locations
Marriott have 22 properties in Australasia. The group includes legacy Marriott properties, plus those from SPG and Ritz-Carlton – you'll likely be familiar with brands such as Westin, Four Points by Sheraton, and Courtyard.
One of these is in New Zealand – the Four Points by Sheraton Auckland.
Check out our separate guide with a more complete list of hotel options across Australia and the Pacific Islands.
Status
Marriott offers six status tiers in the following order (from lowest to highest): Member, Silver, Gold Elite, Platinum Elite, Platinum Elite Premier, and Platinum Premier Elite with Ambassador.
A comprehensive table of benefits for each membership tier can be found here.
It's worth it to join the program just to get free internet, discounted member rates, and the ability to earn hotel or airline points.
Get status with the American Express Platinum Charge
You'll automatically get 'Starwood Preferred Guest Gold Elite Status' if you are an American Express Platinum Charge cardholder. Despite the current retention of SPG branding, this is simply 'Gold Elite' status with the entire Marriott group.
Earning Marriott Rewards points
Staying at Marriott hotels
The standard earn rate at Marriott properties is 10 Marriott points per US dollar spent on stays and food.
At Element, Residence Inn and TownePlace Suites hotels, which are mostly located in the US, you'll earn 5 points per eligible US dollar spent.
If you have the American Express Platinum Card, you'll earn 25% more points on every eligible hotel purchase, including on room rate and other incidentals that can be charged to your room, such as dining and spa, thanks to complimentary Gold Elite status.
Have a read of our full guide on hotel redemption options in New Zealand, Australia, and the Pacific Islands.
Car Hire with Hertz
Marriott have a partnership with Hertz that allows you to earn points on all Hertz car rentals, at the following rates:
2-4 days: 2,000 points
5 days or more: 3,000 points
You can book via this dedicated booking portal.
Travelling Connect
You can earn up to 10 Marriott points per minute of call time abroad with participating networks in Europe, the Middle East, Africa, America and Asia.
Your choice – earn frequent flyer points instead of Marriott points
You can choose to earn either Marriott points, or frequent flyer points with your preferred airline program. Simply login and update your profile to choose your preferred earning option.
A full list of frequent flyer partners and earn rates can be found here. All the programs of value to us in New Zealand are present, including Airpoints, Qantas, Virgin Velocity, KrisFlyer, and Asia Miles.
Remember – it is usually better value to earn Marriott points and then transfer to one of these frequent flyer partners. However you will require a minimum of 3,000 points before you can initiate a transfer.
If your stay at a Marriott property looks to be a one-off, you may be better off opting to earn frequent flyer points so you do not end up with a Marriott balance that you cannot use.
Credit card transfer partners
If you have an American Express Membership Rewards card, you can transfer points to the Marriott/SPG program in increments of 330 points at a 1:1 ratio. The online portal still shows the partner as 'Starwood' and the currency as 'Starpoints' though for all intents and purposes, the points are now treated the same amongst the entire Marriott group.
If you have merged your legacy SPG and Marriott memberships, and received a new membership number, be sure to add this new 'Partner Account Number' to Membership Rewards prior to initiating a transferring – otherwise your Membership Rewards Points could become lost in the ether if tied to an older number.
Be sure to add your new account number to replace any existing one shown here
Buying points
Points promotions from SPG used to be wonderful, and represented great value for topping up either for specific stay redemptions, or for transfers to one of their many frequent flyer programs.
It is yet to be seen whether Marriott will continue with SPG's legacy of running great promotions for buying points.
You can purchase a maximum of 50,000 Marriott Rewards points before bonuses each calendar year.
Points cost US$12.50 per 1,000.
If you're a new member, there is a waiting period for buying points of either:
30 days after enrolment if your account reflects activity (a hotel stay or earning of points through a Marriott partner); or
90 days with no account activity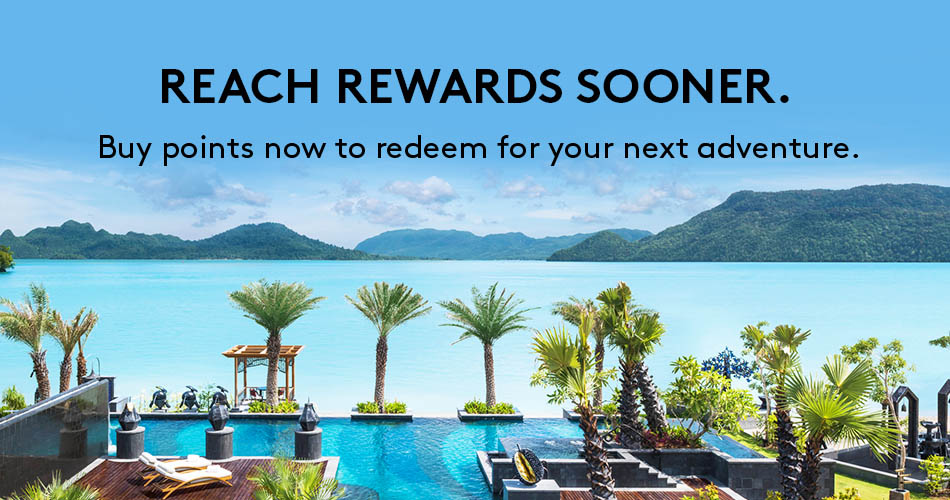 Redeeming Marriott Rewards points
Here are the ways in which you can use your Marriott points:
Here is a full list of airline transfer partners, including many which are otherwise inaccessible to New Zealand points collectors:
| Frequent Flyer Programs | Exchange Ratio - Marriott Points : Airline Miles |
| --- | --- |
| Aegean Airlines | 3:1 |
| Aeroflot Bonus | 3:1 |
| AeroMexico ClubPremier | 3:1 |
| Air Canada Aeroplan | 3:1 |
| Air China Phoenix Miles | 3:1 |
| Air France/KLM Flying Blue | 3:1 |
| Air New Zealand Airpoints | 200:1 |
| Alaska Airlines Mileage Plan | 3:1 |
| Alitalia MilleMiglia | 3:1 |
| ANA Mileage Club | 3:1 |
| American Airlines AAdvantage | 3:1 |
| Asia Miles | 3:1 |
| Asiana Airlines Asiana Club | 3:1 |
| Avianca LifeMiles | 3:1 |
| British Airways Executive Club | 3:1 |
| China Eastern Airlines Eastern Miles | 3:1 |
| China Southern Airlines Sky Pearl Club | 3:1 |
| Copa Airlines ConnectMiles | 3:1 |
| Delta SkyMiles | 3:1 |
| Emirates Skywards | 3:1 |
| Etihad Airways | 3:1 |
| Frontier Airlines EarlyReturns | 3:1 |
| Hainan Airlines | 3:1 |
| Hawaiian Airlines HawaiianMiles | 3:1 |
| Iberia Plus | 3:1 |
| Japan Airlines JAL Mileage Bank | 3:1 |
| Jet Airways JetPrivilege | 3:1 |
| JetBlue TrueBlue | 6:1 |
| Korean Air SKYPASS | 3:1 |
| LATAM Airlines LATAMPASS | 3:1 |
| Lufthansa Miles & More | 3:1 |
| Multiplus | 3:1 |
| Qantas Frequent Flyer | 3:1 |
| Qatar Privilege Club | 3:1 |
| Saudia Airlines | 3:1 |
| Singapore Airlines KrisFlyer | 3:1 |
| South African Airways Voyager | 3:1 |
| Southwest Airlines Rapid Rewards | 3:1 |
| TAP Air Portugal | 3:1 |
| THAI Airways | 3:1 |
| Turkish Airlines Miles&Smiles | 3:1 |
| United MileagePlus | 3:1.1 |
| Virgin Atlantic Flying Club | 3:1 |
| Virgin Australia Velocity Frequent Flyer | 3:1 |
Marriott are following on with the SPG tradition of offering bonus points for transfers to frequent flyer partners:
Receive 15,000 bonus points per 60,000 points transferred – this will result in a total of 25,000 total points/miles being deposited into your frequent flyer account (or 375 Airpoints Dollars if you choose Air New Zealand)
You can transfer 3,000–240,000 points/day
Be sure to read our full guide to the transfer bonus, including key redemption sweet spots.
Current offers
You can find the full list of Marriott offers here.
Summing up
It's not hard to earn Marriott points from everyday spend in New Zealand. The effective transfer rate of 1:1 over to Marriott/SPG from American Express Membership Rewards is respectable – considering the value and flexibility of these points – and it's certainly possible to get a good stash of points going in your Marriott account.
If you haven't already, start by joining the program for free, even if its just to lock in a discounted rate and free internet access.
If you're an existing member of either the legacy SPG or Marriott programs, you may like to spend some time familiarising yourself with the program and any nuances, given the recent merger. Online functionality is known to currently be a bit buggy.
Be sure to keep an eye out for bonus points offers that provide an opportunity to boost points earn.
Supplementary images courtesy of Marriott.
Introduction to the Marriott Rewards program
was last modified:
October 13th, 2018
by