oneworld partner LATAM is a good choice for those wanting to travel to South America and who have access to Asia Miles, Avios or AAdvantage miles.
In this guide, we outline LATAM's destinations, key routes, fleet, lounge access and, most importantly, how to search for and book an award using your points.
---
Destinations and key routes
Since 2010, Chilean airline LAN has gradually been merging with Brazilian airline TAM to make LATAM, Latin America's largest airline.
It also has subsidiaries throughout South America and its primary hubs are in:
Santiago, Chile
São Paulo, Brazil
Lima, Peru
Bogotá, Colombia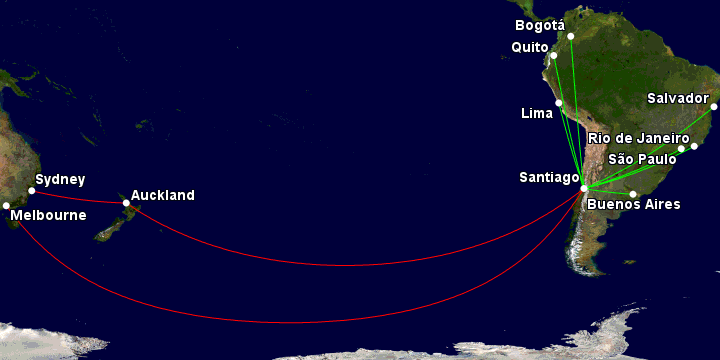 Key routes on LATAM for travellers from New Zealand and Australia
Do note that some international flights within South America operate a Premium Economy cabin in place of a full-service Business Class.
Fleet
All flights between Santiago and the Pacific are serviced by a Boeing 787 Dreamliner, which we have reviewed on the shorter Auckland to Sydney leg in Business Class.
We gave it a three-star rating for its comfortable lie-flat seat and decent entertainment system but was let down by lack of direct aisle access, average food and drink service, and limited frequency of flights.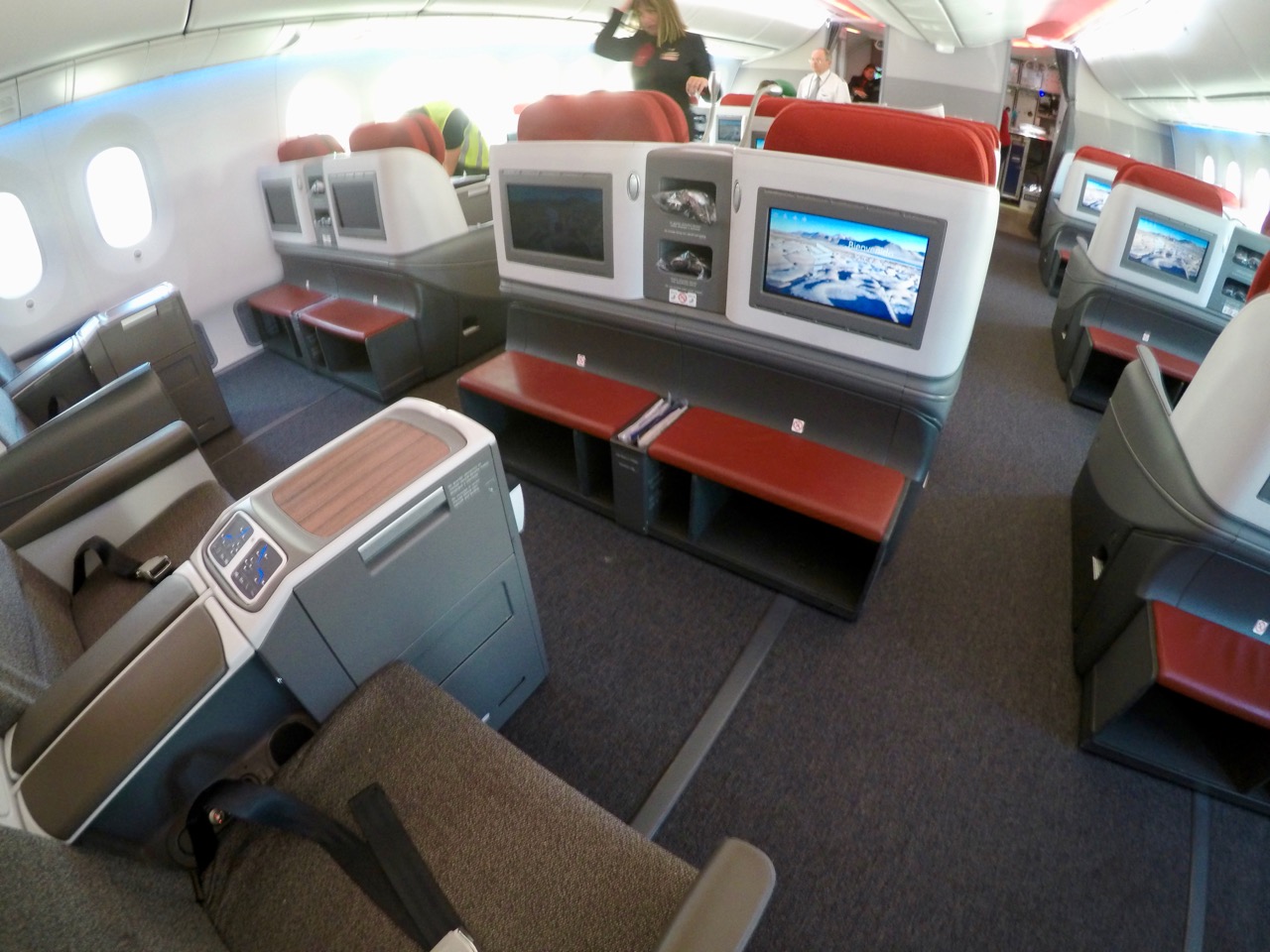 Lounge access
If flying Business Class, you'll get access to the following lounges:
Auckland: Qantas International Business Lounge
Santiago: LATAM VIP Lounge (in association with Iberia) or American Airlines Admirals Club
São Paulo: LATAM VIP Lounge, American Airlines Admirals Club or Executive Lounge GRU Airport
Melbourne: Qantas International Business Lounge
How to search for award space on LATAM flights
Redemption availability is an issue on long-haul flights with LATAM, so you'll need to be prepared to get looking well in advance of when you want to travel. Set up award searches to snag any cancelled award seats coming back into inventory or hold out for any last-minute availability coming up.
The best place to search for award availability on LATAM flights is through the British Airways search engine.
This will suit fine if you plan to redeem through Asia Miles, AAdvantage or British Airways Executive Club, but not Qantas Frequent Flyer.
Qantas and LATAM have a particularly deep codeshare agreement on these routes, going as far as having designated blocks of seats on the LATAM flight for each airline to sell, and in some reservation systems, the flight shows as being operated by Qantas when looking at the QF-coded flight numbers.
It is helpful to understand that there are two sets of flight numbers: QF321/LA800 are the same flight from Sydney to Auckland (and onward to Santiago) while QF32/L801 is back across the Tasman.
Each airline only sells tickets for its own coded flight number, including (fairly rarely) for points redemptions, which makes redeeming points on the route quite confusing.
How to redeem points on LATAM flights
For travellers based in New Zealand, there are four main programs that you can use your points through to book flights with LATAM (from best value to worst value):
Asia Miles
British Airways Executive Club
American AAdvantage
Qantas Frequent Flyer
In the comparison of the programs in the table below, the best-value redemption for each route is in bold.
All figures are for one-way travel (except Asia Miles, which requires a return flight redemption). The first value is for Business Class / the second for Economy Class.
| Route | One-way distance (miles) | Asia Miles | AAdvantage Miles | BA Avios | Qantas Points |
| --- | --- | --- | --- | --- | --- |
| Auckland - Santiago | 6011 | 120,000 / 60,000 (return) | 82,500 / 45,000 | 90,000 / 30,000 | 104,000 / 56,000 |
| Auckland - Sydney | 1340 | 50,000 / 30,000 (return) | 25,000 / 15,000 | 20,000 / 10,000 | 38,000 / 20,000 |
Apart from these examples, as South America is a relatively expensive air travel market, intra- or inter-country hops within the continent may also represent a good use of your points.
Through Asia Miles
Asia Miles offers the best value for getting to and from South America in Business Class, however, a big consideration is that redemptions on LATAM through Asia Miles require you to book a return trip, so this is not a good option if you are looking for a one-way ticket.
You'll need to call Asia Miles to make a LATAM booking.
Read more: Guide to making Asia Miles redemptions
Through British Airways Executive Club
Using Avios is the best way to get value on the Sydney to Auckland flight in both classes, as well as the cheapest one-way Economy Class flight to South America.
Just watch out for high fuel surcharges compared to redeeming through other frequent flyer programs.
Read more: Guide to buying Avios with British Airways Executive Club
Through American AAdvantage
AAdvantage offers the best-value redemption opportunity for one-way Business Class flights to South America.
Again, you'll have to phone the call centre.
Read more: Introduction to AAdvantage
Through Qantas Frequent Flyer
Qantas is up there with BA in offering the poorest value of the four options.
Summing up
LATAM is a good option to consider if travelling to South America.
Asia Miles and British Airways Executive Club are the two programs that represent the best value, with AAdvantage and Qantas Frequent Flyer trailing behind.
Guide to redeeming points for travel on LATAM to South America and Sydney
was last modified:
February 9th, 2017
by