The ability to transfer points from Virgin Australia's Velocity programme to Singapore Airlines' KrisFlyer has been available since 2014. It is one of the only frequent flyer programme partnerships in the world which allow you to transfer your points between programmes.
You can transfer points/miles in either direction at a rate of 1.55 points/miles in the origin program, equating to 1 point/mile in the destination programme.
For example, you'll get 100,000 KrisFlyer miles when you transfer 155,000 Velocity Points (and visa versa).
Why make a transfer from Velocity to KrisFlyer?
The ability to transfer points between the programs is most useful for Velocity members.
1. To access more Singapore Airlines seats
Whilst you can use your Velocity Points for travel on Singapore Airlines in all cabins, better award availability is given to KrisFlyer members.
If you want to book a flight in Suites, First or Business Class, then you may not be able to do so through Velocity. In that case, you should transfer your points to KrisFlyer.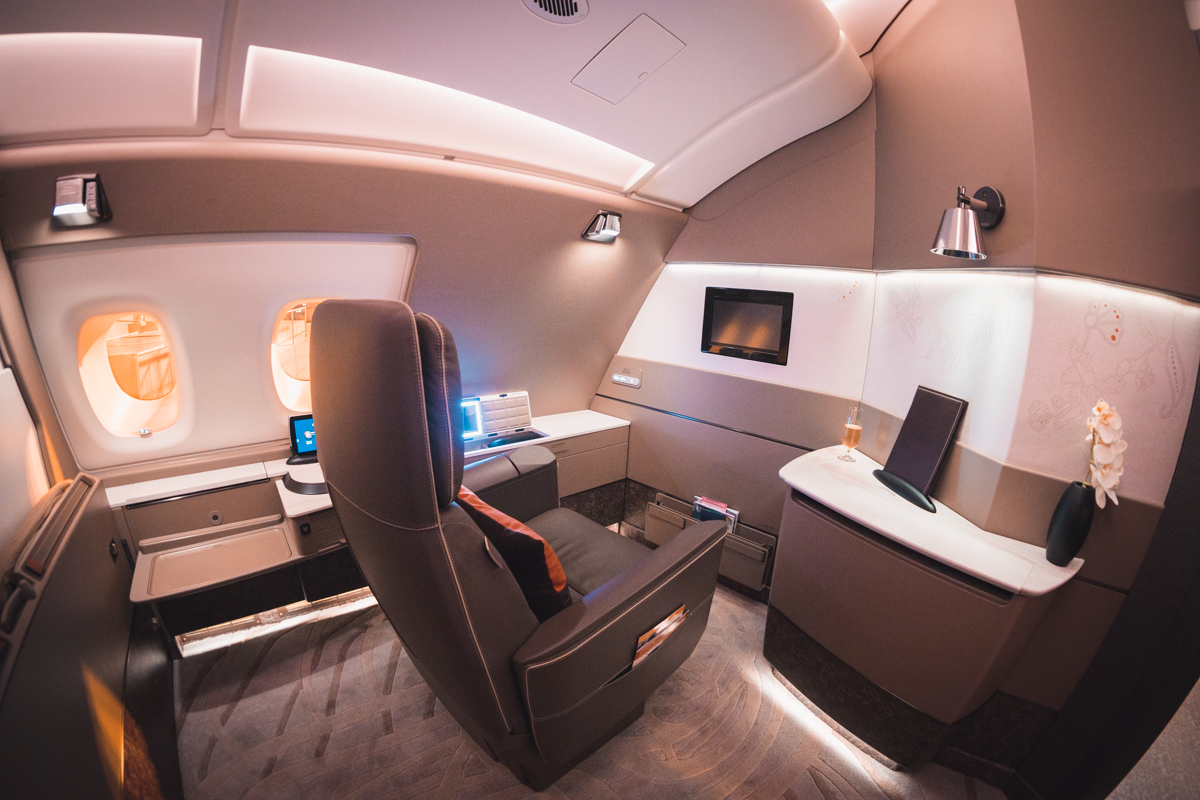 Singapore Airlines has a superb international network and inflight product, which are available at acceptable redemption rates. That's along with good availability in most cases for flights in Business and First Class.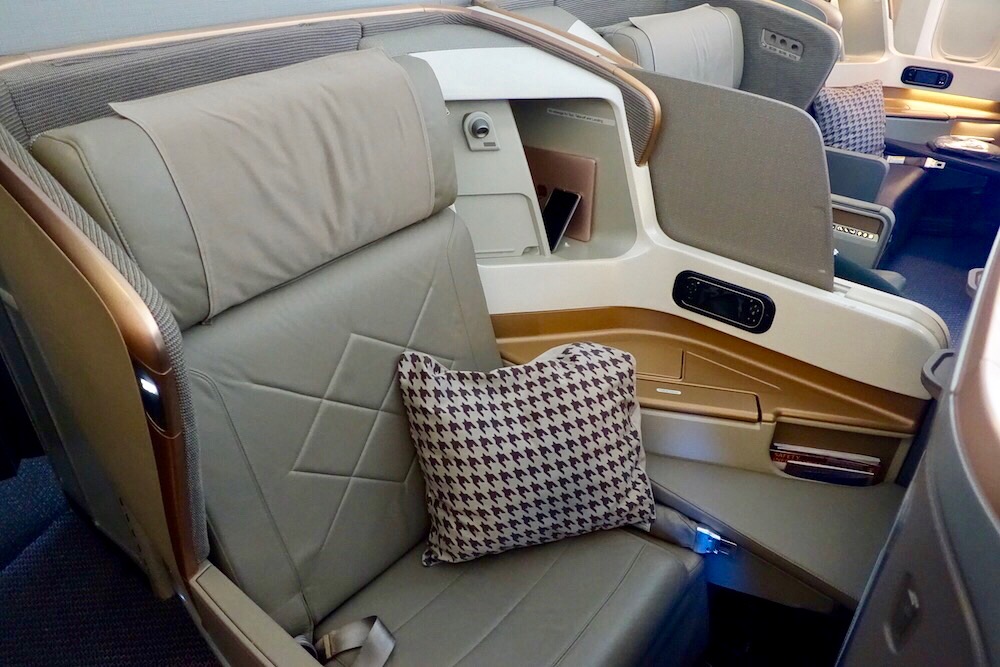 Plus, you will not pay fuel surcharges on KrisFlyer redemptions for Singapore Airlines flights.
2. Get a free stopover
You can also get free/cheap stopovers when redeeming through KrisFlyer, something that Velocity does not allow.
3. You can book a round-the-world ticket
Velocity does not directly offer a redemption option for round-the-world trips. However, Singapore Airlines does for 240,000 KrisFlyer miles.
That means that you can transfer 372,000 Velocity Points over to KrisFlyer to take advantage of this option.
An Example
KrisFlyer is ideal for long-haul redemptions on Singapore Airlines-operated flights. A quick search for an Auckland to London one-way Business Class flight including the miles needed and taxes & fees looks like this:
Put simply, this is over 24 hours in one of the world's best Business Class products—for 37,400 points less than the equivalent flight when redeeming through Airpoints (based on our method here that equalises the currency with KrisFlyer).
Calculating how many points you'll receive when you transfer
The calculation is fairly straightforward. For every 1.55 Velocity Points, you'll receive 1 KrisFlyer mile. Similarly, for every 1.55 KrisFlyer miles, you will receive 1 Velocity Point.
More simply, the transfer rate is 0.6452. So transferring 100,000 Velocity Points would earn you 64,516 KrisFlyer miles, and vice versa.
Terms for points transfers
The main notable restriction is that accounts need to match by name and birthdate, so you do need to do same person to person transfers. There is no room for transferring points to a friend or family account.
Making the transfer from Velocity to Krisflyer
The transfers are initiated from the website of the frequent flyer programme you are transferring from.
Once logged into your Velocity account, navigate to Link & Transfer > Airline Points Transfer.

If you have not yet linked your Velocity and KrisFlyer accounts, this is where you will do so. And then you can transfer points by clicking on the Transfer Now button.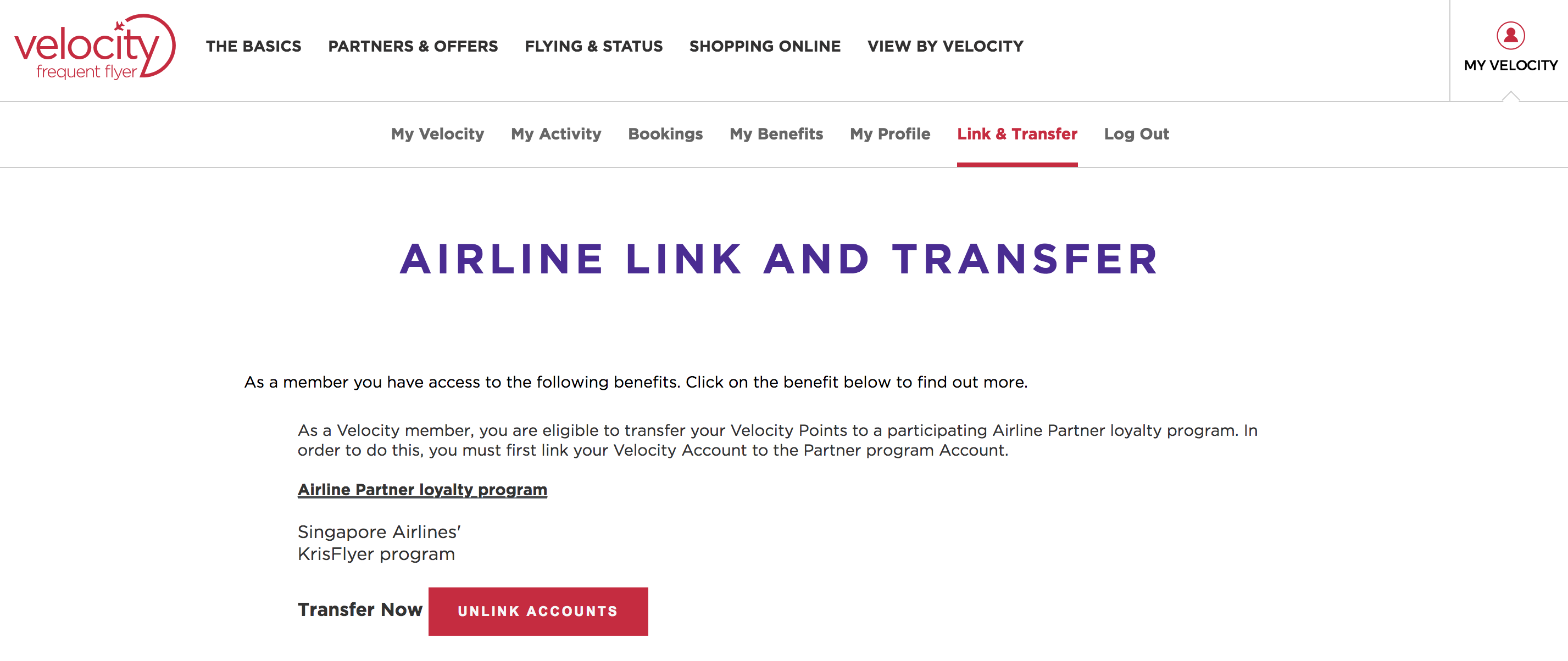 Note that there is a minimum points transfer of 5,000 Velocity Points.

Points transfers are supposed to be instant, however, if they do not land within 24 hours, you can phone Velocity to chase it up.
Note that KrisFlyer miles expire three years after they are earned/land in your account, so factor that into your redemption strategy.
Frequently asked questions
Can I transfer my Velocity Points to Singapore Airlines KrisFlyer?
Yes, you can. Through this unique partnership, 1.55 point/mile converts to 1 point/mile in the other programme. That means that you do lose value in transferring your points between these two programmes. However, it can be useful to top up your balance for a redemption or to access more award availability.
Can I transfer my Velocity Points to Air New Zealand Airpoints?
No, you cannot. Virgin Australia and Air New Zealand are competitors, which means that points in their frequent flyer programmes cannot be transferred back and forth. However, Velocity Points can be transferred to Singapore Airlines KrisFlyer.
Which frequent flyer programs can I transfer points between?
There are very few frequent flyer programmes that allow you to convert or share points. However, Velocity Frequent Flyer and Singapore Airlines KrisFlyer allow this. In addition, Avios can be transferred between British Airways Executive Club, Iberia Plus and AerClub.
Can I transfer Velocity Points?
Yes, you have a number of options to transfer Velocity Points. You can perform a Family Transfer of a minimum of 5,000 points to a family member. A more effective way to do this is to set up Family Pooling. You can also transfer your Velocity Points to Singapore Airlines' KrisFlyer frequent flyer programme.
Can I use Velocity Points for Singapore Airlines?
Yes, you can. Singapore Airlines is a Velocity Frequent Flyer partner. Its flights fall into Table 2 of the Velocity award chart. However, you may find that award availability is limited for Velocity members. In that case, it may make sense for you to transfer your Velocity Points to Singapore Airlines' KrisFlyer frequent flyer programme.
Summing up
The ability to transfer points between Velocity Frequent Flyer and Singapore Airlines KrisFlyer is a unique one. Not many other programmes allow this.
The main reason you would do this would be to access increased award availability for Singapore Airlines flights. However, transfers can also make sense to get a free stopover, book a round-the-world ticket or top up your KrisFlyer balance.
Just make sure that you understand that points do not transfer over 1:1. Furthermore, once the miles land in your KrisFlyer account, you only have three years to use them, or else they expire.
Reasons to transfer points between Velocity and KrisFlyer
was last modified:
December 18th, 2019
by