Given Jetstar's increasing presence in the NZ domestic market along with their trans-tasman and Pacific Island routes, the price beat guarantee deserves a look at if you are searching for the lowest Economy Class fare.
In this post our Australian Editor Matt has provided and excellent example of how to initiate a Jetstar price beat guarantee, and we have added an example of how this can be replicated on Jetstar services from New Zealand.

What is the Price Beat Guarantee?
Jetstar has this nifty service, seemingly available until 2 August 2016 (according to its website), which if you find a cheaper flight on a competitor airline, they'll beat it by 10%.
The main conditions are that it needs to be:
A direct one-way flight between exactly same airports (take note for Melbourne's Tullamarine and Avalon, and Tokyo's Narita and Haneda Airports)
Inclusive of all taxes, fees and surcharges
More than 72 hours from when you commence the flight (i.e. no last-minute bookings within three days of departure)
In terms of timing, the flights need to be:
Within one hour of each other for domestic flights within Australia or New Zealand or flights between Australia and NZ
Within one hour of each other for international flights within Asia
On the same calendar day for all other international flights (e.g. Australia to Asia or Hawaii)
Where to find better prices
As I've mentioned before, the search website I use the most is Google Flights as it allows flexible date and destination search. I also like the Everywhere feature on Skyscanner, the reliability of KAYAK search results and the user-friendliness of Adioso, with Expedia and Zuji good additional options.
With Jetstar being a low-cost carrier (meaning you have to pay more for checked baggage, seat selection, and food and drinks), it is most likely you will be trying to find cheaper fares on other low-cost carriers, although sometimes full-service airlines will be cheaper on certain routes.
Keeping in mind that you are looking for a direct flight on a route Jetstar serves, the main competitors you are looking to compare fares to are:
Tiger Airways within Australia
Air New Zealand within New Zealand
AirAsia between Australia and Malaysia, Thailand, Bali, Japan and the Philippines
Scoot between Australia and Singapore
Air New Zealand, Virgin Australia, AirAsia, China Airlines, and LATAM between Australia and New Zealand
Air New Zealand and Virgin Australia between New Zealand and Rarotonga
Fiji Airways and Virgin Australia between Australia and Fiji
Hawaiian Airlines between Australia and Honolulu
Matt's Example – Sydney to Denpasar
I used Google Flights to search for a one-way flight from Sydney to Denpasar (Bali) on 26 July 2016, making sure to price in AUD using that option in the left-hand menu and filtering the results by nonstops, which gave me four options.
AirAsia was the cheapest with, surprisingly, Jetstar more expensive than Virgin Australia and the five star-rated Garuda Indonesia.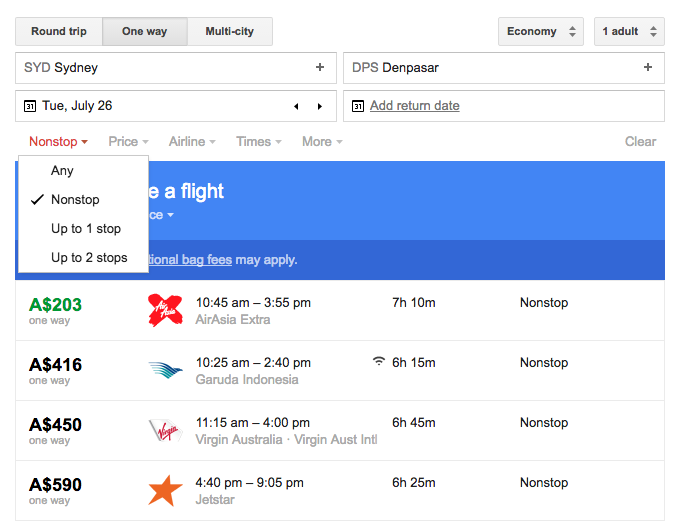 I clicked through to the AirAsia website to confirm the price ($203 AUD):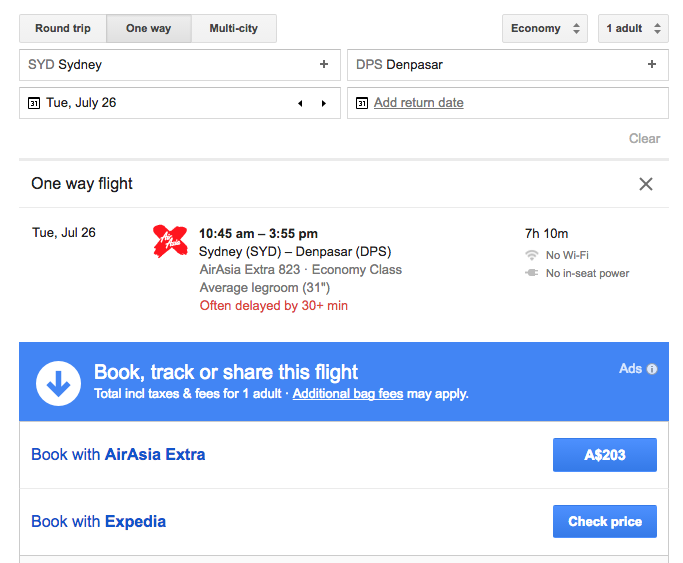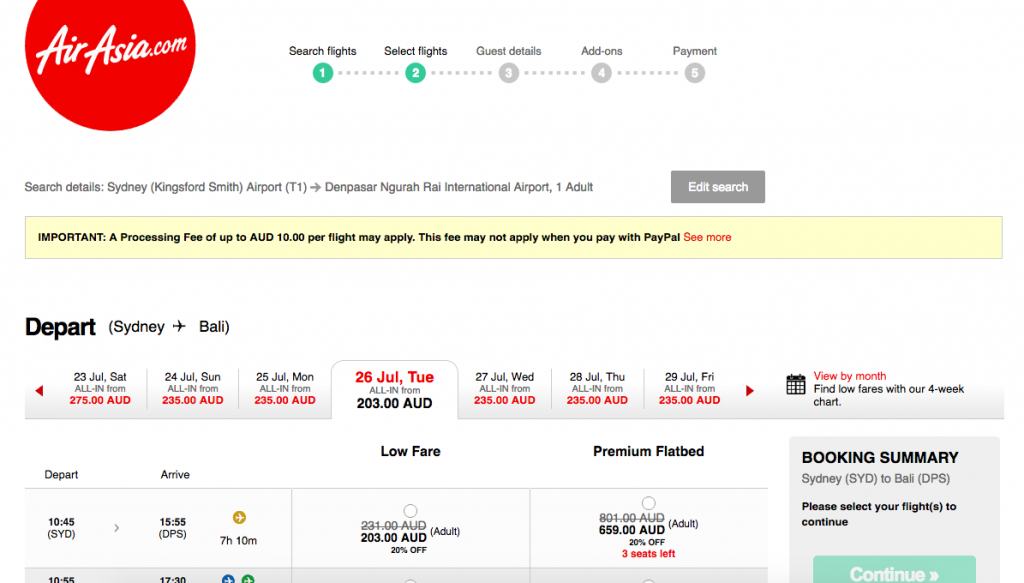 And did the same for the Jetstar option, which ended up being $131 cheaper on the Jetstar website ($459 AUD) than Google Flights ($590 AUD):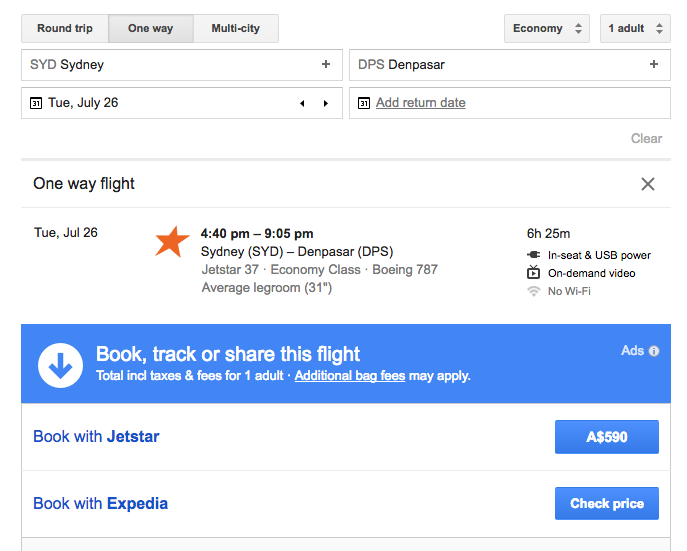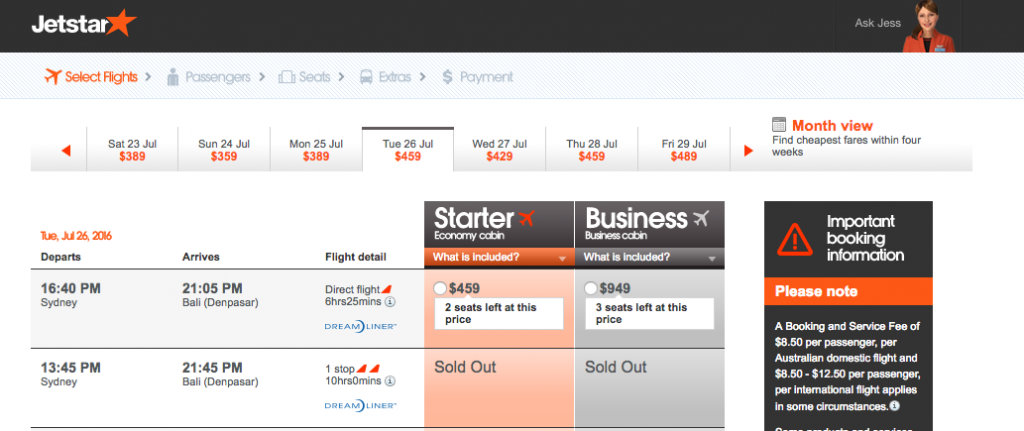 According to my calculations, as the flights were international flights between the exact same airports on the same calendar day, that met the conditions for the Price Beat Guarantee.
Steps to trigger a Price Beat Guarantee fare
Here is my condensed version of the steps listed on the Jetstar website:
Start an online chat and fill out the form. I had to wait 20 minutes to be attended, but the countdown timer was accurate, so no stress there.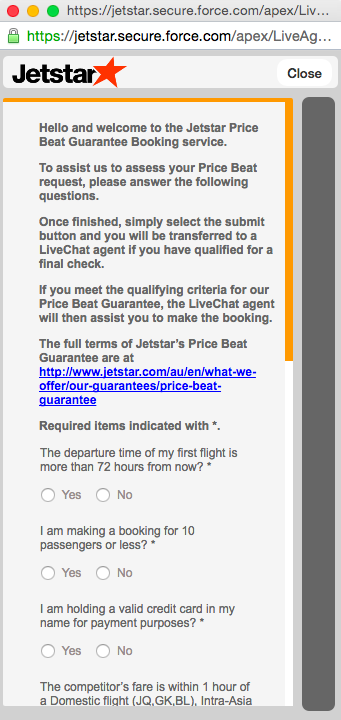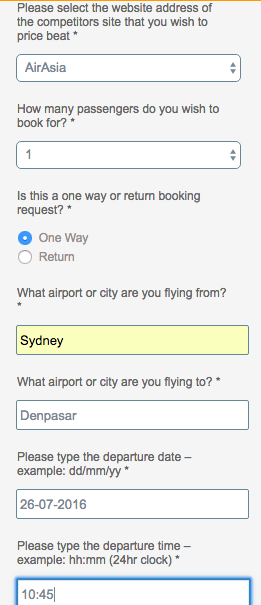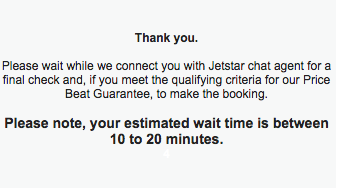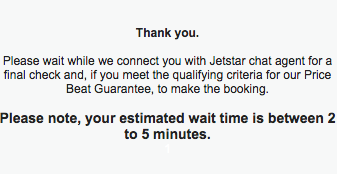 Have the website address where you found the cheaper flight or holiday ready. They didn't even ask me for this as I had already provided the competitor flight information in the form I filled out.
They'll verify the comparison. To get your 10% discount, you must buy the ticket then and there. The agent offered me the option of booking this straight away, but this was a dummy search, so I just thanked her for her time.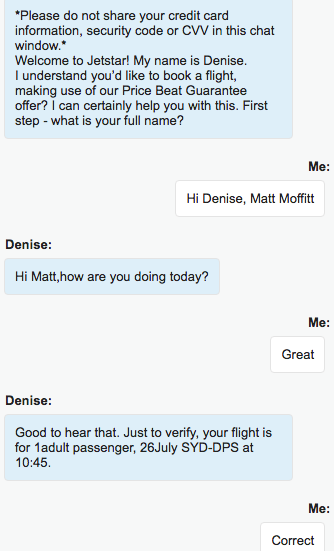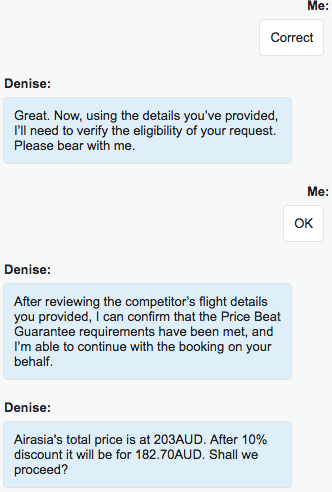 They'll send you the itinerary within 72 hours of your chat.
AirAsia and Jetstar both charge for checked bags, so the comparison was quite easy in that respect. On Jetstar's website, it explains situations where you can compare fares which do include checked baggage.
AirAsia charges a $10 AUD processing fee for card payments, with Jetstar charging up to $12.50 AUD for international flights, however they also have fee-free options if paying by POLi or a Jetstar MasterCard.
So, even if I paid with a credit card, the discounted total would be $195.20 AUD with Jetstar compared to $213 AUD with AirAsia, or $471.50 AUD if I just went straight to the Jetstar website without shopping around.
Plus, the later departure time with Jetstar is more convenient and the plane is a new 787 Dreamliner rather than AirAsia's Airbus A330.
Can you earn points and/or status credits on Price Beat Guarantee fares?
No, you cannot earn Qantas Frequent Flyer points or Status Credits on these fares as they are Jetstar Starter (i.e. Discount Economy) fares, not Economy or Flexible Economy fares, which can sometimes earn points and Status Credits.
Clayton's Example – Auckland to Rarotonga
As proof to show that the Jetstar price guarantee works just the same from New Zealand, I decided to look at an example for Jetstar's direct flights to Rarotonga. This service generally only runs 3 times per week, but has competition from both Air NZ and Virgin Australia.
Like Matt I have started my search using the Google Flights search engine, if it's the first time you've utilised this website you may need to alter the default currency to NZ$.
Note also that Google Flights is by no means perfect – it is possible to get rates come through that are incorrect, sometimes for the better and sometimes for the worse. I always recommend checking through on all links in case a site is running a promotion that is not showing up on Google Flights.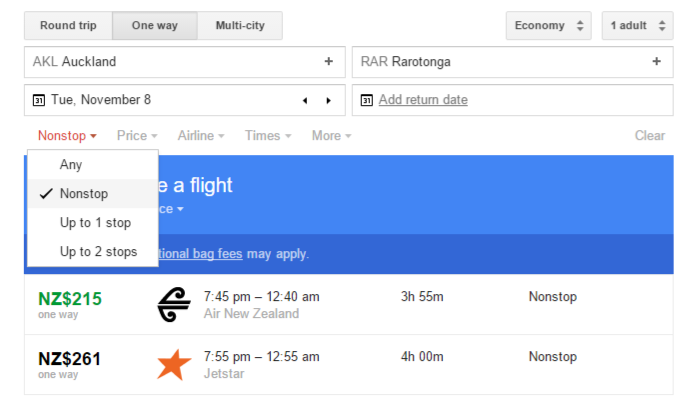 In this example on Tuesday 8th November, Google flights is showing the Jetstar flight at NZ$261, while the Air NZ flight is only NZ$215.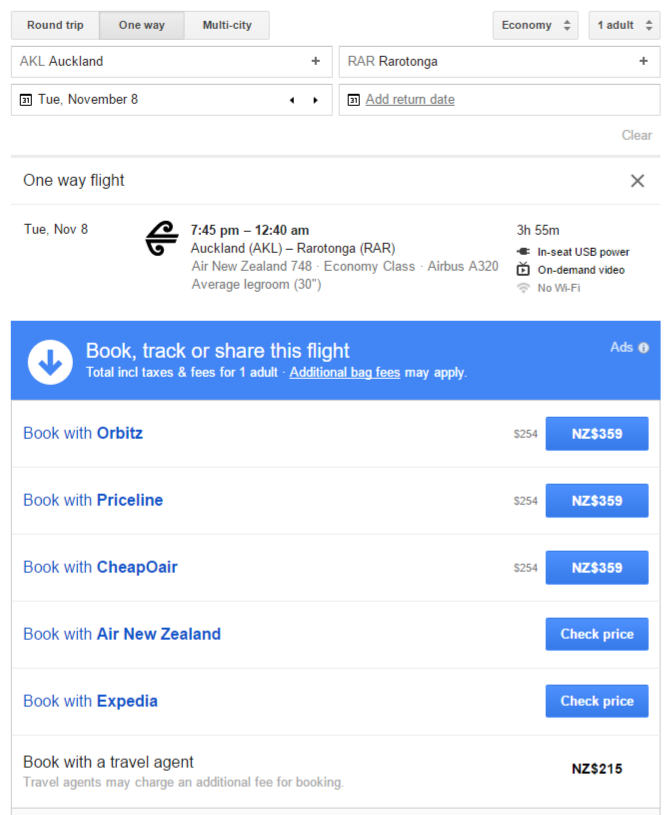 The first three options are from US based OTA's, all I have used in the past, as even though they charge in US$ sometimes they can have a really good flight deal that is way cheaper than our own websites.
The NZ$215 price for the Air NZ flight is showing up as needing to book through a travel agent which is not suitable for my needs. Instead I check the Air NZ tab to be diverted through to their home website.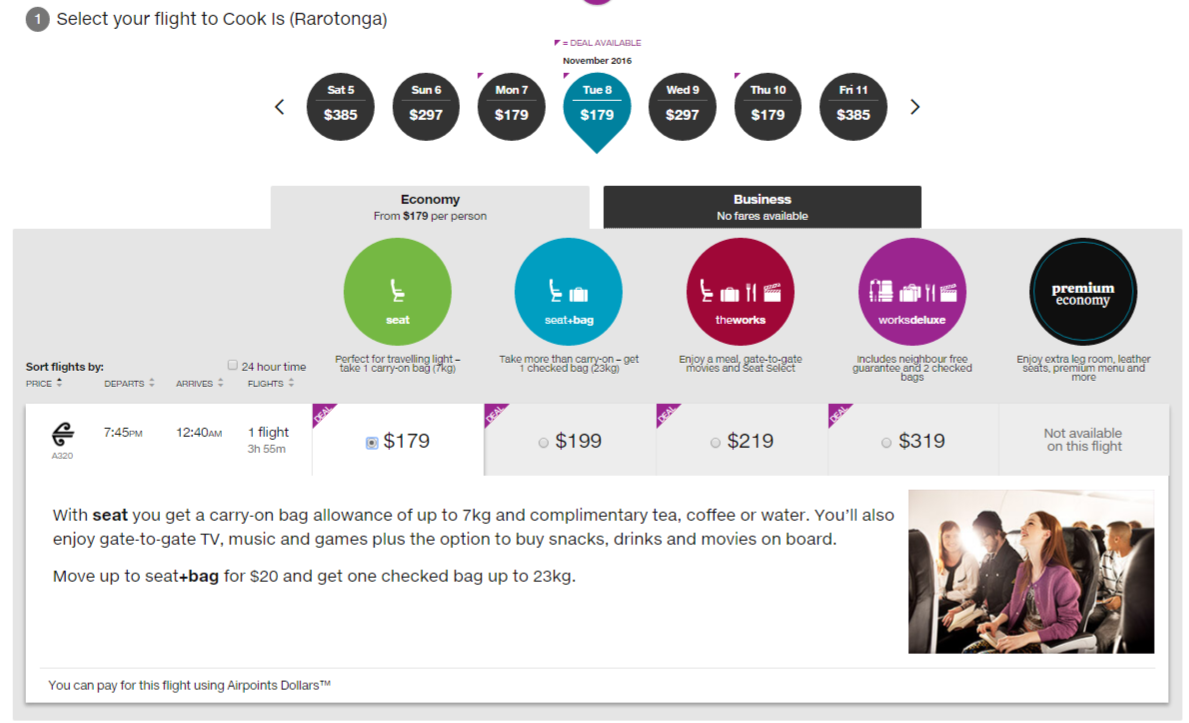 The current seat only fare on Air NZ's own website is NZ$179, cheaper than noted on Google Flights.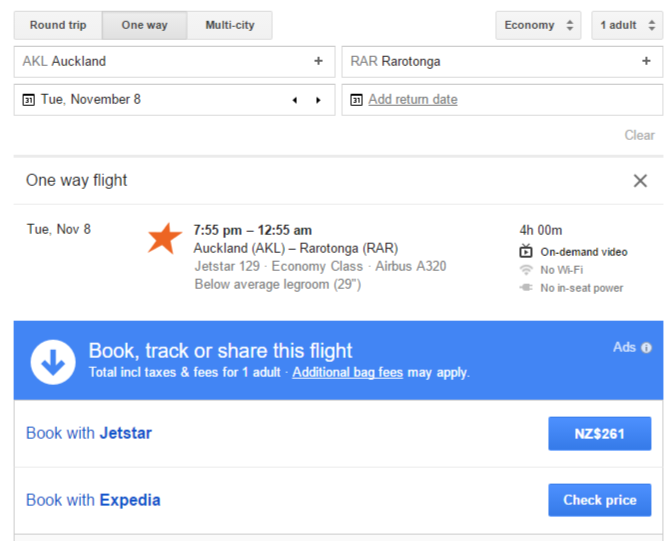 Following the same process for the Jetstar flight option, there are no links for the US OTA's, but the Jetstar tab is there so I check through on that.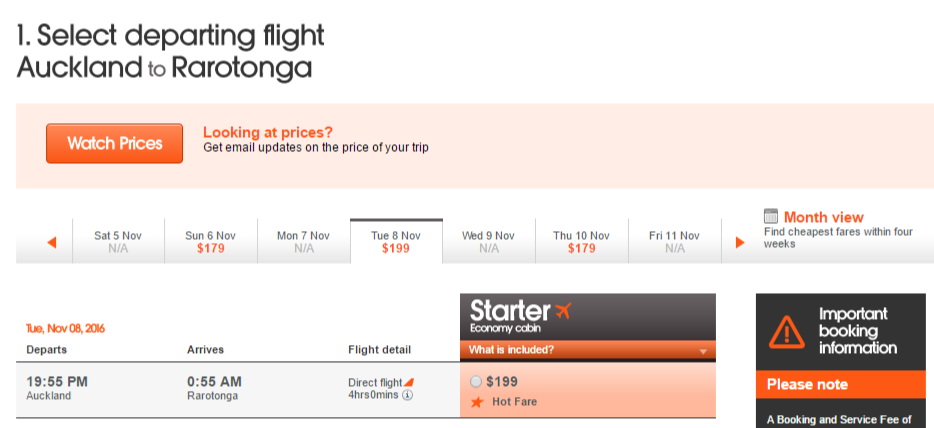 Again the price is lower than what was displayed through Google Flights, but better less than more and it's still more than the Air NZ flight on the same day.
Now I have all the details of both flights I'm ready to start my Jetstar Price-beat guarantee on-line chat.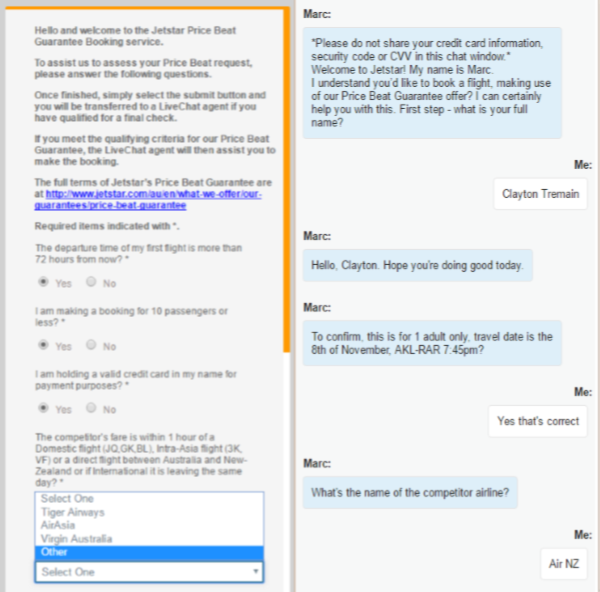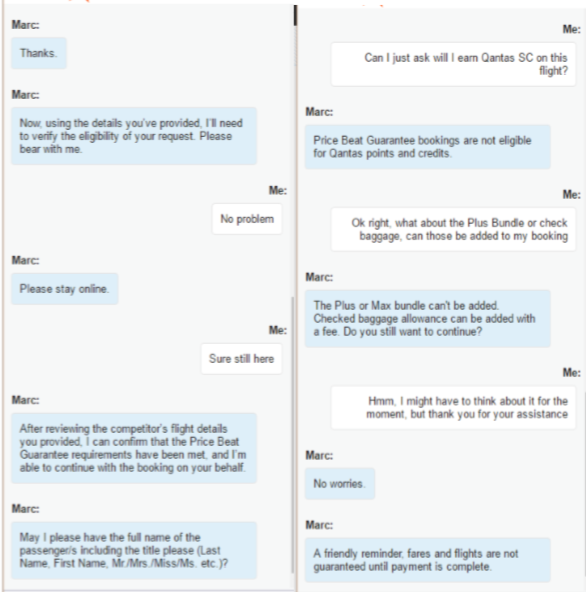 As you can see from the on-line chat results, following the same process as Matt's example, the price beat guarantee was accepted and I was offered the chance to book then and there for the lower rate.
I was also given the same answers regarding Qantas Point and status credit earn – Jetstar price beat guarantee fares are ineligible for earning Qantas Points, and Jetstar's Plus Bundle can't added to the booking. You are able to add check baggage during the booking process.
Both flights are on Airbus A320 aircraft so there is no variation between the two options, however the Air NZ flight will still earn, although very few, Airpoints dollars and status credits.
The main point here is that the Jetstar price-beat guarantee will work from New Zealand, as long as the requirements are met.
Better still there is the potential to stack these by beating a trans-tasman price to Australia and given the various Jetstar destinations from there, backing on another price-beat flight to any of a number of International destinations.
Summing up
If you are a leisure traveller wishing to travel within Australia/NZ or between the two, or to Asia or Hawaii and price is the main factor for you, then taking the time to compare fares with other airlines and submitting a Price Beat Guarantee request to Jetstar may be worth your time.
Similarly, if a Jetstar flight has a better departure time or offers more modern flight amenities, like inflight entertainment or more legroom, then there's another reason to use it.
Jetstar's Price Beat Guarantee service – how 30 minutes of your time can dramatically reduce Jetstar flight costs
was last modified:
July 20th, 2016
by