Japan is fast becoming a popular holiday destination particularly during winter (December to February) and spring (March to May). As the country ushers in the cherry blossom season and farewells its powdery snow, it is an opportune time for travellers to research flights for 2020.
This guide aims to provide readers with alternative routes to reach Japan through the use of connecting flights for Airpoints, Qantas and Velocity members.
The only direct flights on offer from New Zealand are with Air New Zealand. Unless you want to fork out many thousands of Airpoints Dollars for an 'any seat' redemption, or bide your time waiting for one of the very limited standard award seats that are offered to programmes like KrisFlyer and United MileagePlus, then connecting flights will come to the rescue.
If you have your heart set on a direct flight, here is a short guide about booking nonstop services to Japan.
Which programme is best?
This guide covers options that are bookable online using Air New Zealand Airpoints Dollars, Qantas Points or Virgin Velocity points.
Air New Zealand and Qantas generally offer more route options given their membership of the Star Alliance and oneworld alliance respectively, and the ability to leverage off a range of partner airlines.
Note that flights with partner airlines can still be difficult to come by as airlines will generally release more award seats to their own loyalty programme members as opposed to partners like Air New Zealand, Qantas and Virgin Australia.
Air New Zealand and its partner airlines
The featured routes below can be booked via the Airpoints Star Alliance Booking Portal. Only routes that are known to feature Business Class award availability on each segment are shown. Note that these options are also available to book through KrisFlyer and United MileagePlus.
Air New Zealand plus either ANA or Air China
The best value Airpoints partner redemption would be to fly with our own Air New Zealand to Shanghai, and then onwards to Japan with either ANA or Air China.
These awards price at only 1,600 APD:
You'll enjoy Air New Zealand's famous hospitality on their 787-9 Dreamliner, in an intimate 1-1-1 layout.
Unfortunately, availability can be sporadic—and as such, you may need to be flexible with your travel plans.
Air New Zealand 787 Business Premier
Thai Airways
Another option is Thai Airways, who fly to Bangkok from Auckland daily, with a short layovers of 1.75-3.5 hours before connecting through to Japan with either Thai or ANA. There is usually good award availability on Thai for last-minute travel, e.g. award seats being released closer to the departure date.
However the trade-off in flying this route is that award pricing is much higher, given the 'deviation' via SE Asia:
Unless you have a stack of Airpoints Dollars, you may instead like to consider 'using' Velocity Points for seats on this same route (more to come on this below).
Thai Airways also fly the Boeing 787-9 ex New Zealand, with a more couple-friendly 1-2-1 layout.
Thai offer their modern Thai Airways
Qantas and its partner airlines
The featured Business class cabins can be booked via the Qantas Frequent Flyer programme.
Cathay Pacific
Cathay Pacific run flights to Hong Kong from Auckland and Christchurch with a short layover (between 1-3.5 hours) before proceeding onwards to Narita airport.
Cathay Pacific fly the Airbus A350 ex New Zealand.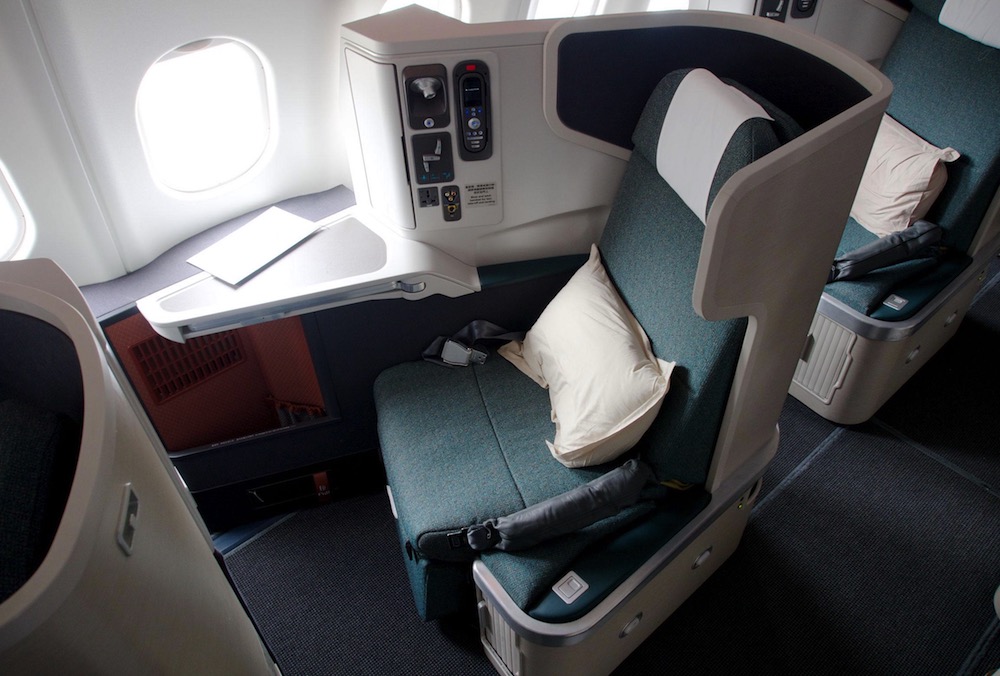 This redemption will set you back 104,000 Qantas Points—not cheap, but probably the best oneworld Business Class product currently on offer from New Zealand.
If you decide to fly this route, you will be welcome into any of Cathay Pacific's four Hong Kong Business Class lounges (The Wing, The Pier, The Deck and The Bridge), which offer an exceptional dining experience, among many other benefits.
Fiji Airways
As a preferred partner, redemptions with Fiji Airways via Nadi are comparatively quite cheap compared to some options here—only 84,000 Qantas Points.
Plus, Fiji Airways offer direct flights to Nadi from Wellington and Christchurch, which is an obvious boon for those who hate flying through Auckland.
Most flights departing from New Zealand are on their narrow-bodied 737 aircraft, which offers a perfectly acceptable recliner Business Class product for the short hop over to Nadi.
Select flights to Nadi from Auckland, plus onward flights from Nadi through to Tokyo, are on Fiji Airways' A330, which features an acceptable though dated 2-2-2 Business Class product. Though in my view, the lesser points cost and chance to visit Fiji makes up for the lack of lie-flat beds and direct aisle access for all seats.
Fiji Airways' A330 Business Class
Malaysia Airlines
Malaysia Airlines flies to Kuala Lumpur from Auckland daily.
Flights departing from Auckland are on Malaysia Airlines' Airbus A330. Look out for the days where the layover is no more than 5 hours—some days only offer an overnight connection. You will continue through to Japan on Malaysia Airline's Airbus A350.
Malaysia Airlines have introduced two different Business Class experiences on their A380 and A350. These are differentiated by their name—'Business Suite' and 'Business Class'.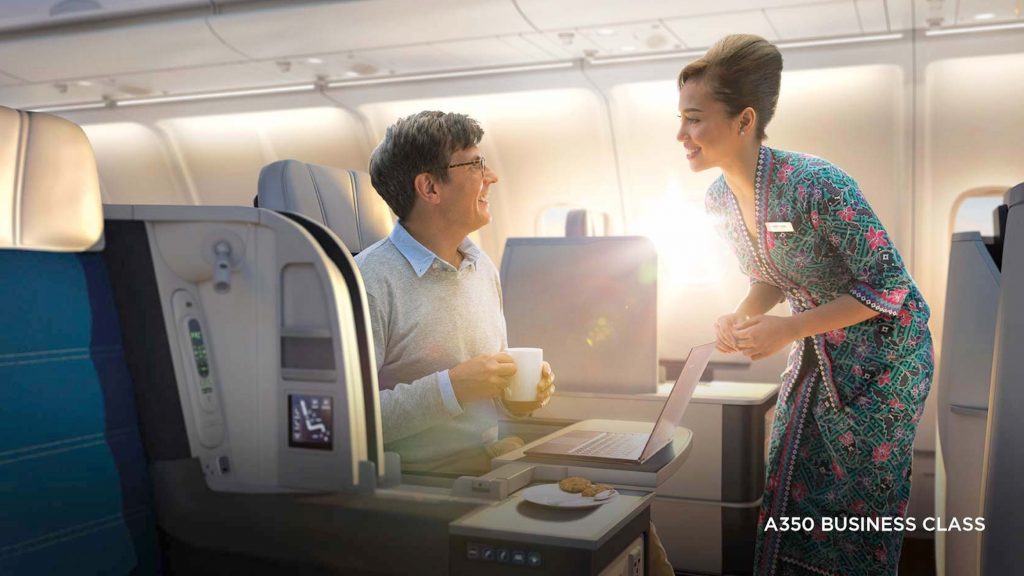 Malaysia Airlines A350 Business Class
Those flying on the Business Suite will enjoy the privacy and extra comfort of their own 'First Class-style cabin' (only four are available) and First Class lounge entry at Kuala Lumpur.

Malaysia Airlines A350 Business Suite
Unfortunately, Qantas Points can only be redeemed for Malaysia Airlines' 'Business Class' product on this route—with an overall redemption cost being a hefty 121,000 points, be sure to prioritise the other route options presented here.
China Eastern
China Eastern flies to Shanghai from Auckland daily.
Flights departing from Auckland are on their Airbus A330, with Business Class featuring a 2-2-2 layout. You can expect a reasonable layover in Shanghai of around 3 hours, before connecting through to Japan.
This redemption option comes in at a reasonable 92,000 points.
You can either enjoy a short layover, or perhaps spend some time in Shanghai en route
Qantas
Qantas offer the most nonstop services of any airline between Australia and Japan. If you're in Auckland, you can fly their excellent A330 Business Class product to Sydney, Melbourne or Brisbane, enjoy a layover and visit to one of Qantas' lounges, and then fly onto Tokyo (or even Osaka and Sapporo if flying via Sydney).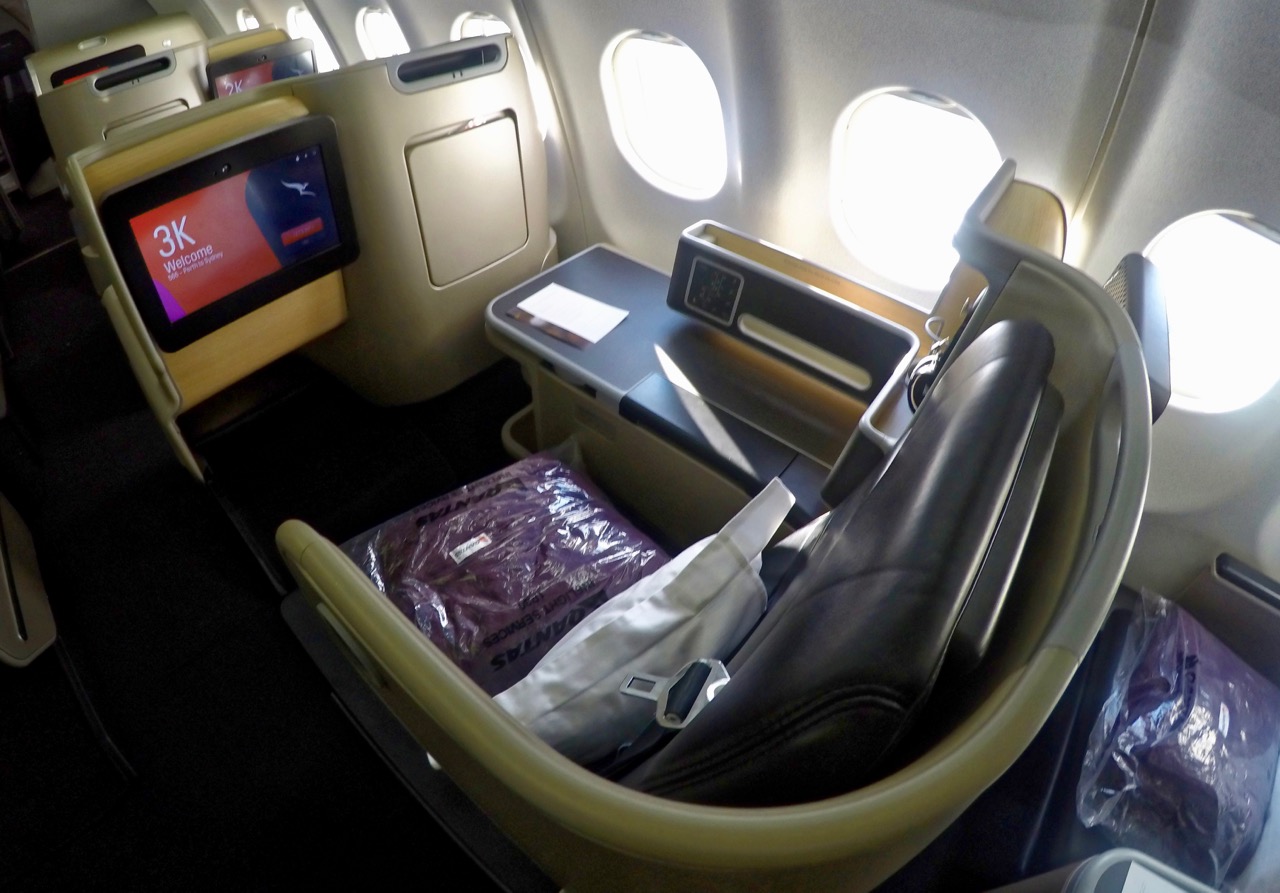 Fly lie-flat with direct aisle access with Qantas direct to Japan
A Business Class seat redemption on any of these routes will cost only 84,000 Qantas Points one-way, plus taxes.
Velocity and its partner airlines
Routes to Japan are less accessible for Velocity Frequent Flyer members.
Flying on Virgin Australia metal itself isn't worth considering, given all their flights will be via Australia, and still require onward connections through Singapore or Hong Kong.
Personally, I also find redeeming Business Class awards through Velocity to be somewhat difficult (lack of availability).
If you have an abundance of Velocity Points, the best option would be to transfer points to the Singapore Airlines' KrisFlyer programme, at a rate of 1.55:1. These miles can then be used to book with Singapore Airlines, THAI, or even Air New Zealand.
Singapore Airlines
Singapore Airlines operate flights from Auckland, Wellington and Christchurch, and offer an assortment of Business Class products featured across their Boeing 777-300, A380, 777-200, and Airbus A350-900 range.
Singapore Airlines 777-300ER Business Class
Those departing from Christchurch will enjoy Singapore Airlines' new Business Class product aboard the Airbus A350-900 (pictured below).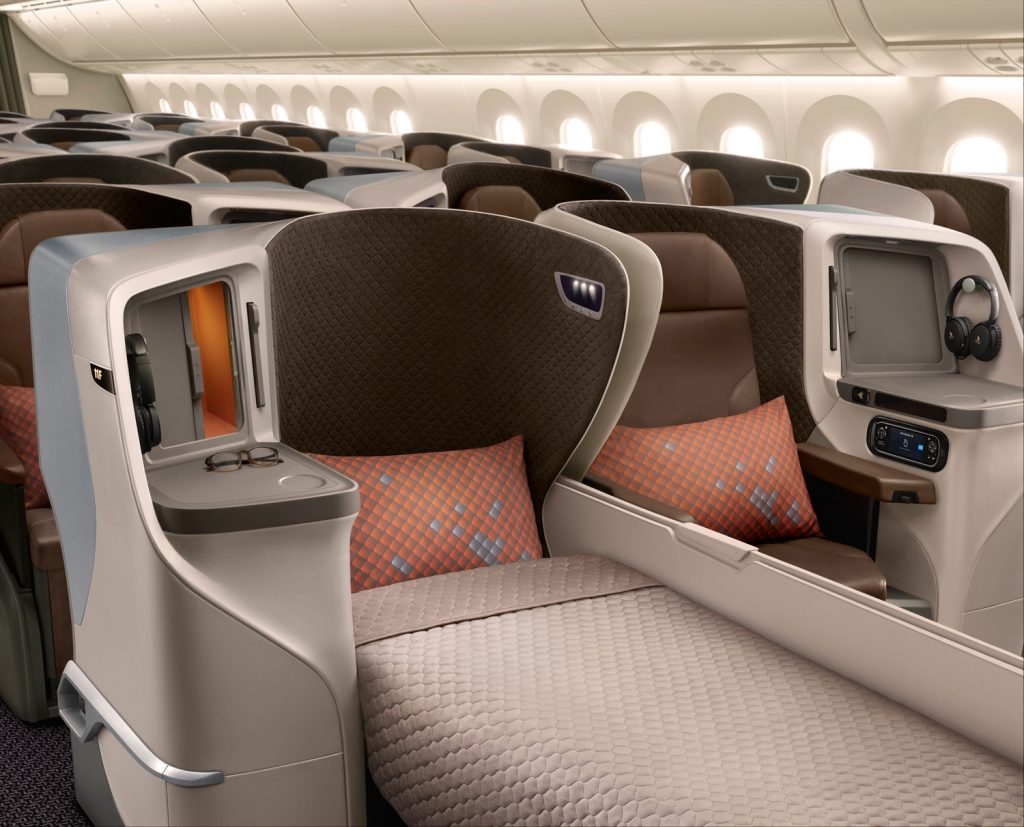 Singapore Airlines' latest Business Class cabins are the perfect balance between luxury and comfort, offering passengers a preferable (in my opinion) flying experience compared to many of the airlines featured in this article.
Thai Airways
Flights on Thai Airways are redeemable using KrisFlyer miles. Flights via Bangkok offer a short stopover of between 1.75-3.5 hours. While this route does not offer First Class cabins, which is only available via Sydney on the airline's Boeing 747, it does offer their new 787 Dreamliner Business Class product, which we detailed earlier under the Airpoints redemption options.
Summary
While many of us would obviously prefer to fly direct to Japan, it is sometimes not possible due to lack of award availability, especially in premium classes.
As such, connecting flights can be the perfect substitute, and while it may take a little longer, there are worse things that you could do with your time than spend a few extra hours in First or Business Class luxury, or enjoying world-class airline lounges.
Select images courtesy of their respective airlines
Your redemption options for getting to Japan using connecting flights
was last modified:
July 24th, 2019
by