Point Hacks reader Alex posted this Question on our Australian website:
If you have booked through Singapore Airlines, how do you make it give you Velocity points and Status Credits? I had to input a KrisFlyer number. Can this be changed?
Once a booking is locked in, this can seem like a daunting task but, don't worry, you have a number of opportunities to change the frequent flyer number on your booking!
Before your flight
1. Go to Manage My Booking
The first step is to try to access your booking online through the airline's website, usually requiring your booking reference/confirmation number and last name.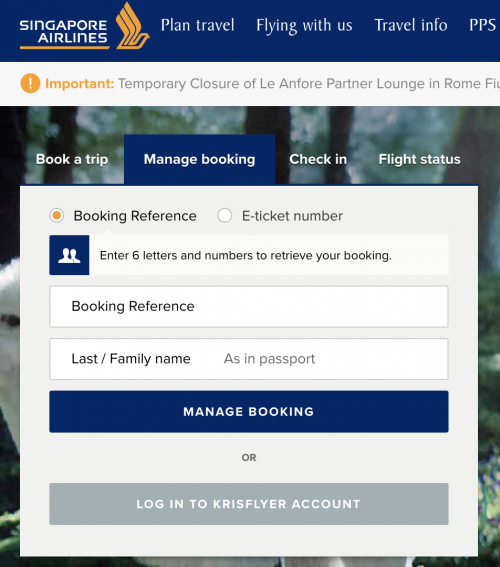 However, on some airlines, it won't let you change your frequent flyer number online after you made the booking, like United: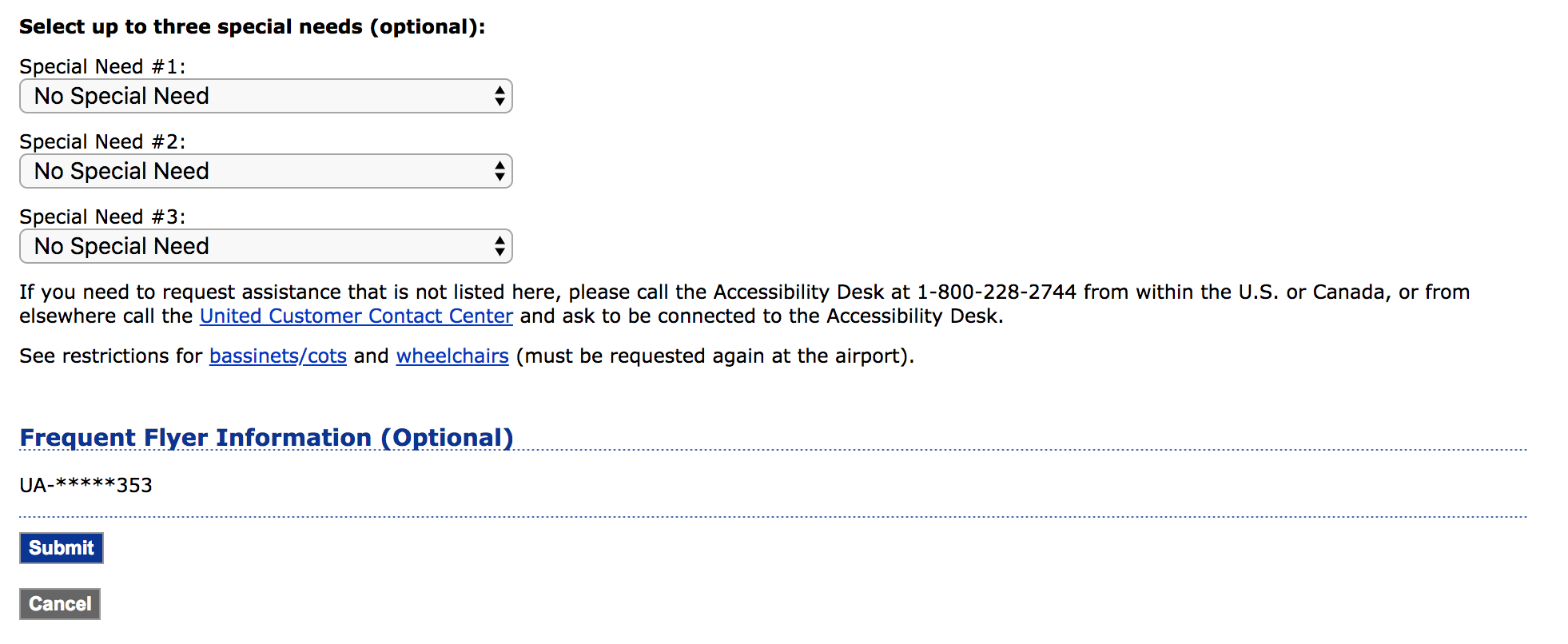 2. Tweet away!
Some airlines are getting really tech-savvy and will respond to booking requests through Twitter.
I've used this method successfully with Qantas, Virgin Australia, American Airlines and numerous other airlines. You can change frequent flyer numbers, request seats that you can't change online and organise special meals.
Daniel tells me that Air New Zealand are also particularly good at responding to requests on Twitter.
You can also search for the airline on Facebook and some allow you to message them there.
Just make sure that the airline shows the Message function—if not, do not tweet your sensitive information to the airline's Twitter page.
3. Call, email or live chat with the airline
If you are not worried about time and want a sure-fire way of making sure you get the correct number on your booking, you can call the airline.
You could also go searching for an email address or live chat function on the airline's website.
On the day of your flight
If it's gotten to the day of departure and you've been reading our guide to where to credit your points on your way to the airport, realising that you'd get more points by crediting to a different programme, then you have four more chances before you board the plane.
4. At check-in
You can change your frequent flyer number when checking in, which is easiest with an agent rather than at a self-service kiosk. Make sure that the new number is reflected correctly on your boarding pass.

5. At the lounge
If you miss that step and have lounge access, then you may change the number with a lounge agent if the lounge belongs to the airline or one of its partners (it probably won't work at a third party lounge like those in the Priority Pass network).
6. At a customer service desk
If it is a hub airport for an airline, like Dubai for Emirates, Los Angeles for Delta and Hong Kong for Cathay Pacific, then they will probably have a slew of service desks scattered around the airport, where airline employees can fulfil this request for you.
7. At the gate
Finally, you can change the number with a gate agent before boarding—just make sure to do this before they commence boarding as they probably won't be too happy with you if they are pulled away from actually getting passengers boarded on the plane.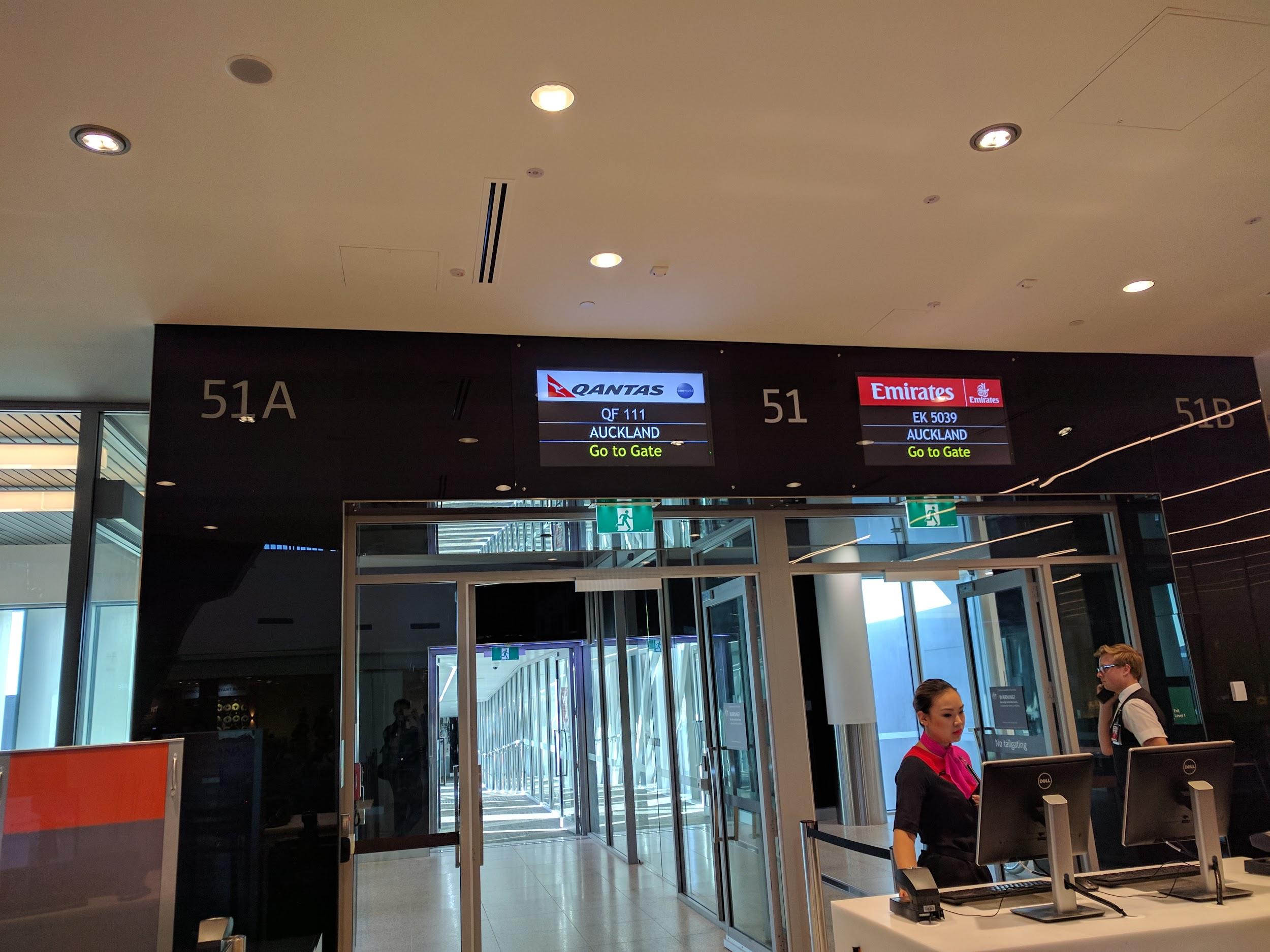 A status trick
Waiting until I'm at the gate to change my number when I am flying with an airline or partner with whom I have elite status is actually my preferred method.
For example, if I am flying with American Airlines and have Gold status with Qantas, then I will want to access priority check-in, (sometimes) priority security screening and the lounge using my Qantas status. But if I can earn more points with Alaska, with whom I am a base-level member, then I will wait until I am at the gate to change my number. Sometimes this method will still give you priority boarding based on your boarding pass with your previous number!
After your flight
8. Retroactive credit
Worse comes to worst and you didn't have any frequent flyer number on your booking or boarding pass at all, then you can often retroactively claim points earn up to 1-12 months after your flight (depending on the airline and programme). Here are the links to do that for Qantas and Velocity.
However, if you already had another programme's number on your booking, then you won't be able to change it after your flight.
Make sure to keep your boarding pass if you are pursuing this method.
A helpful note
If you are relaying your frequent flyer number to an airline employee over the phone or in person, it is best to confirm that they know the two-character airline code for the frequent flyer programme you want to credit to.
Some are well-known or obvious (QF for Qantas, VA for Virgin Australia and AA for American Airlines) but others are more obscure (A3 for Aegean Airlines and TG for Thai Airways), so be sure to search for the airline's code International Air Transport Association's page.
Summing up
Question: Can I change my frequent flyer number after making a booking?
Answer: Yes, you most certainly can! Before your trip, you can change it online, through social media, over the phone or by email or live chat.
On the day of departure, you can change it at check-in, the lounge, a customer service desk or the gate.
And if there was no number in the first place, you may be able to retroactively earn points after your flight. This is best to do within 30 days of taking your flight.
Make sure you are maximising your points earn by learning where to credit your next flight.
---
Do you have a travel-related question?
Search the Point Hacks NZ website using the Looking For Something? box (located to the right-hand side of any post) to see if we have already answered your question in a post.
You can post your question in the Questions & Answers section of our Australian website and someone from the Point Hacks community, whether another reader or one of our team members, will hopefully be able to help you out.
How to change your frequent flyer number after making a booking
was last modified:
December 9th, 2019
by