For those who know how to use rewards points effectively, buying them outright can be an option to secure cheaper travel – the cost of the points should be less than otherwise paying for the flight or hotel.
To buy points (like anything) you have to know what kind of price offers good value – so in this guide we'll look at some of the different ways you can buy Qantas Points – specifically, to top up your account – and if it's ever worth it.
Note that Qantas now allow you to top-up online – and you can now purchase up to 600,000 points per year, in a maximum of four transactions. You also no longer need a minimum percentage of points before being able to make a top-up.
Note: Qantas Points expire after 18 months of inactivity in your account, make sure to keep your account active by earning/redeeming points regularly.
When you might purchase rewards points
There are two distinct scenarios for buying points that we encounter most often:
Top ups: To buy points to top up an account when you have nearly enough to make a redemption you've been saving for, have found the flight or hotel availability, and are ready to book
Outright purchases: buying enough points in one hit to redeem for the total cost of your travel immediately
We cover the basics of buying and points and miles in some detail in our beginners guide.
Qantas removes most restrictions on point purchases – easier top-ups now available
was last modified:
September 3rd, 2018
by
When it comes to Qantas Points, it is rarely good value to buy for an outright redemptions – the cost per point is usually not low enough, combined with Qantas redemption pricing being too high, to have this make sense. Look to purchase miles with American Airlines AAdvantage if you are starting with a nil balance.
So our focus is 'how to buy enough points for a top up.'
When it comes to target pricing, firstly we value Qantas Points somewhere around 2c to 3c per point. When it comes to topping up, you may be willing to pay more given that the number of points needed should be low – and that it will help to secure a specific redemption which might otherwise be lost.
So we'll set a target acquisition cost of no more than 3.5c per Qantas Point, just to add a filter.
Buying points from the source – Qantas Top Ups
Qantas offer direct purchase of points via the points top ups page – but it's not cheap. If it were, this article probably wouldn't need to exist!
At the cheapest end, you are paying 4.9c per point – with 1,000 Qantas Points on offer for $49. If this were to secure a 192,000-point First Class seat to Europe, then I'd go for that. But otherwise this is going to be too expensive to buy points in any quantity.
At the most expensive end of the scale, the price comes down a bit—right down to 2.366 cents per point, but you'd need to buy 150,000 Qantas Points for AU $3,549.
Again, maybe you'd consider that if booking two Qantas Round the World classic redemptions in Business or First Class, and you were short but, otherwise, that's a no go for smaller top ups.
If you have a Visa, Mastercard, or American Express, you can top up online. If you have a Diners Card or JCB card, you'll need to phone Qantas and an AU $35 service fee will apply.
You can buy up to 600,000 Qantas Points in any 12-month period, in a maximum of four transactions. You don't need to disclose what redemption you are planning to use the points for.
Buying products to resell
If buying products to resell in order to earn points, there's a whole other world of considerations – which we won't cover in this guide. But in short, you'd need to be sure you have demand for the product being resold at a price you are confident of achieving.
That said, if you think you can make it work, the Qantas Online Mall would be first place to look for retailers that offer bonus points – especially during a bonus promo period.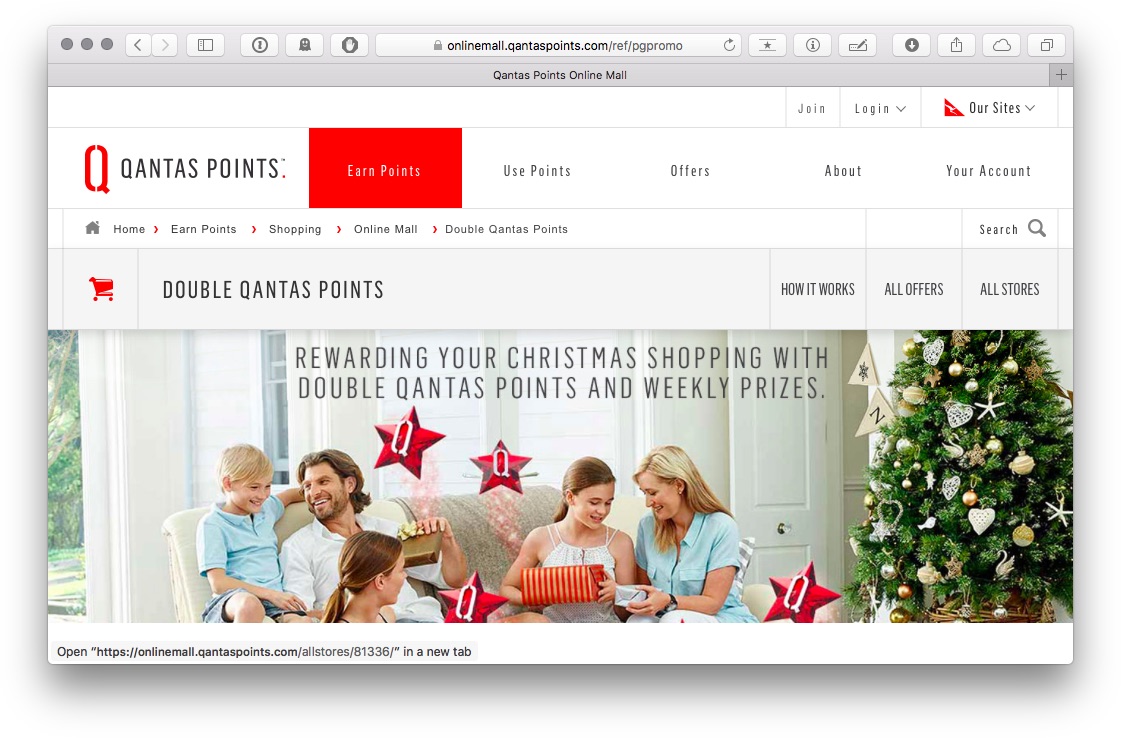 The biggest downside to this strategy is risk and timing – you'll take on risk that you won't sell the product at the price you set, that it will take a long time to do so – and most importantly in the top-up scenario – the Qantas Online Mall takes a long time (6 weeks usually) to credit the points.
Other options for earning points relatively quickly and easily by paying for them
You could consider bringing forward purchases you would be making anyway on your points earning credit card – think insurance, utilities, and other general household costs – the points may take a few weeks to flow through from your credit card but it's worth remembering as an option.
I tend to do large top-ups of my AT HOP card in Auckland at select PAK'nSAVE stores, which is a great way to pick up points with my American Express Platinum Edge.
A word of warning – buying points from others
Qantas offer Qantas Family Transfers which allow transfers between frequent flyer members with very few immediate checks and balances.
Qantas' terms and conditions specifically forbid you from selling points – even between family members who would otherwise be eligible for family transfers – and if you abuse family transfers of points by using it as a tool to buy and sell points from all and sundry, recent reports are that Qantas is fairly quickly looking at accounts that look suspicious.
For accounts they find suspicious and that can't prove the transfer was legitimate they are either cancelling the transfer, the flights booked with the points, or the frequent flyer account entirely.
You've been warned – so this option is not being discussed in this guide.
Summing up
Buying Qantas Points to top up an account is a useful way to reach that flight redemption more quickly, if you are willing to trade off spending a little in order to increase your balance and secure a flight when you find it.
To do this effectively you need to know how much you are willing to pay for points to reach that redemption goal, and how urgent the purchase is – once you have that in mind, it makes figuring out which options might suit your circumstances a lot easier.
Qantas removes most restrictions on point purchases – easier top-ups now available
was last modified:
September 3rd, 2018
by