Alaska Airlines Mileage Plan are offering a 50% bonus when purchasing miles, until 19 May.
Alaska Airlines Mileage Plan is one of the few ways of purchasing miles cheaply to then redeem on partner airlines like Qantas and Cathay Pacific, and can be useful for cheaper Business Class travel on Qantas to the US and domestically.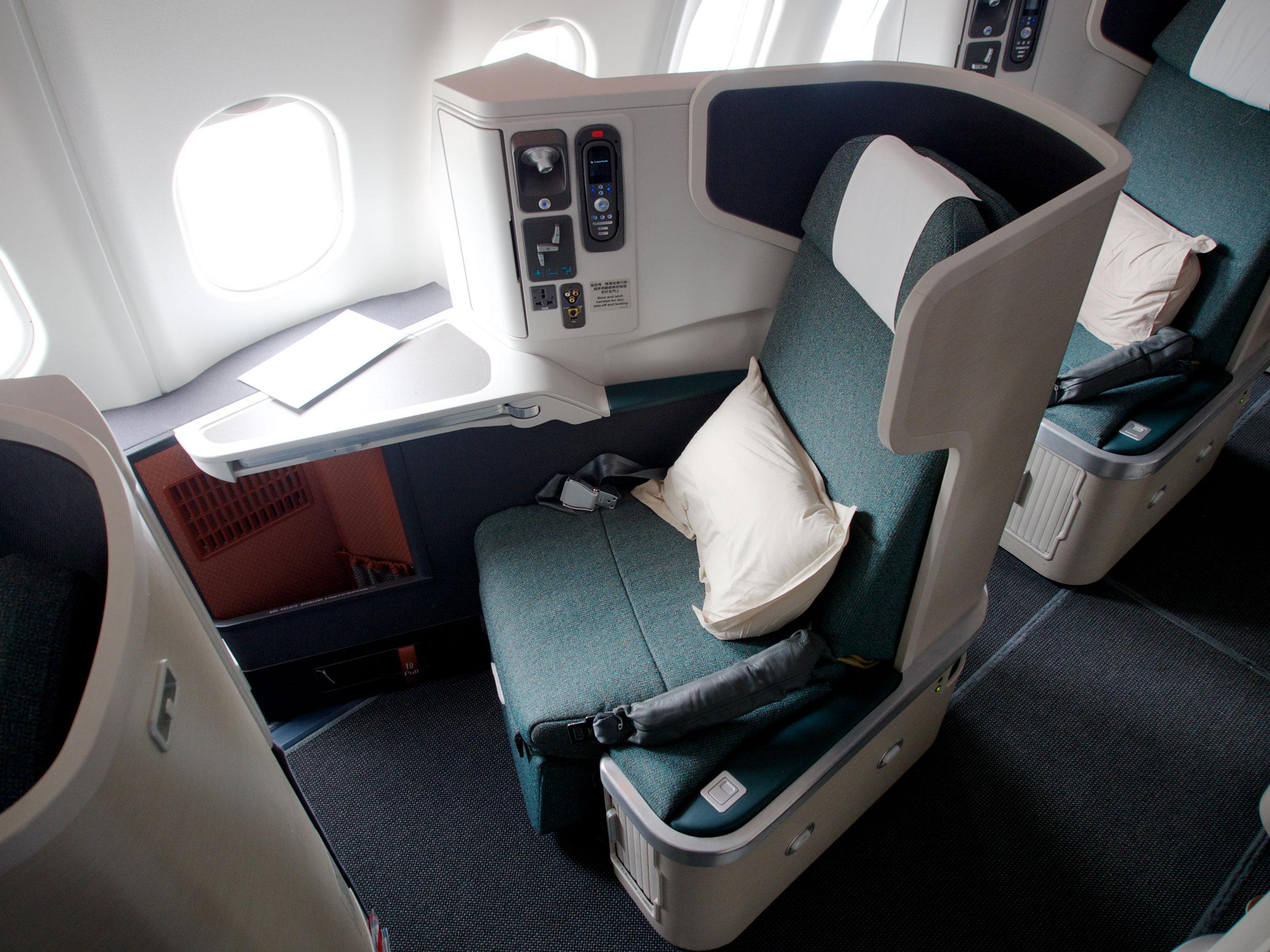 Buying Alaska miles is a great way to fly Cathay Pacific Business Class
Note that Alaska have this year introduced a new calendar year purchase cap of 150,000 miles, which may begin to limit their use, especially for families looking to travel abroad when multiple award seats are available.
Remember Alaska accounts need to be around 10 days old to be able to buy miles, so sign up for one in advance if you like the look of this deal.
Buy Alaska miles with a 50% bonus: best offer this year
was last modified:
June 7th, 2019
by
The current Alaska Airlines 'buy miles' promotion
With the current promo, you can purchase a total of 90,000 Mileage Plan miles (including the bonus) in one go for $1773.75 USD, equating to ~1.97 USD cents per mile.
Here are the tiers that I received (which may differ to yours):
Buy 10,000 – 19,000 miles = 19% bonus
Buy 20,000 – 39,000 miles = 35% bonus
Buy 39,000 – 60,000 miles = 50% bonus
You can purchase a total of up to 150,000 miles per calendar year.
Note that these miles expire after 24 months of inactivity in your account although with an option to reinstate for a fee.
Example uses of Mileage Plan Miles for travellers from New Zealand
These are my favourite redemption opportunities for cheap Business Class travel from New Zealand with Mileage Plan redemptions:
Notes:
These costs don't include airline taxes, which are applied by Alaska at the time of redemption.
The costs above are in USD and based on the current promotion with a best case cost at the highest tier.
The costs assumes you maximise the promotion and buy chunks of the maximum amount of miles, redeeming strategically to get the most value.
For more prices, check out the Mileage Plan award chart.
As many have found on previous posts (just read the comments), it's an easy winner to take advantage of for long haul Business and First Class travel on Alaska Airlines partners such as Cathay Pacific, to Europe and the USA. You can also get great value out of longer intra-Australia redemptions in Business Class too on Qantas.
Offer History
Keeping an eye on the rhythm of mileage purchase offers can help you be more informed about when to buy. Alaska Airlines maximum bonus is often 40%, however we've seen 50% a couple of times now.
| Date | Bonus offer (%) | Notes |
| --- | --- | --- |
| April-May 2019 | 50 | highest |
| January-February 2019 | 40 | |
| November - December 2018 | 50 | highest |
| August-October 2018 | 50 | highest and targeted but widespread |
| May-June 2018 | 40 | |
| February-April 2018 | 40 | |
| January-February 2018 | 40 | |
| November-December 2017 | 40 | targeted |
| October 2017 | 30% discount, not bonus | Point Hacks exclusive offer, limited to first 2000 buyers |
| August-October 2017 | 50 | highest but targeted |
| May-July 2017 | 50 | highest but targeted |
| February-April 2017 | 40 | |
| January-February 2017 | 40 | |
| November 2016 | 40 | |
| August 2016 | 50 | highest but targeted |
| May 2016 | 50 | highest but targeted |
| February-March 2016 | 40 | |
| November-December 2015 | 50 | highest but targeted |
| August-September 2015 | 40 | |
| July-August 2015 | 35 | lowest |
| March 2015 | 40 | |
| November-December 2014 | 35 | lowest |
| September-October 2014 | 40 | |
| May 2014 | 35 | lowest |
| March 2014 | 40 | |
| December 2013 | 35 | lowest |
| September 2013 | 40 | |
| Average | 42.31% | |
About Alaska Airlines Mileage Plan
Alaska Airlines Mileage Plan program is one of the most flexible of the US frequent flyer programs out there, given their partnership with both American Airlines and Delta for mileage earn, of course along with, Alaska Airlines themselves who service the West Coast, Hawaii and over to New York as well.
If you find yourself flying on a range of carriers in the US, banking your miles to Mileage Plan is a fairly savvy strategy.
Outside of the airlines mentioned above, the real opportunity for us in New Zealand & Australia is to redeem Mileage Plan miles for travel on Qantas, Cathay Pacific or Fiji Airways. In full, Mileage Plan partners are (as of August 2018):
Aer Lingus
American Airlines
Alaska Airlines
British Airways
Cathay Pacific
Condor
Emirates
Fiji Airways
Finnair
Hainan Airlines
Icelandair
Japan Airlines
Korean Air
LATAM
PenAir
Qantas
Ravn Alaska
Singapore Airlines
Points redemption opportunities from New Zealand & Australia
The best starting point is the award chart for New Zealand on the Alaska website which details the costs for miles use on Qantas, Fiji Airways, Cathay Pacific, Emirates, Korean Air, and American Airlines. From this page, you can use the navigation on the left hand side to look at costs for other regions too.
Alaska Airlines is a bit spotty at allowing / documenting award redemptions and costs for travel outside of North America. In some cases it's allowed, in others it's not. If the award chart doesn't show your route it's probably not going to be allowed.
And if the booking engine does not yield a result for a search, you'll need to call Alaska via Skype or similar to confirm availability, and try and research or book over the phone.
Can you add stopovers to an award?
One stopover in an intermediate city is allowed for one way awards, so book your return as two one-ways and you can get stopovers in both directions.
A stopover is where you can break one ticket into two or more flights across different days by stopping in a city that you would fly to anyway along the way. This is only valid where Alaska shows the cost between two regions on an award chart, which then creates a stopover opportunity possible on that routing.
For example, a stopover would be possible on Cathay Pacific from New Zealand to the US via Hong Kong – you'd be able to break the trip free of charge in Hong Kong, when booking a one way award to the US from New Zealand. The same would also apply to flights with Emirates, Fiji Airways, Korean Air, and Qantas.
Opportunities for travel on Qantas
The Qantas award chart to the US for Alaska Mileage Plan looks like this:
Mileage Plan also has an all intra-Australia travel award chart that I haven't featured here. Miles required are all one price – 12.5k miles one way in Economy, 20k miles one way in Business, and return at twice the cost. Unfortunately it's not possible to redeem Mileage Plan miles for Trans-Tasman flights (unless combined with a flight to the US).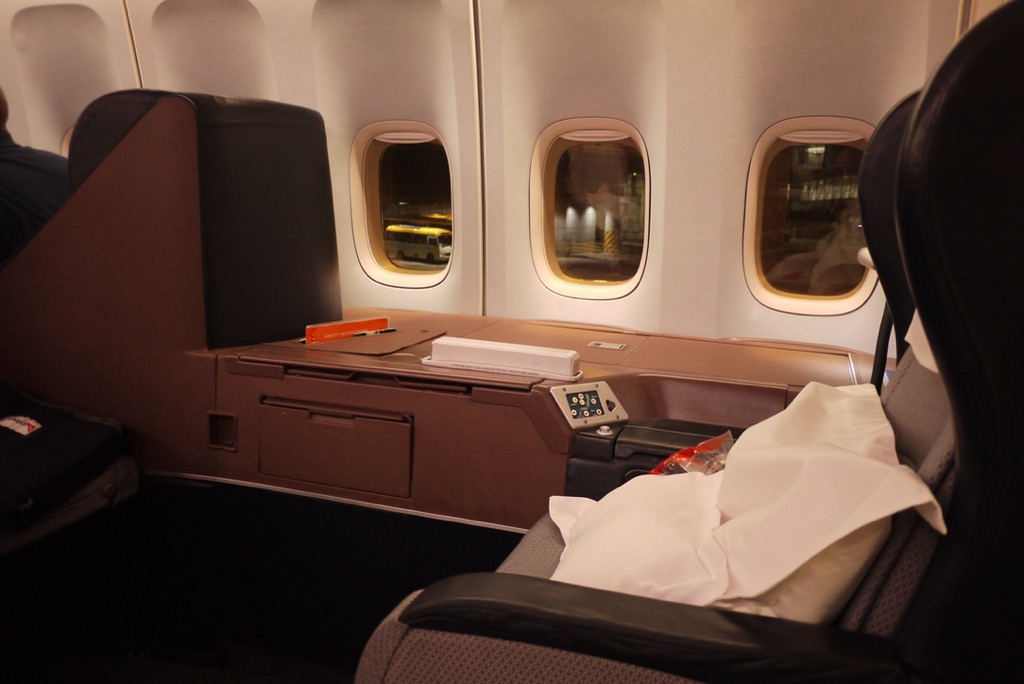 First Class on Qantas' A380
Opportunities for travel on Cathay Pacific
The Cathay Pacific award chart to the US looks like this:
Alaska do publish mileage costs for travel on Cathay Pacific outside of the US, and you can net a one way Business Class ticket between New Zealand and Hong Kong for a ridiculously cheap 30,000 miles.

Business Class on Cathay Pacific A350
Opportunities for travel on Emirates
The Alaska Airlines Emirates award chart allows for New Zealand – US redemptions, routed through Dubai.
Here's the New Zealand to US Emirates Mileage Plan award chart:
Opportunities for travel on Fiji Airways
You can fly Fiji Airways Business Class from Auckland to the US with a stopover in Fiji for only 55k miles – while this is the same as Qantas, at least you'll be flying in the right direction, and Fiji is arguably a nicer place to stay for a few nights than Sydney or Melbourne!
Looking to do an island hop? You can have a stopover in Fiji and then head onwards to Hawaii for 45k miles.
Opportunities for travel on American Airlines
American Airlines fly seasonal direct flights between Auckland and Los Angeles. Their award chart is below:
Not particularly good value when you consider that Business Class on Cathay Pacific will give you a stopover in Hong Kong, and then fly you direct to numerous US cities from there, including Chicago and New York – for 20k miles less. American Airlines might have some value for those flying to a more obscure US location that the other airlines don't fly to.
Opportunities for travel on Korean Air
Fancy a stopover in Seoul? Providing you're happy to redeem miles for a return trip, you can fly from Auckland via South Korea to the US for only 5,000 miles more than a return trip via Hong Kong on Cathay Pacific.

Taxes and fees
An example of the fees charged for booking a Qantas business award from Auckland to Los Angeles via Melbourne return:
$166.56 USD isn't too problematic. A US$25 fee is included and payable per person for each award ticket to Alaska as well; I believe this is $12.50 for one way and $25 for return – this isn't going to break the bank.
Generally surcharges on Alaska redemptions are very reasonable compared to Asia Miles, Airpoints, Qantas and other programs we are used to here.
Research and Booking techniques
You can search Alaska Airlines partner availability on their own website, however some partners require a call to Alaska directly to research and book. Once again, awardnexus.com is my preferred place to research. Having said that, you can usually research award availability with the partner directly, e.g. via Qantas Frequent Flyer, and then use that info to then book with Alaska as it's generally the same award seat inventory used between the airlines.
Cathay Pacific availability is notoriously flaky to confirm through many online sources. Even Cathay's own website shows incorrect availability for external partners, as they make more seats available to their own Asia Miles members. Cathay Pacific flights are also only available to be booked via the Alaska Airlines phone reservations team.
For Cathay, I recommend that you use the Qantas site as a starting point to first search for availability (on all routes, i.e. AKL-HKG, and then HKG-LHR, for example), and then call Alaska Airlines Reservations on 1-800-252-7522 to confirm that they can see the same seats. Do this before you purchase any miles.
Note that while the Alaska website shows an 0800 number for New Zealand, it does not work. I recommend that you use Skype to call the above US number directly.
Once you have confirmed availability, it is then safer to purchase the miles, and then call back to redeem. Do this straight way as Alaska will not put award seats on hold. Miles usually credit very quickly so assuming you have confirmed availability, this method should work out alright (assuming of course no one else grabs it in the meantime), and has for me at least half a dozen times.
Summing up
I rarely buy miles to hold and use at a later date without planned travel. However, for tickets I know I want to buy, with specific dates and routes in mind, I would definitely research cost and availability through Mileage Plan as this is a great lower cost option for securing Business and First Class redemptions on a range of familiar carriers.
Buy Alaska miles with a 50% bonus: best offer this year
was last modified:
June 7th, 2019
by
Buy Alaska miles with a 50% bonus: best offer this year
was last modified:
June 7th, 2019
by