We often get asked 'where to start' with loyalty programs and frequent flyer points.
This one is a quick reference of all the various programs that are worth signing up for – the quick answer to 'which programs should I sign up for' is 'as many as you can be bothered to'. All are free to join.
For the more expert of you, that know this already – good for you! However everyone has to start somewhere, so when you get asked the inevitable questions, point them this way.
Why register for all these programs?
Simple – if you don't register, you can't earn points if an offer comes up.
Also by registering you will start to opt into emails (if you want to) which will guide you toward some of the promotions on offer.
Finally, many of the promotions where you can buy points or miles at a discount will require you to have an account set up for a minimum amount of time.
Going through and joining these programs will at least let you get your account in place to take advantage of any deals in future.
The top 5 frequent flyer programs to join for New Zealand travellers
To get started, register with the following 'local' programs that are the most dominant in this region:
1. Air New Zealand Airpoints – join here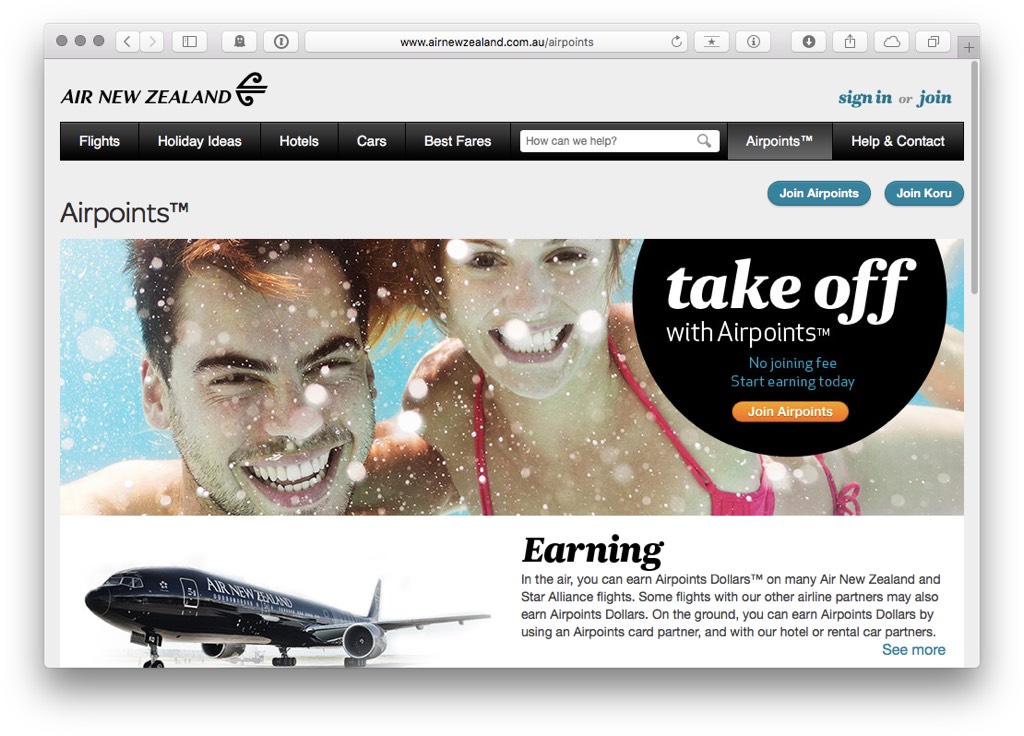 Air New Zealand Airpoints is the loyalty program of our national carrier, while award redemptions with Air New Zealand are not as good value as most international carriers, there are many easy ways to earn Airpoints dollars in New Zealand, from flights, hotel and rental car partners, and credit card transfers, that membership is a logical first step.
2. Qantas Frequent Flyer
Qantas Frequent Flyer membership has a standard cost of NZ$50 – but this is easily circumvented by the re-occurring promotion Qantas run offering free joining for New Zealand residents here.
While not having quite the earning opportunities of Air NZ, with subsidiary Jetstar operating nationally, many travel partner earning options, a couple of good credit card choices, and a easier to use and better value reward redemptions, Qantas frequent flyer comes in a close second.
3. Velocity Frequent Flyer – join here
Virgin Australia's Velocity program is behind Qantas in pure member numbers, but has a number of opportunities to earn points, including their strategic partnership with Air NZ, meaning it is possible to credit your points and status credit earn from most Air NZ flights to your Velocity accounts. You need to have an New Zealand residential address to join.
4. Singapore Airlines Krisflyer – join here
Krisflyer has great value uses for Krisflyer miles on Singapore Airlines flights. Points can be transferred in from American Express Membership Rewards.
5. Cathay Pacific Asia Miles – join here
Cathay Pacific's [Asia Miles] program is good for long-haul flight redemptions on Cathay Pacific and it's OneWorld airline partners.
Again, Asia Miles can be transferred over from American Express Membership Rewards.
A final notable mention – Air New Zealand Airpoints for Business – join here
If you are a small to medium business or even a sole trader, also consider signing up to the Air NZ Airpoints for Business program to earn more Airpoints dollar on flight purchases. It's free to join and all you need is a trading name and a NZ IRD tax number to get a 20% Airpoints dollars bonus.
Secondary International Frequent Flyer Programs
There are a number of overseas programs that are also worth joining for a variety of reasons.
6. United Airlines Mileage Plus – join here
United Airlines membership is most useful for either searching Star Alliance airline, including Air NZ award seats, or for taking advantage of their regular miles purchase offers found here for cheap Star Alliance Business awards to Asia from New Zealand.
7. American Airlines AAdvantage – join here
AAdvantage is great for redemptions on OneWorld airlines, and offer regular bonus mile promotions – but AAdvantage miles are harder to come by in bulk for New Zealanders unless you purchase them outright.
8. Alaska Airlines Mileage Plan – join here
Alaska Airlines is a partner with Qantas, American Airlines, British Airways, Emirates, Cathay Pacific and many more. They are useful for Alaska Airlines Mileage plan miles purchase promotions.
9. Emirates Skywards – join here
Emirates Skywards is most useful for the true Emirates frequent flyer – those who fly on Emirates a lot. Skywards is also a transfer partner with American Express Membership Rewards.
But it doesn't hurt to get your membership set up in case an offer that makes sense to take advantage of comes through.
10. Virgin America Elevate – join here
Virgin America's Elevate program run promotions to purchase Elevate miles which can be redeemed into cheap Virgin Australia Business Class flights.
11. Etihad Guest – join here
Etihad's 'Etihad Guest' program is useful for their frequent bonus mile promotions if you fly Etihad frequently enough to warrant crediting your points from Etihad flights to your Etihad Guest account.
12. British Airways Executive Club – join here
The main reason to join British Airways program is to use their website to look for frequent flyer points seats on a wider range of OneWorld airlines than Qantas.com.
You'll need an overseas residential address of your own, or to borrow from a friend/family, to sign up.
13. Iberia Plus and Avios.com – join here and here
Not commonly used – but Iberia and British Airways are owned by the same company, and use the same loyalty program currency – Avios, which can be great value for those looking for short-haul domestic flights on Qantas within Australia.
Iberia occasionally run decent Avios purchase promotions (as do British Airways). Signing up for both Iberia Plus and Avios.com will let you combine your Avios to/from BA and Iberia accounts. Feel free to skip if that sounds unlikely.
Summing Up
If you don't join some of these programs, you are locked out of 'playing the game' and joining in any great promotions that might crop up in future.
Spending a few minutes to join each frequent flyer program now is worth the effort. You'll also start to understand the ins and outs of the various frequent flyer programs and airlines as you go.
What's next? The main hotel loyalty programs to join…
Getting started – which frequent flyer programs should you join?
was last modified:
July 13th, 2016
by