ExpertFlyer is an invaluable tool in your arsenal if you are seeking a premium reward ticket or upgrades on a flight but the availability is not there at the time of your initial search.
It has the capacity to quickly search for specific upgrade/award space on flights, and if it finds none, can be set to alert you as soon as more availability is released.
It kind of works the same as setting up a fare alert for if cash tickets drop below a certain price.
This article will cover the basics of how to use an ExpertFlyer Premium account to search and schedule award availability notifications, so you can then quickly secure the upgrade or redeem points for the reward seats before someone else comes across them.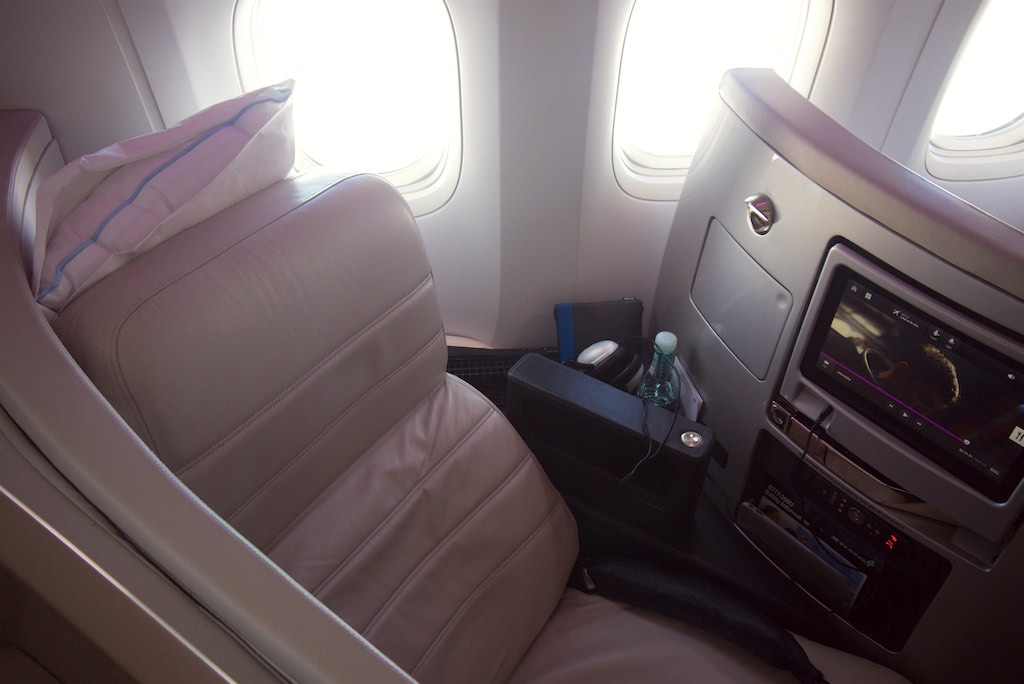 Instead of searching every day for Air New Zealand Business Class upgrade availability, let technology do the work for you
The Basics
It's helpful to know the below points, to simplify things:
The terms award seat and reward seat are interchangeable
A premium award seat can usually be purchased outright with points (redemption) or upgraded from an eligible paid Economy ticket with points (upgrade)
For the purposes of this article, we'll use Business Class as a reference point, but it is the same procedure to set Premium Economy or First Class award notifications
It is important to know that both redemptions and upgrades come from the same limited allocation of seats, hence there is often no availability on popular routes
We'll base examples on Qantas and Virgin Australia domestic flights in Australia, as anyone with enough points can upgrade them immediately if there's availability. You cannot upgrade Air New Zealand flights with points in NZ as there is no Business Class to upgrade them too! We have however provided some screenshots of searches for Air New Zealand flights Trans-Tasman, to give you an example of what to look out for.
Finally, cash upgrades (usually offered to you via email) is a totally separate concept, and the advice here generally won't be applicable.
Upgrade and award availability
Airlines will tend to make a number of their premium seats available for points upgrade, or outright redemption with frequent flyer points. In most cases, these Business Class award seats are booked into a special fare which is different from a commercial cash fare.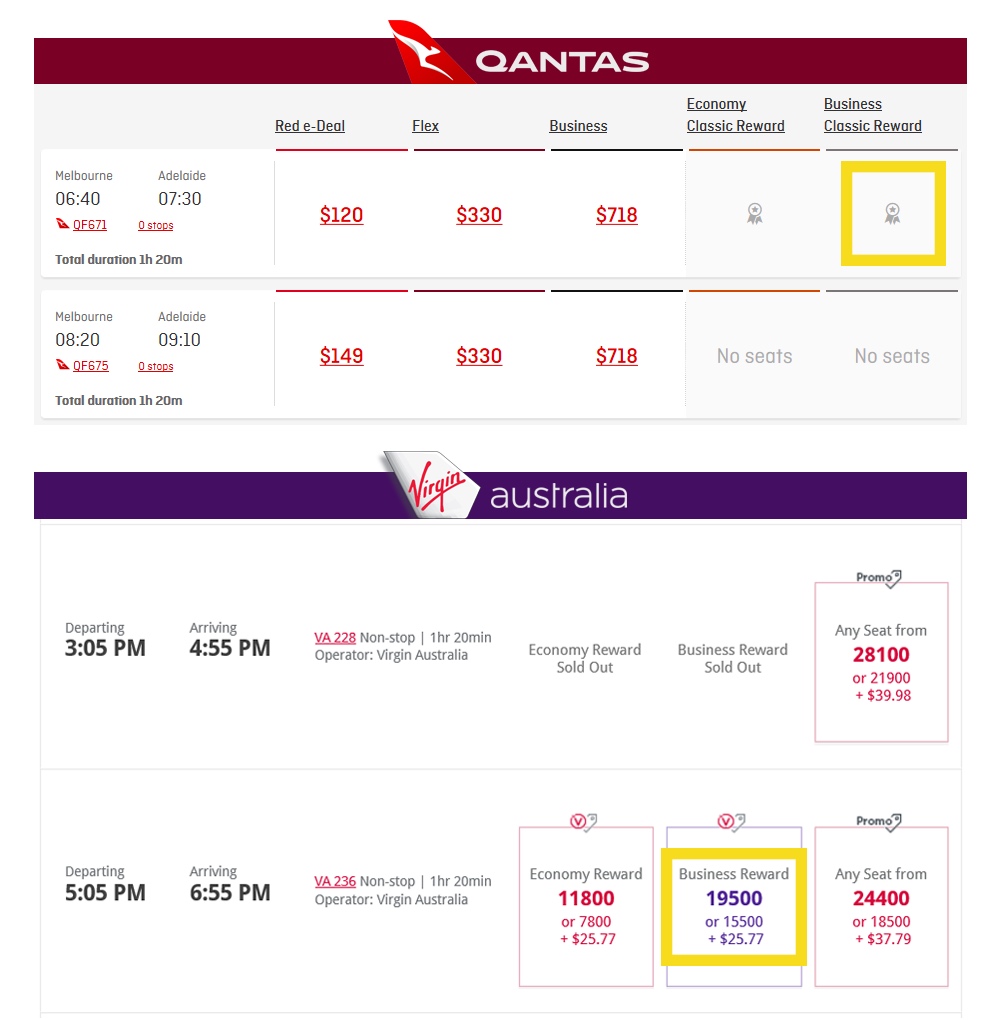 Highlighted in yellow – the coveted Business Reward seats on Qantas and Virgin Australia. If these are available, then that usually means an upgrade is available for instant confirmation too
Air New Zealand is quite different – Airpoints members don't have access to 'award seats' per se, but can instead use their Airpoints Dollars to make an outright redemption for any seat on any flight. They do however release a limited number of traditional Business Class award seats to partner airlines, bookable through programs like KrisFlyer and United MileagePlus.
Upgrades on Air New Zealand work a little differently, and generally depend on status.
Read more in our guides to upgrades on Qantas, Air New Zealand, and Virgin Australia flights.
As a rule of thumb, traditional rewards seats are usually limited in number, with initially only two or so seats released per flight. With a large number of people trying to book these seats, you'll often find availability is scarce on popular routes.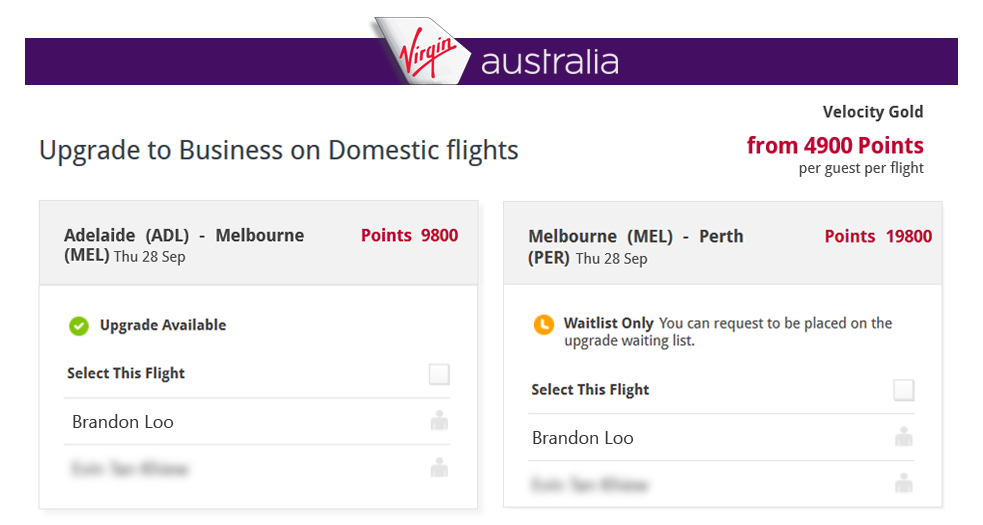 The popular Melbourne-Perth leg has no seats available for upgrade but the Adelaide – Melbourne one does
However, airlines tend to release some more award seats closer to the flight departure if they don't think they will sell many more cash tickets. This is where ExpertFlyer comes in handy with notifying you when more inventory is made available.
ExpertFlyer plans
ExpertFlyer has two account options: Basic and Premium (also called Pro).
While free ExpertFlyer accounts exist, they are only good for Seat Alerts, which is where you a looking for a specific seat within the cabin you're booked in.
This isn't what we're doing, so you'll need a Premium account. The Basic account can search for awards and upgrades, but only Premium can generate flight availability alerts.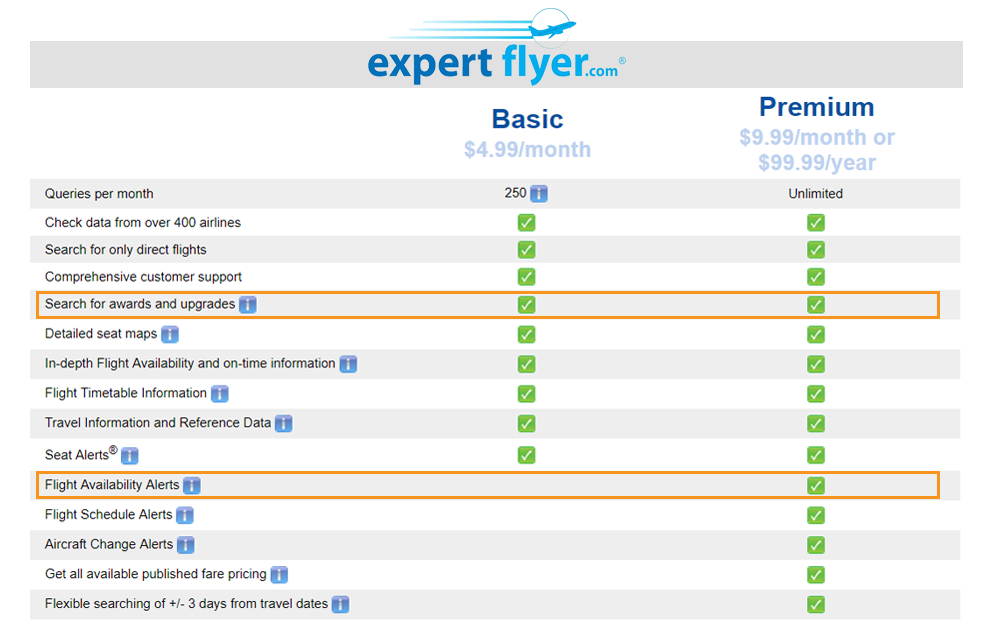 Differences between Basic and Pro accounts
My personal rule of thumb: if you have two or more flights within a month that you want to upgrade and they have no availability, get the Premium subscription for one month ($9.99 USD = ~$14.40 NZD) and all your flights will be covered. Activate the subscription 30 days before your final flight for best coverage.
If you have just one special flight you want to upgrade, then you can sign up for their five-day free trial. By activating this five days before your flight, you'll be covered for any last-minute availability which pops up.
For redemptions, if there's no Business reward seat availability on a flight that is a few months away, it is up to you to weigh up the cost of ExpertFlyer subscription against how much you want those seats. If it is a last-minute flight within a week, then the five-day free trial is your best fit.
How to search for award seat availability using ExpertFlyer
First, we will check if there are any reward seats available for your flight. You can do this through the airline's website, or get ExpertFlyer to do the hard work for you.
Step 1: Log in to your ExpertFlyer Premium account. On your homepage, click on Awards & Upgrades (there are two links for it on this page)
Step 2: Enter your travel details: departing and arriving airport, date (one-way is fine and easier to use), airline, number of reward seats and class
Important: Note which letter is next to 'Business – Award'. This is the fare class for Business reward seats, and it differs between airlines. You'll need to know this letter to set a flight alert later. The full list of codes is here

Business award seats fare codes: 'U' for Qantas and 'Z' for and Virgin Australia
Business awards seats on Air New Zealand including Airpoints Comp upgrades for Gold members are classed as 'I'. The reference to Airpoints is a bit misleading – these are actually the seats that will be accessible through programs like KrisFlyer and United MileagePlus
Step 3: Look at the results. If a flight appears, it means there is availability. The highlighted column 'Seats' also lets you know how many reward seats are available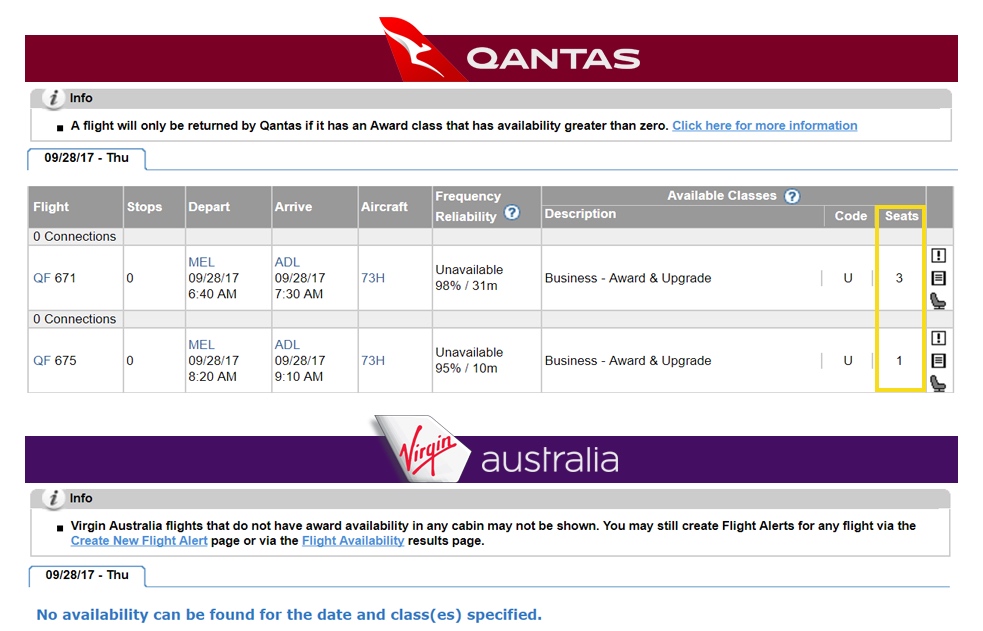 Qantas has three Business reward seats on QF 671 and one seat on QF 675; Virgin Australia does not have availability for this route on this date.
Air New Zealand won't tell you how many seats are available – it's a blunt 'yes' or 'no'.
Step 4: If your booked flight shows up with enough seats available, then you should be able to stop here and book the seats/confirm the upgrade with the airline, depending on their policy.
If your flight doesn't show up, then there's no seats available – time to set an alert!
How to set an award seat alert using ExpertFlyer
Step 1: On the left sidebar, scroll down to a section called 'Alerts', and click on the orange link Create New Flight Alert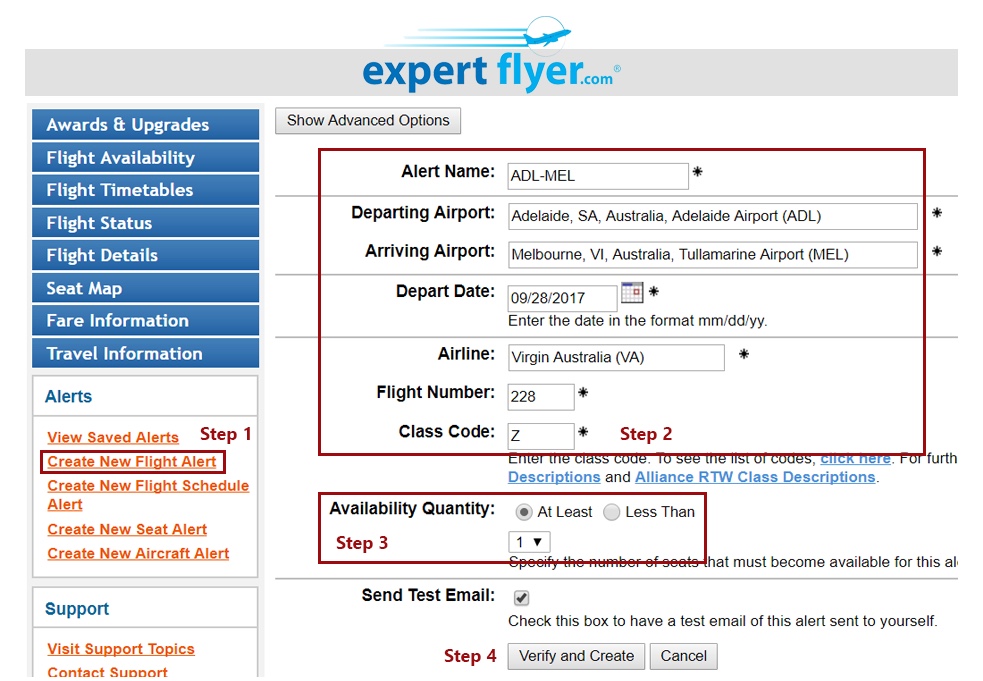 Step 2: Set a name for your alert (for your own reference). Then enter all the details of the flight you want to book or upgrade. Finally, input the class code of the reward seat you're after (Air New Zealand Business is 'I', Qantas Business is 'U', Virgin Australia Business is 'Z' – here is that full list again).
Step 3: Choose the number of seats you want. It is important to know that if you are looking for two or more seats (choosing 'at least 2'), but only one becomes available later on, you won't get notified unless you set your threshold to 'at least 1'
Step 4: Confirm the details, select if you want a test email, then click Verify and Create
And that's it! Your alert will start searching automatically for the duration of your subscription. You can view it anytime under View Saved Alerts, where you can also launch an on-the-spot Quick Check in case you want it to check again manually.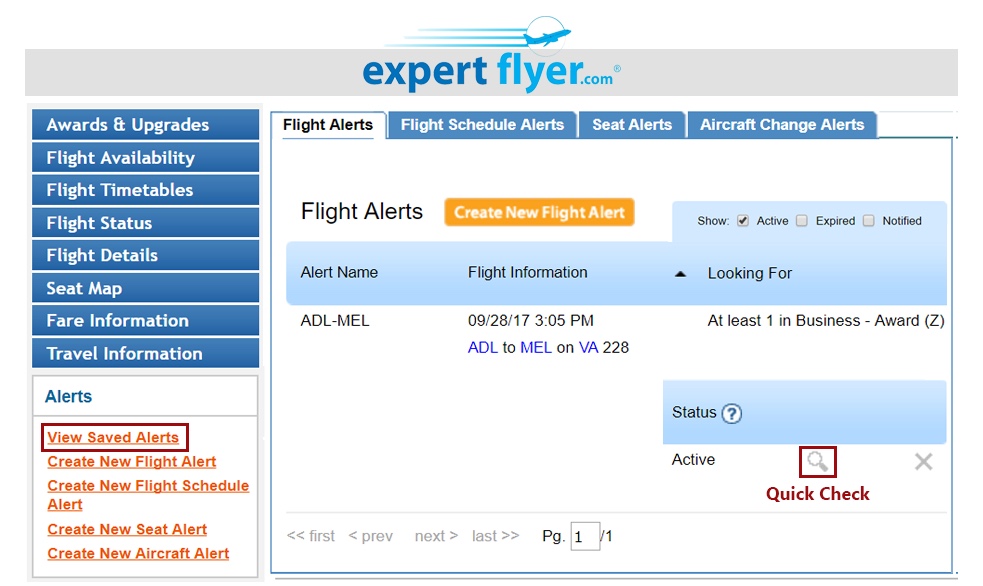 Alert active and searching
Get notified of award seat availability found
If the odds are in your favour, then one day you'll see an email like this appear in your inbox: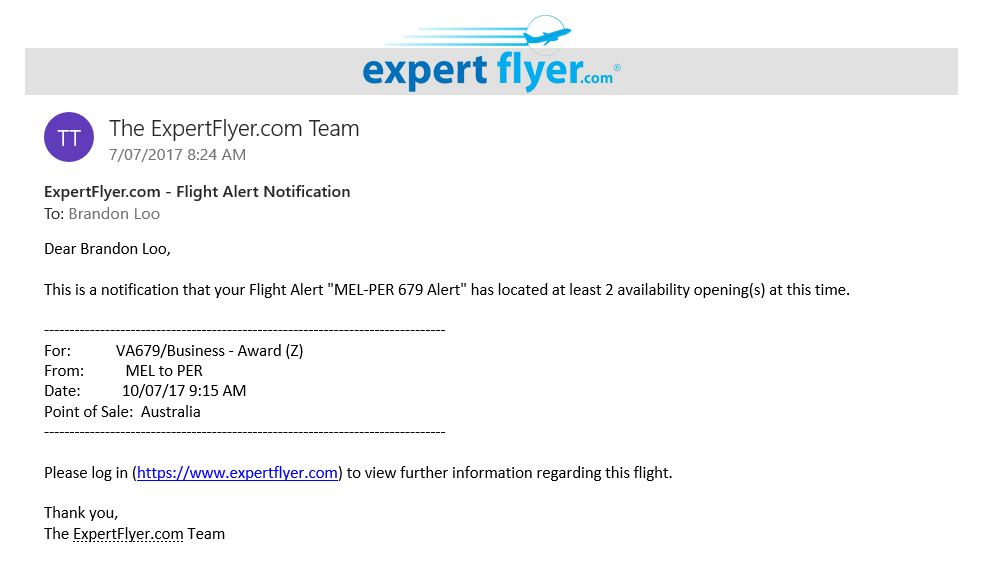 Chances are, someone else received it too! So get cracking and book your flights or confirm your upgrades, and enjoy your adventure!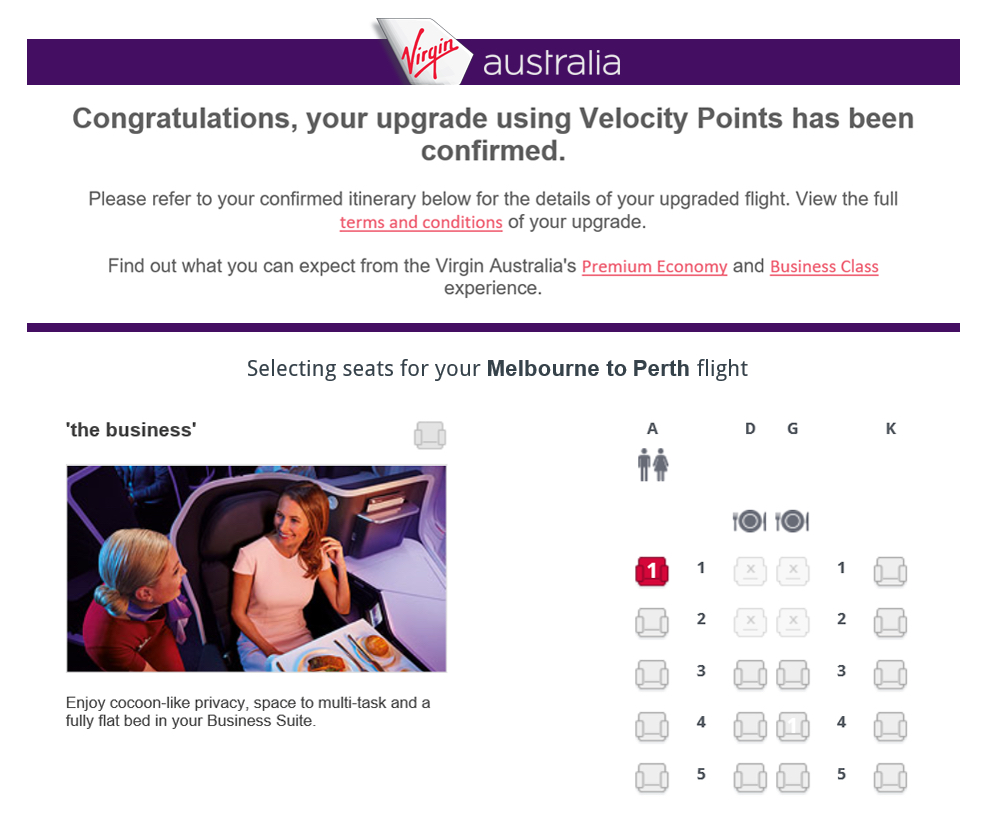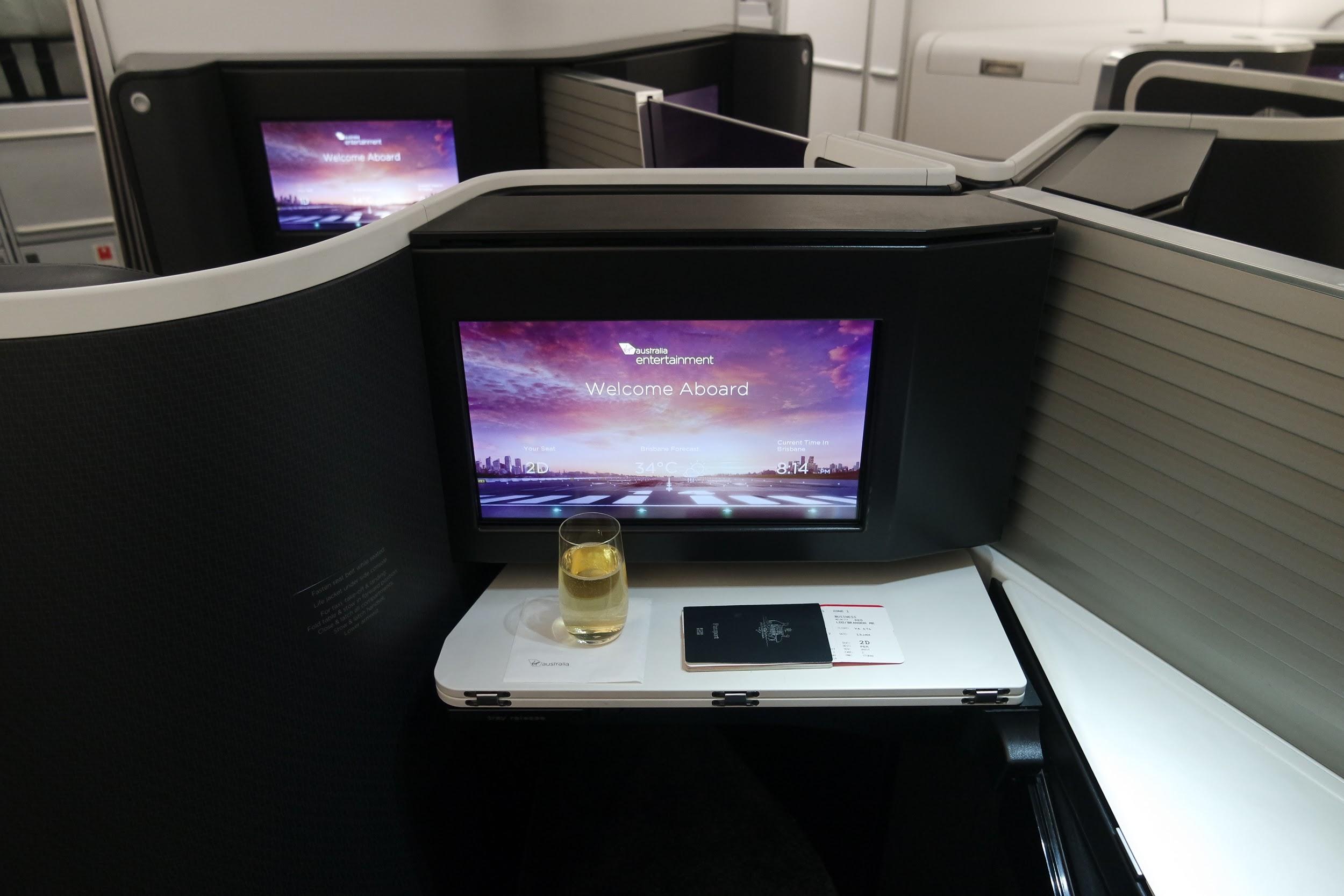 I got my upgrade to Virgin Australia's A330 Business Class confirmed!
Summing up
While this guide is mainly tailored for Qantas and Virgin Australia domestic flights in Australia, you'll be able to set alerts for international flights and other airlines with the same steps.
However, each airline has its own set of rules for upgrades and redemptions (especially for long-haul international flights), so make sure you do your research first – for example, Air New Zealand have lots of different upgrade options, and whether you have access to them or not can depend on your status. Setting an award seat alert is no good if you're not eligible to make an upgrade in the first place!
ExpertFlyer is undoubtedly useful, but it's not for everyone. If you don't like paying a subscription, you can just manually check your airline's website for reward seats every day, until something comes up.
Alternatively, some airlines let you waitlist through their 'Manage My Booking' page, so you have a chance to be considered for an upgrade a day or so before departure.
But if you want a better chance at success and don't have time to waste, this is a great tool to do the job for you in the background. It has many other interesting features which are beyond the scope of this article and could make your travels even more comfortable.
How to easily be notified if award availability opens up on a flight you want
was last modified:
April 8th, 2019
by