Emirates have announced that from 14 June, it will launch flights between Auckland and Dubai via Bali (Denpasar) using their Boeing 777-300ER aircraft.
Air New Zealand are the only other airline to offer a direct flight between New Zealand and Bali, and only as a seasonal service.
In this guide, we explain the differences between the three cabin products on this aircraft, and advise how to use Qantas Points to fly the route.
Route: Auckland – Bali – Dubai
Emirates will operate this route with their Boeing 777-300ER aircraft.
From Auckland, EK451 will depart at 12:40pm, and will touch down in Bali at 5:55pm on the same day, just in time for pre-dinner cocktails if you're not carrying on to Dubai. The flight is scheduled to operate at 9hr 15 mins.
If you're travelling onwards, you'll have a 1hr 55m stopover, departing for Dubai at 7:50pm, and landing just after midnight at 12:45am.
On the return from Dubai, EK450 will depart at 6:55am, arriving in Bali at 8:20pm. The flight to Auckland then departs at 10pm, and arrives at 10am the following morning.
At this stage, it doesn't appear that Qantas has a codeshare on this route.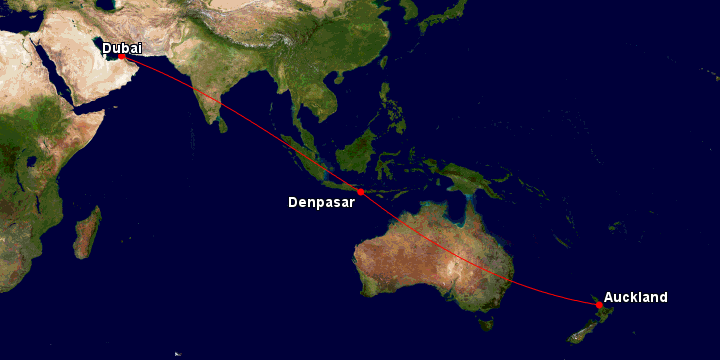 There is plenty of award space on this route for the months ahead, so this will be a keen redemption option for those looking to holiday in Bali, or using it as a stopover en route to the Middle East.
The Cabins
Emirates are offering First Class, Business Class, and Economy Class on this route.
First Class
The popular private suites will feature on this route, allowing Kiwi travellers to get to Bali in style.
There will be 8 suites on this aircraft, but no shower on onboard bar like on the A380 that operates direct to Dubai from Auckland.
Business Class
The much unloved 777-300ER Business Class will feature on this route, with 42 seats arranged in a 2-3-2 layout. We're generally not a fan of the layout, but admittedly it may actually appeal to those travelling as family on this holiday route.
Note that some 777-300ER aircraft still feature angled-flat seats, though their newer jets have fully-flat and an updated cabin design.
Economy Class
There will 304 Economy Class seats across a 3-4-3 configuration. Does anyone else feel as if the blue colour palette is very fitting for flights to Bali?
How to use points on this flight
The main points currency that New Zealand-based travellers can use on Emirates flights are Qantas Points.
Qantas Points are a popular points currency and can be earned through everyday spend with an American Express Membership Rewards card, or with a Qantas Cash card.
Here is a look at the one-way pricing using Qantas Points on this route:
Qantas Points
Route (one-way)
Economy
Business
First
Auckland - Bali
28,000
60,000
90,000
Auckland - Dubai via Bali
55,000
112,000
168,000
Auckland - Dubai with a Bali stopover
56,000
120,000
180,000
For those wanting to travel to Dubai via Bali on a return award, a redemption with Malaysia Airlines Enrich comes in slightly cheaper, at 92,000 miles return Economy or 202,000 miles return for Business. This is compared to 110,000 and 224,000 points with Qantas, respectively.
Enrich is also an American Express Membership Rewards transfer partner.
Award Availability
While award seats in Economy Class are usually easier to find than those in premium cabins, it seems that availability through Qantas Frequent Flyer is wide open on for all classes, on almost all dates:
Where to credit miles
If you are purchasing a cash ticket for a flight on this route, and want the most value out of the points you'll get out of it, check out our guide on how to choose which program to credit your frequent flyer points to.
Summing up
It's great news that Emirates is continuing to invest in new routes, and is partially compensating us here in New Zealand once most of the current Trans-Tasman routes cease operation.
This route also injects some much needed competition into the Bali route, and this all of a sudden becomes an accessible award redemption option for many points collectors that find it a struggle to earn enough Airpoints Dollars to fly with Air New Zealand.
Emirates announce new route Auckland to Dubai via Bali
was last modified:
February 27th, 2018
by