Until 13 June, you will earn 9 Velocity Points per $ spent on hotels booked through the Velocity Frequent Flyer-Expedia portal.
This covers all 650,000+ hotels listed on Expedia. Eligible stays are right up to 13 June next year.

The regular earn rate is 3 Velocity Points per $ spent. With my valuation of Velocity Points at 2.1c each, this triple-point offer is equivalent to getting a ~19% cashback on your hotel bookings—that's very solid.
To make a booking, click through the Velocity-Expedia portal.
Here are the full terms and conditions of the offer:
Triple Points offer is available on all hotel bookings made at https://expedia.virginaustralia.com from 23rd May 2019 to 13th June 2019. The triple Velocity Points are only applicable to customers booking through this channel and who are Velocity Frequent Flyer Members. Customers are required to quote their Velocity Frequent Flyer Membership number during the booking process.

The standard Points earn rate is 3 Velocity Points per $1 spent on hotel bookings. During the promotion, members will receive the Triple Bonus Points equating to 9 Points per $1 on completed bookings. Please allow 6-8 weeks after check-out for Points to be credited.

Only the first passenger listed on the booking is eligible to earn Points. Where more than one Velocity member is listed on the booking, the points will only go to the lead passenger. Points will not be allocated where the booking is cancelled. Velocity Member Terms and Conditions apply.
---
In this guide
There a few partnerships that Velocity Frequent Flyer Members can take advantage of to earn Velocity points for hotel stays – domestically in New Zealand, across the Tasman in Australia, and beyond.
This is a guide for those who didn't realise you could also earn Velocity Points from your hotel stays and want to know the basics.
In short, there are three methods that you can use to earn Velocity Points on hotel stays.
1. Earn Velocity Points directly with hotel partners
Velocity Frequent Flyer has partnered with a number of hotels and resorts. If you book directly with one of these partners, you'll earn Velocity Points for your stay, if on a qualifying rate.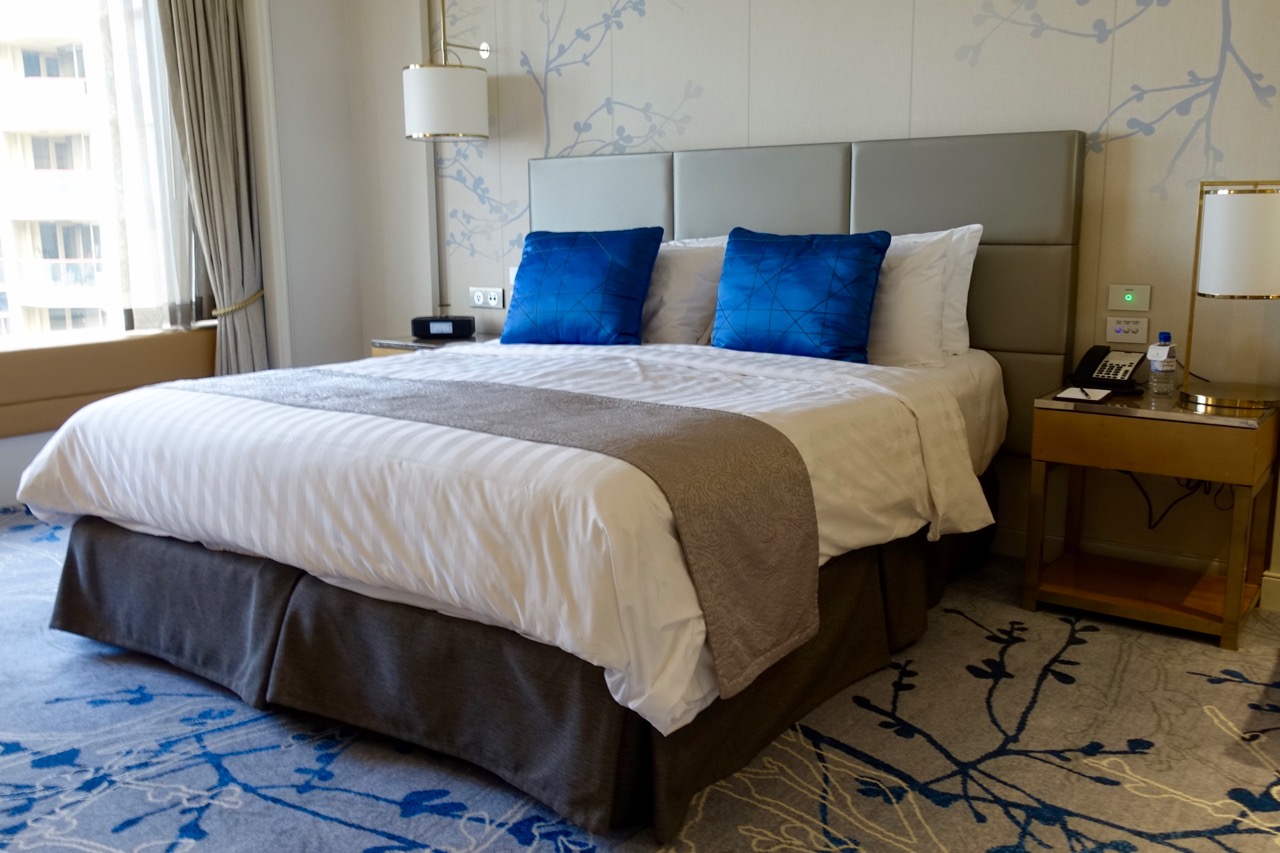 You can earn Velocity Points on Shangri-La stays, like at the Shangri-La Sydney.
The normal rate for stays in Australia is 3 Velocity Points per $ spent, whilst overseas properties—which includes New Zealand—will earn you 600-1000 points for the entire stay. Here are some of the brands included:

You can check the earn rates for specific properties here.
To earn points, show your Velocity membership card during check-in or add your frequent flyer number to the hotel booking online or over the phone before your stay.
2. Earn Velocity Points by booking a hotel through Expedia
When you click through this portal, you'll have access to over 650,000 hotels worldwide—that's triple the number of properties Qantas has access to.
Again, you'll earn 3 Velocity Points per $ spent on hotel bookings through Expedia.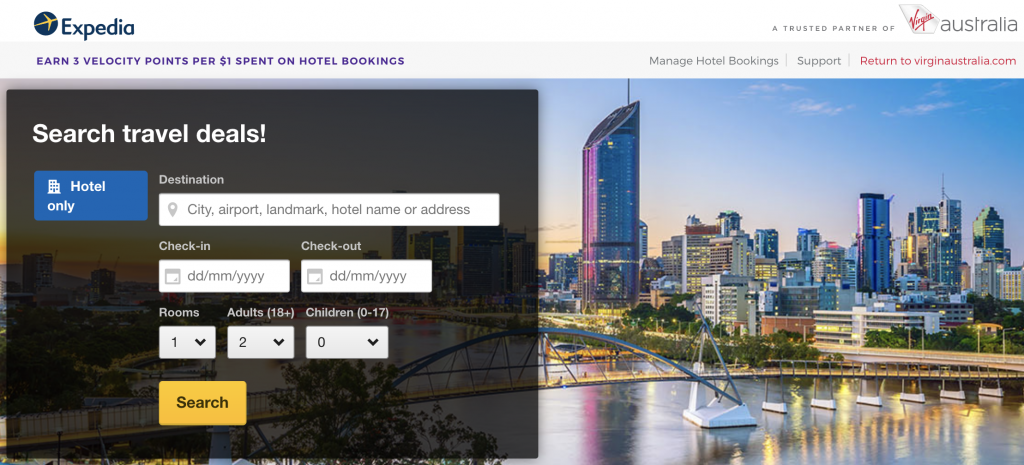 Expedia has a best price guarantee, which can come in handy to save money.
(Kaligo used to be the preferred online hotel booking platform for Velocity.)
Air New Zealand Airpoints also have a direct partnership with Expedia, though based on average value per point, we find the earn rate with Velocity more favourable.
Bonus points offer history
May-June 2019: triple points for bookings through Expedia
3. Earn Velocity Points by booking hotels through Agoda PointsMax
Agoda PointsMAX is another online portal. It offers a solid earn rate of at least 5 Velocity Points per $ spent but their prices tend to be higher than booking with the hotel directly.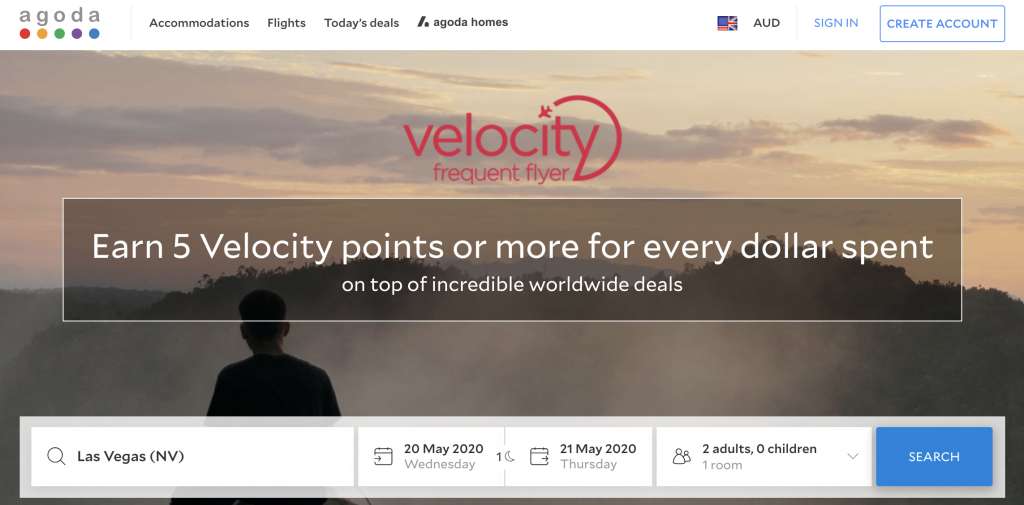 Make sure you select Velocity Frequent Flyer as your preferred loyalty programme. Then enter your membership number at the time of booking.
Read our experience of booking through Agoda PointsMAX.
4. Other methods
Summing up
Earning Velocity Points from hotel stays isn't hard. In fact, if you're loyal to Velocity, you'd be silly not to try and book your hotel stays in a way to maximise your points.
There's a large range of Velocity and hotel partners to take advantage of. However, as always, do your comparisons and sums to make sure you're not missing out on a better cash deal by booking elsewhere.
Earn triple Velocity Points on hotel bookings
was last modified:
June 16th, 2019
by