In September 2017, the Point Hacks crew had a team meetup in Singapore. We enjoyed getting to spend some time together face-to-face, given how geographically spread out we are across the world.
In fact, we enjoyed it so much, we will be doing it again this year – in Tokyo, Japan!
I will be using this trip as an opportunity to try out a new business class product, one of New Zealand's most interesting flight routes, and arguably two of the best First Class airport lounges in the world.
Here's a summary of my planned itinerary, including the cost of my tickets, the varying airport lounges I will be visiting, and the hotels I plan to stay at in Japan.
My Flight Plan
Flight 1: Auckland to Wellington with Air New Zealand
Product: Air New Zealand A320 Economy Class
Cost: 50,000 United Mileage Plus miles + $37.64 NZD in taxes (for AKL-WLG-SYD-KIX)
Lounge: None
This is of course the flight that I am looking forward to the least, but domestic Air New Zealand flights are nevertheless comfortable, and generally reliable.
I made sure to select a preferred seat at the front of the cabin at the time of booking, which was accessible thanks to a Gold status match with United Mileage Plus.
Flight 2: Wellington to Singapore with Singapore Airlines
Product: Singapore Airlines 777-200 Business Class
Cost: 50,000 United Mileage Plus miles + $37.64 NZD in taxes (for AKL-WLG-SYD-KIX)
Lounge: Air New Zealand Wellington International Lounge (Wellington) and Singapore Airlines SilverKris Lounge (Melbourne)
Singapore Airlines started flying to Wellington in 2016 on the much hyped "Capital Express" route, which included a layover in Canberra. Though as many predicted, the route was not particularly successful, and Singapore decided to start flying to Wellington via Melbourne instead as of April this year.
The route is operated by a Boeing 777–200, with Business Class in an angled flat, 2–2–2 configuration.
I will have two hours to enjoy the Air New Zealand Wellington International Lounge before my flight. This lounge had a soft refurbishment in December 2017.
I also plan to visit the Singapore Airlines SilverKris Lounge in Melbourne during the short layover. We haven't reviewed that particular lounge yet but here is a photo from our comparable SilverKris First Class Lounge Sydney overview: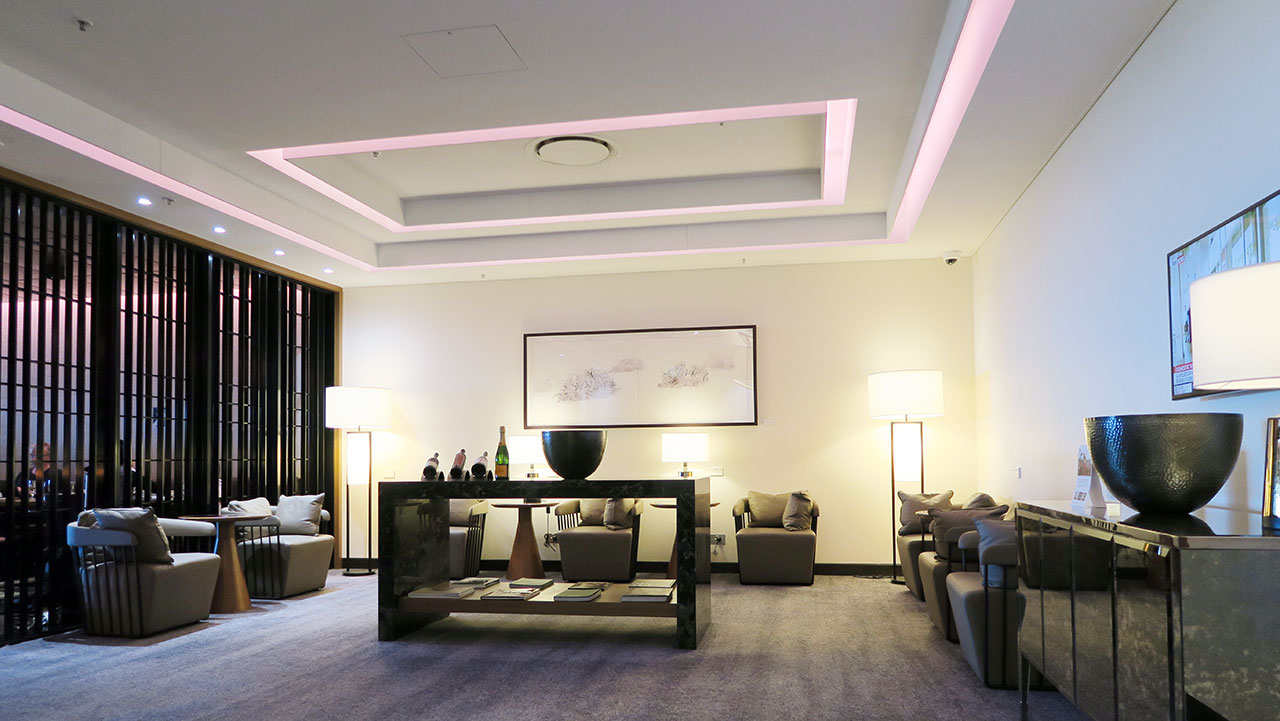 I have used the Singapore Airlines Book the Cook advance meal ordering service to select my main dish between Melbourne and Singapore – lamb loin in green curry, yum.
Flight 3: Singapore to Osaka with Singapore Airlines
Product: Singapore Airlines 787-10 Business Class
Cost: 50,000 United Mileage Plus miles + $38 NZD in taxes (for AKL-WLG-SYD-KIX)
Lounge: Singapore Airlines SilverKris Lounge
Singapore Airlines welcomed the world's first Boeing 787-10 in March this year and commenced flights using the aircraft to both Perth and Osaka in May. Singapore plan to use the 787-10s on regional flights of up to eight hours duration.
The 36 Business Class seats on this aircraft are in a 1-2-1 layout, giving direct aisle access to every passenger.
The seats convert into a fully-flat bed, which I very much look forward to using on my overnight flight between Singapore and Osaka.
I plan to take a shower and have a meal in the Singapore Airlines SilverKris Terminal 3 Lounge before my flight, so I can maximise the amount of sleep I get on board.
Flight 4: Osaka Kansai to Tokyo Haneda with Japan Airlines
Product: Japan Airlines 737-800 J Class
Cost: $157 NZD
Lounge: JAL Sakura Domestic Lounge
After a short visit to Osaka, I will be flying up to Tokyo to meet with the team. Flying was cheaper than taking the train, so I opted for J Class with Japan Airlines – a 'Premium Economy' seat for about $20 NZD more than Economy Class on the same flight.
The seats look similar to those seen on Qantas 737 Business Class.
I may drop by the JAL Sakura Domestic Lounge before the flight courtesy of being a oneworld Emerald member – though I hear the lounge is nothing special, and with an afternoon flight, I may choose to maximise my time spent in Osaka rather than at the airport.
Flight 5: Tokyo Narita to Hong Kong with Cathay Pacific
Product: Cathay Pacific A330-300 Business Class
Cost: 25,000 Asia Miles + $62 NZD in taxes
Lounge: Japan Airlines First Class Lounge
I have to admit that I am a bit of a Cathay Pacific fanboy, so I thought there was nothing better than to finish the trip spending many pampered hours on their planes and in their lounges en route back to Auckland.
I initially redeemed 25,000 Asia Miles for a not-so-ideal flight between Tokyo and Hong Kong, which included a stopover in Taipei.
I saw online that an earlier direct flight was available to waitlist. I called Asia Miles, got this added to my redemption, and it cleared without hassle a couple of days later. This flight will be on an A330-300 fitted with their Regional Business Class seats in a 2-2-2 configuration.
I'm staying at a hotel nearby Narita, so I can get up early and visit the much-acclaimed JAL First Class Lounge before my flight.
Flight 6: Hong Kong to Auckland with Cathay Pacific
Product: Cathay Pacific A350-900 Business Class
Cost: 78,000 Qantas Points + $100 NZD in taxes
Lounge: Cathay Pacific First Class Lounges – "The Pier" and "The Wing"
I plan to spend a long layover in Hong Kong enjoying Cathay Pacific's famous First Class lounges at "The Pier", and at "The Wing".
I hope to spend a few hours plane-watching from one of the eight Day Suites at The Pier, before enjoying a personalised, complimentary massage treatment.
The Wing is where I plan to enjoy a private bath or shower in one of their stylish Cabanas, while I have my clothes pressed.
I will then visit The Haven restaurant, which offers a combination of Western and Asian dishes for guests to enjoy.
My flight home will be on Cathay Pacific's A350-900 aircraft, which features a Business Class product similar to that found on the A330-300, but with some feature refinements, including larger personal screens, and enhanced storage space.
Cathay Pacific A330-300 Business Class Overview
Hotels
While subject to change, my current plan is to make the most of my American Express Fine Hotels & Resorts benefits by staying at the Conrad in both Osaka and Tokyo.
My one-night stay in Osaka will see me receive a $125 USD property credit, which I can spend on food and beverages or other amenities on-property.
My stay in Tokyo includes the third night free, plus another $125 USD credit.
I also have Hilton Gold thanks to my American Express Platinum Charge, which will see me earn bonus points on my stays at these properties.
Summing Up
My trip over to Japan to meet with the Point Hacks team later this year will be the perfect mix of business and pleasure.
I will have more information and photos to share of these flights and hotel stays upon my return.
Let me know in the comments section below what part of the trip you would most like to read about here at Point Hacks.
How I will be travelling to Japan for the 2018 Point Hacks team catch up
was last modified:
June 12th, 2019
by