The American Express Platinum Charge card has 80,000 Membership Rewards Bonus Points on offer with a $1,250 fee, along with a lot of perks and benefits. Read the Point Hacks guide for the full rundown.
80,000 Membership Rewards Bonus Points
$200 travel credit annually
Complimentary Priority Pass membership
Complimentary Accor Plus program membership extended to September 2018
$1,250 p.a. annual fee
Earn 2 Membership Rewards points per dollar
Spend $1500 within the first 3 months to get the bonus
Read the American Express Platinum Charge guide →
Point Hacks earns up to $180 per applicant for this card. More about this →
The American Express Platinum Charge is the big card of the Amex NZ stable, and comes with a chunky annual fee of $1250. However there is a huge array of included benefits, which if maximised the value should easily help justify the annual cost.
Along with these many benefits the Platinum Charge also comes the largest Membership Rewards sign up bonus of 80,000 points, the highest everyday spend points earn of 2 Membership Rewards points per dollar, and an unlimited points earning capability.
So the question is, are all the included benefits worth such a huge annual fee? While I can't make your mind up for you, we'll run through the value of those included benefits, so you can weigh up whether the card is right for you.
The 80,000 points sign up bonus requires a minimum spend of $1500 within the first 3 months. With 7 Airline and 2 Hotel transfer partners associated with the American Express membership rewards programme, a savvy points hacker could potentially redeem enough travel awards from these bonus points to cover the first annual fee alone.
Digging into the benefits of the American Express Platinum Charge card
The Platinum Charge card earns points in American Express' own Membership Rewards programme. I have previously covered the benefits, and provided a guide to American Express membership Rewards for those unfamiliar with how the programme operates.
There is a flat earn rate of 2 Membership Rewards points for every dollar spent on the card. While the Platinum Edge credit card from American Express earns 3 Membership Rewards points for supermarket spend, the Platinum Charge 2 point earn is on every dollar spent, including overseas, which makes it the best earning everyday spend card on the New Zealand market.
Lounge access with the American Express Platinum Charge
If you are a regular international traveller, a valuable benefit that comes complimentary with the Platinum Charge is Priority Pass membership for both the primary and one nominated supplementary cardholder.
The complimentary Priority Pass is a private membership programme which provides access for the holder and 1 guest to over 900 VIP airport lounges worldwide, including Auckland airport's own Strata Club.
Annual membership with unlimited access to Priority Pass lounge would usually set you back US$399 per person, and the Platinum Charge provides 2 complimentary. Each cardholder will also be able to invite a guest to accompany you into the lounge at no additional cost, which is usually valued at US$27 per person, per visit.
American Express also has growing network of Amex-branded airline lounges globally, including one opened in 2015 in Sydney Airport's International Terminal and another set to open at the Melbourne Airport in the second half of 2017, read more about it here.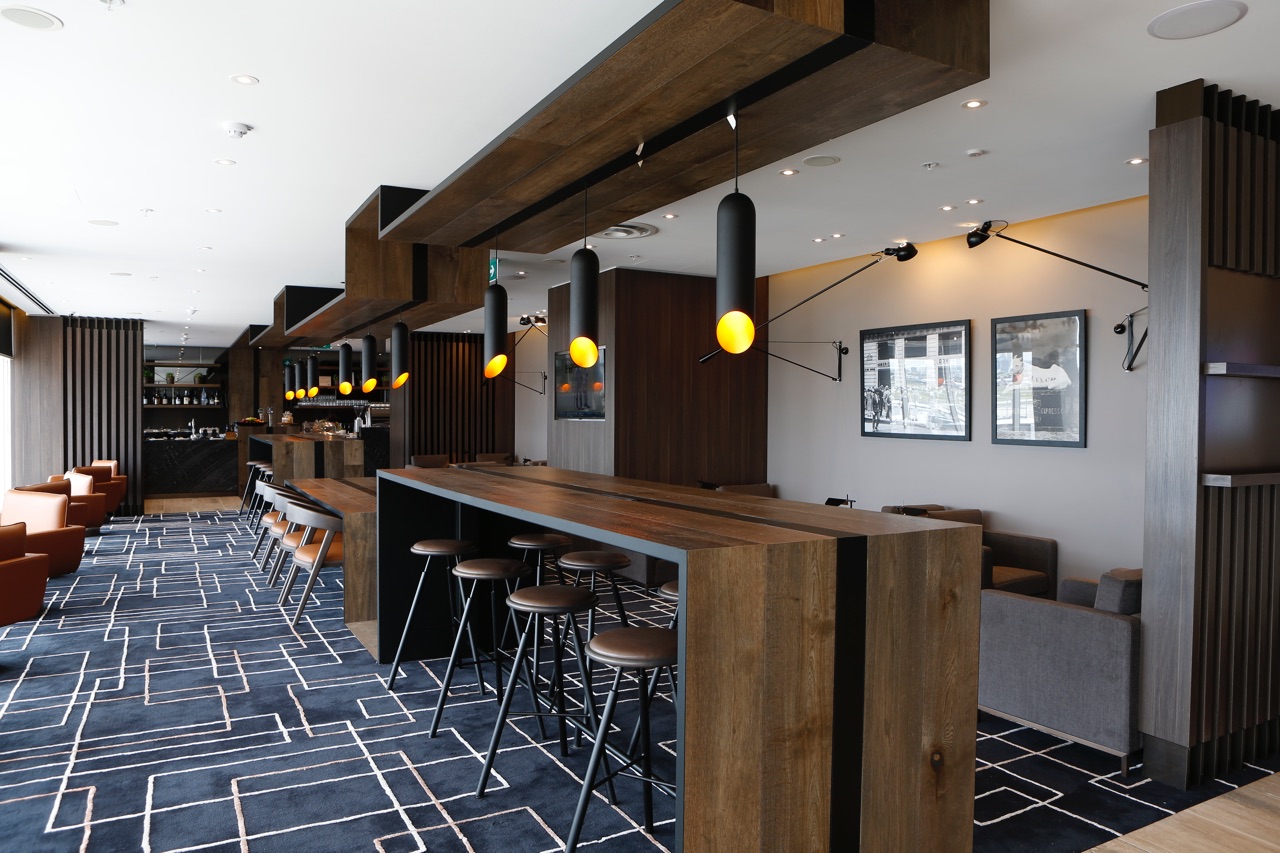 In Australia, you may bring in any children between the ages of 2-17, and up to other two guests. Guest access policies vary in other countries, and can be found in full here once you're a cardholder.
Additionally, when travelling with Delta, a Platinum Charge cardholder and supplementary cardholder can access Delta SkyClub lounges.
Hotel privileges with American Express Platinum Charge
Complimentary Accor Plus membership for the primary cardholder. Accor Plus is a paid annual membership providing special benefits and privileges within the Accor hotels group, including Soffitel, Pullman, Mecure, and Novotel.
This annual membership would normally cost $385 and provides the holder with an annual free night certificate at one of Accor's hotels. With Accor Plus membership also comes automatic Silver status with Le Club Accorhotels – Accor's worldwide loyalty programme, and in turns entitles the member to free internet and late check out at any Accor hotel.
It needs to be noted that according to the American Express site, complimentary Accor Plus membership with the Platinum Charge is only valid until 30 September 2018. It's quite probable that it will not continue after that date. That said, the offer was recently advertised as ending on the 30 September 2017 and has been continued for another year, so there is a good chance the membership will be ongoing.
Access to travel booking benefits and services through American Express Travel
American Express Travel is available to all Amex cardholders, but Platinum Charge cardholders get a ton of additional value, and can essentially use American Express Travel as their own personal travel agent.
Platinum Charge cardholders will receive a $200 statement credit each year for bookings made through American Express Travel.
For Business Class fares, American Express Travel has competitive pricing and has access to a wide range of discounts that may not be publicly available.
This is primarily across their partner airlines – British Airways, Delta, Emirates, Etihad, Singapore Airlines, South African Airways and Virgin Australia.
There's also a price guarantee – "Pay the best available fare in First or Business Class with our partner airlines. With our Platinum Fare Guarantee, should you find a cheaper price for the same booking class, we'll match it". Read the Terms and Conditions here.
Beyond airfares, there are also a number of partner independent hotel chains which offer some exclusive benefits when booking through American Express Travel.
For example Design Hotels offer free breakfast and wifi, while Small Luxury Hotels of the World offer a room upgrade, late checkout, and breakfast for two.
There's then the major hotel programme benefit – American Express Fine Hotels and Resorts.
American Express Fine Hotels & Resorts is only for Platinum Charge cardholders
American Express Fine Hotels & Resorts is a unique benefit for cardholders, which offers even more hotel benefits when booked through American Express.
With many FHR bookings you'll also continue to receive points and status with the parent hotel loyalty programme too, unlike other consolidators.
The key benefits typically are:
An on property benefit, often $100 USD in credit per stay
12pm check in
Room upgrade if available
Free breakfast
4pm late checkout
Free wifi
Hotel Status & Membership that comes with the American Express Platinum Charge
Beyond the actual travel booking benefits and discounts, there's also the potential to gain Gold elite status in four hotel loyalty programs (click on links to guides explaining more):
American Express Platinum Charge Concierge
As you'd expect from American Express' high end card, the service you'll receive from the Platinum Concierge should be some of the best in the business.
You may have access to bookings at shows and restaurants that would otherwise be impossible to get, and similarly for sports and concert tickets.
Some cardholders try to effectively use their Platinum Concierge service like their own personal assistant, helping organise travel plans through American Express travel, through to arranging their activities on the ground.
Platinum Charge Travel and other Insurances
I always err on the side of not providing too much commentary on credit card travel insurances because everyone's needs are different. You can find the PDS for the insurance benefits of the Platinum Charge here.
The insurances included are:
Travel insurance, including for points redemption bookings from using points earned by your Platinum Charge
Rental vehicle excess cover
Medical emergency expenses cover, including repatriation
Personal Liability cover
Purchase protection
Up to NZ$500 to repair a broken smartphone screen
Smartphone Screen Insurance is unique in the market as a credit card insurance offering, and it will cover you for screen repairs up to NZ$500, with a 10% excess on the claim. If the Smartphone is paid on a monthly contract, cover will start 30 days from the date of the first monthly payment on your card.
An essentially unlimited credit line
The fact that the Platinum card is a Charge card means that there's essentially no credit limit applied to your account – although American Express do keep an eye on your account, and especially in the first few months, may limit some transactions to ensure there's no risk of fraud.
The downside is that you do need to pay your account in full each month.
Downsides to the American Express Platinum Charge
Given the $1250 annual fee, you'd hope that the Platinum Charge card would be pretty much perfect – but there are some missed opportunities.
I've talked a lot about the transfer value of New Zealand Membership Reward points compared with the Australian version, however given that the annual fee for the NZ Platinum Charge is effectively equal to that of the Australian version, it would be nice to see some equal value in the points earning.
There are a few ways the card could be made better – firstly, some of the partnerships like the Accor Plus have specified end dates, giving a little uncertainty about whether they will be renewed for future years. More often than not they are, but given the high fee, it would be good to know for sure.
Also the Australian Platinum Charge comes with Virgin Australia lounge access, but it appears not with the New Zealand version. Given our regular business travel between the trans Tasman neighbours the Virgin lounge access would be of particular benefit.
There's also no airline status supplied with the card (apart from the match with KrisFlyer through Shangri-La Golden Circle) – although the included lounge access goes some way to making this up, airline status can help to get seats assigned and improve upgrade priorities.
Eligibility
The Platinum Charge card requires a minimum age of 18 years and an income of $100,000, yearly.
Summing up – the American Express Platinum Charge card
After the couple of thousand words written and read on the Platinum Charge, you can see that it offers a huge range of benefits for cardholders.
This card is likely to appeal most to those who travel frequently and who spend enough to earn enough points to make the most of both kinds of benefits of the card.
If you take advantage of the softer benefits, such as concierge and insurance services too, there's also a lot of value to be had.
Ultimately these are prestige and elite cards – for those who know how to get the most out of them, they can be really lucrative. But they definitely aren't for everyone.
Guide to the American Express Platinum Charge Card in New Zealand
was last modified:
November 27th, 2017
by
Point Hacks Credit Card Information
Point Hacks is published by Newformula Media. In some instances, Newformula Media receives a commission or benefit for referring you to the services of a bank / credit provider. This commission or benefit is disclosed at the point of referral to the credit provider. This website does not provide credit or advise you to apply for credit assistance from any particular provider.
We have not taken into consideration your circumstances or financial situation when providing the information on this website. It is important you read the relevant PDS from the product issuer and seek the independent advice of an appropriately qualified professional before making a decision on a product.
While we invest a great deal of time and energy into ensuring we provide with you with the most up to date and accurate information, we do not warrant the accuracy of statements or information contained on the Website relating to third party goods and services, including credit card information, loyalty schemes and rewards. You acknowledge that such information and materials may contain inaccuracies or errors and we expressly exclude liability arising from any person acting on those statements or information to the fullest extent permitted by law. Where conditions or warranties are implied by law and cannot be excluded, our liability will be limited to the re-supply of information. You should confirm the accuracy of information provided on this Website with the third party product provider before acting on it.