American Express have improved the transfer rate to Air New Zealand Airpoints from Membership Rewards.
You can now get 1 Airpoints Dollars per 150 Membership Rewards points (1:150).
Previously, a transfer of 10,500 points would have seen you earn 60 Airpoints Dollars (1:175).
The same transfer will now see you earn 70 Airpoints Dollars.
Read on to learn more about the American Express Membership Rewards programme.
---
Guide to American Express Membership Rewards New Zealand
American Express Membership Rewards is one of the go-to programmes of choice for the savvy points collector, with the most airline and hotel points transfer partners of the major credit card points programmes.
It is where I focus most of my efforts in collecting my points and is the first rewards programme I advise anyone who wants to spend a little time understanding the value of flexible points programmes to look at.
We regularly update this intro guide to Membership Rewards to make sure everyone knows the current ins and outs of the programme, its transfer partners, quirks and benefits, especially given solid sign-up offers on a number of American Express cards.
Membership Rewards guide contents and quick links
Why choose Membership Rewards?
Here are a few quick reasons:
A range of cards, some with different category-based earn rates, such as bonus points on travel or at supermarkets
Offers for statement credits or bonus points for spend, such as on travel
No points expiry as long as your Membership Rewards account with American Express is active
Frequent promotions to earn and use points more effectively
And, what I like most, the ability to accrue points in a way that allows you to look at the right programme's redemption opportunities for your future travel needs—you can defer the decision as to which programme in which to keep your points until you want to use them
KrisFlyer miles can be used for travel in Singapore Airlines Suites Class
Membership Rewards transfer partners and using points with airlines
Here are the direct transfer partners from Membership Rewards:
For most partners, 2 Membership Rewards points will land you 1 frequent flyer point/mile. The exceptions are:
Air New Zealand Airpoints, with a 150:1 transfer ratio
Hilton Honors and Marriott Bonvoy, with a 1:1 transfer ratio
Don't forget you can transfer Marriott Bonvoy points onwards to a range of other international frequent flyer programmes. This increases the versatility of the Membership Rewards scheme.
Other redemptions partners
For those that want a wider range of redemption opportunities, you can also use your Membership Rewards points with/for the following:
The value of these options vary, but are typically less than you would get for a transfer to a frequent flyer or hotel rewards programme.
The Membership Rewards card range
In New Zealand, there are only two cards that Amex offer which earn into Membership Rewards and I'll cover them below.
The American Express Platinum Edge
The entry-level Platinum card—the Platinum Edge—is great value, and is a pretty good offering to earn maximum points for most people. I have used it as my main card for grocery shopping ever since I moved to New Zealand.
You will receive a complimentary domestic Air New Zealand return flight as a benefit each year — which can easily outweigh the value of the annual fee, even in renewal years after any initial sign-up bonus.
Along with the return flight, you also receive free domestic and international travel insurance, and a few other Amex programme perks which may/may not be worth your while depending on what you are interested in.
The Platinum Edge offers bumped-up earn rates at 'major supermarkets' and petrol stations.
The beauty of the bonus points earned at supermarkets is that they also sell gift vouchers for many other retailers, meaning the Edge can then open up triple points at places like Farmers, Noel Leeming's and other mainstream merchants in New Zealand.
The full list of supermarkets, fuel stations and other points earn opportunities that come from them are detailed in this guide.
The Platinum Edge is a great points-earner for many people, and excellent for the everyday card user. Given American Express is universally accepted at supermarkets and petrol stations, it makes sense to utilise the bonus earn rates on offer by having it in your wallet.
The American Express Platinum Charge
The Platinum Charge card, and its free accompaniment, the American Express Platinum Membership Rewards Credit Card, offer a high-cost, high-return strategy in the world of accruing points. The large sign-up bonus, travel credit and free Accor Plus membership will pretty much cover the value of the annual fee for the first year.
The Charge is for those who want a large Membership Rewards sign-up bonus, big spenders and/or who are after the extensive list of ancillary benefits.
There is a heap of other benefits too, and I am sure most people are likely to use at least some of them but many, understandably, would not take on such a high annual fee.
Membership Rewards vs Air New Zealand Airpoints direct earn cards
I have summed up my thoughts on why using a flexible points programme like Membership Rewards programme offers great value in this guide.
Keeping your options open and Membership Rewards cards in mind when factoring in your spending habits and desired use of your points in the long run is relevant to those with more flexible rewards in mind than with just Air New Zealand (and redemptions with their partners). If you are likely to go for a premium hotel, rather than airline experience, for example, then a Membership Rewards card is a great place to start.
Membership Rewards points can be transferred to Qantas, which sometimes runs transfer bonuses, increasing the value of your points accordingly. Qantas Points can be redeemed for seats on all domestic flights, with both Air New Zealand and Jetstar.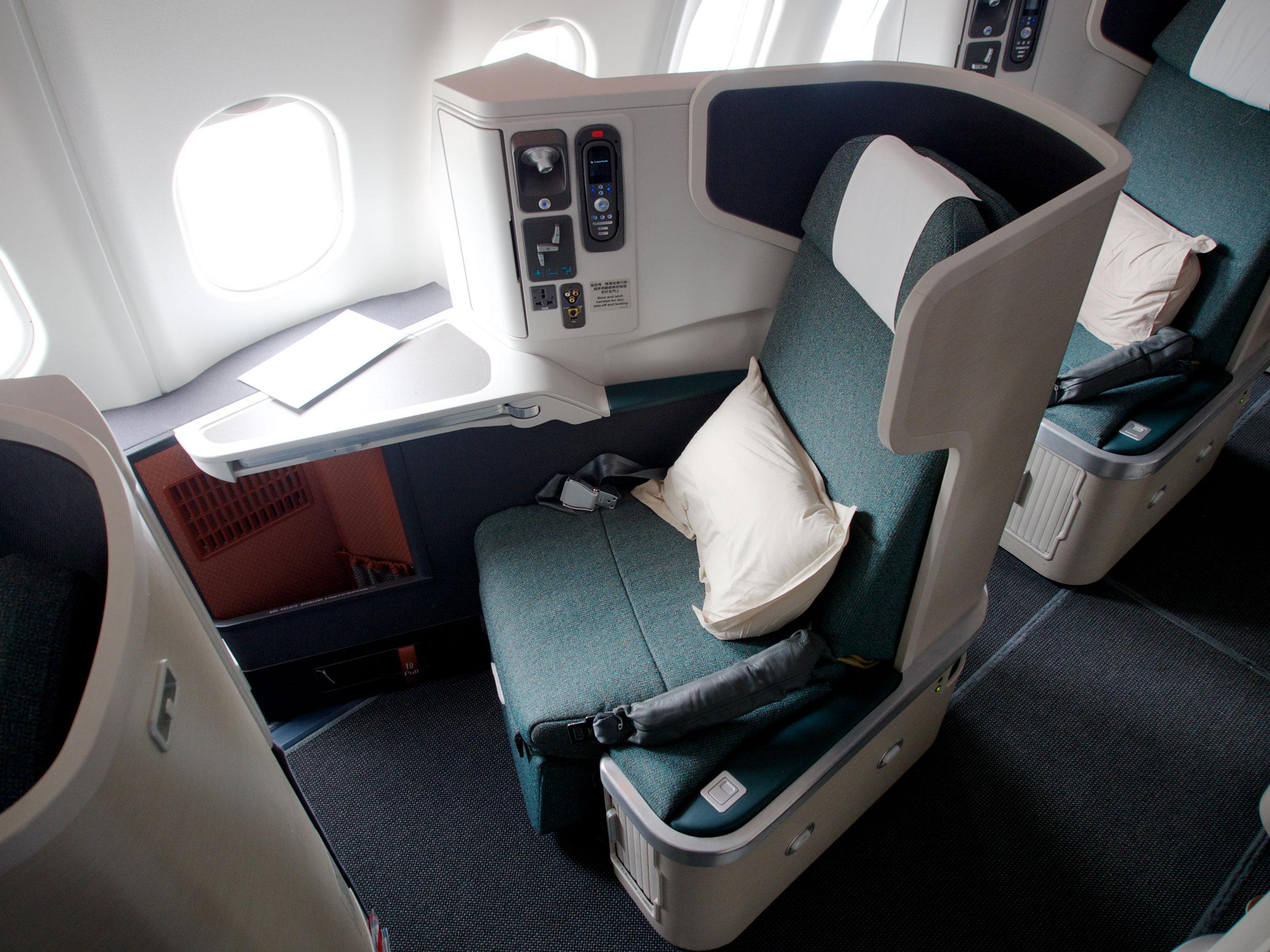 Transfer your Membership Rewards points to Asia Miles and you are on your way to your next Cathay Pacific Business Class redemption
Ultimately, it is all about your own particular travel and spending habits. If you mix and match airlines and fares to suit your needs, or do not fly much at all, then a more flexible card reward scheme may do the trick for you as you can transfer points over to a programme with a redemption opportunity as you see fit.
Other important considerations
Bonus points eligibility
If you currently hold or have held almost any American Express card in the past 18 months, then you are not eligible for the sign-up bonus on another American Express card. But there are some exceptions, and we explore them in the guide below.
Acceptance of American Express by retailers
American Express in New Zealand (much like in Australia, the US and UK) is not accepted by all merchants, and others charge an additional fee for payment with an American Express card. As such, any savvy points earner would have both an American Express card plus a Mastercard or Visa on-hand for times when Amex is not accepted/preferred.
The value of keeping a dedicated American Express card linked to Membership Rewards comes from the ability to earn a decent amount of flexible points on spend, additional ancillary card benefits, sign-up bonuses, and points transfer flexibility.
Thankfully the acceptance issue has improved in recent years, and I now find that the amount of spend I put through my Visa has become considerably less.
Amex Offers
All Amex-issued cards, regardless of rewards programme, come with 'Amex Offers' which are immediate statement credits for hitting a spend target with a specific retailer.
I have, for example, been targeted with offers such as a $40 credit for $150 spent with Hertz, or $80 for $400 spent with Hilton.
These offers are saved to your card account online, and are worth keeping an eye on in case they hit the mark for any retailers you happen to be shopping with.
Supplementary cards
A great way to earn more points without incurring further annual fees is by adding supplementary cards to your account. All the spend on your Supplementary Cards will earn points that contribute to your overall points haul. Supplementary Card Holders will also share some of the services, insurances and privileges that American Express membership offers.
I pretty much have my whole family putting their spend on one account, with Amex making it easy to see who spends what by dividing it all up by cardholder name.
Checking redemption and points earn history
Two common questions I get are how we can manually check our redemption history and points earn with Membership Rewards. These search functions are hidden away on the American Express website and are not so obvious to most users.
When logged in, your redemption history will be found here. Once you have entered a date range, this page will also show when your Air New Zealand flight credit (Platinum Edge) or Travel Credit (Platinum Charge) were loaded to your account:
Once on the page above, you can find your points history by hovering over 'Points Account' and clicking 'Points History'. The page that comes up will give you a full break down of points earned, including any bonus points.
Terms and Conditions
For those who like fine print, the full T&Cs for the Membership Rewards programme can be found here.
Summing up: is American Express Membership Rewards for you?
Stowing your points away in Membership Rewards gives redemption flexibility, allowing you to transfer to programmes at a later date once you have a firm plan for your points and not before.
It can be helpful to place a value on flexibility when playing the points game, and given that Membership Rewards partners with Qantas, Velocity, KrisFlyer and Asia Miles, amongst others, this covers all the major alliances and domestic/Trans-Tasman options that you might want outside of Air New Zealand.
Personally, the Platinum Edge has a permanent place in my wallet for fuel and supermarket purchases, helping to retain that ongoing flexibility for future redemptions. While the Platinum Charge card is good for higher spenders and those looking for a number of ongoing benefits with their cards.
All up, Membership Rewards is a great credit card rewards programme and deserves serious consideration.
American Express have boosted the transfer rate to Air New Zealand Airpoints
was last modified:
December 27th, 2019
by
Point Hacks Credit Card Information
Point Hacks is published by Point Hacks Australia PTY LTD. In some instances, Newformula Media receives a commission or benefit for referring you to the services of a bank / credit provider. This commission or benefit is disclosed at the point of referral to the credit provider. This website does not provide credit or advise you to apply for credit assistance from any particular provider.
We have not taken into consideration your circumstances or financial situation when providing the information on this website. It is important you read the relevant PDS from the product issuer and seek the independent advice of an appropriately qualified professional before making a decision on a product.
While we invest a great deal of time and energy into ensuring we provide with you with the most up to date and accurate information, we do not warrant the accuracy of statements or information contained on the Website relating to third party goods and services, including credit card information, loyalty schemes and rewards. You acknowledge that such information and materials may contain inaccuracies or errors and we expressly exclude liability arising from any person acting on those statements or information to the fullest extent permitted by law. Where conditions or warranties are implied by law and cannot be excluded, our liability will be limited to the re-supply of information. You should confirm the accuracy of information provided on this Website with the third party product provider before acting on it.