In recently researching a flight from Singapore to Hong Kong for September 2017, I found a very useful tool that saved me a lot of time and effort in comparing my different award options for the four-hour journey.
Firstly, I knew I wanted a direct flight to save time, so I went to Google Flights and input a nonstop journey using the filters to restrict my departure time between 8am and 4pm to show my ideal options. I had three options on Cathay Pacific and four options on Singapore Airlines: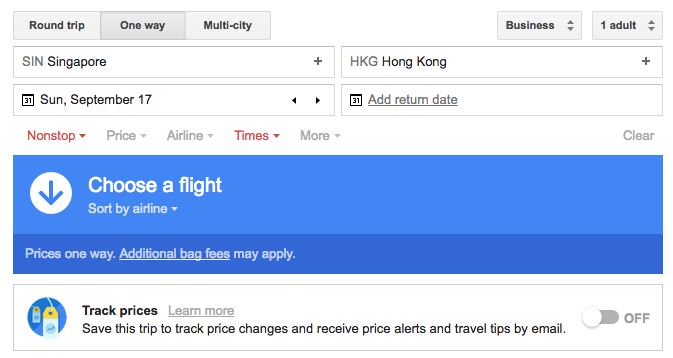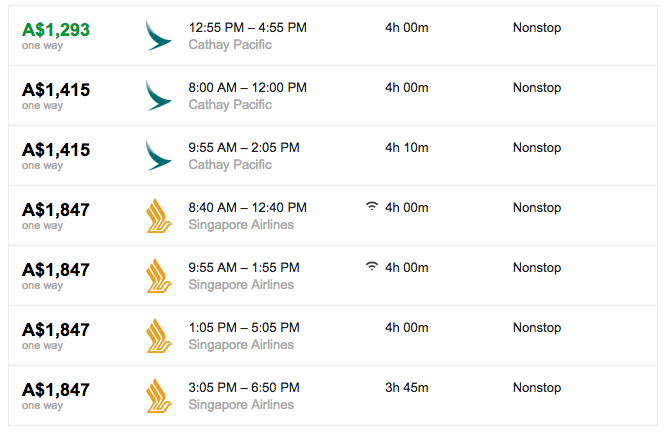 I hadn't flown Cathay Pacific before, so I looked at award availability (on the British Airways Executive Club website) and found a seat open on the midday departure.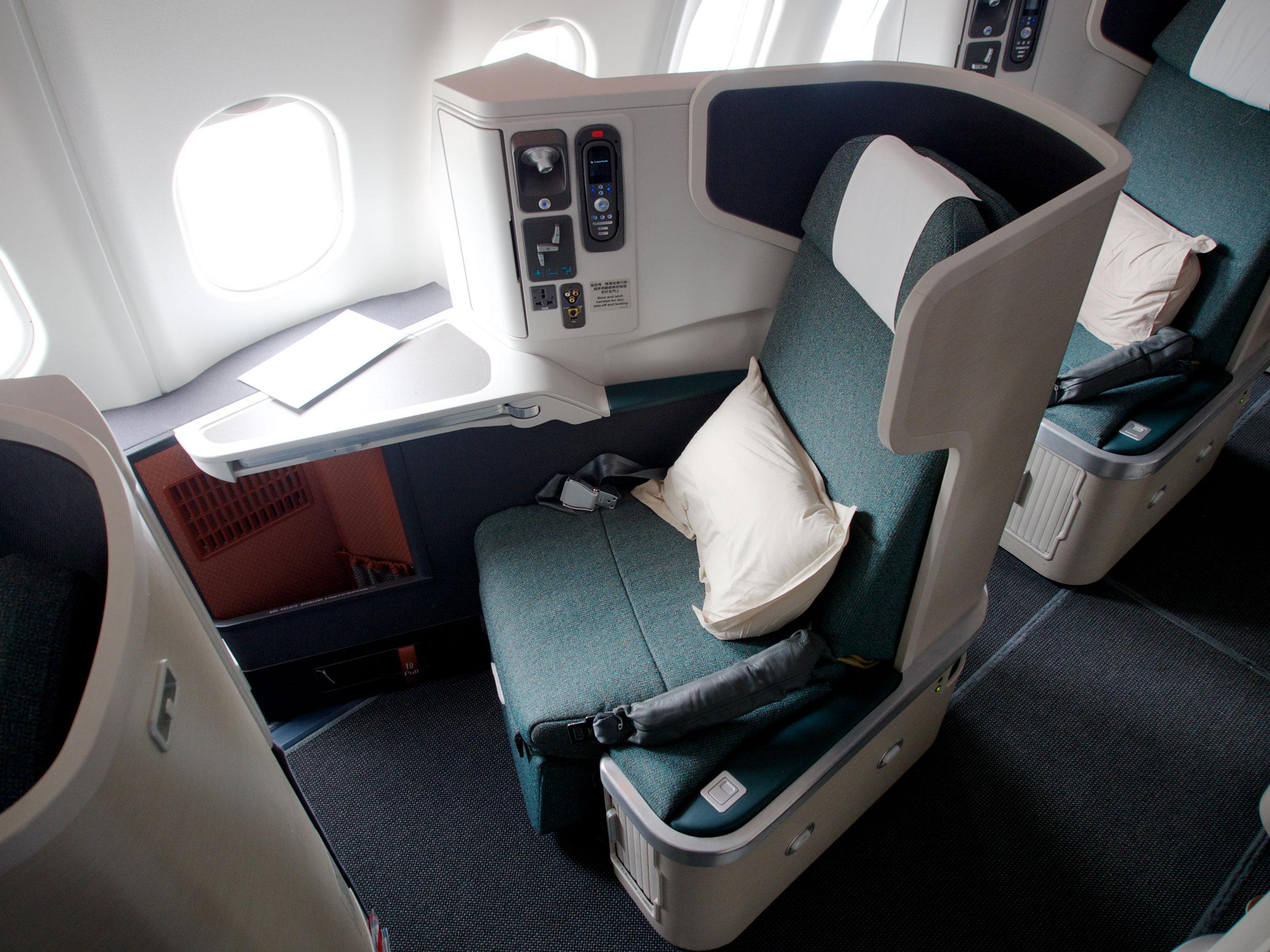 The seat I was after: Cathay Pacific A330 Business Class from Singapore to Hong Kong
So the timing of the flight was right and the seat open but given I had:
which program offered me the lowest redemption costs for this flight?
Basically, I had points all over the place and I didn't know which program was going to get me the best value.
Sure, I could calculate the distance of the flight on Great Circle Mapper and go to each of their award charts to work out each redemption value but that would have taken me quite a bit of time.
If only there was a tool that could do it all for me. Enter AwardAce.
Step-by-step instructions
This award pricing comparison tool will allow you to input an origin, destination and cabin (notably missing Premium Economy) plus the alliance (Cathay Pacific is part of oneworld) and compare the options that you have:

(You can ignore the Transfer Partners checkboxes as that is for a US audience.)
The first thing you may notice is that some of the programs list a range of pricing and that's usually because direct flights are at the lower end and transiting through another airport is at the upper end.

I can see that for this specific redemption it will cost me:
20,000 British Airways Avios
23,000 AAdvantage miles (the correct figure should be 22,500)
30,000 Asia Miles
33,000 Enrich miles
38,000 Qantas Points
With the Qantas pricing nearly double that of British Airways, you can see that not all points are created equal.
More information on the redemption through each program is available if you scroll down.
You can see that British Airways will charge you 9,000 Avios more if you transit through Kuala Lumpur with Malaysia Airlines versus flying direct with Cathay Pacific. That's because BA works out pricing based on each segment flown (Singapore – Kuala Lumpur – Hong Kong), not just the distance between origin and destination (Singapore – Hong Kong direct):

Whereas pricing through AAdvantage is the same whether you fly direct or transit because that program is region- not distance-based:

Then AwardAce offers very useful online and phone booking guides to lead you through the process of making your redemption (for this one, I was able to do so easily online through the British Airways Executive Club website):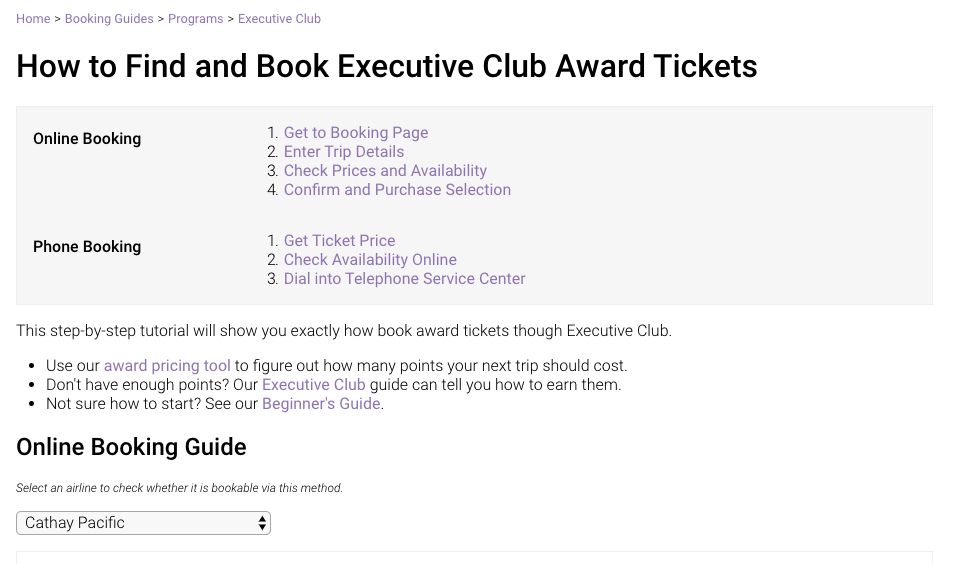 Have a bunch of points but don't know what to do with them?
You could get some inspiration from Point Hacks' best uses of points guides or you could use AwardAce's Discover feature.
A Brisbane-based traveller could put in that they have 63,000 Qantas Points and find out that they could fly to Perth in Business Class for 36,000 points one-way, or to Southeast Asia in Economy Class for 56,000 points return:

You'd get the best per-point value on the Business Class flight to Perth (it's also the same price to fly to Auckland in Emirates Business Class) but everyone's travel patterns and desires are different, so feel free to use your points as you see fit – they're yours after all!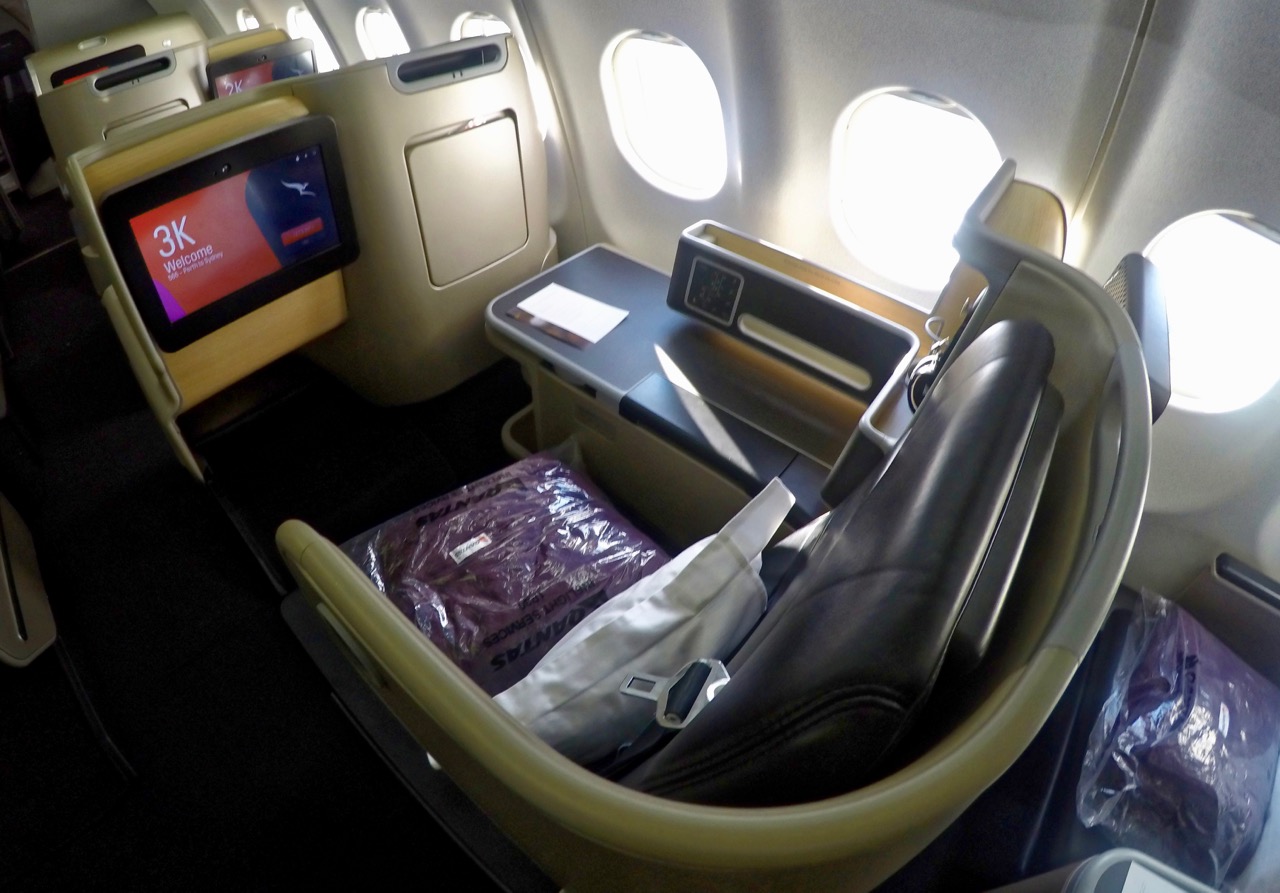 You can fly between the East Coast and Perth in Qantas Business Class for just 36,000 Qantas Points
Downsides to AwardAce
Whilst it offers a general guide on which programs apply fuel surcharges, it doesn't give an accurate comparison based on the route and airline/s you are searching for
Does not includes Premium Economy redemptions
Etihad Guest figures are only for partner redemptions, not for Etihad-operated flights: make sure to check the Etihad Guest website for redemptions on Etihad metal
Slightly inaccurate KrisFlyer figures: make sure to check the KrisFlyer award charts
Basically, you should use this comparison tool as a guide and then confirm award pricing on the frequent flyer program's official website.
Alternatives
AwardHacker: very comprehensive information; includes Premium Economy; notably missing Velocity Frequent Flyer and Etihad Guest
Travel Codex's Award Maximizer: notably missing Qantas and Velocity Frequent Flyer and Etihad Guest
Summing up
AwardAce is a free tool that helps you to compare redemption options across a number of frequent flyer programs, which is especially helpful to those who have balances in flexible points currencies like American Express Membership Rewards.
Do be sure to keep the downsides of this tool in mind and check the figures you have found against the pricing given on the website/s of the official frequent flyer program/s.
Have you used AwardAce or any other award pricing comparison tool? Do you have any tips to share with other readers? Feel free to share in the comments.
How to easily compare award pricing across a range of frequent flyer programs
was last modified:
October 1st, 2017
by