Small Luxury Hotels of the World is a consortium of 520 luxury boutique hotels in over 80 countries.
In this guide, we explore the chain's key locations, loyalty program, how to easily pick up free elite status, earning Avios on qualifying stays, current offers, and how to book.
Their loyalty program has recently rebranded, so even if you've had an 'upgrade' to your status in the past, you'll now be eligible again, providing you have an American Express or Mastercard product.
The SLH brand seems to be targeted a younger travel audience who are looking for unique and quirky properties.
Hotel locations
The biggest concentration of hotels is in Europe, followed by Asia, The Caribbean and The Americas.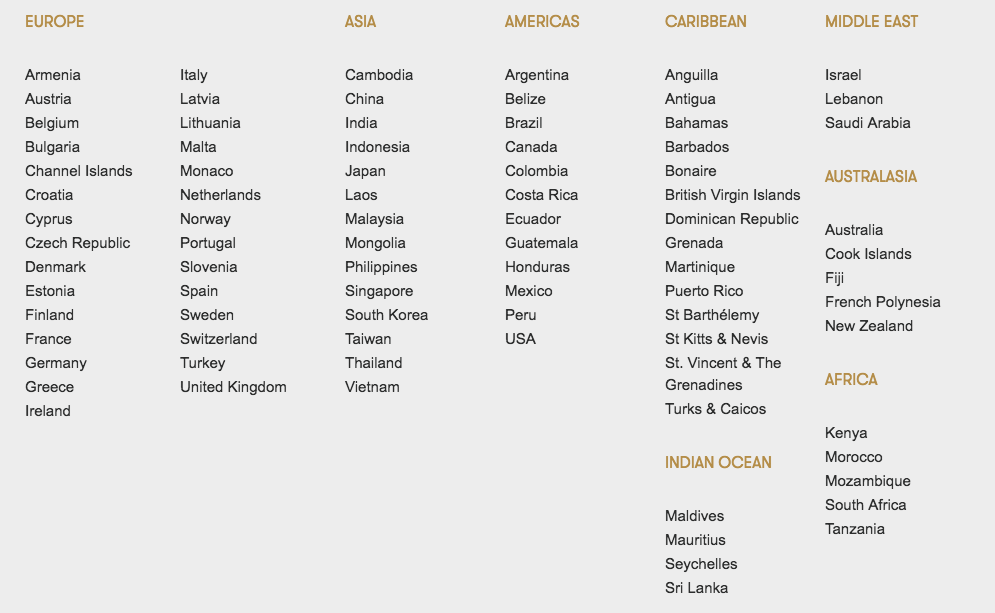 There are eight properties in New Zealand, with six on the South Island (including Blanket Bay shown above), and two in the North.
There are five properties in Australia, with two in Western Australia, and one each in New South Wales, South Australia and Tasmania.
When researching hotels, do note that the SLH website deletes negative reviews, so be sure to TripAdvisor for a more honest spread of reviews from previous guests.
This promotional video of Porto Zante Villas and Spa on the Greek island of Zakynthos seems to be representative of the type of aspirational properties the Small Luxury Hotels brand covers:
Membership tiers and benefits
Small Luxury Hotels' free loyalty program Invited has three membership tiers:
Invited (automatic upon sign-up): early check-in and check-out subject to availability, complimentary wifi, member exclusive rates, daily continental breakfast
Inspired (after one stay): as above, plus room upgrade and birthday gift
Indulged (after six stays): as above, plus access to invite only events and a reward night voucher
Inspired and Indulged status lasts for one year.
How to get elite status as an Amex or MasterCard cardholder
If you hold one of the above cards, then you can sign up with SLH and instantly receive Inspired status for 12 months.
Here are the links for each card:
This is a great way to get some instant benefits at one of their member hotels, especially if you were already planning to make a booking.
Here's a personal decision for you to make: depending on which card(s) you have, as you don't actually need to provide credit card details when signing up, you could take a risk and sign up, even if you don't have one of either (i.e. you might have a Visa) – but there's no guarantee that will hold up down the track.
From what we can tell, existing members are eligible for this offer too, including if you've taken advantage of one of these status offers in the past.
Lowest Rate Guarantee
Small Luxury Hotels offer a best rate guarantee. If you find a lower published rate within 24 hours of booking your stay at any SLH property, simply contact them to make a claim.
This is a good incentive to book with them direct, especially as the only way you receive any of the membership advantages is with an SLH booking – not even a direct booking with the property itself will give you any of the status benefits.
Offers
You can view current promotions on the offers page.
For example, at time of writing, you'll get one complimentary night for stays of three/four nights or more at 121 participating properties.
Earn Avios with British Airways Executive Club
You can earn 500 Avios per qualifying stay by adding your British Airways Executive Club number to your Invited profile, with points credited within six weeks of your stay.
Do note that stays completed within the first 14 days of signing up will not earn Avios.
SLH previously had a partnership with Asia Miles, which was terminated on 31 July 2016.
How to book
You can book stays at Small Luxury Hotels properties:
by calling 1800 219 010 in Australia or 0800 464 013 in New Zealand (24/7)
through a travel agent, such as American Express Travel
All images and videos courtesy of Small Luxury Hotels.
A quick intro to Small Luxury Hotels: free elite status for Mastercard and Amex cardholders
was last modified:
October 11th, 2017
by